This vegan eggplant dish is incredibly delicious and packed with umami flavour from the garlic and chili. It's also a dish you can make any night of the week that's healthy, tasty and quick to prepare.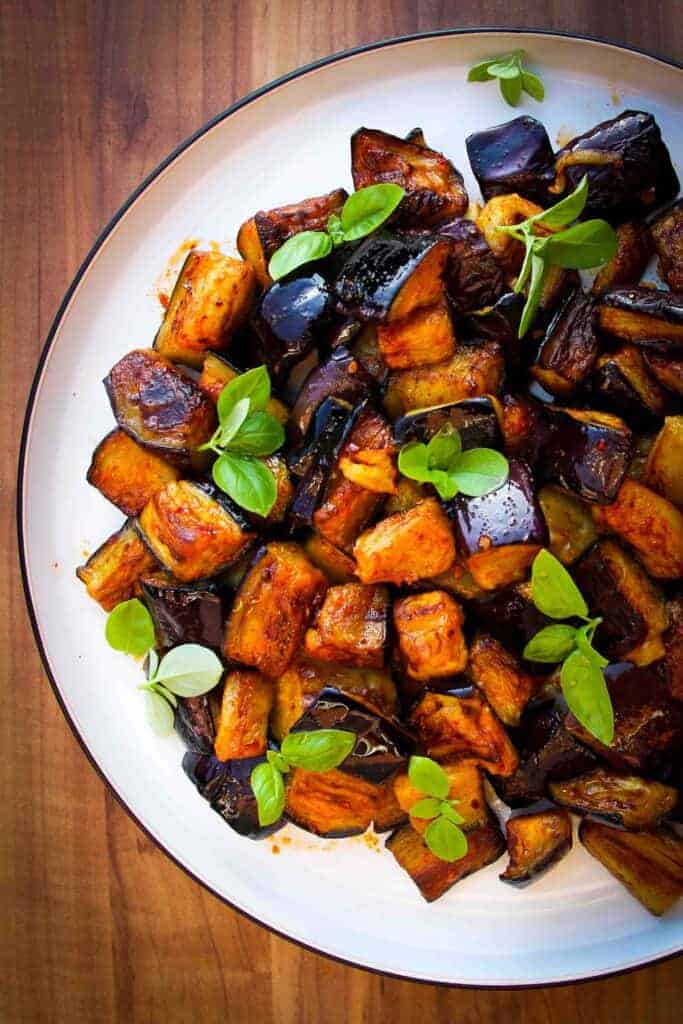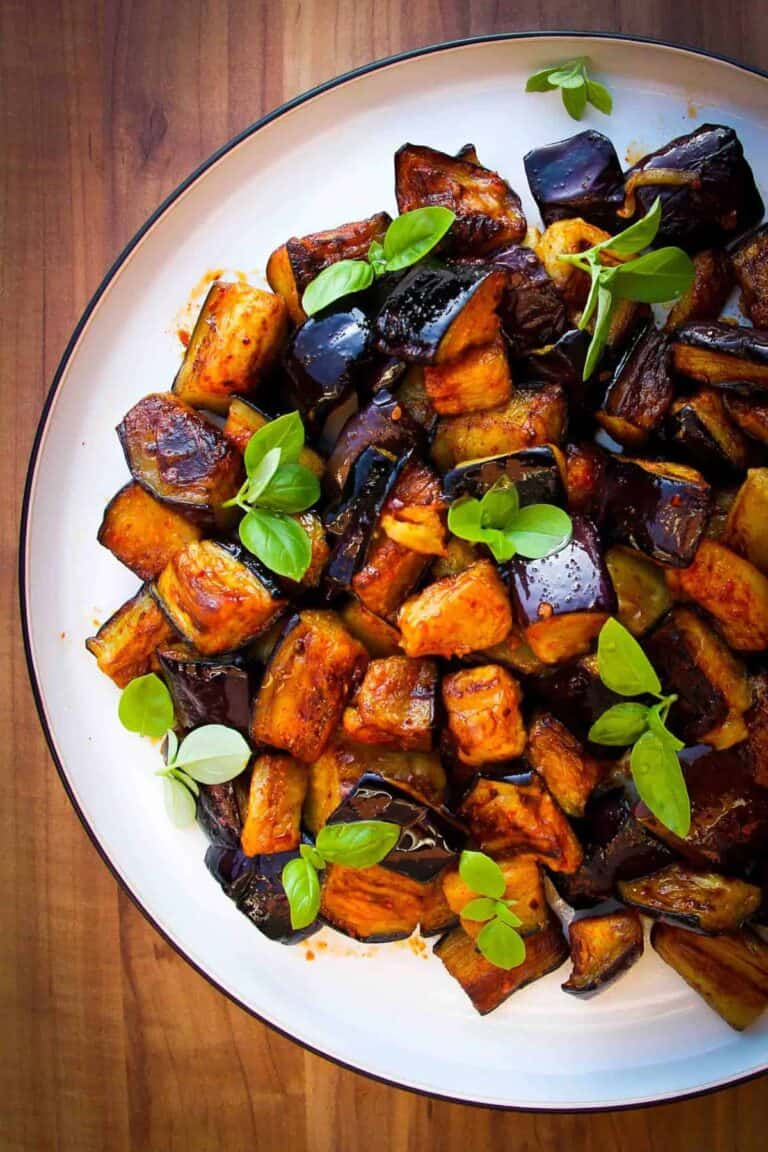 Golden Fried Eggplant Goodness
The eggplant is fried in olive oil until golden brown and finished with a bit of garlic, lemon, smoked paprika and fresh basil. I love the smell of the fresh garlic and the sweet smoked paprika when added to the hot, fried eggplant!
Smoked Paprika Addiction
I love smoked paprika so much it's an addiction. You can use normal paprika spice if you can't find the smoked version but it's nowhere near the same in deliciousness. Smoked paprika with fried eggplant adds a meatiness to the dish that is divine.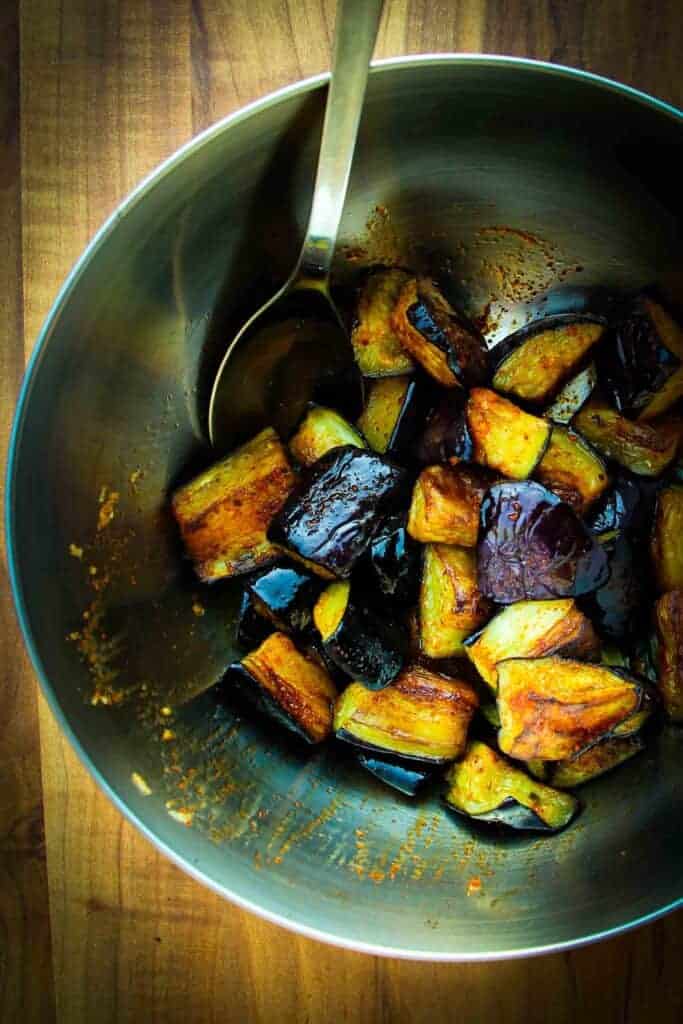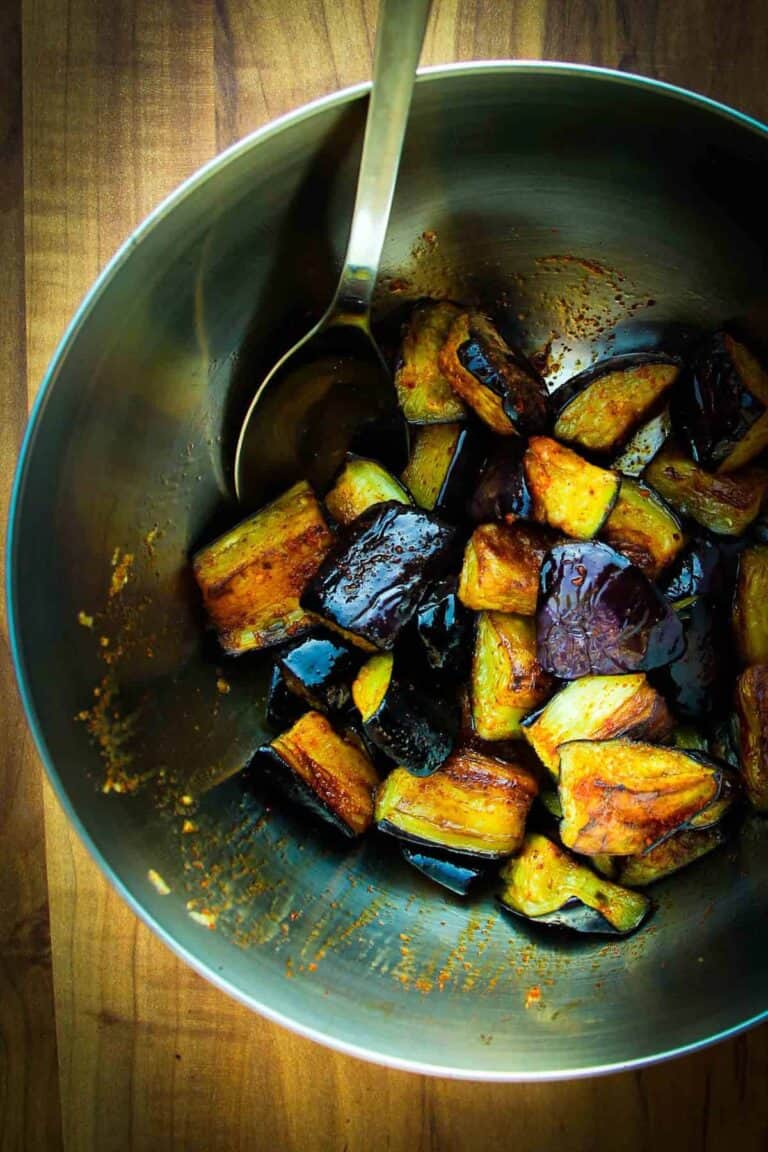 When to Use this Dish
This vegan eggplant has an meat-like texture that is a perfect substitute for vegans and vegetarians. The best way is to have this dish as a side but it can also pair well with many options such as:
Added into fried rice
Stuffed in a sandwich with extra fresh basil
On the side with lamb and beef dishes
As a cold, marinated starter
Chef Tip
Salt the eggplant over a colander for about 30 minutes to remove excess moisture. This will make it fry a lot nicer. Always be careful when frying wet food as the oil will splatter. Make sure to dry the eggplant well. 
If you're in a hurry you can skip this step, although it will not fry as nicely.
Fried Eggplant with Garlic, Smoked Paprika and Basil
A recipe for olive-oil fried eggplant with smoked paprika, garlic, lemon and fresh basil. It's easy to make, vegan friendly and super tasty. Serve with lamb or beef dishes or with a a big plate of steamed rice.
Ingredients
2

whole

eggplants

1

clove

garlic

peeled

1

whole

lemon

1

tsp

smoked paprika

½

bunch

fresh basil

100

ml

olive oil

1

tsp

chili flakes

sea salt to taste
Instructions
Begin by cutting the eggplant into tiny pieces. Place the cut eggplant on a colander and sprinkle generously with salt. Let sit in the sink for about 30 minutes.

Rasp one clove of garlic into a small bowl and cover with olive oil. Pick some nice basil leaves and set aside.

Once the eggplant has "cured" for 30 minutes, begin by drying it on paper towels. Try to remove as much water as you can with the paper towels.

Add a good amount of olive oil to a frying pan and set on medium heat. Carefully fry the eggplant in batches until golden brown. Be very careful not to burn the olive oil as this will ruin the taste.

As soon as the eggplant is ready, remove from the hot oil and place on paper towel. Immediately move to a bowl and add the raw garlic, chili, a squeeze of lemon juice, smoked paprika and toss.

Serve the eggplant on a big plate and garnish with fresh basil.
Nutrition
Calories:
451
kcal
|
Carbohydrates:
2
g
|
Protein:
1
g
|
Fat:
50
g
|
Saturated Fat:
7
g
|
Sodium:
18
mg
|
Potassium:
42
mg
|
Fiber:
1
g
|
Sugar:
1
g
|
Vitamin A:
895
IU
|
Vitamin C:
1
mg
|
Iron:
1
mg
This post contains Amazon affiliate links to products I love and recommend.
The World's Finest Vegan Banana Pancakes
They're soft, light and made entirely from plants. I love this recipe for vegan pancakes because it's easy to make, lighter than normal pancakes and ridiculously comforting.
Check out this recipe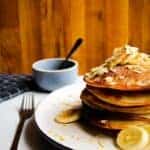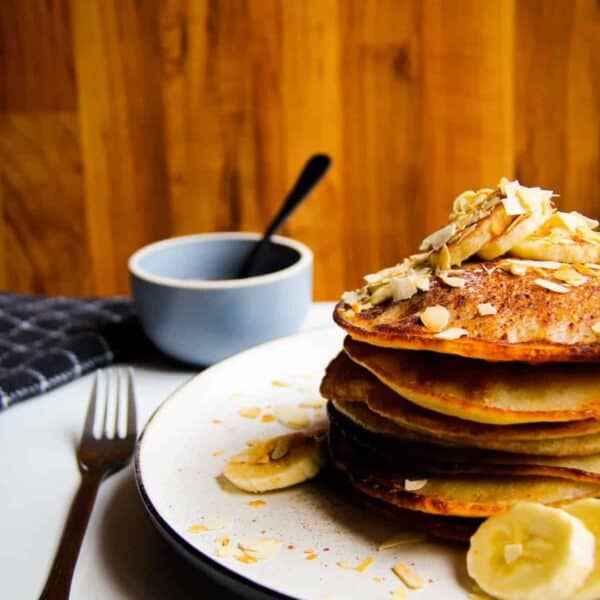 Zucchini Dip – The New Avocado Toast
This zucchini dip is so tasty it's new avocado toast. Light, fresh, vegan, keto, dairy-free, gluten-free, low-carb – this snack is SUPER healthy.
Check out this recipe