Deviled eggs are an easy sell at a party because most people love them. They take a little work but they're relatively easy to prepare and you can make them in advance. For New Year's Eve it's got to be a little extra special so I've added a bit of fresh black truffle. These truffled deviled eggs are always a hit.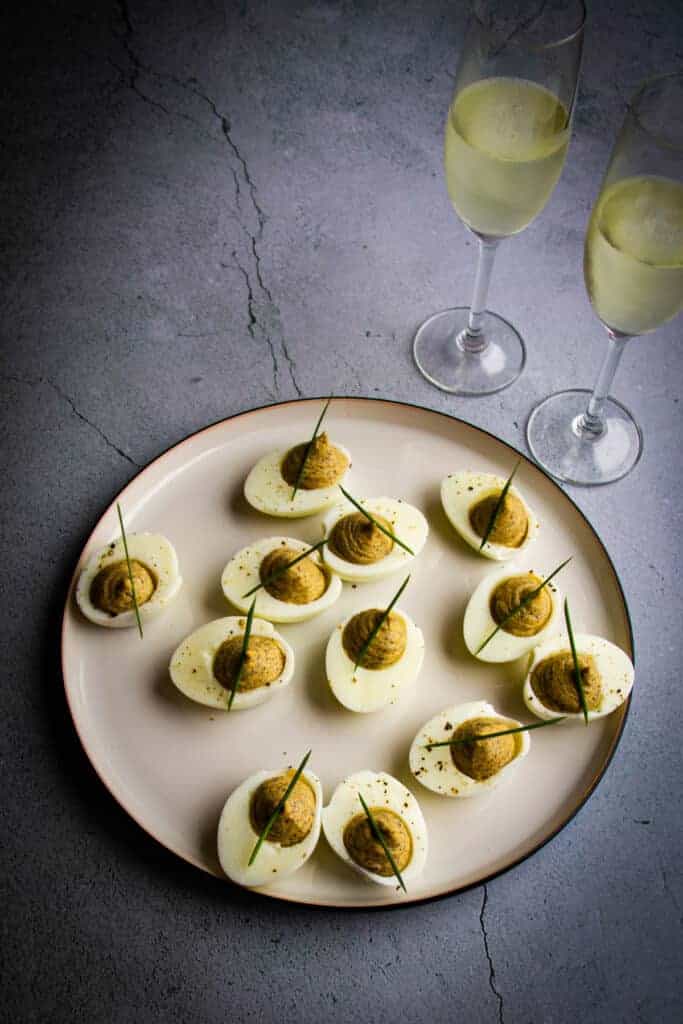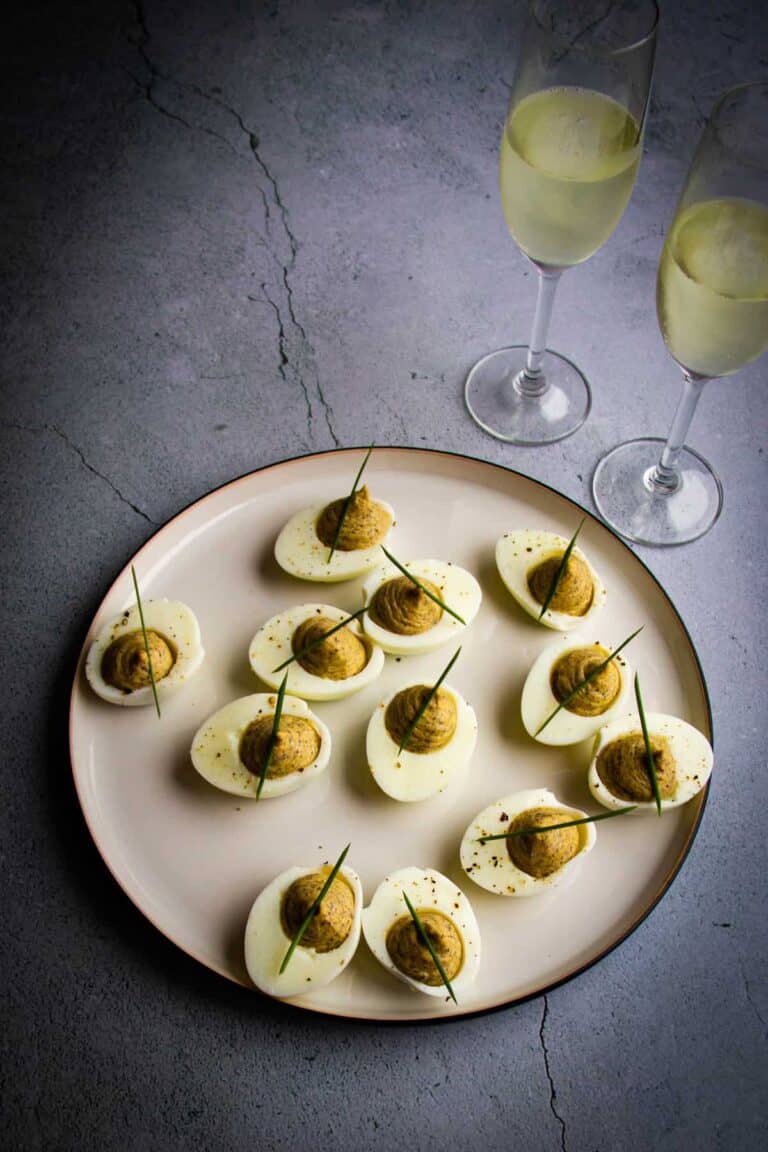 Eggs and Truffle
Real truffle actually has a very delicate flavour so it's important to use truffle with ingredients that don't overpower the expensive flavour. Eggs, cheese and dairy are 3 perfect accompaniments to truffle that can actually enhance the flavour of truffles.
How Long Do Deviled Eggs Last?
Deviled eggs can be made ahead of time and stay in the fridge for up to 3 days, covered or in a sealed container.
Thoughts on Truffle Oil
Truffle oil is almost always made entirely from synthetic ingredients. That means that there's actually no truffle at all in the oil despite its name. It's deceptive and it's usually overpriced.
I don't think there's a problem with liking the taste but it's just not fair to charge a high price for a small jar of bad olive oil with a synthetic flavour. And I don't have anything against synthetic flavours either. Take for instance vanilla extract, a wonderful cheap alternative to vanilla beans. Vanilla beans are so expensive nowadays it would be a waste to use them in anything but vanilla ice cream. Although vanilla extract doesn't taste nearly as good as the real deal it still tastes great and it's a lot more accessible.
The difference with truffle oil is that they lead people on to believe it's made with real truffles and even if that is slightly true, the flavour of the real truffles is always overpowered by the fake stuff.
And a bigger problem is that people become used to that fake truffle flavour and when they finally get the real thing they think something is missing. That's why most restaurants I've worked for in the past have always added a drop of truffle oil to dishes with real truffles to "enhance" the flavour, and keep the guest happy.
If you can't find real truffles I would recommend a high quality truffle paste instead of the truffle oil. It may still contain some fake truffle flavour but at least you are getting some real truffles.
Tips for Perfect Truffled Deviled Eggs
Gently tap the eggs on the bottom of the shell to crack them slightly. This will prevent the eggs from turning grey.
Add a splash of plain vinegar to the water after the eggs are cooked to help soften the shells and make them easier to peel.
Older eggs will peel a lot easier than fresh eggs.
Use fresh black truffle if possible.
Recommended Tools
Piping Bags – These make piping the egg mixture into the shell a lot easier. Alternatively, you can use a ziplock bag and cut the corner off to make a makeshift pastry bag if you're in a pinch. Or even just spoon the mixture on the top.
Fine-mesh Strainer – You will need this to pass the cooked egg yolk and achieve a super smooth result. Although, you can skip this step if you'd like.
Truffled Deviled Eggs
Truffled deviled eggs make a great apéro or snack for New Year's Eve or any party. Serve with a chilled glass of bubbles.
Ingredients
6

pc

eggs, large

free range

¼

tsp

sea salt

1

tsp

mustard

french

½

pc

lemon, zested

½

tsp

lemon juice

5

dashes

worcestershire

4

dashes

tabasco

1

tbsp

black truffle, finely chopped

or high quality truffle paste

3

tbsp

mayo
Garnish
12

pc

chive spears

optional garnish
Instructions
Bring a large pot of water to a boil. When boiling, gently add the eggs to the pan with a ladle to lower them in. Set the timer for 11 minutes.

Once the timer goes off, immediately cool the eggs under cool running water. Gently tap the bottom of the eggs and crack the shell slightly.

Once the eggs are completely cool peel them carefully.

Cut the eggs in half and pop out the yolk with a spoon into a separate bowl.

Add all of the ingredients except the truffle and mix with a whisk.

Optional – Pass the egg yolk mixture through fine-mesh strainer.

Add the finely chopped truffle and add the mixture to a pastry bag.

Season the egg white shells with salt and pepper.

Pipe the mixture into the center of the egg whites using the pastry bag. Garnish with a slice of chive and a chilled glass of champagne or prosecco.
Nutrition
Calories:
1
kcal
|
Carbohydrates:
1
g
|
Protein:
1
g
|
Fat:
1
g
|
Saturated Fat:
1
g
|
Cholesterol:
2
mg
|
Sodium:
60
mg
|
Potassium:
10
mg
|
Fiber:
1
g
|
Sugar:
1
g
|
Vitamin C:
1
mg
|
Iron:
1
mg
This post contains links to Amazon affiliate links I recommend.
The Easiest Kalamata Olive Tapenade (Olive Spread)
A quick and easy recipe for kalamata olive spread that makes a perfect apéro to snack on before dinner. Serve with a crusty baguette and a good glass of wine.
Check out this recipe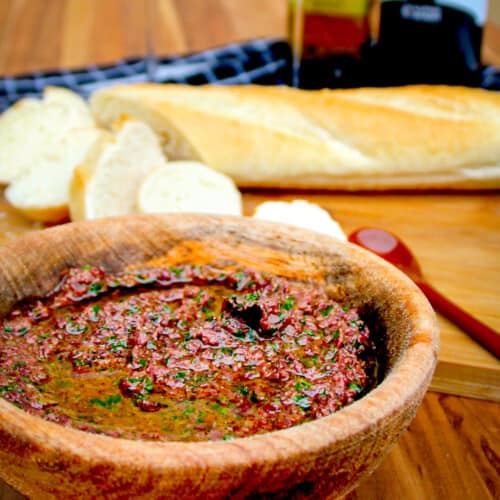 An Easy BBQ Bloody Mary Cocktail
When you want a bloody mary, nothing else will do. This BBQ bloody mary is flavoured with some simple spices and gets a little extra sweetness from the bbq sauce.
Check out this recipe