Cardamom is one of my favourite spices because of it's delicate but rich flavour. The combination of this unique spice works really well with the roasted kabocha squash. Most people are familiar with butternut squash but I actually prefer kabocha squash with its chestnut flavours and deliciously soft texture.
This recipe was originally cooked sous vide with the cardamom-infused oil but I've simplified this recipe to make it easier for the home cook.
Cardamom Health Benefits
Cardamom is not only super flavourful, it's loaded with antioxidants. Because of this cardamom may reduce the risk of cancer, may help with digestion, is anti-inflammatory and may even lower blood pressure. It's also known to freshen breath and even prevent cavities. 
What to Eat with Roasted Kabocha Squash
Any roast dinner
With other vegan dishes
With fish dishes
Christmas dinner
Thanksgiving dinner
Holiday dinners
Can I use Another Type of Squash?
Definitely. I love the flavour of kabocha squash but butternut and buttercup squash are great alternatives.
Cardamom Oil
This cardamom oil needs at least 15 minutes of infusing but the longer the better.
If you have the time, you can also make this cardamom oil by toasting the spices and adding them to the cold oil and infusing this for 2 two weeks at room temperature.
Chef Tip – Cardamom oil is also delicious drizzled over Indian curries.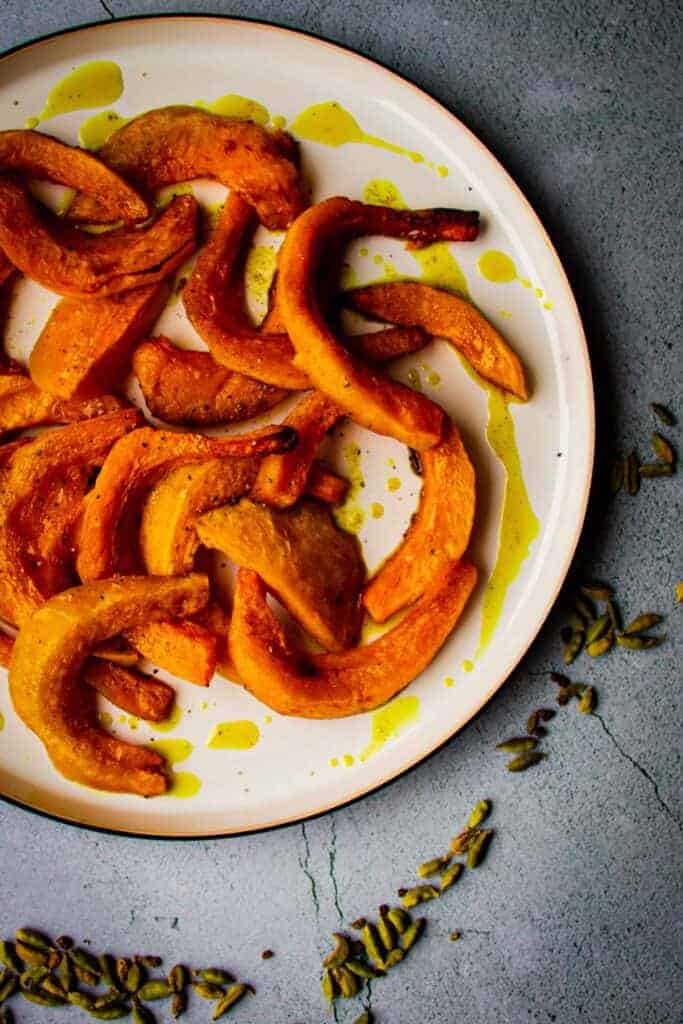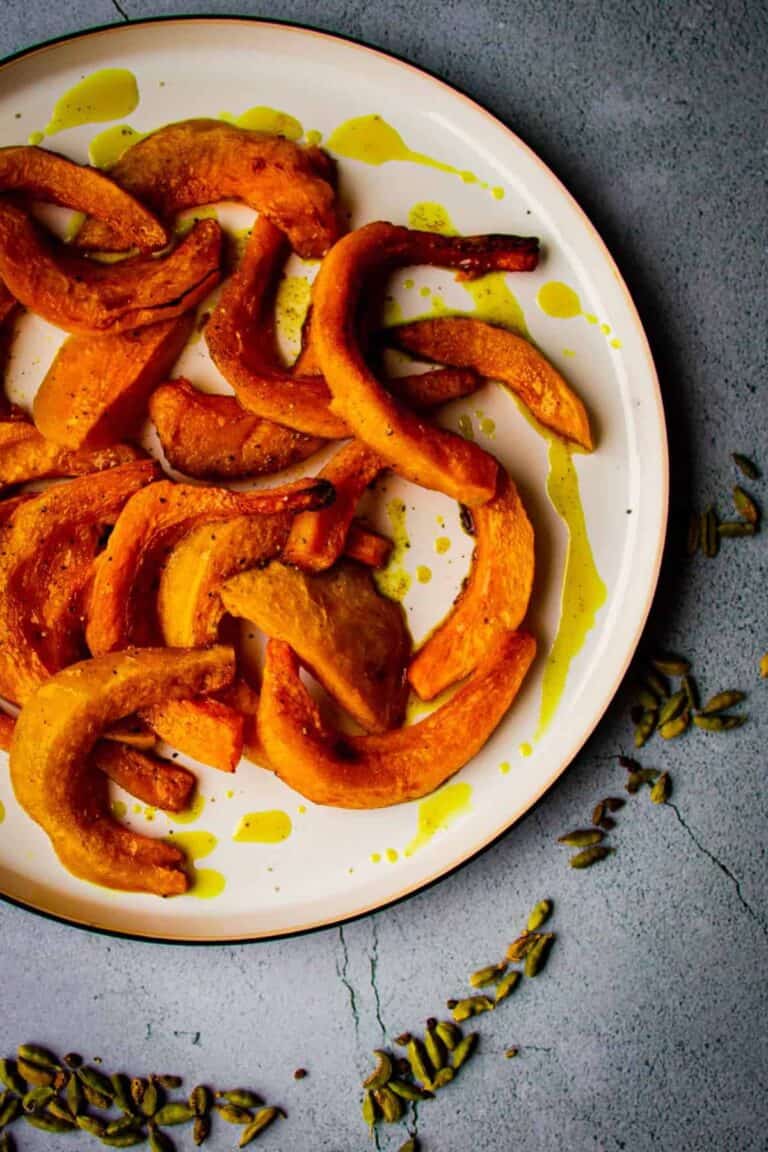 Can I Use Ground Cardamom?
Yes, but the problem with pre-ground spices is that they lose a lot of flavour once they're ground. This is especially true for cardamom.
If you can't find the seeds, or don't have a spice grinder you can still make this oil but try with 2 tbsp of ground cardamom instead.
Tips to Nail this Recipe
Make sure to use whole cardamom pods because the flavour is much fresher
Grinding your own spices is always more flavourful
Toast the seeds briefly before infusing the oil for maximum flavour
Keep an eye on the oil as it heats and be very careful not to burn it
Recommended Tools
Spice Grinder – This is a great tool to have in the kitchen because just like coffee, freshly ground spices are always more flavourful then pre-ground.
Fine mesh strainer – These are great for filtering stocks, soups and removing the seeds from the oil.
This post contains Amazon Affiliate links to products I recommend.