What's something you can bring to a BBQ cookout that everyone will love? These charcoal chicken satays!
What's not to like about coconut-marinated and spiced chicken thighs slowly grilled over a charcoal fire?
Even better, I've adapted this recipe to include ingredients that you'll likely already have.
Just a heads up though, this recipe needs peanut sauce and a lot of peanut sauce. Make sure you take a peek at this recipe before you go shopping for all the ingredients you need.
Almost every culture has its own version of meat on sticks, the Middle East has shish kebab or shashlik, Japan has yakitori, and China has delicious lamb kebabs named kǎoròu chuàn, Greece has souvlaki, and America has… the corndog? (Not sure if that really counts).
The point is that there's a lot of competition for recipes with meat on sticks and chicken satays are consistently crowd-pleasing winners.
What are Charcoal Chicken Satays?
Originally from Southeast Asia, chicken satays start with small pieces of chicken leg that are marinated overnight in various flavours including chilli, ginger, garlic, curry pastes and coconut milk. They're then threaded over skewers, grilled over hot charcoal and served with one of the best sauces in the world, peanut sauce.
They're usually served as an appetizer but they're filling enough to serve as a main. Just make a little extra because they won't last long!
Why You Need to Try This
This is a recipe I've made frequently and it never fails to impress. It's by no means authentic, but I've adapted it to be made with readily available ingredients in your own home. (You won't need any curry pastes, just curry powder).
The secret is to use a BBQ with charcoal because the flavour of the meat will absorb all those wonderful BBQ smells.
Another important part of this recipe is to use chicken leg, and not chicken breast. Chicken leg has much more fat, and prevents the meat from drying out over the high heat of the BBQ.
If you don't have a BBQ, you could also do this with a broiler at home but don't expect the same flavour.
Pro-tip: Line a baking tray with aluminum foil as the fat will drip and make a mess.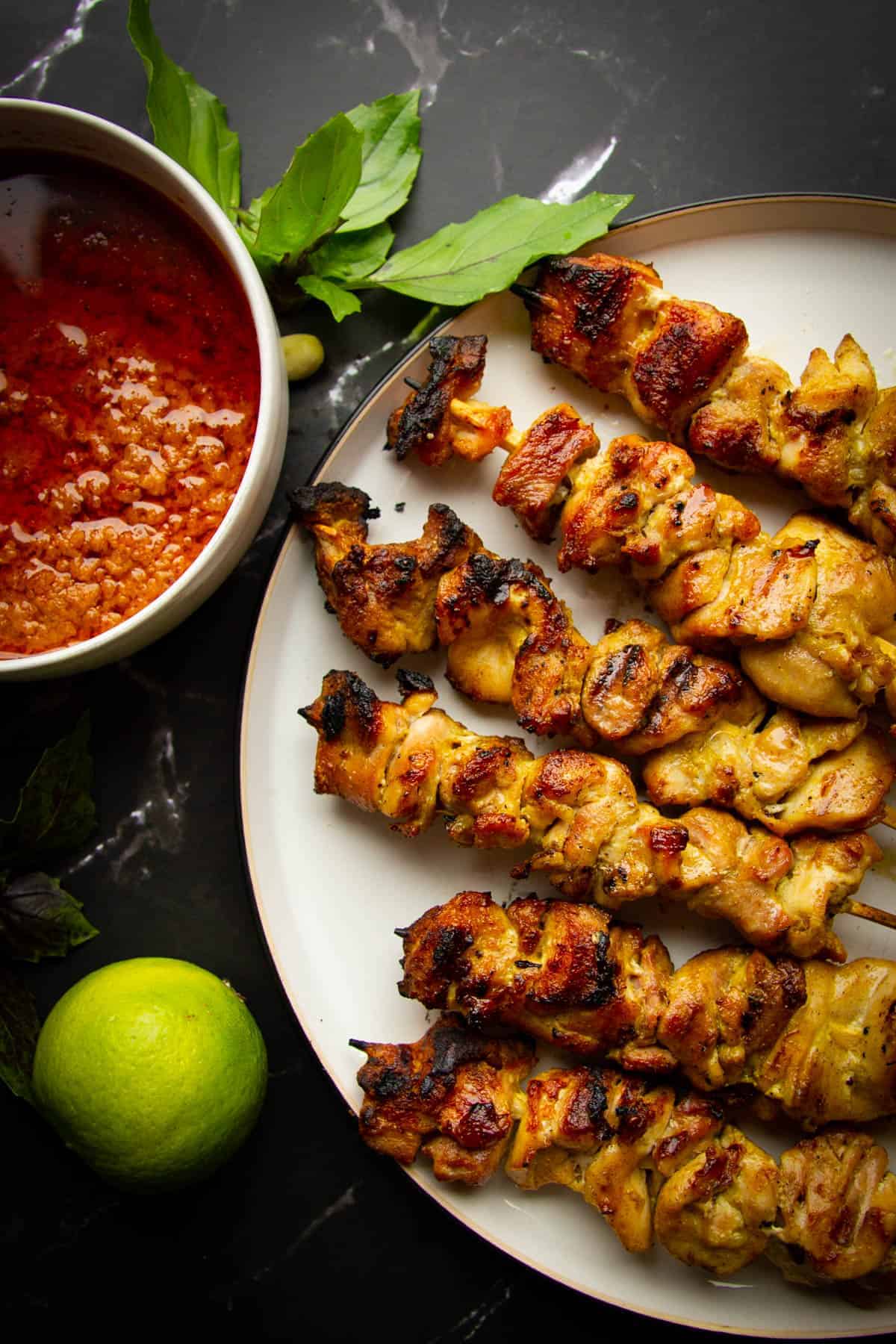 How to Make Charcoal Chicken Satay
There are tons of variations for chicken satays but this recipe has worked the best for me and it's really simple.
Here are a few of my key ingredients:
Chicken Leg – As mentioned above, chicken leg has more fat and this will prevent the meat from drying out while cooking. Some like to leave the chicken skin on the meat as it cooks but I find it to be a little too fatty.
Curry Powder – Probably not the most "authentic" ingredient but definitely delicious and most people have this at home.
Chili – Fresh chili in the marinade provides a little bit of heat but you could substitute with cayenne powder or bird's eyes chilis for something spicier.
Ginger/Garlic – You've got to use fresh garlic and ginger here. Dried ginger and garlic powder will not provide the same level of flavour.
Soy – Soy is really important for this recipe because it is rich in glutamates. Glutamates help to tenderize the meat slightly and will give the meat a nicer colour.
Butter – This is my little trick to keep the meat juicy while BBQing, but it's totally optional.
Coconut Milk – This adds richness to the meat and is our vehicle for flavour transfer to the meat. Look for coconut milk instead of coconut cream which may be a little too thick.
Basil – This is just a garnish, but a bunch of basil placed under the hot chicken satays will not only look attractive, it will smell amazing!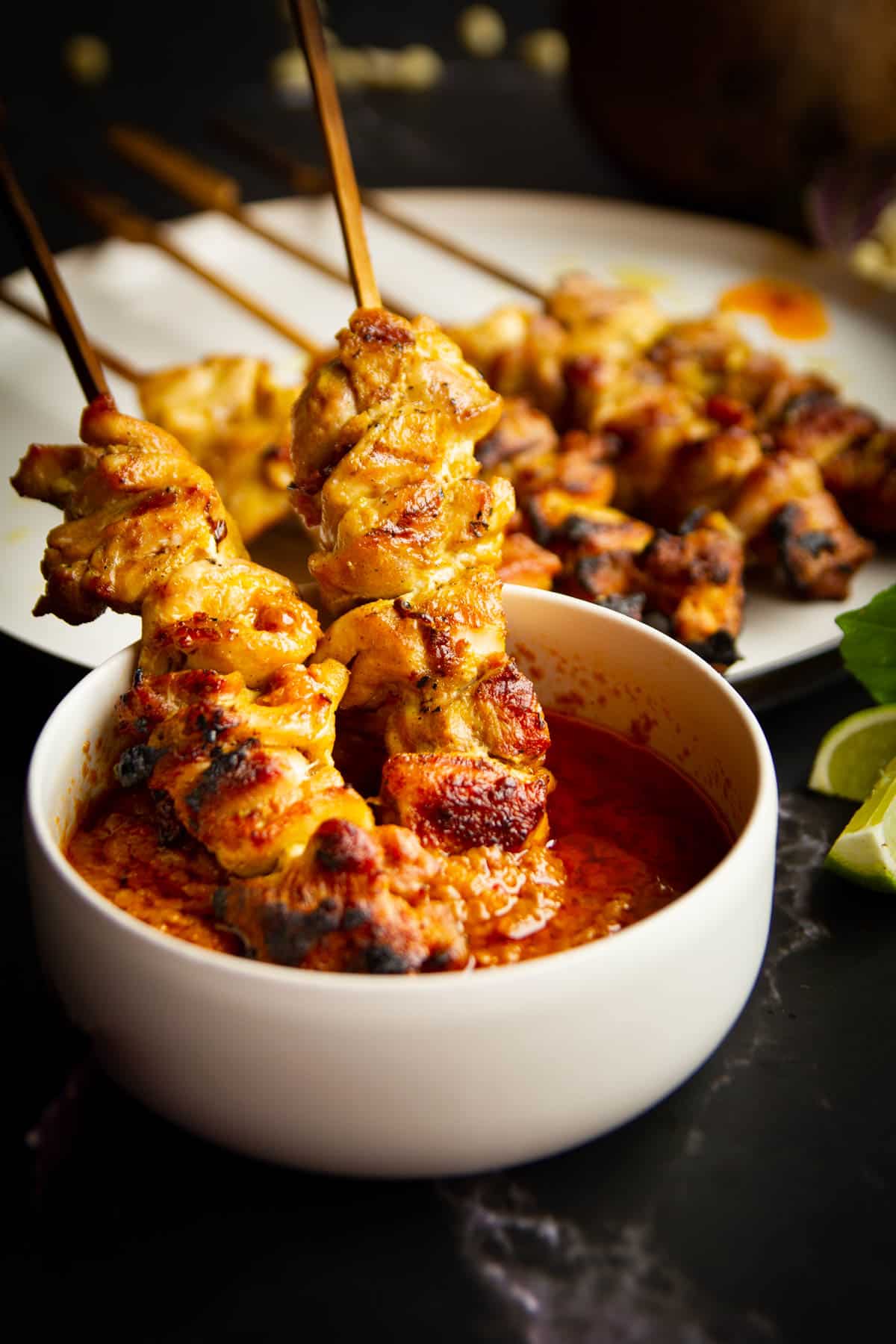 Do I Need to Marinate Overnight?
No, but it's better if you can.
The flavour will be much more intense if you give the meat time to marinate. Try to marinate for at least 2 hours or up to 48 hours in the fridge for the tastiest chicken.
Key Charcoal Chicken Recipe Tips
Use dark meat instead of white meat for juicy meat that's not dry.
Marinate overnight for a better flavour and to tenderize the meat slightly.
If you don't have the time to marinate overnight you can still get great flavour with just 2 hours of marinating.
Soak the skewers in water for an hour to prevent them from burning.
Use high heat for these to get a nice char on the outside. Baste with butter to add a little extra flavour.
Did You Know…
In the Netherlands, chicken satay, or kipsaté in Dutch, is so popular you can even get it as a sauce for your fries at the local frituur (fry shop)!
Because Indonesia was colonized by the Dutch during the 16th century some Indonesian dishes have been adopted into Dutch cuisine. Chicken satay is also popular in Suriname, another former Dutch colony.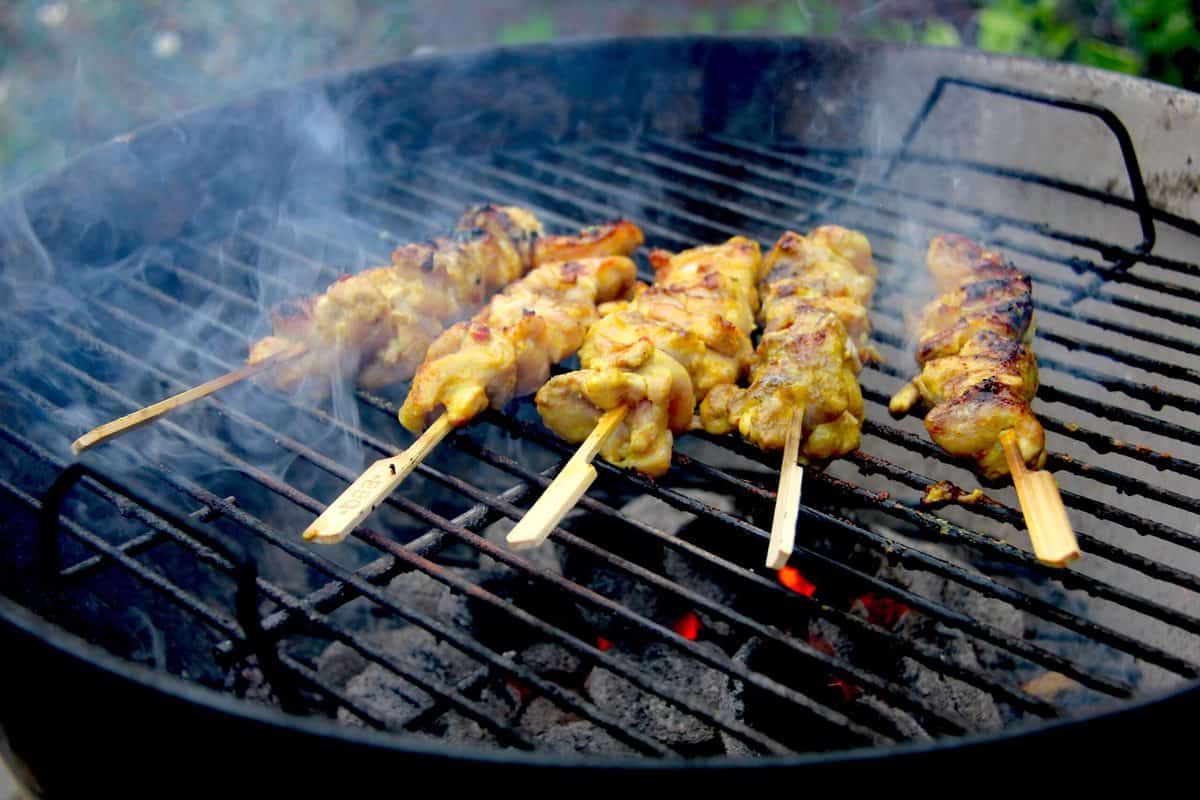 What to Serve with Chicken Satays
I think satay is worthy enough to be a standalone dinner dish but it's normally served as an appetizer. Some ideas to serve on the side:
Fresh cut cucumber.
Fresh Thai basil.
Fresh lime.
Cold rice noodles.
This Legendary Peanut Sauce!
More Smoker + BBQ Recipes
Want More Recipes?
No-Fail BBQ Butterflied Chicken