There's never a time when chicken satay is not cheerfully welcomed into my hungry stomach. What's not to like about coconut-marinated and spiced chicken thighs slowly grilled over charcoal fire. And if you've never tried chicken satay, then you are in for a treat.
What is Chicken Satay?
Originating from Southeast Asia, this street-food snack is so tasty that you can never make enough of it. Almost every culture has their own version of meat on sticks, the Middle-East has shish kebab or shashlik, Japan has yakitori, China has delicious lamb kebabs named kǎoròu chuàn, Greece has souvlaki, and America has… the corndog? (Not sure if that really counts).
Meat on Sticks
The point is that there's a lot of competition for recipes with meat on sticks and chicken satays are consistently crowd-pleasing winners. And this recipe for chicken satay is incredibly delicious, healthy and easy to make. You just need a little time to prepare the marinade. If you're ready, read on…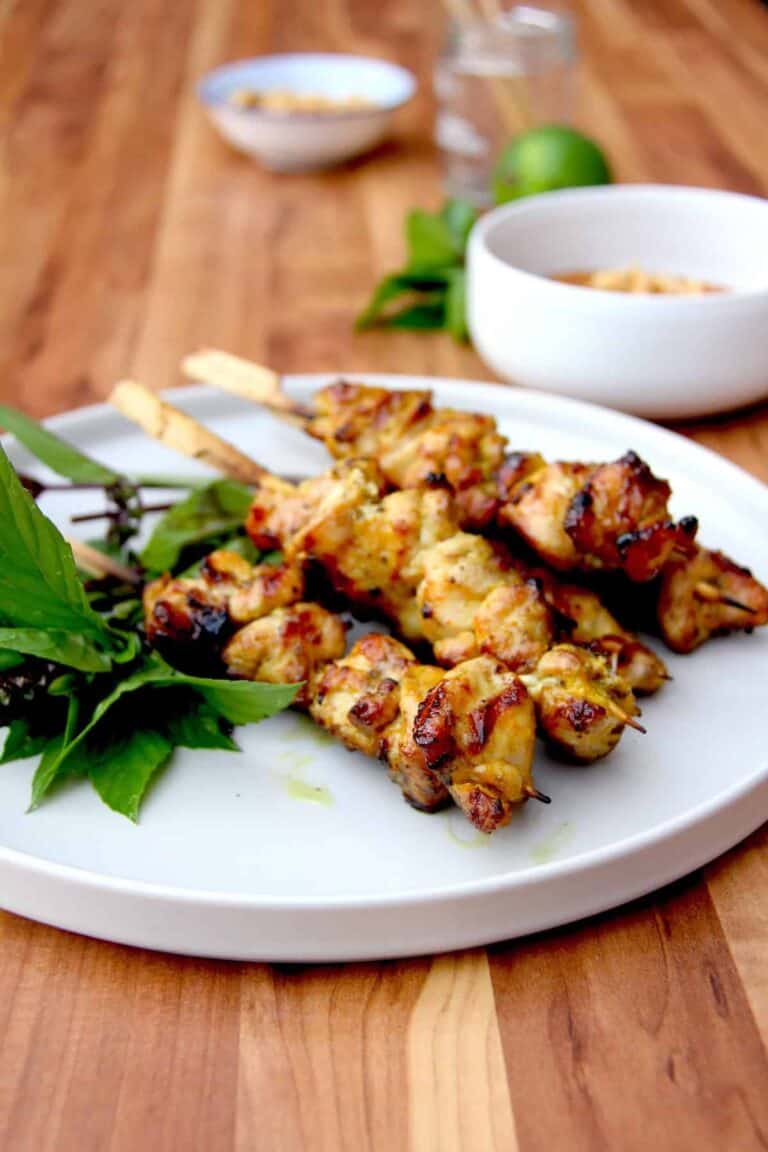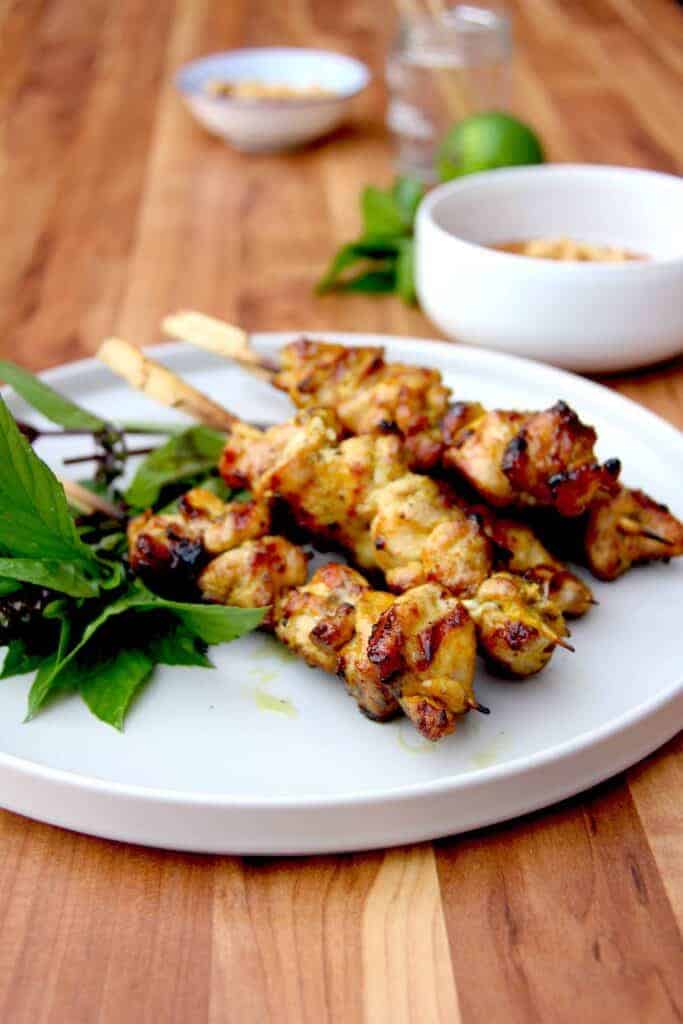 Thai, Indonesian, Filipino
As a Canadian, I'm most familiar with the Thai version of chicken satay but there are many variations. Singapore, Indonesia, the Philippines, Malaysia, Brunei and Sri Lanka all have their own versions of this tasty street food snack.
The Dutch Connection
In the Netherlands, chicken satay, or kipsaté in Dutch, is so popular you can even get it as a sauce for your fries at the local frituur (fry shop). Because Indonesia was colonized by the Dutch during the 16th century some Indonesian dishes have been adopted into Dutch cuisine. Chicken satay is also popular in Suriname, another former Dutch colony.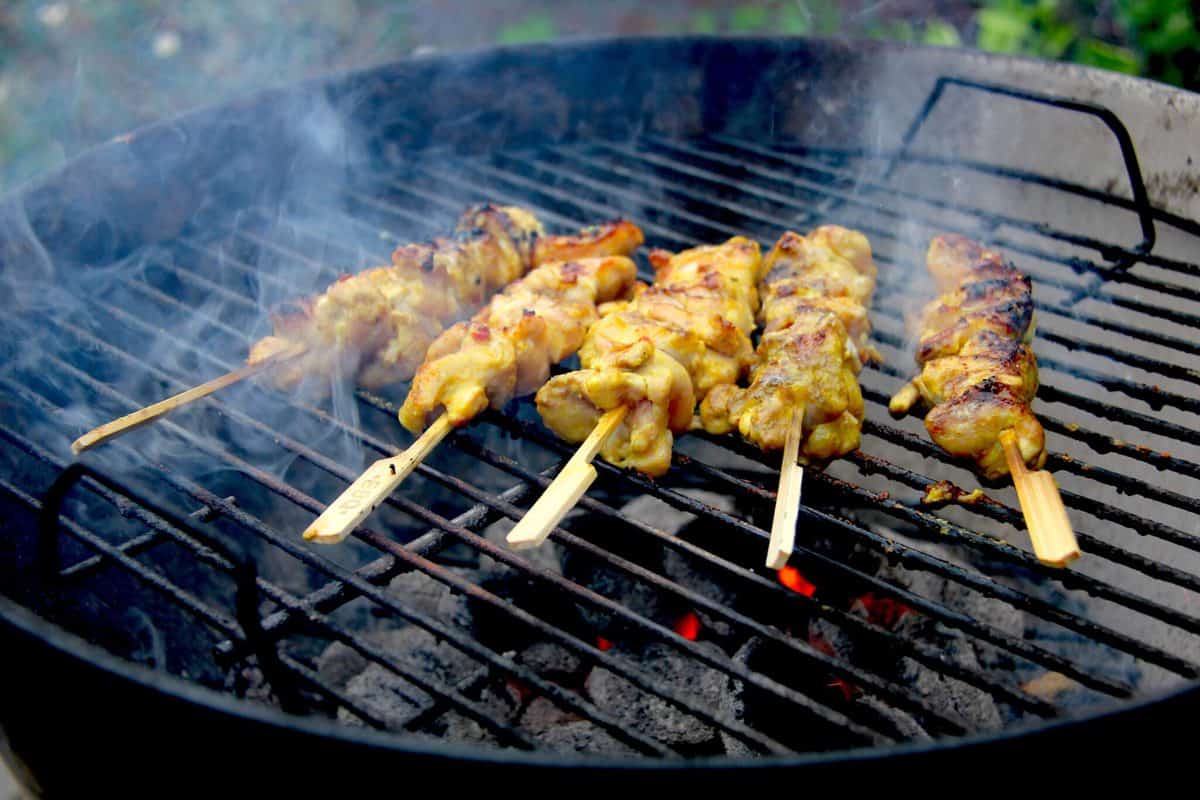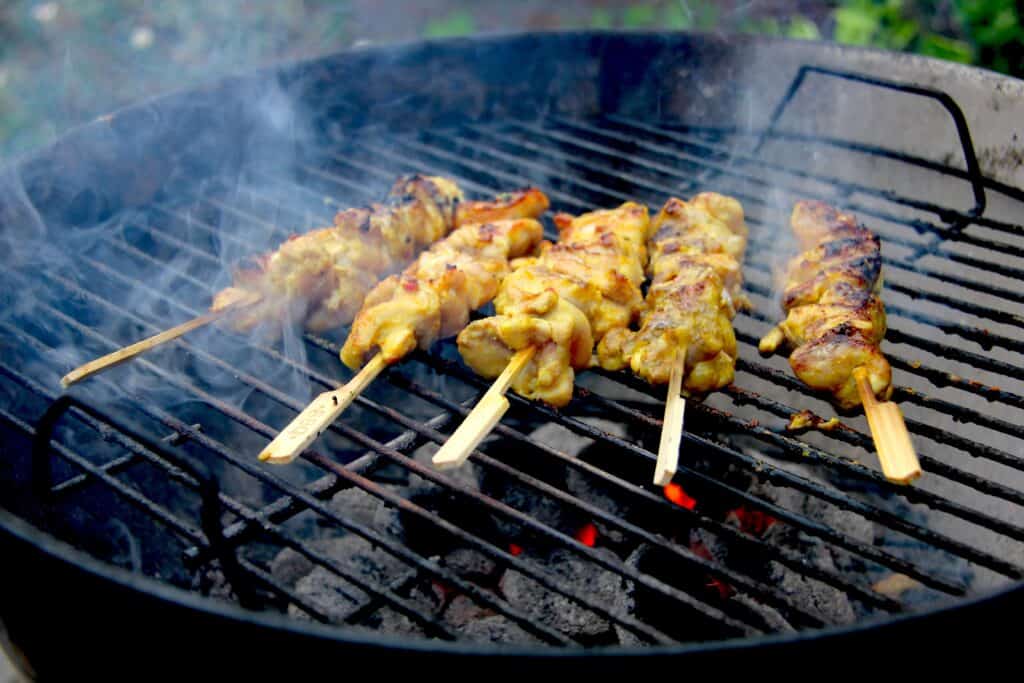 Peanut Sauce
You gotta have this sauce with chicken satay. Don't even think about not making it. It's super, super tasty.
Go here for my favourite way to make this sauce!
Do I really need to marinate them overnight?
You don't have to but the flavour will be much more intense if you give the meat time to marinate. I would try to marinate at least 2 hours but if you really can't wait it's still going to be great with just 15 minutes of marinating.
What to serve with satay
I think satay is worthy enough to be a standalone dinner dish but it's normally served as an appetizer. Some ideas to serve on the side:
Fresh cut cucumber
Fresh Thai basil
A nice bowl of steamed rice
Cold rice noodles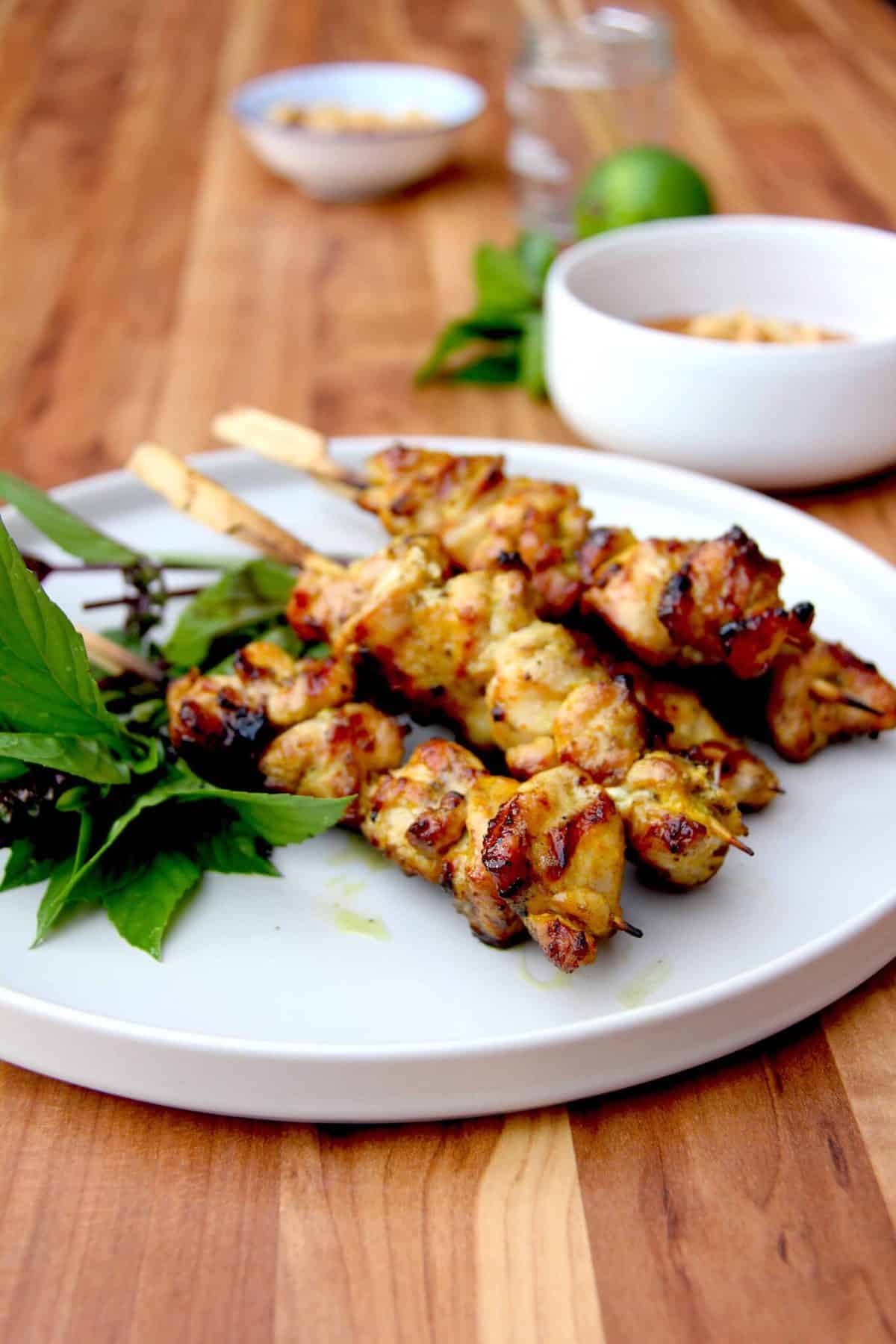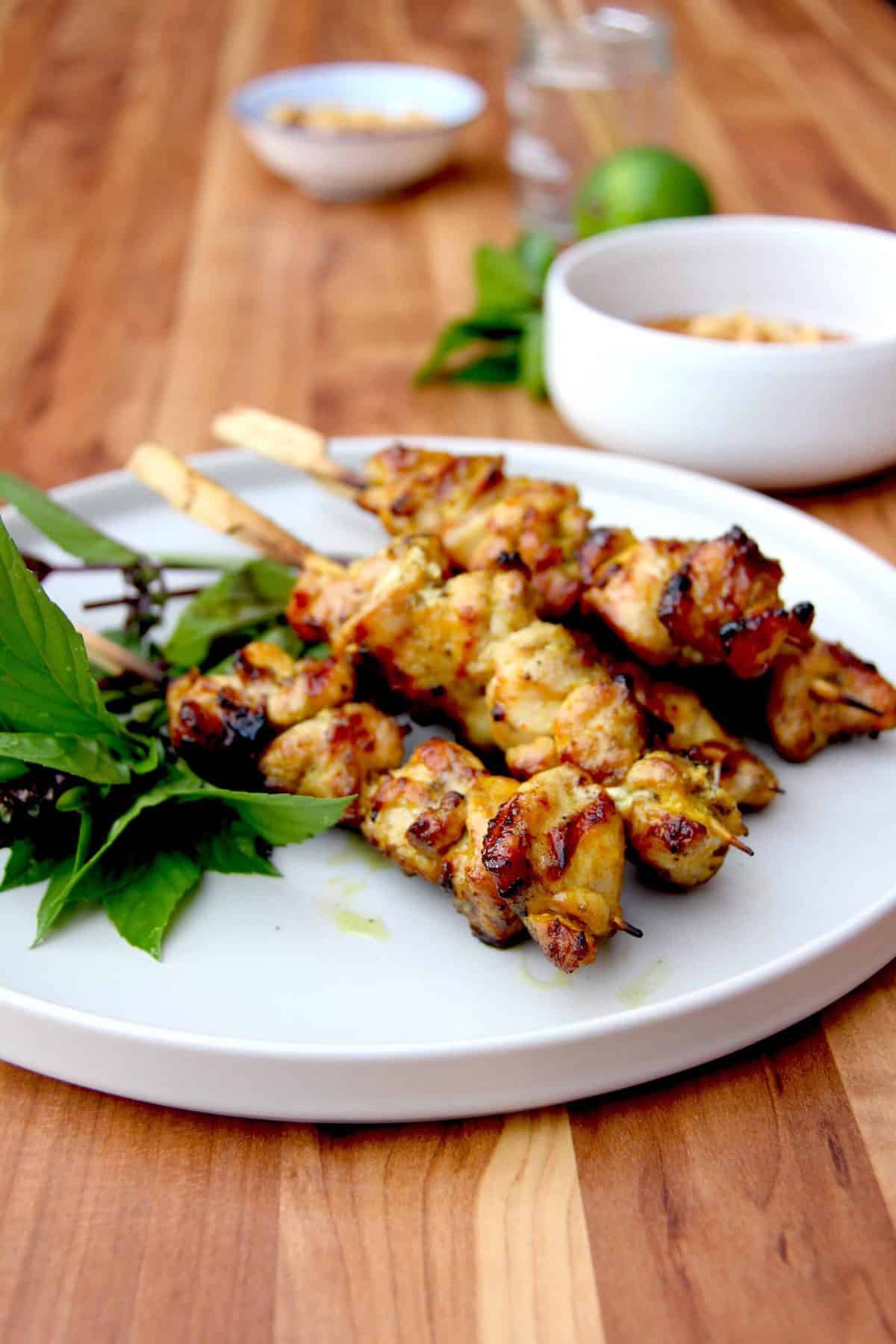 Equipment
Metal or wooden skewers

BBQ

Food processor

grill brush
Ingredients
½

kilo

chicken thigh, boneless and skinless

about 4 chicken thighs

1

can

coconut milk

1

tbsp

curry powder

6

g

ginger, peeled

1 piece the same size as two cloves of garlic

2

cloves

garlic, peeled

1

tsp

coriander powder

2

tsp

soy

½

whole

red chili

1

bunch

thai basil

for garnish

2

tbsp

butter, melted (optional)

for basting the meat

sea salt to taste

5

whole

skewers, soaked
Instructions
Cut the chicken into bite-sized pieces that will fit onto the skewers.

Add all the ingredients together and blend in the food processor. Pour over the chicken and cover with plastic wrap or put in a plastic zip lock bag. Chill the chicken in the marinade overnight or for at least 2 hours in the fridge. If you are planning to BBQ today, soak the wooden skewers in cold water now.

Remove the chicken from the fridge 30 minutes before cooking. Thread the meat onto the skewers as evenly as possible. Fire up the BBQ.

Once the grill is cleaned and hot, season the chicken skewers liberally with sea salt. Grill on the hottest part of the grill.

Keep an eye on the meat as it can burn pretty easily. Everytime you turn the meat over, brush with butter. Test the biggest piece of meat with a knife by cutting slightly to see if the meat is cooked.

Before serving, baste with a final brush of melted butter and rest the chicken for 5 minutes on the fresh basil. Serve with peanut sauce and enjoy!
Notes
Soaking the wooden skewers in water prevents them from burning too quickly on the grill.
Nutrition
Calories:
200
kcal
|
Carbohydrates:
4
g
|
Protein:
2
g
|
Fat:
21
g
|
Saturated Fat:
15
g
|
Cholesterol:
1
mg
|
Sodium:
65
mg
|
Potassium:
187
mg
|
Fiber:
1
g
|
Sugar:
1
g
|
Vitamin A:
297
IU
|
Vitamin C:
1
mg
|
Calcium:
30
mg
|
Iron:
3
mg
Crunchy Apple and Cucumber Salad with Sesame + Miso
It's cold, crunchy and ridiculously refreshing on a hot day. You definitely want to make this salad when the weather is too hot to handle.
Check out this recipe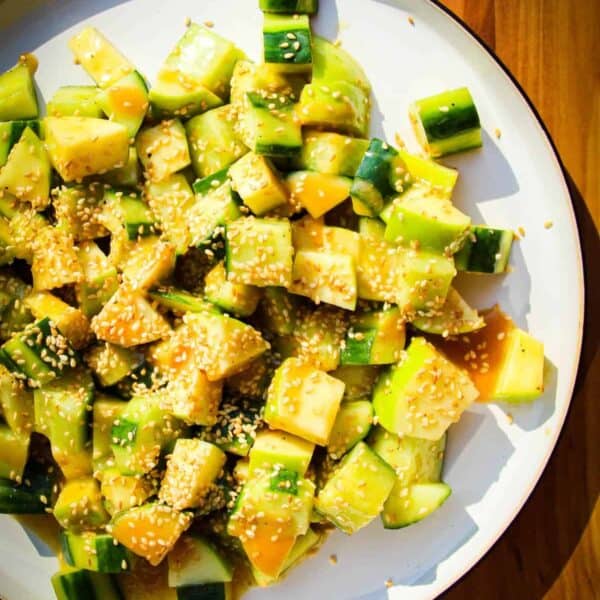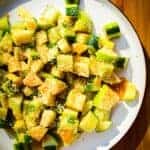 Sweet and Spicy Peanut Sauce – The Real Deal
A fantastic recipe for a peanut sauce that is a must have with chicken satay. Sweet, tangy and slightly spicy makes this sauce the perfect accompaniment to any steamed vegetable, rice, chicken or pork dish.
Check out this recipe