I don't know about you, but I've seen enough David Attenborough documentaries now to know that eating less meat is a good idea.
Luckily these vegan sofritas veggie bowls are not just another meat substitute, they *actually* taste good.
You can easily add this dish to your weekly dinner rotation for a delicious plant-based alternative.
What is Sofritas?
Basically, sofritas is a vegan dish made famous by the popular Chipotle Mexican chain. It's made with fried and shredded tofu that's slowly cooked in an adobo-style sauce and served with the usual suspects, guac, salsa, rice, beans and fresh herbs.
Not to be confused with the term sofrito, which is a Mediterranean cooking preparation that includes a mix of onions, garlic, peppers and celery.
Maybe you're the kind of person that's not that fond of tofu, BUT don't give up hope just yet, you need to try this recipe first. Why? The sauce is so flavourful that you won't miss the meat at all and the extra firm tofu has a nice texture similar to meat.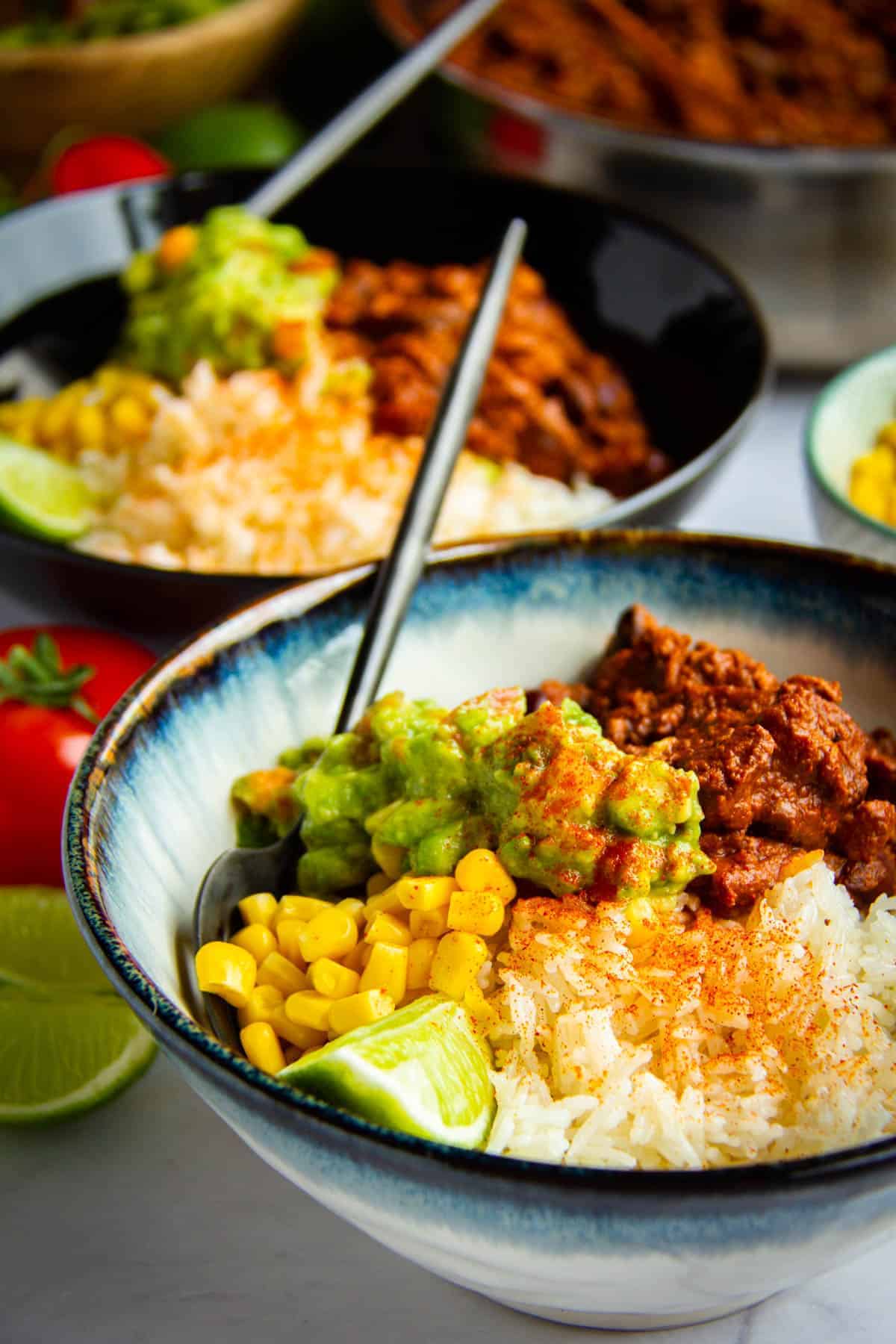 So What's in Sofritas?
Just like these Birria tacos, the secret to their success is in the peppers. I use a special blend of dried cascabel and ancho chilis to give this normally bland tofu some real flavour. I'm convinced that this sauce is so delicious that practically anything it touches will taste good.
Here's what's in my sofritas:
Extra-firm tofu (Soft tofu will not fry as well as the firm stuff)
Dried cascabel peppers
Dried ancho chili peppers
Dried guajillo peppers
Chipotle peppers in adobe sauce
Fresh tomatoes
Garlic
Sherry vinegar
Pickled peppers (optional but provides a nice depth of flavour)
Nutritional yeast (optional but cranks up the umami-ness)
Smoked paprika, cumin, cinnamon, Aleppo chili and celery salt
Fresh oregano (you can also use dried)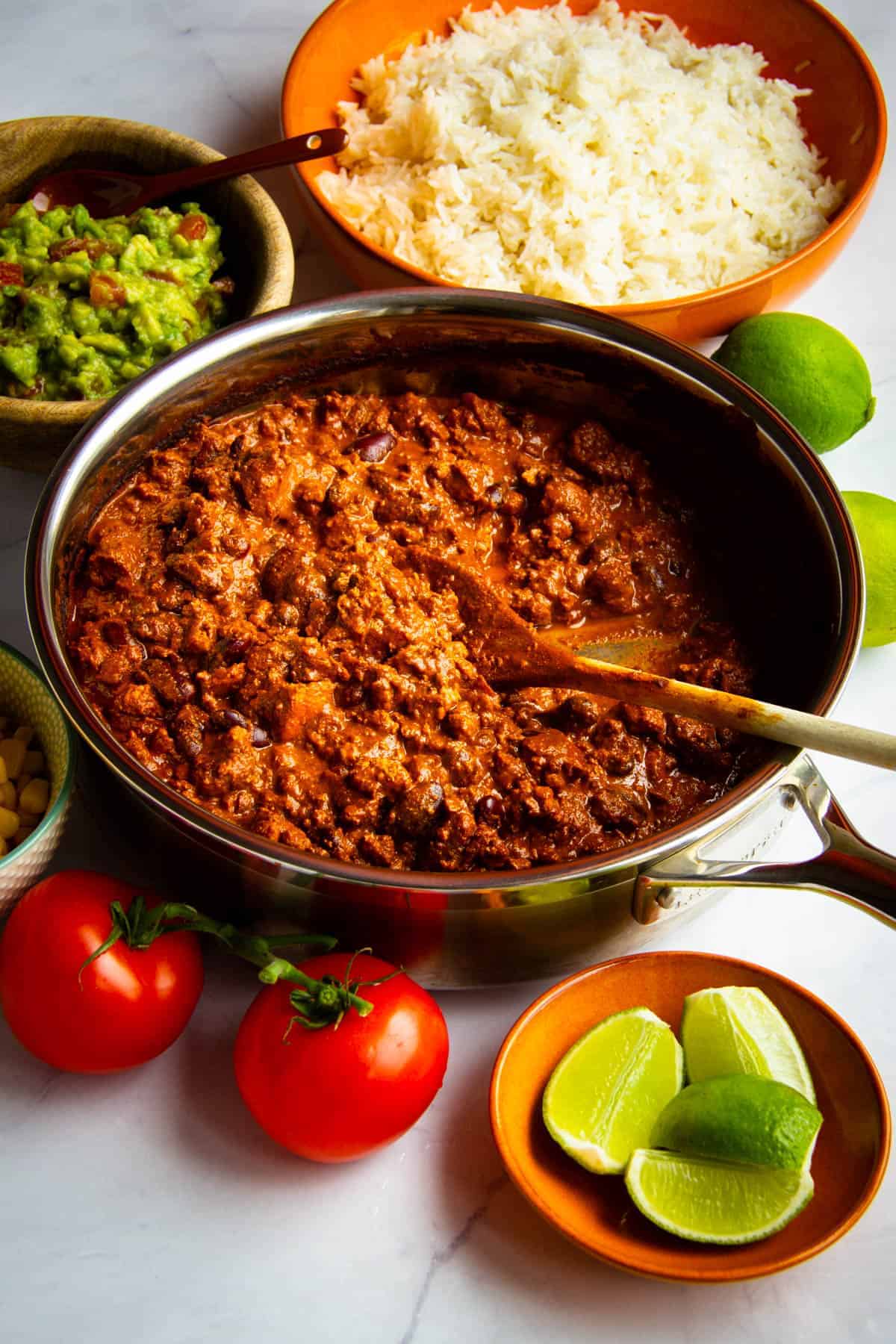 What If I Don't Have all of these Ingredients?
Important Peppers
I highly recommend not substituting the dried cascabel, ancho, guajillo and chipotle peppers otherwise the sauce will be pretty bland. The 4 peppers together give these sofritas an incredible range of flavours but you could probably get away with using extra of just one of the listed peppers.
You could also try poblano peppers but they're nowhere near as flavourful as the dried peppers listed above. Plus, dried peppers last for months in your kitchen and you don't have to worry about them going bad.
Tofu
Make sure you buy firm tofu, otherwise you'll end up with a strange tofu puree after cooking instead of a meat-like texture.
You'll also want to dry the tofu well before cooking. Drier tofu will fry better and soak up more of that flavourful sauce.
Herbs & Spices
Feel free to swap the spices with what you have on hand. I don't like a lot of cumin so I don't add too much but I still find a little to be necessary for this recipe.
Also, the smoked paprika is an easy way to add a touch of smokiness to this dish and is absolutely worth it.
If you don't already know, I'm part of the cilantro hater club so of course, you won't find any of that in my recipes. But if I did like cilantro, I'd probably add it to this recipe.
The nutritional yeast is a little trick to add a slight umami/cheesy flavour to vegan dishes but it's totally optional.
How to Serve Sofritas
Think about how you'd order at Chipotles because this dish is inspired by them. Burritos, burrito bowls, tacos, nachos and quesadillas are all great options for this recipe.
Here are a few must-have sofritas accompaniments:
Guac
Pinto or black beans
Fresh limes
Pico de Gallo (Salsa)
Taco shells or wraps
Hot sauce
Corn
Other Recipes You May Like