I don't know about you, but I've seen enough David Attenborough documentaries now to know that eating less meat is a good idea.
Luckily these vegan sofritas veggie bowls are not just another meat substitute, they *actually* taste good.
You can easily add this dish to your weekly dinner rotation for a delicious plant-based alternative.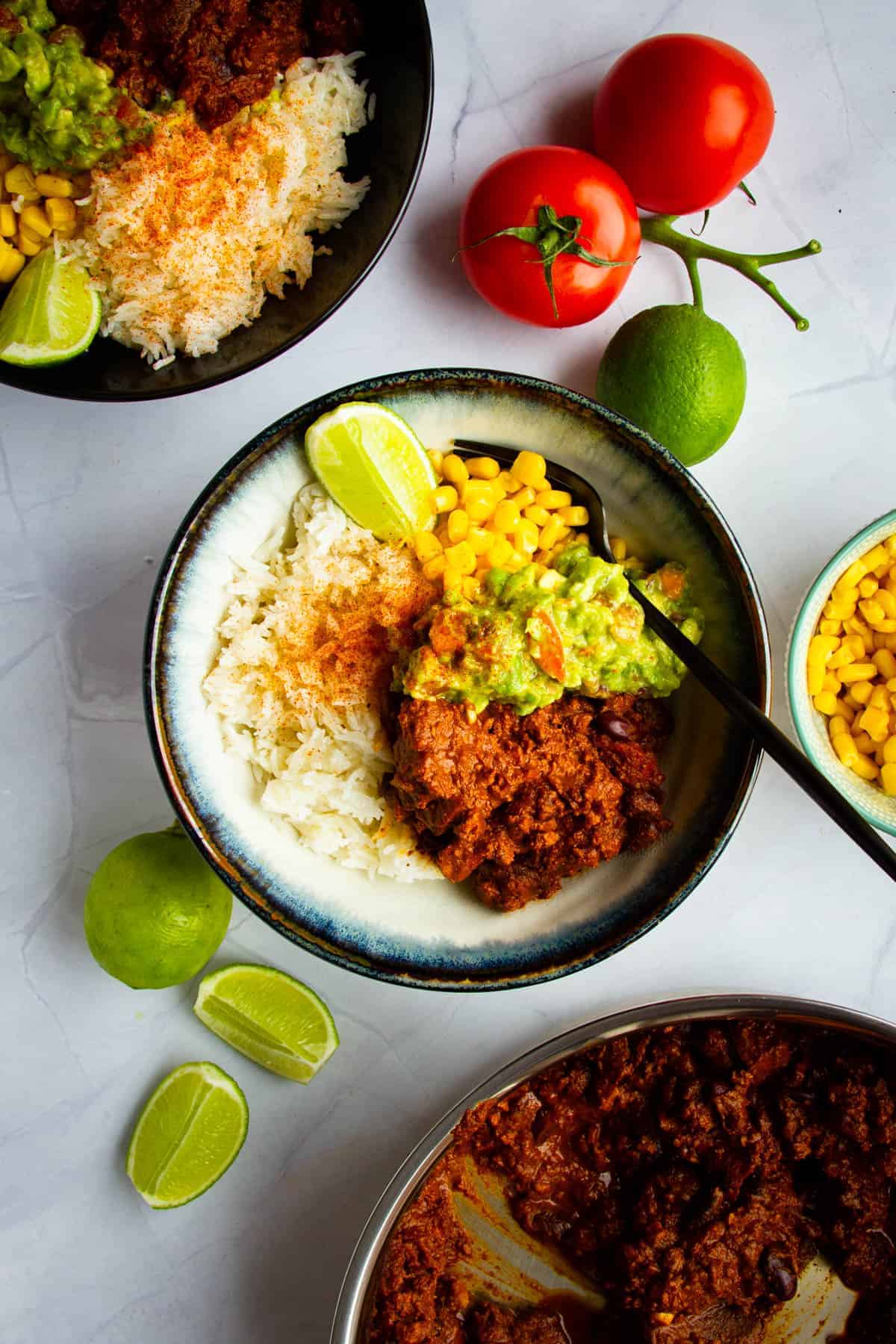 What is Sofritas?
Basically, sofritas is a vegan dish made famous by the popular Chipotle Mexican chain. It's made with fried and shredded tofu that's slowly cooked in an adobo-style sauce and served with the usual suspects, guac, salsa, rice, beans and fresh herbs.
Not to be confused with the term sofrito, which is a Mediterranean cooking preparation that includes a mix of onions, garlic, peppers and celery.
Maybe you're the kind of person that's not that fond of tofu, BUT don't give up hope just yet, you need to try this recipe first. Why? The sauce is so flavourful that you won't miss the meat at all and the extra firm tofu has a nice texture similar to meat.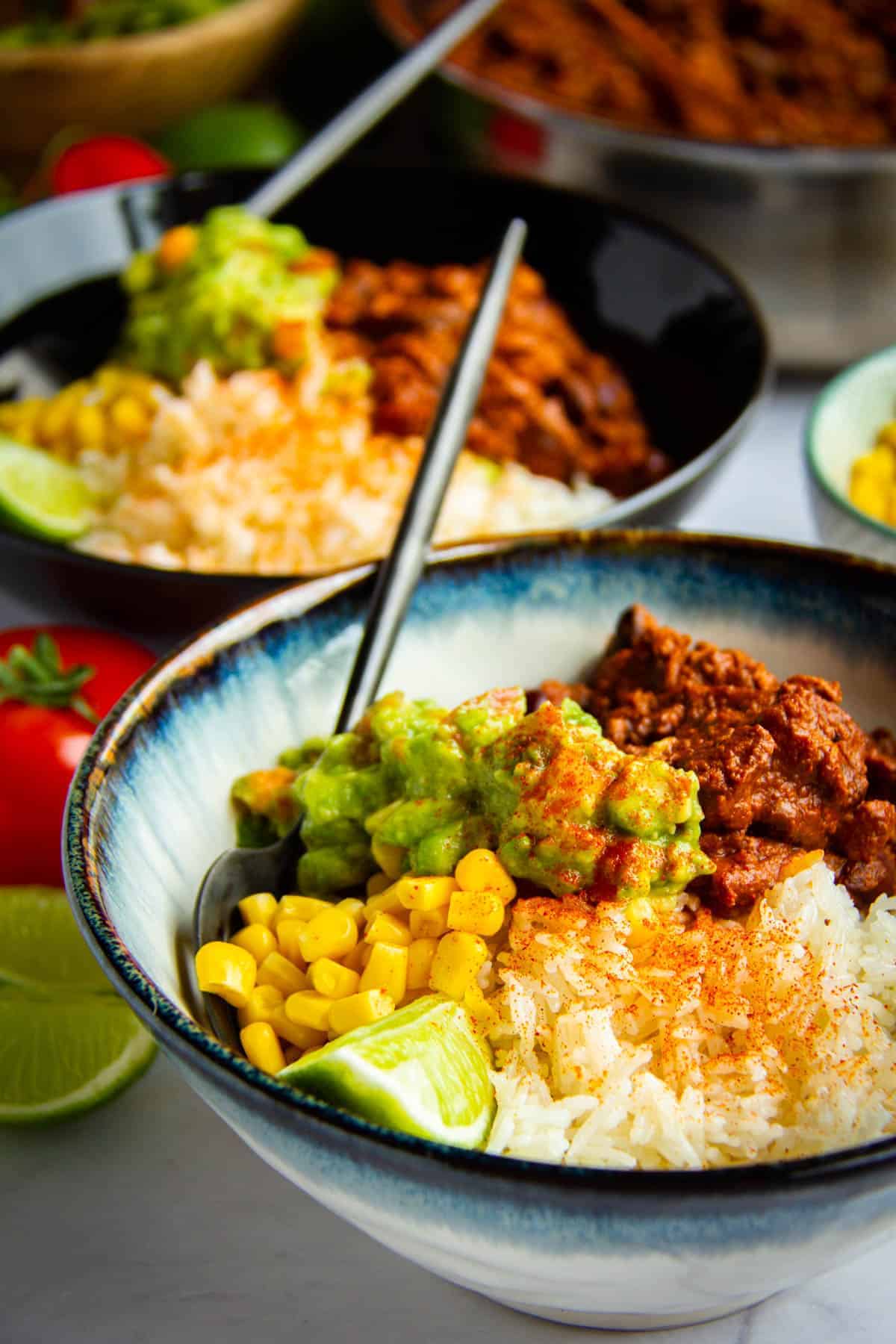 So What's in Sofritas?
Just like these Birria tacos, the secret to their success is in the peppers. I use a special blend of dried cascabel and ancho chilis to give this normally bland tofu some real flavour. I'm convinced that this sauce is so delicious that practically anything it touches will taste good.
Here's what's in my sofritas:
Extra-firm tofu (Soft tofu will not fry as well as the firm stuff)
Dried cascabel peppers
Dried ancho chili peppers
Dried guajillo peppers
Chipotle peppers in adobe sauce
Fresh tomatoes
Garlic
Sherry vinegar
Pickled peppers (optional but provides a nice depth of flavour)
Nutritional yeast (optional but cranks up the umami-ness)
Smoked paprika, cumin, cinnamon, Aleppo chili and celery salt
Fresh oregano (you can also use dried)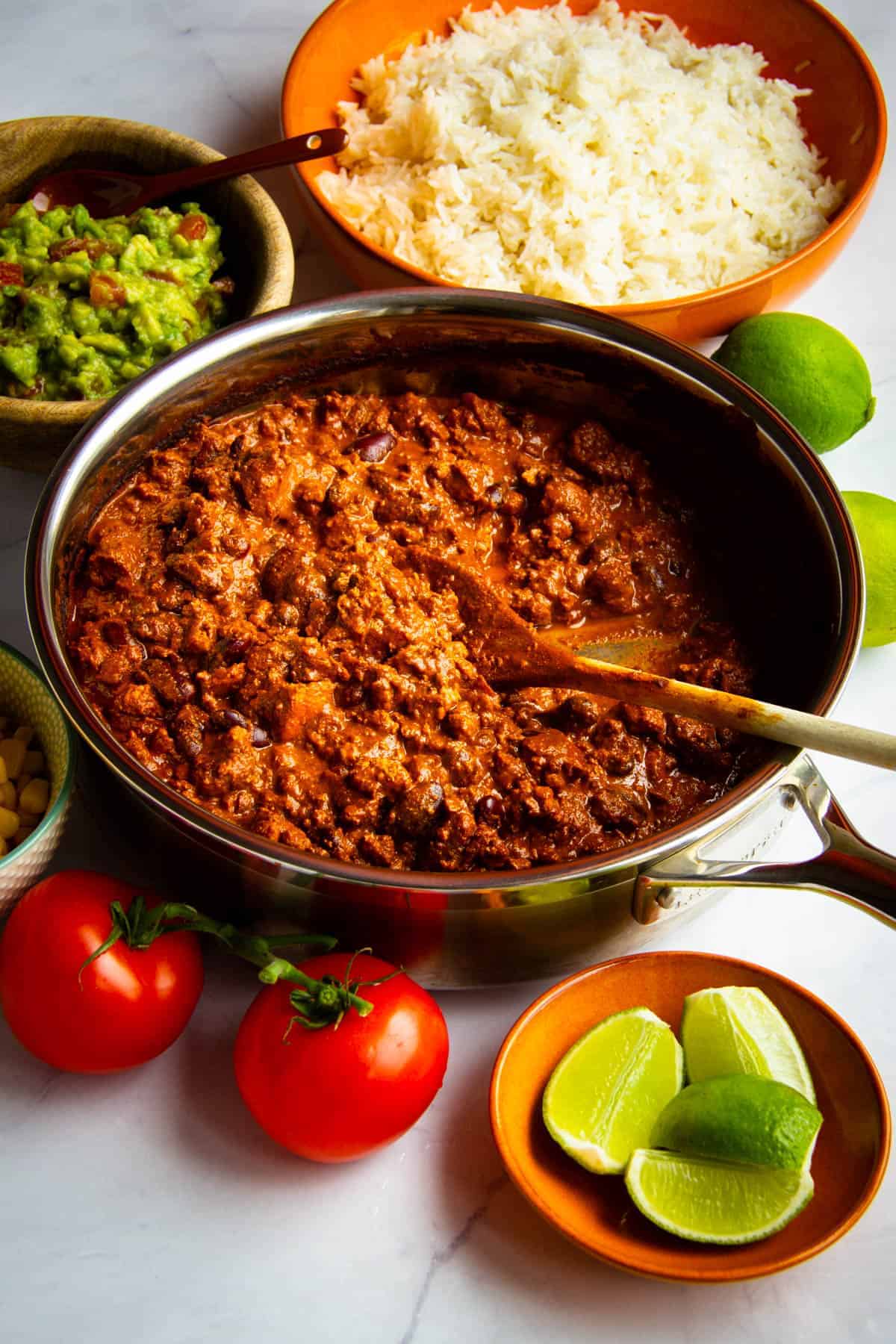 What If I Don't Have all of these Ingredients?
Important Peppers
I highly recommend not substituting the dried cascabel, ancho, guajillo and chipotle peppers otherwise the sauce will be pretty bland. The 4 peppers together give these sofritas an incredible range of flavours but you could probably get away with using extra of just one of the listed peppers.
You could also try poblano peppers but they're nowhere near as flavourful as the dried peppers listed above. Plus, dried peppers last for months in your kitchen and you don't have to worry about them going bad.
Tofu
Make sure you buy firm tofu, otherwise you'll end up with a strange tofu puree after cooking instead of a meat-like texture.
You'll also want to dry the tofu well before cooking. Drier tofu will fry better and soak up more of that flavourful sauce.
Herbs & Spices
Feel free to swap the spices with what you have on hand. I don't like a lot of cumin so I don't add too much but I still find a little to be necessary for this recipe.
Also, the smoked paprika is an easy way to add a touch of smokiness to this dish and is absolutely worth it.
If you don't already know, I'm part of the cilantro hater club so of course, you won't find any of that in my recipes. But if I did like cilantro, I'd probably add it to this recipe.
The nutritional yeast is a little trick to add a slight umami/cheesy flavour to vegan dishes but it's totally optional.
How to Serve Sofritas
Think about how you'd order at Chipotles because this dish is inspired by them. Burritos, burrito bowls, tacos, nachos and quesadillas are all great options for this recipe.
Here are a few must-have sofritas accompaniments:
Guac
Pinto or black beans
Fresh limes
Pico de Gallo (Salsa)
Taco shells or wraps
Hot sauce
Corn
Easy Sofritas Veggie Bowls
These vegan sofritas veggie bowls are an easy weeknight dinner with big flavours. Just don't forget to make the guac! Gluten-free, vegan.
Ingredients
500

g

extra firm tofu

+300g if not using beans

300

g

cooked black or pinto beans

rinsed and drained (optional)

2

tbsp

vegetable oil
For the Adobo Sauce
1

pc

dried ancho chili

whole

2

pc

dried guijillo peppers

whole

4

pc

dried cascabel peppers

whole

4

pc

medium sized roma tomatoes

the riper the better

2

pc

small red onions

4

cloves

garlic

½

bunch

oregano

1

cup

water

1

jar

pickled peppers, strained

see picture for size

1-3

pc

chipotles in adobo sauce

use 1 for mild, 3 for spicy

1

tsp

sherry vinegar

or red wine vinegar or lime juice
For the Tofu Seasoning
2

tsp

smoked paprika

¼

tsp

celery salt

⅛

tsp

cinnamon

ground

½

tsp

cumin

ground

¼

tsp

Aleppo chili

or ⅛ tsp ground cayenne

¼

tsp

nutritional yeast

optional

½

tsp

salt or more if you like
Instructions
Slice the tofu into roughly ½ inch slices. This will make it easier to handle while frying.

Line the sliced tofu on a tray with paper towel. Season lightly with salt and cover with another layer of paper towel and another sheet tray. Use a heavy object to press the tofu for 10-30 minutes.

Have all the ingredients ready to go like in this picture before you begin. Core the tomatoes and peel the onions and garlic.

Sear the tofu slices with half of the vegetable oil. Fry in batches until lightly golden on each side.

Place the tofu in a separate bowl and add the spices. Break it up into tiny pieces with a fork, spatula or blitz it quickly in a food processor.

In the same pan, toast the peppers on very low heat and on all sides heat until they puff up. Set aside in a bowl to cool.

Fry the tomatoes and onions in the pan until browned slightly.

Then add the garlic and oregano and a bit of salt. Cook for 30 seconds on low heat, then add all of this to the blender.

Remove the stems and seeds from the dried peppers. Add this back to the cast iron pan along with 250ml water and cook for about 5 minutes or until the peppers are soft.

Add everything to the blender (except the tofu/beans) and blend. Adjust the seasoning of the sauce to your liking.

Add this sauce, the crumbled tofu and the cooked beans to a large pot. Cook on low heat for about 5-10, stirring frequently with a wooden spoon to prevent it from burning and spitting.

Serve the sofritas hot in a bowl with rice, guacamole, and your favourite garnishes. Enjoy!
Notes
If you choose not to add beans, then substitute with extra tofu (300g) otherwise there will be too much sauce.
Use a pot with high sides while cooking the sofritas to prevent the sauce from spitting. Stirring frequently will prevent the sauce from spitting as it cooks.
Cooked sofritas will keep for up to 5 days in the fridge. They freeze excellently and will keep for up to 6 months in the freezer.
Nutrition
Calories:
996
kcal
|
Carbohydrates:
99
g
|
Protein:
66
g
|
Fat:
41
g
|
Saturated Fat:
25
g
|
Polyunsaturated Fat:
7
g
|
Monounsaturated Fat:
6
g
|
Sodium:
2104
mg
|
Potassium:
2333
mg
|
Fiber:
31
g
|
Sugar:
8
g
|
Vitamin A:
3051
IU
|
Vitamin C:
9
mg
|
Calcium:
356
mg
|
Iron:
14
mg
Other Recipes You May Like
Fried Eggplant with Garlic, Smoked Paprika and Basil
A recipe for olive-oil fried eggplant with smoked paprika, garlic, lemon and fresh basil. It's easy to make, vegan friendly and super tasty. Serve with lamb or beef dishes or with a a big plate of steamed rice.
Check out this recipe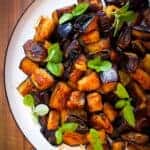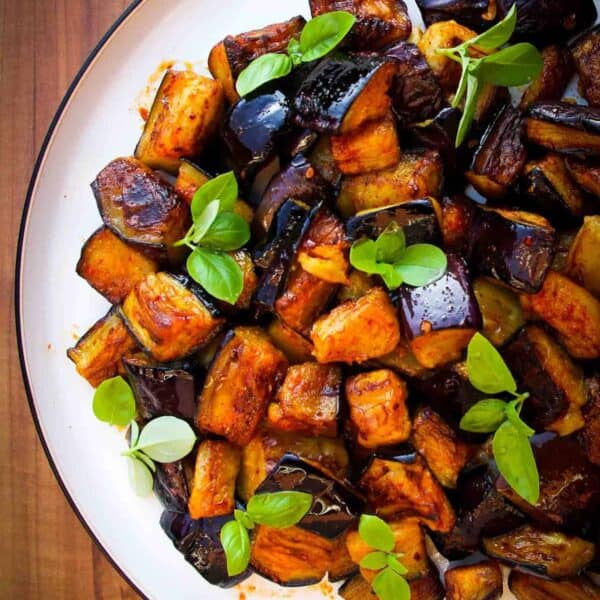 Pico de Gallo – Taco's Best Friend
A solid, no-fail recipe for pico de gallo. A raw tomato salsa with chilis, herbs, shallots and fresh lime juice that's ready to go for your next taco night.
Check out this recipe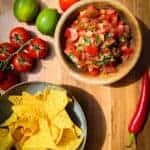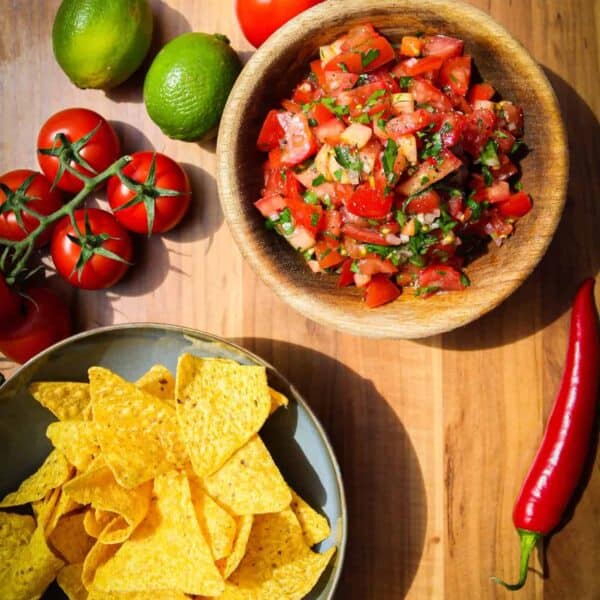 Easy, No-Fail Instant Pot Basmati Rice
A guide for how to cook instant pot basmati rice with tips to make sure your rice is perfect every time.
Check out this recipe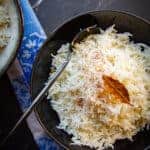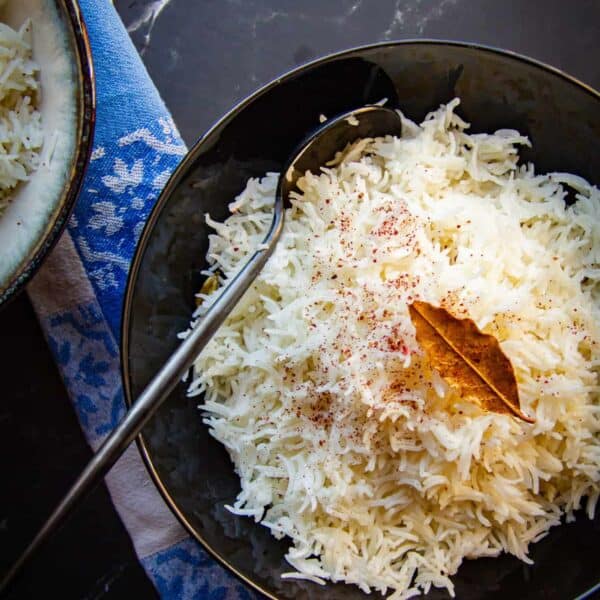 The Best Vegan Chocolate Hazelnut Brownies
A recipe for vegan brownies loaded with intense chocolate hazelnut flavour and drizzled with vegan nutella. Soft, rich and insanely chocolatey. I promise you won't miss the dairy or eggs.
Check out this recipe