Once you've tried Birria tacos, you'll never go back to normal tacos.
Fork-tender braised beef, golden-brown crispy taco shells dipped in an ultra-comforting beef consommé make these the true champions of tacos.
They pack an extra punch of flavour from the addition of dried guajillo, cascabel and chipotle peppers and can be made in under 2 hours with a pressure cooker.
Are you ready for life-changing tacos?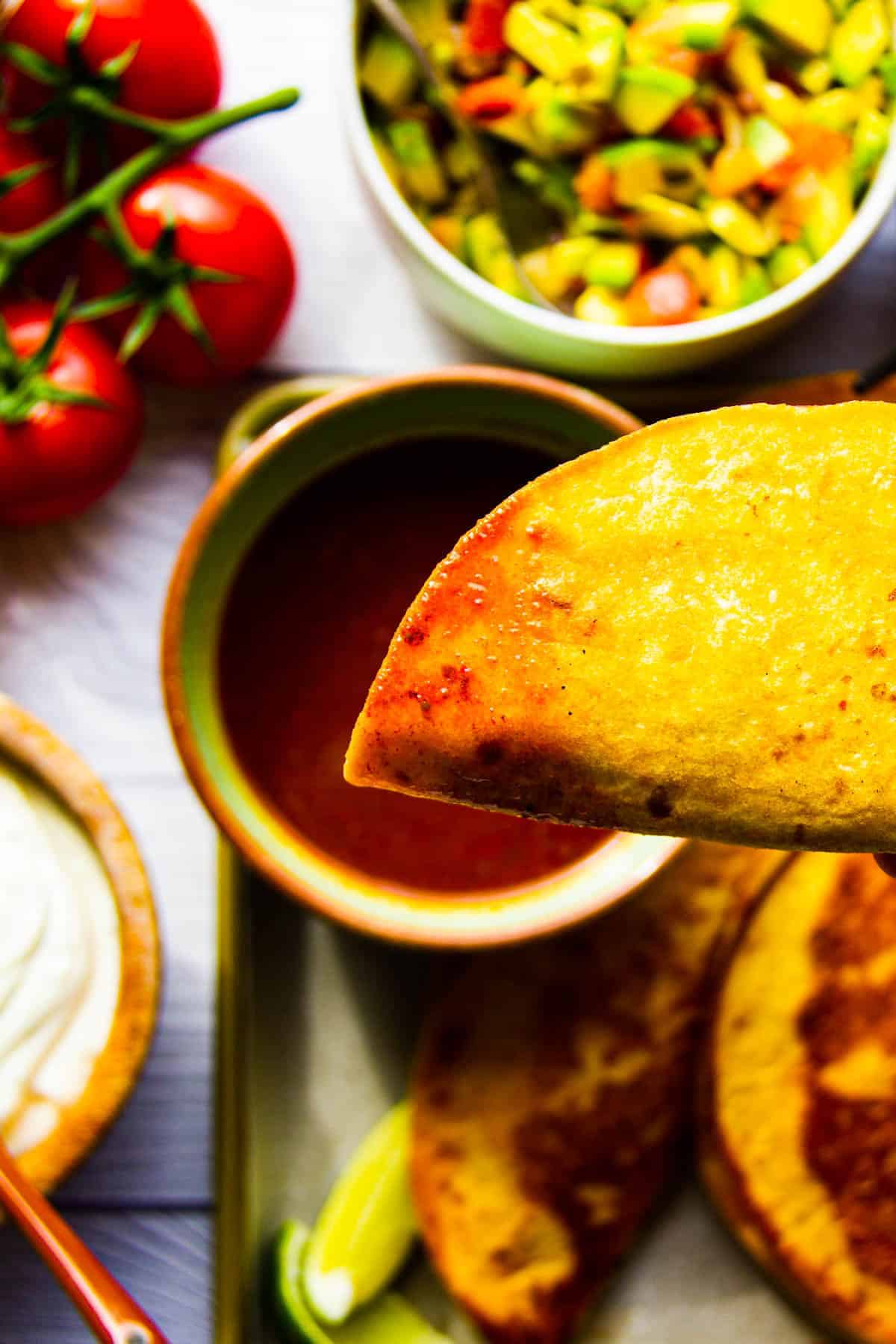 Table of Contents
What are Birria Tacos?
Birria tacos are the holy grail of tacos. And for us at home, this means, slow-cooked beef tacos fried in some delicious chilli-flavoured beef fat and served with a beef "consommé" to dip the tacos in.
Traditionally from the state of Jalisco, Mexico, Birria tacos are made from goat or mutton and are marinated overnight in a flavourful adobo sauce. They're slow cooked in a broth until fork tender and then stuffed inside corn tacos. After which they are then fried in the beef fat from the stew until golden brown.
These tacos are so good that there are even street vendors called birrierias that serve exclusively this style of taco.
Why are Birria Tacos Served with Consommé?
The consomé served alongside these tacos is not a traditional French consommé, but more of a spicy beef broth. French consommé is a meat or vegetable broth that goes through a clarification process to make it ultra-clear.
For the sake of this recipe, we're not going to clarify the broth because it will not add any extra flavour and it takes up precious time that I'm sure you can find a better use for.
The consomme served alongside Birria tacos is not only extra delicious, but it's also a smart way to use up the broth that the meat is cooked in.
The difference with this consomme is that it's packed full of rich spicy flavour that adds a serious flavour punch when you dip your tacos in it.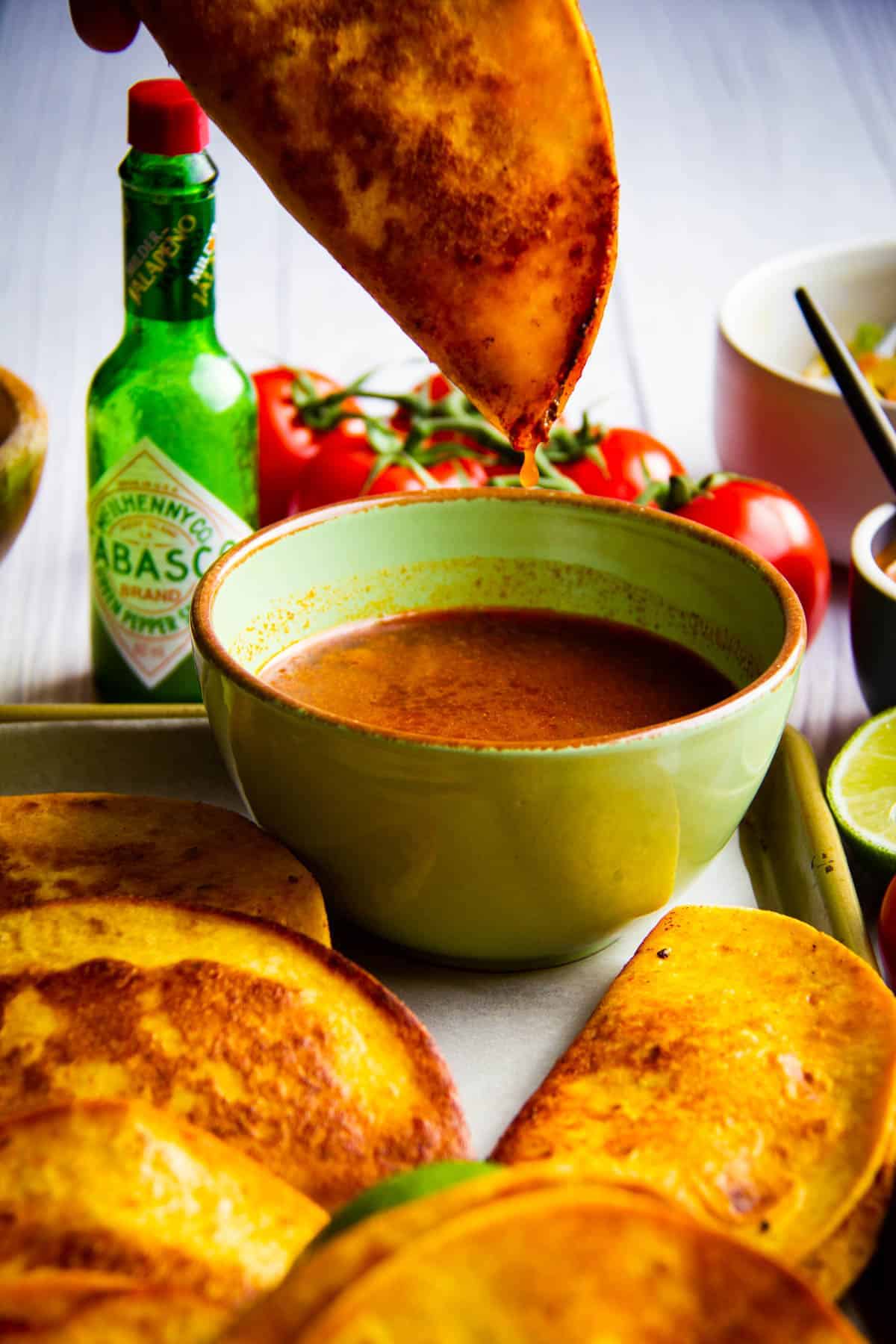 Is this an Authentic Birria Tacos Recipe?
Because I didn't grow up in Birria, this recipe is not authentic and is instead adapted for you to enjoy at home. With that being said, these tacos are still extremely delicious and probably the only way I'll make tacos at home from now on.
The traditional method for Birria tacos varies but the most common method starts with huge pieces of beef shank with all of its fat left intact. This is then marinated overnight in an adobo sauce. The beef is cooked in a broth (sometimes even smoked first) with the adobo. The fat from the broth is saved and used to fry the tacos in.
I've tweaked this recipe a little to make it work in an Instant Pot, which saves a lot of time and makes an incredibly flavourful broth.
After testing, I've discovered that there are some steps you can skip and others that you just can't. In the next headings, I'll outline these and discuss ways to make this recipe faster without sacrificing flavour.
The Overnight Marinade
You don't need to marinate the beef overnight in adobo sauce but that is traditional and it will increase the flavour of the stew.
A pressure cooker will yield a more flavourful broth than a traditional stew or dutch-oven preparation and you can likely skip the overnight marinade if you use this method.
If you're short on time, you can skip the marinade and still get great results.
If you do have the time, marinate the beef overnight in the sauce but be sure to let the adobo sauce cool first before adding it to the raw meat. Marinated meats should always be kept completely cool otherwise you run the risk of leaving the meat in the danger zone and increasing the chance of unwanted bacteria growth.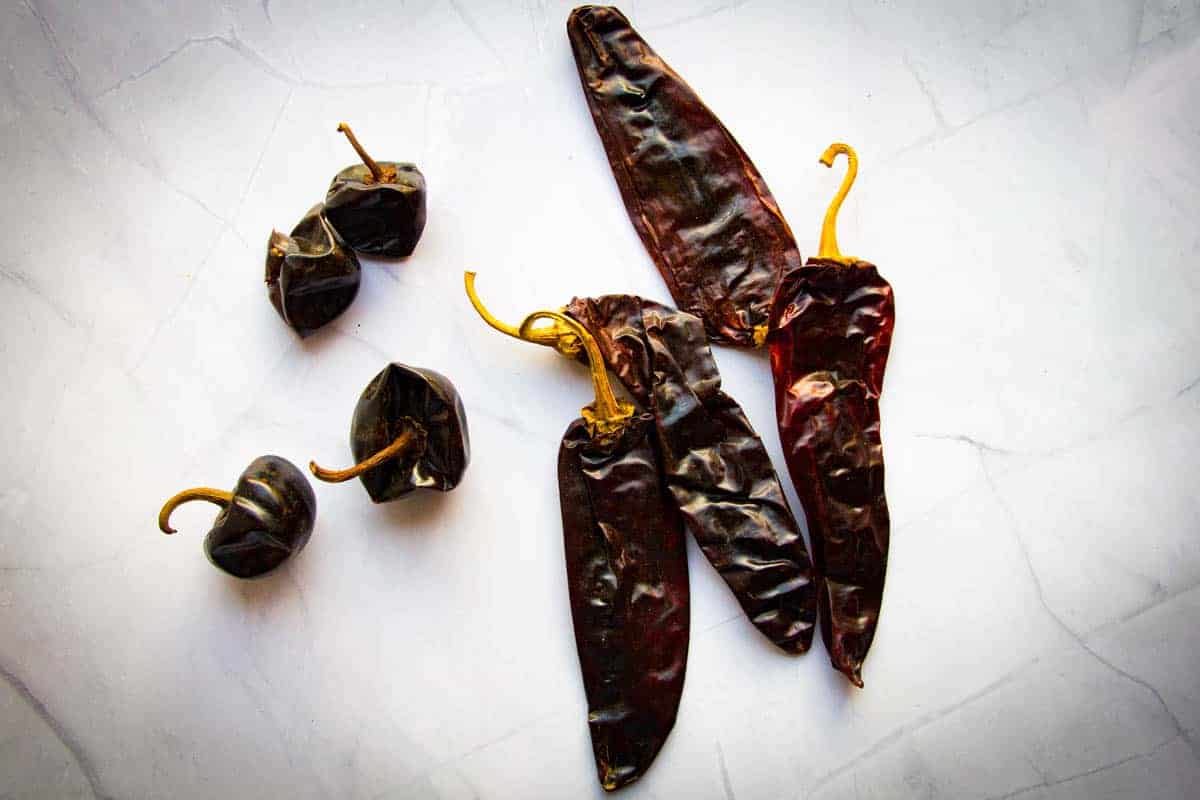 Choose The Right Peppers For Birria Tacos
You won't want to skip the addition of guajillo, cascabel, or chipotle peppers in this recipe. This is crucial to the flavour of the dish and the beautiful orange colour of the tacos.
However, you can use just one type of these dried peppers such as the cascabels, or guajillo peppers and still get a delicious stew. But the chipotle peppers on their own will not be as good.
They are a little pricey and hard to come by but you can sometimes get a discount if you buy in bulk. To me, cascabel peppers are worth their weight in gold because their deep flavour is second to none.
If you have a Mexican or Latin grocery store near you then that's the first place I would go to find these peppers. Look for chiles that are slightly shiny with a flexible texture and not too brittle. They should smell fragrant and a little bit like dried fruit.
If not then you can usually find decent peppers online. I always try to support the local businesses first but if you can't find a store then you can always buy them online.
You can find whole cascabel chili peppers here, guajillo peppers here and chipotle peppers in adobo sauce here.
These dried peppers will also make a nice stew when mixed with chipotle peppers: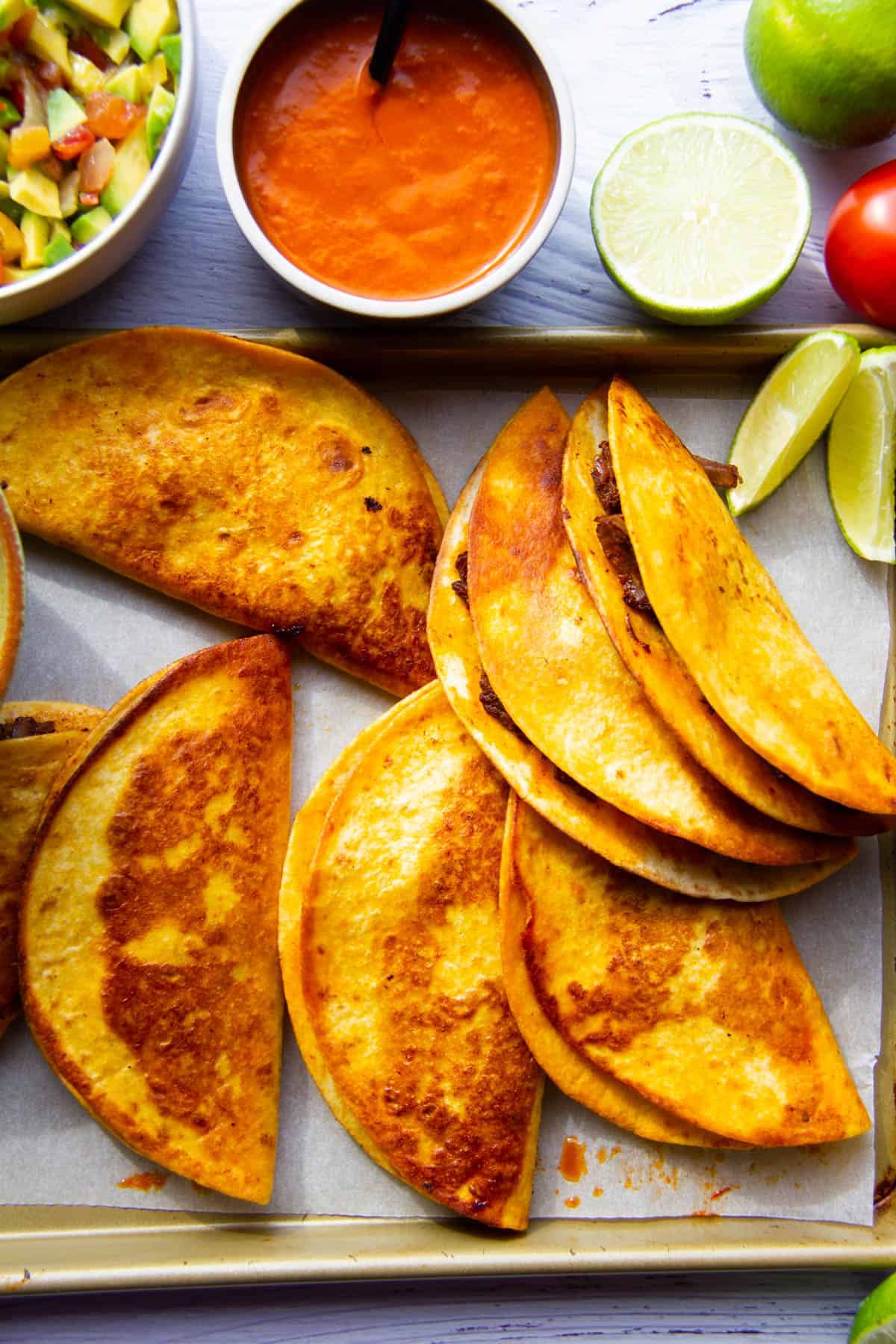 Corn or Wheat Taco Shells?
Traditionally, it's corn tacos. But I personally find corn tacos a bit dry.
I recommend buying tacos mixed with corn and wheat for the best flavour and texture.
Pro-Tip – Microwave taco shells for 30 seconds before frying them to make them easier to fold.
The Perfect Beef for Birria Tacos
The perfect cut of beef for this recipe is beef shank or short rib but chuck also works really well. In this dish, we use the beef fat from the stew to fry the tacos so you'll want a cut with good marbling.
If you can find a little beef tallow from the butcher then you can add a few pieces of this (maybe 5-10% of the weight of the meat) to the stew and you'll end up with plenty of fat to fry the tacos in.
Stay away from lean cuts of meat like eye of round or that bag of "stewing beef" from your grocery store. That mysterious bag of meat will almost always yield dry over-cooked meat.
Cook the Tacos Low and Slow
When the tacos are dipped in the broth, they'll brown much faster. Cook the tacos on low heat to get an even, golden brown crispy shell.
If you don't have enough fat from the braise, you can add a little extra beef fat or vegetable oil which will make frying them much easier.
How Spicy are Birria Tacos?
Everyone has different opinions on how hot they like their food but I would say these tacos are mild-medium level spicy with most of the spice coming from the chipotle peppers.
If you can handle jalapenõ-level hot, then these tacos will be no problem for you.
Cascabel and guajillo peppers are not too spicy, ranging from 1000-5000 Scoville units but pack a ton of flavour.
You can increase the spicy flavour in this dish by leaving the seeds of the peppers in the sauce.
How to Make this Without an Instant Pot
If you don't have an Instant Pot that's no problem. This recipe will also work well in a slow-cooker or a Dutch oven.
Slow Cooker – Bring the marinaded meat to a boil, then add this to your slow cooker and cook on the low setting for 8 hours or until the meat pulls away with a fork.
Dutch Oven – Bring the marinaded meat to a boil in the Dutch oven and place in an oven at 325°F/ 165°C for two hours with the lid on.
Tips to Nail These Birria Tacos at Home
Marinate the beef overnight if you have time, but feel free to skip this step if you don't have enough time.
Buy the right peppers. Cascabel or Guajillo and chipotles are crucial to this recipe and cannot be omitted without sacrificing flavour.
Use tacos that contain both corn and wheat for the best of both worlds.
Get the right cut of beef with a good amount of fat. Beef shank, beef chuck and short rib are all great options.
Cook the tacos low and slow to get an even, golden brown colour.
What to Serve with These Tacos
These tacos are traditionally served with fresh cilantro, lime and onions. If you don't like cilantro like me, don't worry because there are plenty of tasty alternatives:
Crème fraîche or sour cream. Not traditional but so good and highly recommended!
Fresh lime wedges.
Green Tabasco.
Guacamole. Not traditional for these tacos, but is guacamole ever a bad idea?
Pico de Gallo – (Cilantro free).
Queso fresco cheese.
Pickled onions.
How to Store & Reheat Birria Tacos
The next day the braised beef will be even better.
To reheat, simply bring the broth with the beef inside to a boil. Strain out the beef from the broth and add to the beef-fat dipped taco shells. Fry until golden brown on both sides and finish with your favourite taco accompaniments.
Store the cooked beef in the broth for up to 5 days in the fridge or freeze for up to 6 months in the freezer.
Easy Birria Tacos
These Birria tacos are cooked in a mix of cascabel, guajillo and chipotle peppers for the ultimate rich and smokey fork-tender taco filling. They're fried in the beef fat until golden brown and served with extra broth on the side for dipping.
Ingredients
1

kg

chuck beef

fat left on
Beef Spice Rub
1

tbsp

smoked paprika

1

tbsp

oregano

or Mexican oregano

1

tsp

cinnamon

or Oaxacan cinnamon

1

tsp

black pepper

1

tsp

cumin

2

pc

bay leaf
Adobe Marinade
2

whole

red onions

peeled

6

pc

garlic cloves

peeled

1

tbsp

red wine vinegar

1

can

chipotles in adobo sauce

450

ml

liquid from rehydrated peppers

or chicken or beef stock

1

tsp

salt

2

whole

cascabel peppers

2

whole

guajillo peppers
For the Pepper Salsa (Optional)
2

whole

cascabel peppers

2

whole

guajillo peppers

3-4

pc

roma tomatoes

extra ripe

2

cloves

garlic

peeled

3

tbsp

olive oil

1

tbsp

red wine vinegar

½

tsp

salt (or more if you'd like)
Instructions
Remove the tops of the dried peppers with scissors and empty out the seeds. If you like it extra spicy, leave the seeds in.

Rehydrate the dried peppers by putting them in a bowl and covering them with boiling water. Let them soak for at least 10 minutes.

(If you plan to make the salsa, you can soak all 8 peppers now).

Cut the meat into small cubes and mix with spice rub. If you plan to cook this now, season the meat with about 1 tsp of salt.

Make the adobo sauce by blending all of the ingredients for the sauce together with the 4 hydrated peppers. Blend with the pepper soaking water.

If you are marinating overnight, let this sauce cool completely before adding it to the meat. Cover and let sit in the fridge overnight.

If you plan to make this now, add this sauce to the seasoned beef and mix. Add to this to Instant Pot.

Close the Instant Pot lid and set the timer for 40 minutes on high pressure.

(If using a Dutch Oven or Slow cooker see above for the method)

Optional: While the meat is cooking, make the chili salsa by frying the tomatoes, onions and garlic over low heat in a cast iron pan for about 5 minutes.

Add this plus the rest of the ingredients for the salsa to the blender and blend until smooth.

Now is a good time to prepare the other taco accompaniments (guacamole, cheese, onions, herbs, etc).

Once the timer goes off for the Instant pot let it naturally release for 10 minutes and manually release the rest.

Let the beef sit in the broth for about 10 minutes to allow the fat to rise to the top.

Remove the beef from the broth with a spider strainer and shred with a fork.

To make the tacos, dip the tacos in the beef fat on the top of the broth, and fill them with the braised meat, salsa and cheese if desired.

Fold them in half and fry them on both sides on low heat until golden brown.

Serve right away with your favourite taco accompaniments and the hot broth on the side to dip the tacos in. Enjoy!
Nutrition
Calories:
600
kcal
|
Carbohydrates:
13
g
|
Protein:
49
g
|
Fat:
40
g
|
Saturated Fat:
14
g
|
Trans Fat:
2
g
|
Cholesterol:
173
mg
|
Sodium:
1707
mg
|
Potassium:
944
mg
|
Fiber:
7
g
|
Sugar:
4
g
|
Vitamin A:
3704
IU
|
Vitamin C:
2
mg
|
Calcium:
90
mg
|
Iron:
8
mg
Need More Recipes?
Instant Pot Beer-Braised Carnitas
Instant Pot Beer Braised Pork Carnitas
The perfect recipe for beer braised, fork tender pork carnitas. This recipe is so delicious you won't want to put anything else in your tacos.
Check out this recipe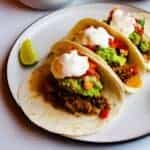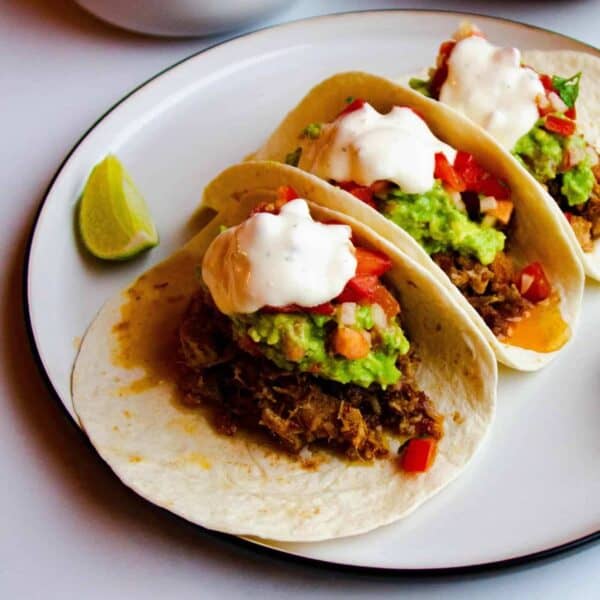 Pico de Gallo – Taco's Best Friend
A solid, no-fail recipe for pico de gallo. A raw tomato salsa with chilis, herbs, shallots and fresh lime juice that's ready to go for your next taco night.
Check out this recipe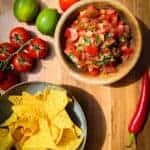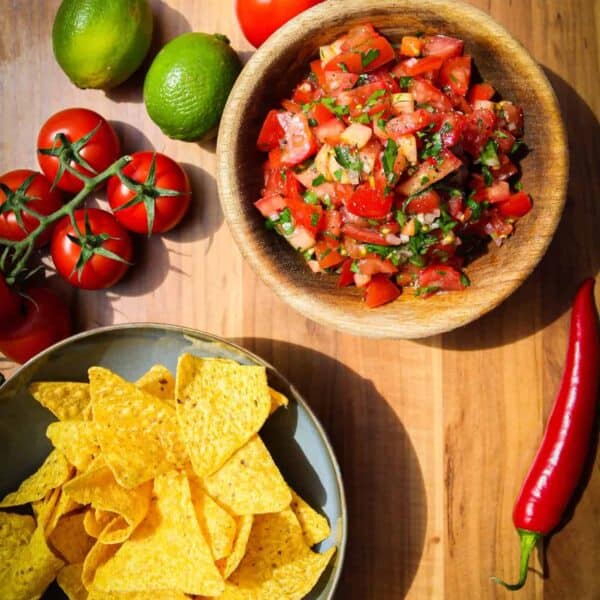 How to Make Ancho Chili Powder
How to Make Ancho Chili Powder
Grinding your own ancho chili powder is easy and the best way to preserve the flavour from these tasty dried peppers.
Check out this recipe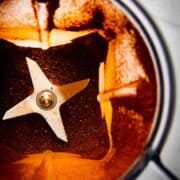 Short Rib Chili – The Ultimate Pressure Cooked Super Bowl Chili
This recipe uses a delicious pressure cooked short rib stock and a secret weapon umami butter to make one hell of a super bowl chili. Plan it out, grab a beer and let's get cooking.
Check out this recipe