This vodka watermelon granita is reserved for those times when it's so hot you wouldn't dare to turn on the oven. Instead, the only logical thing to do is to hug an airconditioner and scoop out something cold from the freezer.
Bonus points if it has vodka in it!
The best part about this recipe is all you need is a fork, a container and a freezer to get going. No fancy ice cream machine is needed.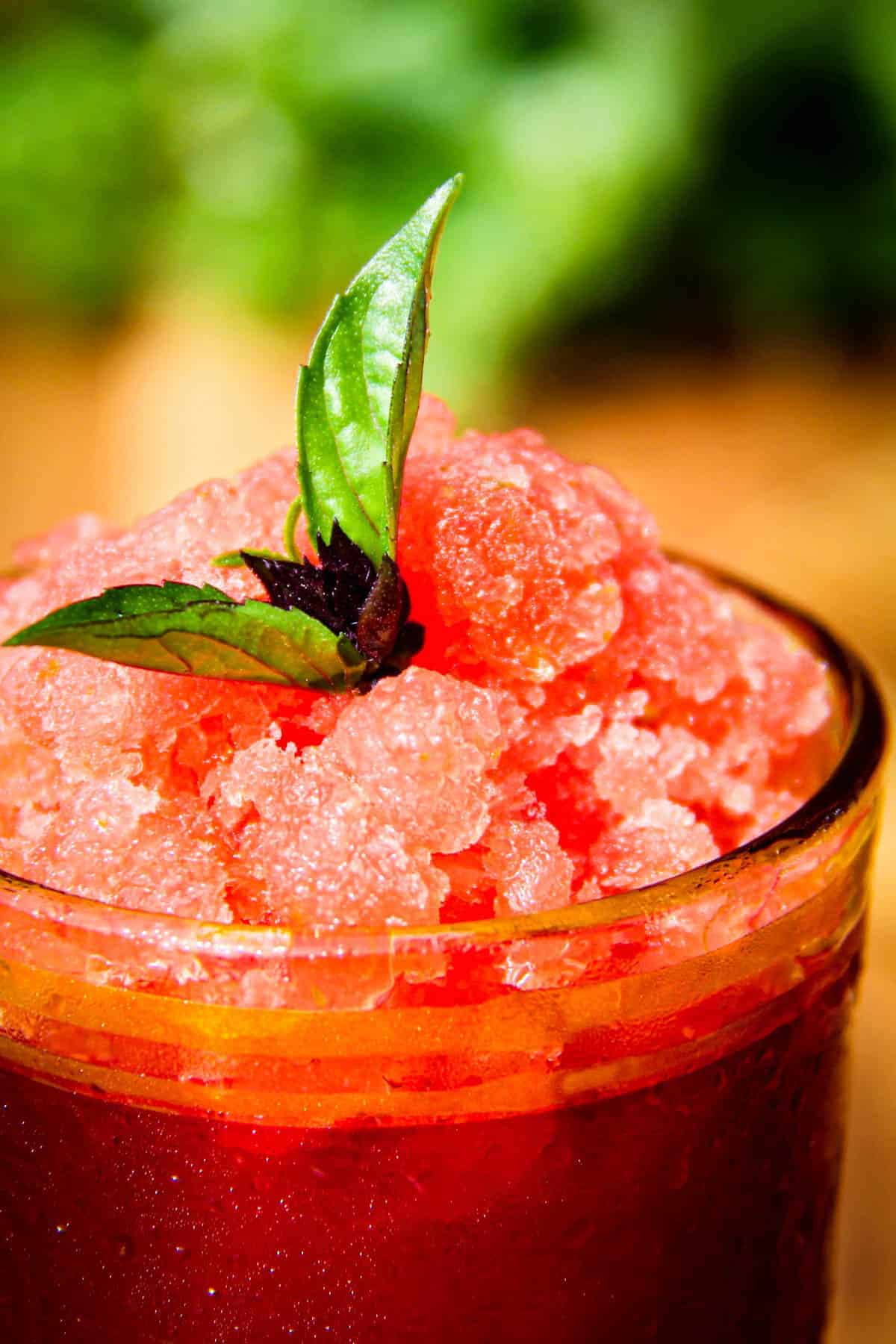 What is Watermelon Granita Exactly?
A classic Italian dessert that is coarse in texture and made by freezing a flavoured liquid and scraping it down once in a while to make thick ice crystals.
You can use this technique with almost any flavour including coffee, almond, limoncello, orange and Meyer lemon.
Do I Need to Add Alcohol to Granita?
You can leave out the alcohol but the granita will freeze completely and will result in a slightly different texture.
The alcohol prevents the ice from freezing completely making the granita more slushy-like. If you're not into alcohol, don't worry because this granita will still taste great without it.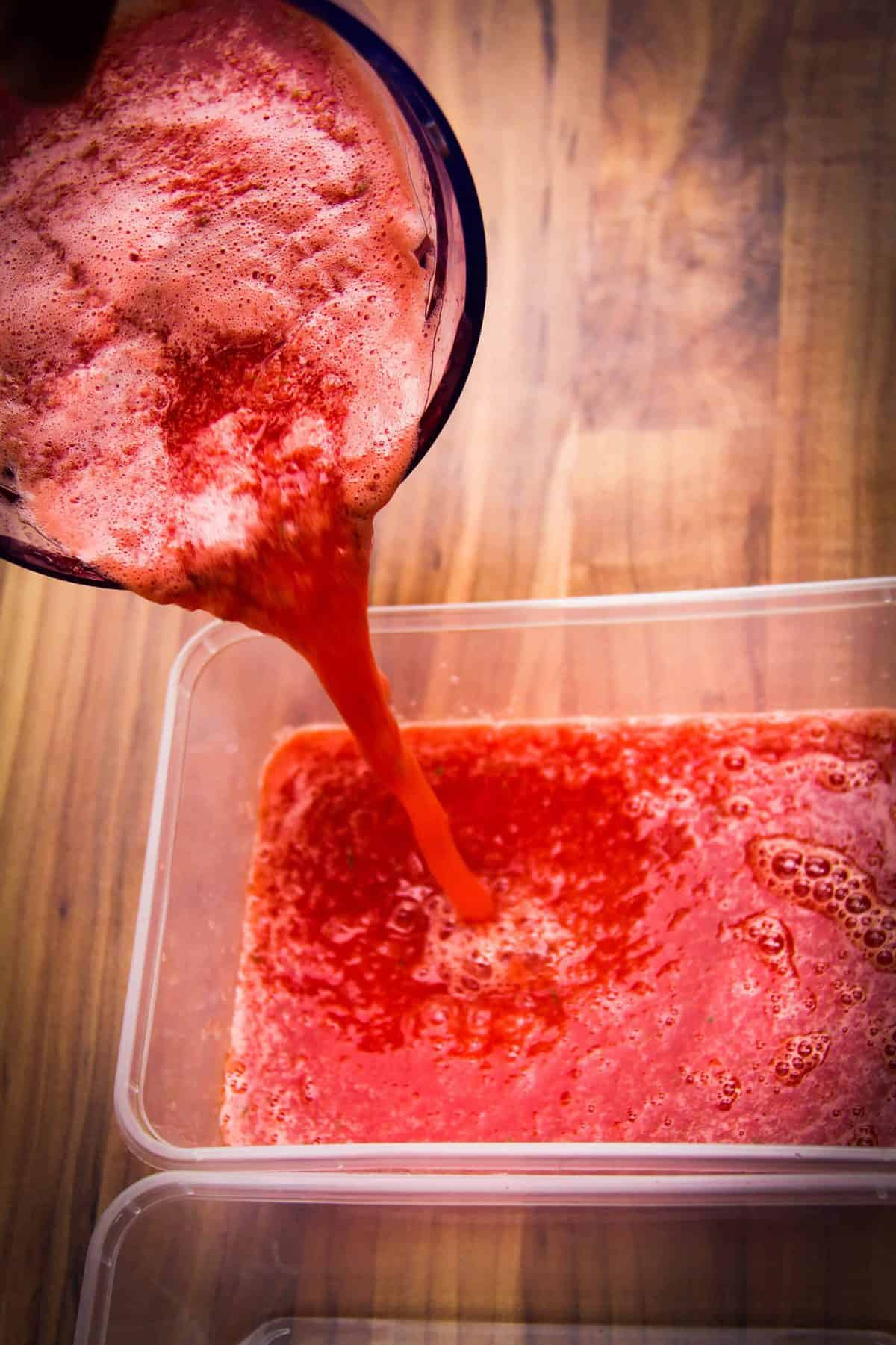 Do I Need to Add Sugar?
You can definitely leave out the sugar if you want. Especially if you find really sweet watermelon.
Tips For the Best Watermelon Granita
Use really ripe watermelon for the best results. A ripe watermelon will have a more intense flavour.
A super small sprinkling of salt added to the mixture will help to extract the natural flavour in this granita.
Place your desired serving cups in the freezer to keep the watermelon granita from melting too quickly.
How long Does Granita Last?
Because it's frozen and contains both sugar and alcohol, this dessert will probably last for years in the freezer but it will start to lose its freshness after 1 month.
The next day the ice will freeze more and it will be more difficult to scrape the ice. You can either add more vodka or let it sit out a room temperature for 10 minutes to soften it.
Have You Tried These Refreshing Drinks?
Vodka Watermelon and Basil Granita – Heat Wave Treats
It's cold. It's refreshing. And there's vodka in it. This vodka watermelon and basil granita is easy and the perfect remedy for heat wave temperatures.
Ingredients
¼

piece

watermelon

(600g) peeled, de-seeded and extra ripe

2

tbsp

sugar

(25g)

½

piece

lime juice & zest

1

oz

vodka

1

pinch

a pinch ofsalt

basil leaves

for garnish
Instructions
Combine everything together and blitz in the blender until smooth.

Pour into one or two flat containers with a lid. Freeze for 1½-2 hours. Place your serving glasses in the freezer also.

Scrape the granita with a fork to make nice ice crystals. Put back in the freezer and repeat after 30 minutes.

Serve the granita in cold glasses with a fresh leaf of basil on top. It's really nice to eat this with fresh cut watermelon on the side. Enjoy!
Notes
The more you fork the granita, the better it will be.
The granita will last for up to 6 months in the freezer.
Nutrition
Calories:
532
kcal
|
Carbohydrates:
109
g
|
Protein:
7
g
|
Fat:
2
g
|
Saturated Fat:
1
g
|
Sodium:
400
mg
|
Potassium:
1260
mg
|
Fiber:
5
g
|
Sugar:
94
g
|
Vitamin A:
6401
IU
|
Vitamin C:
91
mg
|
Calcium:
79
mg
|
Iron:
3
mg
A Solid Recipe for Cold Brew Coffee
This recipe takes 24 hours and can last up to 4 weeks in the fridge. Drink with lots of ice.
Check out this recipe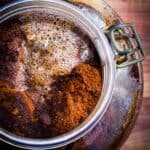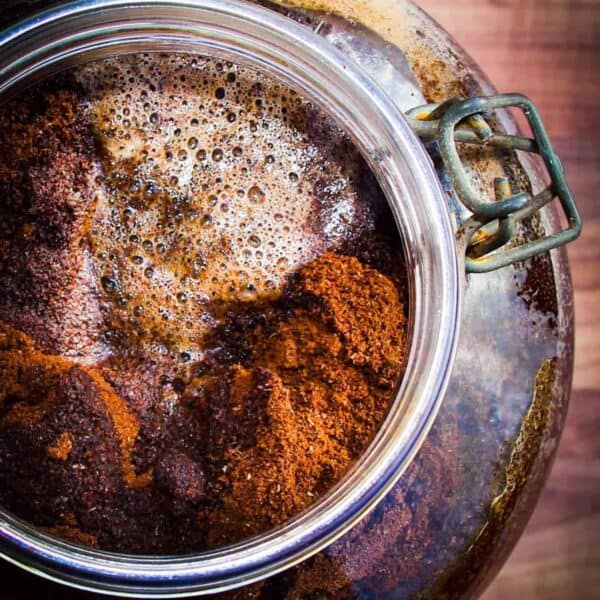 My Ultimate Chocolate Chip Cookies
These chocolate chip cookies are thick, with crispy golden brown edges, gooey chocolatey centres and bursting with giant dark chocolate chunks.
Check out this recipe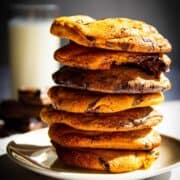 This Delicious Strawberry Puree
An Intense Strawberry Puree with Lime
Use this strawberry puree for a sweet topping for pancakes, ice cream, or yogurt. Gluten-free and can easily be made vegan.
Check out this recipe