This vodka watermelon granita is so refreshing you might actually forget about climate change and how hot it is right now. It's a sizzling 35ºC of death right now in Maastricht with a very unsympathetic hot sun shining over the past week. The solution? Staying in the shade and eating cold things from the freezer. And preferably something with booze in it. The best part about this recipe is all you need is a fork, a container and a freezer to get going. No fancy ice cream machine needed.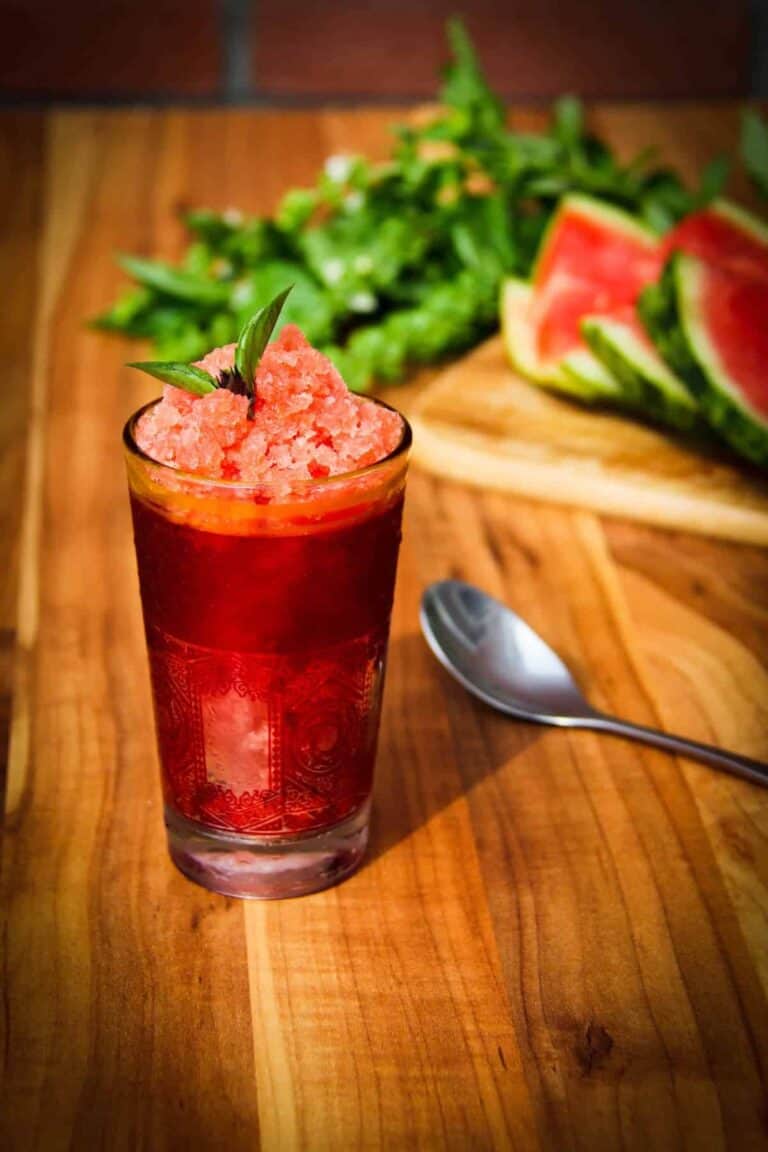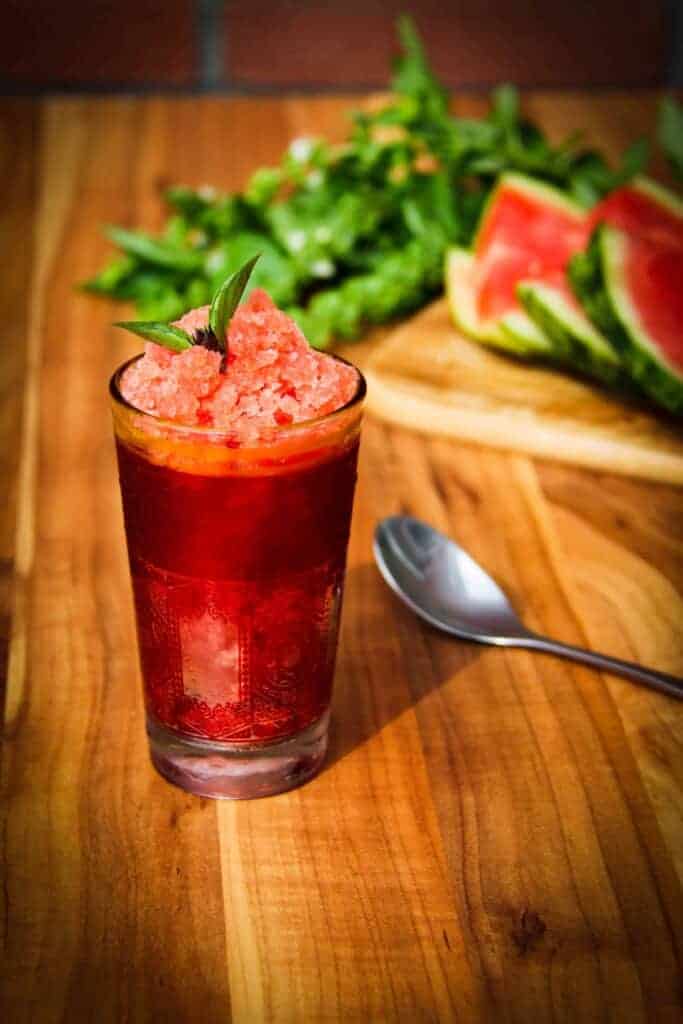 What's Watermelon Granita?
A classic Italian dessert that is coarse in texture and made by freezing a flavoured liquid and scraping it down once in a while to make delicious ice crystals. You can use this technique with almost any flavour including coffee, almond, limoncello, orange and meyer lemon.
Do I Need the Booze?
You can absolutely leave out the alcohol but it will freeze more and the texture will be slightly different. The alcohol prevents the ice from freezing completely making the granita more juicy. But if you don't drink alcohol then I still highly recommend you try this without!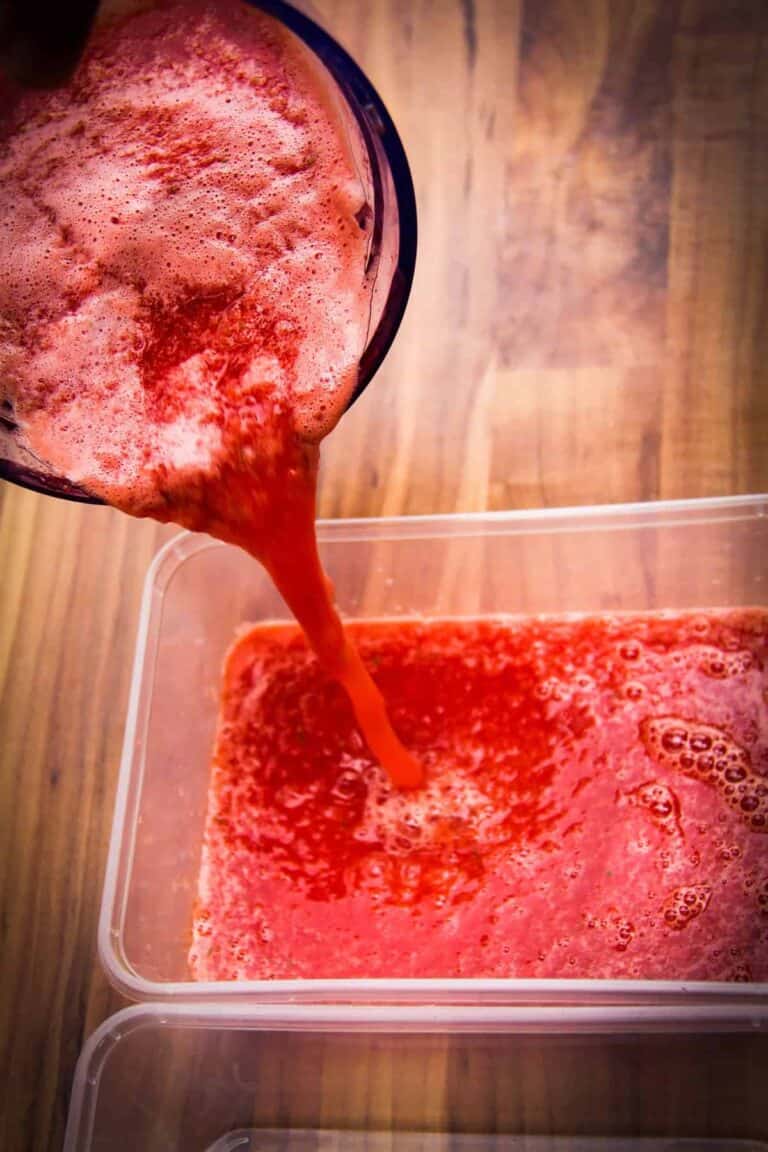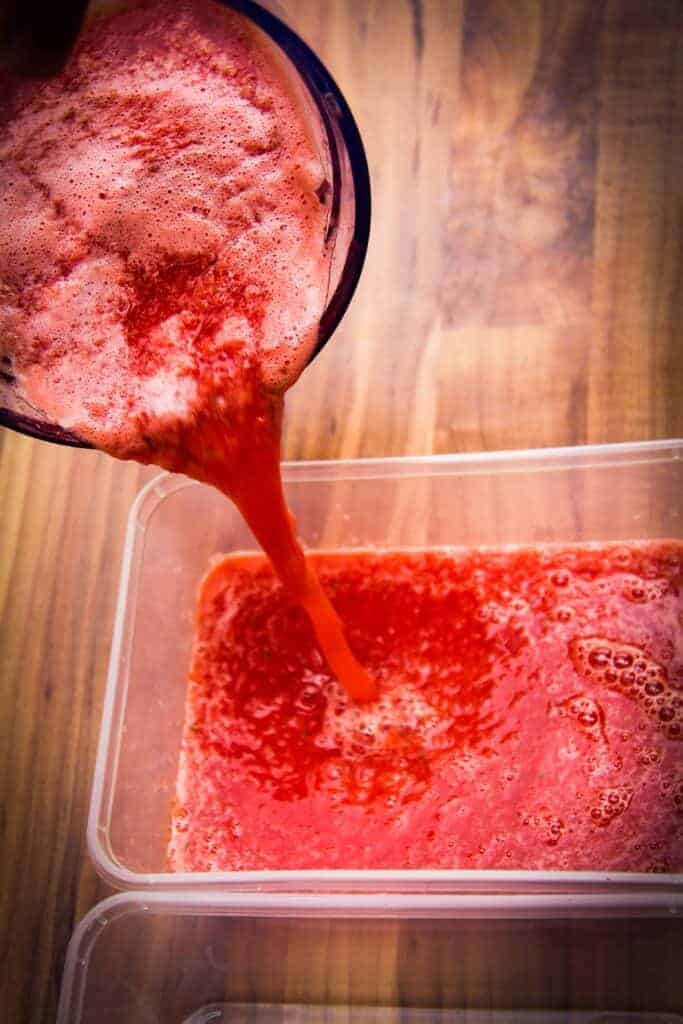 Do I Need the Sugar?
You can definitely leave out the sugar if you want. Especially if you find really sweet watermelon.
Chef Tips For Watermelon Granita
Use really ripe watermelon for the best results. Ripe watermelon will have a more intense flavour when frozen.
A super small sprinkling of salt added to the mixture will help to maximize the natural flavour in this dessert.
Place your desired serving cups in the freezer to keep the watermelon granita from melting too quickly.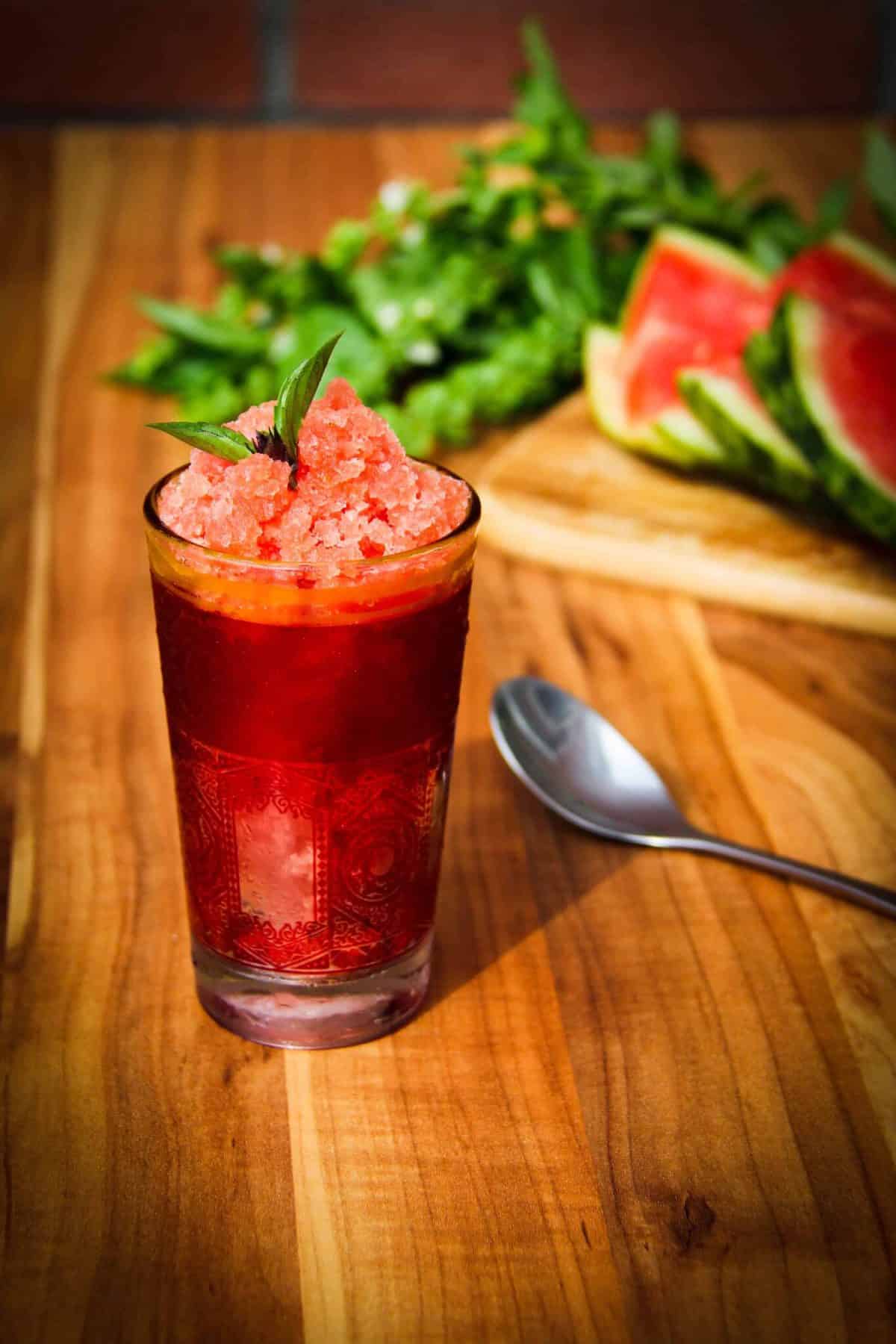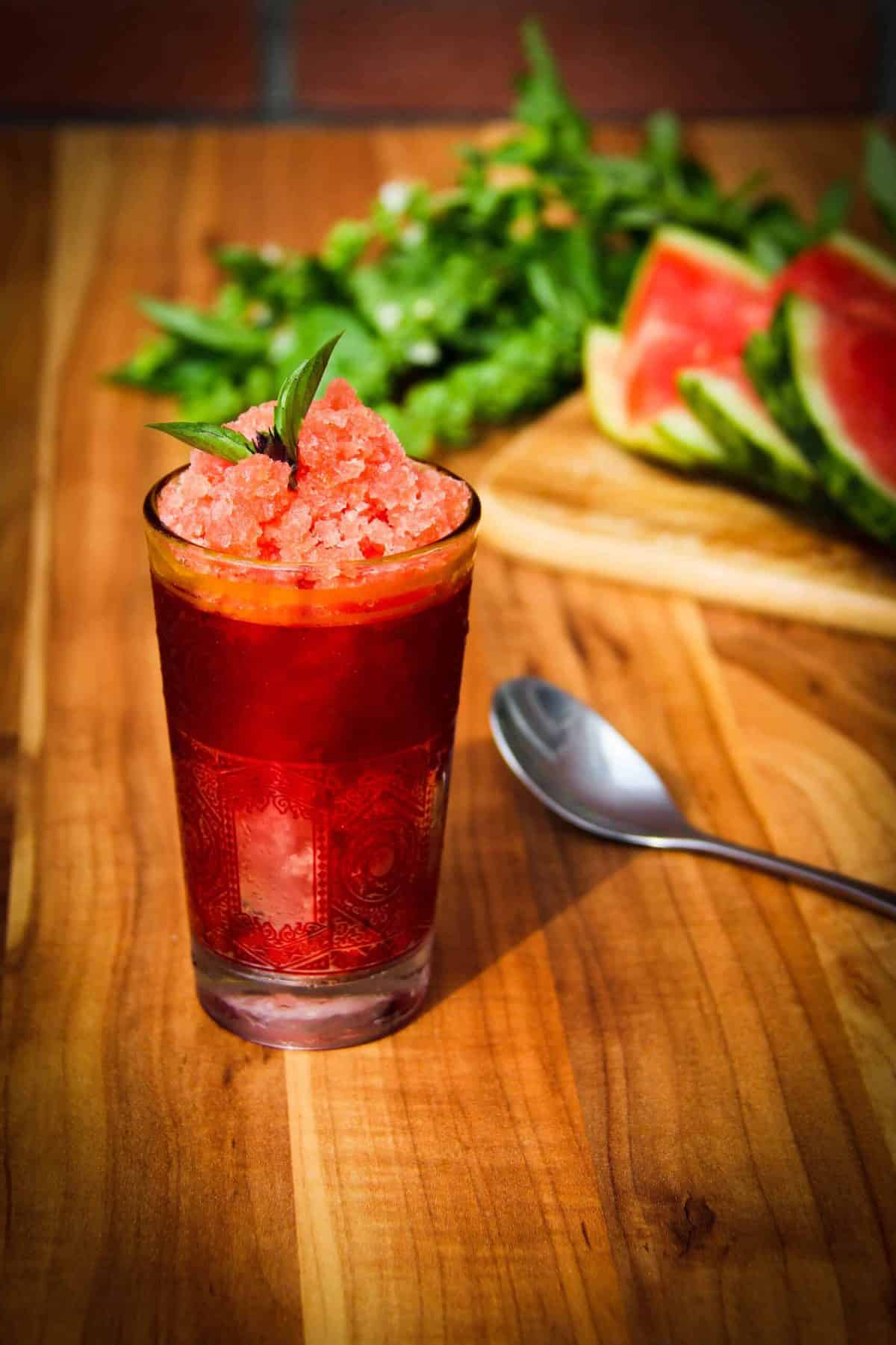 Equipment
Fork

Freezer

Plastic/Glass container with lid

Blender

microplane
Ingredients
¼

piece

watermelon

600g peeled, de-seeded and extra ripe

2

tbsp

sugar

½

piece

lime juice & zest

1

shot

vodka

1

light sprinkle

salt

super small sprinkling

basil leaves

for garnish
Instructions
Combine everything together and blitz in the blender until smooth.

Pour into one or two flat containers with a lid. Freeze for 1½-2 hours. Place your serving glasses in the freezer also.

Scrape the granita with a fork to make nice ice crystals. Put back in the freezer and repeat after 30 minutes.

Serve the granita in cold glasses with a fresh leaf of basil on top. It's really nice to eat this with fresh cut watermelon on the side. Enjoy!
Nutrition
Calories:
532
kcal
|
Carbohydrates:
109
g
|
Protein:
7
g
|
Fat:
2
g
|
Saturated Fat:
1
g
|
Sodium:
400
mg
|
Potassium:
1260
mg
|
Fiber:
5
g
|
Sugar:
94
g
|
Vitamin A:
6401
IU
|
Vitamin C:
91
mg
|
Calcium:
79
mg
|
Iron:
3
mg
A Tomato Salad that's Not a Caprese Salad
A delicious way to enjoy fresh tomatoes this summer with a rich macadamia nut dressing. Ditch the caprese salad and try something new!
Check out this recipe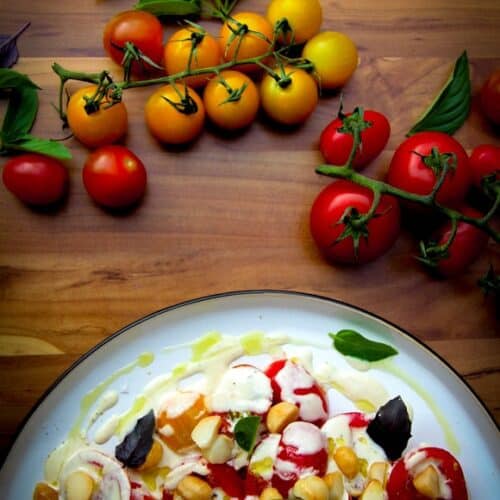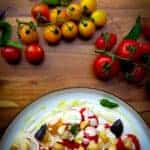 Vegan Chocolate Mousse with Passionfruit
A vegan chocolate mousse made with avocados and garnished with hazelnuts, mint, pomegranate and fresh passionfruit. Made in less than 10 minutes, gluten free, dairy free and raw vegan.
Check out this recipe