These soft, fluffy and homemade hamburger buns are definitely worth a try for any serious burger lover.
There's no such thing as a good burger without a good burger bun. I'd even argue that a good bun is more important than the meat!
Okay well… maybe not more important but definitely just as important to the success of a great burger.
This original recipe is from King Arthur Flour's recipe for Japanese Milk Buns but I've adapted it to make burger buns. I've also adapted this recipe with more readily available all-purpose flour and they can be made in half a day or less.
I'm normally a brioche burger kinda guy but after discovering these, I'll probably never go back.
What is a Tangzhong?
Tangzhong is an Asian invention for a quick bread starter.
A small amount of flour and milk are mixed together in a pan and heated until a thick paste is formed. This process gelatinizes the flour and essentially allows the flour to absorb more water.
It's a brilliant invention and the secret to soft and fluffy buns.
How to Make Homemade Soft Hamburger Buns
If you start just after lunch you can easily have these burger buns on the table for dinner the same day.
Here is the quick play by play for how to make this recipe:
Make the Tangzhong and melt the butter. Cool slightly.
Mix everything together until a smooth dough is formed.
Knead for 5-10 minutes to develop the gluten.
Shape into a large ball and cover. Let sit for 45mins to 1 hour.
Shape into 6 balls (or 8 for smaller buns) and let proof on parchment lined baking trays. Proof for 45 minutes to one hour.
Brush carefully with egg wash. Sprinkle generously with sesame seeds.
Bake at 350°F/175°C for about 15 minutes.
Cool on a resting rack for 10 minutes.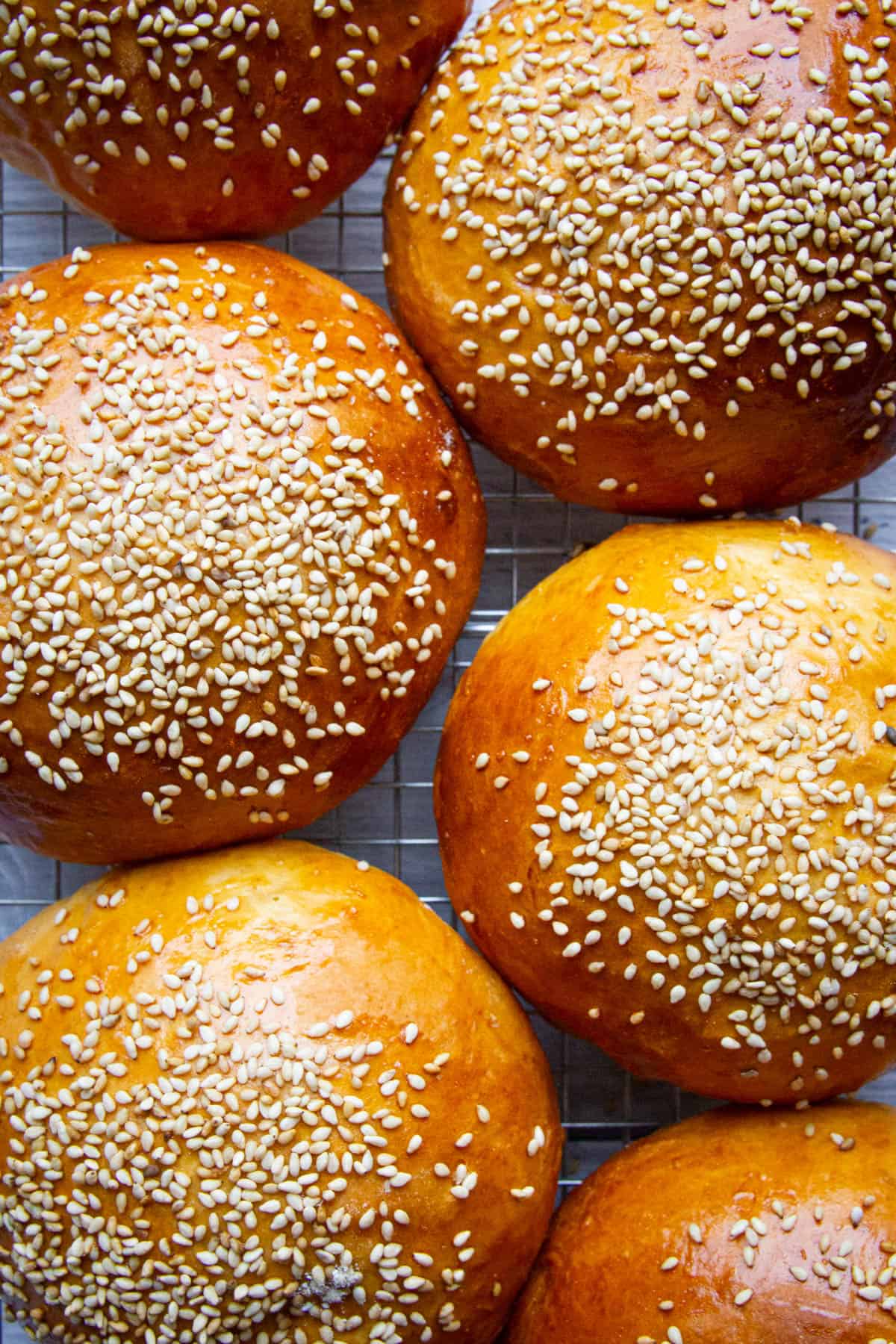 How to Tell When the Burger Buns are Ready
After shaping the buns, they'll need some more time to develop some gas and rise into a proper burger shape.
To test if the burger buns are ready to bake, use the poke test. If the buns spring back quickly when poked, this means they need more time. If they indent slightly when poked and slowly spring back, they're ready to bake.
How to Tell When Hamburger Buns are Over Proofed
Over-proofing means the yeast in the dough created too much gas. It sucks when this happens so it's important to pay attention while the buns are in this stage.
The buns will likely deflate once you try to egg wash them and because the yeast will no longer create C02 gas, they won't rise in the oven.
Over-proofed buns are probably still worth baking, they'll just look a little sad and soggy.
How to Get the Perfect Burger Bun Shape
To shape a burger bun, you need to roll them around with cupped hands in a circular motion to allow the bottom to pinch together.
Alternatively, you can pinch the bottom of the dough together until the top stretches into a ball.
I've had lots of experience shaping buns but I know for a lot of cooks at home this can be challenging. I've included a video of how to shape them in this recipe which I hope helps.
When I was first learning to shape buns, I would watch my teachers do it frequently but it never really clicked until I had enough practice. Like any skill, you just have to keep practicing until one day you're there.
But there is another option that's not a bad idea for amateur bakers.
Ring moulds!
You can simply roll the buns into little balls and bake them in the burger rings for even shaping. They won't be as good a properly hand-shaped burger bun but it may make things a lot easier for some home cooks.
These burger rings from Keewah get rave reviews on Amazon and are a good place to start.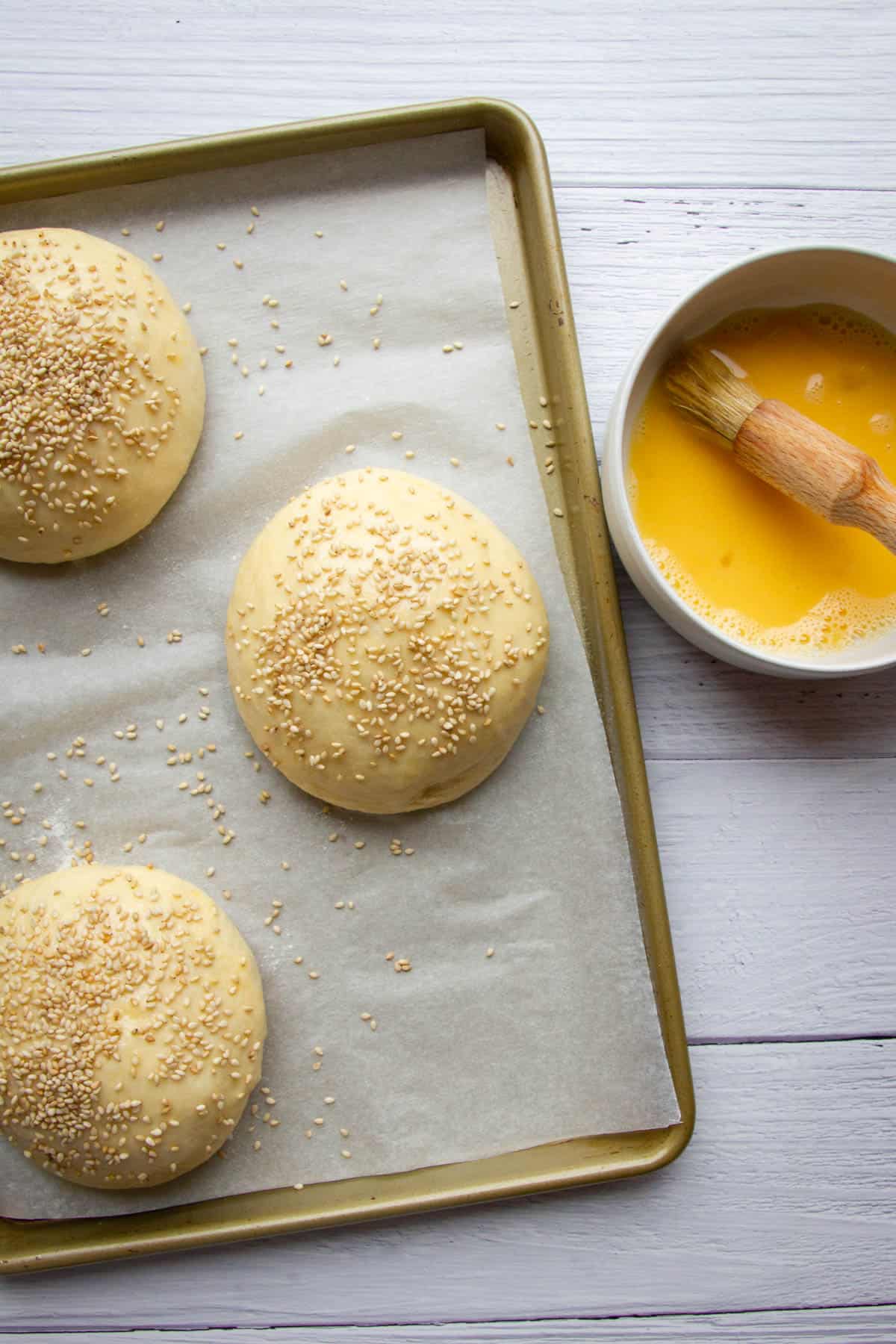 Tips to Nail this Recipe
Here are a few tips to make sure you make the best burger buns at home.
Have the oven preheated 30 minutes before the buns are ready to go. The heat of the oven may actually heat up your kitchen slighty and speed up the rising time of the buns.
Let the tangzhong and butter cool slightly before adding them to the dough. Hot temperatures can kill the yeast which will prevent your buns from rising. If you can comfortably hold the liquid to your lip, then it's not too hot for the yeast.
If you're having difficulty shaping the buns then keep practicing but maybe use these burger rings in the meantime.
Use the poke test to know when the buns are ready to bake.
How Long Do These Hamburger Buns Last?
Normally, fresh-baked bread is usually only good for 1 day and maybe the next day. Because these buns use a tangzhong starter, it actually helps to improve their shelf life.
They will stay soft for 2 days wrapped in plastic wrap and stored at room temperature. Don't store them in the fridge otherwise, they'll go stale fast.
Can You Freeze Burger Buns?
These burger buns freeze very well if wrapped in plastic wrap.
Once cooled, wrap thoroughly in plastic wrap and freeze for up to 3 months for optimal freshness. To defrost, pull from the freezer and thaw at room temperature for 2 hours or until soft.
This post contains Amazon Affiliate links and I earn a small commission if you purchase something.
More Recipes
The Ultimate Breakfast Sandwich