This is not a recipe for a mediocre quiche. This is a recipe for an EPIC Quiche Florentine.
Save this recipe for the next time you want to have a mini brunch party and truly impress your friends.
With a borrowed foolproof quiche technique from the awesome team at Chefsteps, this is by far the best quiche I've ever tasted.
What makes this recipe stand out from the rest is its extra height, the insanely flakey, buttery pie crust and the ultra-soft texture of the egg filling. The smooth and delicate texture of the eggs is achieved by low and slow cooking and using an instant-read thermometer to prevent overcooking.
This one is a real treat, and I'm sure you'll never look for another quiche recipe after trying this one.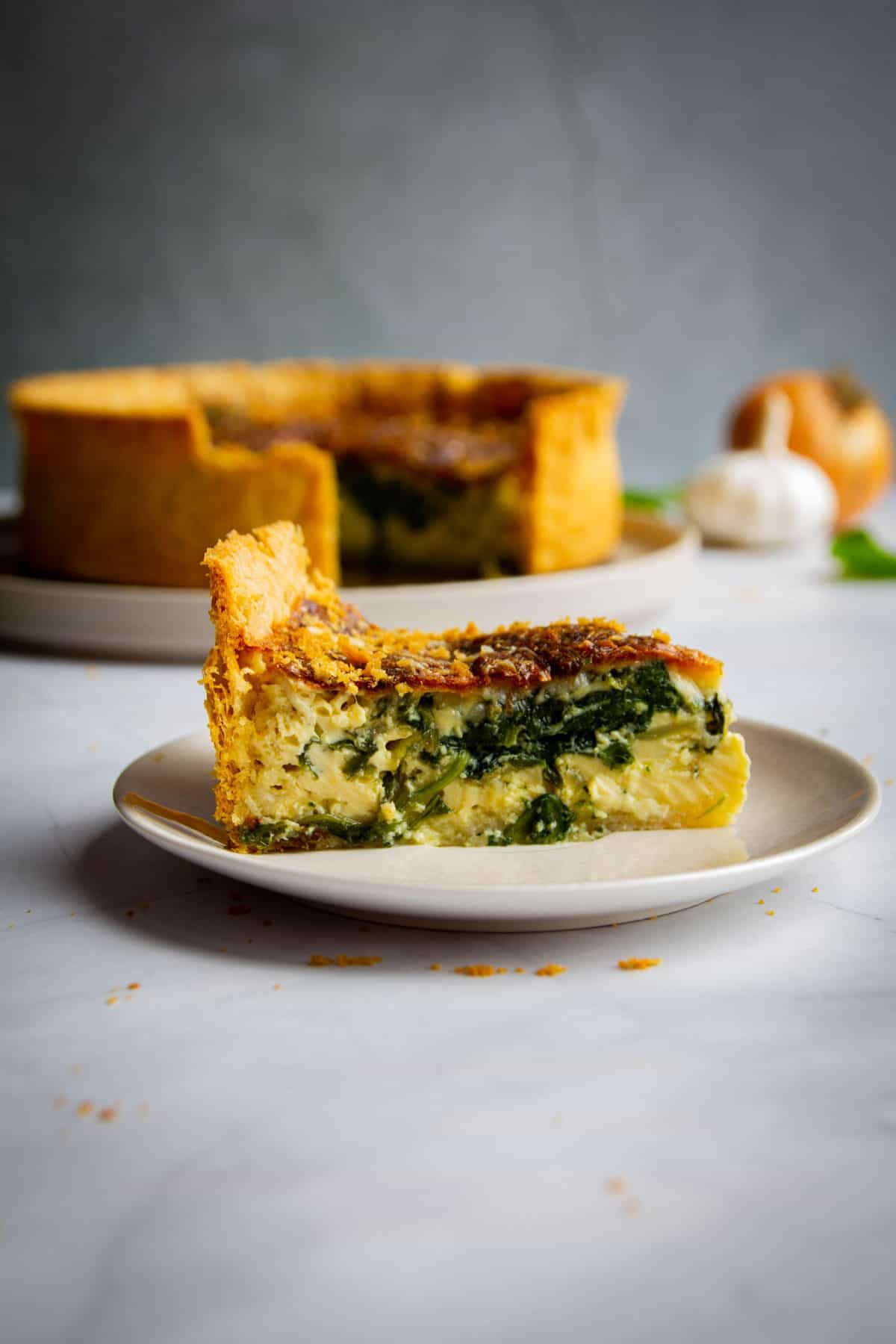 What is Quiche Florentine?
Quiche Florentine a.k.a spinach quiche is a savoury egg-based pie made with pate brisee, spinach, swiss gruyere cheese, milk, cream, onions and garlic. It's served either warm or at room temperature and is normally eaten for brunch, breakfast or lunch.
When made correctly, a quiche is an impressive brunch dish that can easily be made in advance if you plan ahead.
Other Quiche Variations
Normally with my recipes, I'll provide a few options for ingredient swaps in case you don't have a particular ingredient but because this is a classic dish, you can't really mess with it otherwise it will go from Quiche Florentine to Quiche Fridge Freestyle.
With that being said, there a tons of tasty quiche varieties like Quiche Lorraine with bacon and leeks, Quiche Au Fromage with cheese and Quiche aux Champignons with sauteed mushrooms to name a few.
The quiche possibilities are endless!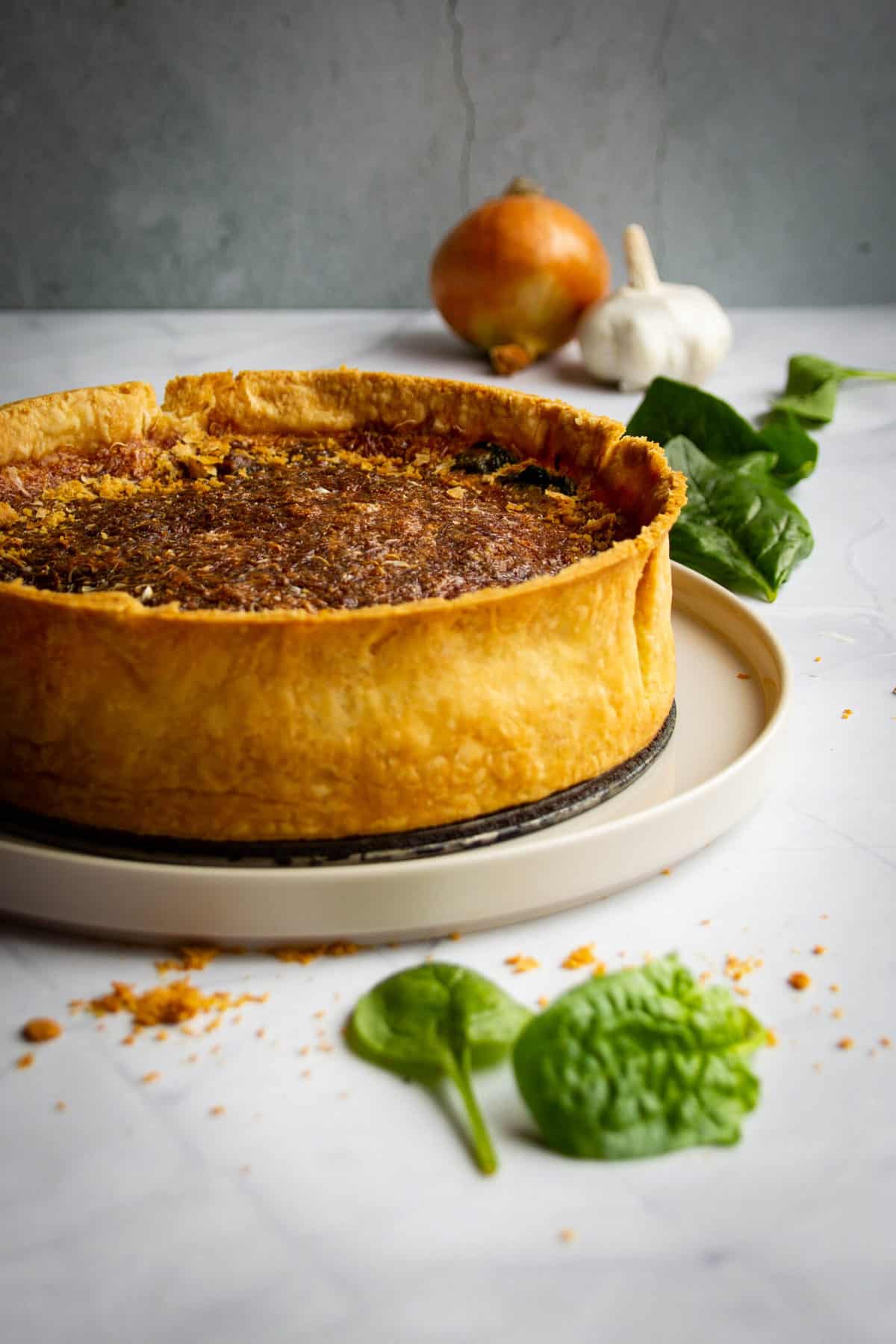 Ingredients You'll Need For a Quiche Florentine
Here are a few key ingredients for this Quiche Florentine:
Pie Crust: As mentioned before, this recipe uses a classic pie crust 'pate brisee' which needs to be rested overnight. You can skip the overnight resting but the crust will probably shrink and crack, which will cause your quiche filling to spill out the sides.
Spinach: Older, stronger spinach is better than baby spinach as it will be covered in lots of rich cream, milk, cheese and eggs. Make sure that the spinach is not too wet after cooking otherwise you'll end up with a watery quiche.
Garlic/Onion: White onions are ideal but you can also use red onions. Just avoid 'sweet onions' which won't add the necessary onion flavour after cooking.
Milk/Cream: To keep things old-school, French and delicious, we're gonna use full-fat whipping cream here (35%). This makes it rich and ultra-creamy.
Gruyere: This cheese is perfect with spinach and is a classic in quiche florentine. Although not traditional, cheddar cheese and Parmigiano Reggiano will make great substitutions.
Nutmeg: This is traditional in quiche and great with spinach. Use a little but not too much as it is a pretty powerful flavour.
Lemon Zest: A great way to sneak in a little lemon flavour without adding lemon juice.
Thyme: Fresh thyme is beautiful in this quiche. Avoid dried thyme and buy it fresh.
Eggs: Try to find large eggs with nice orange-coloured yolks. The better the egg the better the quiche.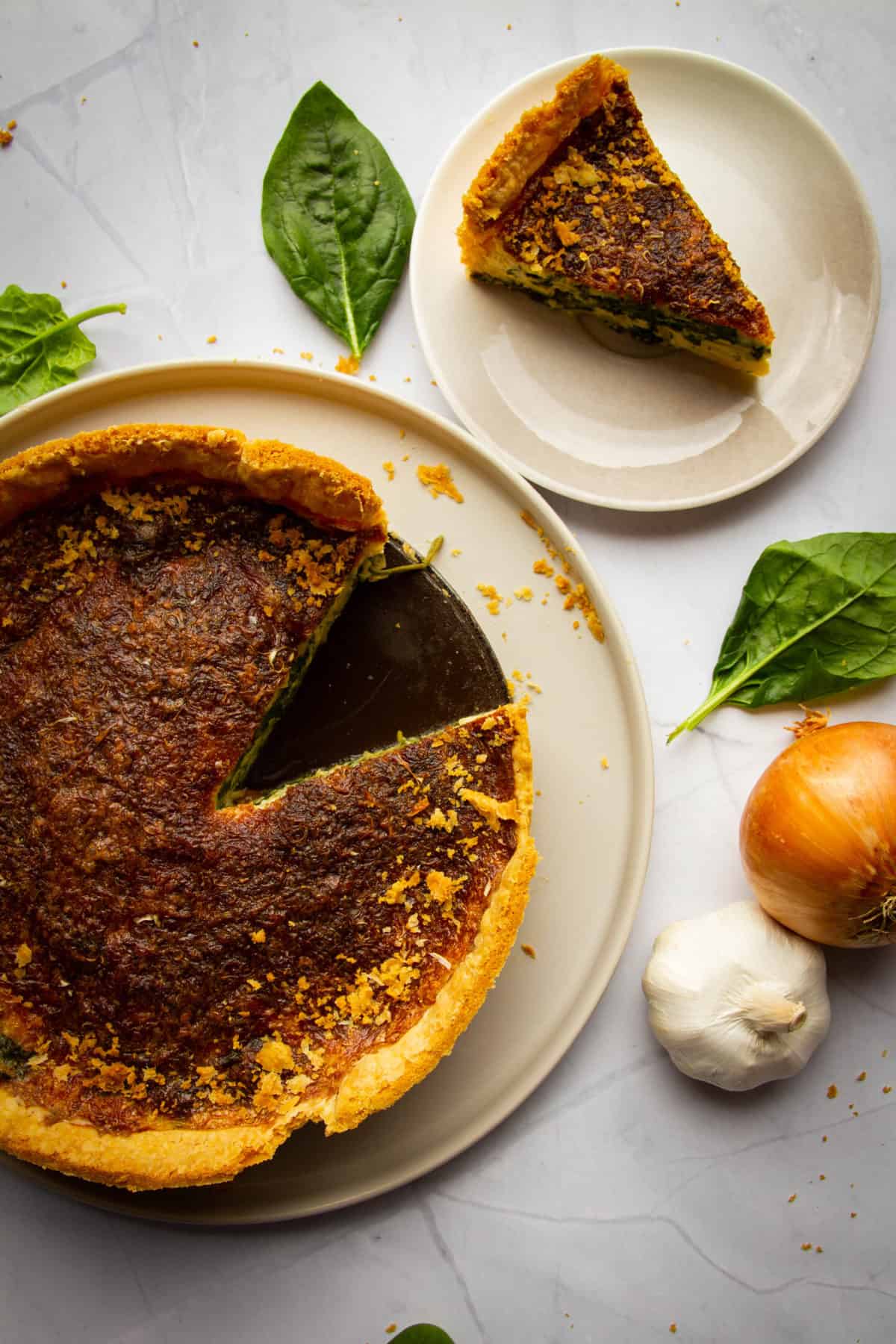 Quiche Florentine Tips
Making quiche takes time, so you might as well do it well.
You'll want to make the dough the day before to allow it to rest and give yourself about 2-3 hours the next day to finish it.
Here are a few other tips to make the best of this recipe:
Make sure the spinach is not too wet after cooking. Extra water in the spinach after cooking will make the quiche filling too watery. Drain the spinach or cook off the excess water before adding it to the filling.
Give the pastry time to rest to prevent cracks and shrinkage in the crust. Allow the dough to rest overnight and for 1 hour after rolling for the best results.
Use an instant-read thermometer to cook the filling perfectly and prevent it from drying out.
Don't pour the filing in the quiche until the oven is preheated and it's ready to bake, otherwise, the egg base may leak into the crust.
Use a 10″/ 25cm expandable cake pan to bake a tall quiche instead of a flat one.
How to Store and Reheat Quiche
Quiche is best served and eaten on the same day.
If you have leftovers, they will need to be stored in the fridge. Unfortunately, once the pie crust hits the fridge it will start to go a little soggy.
To reheat a quiche, microwave the slices individually for about 1 minute or until hot in the center. Finish off in a hot oven (about 400°F/200°C) for 5-10 minutes to crisp up the crust again.
The Most Amazing, Flakey, Buttery Quiche Florentine
This is a recipe for an epic Quiche Florentine with Spinach, cream, milk, eggs, onions and garlic baked in the most buttery, flakey pie crust.
Equipment
Rolling Pin

Dried beans as pie weights
Ingredients
1

batch

pate brisee recipe

228

g

spinach, washed and dried

(about 5 cups)

129

g

white onion, sliced thin

(about 1 medium onion)

7

g

garlic, sliced thin

(about 2 cloves)

0.5

g

nutmeg

(a few zests)

1

g

black pepper, ground

(a heavy pinch)

1

g

thyme, picked

(¼ bunch)

12

g

olive oil

(1 tbsp)

0.5

g

lemon zest

(zest of one lemon)

130

g

Gruyere cheese, grated

(about 2 cups)
For the Quiche Base
300

g

eggs

(about 6 eggs)

200

g

whole milk

(¾ cup)

60

g

whipping cream (35%)

(¼ cup)

6

g

sea salt

(1 tsp)
Instructions
Make one pate brisee recipe and have it rest overnight in the fridge. Follow the instructions to blind bake it before continuing to the next step.

Preheat the oven to 330°F/165°C.

In a large pan with a lid, heat the olive oil over medium heat until hot. Add the sliced onions and garlic and cook over low heat until soft but without browning them. (about 5 minutes).

Add the nutmeg, black pepper, lemon zest and spinach. Cover the pan with a lid and cook over medium heat until just wilted (about 2 minutes).

You may need to add a splash of water to prevent the spinach from burning.

Blend together all ingredients for the quiche base using a hand blender or whisk.

Add the cooked spinach and onions to the baked pie crust.

Add the gruyere cheese next.

Then finish the quiche with the quiche base.

Place the quiche on a baking tray and bake for 60-90 minutes at 330°F/165°C. Once the internal temperature of the quiche base reaches 172°F/78°C it's ready to come out.

Let the quiche cool in the pan for 10-15 minutes.

Use a bread knife to cut the excess pie crust off the top.

Slice into 8-10 pieces. Serve immediately!
More Awesome Recipes…
The BEST Bitterballen Recipe (Dutch Deep-Fried Meatballs)
Bitterballen – Dutch Secrets Exposed
An extremely addictive Dutch snack consisting of slowly braised beef that's thickened with a roux and deep fried into little crispy balls.
Check out this recipe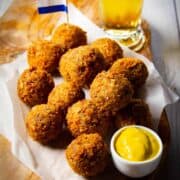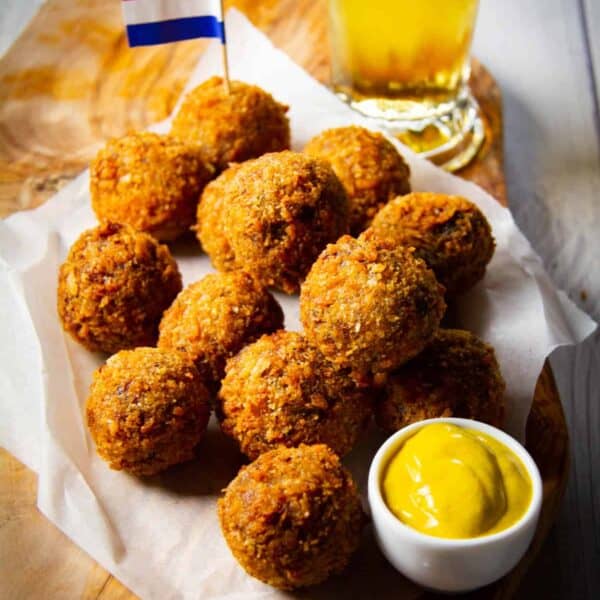 Super Soft Homemade Hamburger Buns (Tangzhong Method)
This is my favourite recipe for hamburger buns. It's made by hand using all-purpose flour and a tangzhong starter to keep them extra soft and fluffy. Start these just after lunch and they'll be ready for dinner.
Check out this recipe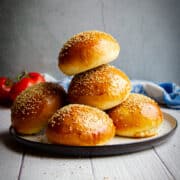 The Ultimate Breakfast Sandwich
A super easy recipe for the ultimate breakfast sandwich.
Check out this recipe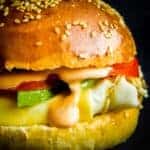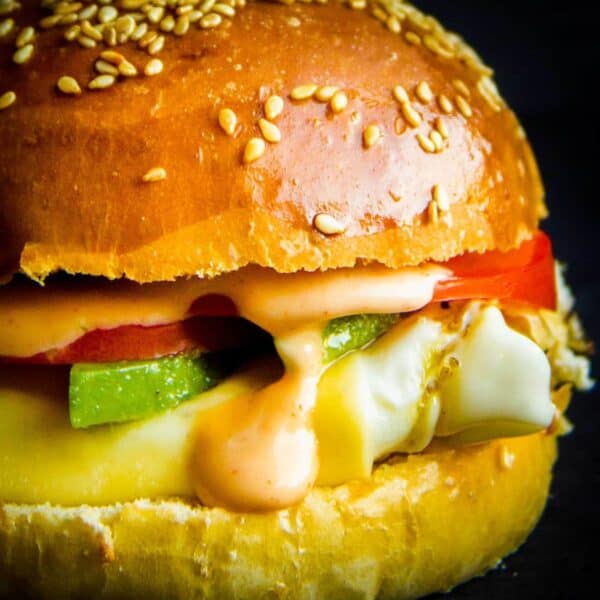 The Pie Crust for this Quiche Recipe
Buttery, Flakey All-Purpose Pie Crust – Pate Brisee
Pate Brisee – Use this unsweetened, all-purpose pie crust for sweet and savoury pies or quiche. This can be made in one day but it's much better if made the day before.
Check out this recipe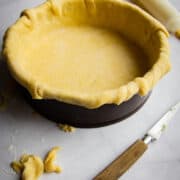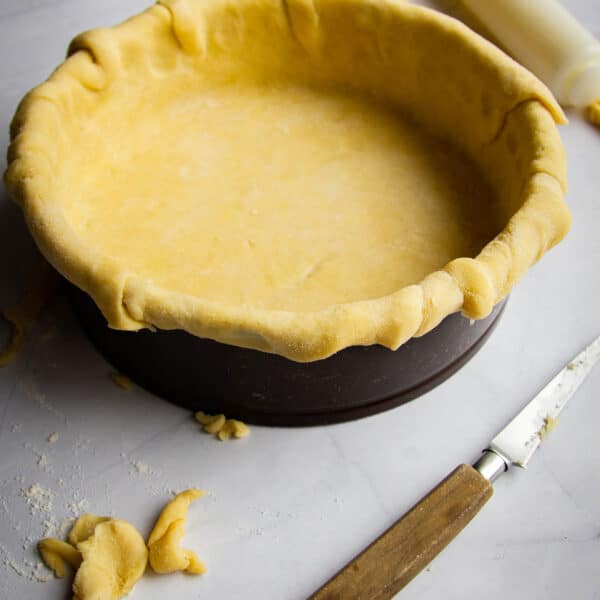 The Best Chocolate Chip Cookies
My Ultimate Chocolate Chip Cookies
These chocolate chip cookies are thick, with crispy golden brown edges, gooey chocolatey centres and bursting with giant dark chocolate chunks.
Check out this recipe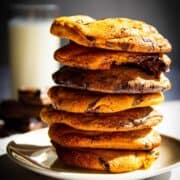 Is it time for new knives? Then definitely check out my ultimate guide to The Best High End Knife Sets and Why I'll Never Buy a Cutco Knife Set.