This is my ultimate no-fail holiday chicken dinner with the best roast potatoes and one seriously tasty mushroom gravy.
I've become a big fan of the spatchcock chicken which delivers a faster cooking bird and even crispier chicken skin than the usual trussed chicken.
But this recipe is really all about the potatoes that cook underneath.
They soak up the delicious lemon-thyme butter and roasted chicken fat drippings to make some cosmically divine roasted potatoes.
And before you think that a spatchcock chicken sounds difficult or time-consuming, hear me out, because it's really not!
It's actually pretty easy and probably takes less time than actually trussing a chicken!
Guaranteed, this is the only way I'll be roasting whole chickens from now on.
Do You Truss Me?
Do you truss a chicken or not?
For those that don't know, a trussed chicken is when it's tied with butcher's twine to keep the legs connected to the body.
Growing up with superstar chefs like Thomas Kellar preaching the importance of trussing a chicken, I'd never dream to question the importance of this.
But secretly in the back of my mind, I often wondered whether trussing a chicken actually did help to cook it more evenly.
My bias has finally been confirmed by the Chefsteps team, who roasted over 70 whole chickens in the tests and concluded that tied birds didn't actually cook more evenly.
Of course, trussing a chicken does have its benefits.
It's a lot easier to move around, especially after cooking and probably has a better presentation. You can't deny that a whole roasted chicken stuffed with herbs looks beautiful on the table.
Still, I think you can make a beautiful roast chicken dinner even while spatchcocked. Plus you save time roasting and get better browning of the chicken skin from the added airflow.
And that's why from now on, I'll be team spatchcock chicken.
Should I Brine A Spatchcock Chicken?
In this recipe, I didn't brine the chicken and the meat was still incredibly juicy.
Although this is probably because the added compound butter under the breasts really helps to keep the meat juicy.
With that being said, brining is great because it seasons the interior of the meat and keeps the meat even juicier.
It's also a lot harder to overcook a brined chicken so it's nice to have the added safety net to ease the damage from overcooking.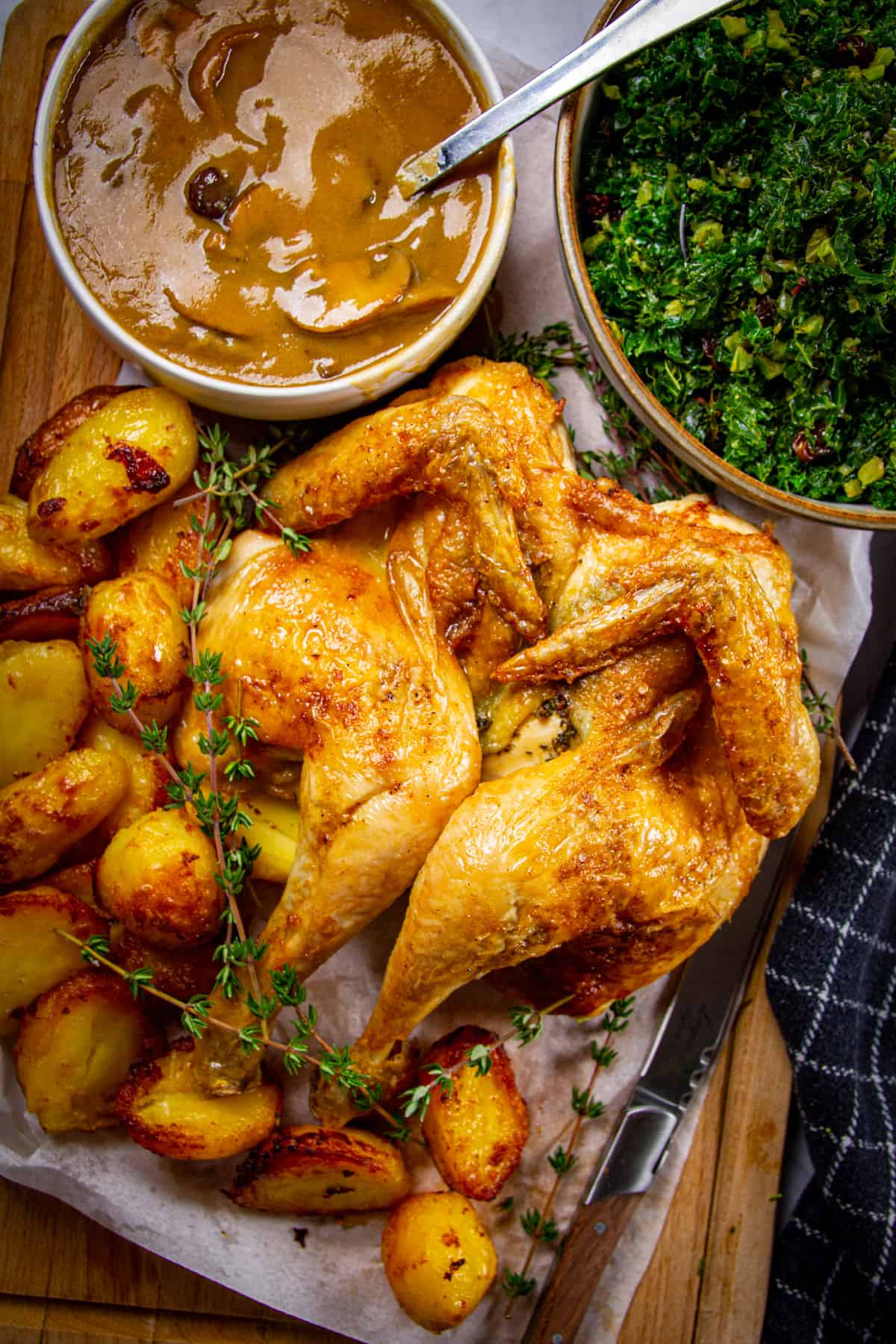 Conclusion: If you have the time then go for the brine but if you forgot then know that you'll still end up with a delicious roasted bird.
Brine the whole bird the night before and then dry it in the fridge the next morning or for up to 3 days.
Another important point to note is that brined chickens or turkeys tend to cook faster than un-brined. Brined chicken may be ready about 10-15 minutes sooner than the unbrined.
*Note: If you do brine, spatchcock your chicken first before brining as it will be a little messier to work with after brining.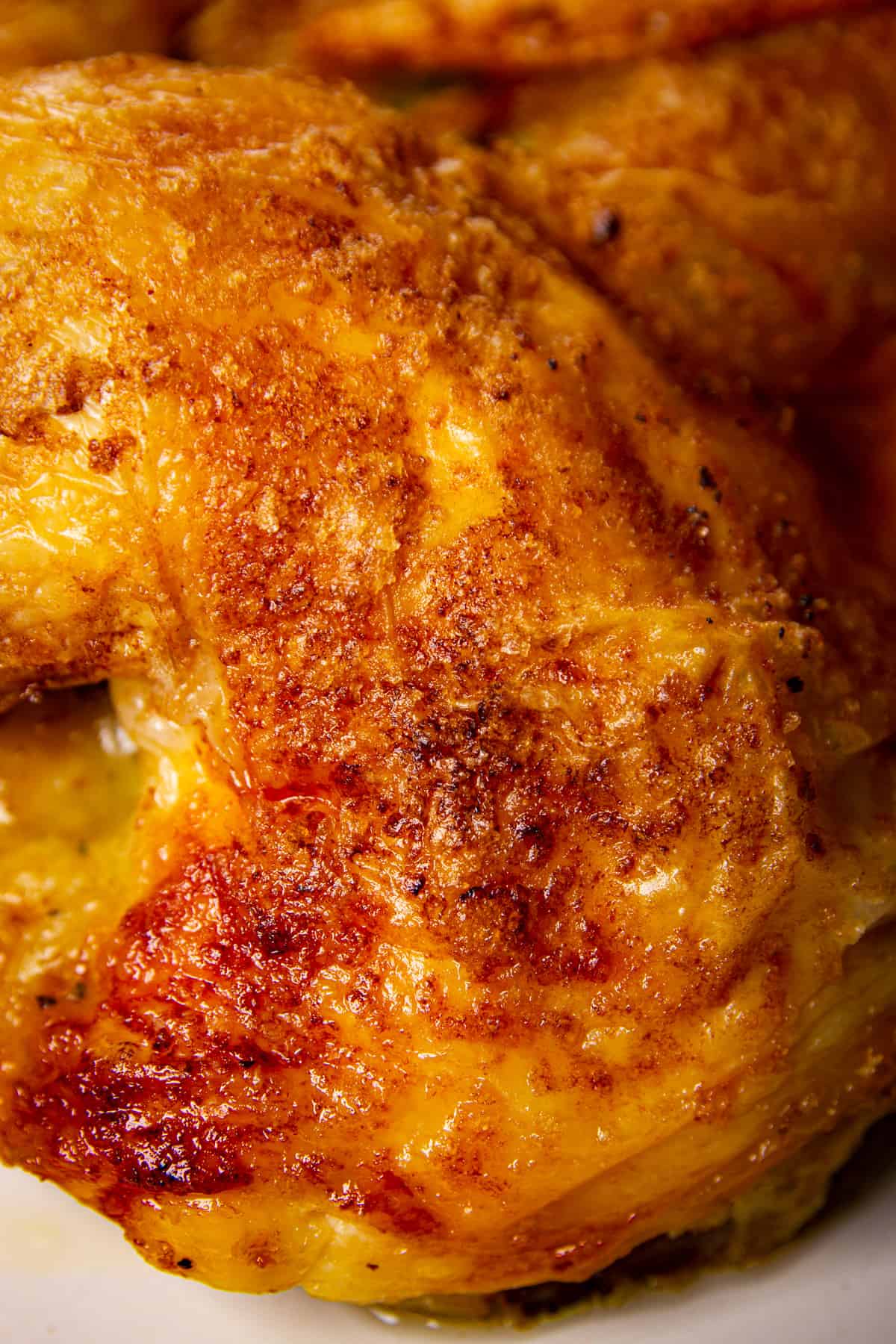 How to Get Crispy Chicken Skin
Getting chicken skin crispy is achieved by two factors: proper drying and high heat.
Factor #1 – Drying
Drying the chicken in the fridge is the most important step to achieving crispy chicken or turkey skin. 
In some professional kitchens, they dry their chickens for up to 3 days with extra fans in the fridge. Chefsteps even recommends a 7-day dry in a well-ventilated fridge with a good fan.
But I think for most people, drying a chicken for 7 days in their fridge is just not very practical. Plus, most household refrigerators are cram-packed with other ingredients that prevent good airflow and may result in your chicken going off.
In my experience, drying the chicken overnight for 1 day will significantly improve the crispiness of the skin.
Factor #2 – High heat
In order to achieve that beautiful Maillard reaction, you need high heat. If the heat is not high enough, the meat will dry out before the skin has time to crisp up.
This is especially true with a spatchcock chicken which is even thinner in comparison to a trussed chicken.
I found the perfect temperature for my oven to be 410°F/210°C with the convection fan on.
If you don't have a convection fan, increase the temperature to 425°F/218°C
Dark Meat vs. White Meat Dilemma
One problem with cooking any bird whole is that the white meat always cooks faster than the dark meat.
If you really want perfection then it's best to split the legs from the breast meat and cook them separately.
But that's just not as satisfying as placing a whole roasted chicken on the table and marvelling at its beauty.
The solution is to brine (as mentioned above) and/or add a compound butter under the skin of the chicken breasts. This extra fat coats the meat with extra fat and flavour as it cooks, resulting in juicier white meat.
The Holiday Chicken Dinner Mushroom Gravy
No holiday chicken dinner is complete without a good gravy.
My favourite way to add a punch of flavour to a regular gravy is to add mushrooms. Even better if you can find some wild mushrooms or some dried porcini mushrooms like I've included in this recipe.
I'm also making use of the chicken back too which is removed in order to spatchcock the chicken. This way nothing goes to waste, and you can boost the flavour of the gravy without buying extra chicken bones.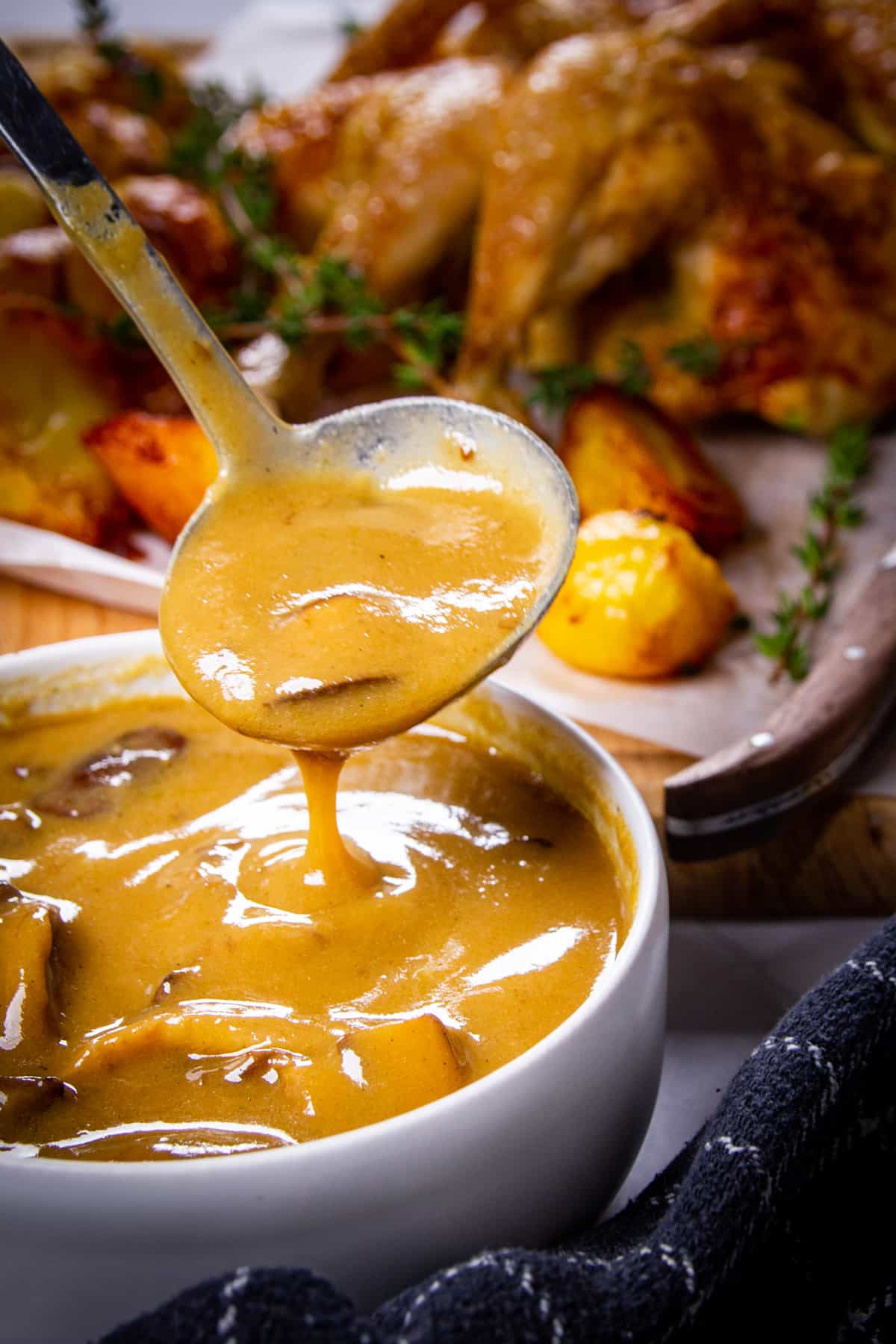 Your Holiday Chicken Menu
Here are a few ideas for some awesome holiday sides:
Here are a few awesome dessert ideas:
Tools Needed
A thermometer makes the Thanksgiving experience much more relaxed. Some thermometers can even be put in the oven that sets off an alarm when it reaches the perfect temperature. Too easy!
If you don't have a thermometer, I recommend this one
This is important for achieving deliciously crispy potatoes and a nicely browned bird. If you use a roasting pan with sides that are too high your bird will be steamed on the sides and only browned on the top. On the other hand, if you use a pan with too shallow sides you might spill juices and fat all over the oven (and nobody wants to clean the oven during Thanksgiving).
Try to find something like this roasting pan with a rack for the best results. This one from Cuisinart is big enough for chicken and turkey.
Is it time for new knives? Then definitely check out my ultimate guide to The Best High End Knife Sets and Why I'll Never Buy a Cutco Knife Set.