This roast chicken dinner with mushroom gravy definitely hits the spot.
For me, it's a ridiculously comforting meal and a little reminder of home. This recipe is for those wanting to enjoy a roast chicken dinner at home for the holidays or for those wanting a little extra comfort in their lives.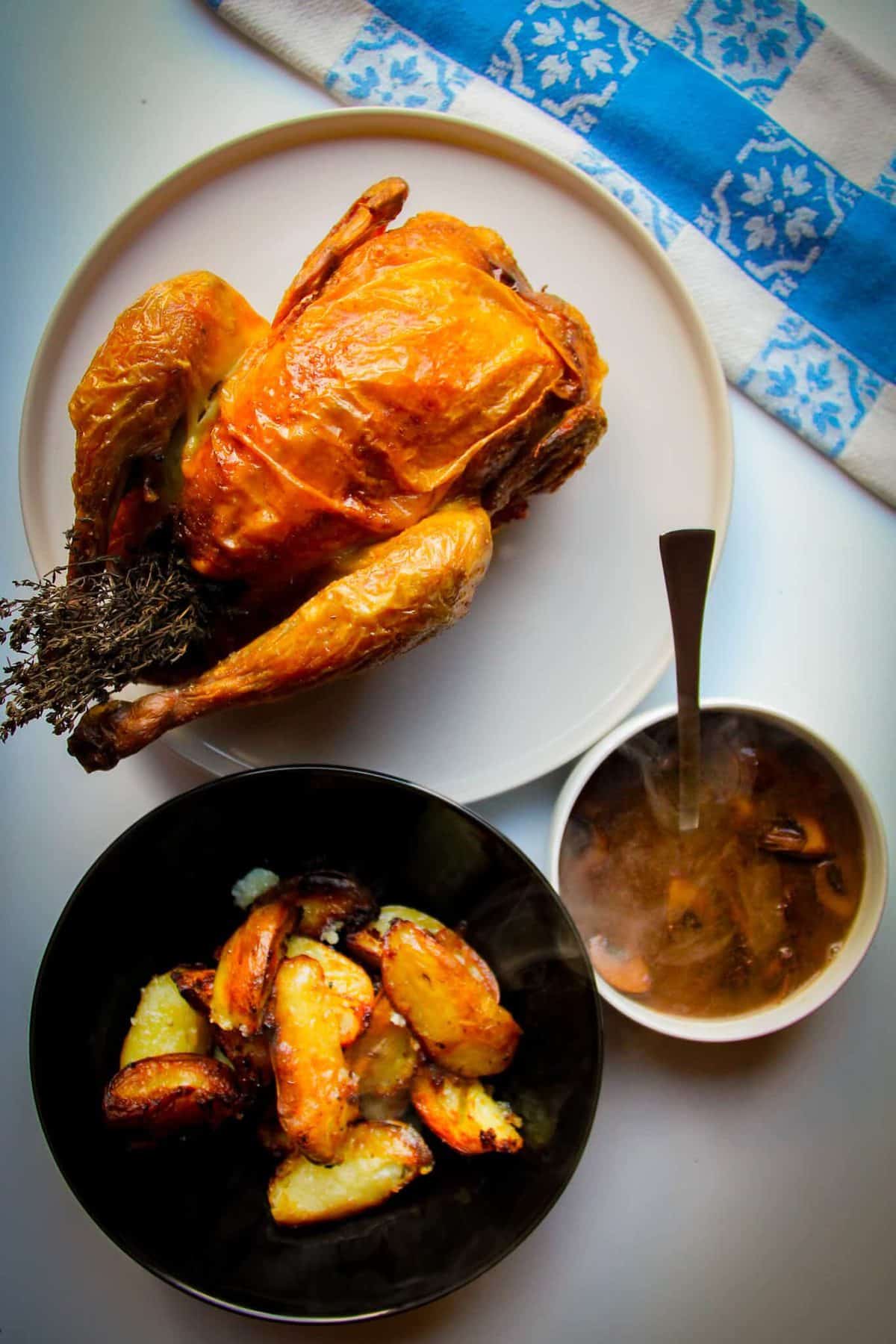 Why Buy a Whole Bird?
Buying a whole bird will save you money. A roasted chicken can feed up to 4 hungry people plus the leftover bones can make soup the next day. And let's not forget about the glorious leftover chicken sandwiches you can make the next day too!
Should I Brine My Bird?
Yes. Do you have to brine it? No.
Brining is a great because it seasons the interior of the meat and keeps the meat juicier. It's also a lot harder to overcook a brined chicken so it's the perfect safety net for the home cook.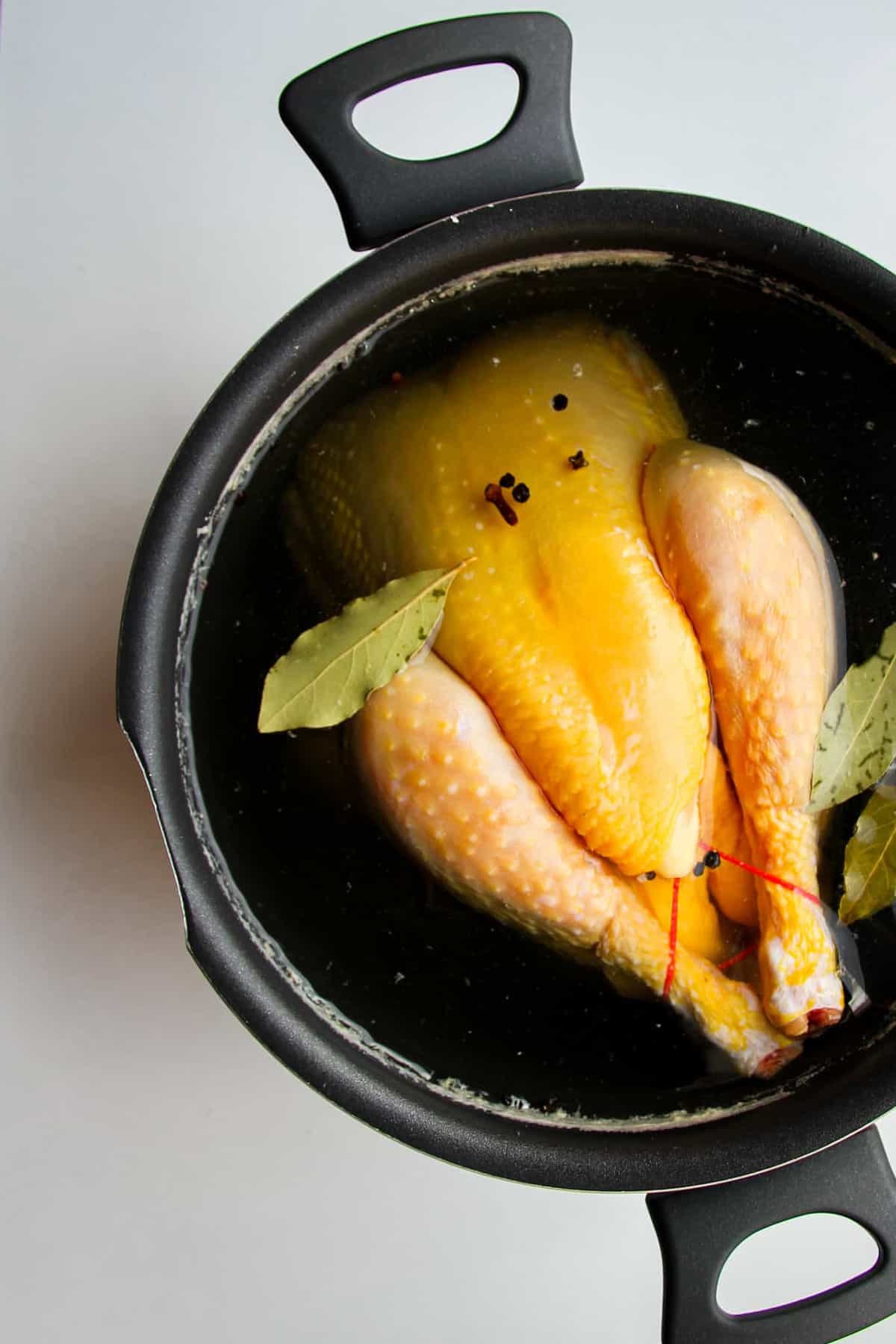 If you have the time then definitely go for the brine. You just need to brine it the night before and then dry it in the fridge the next morning or for up to 3 days.
Another important point to note is that brined chickens or turkeys tend to cook faster than un-brined. The brined chicken was ready about 10-15 minutes sooner than the unbrined.
That Crispy Skin
For me, a good roast chicken dinner is all about that delicious and crispy chicken skin. So over the years I've picked up a few tricks to achieve my dreams of perfect crispy chicken skin.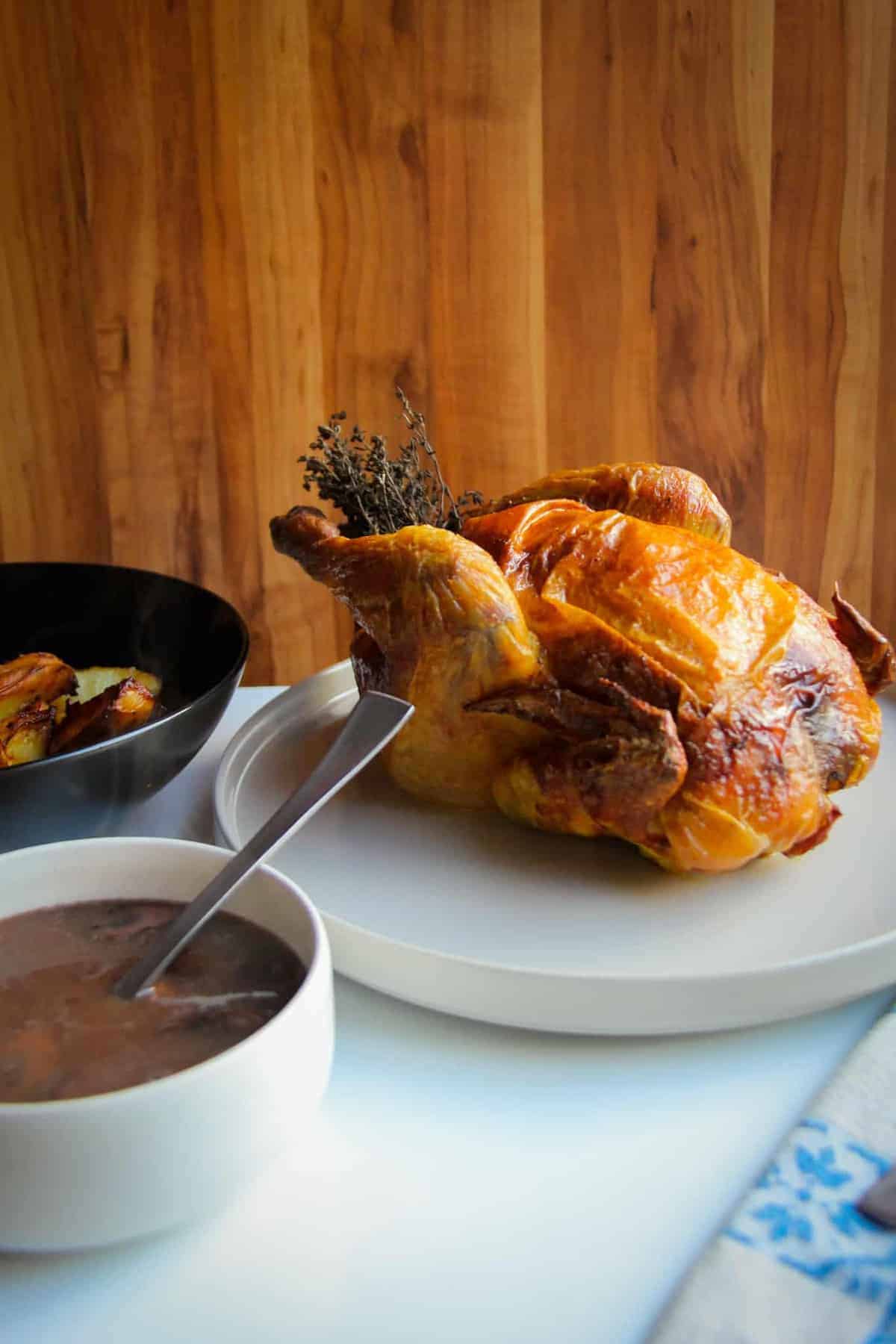 Rule #1 – Drying
Drying the chicken in the fridge is the most important step to achieving crispy chicken or turkey skin. In some professional kitchens they dry their chickens for up to 3 days with extra fans in the fridge. Of course you don't have to do 3 days of drying but 1 day or even half a day of drying in the fridge will make a huge difference.
Rule #2 – High heat
In order to achieve that beautiful Maillard reaction, you need high heat. Set the oven really high first, then turn it down to cook the chicken gradually.
Dark Meat vs. White Meat Dilemma
One problem with cooking any bird whole is that the white meat always cooks faster than the dark meat. If you really want perfection then it's best to split the legs from the breast meat and cook them separately.
But for me, I love the idea of cooking a whole bird and it's way more satisfying to present a whole roasted bird on the table as opposed to two halves of a bird. (Also your guests will probably think you're crazy if you serve two chicken halves).
The Roast Chicken Dinner Gravy
You gotta have gravy! It's so important I've got two recipes because I really want you to make the gravy. It's a must!
This year I made a little bit more of a "cheffy" gravy with seared mushrooms, red wine and thickened it with xanthan gum. This makes it delicious, beautifully shiny and gluten-free.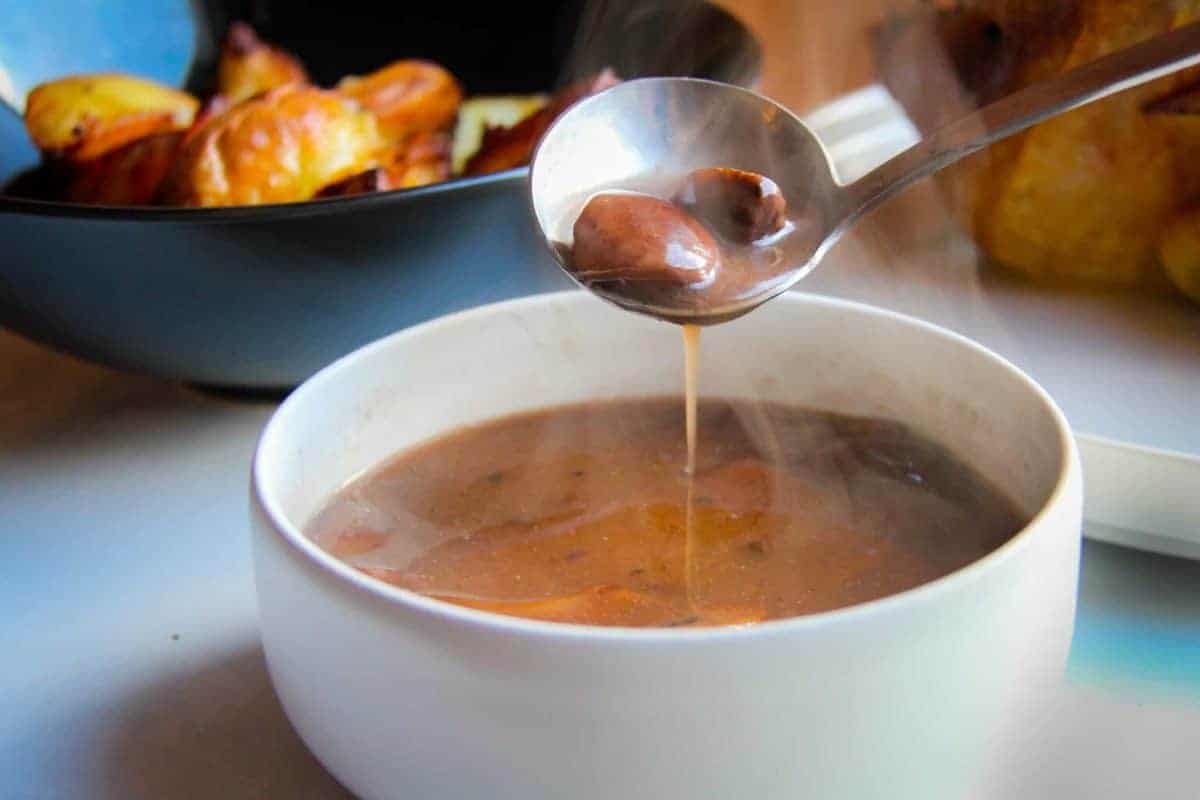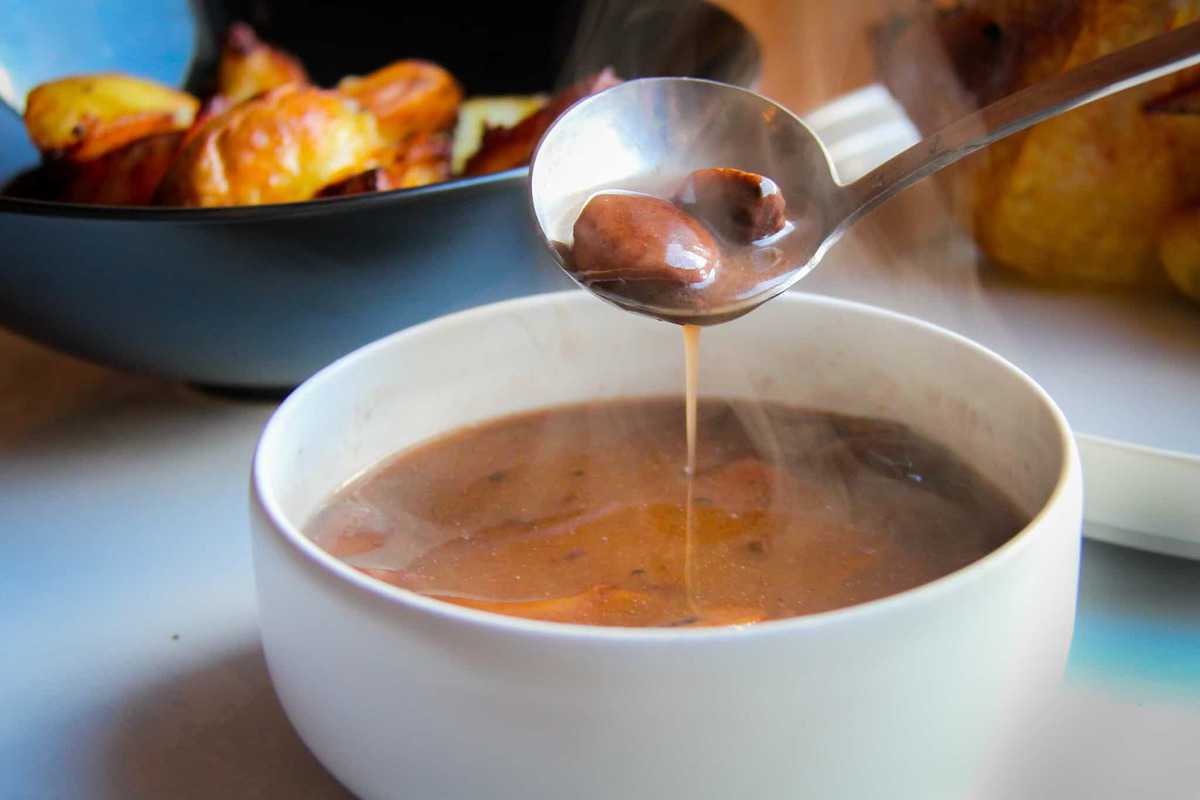 But I know a lot of people do not have xanthan gum on hand so I've got a more traditional gravy here made with flour and butter.
Oldschool Mushroom Gravy
40g butter + 15g for cooking the mushrooms
40g flour
500ml hot chicken stock
250g chestnut mushrooms
1 clove garlic (rasped through a microplane or garlic press)
2 sprigs parsley (leaves picked and finely chopped)
1 squeeze of lemon
Method:
Sear the mushrooms in the 10g of hot foamy butter.
Once the mushrooms are nicely browned add the puréed garlic. Toss and set aside in another bowl.
Melt the equal parts butter and flour in a saucepan and whisk to remove the lumps. Whisk until golden brown and allow to cool for 5 minutes.
Slowly stir in the hot chicken stock and whisk out any lumps. Add any drippings or juices from the roast chicken.
Add the cooked mushrooms to the gravy.
Bring to a boil and simmer for about 2 minutes or until the gravy has a nice consistency.
Finish with fresh parsley and a squeeze of lemon juice.
Season the gravy with salt at the end because the juices from the chicken can be pretty salty from the brine.
Tools Needed
A thermometer makes the Thanksgiving experience much more relaxed. Some thermometers can even be put in the oven that set off an alarm when it reaches the perfect temperature. Too easy!
If you don't have a thermometer, I recommend this one
This is important for achieving deliciously crispy potatoes and a nicely browned bird. If you use a roasting pan with sides that are too high your bird will be steamed on the sides and only browned on the top. On the other hand if you use a pan with too shallow sides you might spill juices and fat all over the oven (and nobody wants to clean the oven during Thanksgiving).
Try to find something like this roasting pan with rack for the best results. This one from Cuisinart is big enough for chicken and turkey.
Before you begin with this recipe the goal is to have your chicken brined overnight, and drying uncovered in the fridge for the entire day.
This post contain Amazon affiliate links to tools I love using!