This is my ultimate no-fail holiday chicken dinner with the best roast potatoes and one seriously tasty mushroom gravy.
I've become a big fan of the spatchcock chicken which delivers a faster cooking bird and even crispier chicken skin than the usual trussed chicken.
But this recipe is really all about the potatoes that cook underneath.
They soak up the delicious lemon-thyme butter and roasted chicken fat drippings to make some cosmically divine roasted potatoes.
And before you think that a spatchcock chicken sounds difficult or time-consuming, hear me out, because it's really not!
It's actually pretty easy and probably takes less time than actually trussing a chicken!
Guaranteed, this is the only way I'll be roasting whole chickens from now on.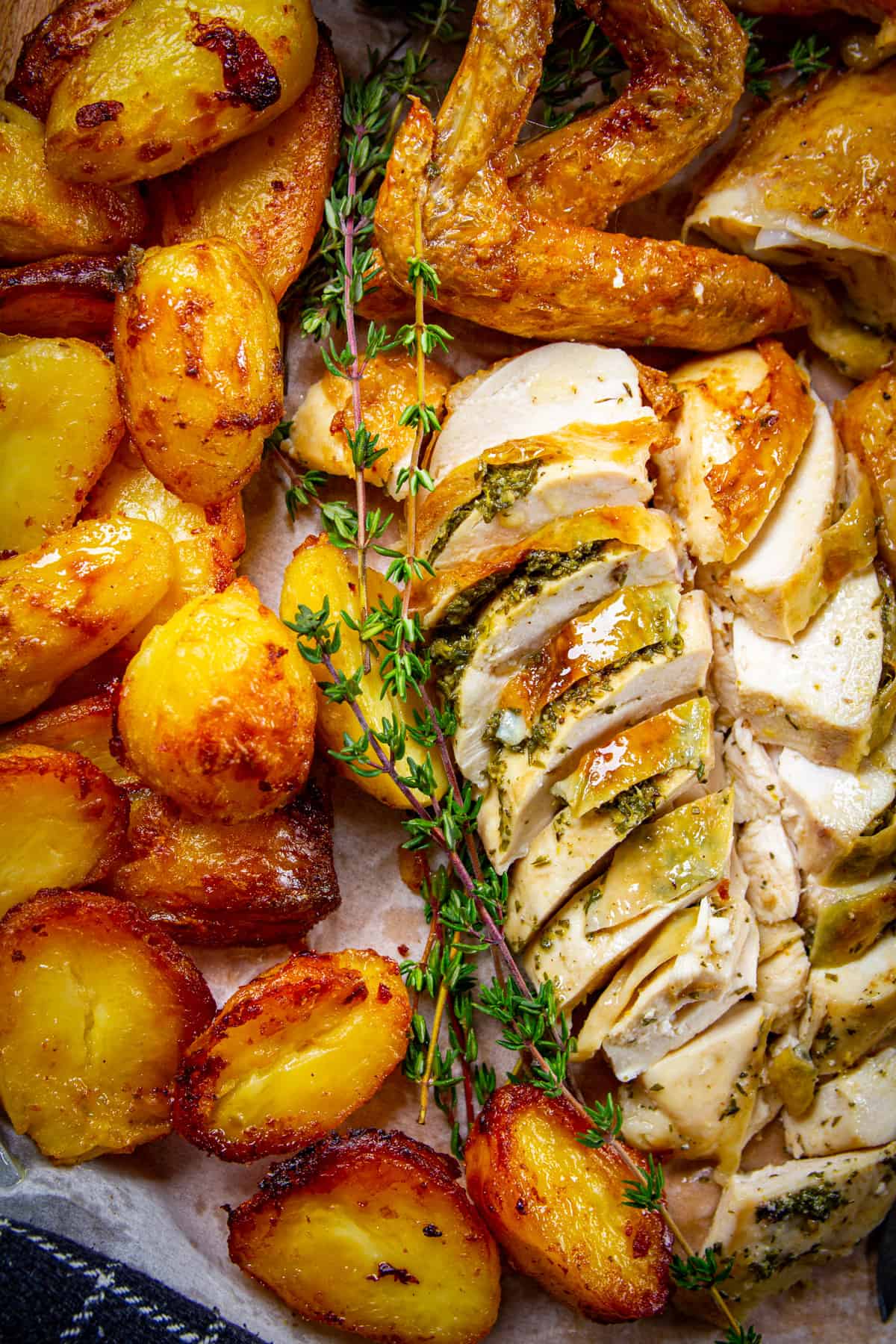 Do You Truss Me?
Do you truss a chicken or not?
For those that don't know, a trussed chicken is when it's tied with butcher's twine to keep the legs connected to the body.
Growing up with superstar chefs like Thomas Kellar preaching the importance of trussing a chicken, I'd never dream to question the importance of this.
But secretly in the back of my mind, I often wondered whether trussing a chicken actually did help to cook it more evenly.
My bias has finally been confirmed by the Chefsteps team, who roasted over 70 whole chickens in the tests and concluded that tied birds didn't actually cook more evenly.
Of course, trussing a chicken does have its benefits.
It's a lot easier to move around, especially after cooking and probably has a better presentation. You can't deny that a whole roasted chicken stuffed with herbs looks beautiful on the table.
Still, I think you can make a beautiful roast chicken dinner even while spatchcocked. Plus you save time roasting and get better browning of the chicken skin from the added airflow.
And that's why from now on, I'll be team spatchcock chicken.
Should I Brine A Spatchcock Chicken?
In this recipe, I didn't brine the chicken and the meat was still incredibly juicy.
Although this is probably because the added compound butter under the breasts really helps to keep the meat juicy.
With that being said, brining is great because it seasons the interior of the meat and keeps the meat even juicier.
It's also a lot harder to overcook a brined chicken so it's nice to have the added safety net to ease the damage from overcooking.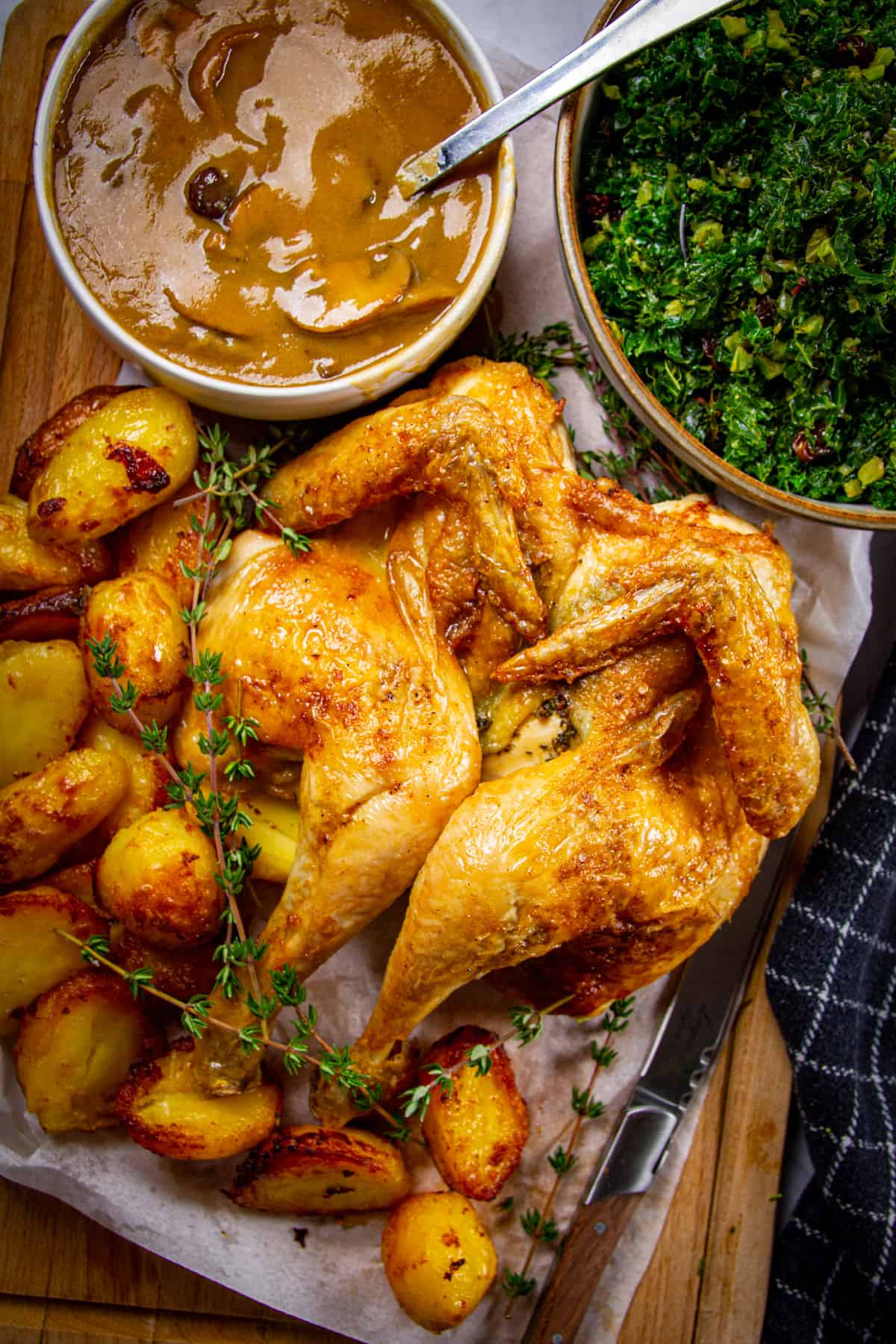 Conclusion: If you have the time then go for the brine but if you forgot then know that you'll still end up with a delicious roasted bird.
Brine the whole bird the night before and then dry it in the fridge the next morning or for up to 3 days.
Another important point to note is that brined chickens or turkeys tend to cook faster than un-brined. Brined chicken may be ready about 10-15 minutes sooner than the unbrined.
*Note: If you do brine, spatchcock your chicken first before brining as it will be a little messier to work with after brining.
How to Brine a Chicken or Turkey
Here's a quick rundown on how to brine a chicken or turkey with step by step instructions.
Check out this recipe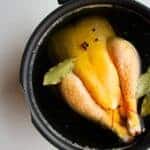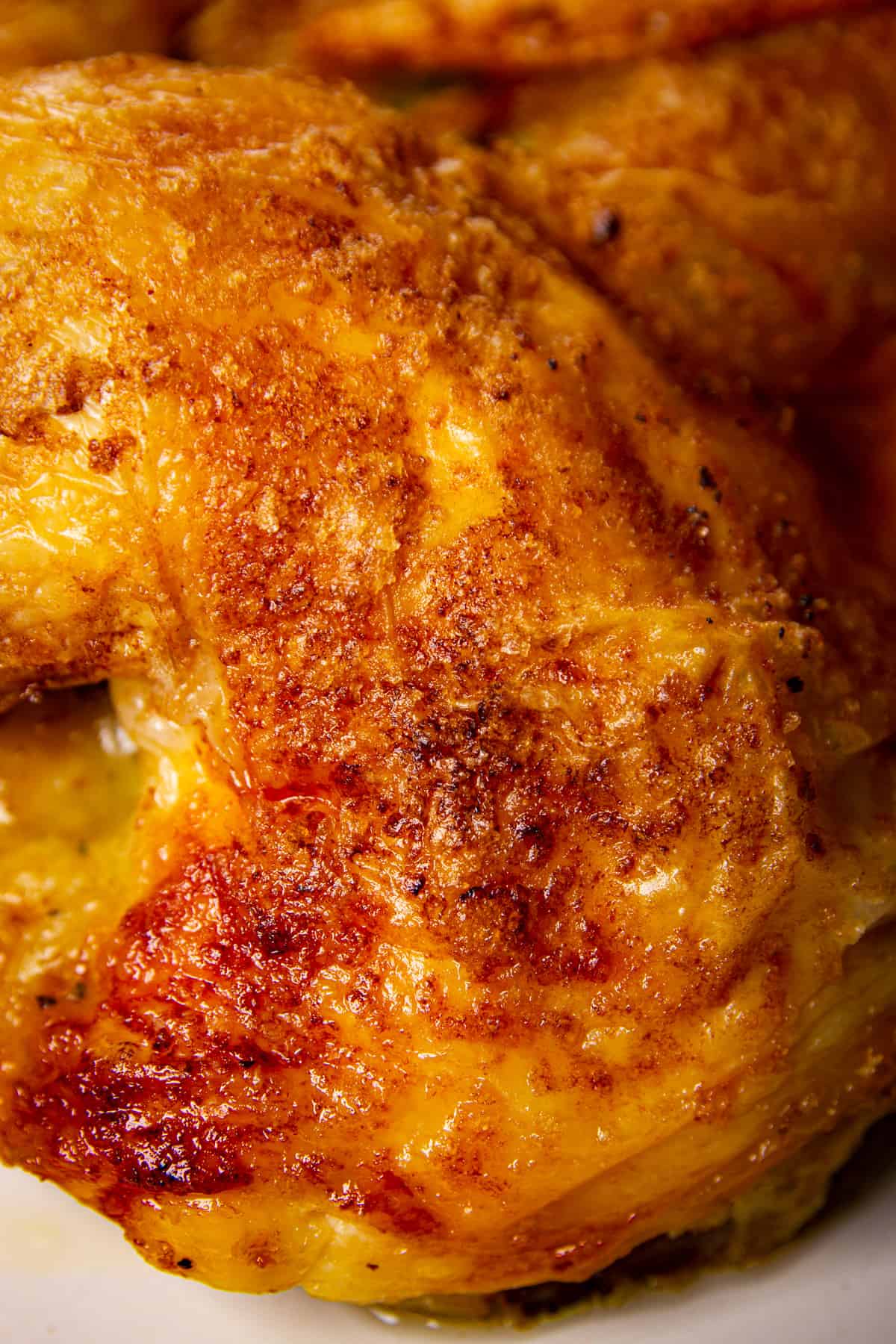 How to Get Crispy Chicken Skin
Getting chicken skin crispy is achieved by two factors: proper drying and high heat.
Factor #1 – Drying
Drying the chicken in the fridge is the most important step to achieving crispy chicken or turkey skin.
In some professional kitchens, they dry their chickens for up to 3 days with extra fans in the fridge. Chefsteps even recommends a 7-day dry in a well-ventilated fridge with a good fan.
But I think for most people, drying a chicken for 7 days in their fridge is just not very practical. Plus, most household refrigerators are cram-packed with other ingredients that prevent good airflow and may result in your chicken going off.
In my experience, drying the chicken overnight for 1 day will significantly improve the crispiness of the skin.
Factor #2 – High heat
In order to achieve that beautiful Maillard reaction, you need high heat. If the heat is not high enough, the meat will dry out before the skin has time to crisp up.
This is especially true with a spatchcock chicken which is even thinner in comparison to a trussed chicken.
I found the perfect temperature for my oven to be 410°F/210°C with the convection fan on.
If you don't have a convection fan, increase the temperature to 425°F/218°C
Dark Meat vs. White Meat Dilemma
One problem with cooking any bird whole is that the white meat always cooks faster than the dark meat.
If you really want perfection then it's best to split the legs from the breast meat and cook them separately.
But that's just not as satisfying as placing a whole roasted chicken on the table and marvelling at its beauty.
The solution is to brine (as mentioned above) and/or add a compound butter under the skin of the chicken breasts. This extra fat coats the meat with extra fat and flavour as it cooks, resulting in juicier white meat.
The Holiday Chicken Dinner Mushroom Gravy
No holiday chicken dinner is complete without a good gravy.
My favourite way to add a punch of flavour to a regular gravy is to add mushrooms. Even better if you can find some wild mushrooms or some dried porcini mushrooms like I've included in this recipe.
I'm also making use of the chicken back too which is removed in order to spatchcock the chicken. This way nothing goes to waste, and you can boost the flavour of the gravy without buying extra chicken bones.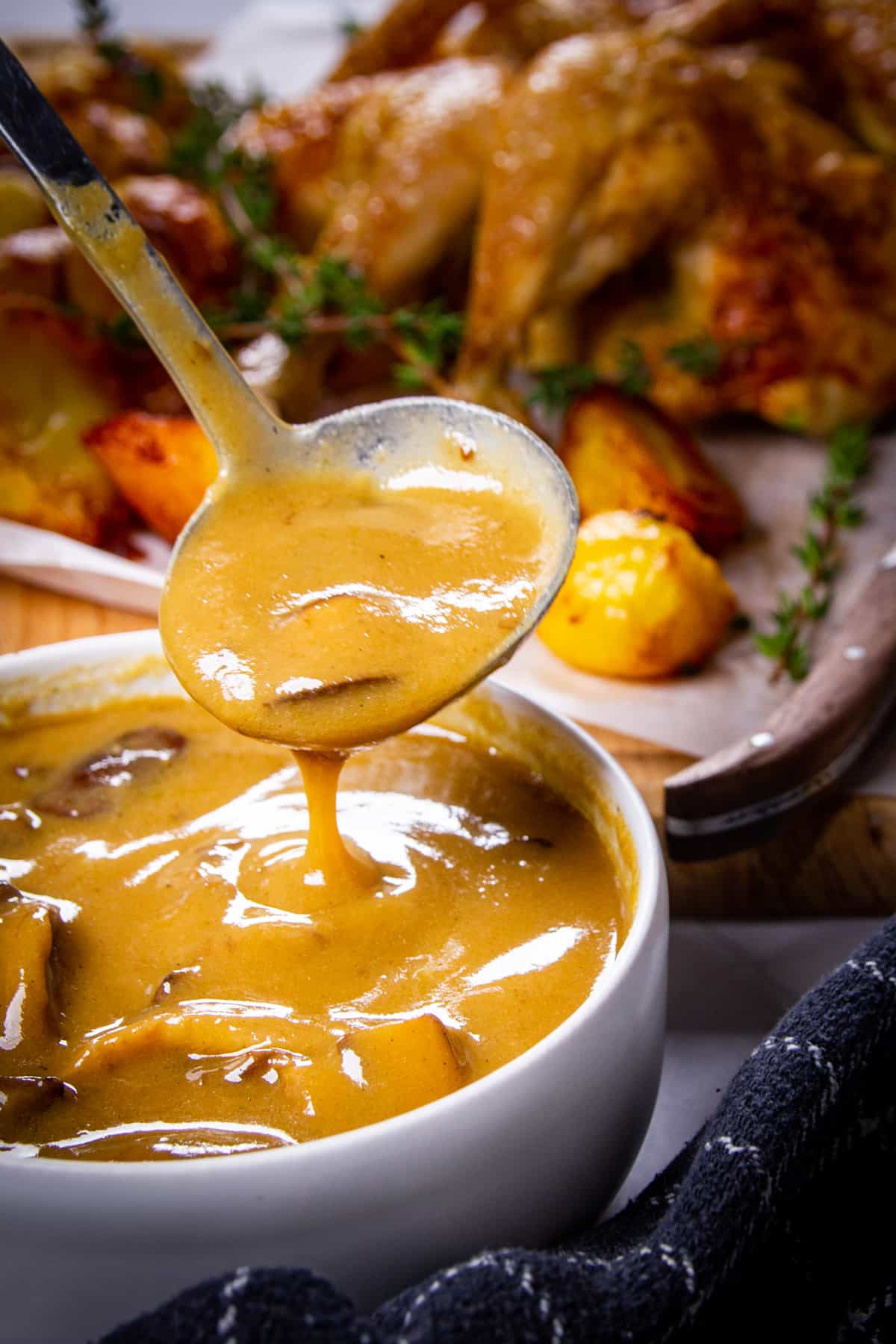 Your Holiday Chicken Menu
Here are a few ideas for some awesome holiday sides:
Here are a few awesome dessert ideas:
Tools Needed
A thermometer makes the Thanksgiving experience much more relaxed. Some thermometers can even be put in the oven that sets off an alarm when it reaches the perfect temperature. Too easy!
If you don't have a thermometer, I recommend this one
This is important for achieving deliciously crispy potatoes and a nicely browned bird. If you use a roasting pan with sides that are too high your bird will be steamed on the sides and only browned on the top. On the other hand, if you use a pan with too shallow sides you might spill juices and fat all over the oven (and nobody wants to clean the oven during Thanksgiving).
Try to find something like this roasting pan with a rack for the best results. This one from Cuisinart is big enough for chicken and turkey.
Is it time for new knives? Then definitely check out my ultimate guide to The Best High End Knife Sets and Why I'll Never Buy a Cutco Knife Set.
The Perfect No-Fail Spatchcock Holiday Chicken Dinner – with Mushroom Gravy
My ultimate rundown on how to achieve the perfect holiday chicken dinner using the spatchcock method. Beautifully juicy, flavourful meat with insanely delicious roasted potatoes.
Equipment
roasting pan or casserole

Small pot
Ingredients
1

whole

chicken

1.4 kg/ 3 lbs, the best quality you can afford

600

g

medium sized russet potatoes, washed and peeled

(enough to fit in the bottom of your roasting pan)

1

tsp

vegetable oil

¼

tsp

garlic powder

1

tsp

soften butter

lots of sea salt
For the Thyme and Lemon Compound Butter
60

g

unsalted butter

(3 tbsp)

3.5

g

fresh thyme, chopped

1

whole

lemon, zested

¼

tsp

sea salt

⅛

tsp

garlic powder

¼

tsp

fresh cracked black pepper
Mushroom Gravy
300

g

mixed mushrooms

oyster, cremini or wild mushrooms

800

ml

chicken broth, unsalted

15

g

garlic, peeled and sliced

(about 3 cloves)

150

g

white onion, peeled and sliced

(about 1 onion)

40

g

flour

(about 3 tbsp)

40

g

reserved fat from the roasted chicken

20

g

butter for cooking the mushrooms

(about 1+½ tbsp)

½

bunch

thyme

20

g

dried porcini

1

pc

bay leaf

1

tsp

dijon mustard

½

tsp

salt

splash of white wine, cognac or brandy

optional
Instructions
Remove the chicken from the fridge 30 minutes prior to cooking. Set the oven to 410°F/210°C

Make the compound butter by mixing everything together in a bowl with a spoon or whisk.

Peel and wash the potatoes. Slice the big ones in half and keep the small ones whole. Cook in a small pot until fork tender (about 10 minutes).

Once the potatoes are cooked, strain them and try to remove as much water as possible. Toss with a little oil and salt and line up in one even layer in the roasting dish. Allow to cool before adding the chicken.

Remove the wishbone first. Then flip the chicken on its front and cut along the back as shown.

Cut along the other side until you remove the back bone completely (save this piece for the gravy).

Flip the chicken over and cut the breast bone with the scissors to help the chicken lie flat.

Use your fingers to gently separate the skin from the breast meat. Insert all the compound butter underneath the skin.

Cover the skin side of the chicken with regular softened butter and season heavily with salt (if brined, then season lightly).

Flip the chicken over and season with garlic powder and salt.

Place the seasoned chicken skin side up over the cooked potatoes and roast in the oven for 40-45 minutes or until thighs reach 165°F/74°C on a thermometer.

Meanwhile start with the gravy. Begin by browning the reserved chicken back in a little oil in a small pan.

Slice the onions and garlic finely.

Once the chicken back is browned nicely, remove the oil from the pan and discard.

Add the onions, garlic and cook for 1-2 minutes without browning. Deglaze the pan with a shot of Cognac (optional) and then add the chicken stock, dried porcini and herbs.

Bring to a boil, then simmer until the chicken is ready.

Once the chicken is ready, carefully remove it from the potatoes onto another plate (a big spatula works well here).

Carefully drain off the fat from the roasting dish and save 40g worth of fat.Turn the oven up to 425°F/210°C and put the potatoes back in the oven to crisp up while you make the gravy. Set a timer for 15 minutes.

Get a large saucepan hot and add the butter. Once its foamy, add the mushrooms and cook until nicely browned. Season with salt and pepper and reserve in a bowl.

Measure out 40g of the reserved chicken fat (or just use butter) and heat in the same pan as the mushrooms. Add the flour and whisk until smooth. Cook for 3-5 minutes on low heat until light brown (blonde roux).

Let the roux cool for 5 minutes.

Strain the fortified stock and measure out 500ml (add more chicken stock if you don't have enough).

Slowly pour this stock into the roux while whisking vigorously to remove any lumps.

Add the rest of the stock and bring to a boil.

Finish the gravy with the mustard, the sauteed mushrooms and season with salt and pepper.

To Serve:

Remove the potatoes from the casserole dish and drain on paper towels.

Place the chicken back in the oven for 5 minutes to reheat it and bring the gravy to a boil.

Carve the chicken at the table or slice it into pieces as shown. Enjoy!
Notes
Use a roasting pan with sides tall enough to keep the juices in while the chicken cooks. Don't use a roasting tray with shallow sides as the chicken will release a lot of fat which could spill over the sides. 
Season the gravy with salt at the end because the juices from the chicken can be pretty salty from the brine.
Another important point to note is that brined chickens or turkeys tend to cook faster than un-brined. The brined chicken was ready about 10-15 minutes sooner than the unbrined.
Oat Milk Eggnog
It's light, refreshing and tastes like a glass of Christmas. It's dairy free, gluten free, 100% plant based vegan and the perfect excuse to drink rum during the holidays.
Check out this recipe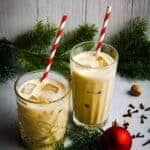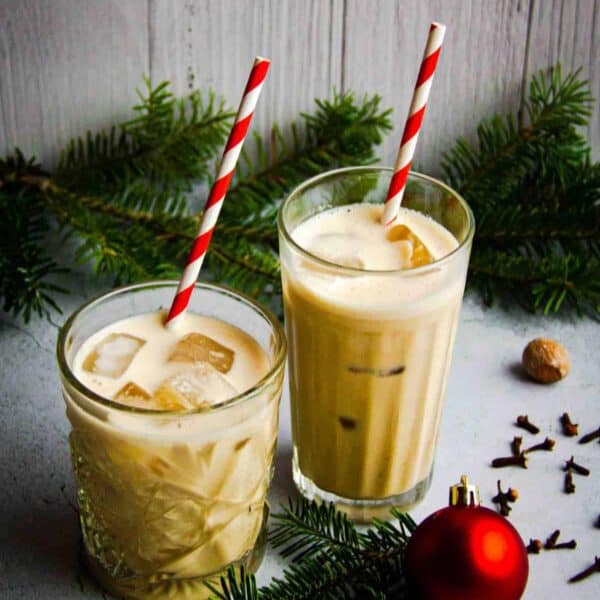 The Best Keto Sticky Toffee Pudding
After many trials and tests, I've found a recipe for a keto sticky toffee pudding that is certainly worth writing down.
Check out this recipe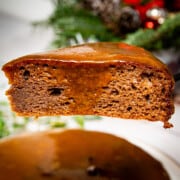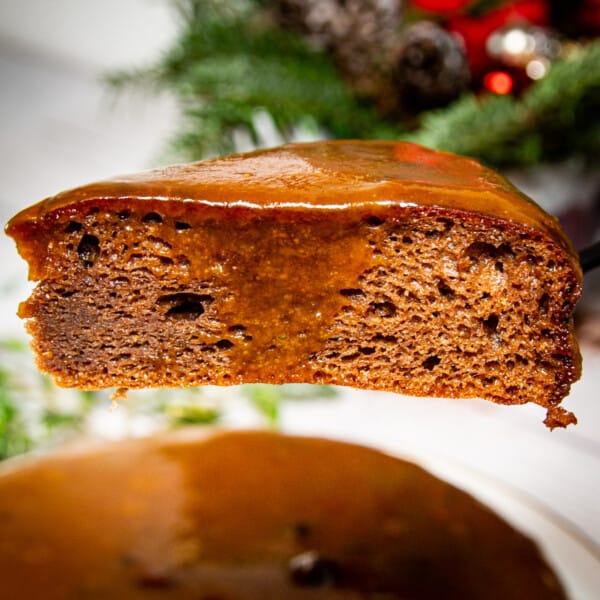 Salted Caramel Sticky Toffee Pudding
This salted caramel sticky toffee pudding is deliciously rich and comforting with a no-fail salted caramel sauce and the perfect Christmas dessert.
Check out this recipe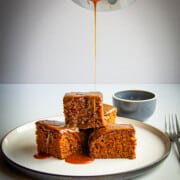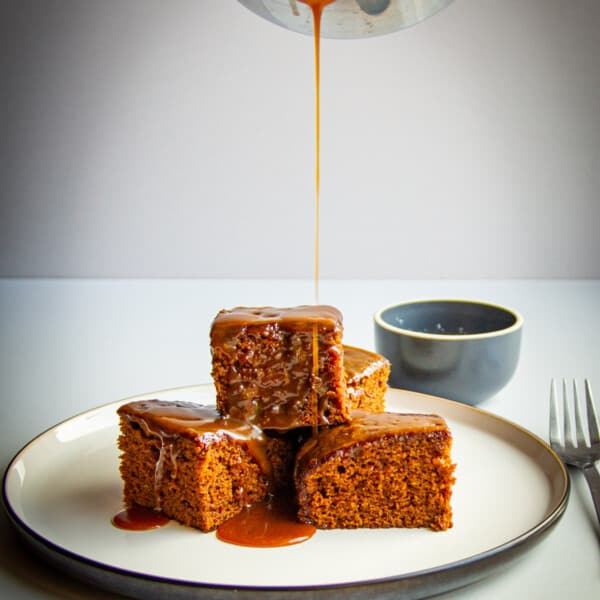 A Rich and Comforting Brown Butter Gravy
A brown butter gravy that uses caramelized cream to increase the brown butter aroma in the sauce. Perfect for holiday dinner or smothered over creamy mashed potatoes.
Check out this recipe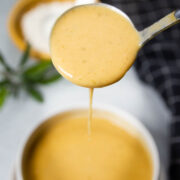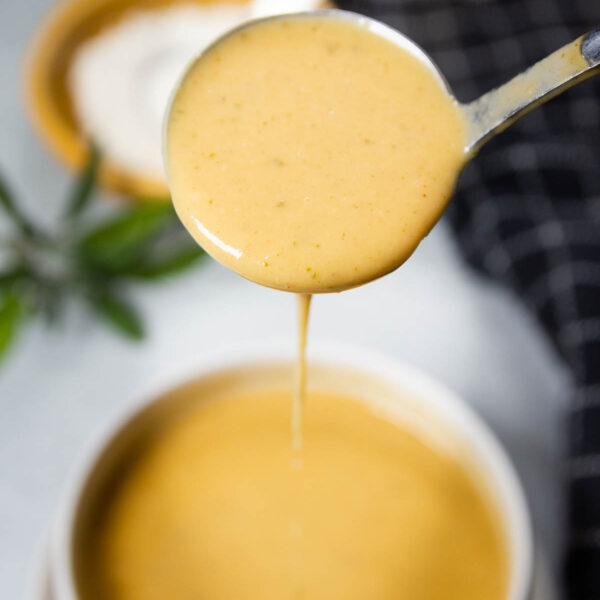 Crispy Roasted Brussel Sprouts with Banana and Fresh Lime
A rather wild side dish of crispy roasted Brussel sprouts with banana and lime that's vegan, gluten-free and definitely not boring.
Check out this recipe