I love almost all steak sauces but sometimes I want something a little lighter, like this charred green onion chimichurri.
Don't get me wrong, I LOVE classic sauces like béarnaise, demi-glace, peppercorn sauce and steak Diane sauce but I think they're best saved for cold winter nights.
For summer I want something lighter, quicker and preferably something with a little smokey flavour. This sauce packs a punch of tanginess from the red wine vinegar and a little smokiness from the char of the grilled onions.
Plus, you can make this sauce quickly while you wait for your steak to rest.
What is Green Onion Chimichurri?
Originating from South America, chimichurri is a popular green steak sauce that is served at room temperature and consists mainly of parsley, garlic and red wine vinegar. Other common ingredients include herbs such as oregano, cilantro or even mint.
The freshness of the herbs keeps the sauce light and the red wine vinegar cuts through the richness of grilled meats. It's a delicious sauce for steak on a summer night but it also works well with grilled chicken, pork and almost any grilled vegetable.
In this recipe, I add charred chilis and green onions to make it a little more interesting and add some smokey flavour.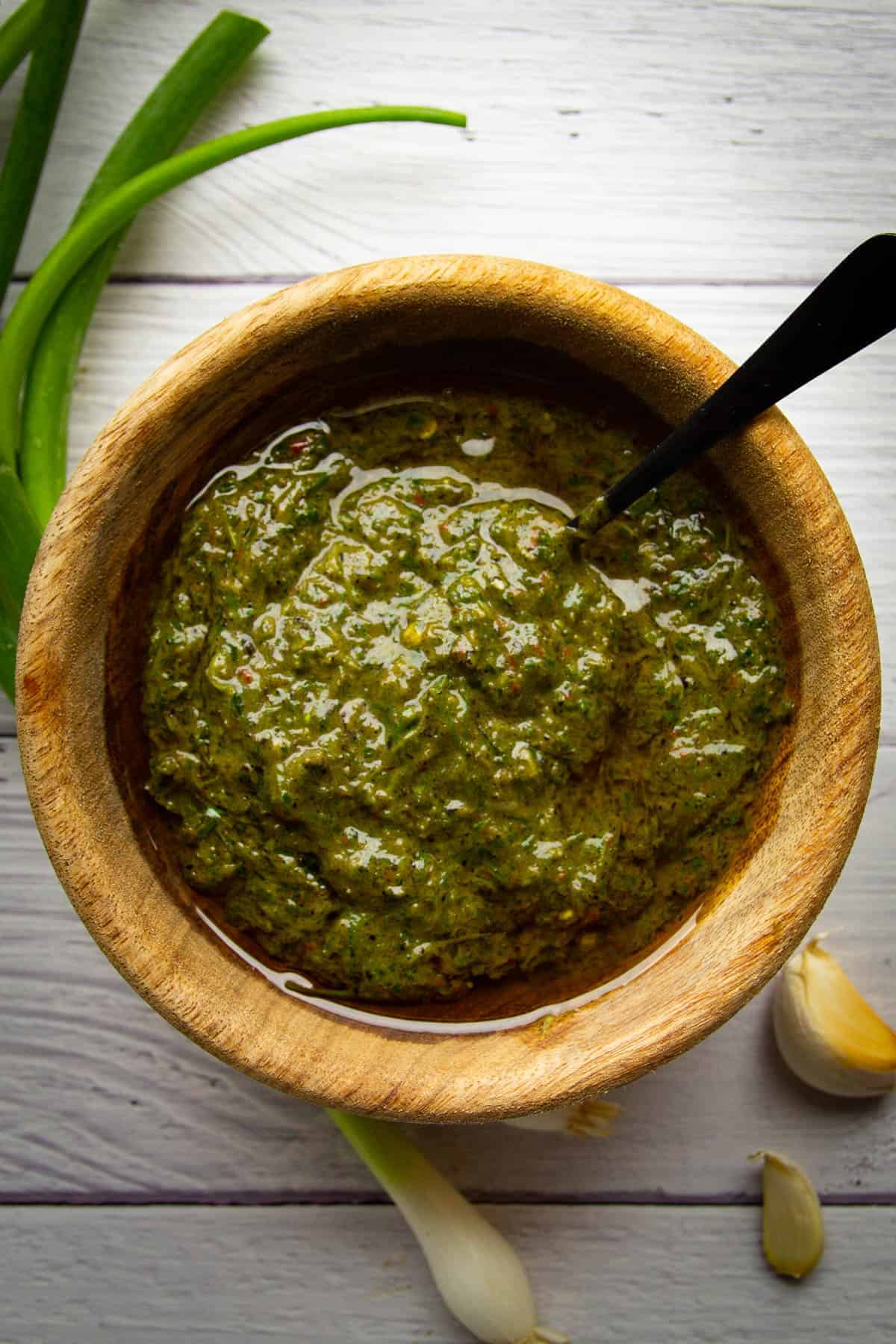 How Long Does Chimichurri Last?
Unfortunately, chimichurri doesn't last long.
Chimichurri will be at its peak flavour the first day it's made. After that, the colour will start to turn grey and the red wine vinegar will start to "cook" the rest of the herbs. It will still be safe to eat for up to 5 days in the fridge but the flavour will degrade quickly after one day.
Try to make only what you need for that meal and finish it the same day. Chimichurri is meant to be served ultra-fresh.
Tips on How to Nail This Sauce
Use ice to prevent excess discolouration of the herbs while blending. Also be sure to let the grilled green onions and chilli cool before blending.
Add the red wine vinegar right before serving. You can blend everything together and simply stir in the red wine vinegar right before serving to keep the sauce tasting fresh.
Serve this sauce at room temperature for best flavour.
Need More Recipes?
Try These Charcoal Chicken Satays
These Delicious Grilled White Sweet Potatoes