Let's face it, tagliatelle cacio e pepe is just a fancy Italian phrase for mac and cheese.
Perfect for adults (like me) that secretly just want the kid's menu at the restaurant but are too embarrassed to ask for it.
Jokes aside, Cacio e Pepe is one of the most iconic Italian dishes that is loved all over the world and makes a satisfying main course or a tempting late-night snack.
But the success of any good cacio e pepe is all in the technique, and luckily for you, I'm sharing all the secrets plus a step by step walkthrough on how to make your own fresh pasta.
What is Tagliatelle?
Originally from the Emilia Romagna region in Italy, tagliatelle is one of the most popular pasta shapes.
It's usually cut 6mm (about 1/4 inch) wide and in long strips. It's thinner than fettuccine and pappardelle but wider than linguine and spaghetti.
Ideally, this pasta is better suited for saucy dishes with a little bit of texture like bolognese sauce, briciole e noci (breadcrumbs and nuts) or traditional pasta al Pomodoro.
Most home pasta machines come with a tagliatelle cutter which makes it even easier to prepare.
Why Tagliatelle with Cacio e Pepe?
Traditionally, cacio e pepe is made with spaghetti or bucatini and not tagliatelle. It's made with only pecorino romano, butter and black pepper.
It's simple but incredible.
So why change it?
Well good question, because I'm normally an "if it ain't broke don't fix it" kinda guy.
Mainly because Cacio e Pepe is even more delicious with fresh, handmade pasta.
And what better way to showcase some fresh pasta than a simple buttery, cheesy pasta dish.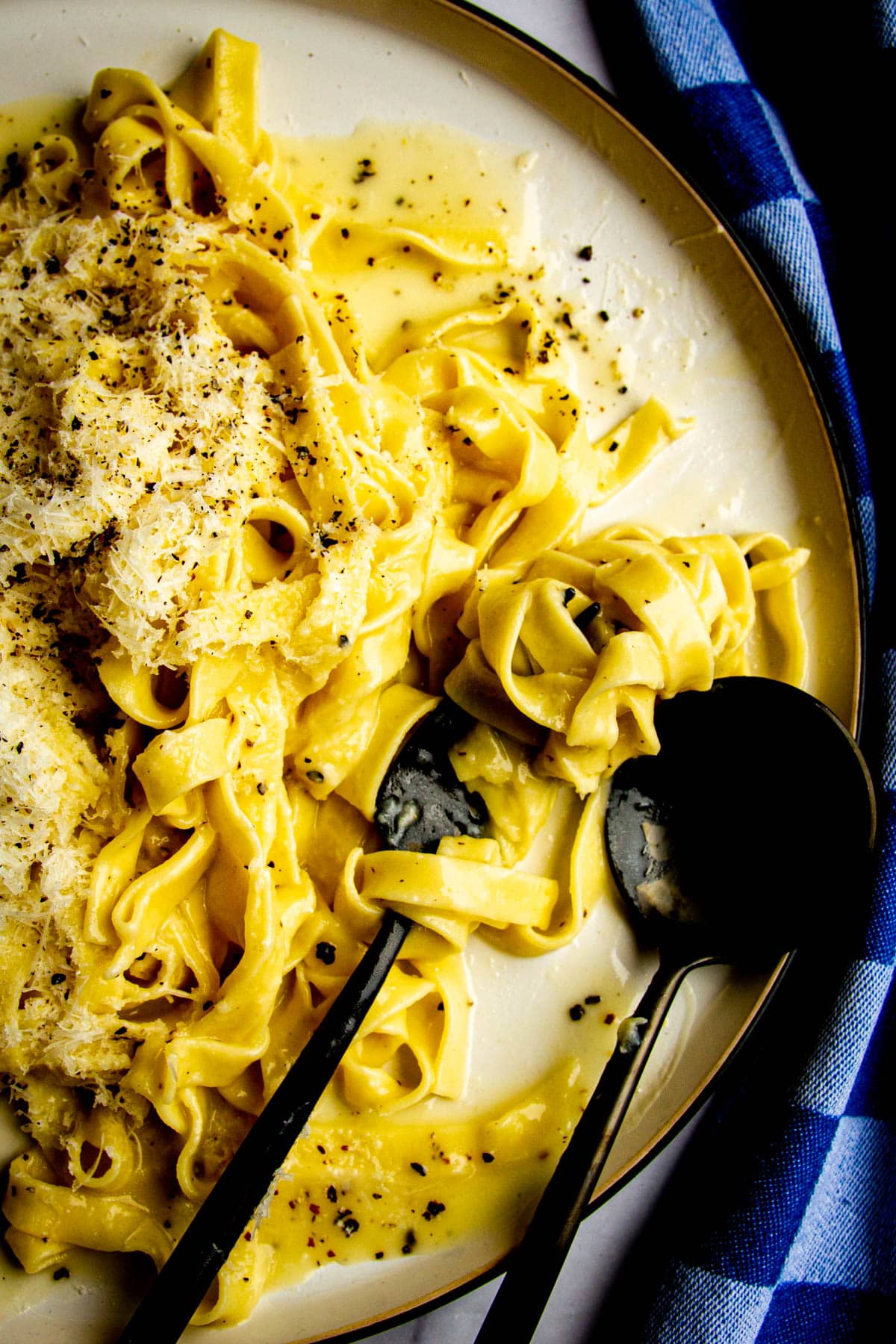 Tagliatelle Ingredients
Here are the few simple ingredients to this amazing dish:
Butter: Butter is irreplaceable in this recipe. It not only adds immense flavour but makes the perfect sauce consistency. It's worth mentioning that while a good amount of butter is ideal for this dish, too much butter can make the dish taste a little flat.
Parmigiano Reggiano: This cheese which is also made in the Emilia Romagna region of Italy is my personal favourite. As mentioned above, Pecorino Romano is traditional in cacio e pepe but I prefer the slightly heavier Parmigiano.
Black Pepper: The perfect everyday spice shines in this recipe. Use lots, grind your own fresh and crack the pepper extra coarse for a bold pepper flavour.
Garlic: I know I'll probably offend some cacio e pepe purists here, but a little garlic goes a long way. I find that one clove of smashed garlic, gently cooked in the butter adds flavour without overpowering the rest of the ingredients. But then again, maybe you'll disagree as I'm a hardcore garlic-lover!
Tagliatelle: As mentioned above, spaghetti is traditional, but homemade fresh pasta is so much better!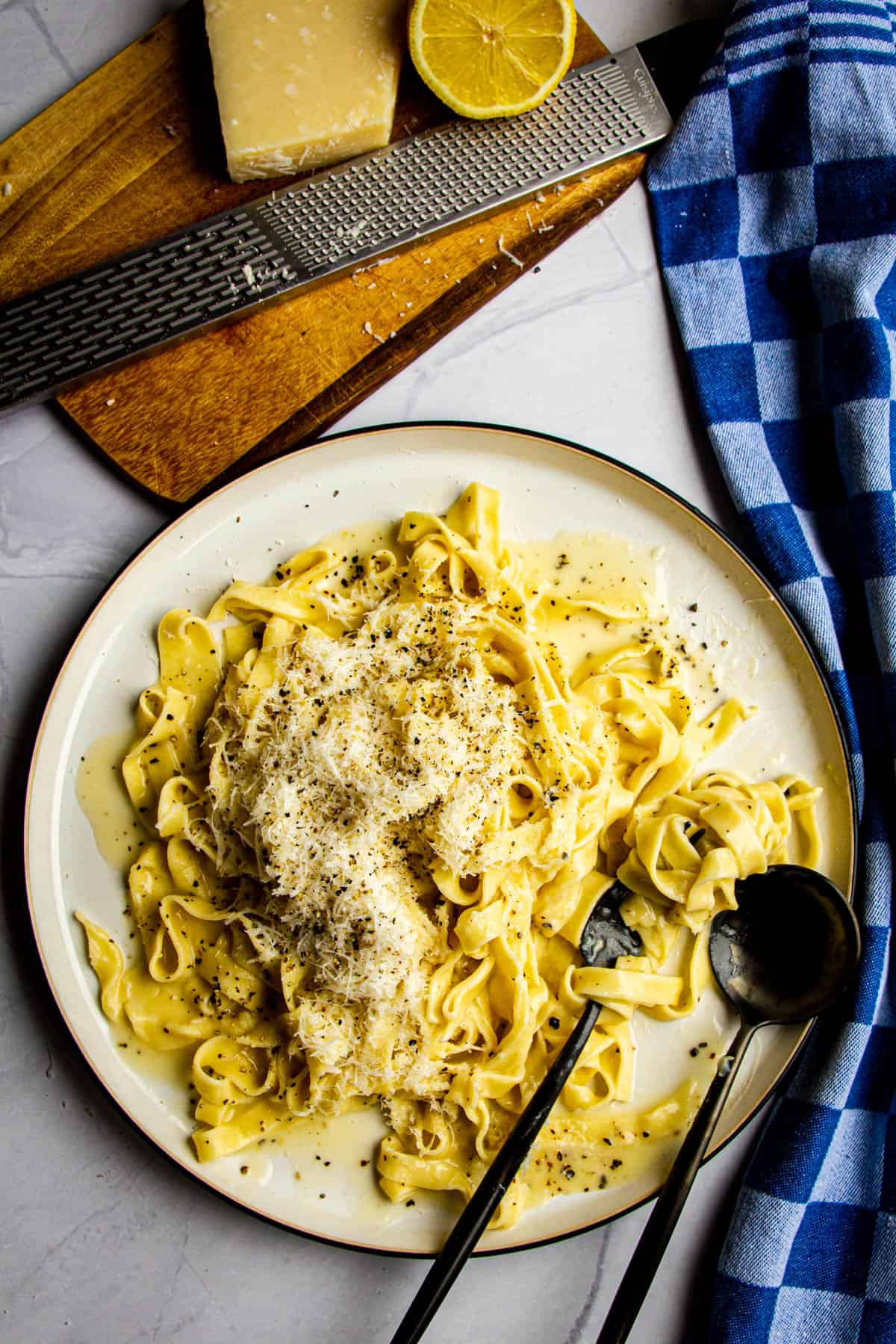 How to Make Fresh Tagliatelle
Here I'm using the classic pasta ratio: 100g tip 00 flour to 1 egg.
If I was making this in a restaurant we would make the dough with only egg yolks and flour for an extra rich pasta with a beautiful, almost orange coloured pasta dough.
At home though, I don't really feel like having a bunch of leftover egg whites around which will probably just end up in my compost. I can only make and eat so much meringue!
Making pasta is fun but give yourself some time and space to prepare it. Unless you're a seasoned Italian nonna, you'll probably want a pasta roller which will make the whole process much easier.
Here is how to make the pasta dough for tagliatelle:
Make a well with the flour and put the eggs inside.
Slowly mix the eggs into the flour with a fork until a shaggy dough is made.
Work the dough on a sturdy surface to develop the gluten. Wet your hands to bring it together until a smooth dough is formed.
Cover the dough in plastic wrap and let it rest for at least 1 hour or overnight in the fridge.
Set up the pasta roller and flour it well. Roll out the dough until it fits easily into the largest setting of the machine.
Roll out the dough, flour both sides and decrease the number on the pasta machine after each roll until 4 sizes down.
Fold the pasta in half and set the roller back to the largest setting.
Repeat steps 5-7 about 2-3 times or until the dough is firm and elastic.
Cut the pasta into sheets.
Roll it through the tagliatelle cutter or hand cut it.
Flour heavily and store what you'll use that day on a tray in the fridge and freeze the rest in sealed containers.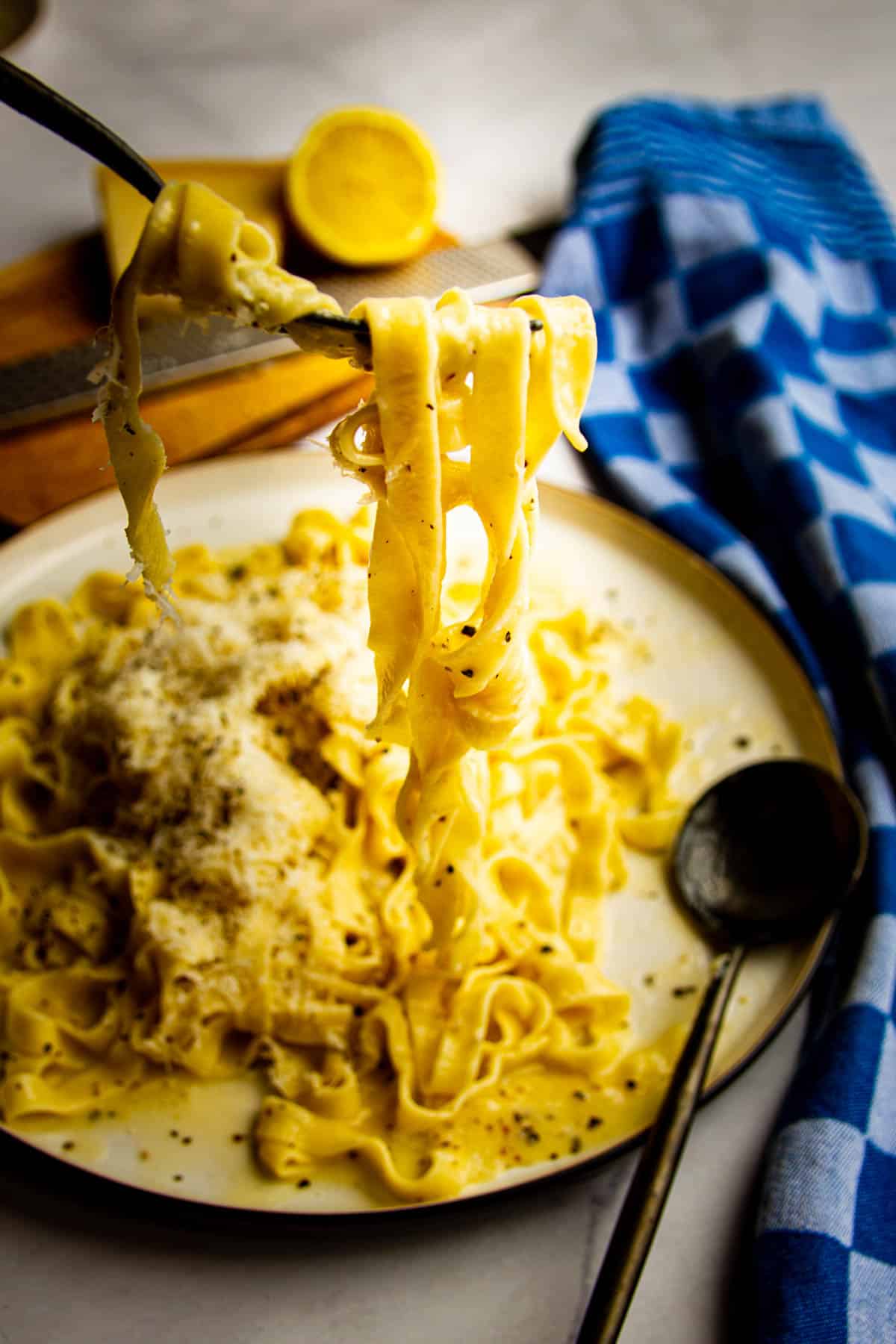 How To Make the Sauce
The secret to this sauce is in the use of starchy pasta water. This is what emulsifiers the butter and water together to make a creamy, cheesy sauce without any actual cream.
To make the sauce:
Melt the butter with a little clove of crushed garlic.
Add 1-2 ladles of the starchy pasta water (pasta must be already cooking) and reduce. The more pasta water you can get into your sauce the better, but be careful not to water down the sauce too much.
Once the pasta is cooked, add it to the butter/water and continue cooking for 1 minute in the pan, stirring frequently to prevent sticking.
Turn off the heat and add the lemon juice, black pepper, 3/4 of the cheese and a bit of fresh butter.
Toss until creamy. This process is known as Montecatura in Italian.
Check the seasoning for salt, acidity and make sure the pasta is still quite saucy as it will continue to thicken even after plating. Add more pasta water if necessary.
Garnish with the rest of the cheese, tons of cracked black pepper and enjoy right away.
Tips to Nail this Tagilatelle Cacio e Pepe
Make sure to rest the pasta dough for at least an hour before rolling otherwise it will be too difficult to roll out in the machine.
Flour the pasta sheets generously during and after to prevent them from sticking together.
Be sure to use plenty of starchy pasta water to make a smooth and creamy sauce.
Grate the cheese extra finely to allow it to melt faster.
Add the cheese off the heat to prevent it from clumping and sticking to the pan.
Fill a large pasta pot about halfway to make the pasta water extra starchy.
Key Tools For Making Pasta
Large Pasta Tweezers: While working in Tuscany, the chef there gifted a pair of these to me and I've never stopped using them. They're similar to regular kitchen tongs but with more control and the perfect tool to lift cooked pasta out of the pot. I use them so much, they've become my third kitchen hand.
They're also great to use with the BBQ because of their extra-long reach. Whichever ones you choose, make sure you buy large ones, around 12″.
Pasta Roller – You can make pasta with just a rolling pin, but it will take way longer. My favourite pasta machine is made by Imperial and is better suited for restaurants. But this one from Sailnovo is pretty fairly priced and has great Amazon reviews.
Try My Other Pasta Recipes
This post contains Amazon Affiliate links to products I recommend and I'll earn a commission if you purchase something.
More Recipes
A Slightly Healthier and Lighter Pasta
The Ultimate Smoked Mac and Cheese