What's the secret to a great mac and cheese sauce, you ask?
Loads and loads of shredded cheese.
But who likes grating buckets full of cheese through the ol' box grater?
Not me!
And that's why I'm happy to share with you this mega-fast, cheese-shredding-free mac and cheese sauce recipe.
Not only that, this quick blender-made technique yields a smoother and cheesier sauce without the usual difficult to clean sauce pan.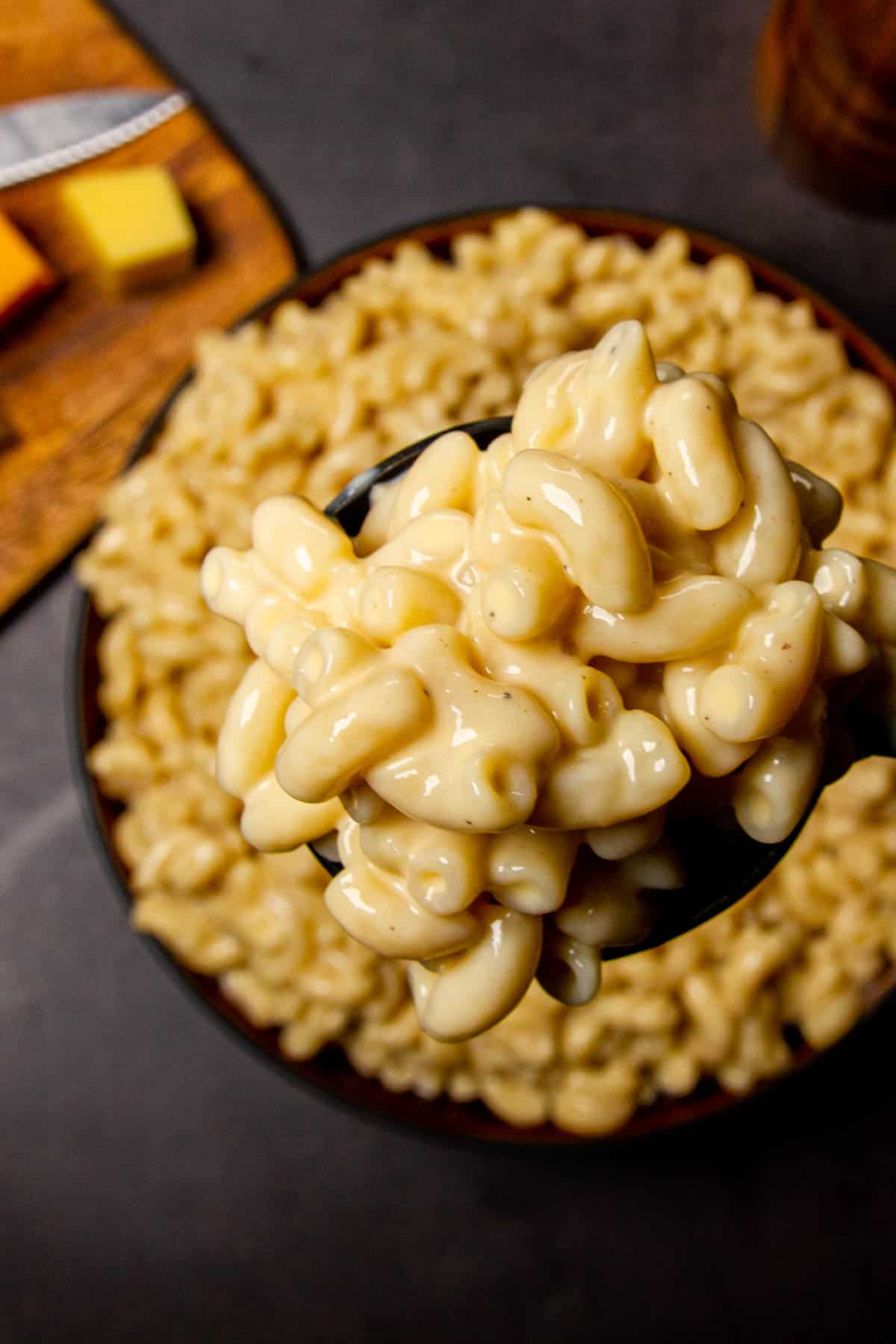 Why You NEED This Mac and Cheese In Your Life Right Now
Reasons why this is the only way I make my cheese sauce nowadays:
You're tired of grainy mac and cheese sauces. The added cooked potato in this recipe works wonders to make an ultra-smooth sauce.
You don't like making a flour-based roux.
You don't feel like grating a GIANT bowl of cheese. No need to grate cheese here! The blender does that for you.
You enjoy intensely flavoured cheese sauces. This sauce has a high cheese-to-milk ratio meaning you get the maximum cheese flavour – not just a milk sauce with cheese.
There are no melting salts, food additives or processed cheese in this recipe.
Did I mention, there's brown butter in this?!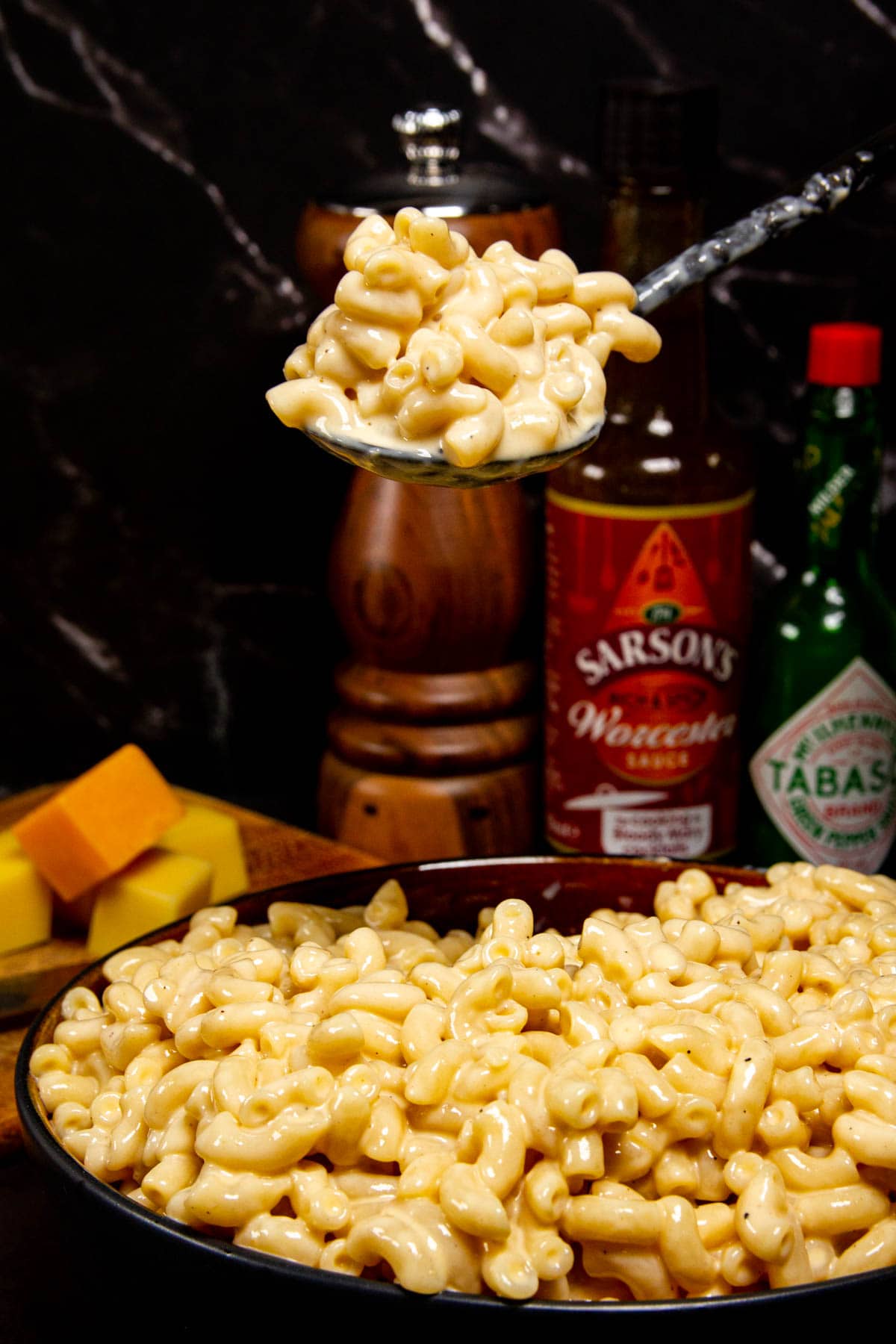 Homemade Mac and Cheese sauce Ingredients
Here are the secret ingredients for this mac and cheese sauce:
Cooked Potato: This is not a usual ingredient in mac and cheese or bechamel sauce but it works surprisingly well. Adding a cooked potato will make an ultra-smooth sauce and help to emulsify everything together. A little trick I discovered while making LOTS of ultra-smooth purees in fine-dining restaurants.
Cheese: I'm a big cheddar cheese kinda guy but you may have other preferences. The good news is that this sauce will work with almost any cheese (although don't use mozzarella). Gruyere, Emmental, Gouda and Old Amsterdam are all great alternatives for a cheese sauce.
Milk: 2% milk is fine but whole milk makes a richer sauce. Normally I add 35% cream to a traditional mac and cheese sauce (like in this smoked mac and cheese) but I left it out in this recipe because I'm adding brown butter instead.
Pasta Water: Using the starchy pasta cooking water helps to thicken the sauce.
Brown Butter: Brown butter plus cheddar cheese is always a winning combination.
Worcestershire Sauce: A little bit of umami from Worcestershire makes the cheese sauce brighter and more interesting. The trick is to not add too much.
Tabasco: I like the green Tabasco sauce the best for its flavour. A small amount of a fermented hot sauce like Tabasco will add some secret flavour without actually tasting spicy. But if you like it hot, feel free to throw the whole bottle in!
Macaroni: The obvious choice for mac and cheese but any other pasta you have on hand will be fine. Rigatoni, penne and farfalle will also hold the sauce nicely.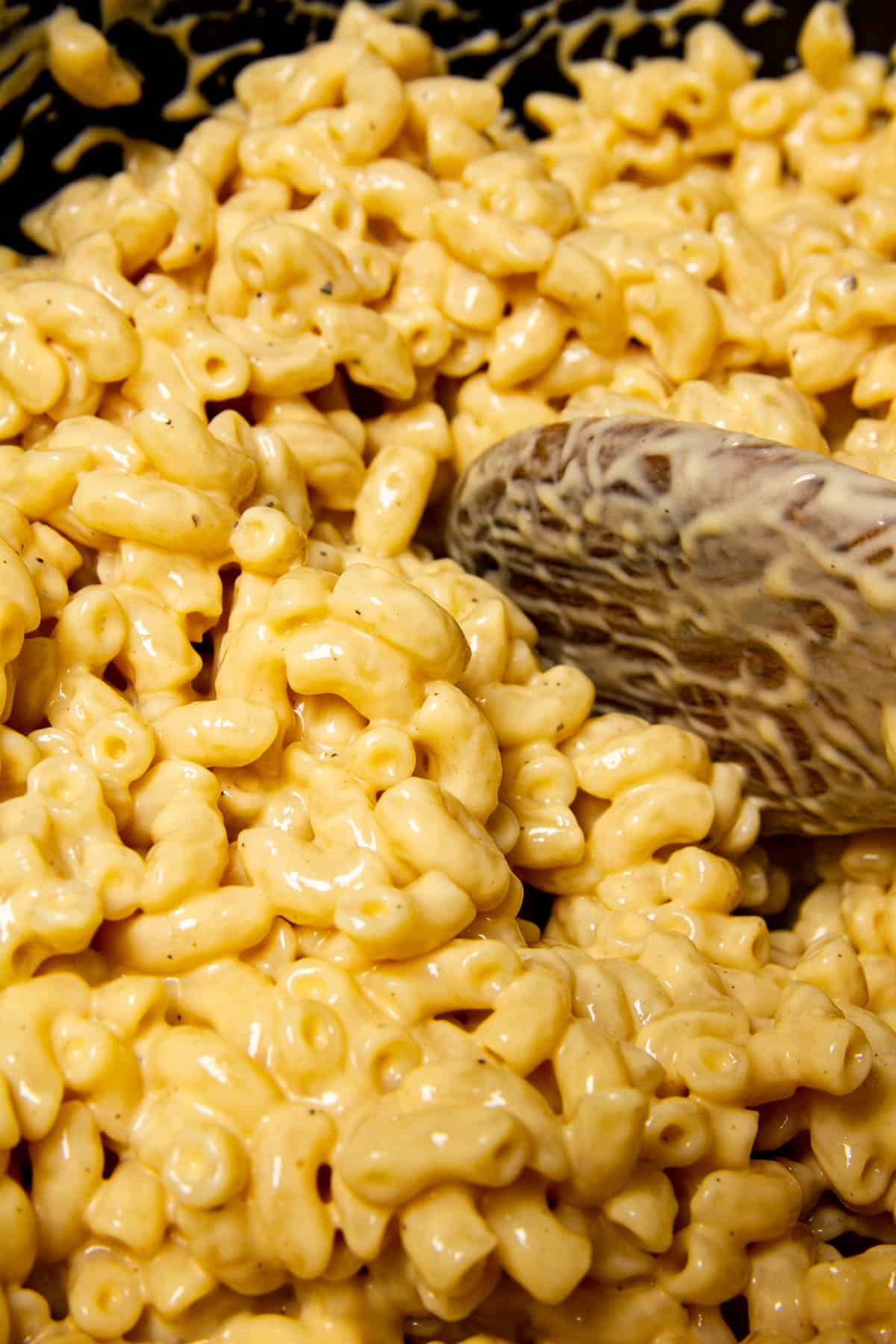 Best Cheeses For a Mac and Cheese Sauce
With this sauce, you could go cheddar cheese all the way or 60/40 Cheddar and Gruyere (my personal favourite).
But you can also use these cheeses:
The Dubliner (I LOVE this cheese. Similar to cheddar but smoother)
Cream cheese
Smoked Gouda
Parmigiano Reggiano (for a more Cacio e Pepe kinda vibe)
Why I Don't Make a Mac and Cheese Roux Anymore
Why make a roux-based sauce when you can just throw everything in the blender and blast it into a super-smooth velvety sauce in under 2 minutes?
No more whisking flour, grating cheese or the worst part: cleaning the bottom of the pan that gets scorched and stuck with cheese after cooking!
How to Make this Mac and Cheese Sauce
The technique is quite simple actually…
First cook a small potato, peeled potato (I put this in the pasta water as it comes to a boil).
Brown some butter in a small pan, then add the milk.
Cook the macaroni.
Cut the cheese into big chunks (don't even look at that cheese grater!)
Put everything except the pasta in the blender and secure the lid well. Use a towel to cover the top securely and safely. All of this should go in the blender: cheese chunks, brown butter, milk, the cooked potato, Worcestershire sauce, Tabasco sauce, salt, pepper and about 1/2 a cup of the hot pasta cooking water. Start on low speed until the cheese is melted and work up to a high speed.
Once the sauce has blended it's ready. Add this to your cooked macaroni and serve right away!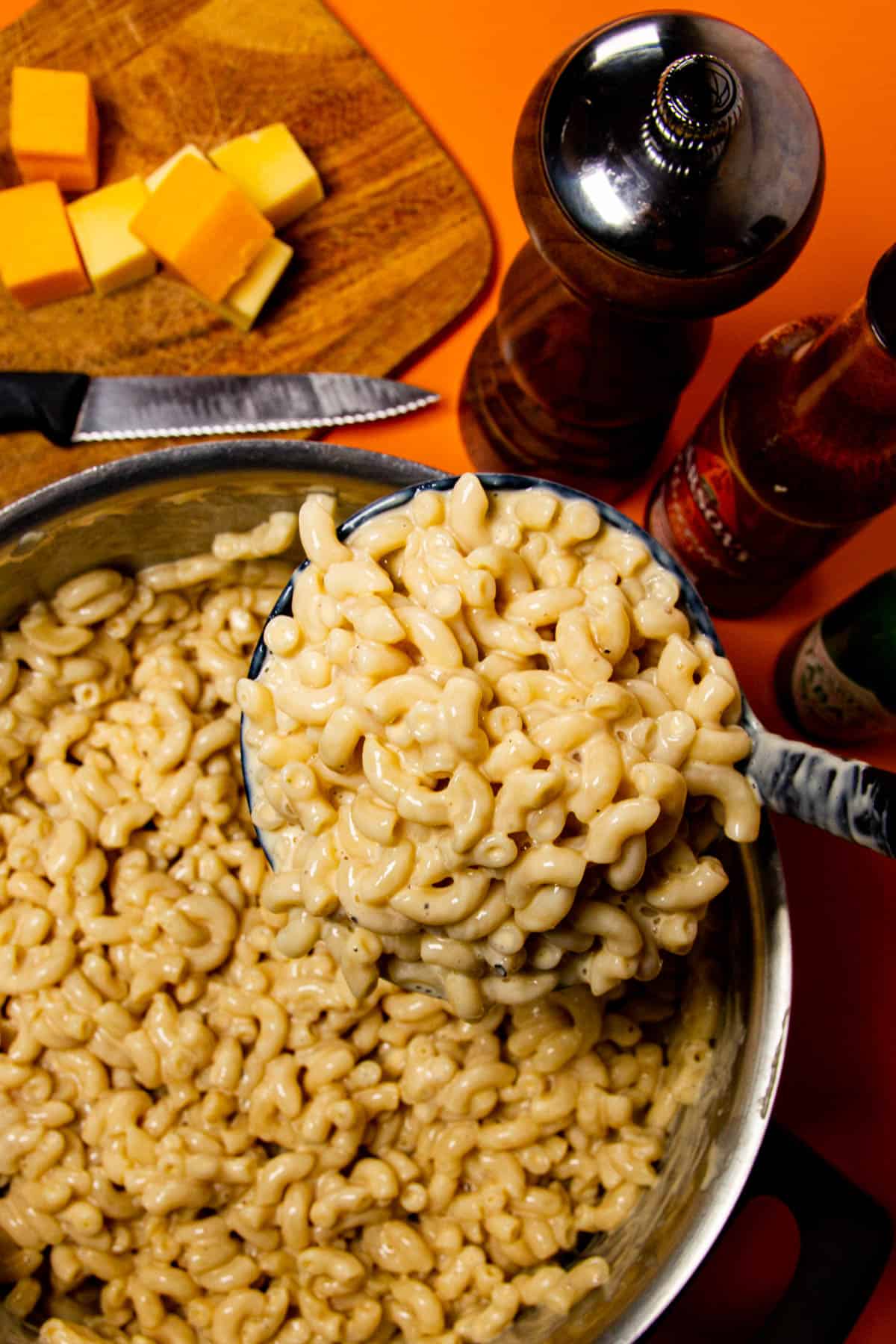 How Many People Does this Serve?
The recipe uses 1 lb of dried macaroni that can feed about 6 hungry people with a moderate cheese sauce level.
If you like it extra saucy (like me!) I'd probably use half as much dried pasta for this recipe.
Where Else to Use this Mac and Cheese Sauce?
There are a lot of possibilities with this one:
An EPIC Nacho Cheese sauce.
As a sauce for steamed green vegetables like broccolette, chard or spinach.
In a honey ham sandwich with sharp yellow mustard.
As a base for a spinach dip – just add in some cooked spinach.
Tips To Nail this Sauce
The sauce will seem quite loose, but this is a good sign. The sauce will continue to thicken, especially when you heat it. Thin it out with more milk or pasta water until it's velvety smooth.
Don't use pre-shredded cheese from a bag. This stuff usually contains anti-caking agents which will break the smooth sauce.
Try using smoked cheese for a quicker "smoked mac and cheese alternative".
More Pasta Recipes
Mac and Cheese Sauce FAQ
Why is My Cheese Sauce Grainy?
This happens when the sauce begins to split. The sauce can split for a number of reasons including having too much fat and not enough starch in your sauce. The cooked potato in this recipe helps the fat from the cheese and butter to emulsify into a super smooth sauce.

Also, overcooking the cheese sauce can cause it to split. When cheese hits a high temperature, it curdles and creates a grainy sauce that sticks to the pan. Always cook the cheese sauce over low heat and use a spatula/spoon to prevent it from burning.
What's the Best Way to Reheat This Sauce?
Although the potato and pasta starch make a pretty stable sauce, you should take care when reheating this sauce.

The best method to reheat this sauce is to add a few tablespoons of water to the sauce in a pan and bring it up over low heat. Use a spatula and stir frequently to prevent the cheese sauce from burning.

Reheating in the microwave is not recommended as it may split the sauce.
How Long Does this Cheese Sauce Last?
This sauce will last no more than 5 days in the fridge.

Freezing is not ideal as it may split after defrosting. Still, you can freeze it and after defrosting, re-mix it in the blender with a little fresh cream (35%) and it should be fine.
Fast and Easy Mac and Cheese Sauce
The only way I make my mac and cheese sauce nowadays. Fast, quick, ultra-smooth and intensely cheesy.
Ingredients
1

lb

dried macaroni

(454g)

1.8

oz

raw potato, peeled

(53g raw and peeled) a starchy potato like yukon gold works best

4

oz

Cheddar

(114g)

2

oz

Gruyere cheese

(57g)

½

cup

whole milk

(118g)

½-1

cup

pasta water

(118g)

1-2

tbsp

brown butter

(38g)

½

tsp

salt

(3g)

15

dash

Worcestershire sauce

10

dash

Tobasco sauce

tons of freshly cracked black pepper

¼

pc

lemon, juiced
Instructions
Peel the potato and add to the pot you will cook your pasta in. Fill the large pot about halfway with cold water and season with salt until the water tastes like the sea.

Once it comes to a boil, reduce to a simmer and cook until the potato is cooked.

Meanwhile, brown the butter in a small pan by cooking it over low heat until it turns golden brown and smells nutty. Swirl the pan as it cooks to prevent it from burning.

Add the milk once the butter is brown, bring to boil and turn off the heat.

Once the potato is cooked, remove it from the pan and add to your blender.

Bring the pot of water back up to a boil and add the macaroni. Cook pasta according to package instructions. Stir frequently to prevent it from sticking together.

About halfway through the pasta cooking time, remove about 1-2 cups of pasta water and reserve.
To Make the Sauce
Add the cheese cut in large chunks (no need to grate), 1/2 cup of the starchy pasta water, the salt, Tobasco, Worcestershire sauce, the cooked potato and the hot brown butter/milk mixture to the blender.

Seal the lid securely and place a towel over top to hold it down firmly. Begin on low speed (careful as the cheese chunks may splash liquid) and bring up to a high speed.

Blend until smooth.

Once the pasta is cooked, strain it off and back to your pasta pot. Add all of the cheese sauce and mix.

You may need to add more pasta water to thin it out. Grind in tons of freshly ground black pepper and check the saltiness.

Season to your liking and enjoy!
Notes
Make sure to hold the blender lid down firmly with a towel before blending as the cheese chunks may splash the liquid around in the blender. Start the blender on low speed and work your way up to a high speed once the cheese has melted.
The sauce will look quite loose after blending, but it will thicken up quite a bit once it's added to the pasta. It's useful to save lots of extra pasta water to thin the sauce out as you. 
If you accidentally throw away your pasta water, you can use more milk instead. 
For real CHEESE LOVERS: Double up on the cheese sauce ingredients or use half as much pasta for an intensely cheesy sauce.
The Ultra Crispy and Crunchy Korean Corn Dog
The Korean Corn Dog is like an American corn dog on steroids. The ultra crispy, sugary panko coating and melty mozzarella cheese will surely put a smile on your face.
Check out this recipe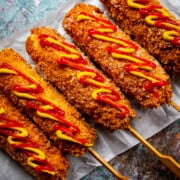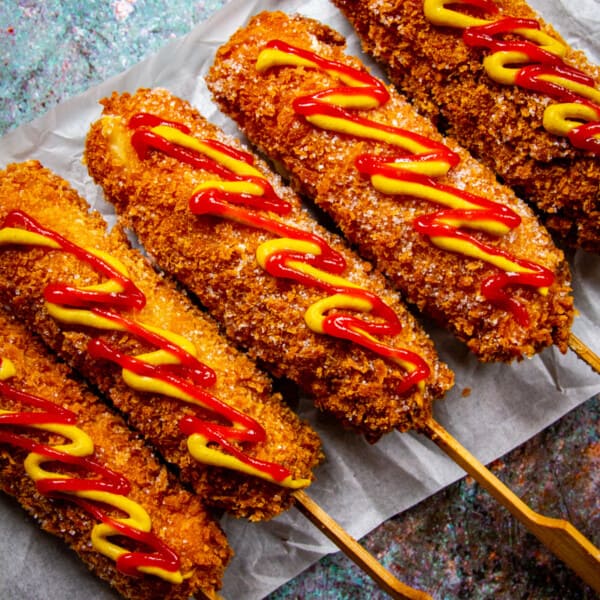 Easy Sheetpan Roasted Cauliflower with Gochujang Mayo and Sesame
This quick and easy sheet-pan roasted cauliflower is DELICIOUS and ready in less than 20 minutes. Gluten-free, vegetarian and dairy-free.
Check out this recipe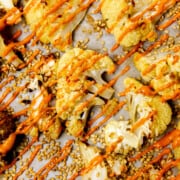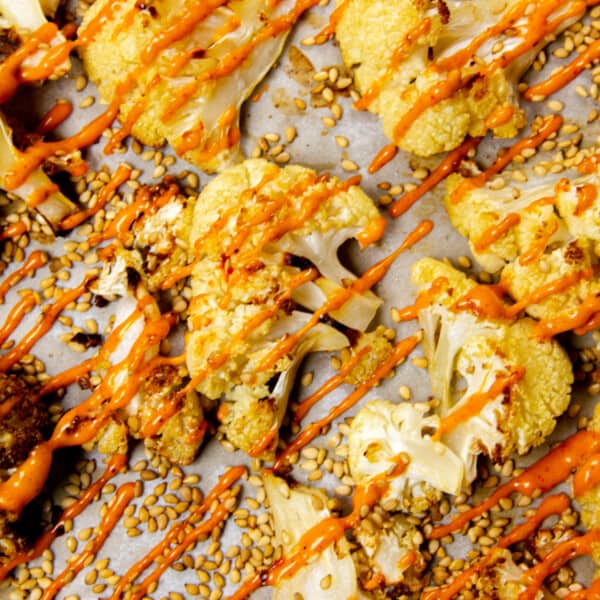 The Best Meatballs without Breadcrumbs (Gluten-Free)
My favourite recipe for meatballs without breadcrumbs. Braise them slowly for an extra soft texture or cook them quickly for a speedy weeknight meal. Gluten free.
Check out this recipe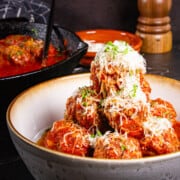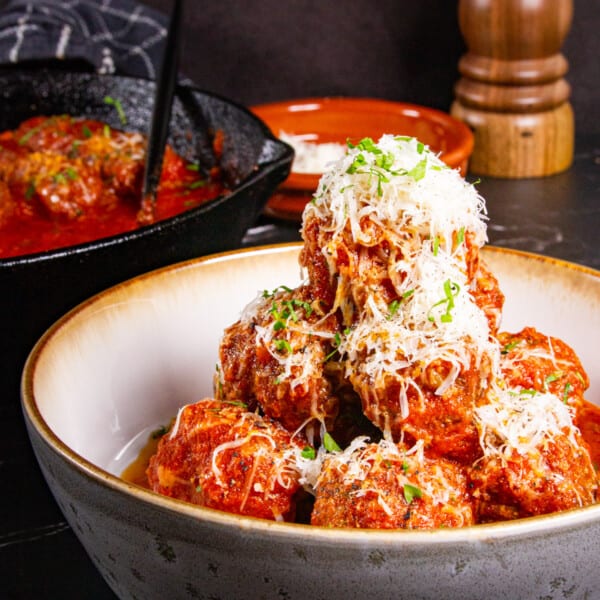 Chocolate Hazelnut Spread – Vegan Nutella
It's quick, easy, cheaper and just way better than any store-bought hazelnut spread. It's your own homemade vegan Nutella.
Check out this recipe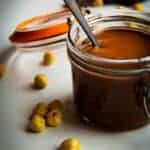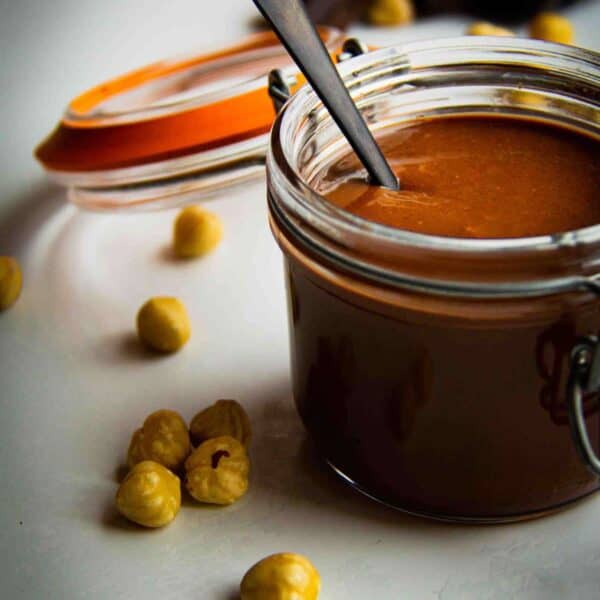 Stuffed Chicken Leg with Bacon, Porcini, Walnuts and a Date Sauce
This stuffed chicken leg should do the trick for a special occasion like Valentine's Day, date night or anytime you need something a little extra nice.
Check out this recipe