When I think of Christmas dinner, the first thing that comes to mind is sticky toffee pudding.
Rich toffee, salted caramel and real vanilla bean are a few of the divine flavours that come together to make magic.
And if you're British (like my nanna) you already know the deal. Sticky toffee pudding or STP as we'll call it now is a super soft and fluffy date cake that's smothered in a hot toffee caramel sauce.
The best part about this dessert is that it's very forgiving. The addition of dates in this recipe makes this cake extra soft and means it's difficult to overcook.
Also, have you ever made a caramel sauce that crystallizes? That can be super frustrating so I've included an easy tip to prevent that.
Only smooth saucy caramels here!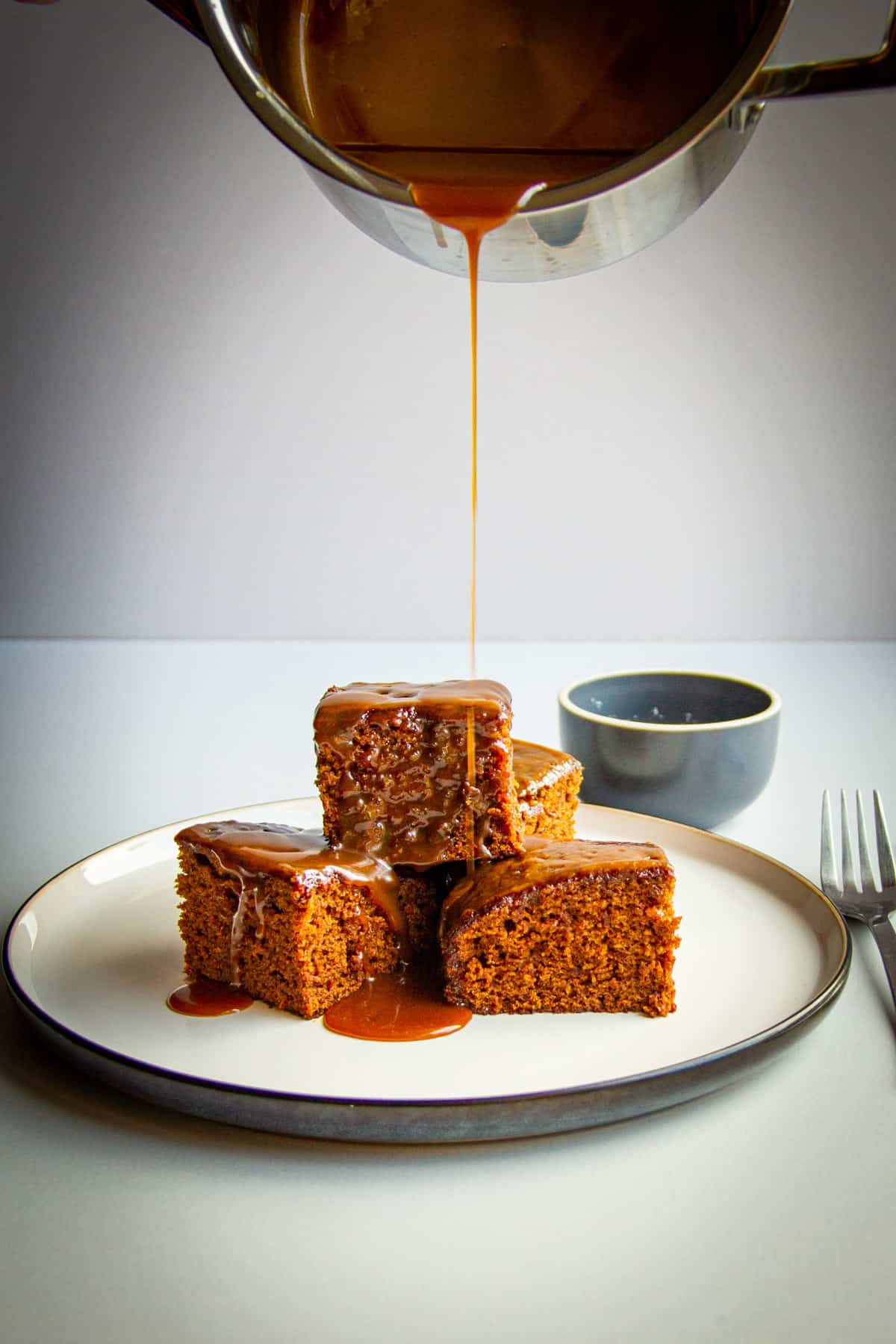 What is Sticky Toffee Pudding
For me, sticky toffee pudding is easily one of the best desserts in the world.
You can find variations of this date cake in Australia and New Zealand but most agree that the cake is of British origin. Funny enough, the cake is even rumoured to have been created by two Canadian air force officers and shared with the British. Strangely, none of my Canadian friends know of this dessert…
But if you've never had STP before, it's basically a super soft date cake (not a pudding) that's loaded with wonderful flavours like toffee, vanilla and butter.
This ultra-soft cake is then blanketed in a rich caramel sauce and sometimes accompanied with a good dollop of whipped cream or vanilla ice cream.
It's nicknamed "the cooks' dessert" because it's almost impossible to screw up!
Why is it Called a Pudding?
It's just the name for British desserts and not to be confused with American pudding which is something completely different.
Other British recipes like bread pudding, figgy pudding and Christmas pudding are similar desserts.
What is Toffee?
Toffee actually refers to a type of candy made from brown sugar and butter.
It's very similar to butterscotch, except the sugar is cooked longer, resulting in a harder candy.
There isn't actually any toffee candy in the recipe but the word toffee refers to the flavour from the cake and the deep caramelized flavours of the sugar in the sauce.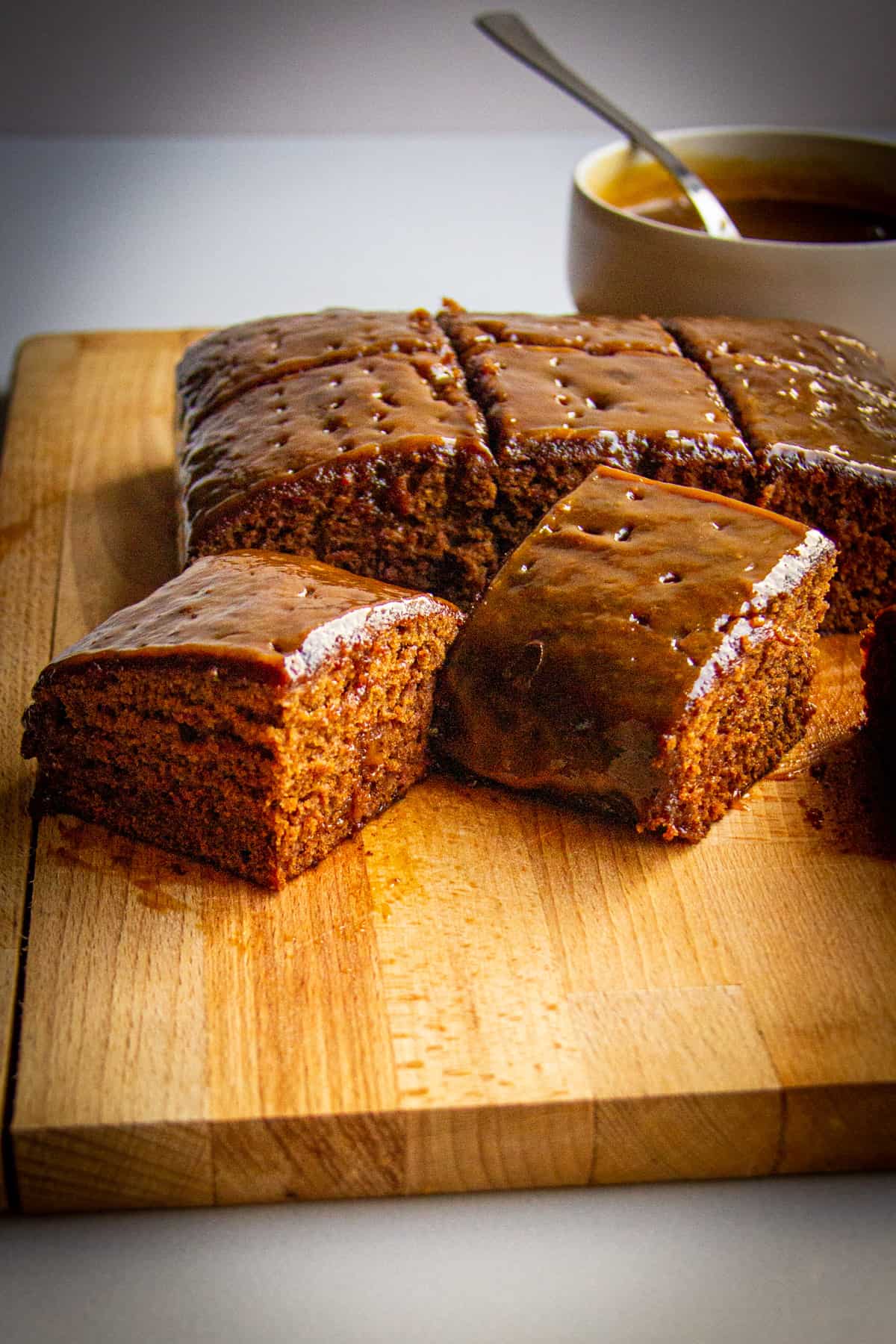 My Ultimate "Death Row" Dessert
Anthony Bourdain famously wrote about the "death row meal" which is the last meal you would want before you die.
Sticky toffee pudding is easily my death row dessert of choice. There's simply no better dessert than a warm, decadently soft STP shared with family around Christmas time. It's full of nostalgia and simply the best dessert in the world.
The Secret to Perfect Salted Caramel Sauce Everytime
If you've made caramel before you know it can be a bit tricky.
Sugar can sometimes crystalize or split which ruins the sauce. But I'm going to let you in on a few secrets that will guarantee smooth, perfect caramel every time.
To prevent crystallization, honey is your friend. Without getting too technical, adding honey to the sauce actually prevents the sugar from crystalizing. You can also use corn syrup or glucose in place of the honey. Unfortunately, maple syrup will not work because it's a slightly different type of sugar.
Bring the sauce up to a boil and stir to combined. Once it begins to boil, turn down the heat and don't stir. Stirring can actually trigger crystallization in a caramel so only stir briefly at the beginning.
Did the sauce still split? No problem. Turn off the heat and whisk vigorously. It will come back.
Honey, Corn Syrup or Schenkstroop?
I tested multiple sugar varieties to find the best caramel sauce.
Here in the Netherlands, corn syrup is a bit harder to find so I used schenkstroop which is basically a Dutch caramelized sugar syrup. This is going to be difficult to find if you don't live in the Netherlands but corn syrup will work beautifully.
We preferred the salted caramel sauce with schenkstroop but the sauce with the honey was a close second. Either way, both are great choices.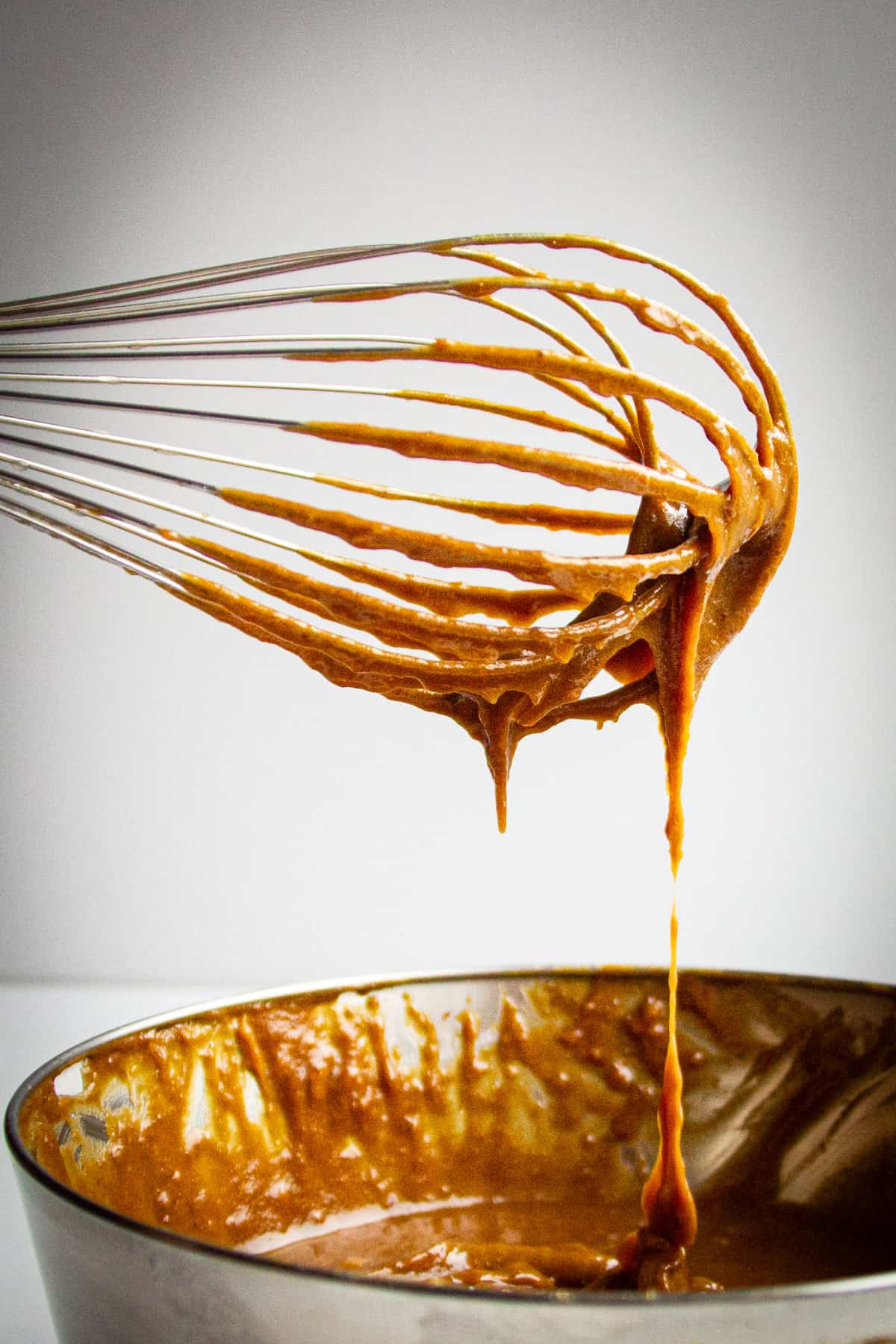 Why Add Baking Soda to the Dates?
Adding baking soda to the dates after cooking will help to soften them and makes a nicer purée.
Recommended Tools For Making a Sticky Toffee Pudding
Digital Scale – You are more likely to achieve better results when you weigh out the ingredients. Digital scales are increasingly more affordable and one of the best tools you can have in a kitchen, especially for baking and pastry recipes.
Heavy bottom pan – Caramel can easily burn with hotspots in cheaper pans. It's best to use a good quality, heavy-bottomed pan to ensure even cooking of the caramel sauce. I'm using my favourite pans in the world – Le Creuset, but any heavy-bottomed pan will do.
Electric Mixer with Paddle – This is used to properly cream the butter and sugar together. A stand mixer works best but a hand blender with the paddle attachment is also fine.
With that being said, I have seen my mom make this dessert with just a wooden spoon before!
Food processor – You'll need this to purée the dates properly. If you don't have one, use a blender or chop the dates really fine with a knife after they're cooked.
Tips for the Best Sticky Toffee Pudding
STP is not that hard to make but there are a few tips I've learned to really nail this dessert.
Poke holes after the cake has been baked, pour some sauce over and allow the cake to soak up the sauce. This makes the cake even more soft and tender.
Use honey or corn syrup to prevent the salted caramel sauce from crystalizing.
Let the cake cool for 20 minutes and serve it warm, with the hot salted caramel sauce for the best results.
This may be pretty obvious, but it's important to note the difference because this can ruin the cake. Use baking soda (sodium bicarbonate) not baking powder.
Use a digital scale. You will be much more likely to succeed because measuring cups are not very accurate. That being said, I've also included the measurements in cups for you rebels who still refuse to use scales.
Merry Christmas and Happy Holidays!
Salted Caramel Sticky Toffee Pudding
This salted caramel sticky toffee pudding is deliciously rich and comforting with a no-fail salted caramel sauce and the perfect Christmas dessert.
Equipment
8" (21 cm) square baking pan
Ingredients
For the Sticky Toffee Pudding Cake
200

g

dates

pitted, (1+½ cup roughly)

310

g

water

(1 + ¼ cup)

170

g

self-rising flour

(1 cup)

180

g

dark brown sugar

(¾ cup)

60

g

butter

Softened

2

whole

eggs

1

tsp

baking soda

⅛

tsp

salt
For the Salted Caramel Sauce
270

g

cream 35%

100

g

butter

unsalted

100

g

dark brown sugar

170

g

light corn syrup

or honey

¼

tsp

sea salt

maldon sea salt

for garnish
Instructions
Place the dates and the water in a saucepan and bring to a boil.

Boil for 5 minutes, then add the tsp of baking soda.

Blitz the dates and the water together in a food processor until smooth. The date purée should weigh 365g when finished.

Set the oven to 350°F/ 170°C. Measure out the rest of the ingredients before you begin.

Sprinkle a splash of water onto the baking pan and add the parchment paper. The water helps the parchment paper to stick to the pan.

Cream the butter and sugar together over medium speed with the paddle attachment of the mixer for about 5 minutes or until fluffy.

Add the eggs one at a time and mix until just combined. Add the date purée and mix until smooth.

Sift the flour into the mixture and fold in. Use a whisk to break up any lumps from the flour.

Add to the lined baking pan and bake for 35 minutes at 350°F/ 170°C.

It's done when a toothpick inserted in the center comes out clean.

Once it's baked let it cool for at least 20 minutes. Poke holes in so the caramel can seep inside the cake.

Prepare the sauce by adding all the ingredients together in a small sauce pot and bringing it up to a boil over medium heat.

Stir briefly to prevent the sugar from burning and once it boils stop stirring and turn down the heat to low. Cook for 5 minutes. Once finished let it cool in the pan.

Pour half of the sauce over the cake and let cool.

Once the cake has cooled, cut into 9 squares. The sticky toffee pudding is perfect served room temperature with hot sauce over top.

Garnish with a little sprinkling of crunchy malton salt.
Notes
Always be careful when making caramel as it gets extremely hot. Never walk away from a pot of caramel and always keep an eye on it.
If the sauce starts to split, try whisking it off the heat until it comes back together.
More Dessert Recipes