I discovered this wild combination through experimenting one night while trying to make my baked chicken wings a little more interesting. The result was surprisingly delicious – salty, sticky, sweet with an incredible umami punch. The best part is that they're pretty easy to make and there's no need for a deep-fryer this time as you can just toss them in a hot oven. Give this recipe for marmite and chili baked chicken wings a try for your next wild weeknight dinner.
What is Marmite?
Originally invented by a German scientist, this strong yeast spread is actually made as a by-product from the beer making process. It's a dark, sticky paste with an incredibly strong flavour and it's full of umami. On its own it's too intense for me (although some people actually spread it on toast!) but when used in small amounts it can really enhance flavours.
Marmite Healthiness
Marmite is not only a delicious flavour enhancer, it's actually loaded with vitamin B12 making it ideal for anyone on a vegan diet. This rich source of B vitamins was even given to British troops during WW1 as a healthy ration to combat thiamine deficiency.
Vegemite
If you're Australian I'm actually surprised that you made it this far because I know you probably prefer Vegemite. I had no idea what Vegemite was until I started working with some Australian Chefs who would spread it on their toast for quick snack during work. I couldn't get into it enough to spread on toast but I do think it has great potential mixed in to soups, sauces and in this case, baked chicken wings. If you're a Vegemite lover, of course you can use Vegemite instead of marmite.
Is it Gluten Free?
You would think it was, but it's not. The exact process for making marmite is still a bit of a secret but it does involve a little bit of wheat to ferment the yeast. That being said, only a small amount of marmite is actually needed so it might still be okay for some people who can handle a little.
You can certainly use a deep fryer but add this glaze as soon as they come out of the fryer instead of before.
Marmite and Chili Baked Chicken Wings
These baked chicken wings are salty, sticky, sweet and loaded with umami flavour from the marmite. Try this recipe for marmite and chili baked chicken wings for your next wild, weeknight dinner.
Ingredients
500

g

chicken wings

10 wings

1

tsp

marmite

1

tsp

chili

2

tsp

palm sugar

or brown sugar

1

tsp

smoked paprika

½

tsp

black pepper

2

tbsp

peanut oil

or any high-smoke point oil (canola, grapeseed, etc.)

1

tsp

red wine vinegar

½

tsp

sea salt
Instructions
Mix all of the ingredients thoroughly in a bowl. Let sit for 10 minutes. Alternatively, you can marinate these overnight.

Set the oven on high convection to 220°C/ 425°F

Line the chicken wings on a baking tray making sure not to overcrowd the tray.

Roast the chicken wings for 20 minutes. Then turn over the chicken wings and finish on the other side for another 10 minutes.

Let the chicken wings rest for 5 minutes before eating. Enjoy!
Notes
Don't overcrowd the tray otherwise you will not be able to get a nice crispy exterior. If you are making a big batch, use more trays or bake in batches.
I would be curious to see how these turned out brined. The marmite is very salt so I decided not to brine them but if you do, let me know in the comments!
This post contains links to Amazon affiliate products I recommend.
How to Make the Crispiest Fried Chicken
A recipe with all the secrets to making dangerously good and ultra crispy buttermilk fried chicken. It's the only fried chicken recipe you will ever need.
Check out this recipe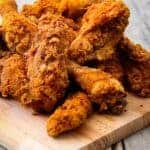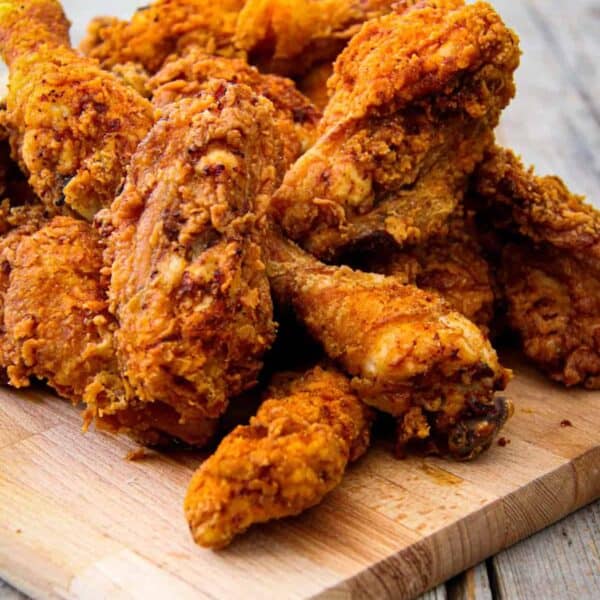 Crispy Roasted Brussel Sprouts with Banana and Fresh Lime
A rather wild side dish of crispy roasted Brussel sprouts with banana and lime that's vegan, gluten-free and definitely not boring.
Check out this recipe