This fried chicken recipe is so good it's dangerous.
I promise that once you try this method, you will never go back to frying chicken any other way.
Having the ability to make fried chicken whenever you want at home is indeed a superpower that everyone around you will notice. 👀
If you'd like to learn a superpower today read on because I'm about to share all the secrets I know.
How to Make Fried Chicken – Rule #1 – Keep it Simple
If you've been following along on this blog you know that simple is more often than not, the best.
And here's another great example. There's no fancy additive or a special machine to make the best fried chicken. 
All you need is buttermilk, flour, a little cornstarch and some spices.
How to Make the Best Fried Chicken – Rule #2 – Time
Time is a big factor in this recipe and it's really important.
In order to achieve supreme fried chicken deliciousness, we need to marinate the chicken overnight in buttermilk. 
I marinate the chicken overnight for two reasons.
The first is to allow the salt to properly season chicken meat to its core which will make the chicken tastier and juicier.
The second reason is that buttermilk has tenderizing effects on the meat which helps to break down the chicken and make it more delicious. Most importantly the buttermilk makes the crispiest fried chicken batter.
DON'T skip the marinating step – it's so important. Try to plan it out just one day ahead and you will be so happy you did.
Secret Spice Blend
I think this fried chicken recipe is good enough on its own but with a little extra boost of spices, it becomes magical.
Lactose-free Fried Chicken?
Are you or your guests lactose-intolerant? No problem. Here are two lactose-free options.
Option #1 – You can substitute the buttermilk for oat milk and still have a great base that sticks to the flour and comes out crispy.
Option #2 – You can actually add one or two lactase tablets (the enzyme that breaks down lactose) to the buttermilk brine and the next day you will have lactose-free buttermilk marinated chicken!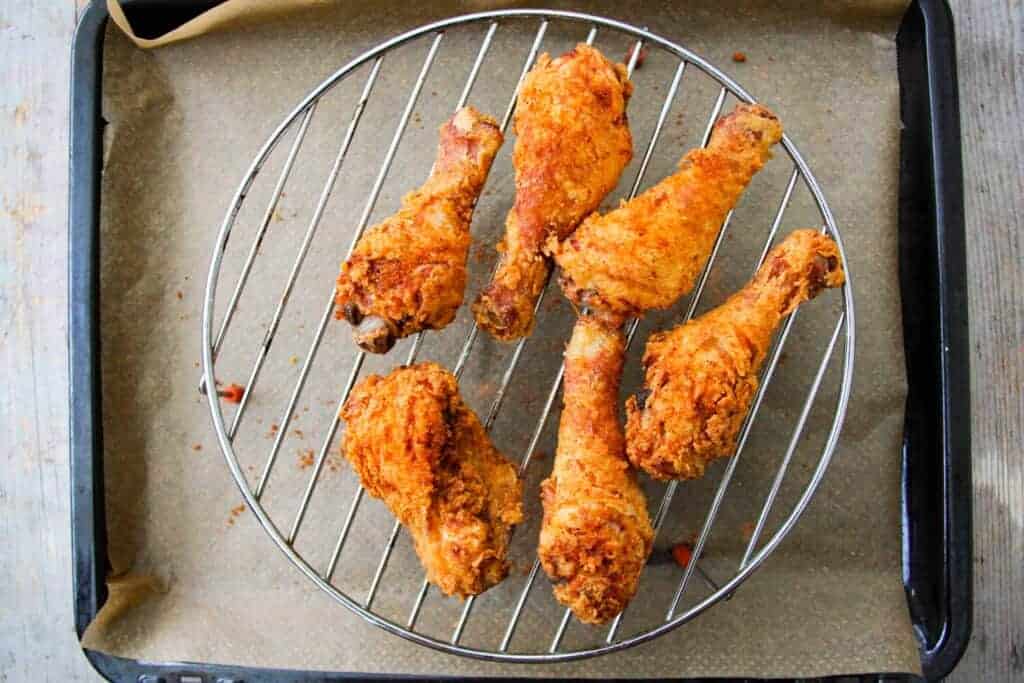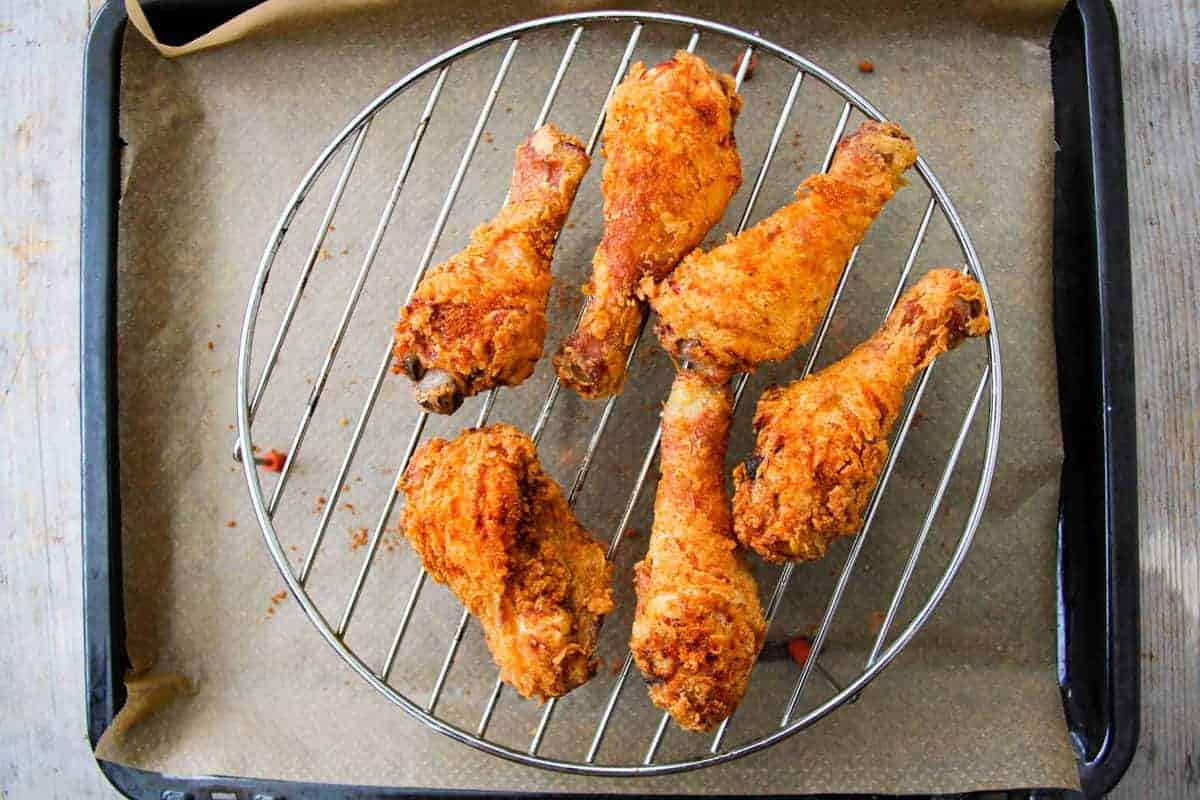 Essential Tools
Fried chicken is super easy when you have the right tools. Using a deep-fryer is strongly recommended because you don't have to worry about the temperature fluctuating too much. Heating a large pot of oil on the stove is extremely dangerous because it can fall over or burst into flames if left unchecked – so don't do that unless you really know what you're doing.
Here in the Netherlands and Belgium, most people have a deep-fryer that they keep around for making frietjes (Dutch fries) which makes this recipe a breeze. You can keep the deep fryer in your shed and even use it outside if you are worried about the smell of the fryer inside your home.
An instant-read thermometer isn't mandatory but definitely makes the job a lot easier. With the thermometer you can temp the chicken at 165F and you know it's perfectly cooked. Otherwise, you will need to pull the chicken out of the hot oil and test with a knife to see if the juices run clear. The thermometer takes the guesswork out of it and is especially recommended for home cooks.
Resting Rack – The resting rack helps to stop the chicken from getting soggy after it's fried. Alternatively, you can use paper towel to drain the excess oil.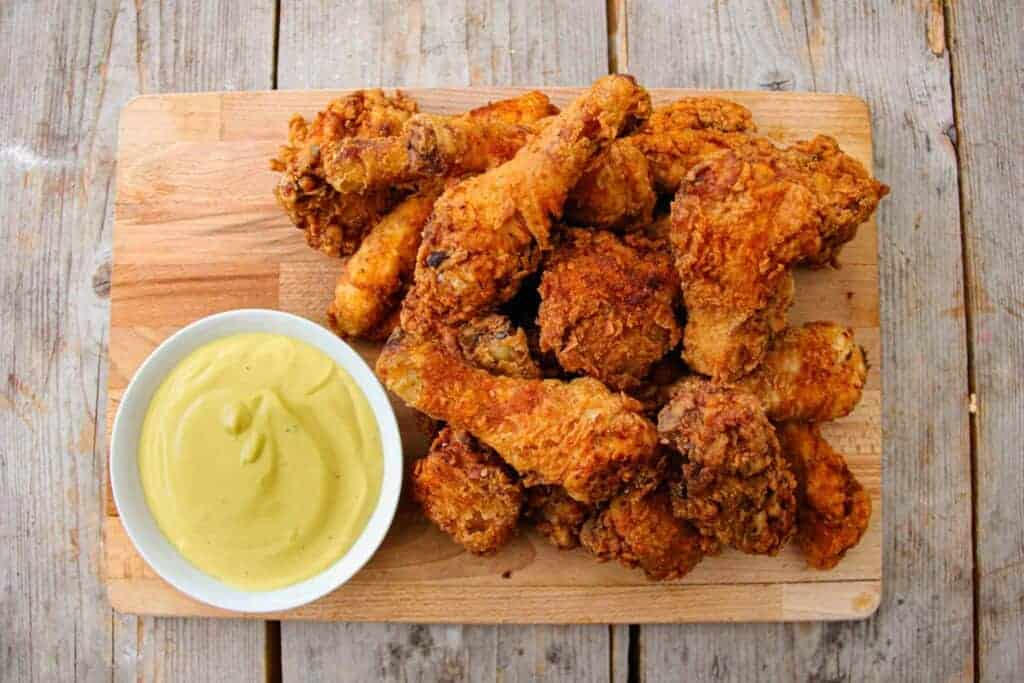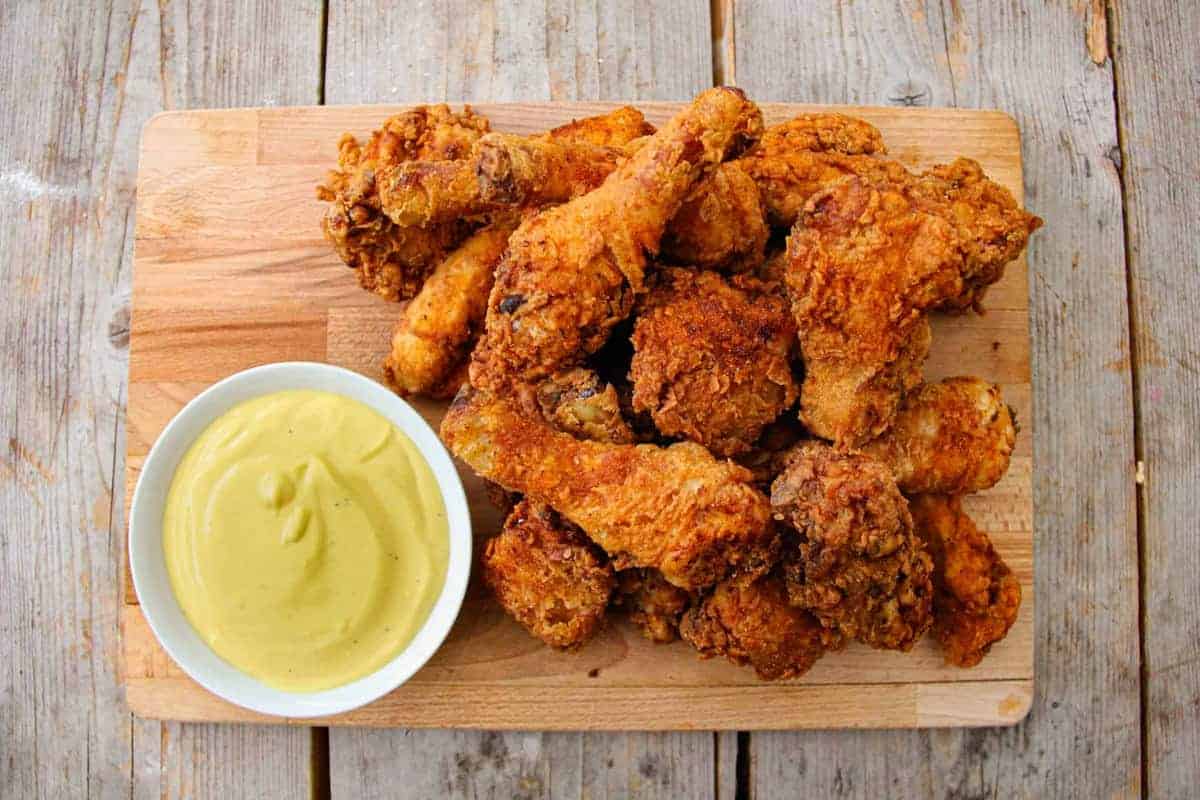 Saucin'
In the picture, I served the fried chicken with a honey mustard sauce but it also goes great with spicy mayo.
Here's the recipe for the honey mustard sauce:
1/2 cup mayo
2 tbsp dijon mustard
1.5 tbsp liquid honey
1/8 tsp salt
1/8 tsp black pepper
Mix everything together and enjoy with fried chicken 🙂
This post contains amazon affiliate links to products I love using!