If you're looking to make meatballs without breadcrumbs then I've got you covered.
A lot of people think that you have to add breadcrumbs to meatballs to make them stick but this is simply not true.
As long as the meat is dry and it's worked thoroughly, you won't have any trouble. Plus a hefty addition of umami-rich Parmigiano Reggiano cheese also helps!
What's more, you get to choose your own adventure in this recipe.
Below I've included a slow but ultra-tender method (the best texture) for making these and a faster method for those I-NEED-DINNER-RIGHT-NOW moments.
For my keto friends, check the notes at the bottom for how to make this recipe keto-friendly with a few easy tweaks.
I never get tired of making this classic because the cheesy, spicy, umami-packed flavours are just *so-satisfying*.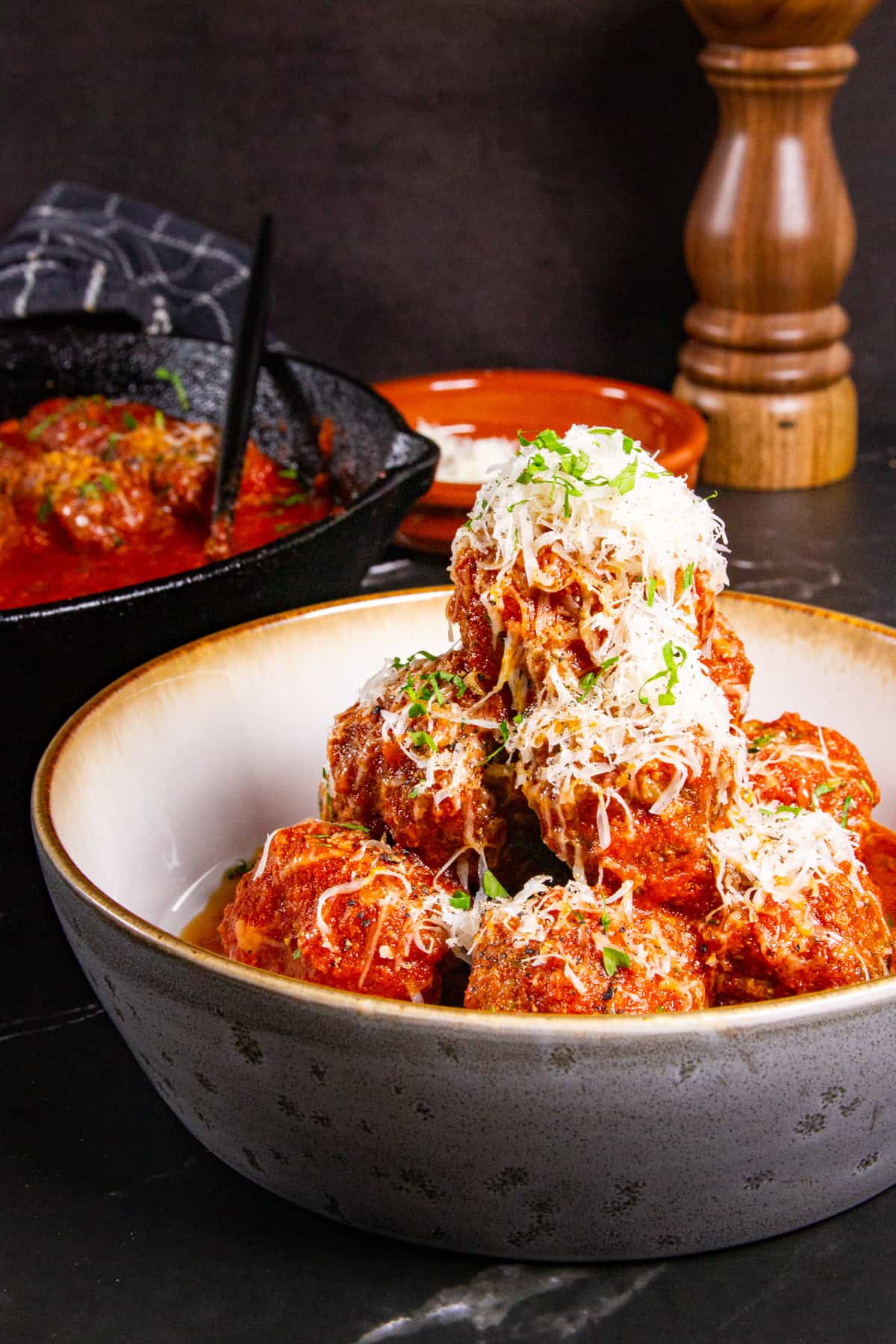 How Does one Make Meatballs Without Breadcrumbs?
Just like my hamburger recipe, this one doesn't require breadcrumbs.
It's traditional to add breadcrumbs to meatballs because this helps to keep the meat dry and stretches your yield with cheaper ingredients.
The problem is breadcrumbs on their own don't add much flavour (although adding a panade, bread soaked in milk, will add moisture to the meatballs).
The solution is to simply add more dry grated cheese, dry the meat and work it well.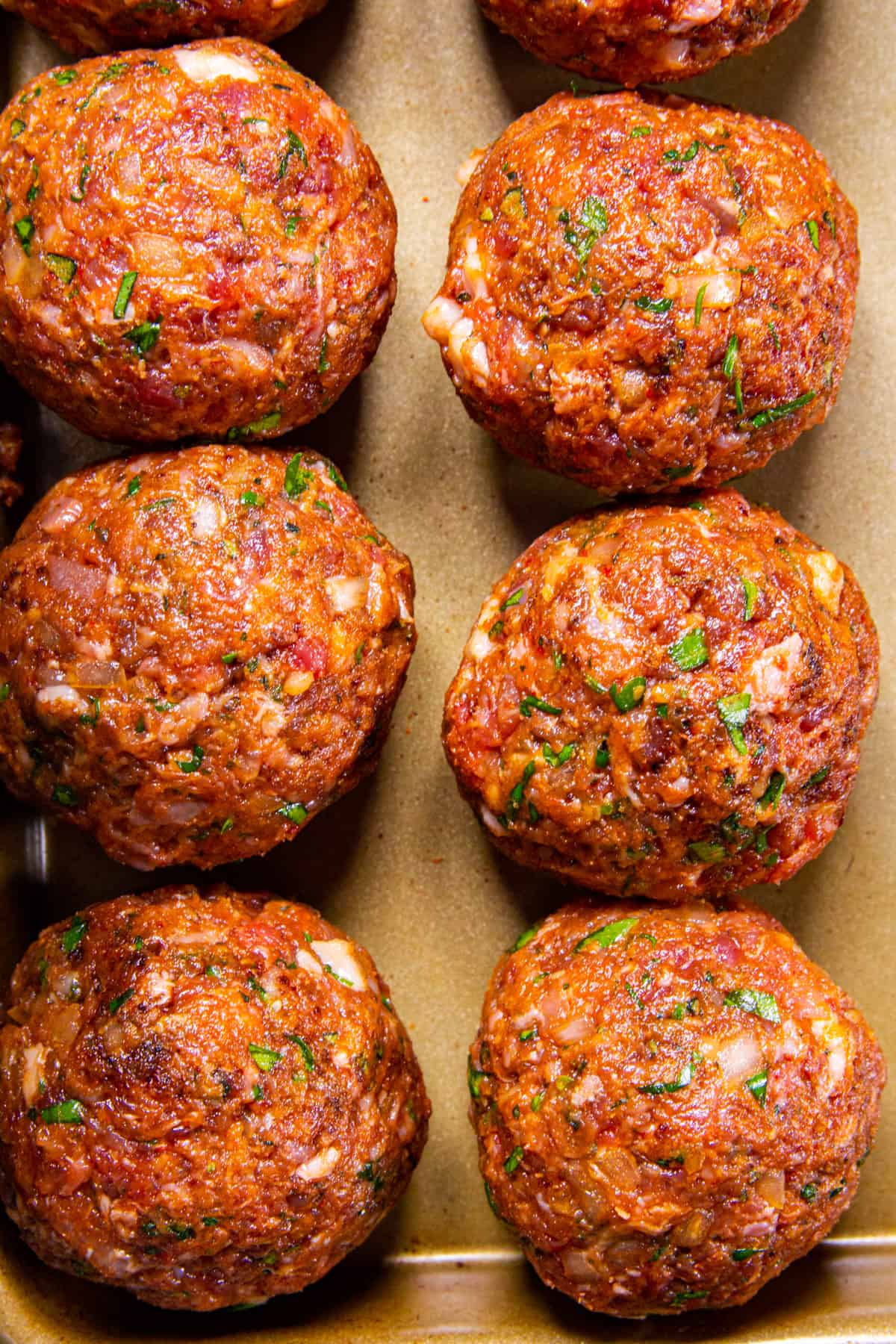 When you work the meat with the salt thoroughly with your hands (or using the paddle attachment on a stand mixer) you'll get a more emulsified end result.
This is the trick to gluten-free meatballs that don't fall apart.
Also, feel free to change the spices and seasonings to your liking. If you don't use ancho chilli powder you can make your own ancho powder here or just replace it with more paprika.
Here are a few other ingredients you can add to bump up the UMAMI and make them your own:
1-2 tsp Korean Gochuchang Pepper Paste.
Nutritional yeast (instead of cheese).
1 tsp of marmite or vegemite (You won't notice the taste).
1-2 tsp miso paste.
What About Sauce?
I use straight jarred passata (tomato puree) to make this dish because it's quick, easy and better flavoured than fresh tomatoes in the wintertime.
There are enough spices, onions and garlic in the meatballs that I don't feel the need to add more to the sauce. But with that being said, a few more onions, garlic or fresh herbs are always welcome in any tomato sauce.
I like keeping a jar of passata in my pantry at all times for whenever I want to make a lightning-fast tomato sauce.
The jarred tomato puree works perfectly in this recipe because it has just enough moisture to cook the meatballs while still thickening into a sauce consistency.
If you can't find passata, just buzz a can of peeled, seeded tomatoes and use that instead.
How to Cook Meatballs Without Breadcrumbs
There are two ways to do this: the fast way and the slow way.
If you've got the time, braising them in the oven will yield the most tender results.
BUT if you're trying to pull this off on a weeknight, you can skip the hour-long braise and just cook them until the meat is cooked.
They won't be as tender, but a worthwhile sacrifice I can live with for having dinner on the table FAST.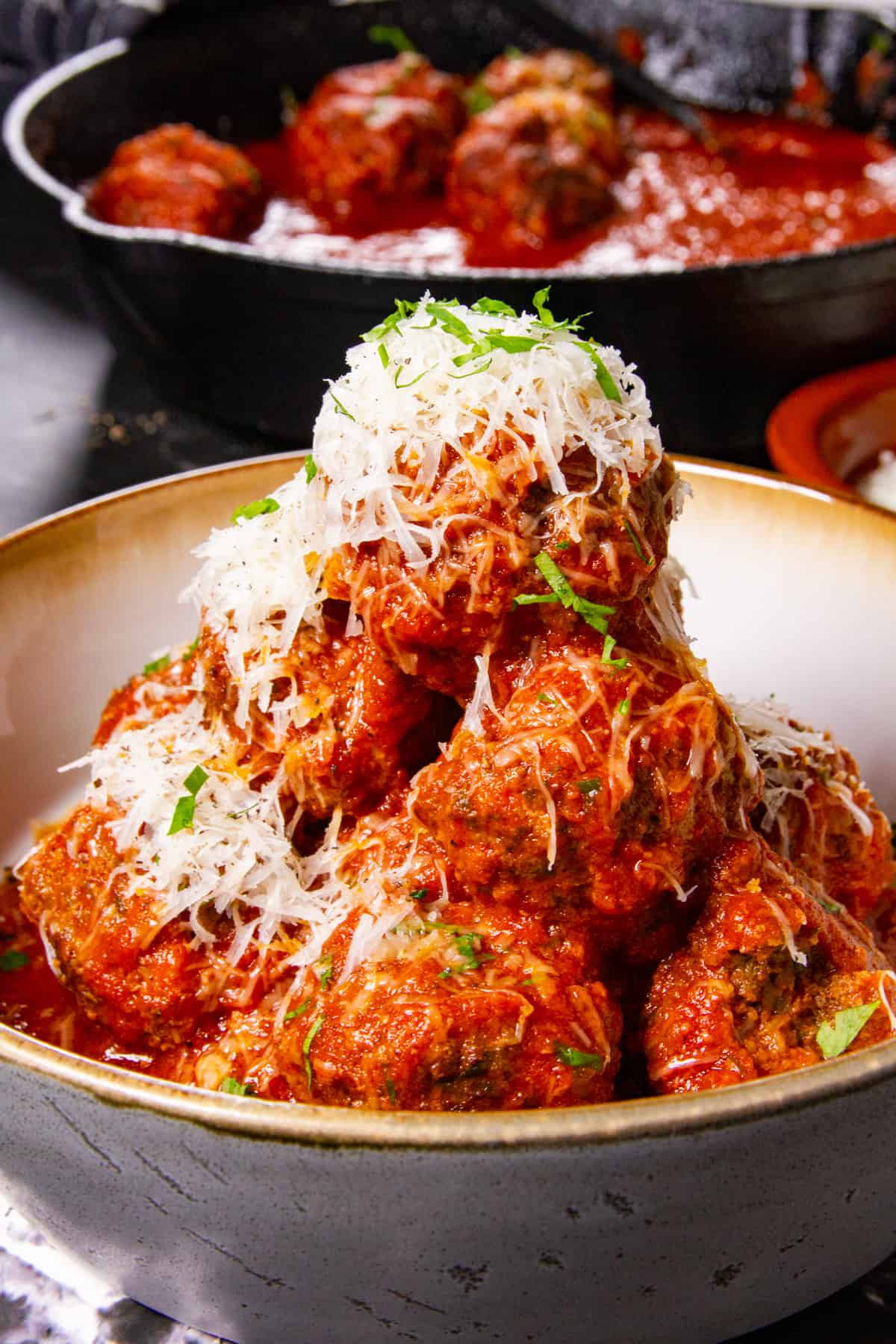 What to Make with These Meatballs
Although the obvious accompaniment to meatballs is spaghetti, you can go a lot of directions here.
I'd serve these with a big bowl of steamed rice for a total gluten-free option or with a side of sauteed zucchini for a complete keto option.
Here are a few more ideas: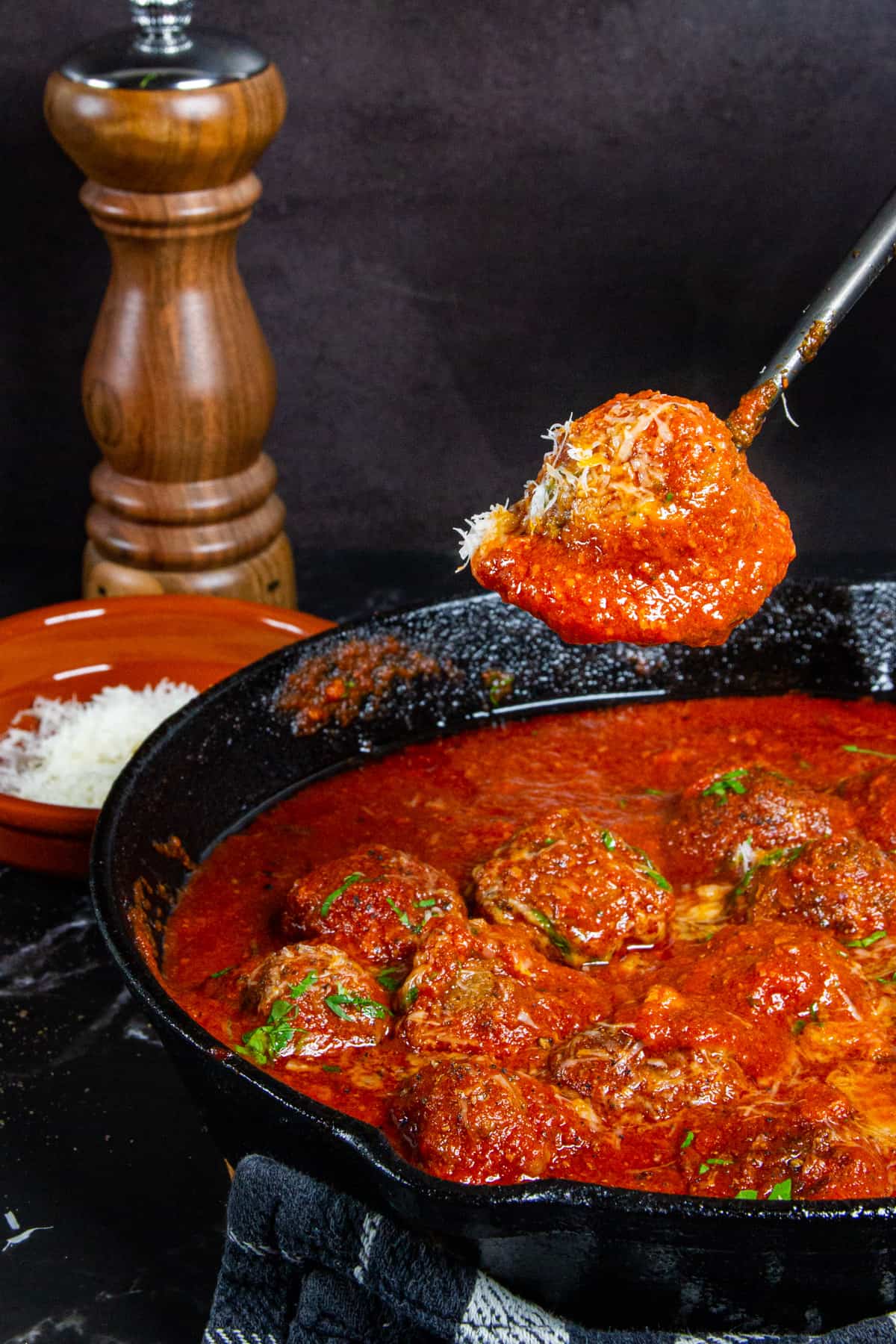 How to Freeze Meatballs
It's best to cook these first and freeze them in the sauce, instead of freezing them raw.

Let the meatballs cool in the sauce completely, transfer them to a freezer-safe bag or container and seal well. Store in the freezer for up to 6 months.
To reheat: Thaw in the fridge overnight, or microwave (check if the container is microwave-safe) on the defrost setting until thawed. Heat on high power in the microwave until the inside of the balls reach 140°F/60°C.
Tips For Making Meatballs Without Breadcrumbs
Use garlic powder instead of fresh garlic. Fresh garlic is delicious but tends to burn after searing.
The added bacon in this recipe adds flavour and prevents the meatballs from tasting dry.
Be sure to work the meat mixture enough so that it sticks together.
Make extra meatballs now and freeze some for an ultra-fast meal later. You'll thank yourself!
Recipe FAQ
Will meatballs fall apart without breadcrumbs?
Nope. Working the meat properly with the salt will allow the meat to stick together. Too much water or too many breadcrumbs will cause your meatballs to fall apart.
Can I make this keto?
Yes! To make this recipe keto, leave out the onions and tomato paste and double the cheese. Note that adding more cheese will make the meatballs saltier so you may also want to reduce the salt.
What can you use instead of breadcrumbs in meatballs?
Although you don't need breadcrumbs at all, you can also try these gluten-free alternatives:
– crushed-up potato chips.
– a panade made with milk and gluten-free crackers.
– gluten-free cereal.
Can you use flour instead of breadcrumbs for meatballs?
DON'T use flour, cornstarch or any other starch as it will add a strange slimy texture to the meat.

The Best Meatballs without Breadcrumbs (Gluten-Free)
My favourite recipe for meatballs without breadcrumbs. Braise them slowly for an extra soft texture or cook them quickly for a speedy weeknight meal. Gluten free.
Ingredients
For the Meatballs
488

g

ground beef and ground pork mix

125

g

bacon

44

g

white onion

(about ½ a medium onion)(leave out for keto)

10

g

fresh parsley + some for garnish

(½ bunch)

20

g

Parmigiano cheese + some for garnish, grated

(1 handful)

1

whole

egg

2

g

dried oregano (use more if using fresh oregano)

(3 tsp)

3

g

garlic powder

(1 tsp)

2.5

g

Aleppo chili flakes

(1 tsp) (or ½ tsp for regular chili flakes)

2

g

ancho chili powder (optional)

(1 tsp)

0.5

g

cayenne powder

(¼ tsp)

12

g

tomato paste

(1 tsp) (leave out for keto)

5

g

soy sauce

(1 tsp) (may contain trace amounts of gluten)

1.5

g

Worcestershire sauce

(10 dashes)

4

g

sea salt

(¾ tsp) (start with this and add more if needed)

1

g

black pepper

(½ tsp)
For the Sauce
700

ml

tomato passata

salt and pepper to taste
The Rest
14

g

vegetable oil for searing

(1 tbsp)

fresh Parmigino cheese for garnish

fresh parsley for garnish

fresh black pepper for garnish
Instructions
Preheat your oven to 350°F/175°C.

Chop the onion into a small dice and slice the parsley finely (chiffonade).

Cut the bacon into small pieces with your knife (if you're grinding your own meat, grind the bacon together).

Measure out the rest of your ingredients (measure everything in one bowl to save dirty dishes).

With clean hands or using latex gloves, mix thoroughly until combined.

The more you work the meat, the more it will stick together.

It's also important to keep the meat as cold as possible and finish this step quickly as possible.

Test a small piece of the mixture by zapping it on a plate in the microwave for about 1 minute or until it's fully cooked. Alternatively, you could also cook a small piece in a little oil in your cast iron pan.

Check for the spiciness and saltiness. Does it need more? Now is the time to adjust the seasoning before you roll them all.

Roll into balls using your hands. I weighed mine to 45g balls which were a little bigger than ping pong balls. You can make the size larger or smaller depending on your preference.

Sear the meatballs in a hot cast iron pan with the oil.

They'll burn pretty quickly, so start with a high heat then reduce to a medium heat and watch them carefully.

Once the meatballs are golden all around, add the tomato passata and bring to a simmer. Season with salt and pepper until it tastes good.

Choose your own adventure: For soft and tender meatballs: Cover the pan tightly with aluminum foil and braise in the oven for 45-minutes to 1 hour (larger balls take longer).If you're in an I-NEED-DINNER-RIGHT-NOW moment: Simmer on the stove for 5-10 minutes uncovered or until meat is fully cooked on the inside (160°F/71°C on a digital thermometer or cut into one and make sure it's not pink).

Once the meatballs are finished, skim off any fat from the top with a spoon.

Stack them high on a plate, and spoon lots of sauce over top. Garnish with lots of cheese, black pepper and fresh parsley.

Enjoy!
Notes
To make this recipe keto: leave out the onions and tomato paste and double the cheese. Note that adding more cheese will make the meatballs more salty so you may want to reduce the salt also.
Soy sauce may contain a very small amount of gluten which may not be suitable for celiacs. 
Always wash your hands with hot soapy water before and after handling raw meat. Clean down your cutting board, work surface and tools after making the meatball mix to prevent cross-contamination. 
If the sauce is too thin after cooking, transfer the meatballs to another plate and cook the sauce over the stove over a low heat until thickened. Use a spoon to prevent the bottom from sticking.
Nutrition
Calories:
598
kcal
|
Carbohydrates:
19
g
|
Protein:
30
g
|
Fat:
45
g
|
Saturated Fat:
18
g
|
Polyunsaturated Fat:
4
g
|
Monounsaturated Fat:
20
g
|
Trans Fat:
1
g
|
Cholesterol:
113
mg
|
Sodium:
763
mg
|
Potassium:
1274
mg
|
Fiber:
4
g
|
Sugar:
10
g
|
Vitamin A:
1585
IU
|
Vitamin C:
24
mg
|
Calcium:
127
mg
|
Iron:
7
mg
Have You Tried These Yet?