Why would you make a roasted tomato salsa?
Well, when you roast tomatoes in the oven you end up with a sweeter and more intensely flavoured salsa.
There's nothing wrong with a raw, fresh tomato salsa but sometimes it's nice to change things up.
Plus the usual harsh raw onion flavour from regular salsas turns sweeter and softer after roasting the veggies.
Why I Don't Quick Broil The Tomatoes
I've seen other methods for roasted tomato salsa that call for only 6-8 minutes under the broiler and that's just not enough time!
If you broil tomatoes quickly in the oven you'll end up with burnt tomatoes on the outside that are still raw in the middle.
On the other hand, if you roast them slowly in the oven, you'll end up with a much sweeter salsa with more of that lovely roasted vegetable flavour.
Plus, if you broil the veggies for your salsa, you'll probably burn the garlic, which is absolutely a no-go for me. (I can't stand the smell of burnt garlic!)
If you like that charred flavour then a better alternative is to grill the tomatoes over charcoal with a little bit of smoking wood. You'll be adding way more flavour, and it's much easier to control the heat of the grill than a broiler with an on/off function.
Another option is to do what Patrick from Mexican Please does and roast first and broil after. This way you'll get the best of both worlds, with sweet flavourful tomatoes that have a bit of charred flavour.
How I Make A Roasted Tomato Salsa
I find the best way to make a roasted tomato salsa is to roast the veggies in the oven for about 30 minutes in the oven at 400°F/200°C.
Here is a quick summary of this recipe:
Get a cast iron skillet pan hot.
Add some high smoke point oil (canola, peanut or odourless coconut oil).
Add the tomatoes, onions and dried chilies to the pan and toss for 1-2 minutes.
Season well with salt.
Remove the dried chilies and set them aside.
Put the pan in the oven for about 30-40 minutes or until it's browned nicely.
Add the garlic to the pan during the last 5 minutes of roasting.
Blend.
Serve with tortilla chips!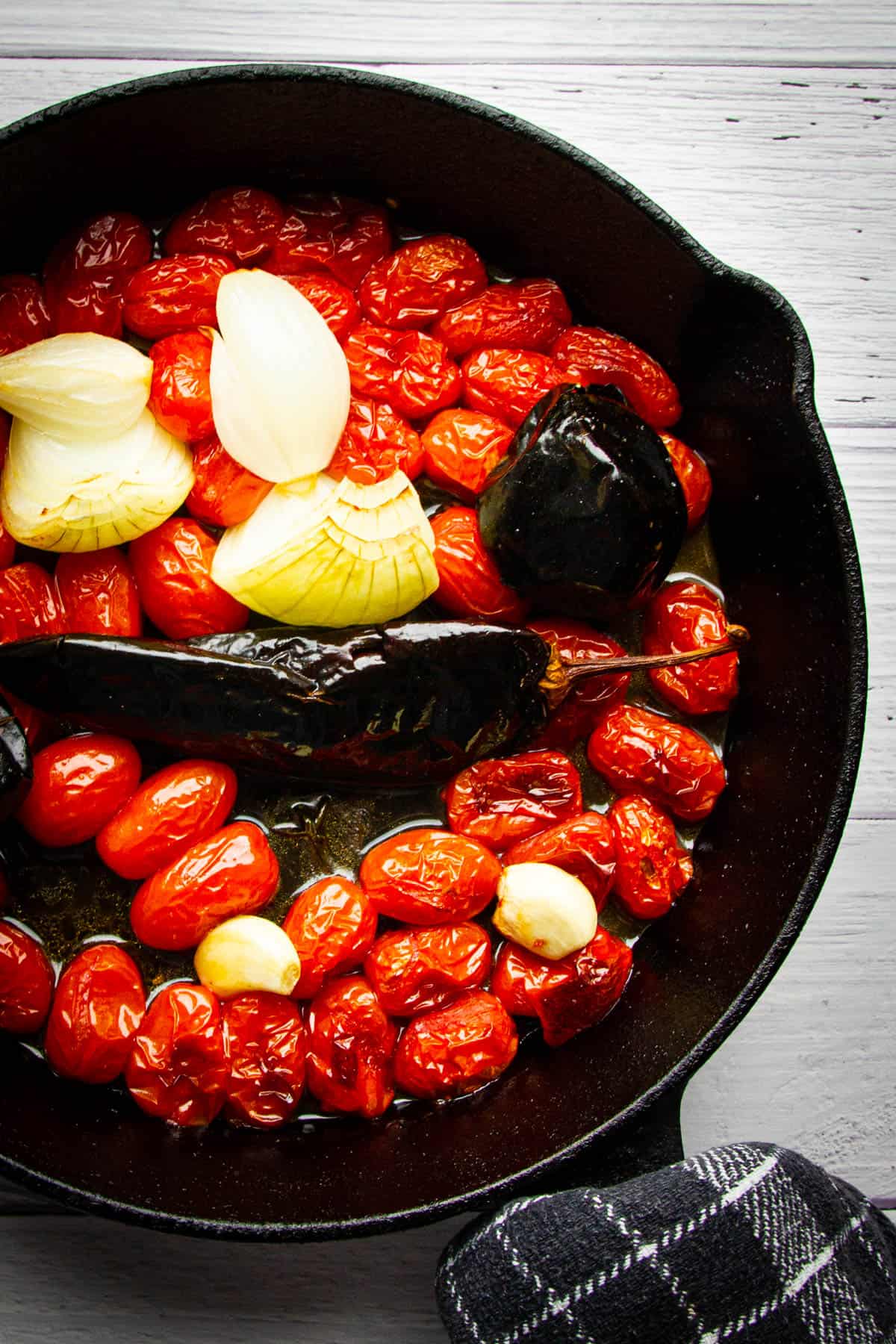 Roasted Tomato Salsa Ingredients
Here are some of the key ingredients for this recipe:
Cherry Tomatoes: I'm using cherry tomatoes only because I found a large amount on sale at my local market. But you can just about any tomato you want. Just make sure they're as ripe as possible.
Onions/Garlic: Some people like to add raw onions and garlic to their salsa which is also nice, but I prefer the sweeter flavour of the roasted onions. As mentioned before, be careful not to burn the garlic and add only add it during the last 5 minutes of cooking.
Dried Chillies: I'm a big fan of dried cascabel and guajillo chilli peppers but you can use whatever you like. Serrano peppers, ancho peppers, jalapeno or even regular fresh chilli can be used.
Sherry Vinegar: I absolutely love this Xerces sherry vinegar for tomato-based recipes. It's got a unique flavour that's difficult to replace. If you can't find sherry vinegar, a simple red wine vinegar will also work well.
Tips For a Roasted Tomato Salsa
Adding oil will help to brown the vegetables better and prevent them from sticking to the pan.
Use the ripest tomatoes you can find for the best flavour. Cherry tomatoes, Roma tomatoes or hothouse tomatoes are all good choices but they must be ripe.
Serve this salsa with tortilla chips, grilled fish, or steak.
More Recipes
This Grilled Green Onion Chimichurri
The Most Amazing Instant Pot Birria Tacos
Make Your Own Ancho Chili Powder