If you're like me and don't do boring salads then you'll probably love this rocket salad. Rocket can be a little bitter on its own, but when mixed with the right ingredients it's delicious and exciting.
The key is to add rich ingredients like salty Parmigiano Reggiano cheese, crispy multigrain croutons, warm blistered cherry tomatoes and this roasted sunflower dressing which can all stand up to the sharp and peppery lettuce.
This salad is pretty flexible and can be easily adjusted to suit a vegan or keto diet.
For a vegan diet, remove the cheese and honey. Add extra sunflower seeds, olive oil croutons and cherry tomatoes.
And for a keto diet remove the croutons and honey and be careful with the number of cherry tomatoes as they can be pretty sweet. You can bump up the cheese and sunflower seeds in this recipe.
Are Rocket and Arugula the Same Thing?
Yes, rocket is the British name and arugula is the North American name.
I actually prefer the British name for this lettuce because it suits the hot and peppery taste of the lettuce.
What Does Rocket Salad Taste Like
It's hot and peppery depending on how old the lettuce is. Younger leaves will be softer and less bitter while older rocket lettuce can be quite peppery.
Fresh but older rocket lettuce from your garden can often be quite intense in flavour so it's better prepared with heavier ingredients like the cheese, croutons and roasted sunflower dressing in this recipe.
If you have strong-tasting lettuce, you may want to add a bit more dressing to mellow it out.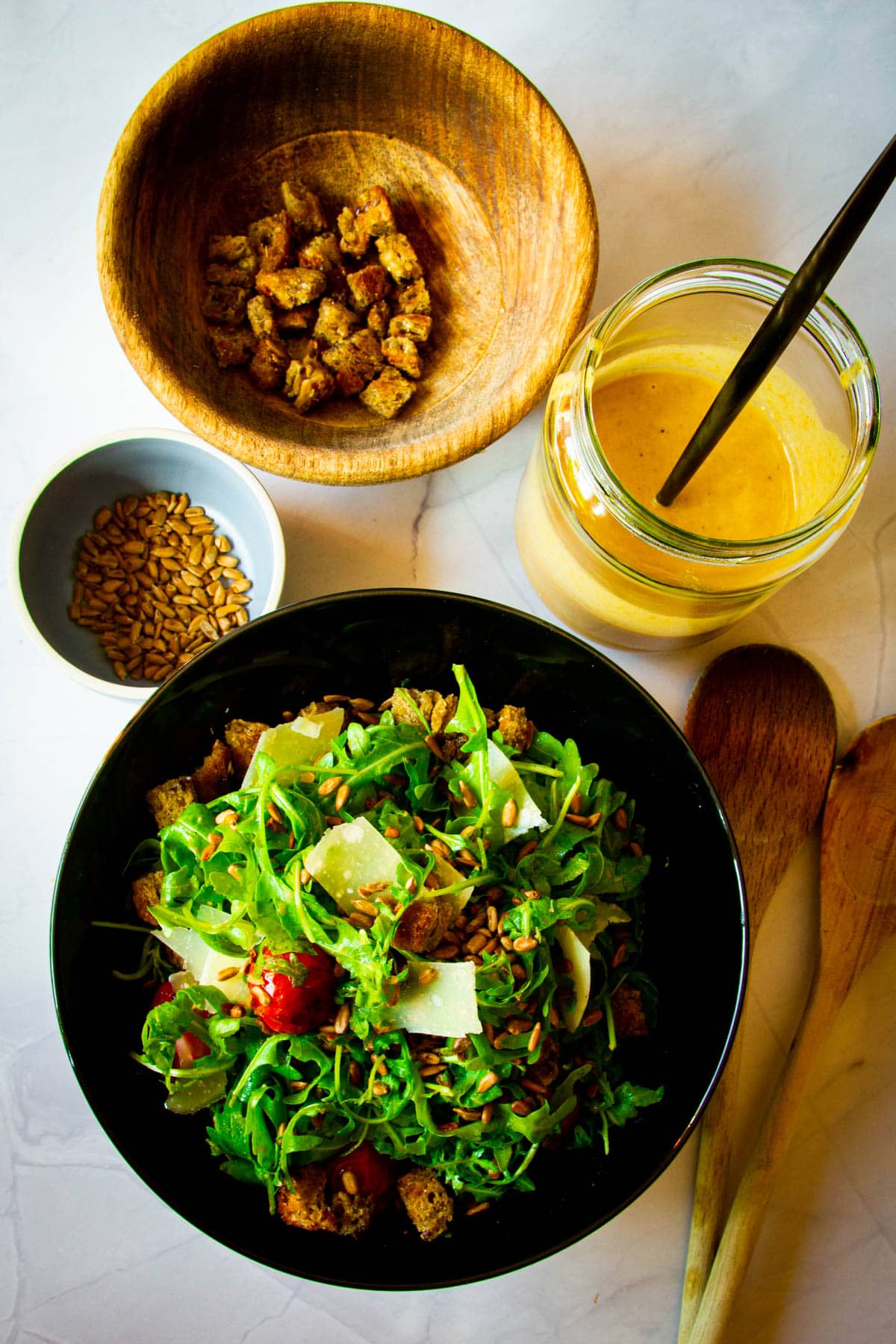 Rocket Salad Ingredients
Let's break down the key ingredients in this salad.
Rocket (arugula) Lettuce: This peppery and almost spicy lettuce pairs well with the rich sunflower dressing, cheese and croutons. If you can't find rocket lettuce, try using dandelion leaves, kale or frisée lettuce which are also quite hearty.
Cherry Tomatoes – Blistering the cherry tomatoes makes them a little sweeter and adds a nice contrast of warm and cold flavours to the salad. Only use cherry tomatoes if they're ripe and in season, otherwise, other sweet fruits like pear and apple will also work well in this salad.
Sunflower Seeds – They add a gorgeous richness that pairs well with the peppery lettuce. Their flavour is difficult to replace but if you can't find sunflower seeds, almonds with the skin will also work well.
Apple Cider Vinegar– A great all-purpose vinegar that adds a touch of sweetness to the vinaigrette. White wine vinegar, red wine vinegar and sherry vinegar are all good substitutes if you can't find apple cider vinegar.
Honey – This adds a little sweetness to the dressing and mellows out the sharpness from the vinegar. If you don't want to add honey, add a little less vinegar and salt to the dressing.
Xanthan Gum – This just helps to emulsify the dressing which improves the taste and look of the dressing. It's totally optional though. Be careful not to add too much otherwise the dressing will become too thick and unpalatable! Always start with less because you can't remove it once it's added.
If you're not sure about Xanthan gum you can read my guide on thickeners which explains them in more detail.
Tips to Nail this Recipe
Toast the multigrain bread in the toaster to dry it out before making the croutons otherwise they'll take much longer in the pan to crisp up. Stale bread is also great for making croutons.
Roast the sunflower seeds in the oven before making the dressing to bring out their flavour.
Add a little xanthan gum to the dressing to prevent it from splitting.
How Long Does Sunflower Dressing Last?
This dressing will be good for about 5 days in the fridge. Unfortunately, you'll have to make a large amount in order for it to blend properly in the blender. You can either freeze what you don't need or try to eat a salad every day with the dressing.
If you do freeze the dressing, thaw it in the fridge the night before. It may split after thawing and you may need to mix it again with a whisk, hand mixer or stand blender to emulsify it again.
More Recipes
My Best All-Purpose Salad Dressing