If you're like me and don't do boring salads then you'll probably love this rocket salad. Rocket can be a little bitter on its own, but when mixed with the right ingredients it's delicious and exciting.
The key is to add rich ingredients like salty Parmigiano Reggiano cheese, crispy multigrain croutons, warm blistered cherry tomatoes and this roasted sunflower dressing which can all stand up to the sharp and peppery lettuce.
This salad is pretty flexible and can be easily adjusted to suit a vegan or keto diet.
For a vegan diet, remove the cheese and honey. Add extra sunflower seeds, olive oil croutons and cherry tomatoes.
And for a keto diet remove the croutons and honey and be careful with the number of cherry tomatoes as they can be pretty sweet. You can bump up the cheese and sunflower seeds in this recipe.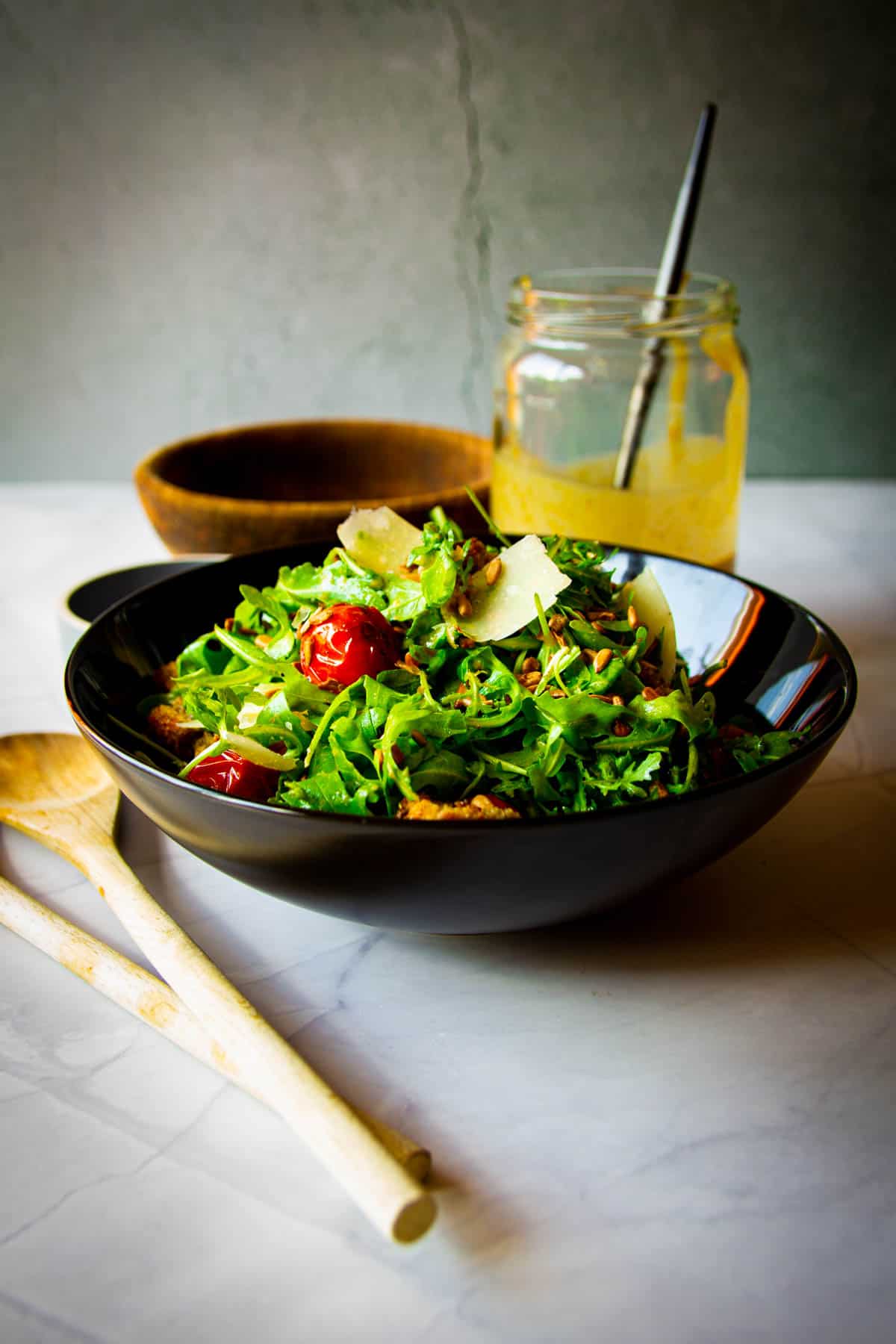 Are Rocket and Arugula the Same Thing?
Yes, rocket is the British name and arugula is the North American name.
I actually prefer the British name for this lettuce because it suits the hot and peppery taste of the lettuce.
What Does Rocket Salad Taste Like
It's hot and peppery depending on how old the lettuce is. Younger leaves will be softer and less bitter while older rocket lettuce can be quite peppery.
Fresh but older rocket lettuce from your garden can often be quite intense in flavour so it's better prepared with heavier ingredients like the cheese, croutons and roasted sunflower dressing in this recipe.
If you have strong-tasting lettuce, you may want to add a bit more dressing to mellow it out.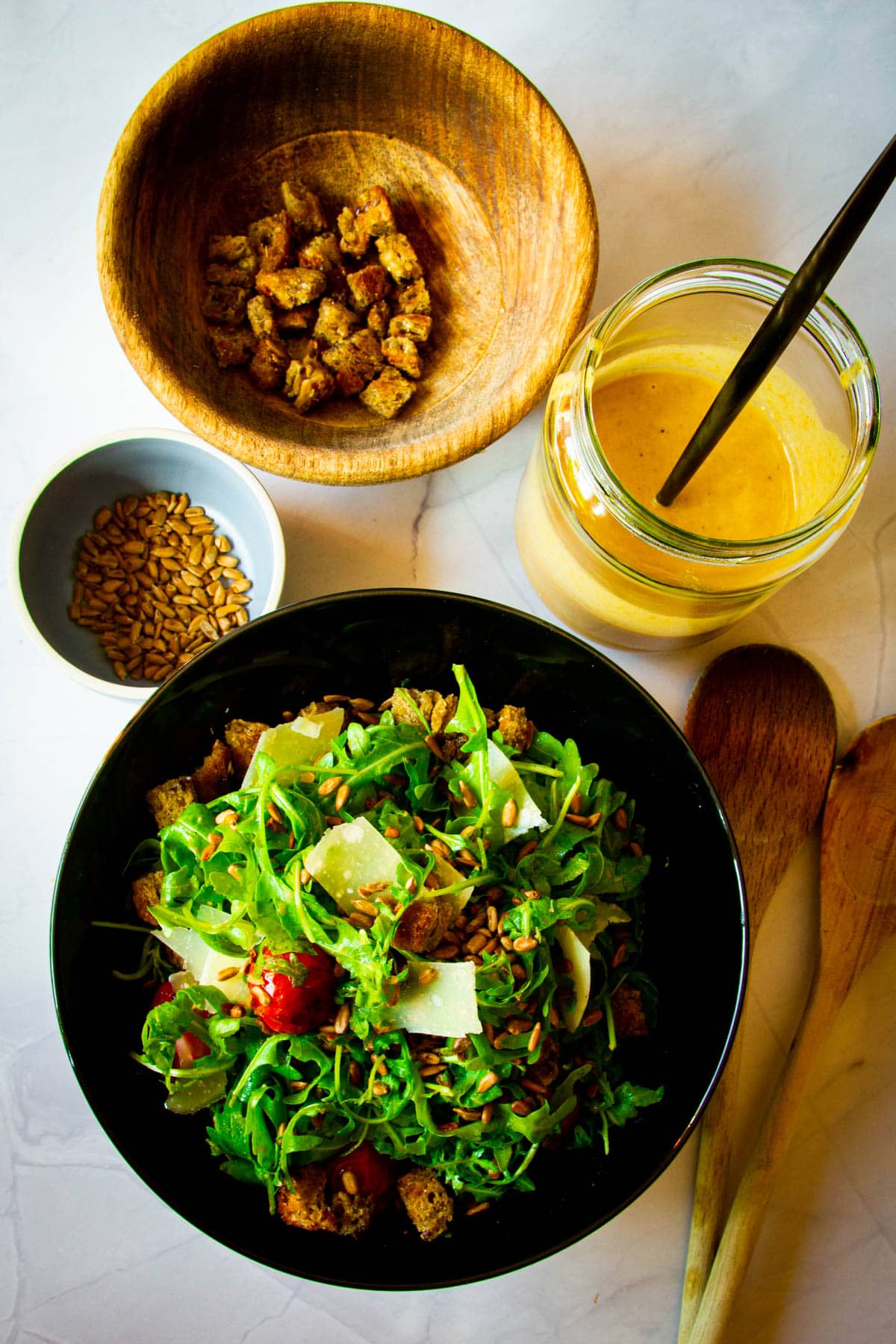 Rocket Salad Ingredients
Let's break down the key ingredients in this salad.
Rocket (arugula) Lettuce: This peppery and almost spicy lettuce pairs well with the rich sunflower dressing, cheese and croutons. If you can't find rocket lettuce, try using dandelion leaves, kale or frisée lettuce which are also quite hearty.
Cherry Tomatoes – Blistering the cherry tomatoes makes them a little sweeter and adds a nice contrast of warm and cold flavours to the salad. Only use cherry tomatoes if they're ripe and in season, otherwise, other sweet fruits like pear and apple will also work well in this salad.
Sunflower Seeds – They add a gorgeous richness that pairs well with the peppery lettuce. Their flavour is difficult to replace but if you can't find sunflower seeds, almonds with the skin will also work well.
Apple Cider Vinegar– A great all-purpose vinegar that adds a touch of sweetness to the vinaigrette. White wine vinegar, red wine vinegar and sherry vinegar are all good substitutes if you can't find apple cider vinegar.
Honey – This adds a little sweetness to the dressing and mellows out the sharpness from the vinegar. If you don't want to add honey, add a little less vinegar and salt to the dressing.
Xanthan Gum – This just helps to emulsify the dressing which improves the taste and look of the dressing. It's totally optional though. Be careful not to add too much otherwise the dressing will become too thick and unpalatable! Always start with less because you can't remove it once it's added.
If you're not sure about Xanthan gum you can read my guide on thickeners which explains them in more detail.
Tips to Nail this Recipe
Toast the multigrain bread in the toaster to dry it out before making the croutons otherwise they'll take much longer in the pan to crisp up. Stale bread is also great for making croutons.
Roast the sunflower seeds in the oven before making the dressing to bring out their flavour.
Add a little xanthan gum to the dressing to prevent it from splitting.
How Long Does Sunflower Dressing Last?
This dressing will be good for about 5 days in the fridge. Unfortunately, you'll have to make a large amount in order for it to blend properly in the blender. You can either freeze what you don't need or try to eat a salad every day with the dressing.
If you do freeze the dressing, thaw it in the fridge the night before. It may split after thawing and you may need to mix it again with a whisk, hand mixer or stand blender to emulsify it again.
A Healthy Rocket Salad with Blistered Cherry Tomatoes and a Roasted Sunflower Dressing
An easy rocket salad with blistered cherry tomatoes, Parmigiano Reggiano cheese, croutons and a roasted sunflower dressing.
Ingredients
100

g

rocket (arugula) lettuce

75

g

multigrain bread

(2 slices)

20

g

Parmigiano Reggiano

18

g

olive oil

(2 tbsp)

150

g

cherry tomatoes
For the Sunflower Dressing
50

g

sunflower seeds

(5 tbsp)

26

g

dijon mustard

(4 tbsp)

60

g

apple cider vinegar

(4 tbsp)

3

g

salt

(½ tsp)

100

g

sunflower oil

(8 tbsp)

50

g

olive oil, extra virgin

(4 tbsp)

25

g

cold water

(2 tbsp)

16

g

honey

(1 tsp)

1/16

tsp

xanthan gum

optional
Instructions
Soak the lettuce in ice water for 5-10 minutes to refresh the leaves. Drain the water and dry in a salad spinner.

Toast the sunflower seeds in the oven for 9 minutes at 375°F/190°C. Once they are golden brown, they're ready.

Set 1 tbsp of the sunflower seeds aside to garnish the salad later.

Add the toasted sunflower seeds, plus the rest of the ingredients for the sunflower dressing except the oils to the blender. Close the lid and start blending on low speed. With the blender still running, slowly add both oils in a thin stream to make a smooth, emulsified dressing.

Save this dressing in a mason jar.

(If using xanthan gum, you can add all of the ingredients together with the oil and blend without adding the oil slowly).

Toast the multigrain bread in the toaster until golden brown. Cut the toasted bread into little cubes.

Fry in a pan with 1 tbsp of olive oil.

Cook on low heat, stirring frequently until the bread turns crispy.

Season with a little salt and pepper and let the croutons cool on paper towel.

In the same pan, add 1 tsp of olive oil and fry the cherry tomatoes over medium heat until the skins break (about 5 minutes).

Turn of the heat and season with salt and pepper.

Peel the cheese using a speed peeler.

In a large bowl, carefully mix the lettuce and croutons with 1-2 tbsp of the sunflower dressing. Garnish the salad with the warm cherry tomatoes and cheese shavings.

Enjoy!
Notes
The recipe yields about a cup of sunflower dressing which is a lot more than you need. The reason is that there must be enough ingredients in the blender for it to catch and blend properly. If you have a smaller blender, you can probably make a half batch. 
Add the oils in a thin stream while making the dressing to prevent it from splitting.
If the dressing is a little thick, add a splash of water to thin it out.
More Recipes
Caesar Salad – The King of Salads
Still to this day my favourite salad. A rich, creamy dressing made with fresh egg yolks and loaded with umami flavour from the anchovies, sharp parmigiano cheese and fresh garlic. Finished with loads of cracked black pepper and fresh lemon. It's the king for good reason.
Check out this recipe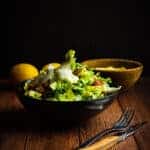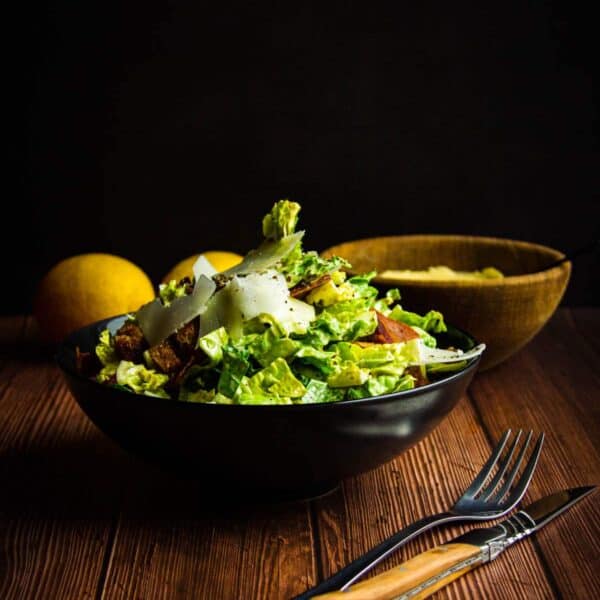 Crunchy Apple and Cucumber Salad with Sesame + Miso
It's cold, crunchy and ridiculously refreshing on a hot day. You definitely want to make this salad when the weather is too hot to handle.
Check out this recipe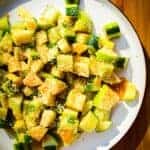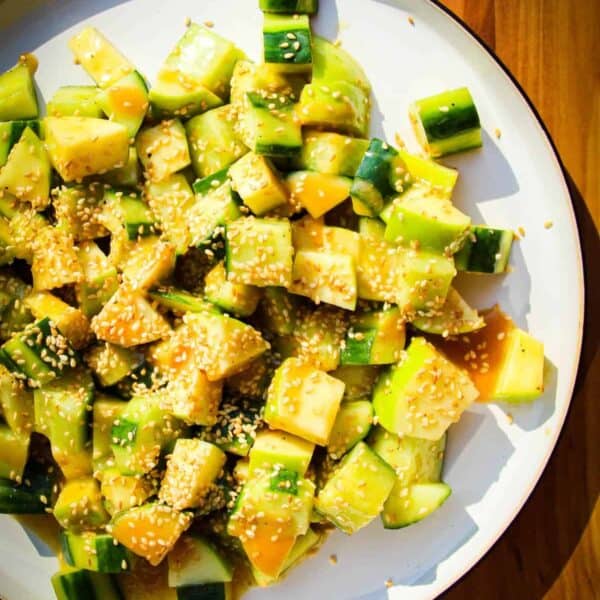 My Best All-Purpose Salad Dressing
Citrus Vinaigrette – The All-Purpose Dressing
The magic all-around lemon vinaigrette that makes anything it touches delicious. Fresh lemons, oranges and xanthan gum are the secret to this super quick and easy dressing.
Check out this recipe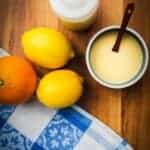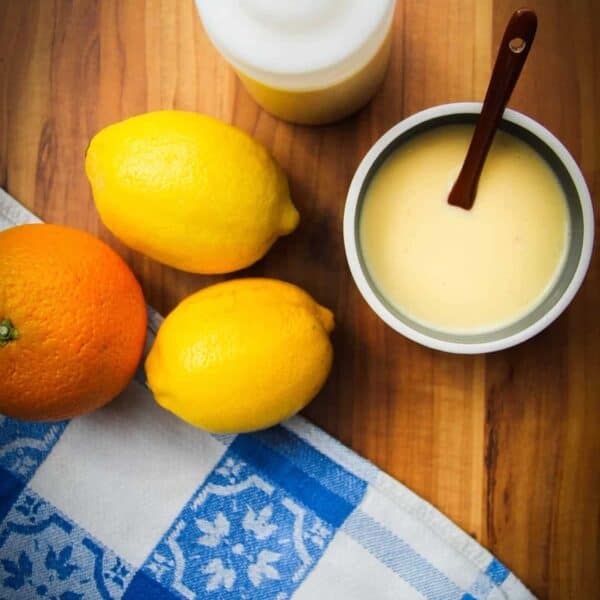 A Tomato Basil Salad that's Not a Caprese Salad
A delicious way to enjoy fresh tomatoes this summer with a rich macadamia nut dressing. Ditch the Caprese salad and try something this tomato basil salad instead.
Check out this recipe