One of the best wild mushrooms you can buy is the black trumpet mushroom.
Its strong earthy flavour with hints of smoke and coffee make this mushroom truly unique in flavour and a must-try.
Black trumpets are commonly used in French cuisine and paired with other expensive ingredients like beef tenderloin, foie gras, and beef demi-glace.
You might have seen these on rare occasions at your local farmers market or specialty grocery store and this is a guide to help you enjoy these beauties at home.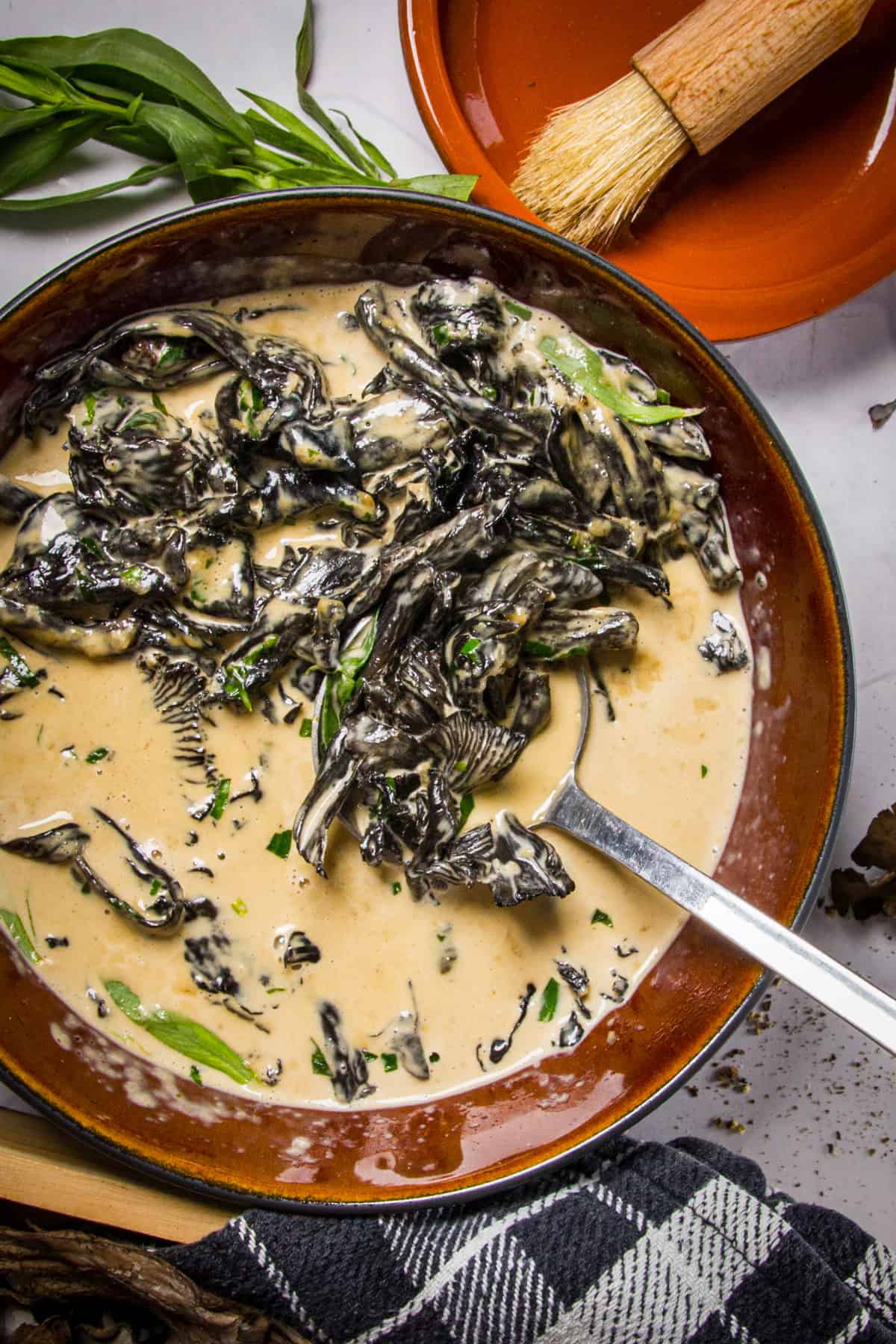 What Are Black Trumpet Mushrooms Actually?
There are actually two types of black trumpet mushrooms, the Eastern grown Craterellus fallax and the Western-grown Craterellus cornocopioides. The ones in Europe are likely of the cornocopioides variety but may in fact be a different variety altogether. [1]
They're a type of wild mushroom commonly found growing alongside pine and oak trees.
Other names for this mushroom include horn of plenty, black chanterelle and my favourite name of all the Trompette de La Mort which translates to Trumpet of Death in French.
It's believed that the dark-sounding name goes back in history to when the mushrooms were first discovered and said to look like dead spirits playing black trumpets.
Folklore aside, the old name suggests that people have been enjoying black trumpet mushrooms for a long time.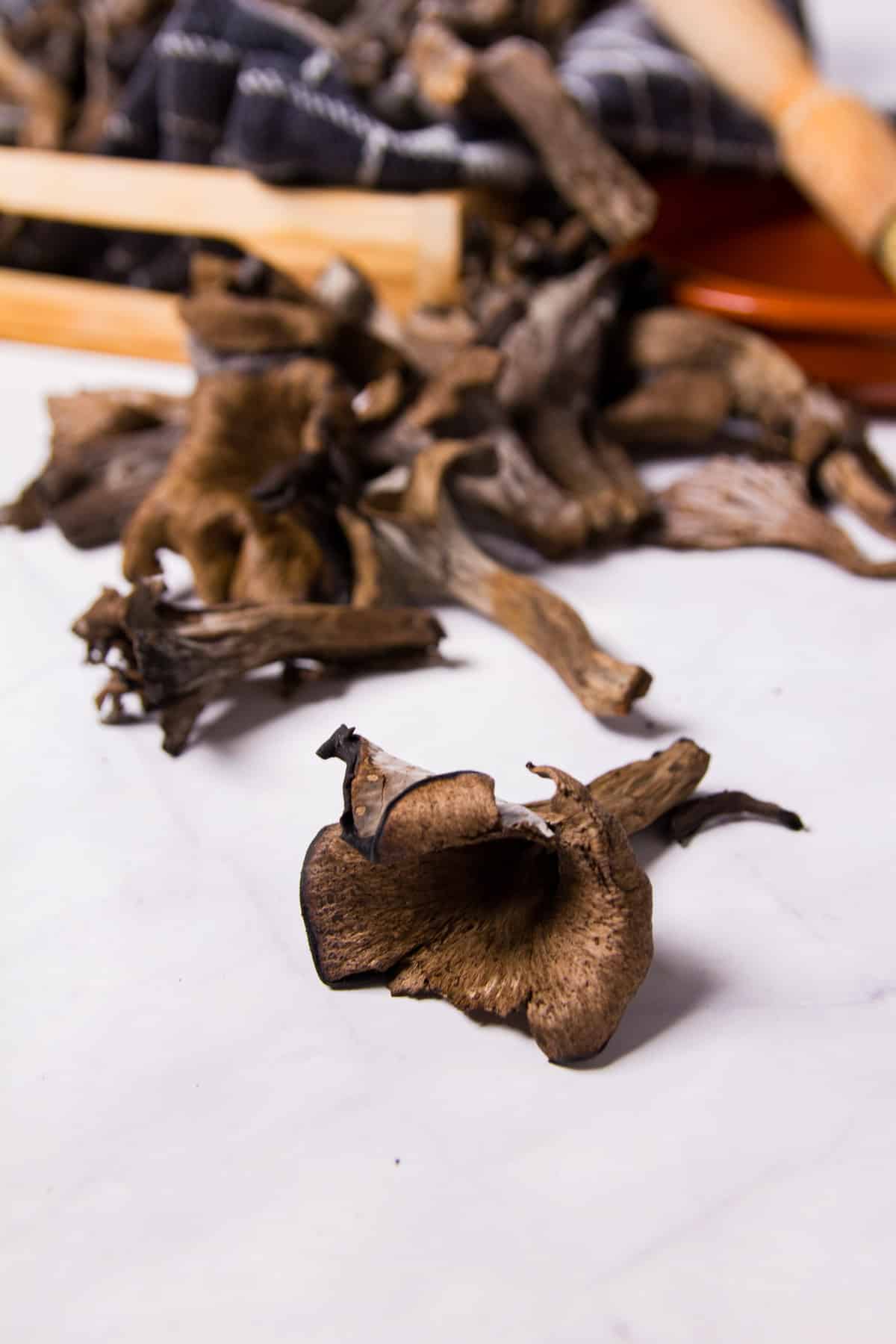 What is the Season For the Black Trumpet Mushroom?
Because there are two types of black trumpet mushrooms, you may find them available in both the summer and winter, depending on where they're foraged.
East Coast trumpets are summer mushrooms and are in season from mid-July to the end of August.
West Coast trumpets are winter mushrooms and can be found anywhere from November to the beginning of March.
These mushrooms I found from Groentenbroer.nl are obviously the European variety and are of immaculate quality in the middle of December.
Black Trumpet Mushroom Buying Guide
As these mushrooms often carry an expensive price tag, it's important to know what to look for and to avoid buying old mushrooms which are not worth the price.
Here's what to look for when buying wild black trumpet mushrooms.
Dry and Firm
The best mushrooms will be dry and firm enough to hold their distinct trumpet shape. Sometimes mushroom foragers will try to sell you mushrooms that have been previously frozen and this is not acceptable.
Previously frozen mushrooms will be very soggy and should be avoided or instead bought at a discount price.
No Bad Odors
Black trumpets come with a very strong, earthy smell when raw but they shouldn't smell sour or off-putting. If it does, this is likely because the mushrooms are too old or too wet and are starting to rot.
Fairly Clean
Wild mushrooms are not like farmed mushrooms and will likely contain bits of dirt and even live insects inside them.
If there are a few live bugs inside the mushrooms this is actually a good sign as it means the mushrooms are quite fresh.
On the other hand, mushrooms with too many bugs mean they were picked too late and I would avoid buying these.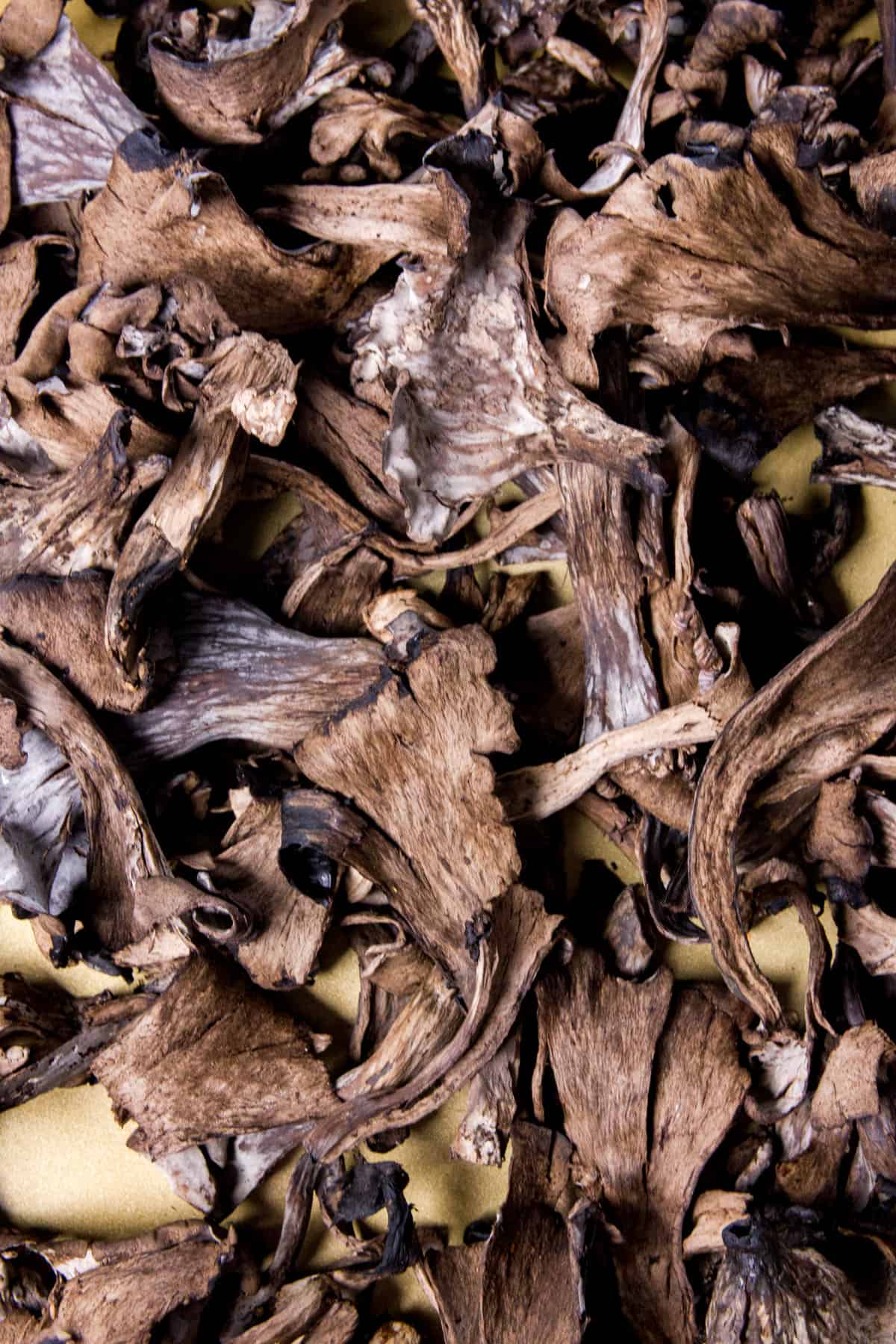 How to Clean Black Trumpet Mushrooms
As mentioned above, these mushrooms are wild and will need a little more attention than regular mushrooms.
There are two methods for cleaning trumpet mushrooms:
A quick soak in cold water.
Cleaning them by hand with a dry brush.
Personally, I've always used the dry brush method in all of the restaurants I worked when cleaning these mushrooms. This is because soaking them in water makes the mushrooms soggy and means they won't cook nicely.
I also like the dry brush method because I can individually open each mushroom up to search for excess dirt which hides inside the mushroom.
However, you can soak them in cold water quickly and then dry them on a tray in a warm place for a few hours to remove the excess moisture.
The downside to this is that you really have to be careful not to dry them too long otherwise you'll lose their soft texture.
What Do Serve with Black Trumpet Mushrooms?
Classically these mushrooms work the best with beef dishes like beef wellington, and chateaubriand, or served alongside a simple roasted chicken.
They also work really well with other stronger game meats like pheasant, duck, or venison.
More ideas for when to use these mushrooms:
Mixed into a wild mushroom risotto.
Sauteed, chopped and folded into a hollandaise sauce.
Mixed into an omelet.
Baked into a chicken pot pie.
Added to gravy for an extra elegant sauce.
Dried, ground finely, and used as an umami seasoning.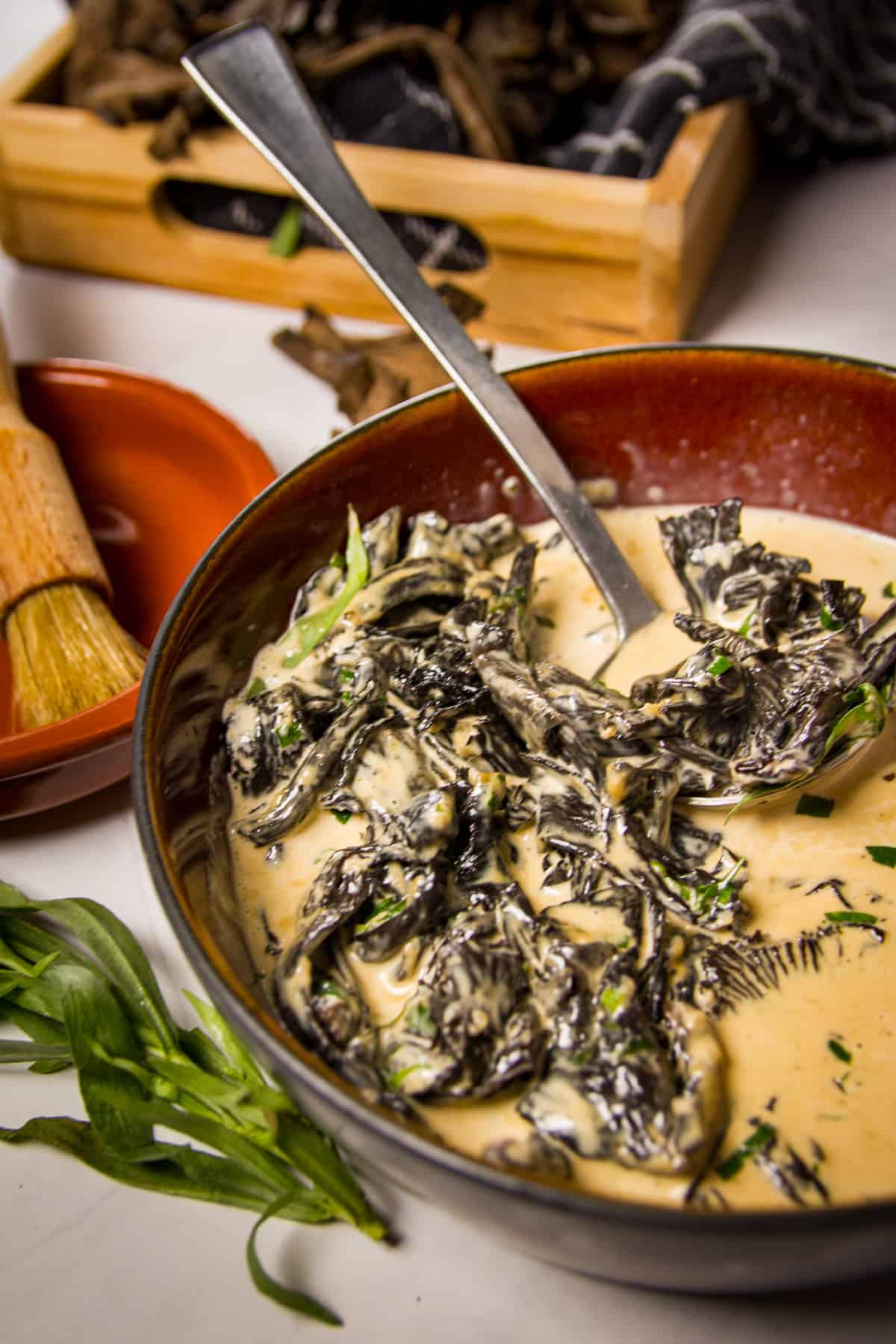 How to Make a Black Trumpet Mushroom Tarragon Cream
These mushrooms cook fast! Once they hit the hot pan, they're pretty much cooked already.
If you've never had them before, the best way to enjoy them is with a little butter and salt first. This way you can truly enjoy their delicate flavour and then try them in other recipes like this black trumpet tarragon cream sauce.
Here's how you can make the sauce:
First, make sure the mushrooms are dry and clean.
Get a large pan hot over medium-high heat.
Add about 1 tbsp of butter and wait for it to sizzle.
Add only enough black trumpets to fit in one even layer in the pan. Adding too much to the pan will result in soggy mushrooms.
Cook the mushrooms for 30 seconds, tossing frequently in the pan.
Once the mushrooms are wilted, turn off the heat.
Immediately add the pureed garlic and cook with the residual pan heat for 30 seconds more.
Deglaze the pan with the brandy, then add the cream and put back on the heat. Cook for 1-2 minutes more or until the cream thickens into a sauce.
Finish with a few sprigs of freshly chopped tarragon and a drop or two of sherry vinegar.
Serve right away with your favourite steak, roasted chicken, or game meats.
How to Store Black Trumpet Mushrooms
Like most mushrooms, they need to be kept dry to avoid spoiling.
The best way to store these mushrooms is to leave them in a basket in the fridge with a clean damp towel over top. Do not cover them completely otherwise they'll "sweat" and spoil faster.
They're best kept for a few days in the fridge but no more than a week.
Do not freeze these mushrooms raw. It's better to make your dish first and then freeze that as frozen mushrooms always absorb too much water.
Try My other Mushroom Recipes
A Delicious Black Trumpet Mushroom Sauce with Cream and Fresh Tarragon
The ultimate guide for how to buy, clean and cook the black trumpet mushroom. Included is a recipe for a black trumpet tarragon cream that's perfect with steak or roasted chicken.
Ingredients
100

g

black trumpet mushrooms

fresh

1

clove

garlic

peeled

1

tbsp

butter

240

g

35% cream

(1 cup)

¼

bunch

tarragon

fresh

1

shot

brandy, cognac or dry white wine

(optional)

⅛

tsp

sherry vinegar

cracked black peper

salt to taste
Instructions
Clean the trumpet mushrooms thoroughly with either the brush method or the quick rinse method (see above).

Have all of the ingredients ready to go before you start as the mushrooms cook very fast.

Chop the tarragon and puree the garlic using a Microplane.

Heat the butter over medium-high heat until hot and foamy. Add the trumpets and toss them in the pan. Season with a little bit of salt.

Once the mushrooms are wilted (about 30 seconds) turn off the heat and immediately add the garlic and tarragon. Toss to prevent the garlic from burning.

After 30 seconds, add the brandy (optional) and then the cream and turn the heat back to medium.

Reduce the sauce until it's of sauce consistency. (Continue cooking for 1-2 minutes).

Finish the sauce with a few drops of sherry vinegar, cracked black pepper and more salt if needed.

Serve hot over steak, roasted chicken or a cheesy omelette. Enjoy!
Nutrition
Calories:
536
kcal
|
Carbohydrates:
7
g
|
Protein:
4
g
|
Fat:
50
g
|
Saturated Fat:
31
g
|
Polyunsaturated Fat:
2
g
|
Monounsaturated Fat:
14
g
|
Trans Fat:
1
g
|
Cholesterol:
179
mg
|
Sodium:
107
mg
|
Potassium:
334
mg
|
Fiber:
2
g
|
Sugar:
1
g
|
Vitamin A:
1981
IU
|
Vitamin C:
2
mg
|
Calcium:
115
mg
|
Iron:
6
mg
More Recipes You May Enjoy