This smoked salmon toast with soft-boiled eggs is light, vibrant and an impressive dish you can easily pull off for Mother's Day brunch.
My secret weapon here is the homemade pea puree which adds a punch of spring flavour.
What I love most about this dish is that it looks great without requiring hours to prepare it.
Even the pea puree can be made in under 10 minutes and that means you can spend more time actually enjoying the day.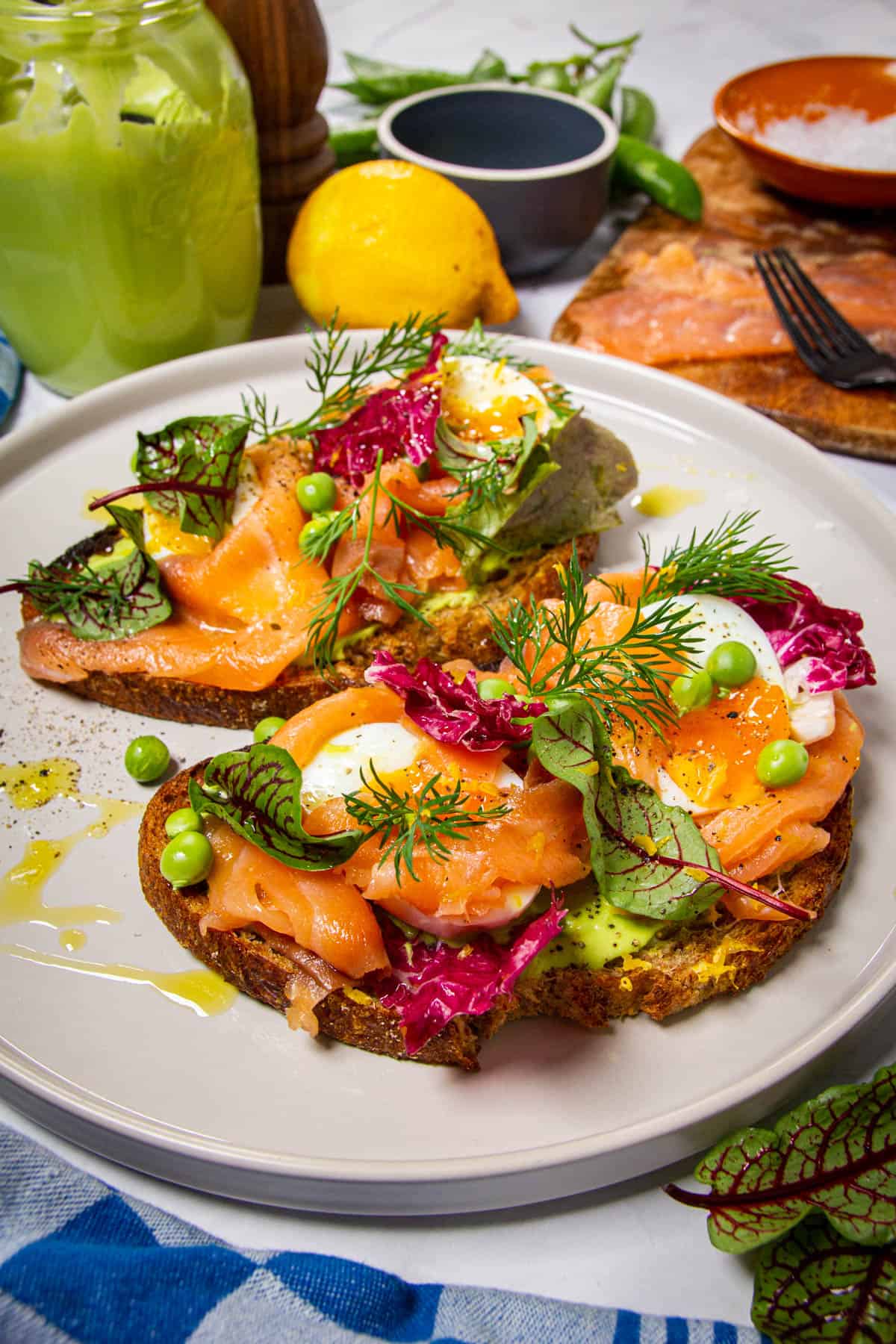 Ingredients You'll Need for This Smoked Salmon Toast
Smoked Salmon: Wild sockeye smoked salmon is the best because of its naturally bright red colour but farmed salmon can sometimes be okay too. If you're interested in buying sustainabe fish, check out this Oceanwise guide.
Bread: Fresh sourdough, rye or multigrain bread will be preferable as they have a little bit more interesting flavour than regular white bread. Even better if you can find a loaf of bread with lots of seeds or nuts that will add some crunchy texture.
Bitter Green Salad Mix: You'll want to use a salad mix that's ultra-fresh but with a good variety of colourful salad leaves. The red veined sorrel leaves (seen in the photos) not only look beautiful but also have a nice sour taste that goes so well with smoked salmon. You could also use arugula, mustard greens, carrot tops or just about any bitter tasting lettuce you can find.
Lemon Zest: Lemon zest adds a fragrant lemon flavour and won't turn the puree grey as an acidic ingredient like lemon juice would.
Dill: A classic pairing with salmon and not to be missed.
Eggs: Here in Europe, I'm using large free-range eggs that are stored at room temperature. 6 minutes is perfect for these eggs but I found that when cooking cold eggs straight from the fridge (like in Canada), 6 mins + 30 seconds was better. If in doubt, you can always test one first to check the cooking or even hard boil them (11 minutes).
Cheftip: Older eggs are better for boiling because they'll peel much easier. You can also poke a tiny hole at the bottom of the eggs before cooking to prevent them from cracking or buy one of these egg piercers.
Maldon Salt: I love this coarse sea salt dearly. The texture and sea flavour makes everything taste a little better.
Fresh Peas: If you have access to fresh peas then use them, but if not, then a few quickly cooked frozen peas will also work.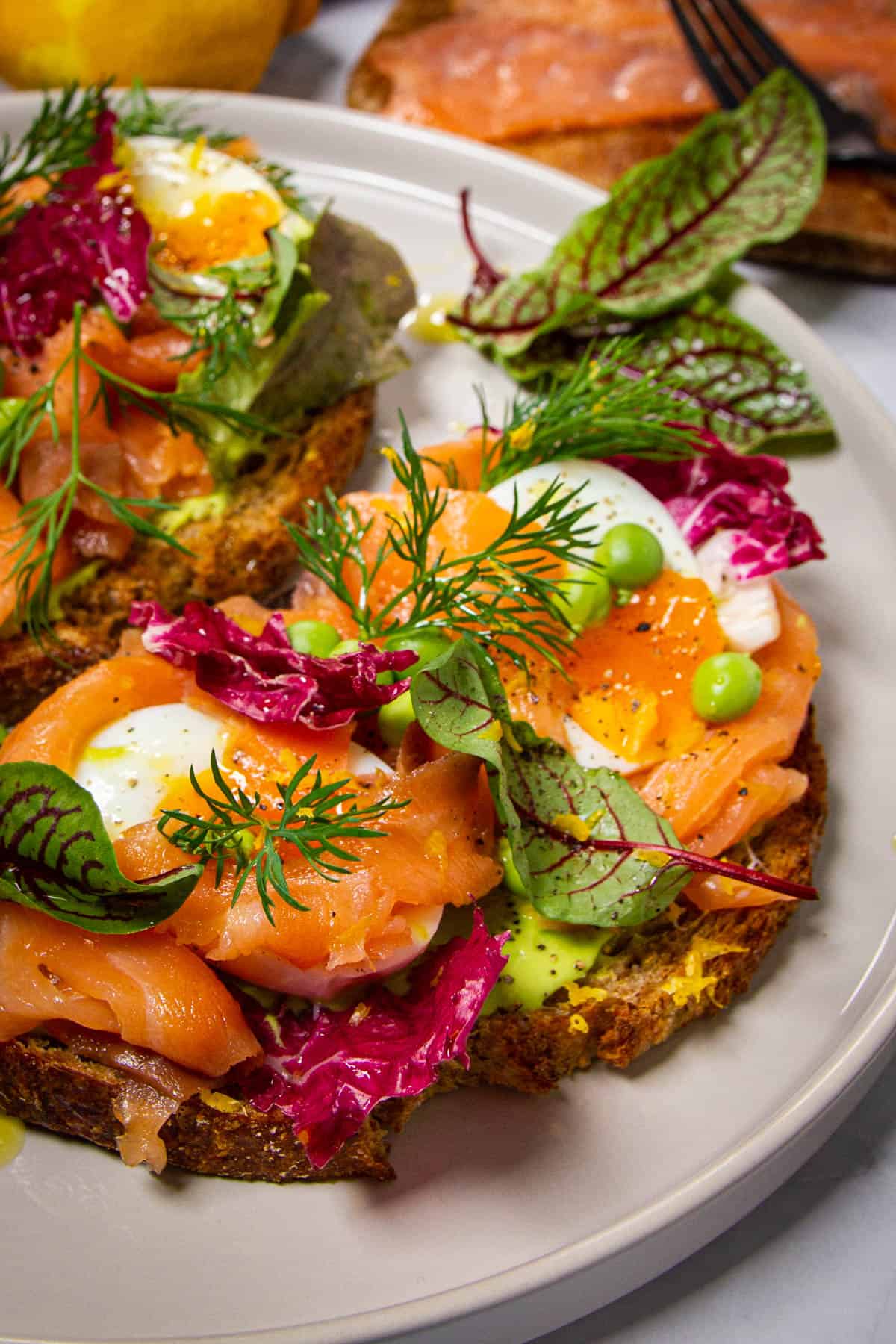 How to Make this Smoked Salmon Toast
Here is the quick recipe rundown for this dish:
Have your pea puree ready to go. I like to keep it cold/room-temperature but you could also serve it hot if you'd prefer.
Boil your eggs for 6 minutes (+ 30 seconds if using cold eggs). Run them under cold water for about 30 seconds to stop the cooking.
Wash and pick your herbs and salad greens. Dry them on paper towel or use a salad spinner if they're really wet.
Cut the smoked salmon into thin slices using scissors.
Peel the eggs carefully and then cut into quarters. Season them well with salt and pepper.
Toast the bread and then butter it.
Spread on the pea puree, generously.
Place the cut eggs on the toast, then wrap the smoked salmon around.
Finish the toast with your nice salad leaves, the dill, the fresh peas, the Maldon salt, a crack or two of black pepper and a zest of fresh lemon.
Enjoy!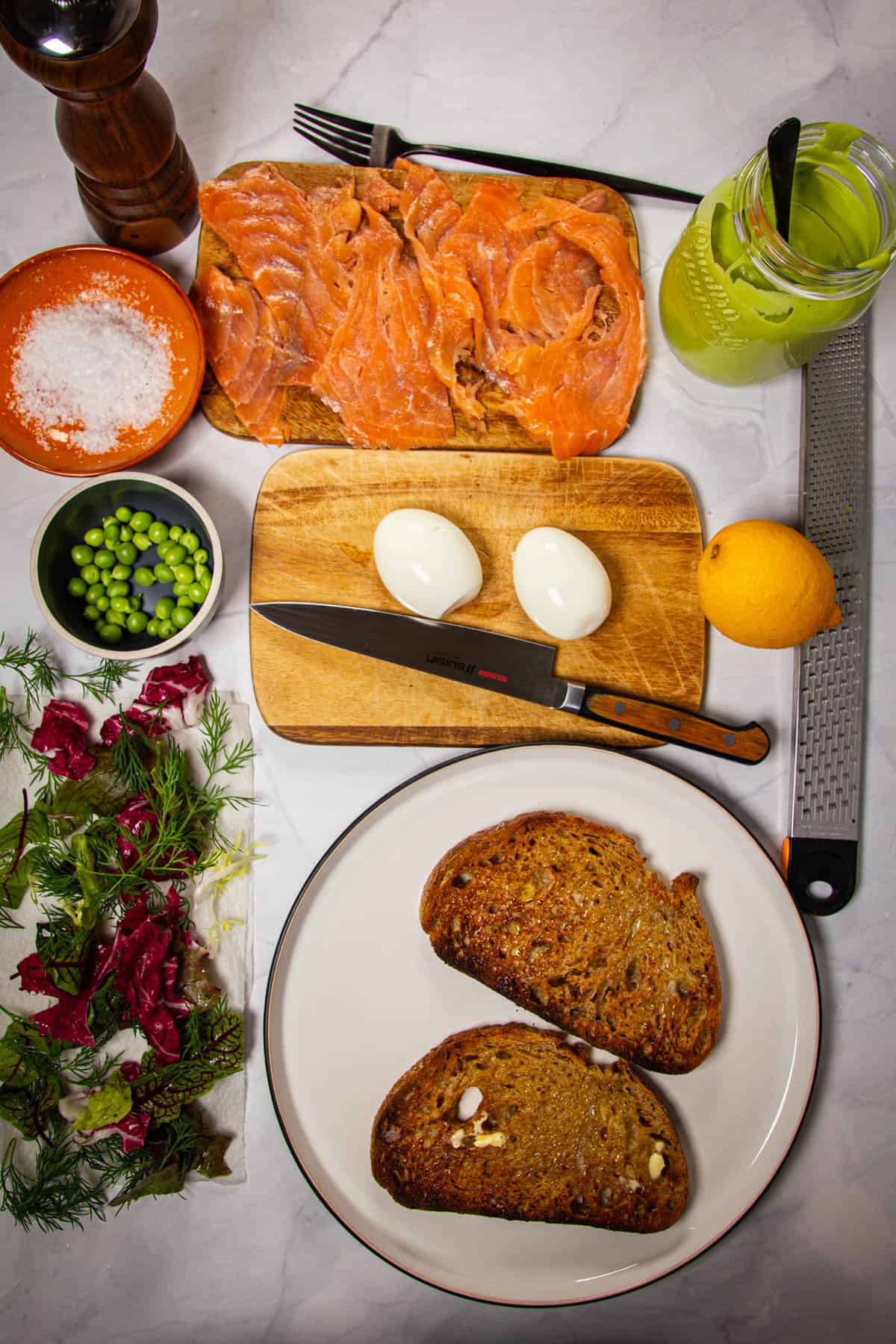 Tips to Nail this Recipe
Use scissors to easily cut the smoked salmon into thin pieces that are easier to eat.
Cook cold eggs from the fridge for 6 minutes + 30 seconds and room temperature eggs for just 6 minutes.
The key to great presentation is finding ultra-fresh, high quality salad greens and soaking them in cold water for at least 5 minutes.
Try these Other Recipes for Mother's Day
What bread goes well with salmon?
Darker loaves of bread such as pumperknickel, rye, marble rye and heavier sourdough loaves are perfect with smoked salmon. Because the fish is smoked, it has stronger flavour that can stand up better to heavier breads like these.
What's the best way to eat smoked salmon?
The classic way is to eat it with a little toast and cream cheese. Some people also like it with raw onions, capers or pickles and smoked salmon goes great with egg dishes like this.
15 Minute Smoked Salmon Toast with Eggs, Herbs and Pea Puree
This smoked salmon toast is an easy but impressive breakfast or brunch and perfect for Mother's Day.
Equipment
toaster

butter knife

cutting board

Small pot

timer
Ingredients
2

pc

bread

2

tbsp

pea puree

2-4

slices

smoked salmon

2

pc

large eggs

1

pc

lemon, zested

1-2

tbsp

fresh peas (optional)

a few sprigs of fresh dill

a small bag of mixed greens

extra virgin olive oil for garnish

freshly cracked black pepper

Maldon sea salt (optional)

softened butter (optional)
Instructions
Before you begin, make this pea puree. Instructions here.

Once the puree is finished, you can serve it warm or cold but I prefer it cold.

Fill a small pot of water high enough to submerge two eggs completely. Bring to a boil.

Once the water boils, gently lift the eggs into the water using a spoon. Set a timer for 6 minutes *(see notes!).

After the timer goes off, drain the water and run the pan under cold water for 30 seconds to stop the eggs from cooking further.

Crack the eggs at the bottom and carefully peel the eggs. Cut in quarters and season with sea salt and black pepper.

Pick out the most beautiful herbs and salad leaves from your salad mix.

Using your hands, tear them into bite-sized pieces. Soak them in a bowl of cold water for 5 minutes and then allow them to dry on a paper towel.

Cook the fresh peas briefly in boiling salted water until tender. Drain, rinse quickly in cold water and reserve in a small bowl.

Cut the salmon into thinner pieces using scissors.

Toast the bread until crispy around the edges and butter both of them.

Spread a generous amount of the pea puree on the buttered toast.

Add the quartered eggs, then wrap the smoked salmon pieces around the eggs.

Garnish with the lettuce, herbs, fresh peas, a few cracks of black pepper, a little zest of lemon rind (using the Microplane), Maldon salt and olive oil.
Notes
If you have really sweet fresh peas, you can serve them raw, but quick-cooking them is usually the better option.
*If you're cooking eggs straight from your fridge, then 6 minutes + 30 seconds will be better. For eggs stored at room temperature (like here in Europe) 6 minutes is perfect. These times are for large eggs. If you have smaller eggs then you'll need to cut back on the cooking time.
Nutrition
Calories:
177
kcal
|
Carbohydrates:
6
g
|
Protein:
6
g
|
Fat:
15
g
|
Saturated Fat:
8
g
|
Polyunsaturated Fat:
1
g
|
Monounsaturated Fat:
5
g
|
Trans Fat:
1
g
|
Cholesterol:
39
mg
|
Sodium:
272
mg
|
Potassium:
197
mg
|
Fiber:
1
g
|
Sugar:
1
g
|
Vitamin A:
1219
IU
|
Vitamin C:
23
mg
|
Calcium:
22
mg
|
Iron:
1
mg
Caesar Salad – The King of Salads
Still to this day my favourite salad. A rich, creamy dressing made with fresh egg yolks and loaded with umami flavour from the anchovies, sharp parmigiano cheese and fresh garlic. Finished with loads of cracked black pepper and fresh lemon. It's the king for good reason.
Check out this recipe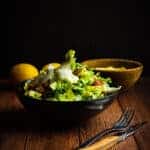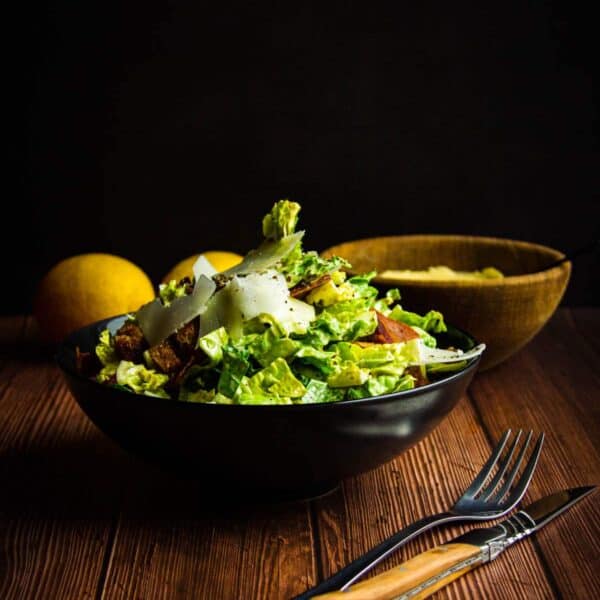 Shrimp Salad Lettuce Wraps with Avocado
Shrimp salad lettuce wraps are a great summer appetizer and a nice move for a dinner party. Full of fresh summer flavours like creamy avocado, crunchy veggies and wrapped in cold, crispy romaine lettuce.
Check out this recipe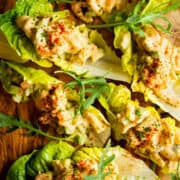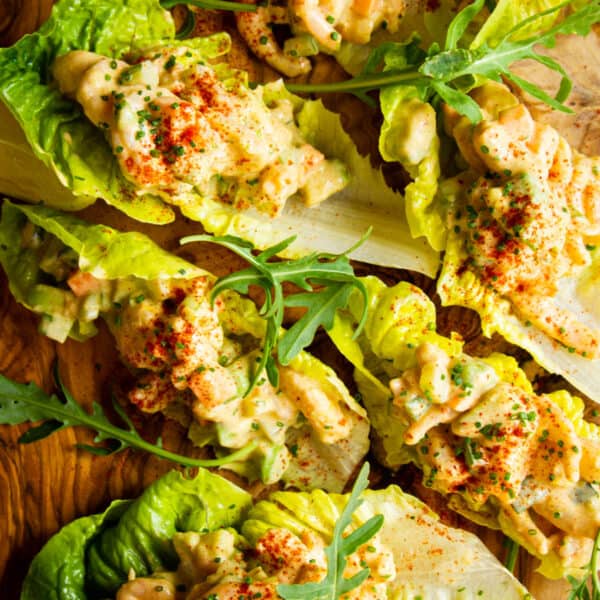 Zucchini Dip – The New Avocado Toast
This zucchini dip is so tasty it's new avocado toast. Light, fresh, vegan, keto, dairy-free, gluten-free, low-carb – this snack is SUPER healthy.
Check out this recipe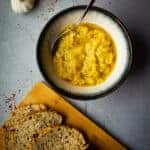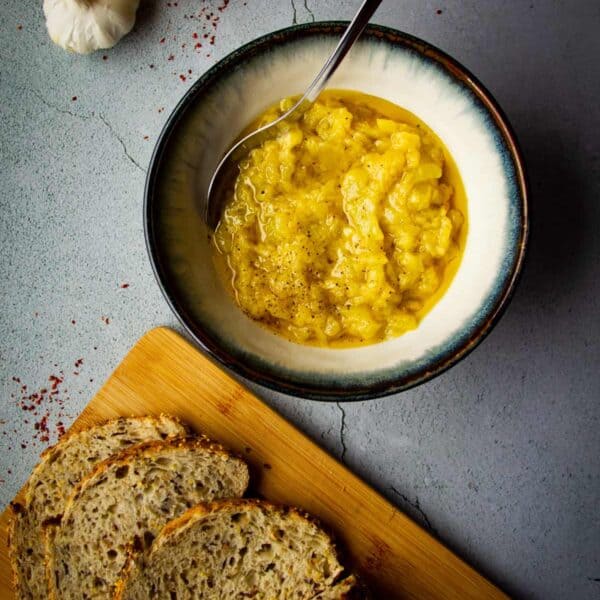 A White Asparagus Recipe
A white asparagus recipe with rolled ham, hard-boiled eggs, boiled new potatoes, fresh herbs and browned butter. The absolute best way to enjoy white asparagus.
Check out this recipe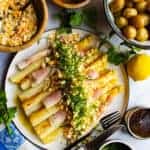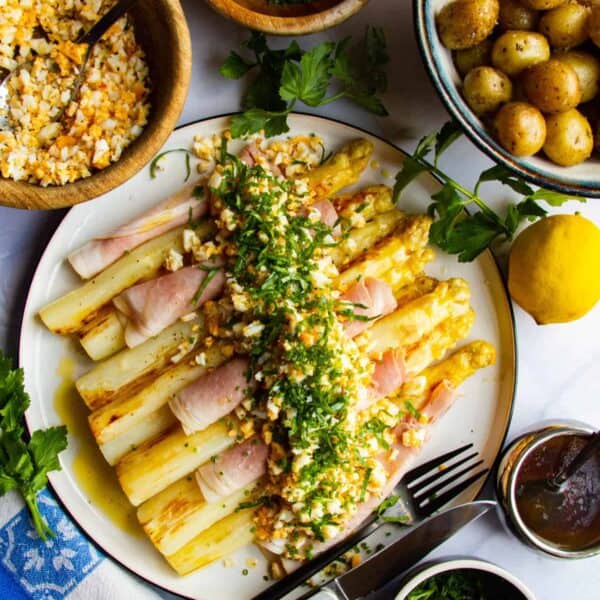 Sauteed Asparagus WIth Citrus Mayonnaise
This tasty sauteed green asparagus with citrus mayonnaise is ready in less than 20 minutes. Gluten free and vegetarian.
Check out this recipe