Anytime I see Padron peppers lying around in the market I jump on them without hesitation.
They're not only super tempting, but they're also ready in minutes!
And for those days when you don't feel like cooking, these are an easy win because you don't even need to cut them.
Just toss em' in a little good olive oil and you're good to go. Too easy.
But I think most Padron lovers can agree that eating them is the most fun. Because 1 in 10 peppers can be spicy, it's like playing a game of pepper roulette as you pass them around the table.
What are Padron Peppers?
Originating from Padrón, Spain, (who would have guessed?) these small peppers are mostly green but can also be orange, yellow and even red.
Most Padron peppers are pretty mild and sweet in flavour with the exception of a few spicy ones. The mild ones have almost no heat and are about as hot as a bell pepper.
The rare spicy Padron peppers can range from 500-2500 Scoville Units which is about half as hot as a jalapeno.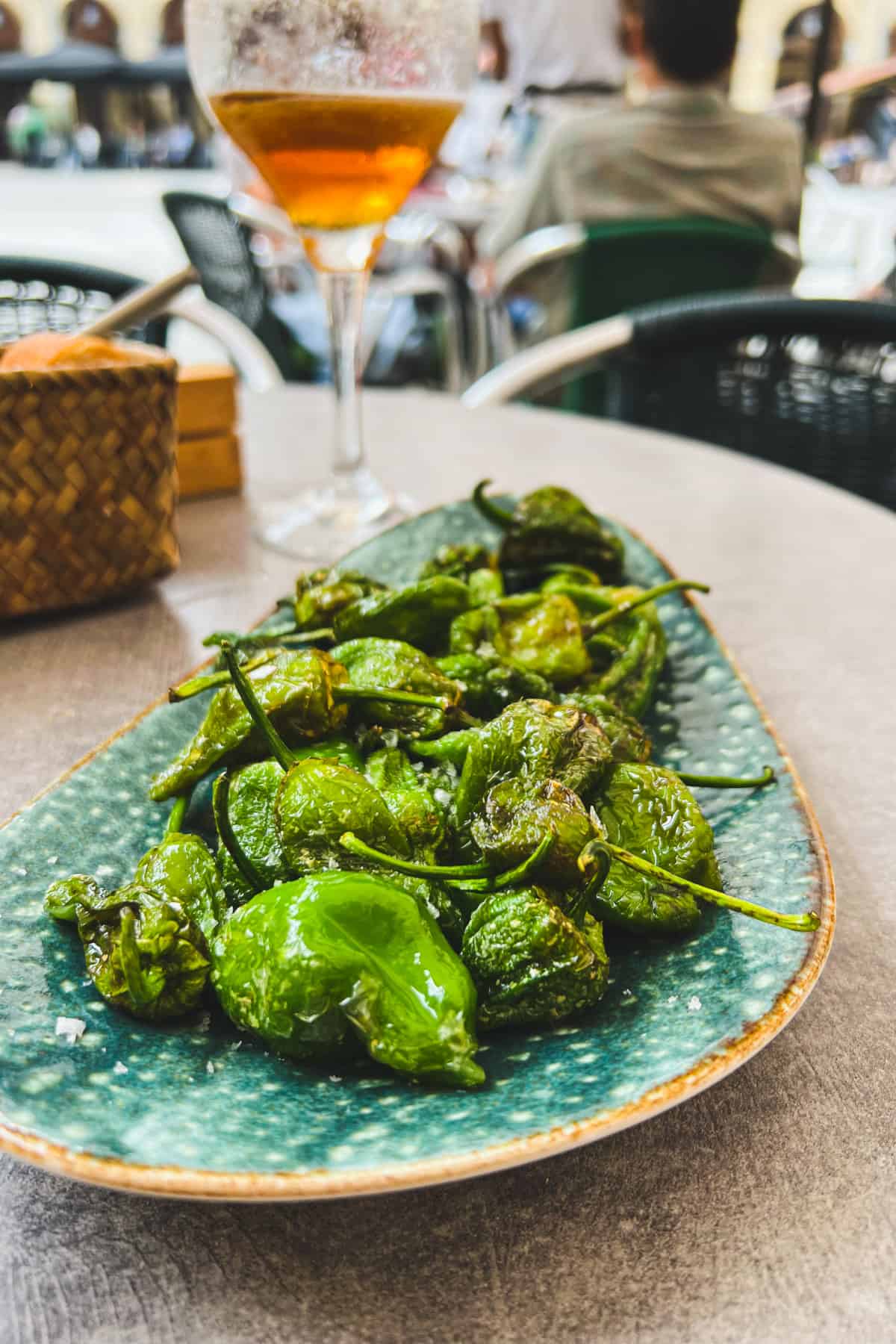 Key Ingredients
Maldon Salt – Yeah, I know, I'm obsessed with this coarse sea salt. But it works especially well in the recipe to add an extra crunchy texture to the soft peppers. I highly recommend you use coarse sea salt instead of regular table salt because the added texture and flavour are excellent.
Olive oil – A good olive is necessary for this recipe but you won't want to use the expensive stuff. Save your first, cold-pressed olive oils for salads and raw applications. The delicate flavour of expensive olive oil will be destroyed.
Ginger/Garlic/Lime Zest – This is the flavour bomb that you'll add at the end to make the peppers a little more interesting but these peppers are still very delicious on their own, even with just salt.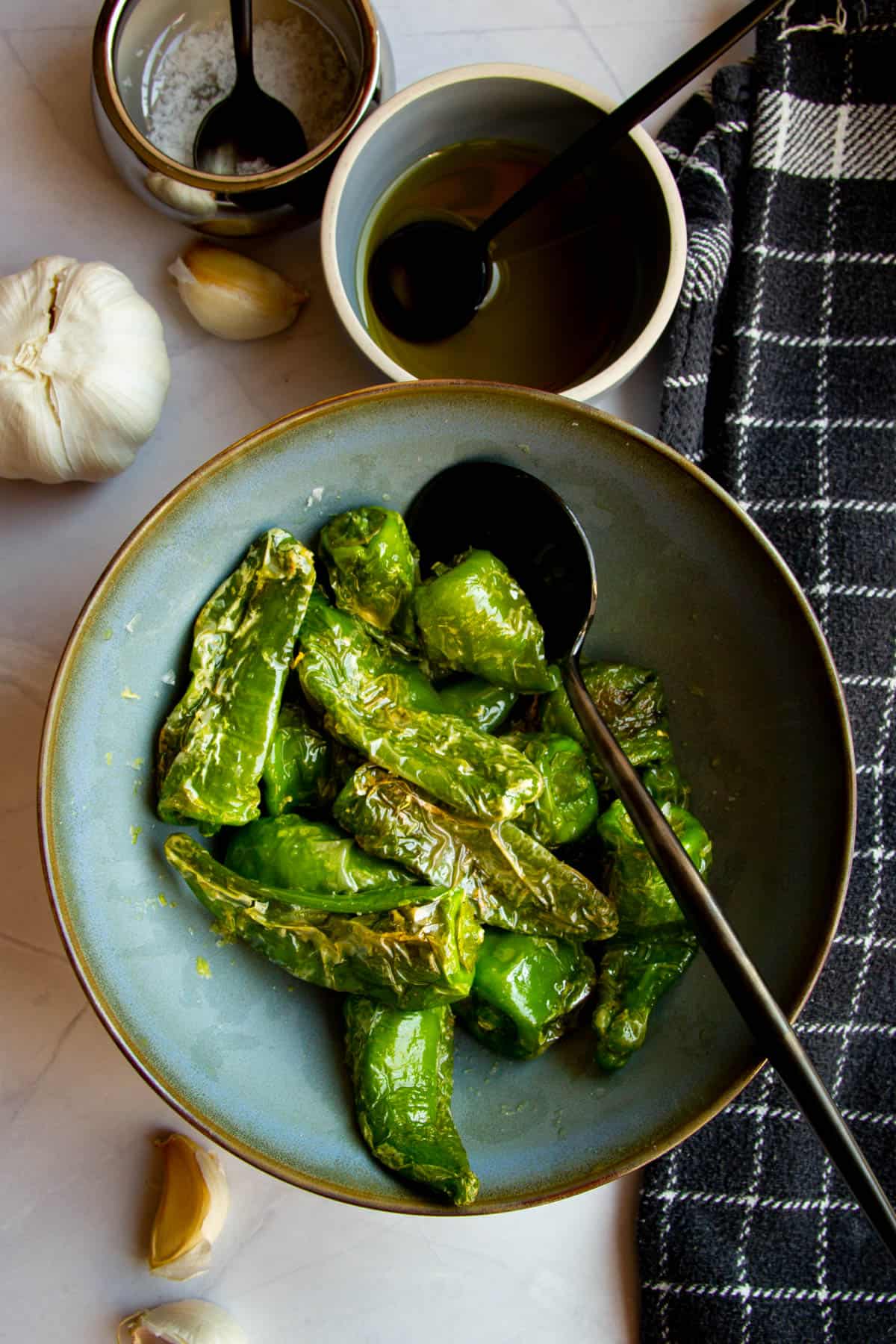 How to Cook Padron Peppers
Like I said earlier, these peppers are awesome because they're done in about 5 minutes.
To cook Padron peppers:
Heat them in a little bit of olive oil until the skin starts to blister.
Once the skins blister, they will begin to expand like balloons. They're ready when all sides are blistered and they've swollen up.
Shut off the heat, wait 30 seconds and hit them with garlic/ginger/lime zest mixture and toss well.
Season generally with coarse sea salt and serve right away.
The cooking process takes about 2-3 minutes total depending on their size. Taste one before serving as they should be soft with a bit of crunch.
It's important to add the garlic and ginger at the end so it doesn't burn.
What about Shishito Peppers?
If you can't find Padron peppers, shishito peppers are another tasty alternative that can be prepared the same way.
For cooking shishito peppers, you can use the same recipe here. Just keep in mind that they will cook even faster.
Like padrón peppers, 1 in 10 of them are hot and spicy.
How to Eat Padron Peppers
To eat these peppers, grab them by the stem and eat everything except the stems. Don't forget to dip them in the flavoured oil at the bottom of the bowl too!
These peppers are a perfect apéro served alongside a glass of dry white wine or as an accompaniment to pork, fish and chicken dishes.
Similar Recipes
This Charred Green Onion Chimichurri
Or More Keto Recipes…