I was surprised when Caroline told me she had never tried rainbow chard before. She loves vegetables but swiss chard is not so common in the Netherlands. And I'm not sure why because it's delicious and another easy dark green vegetable you can throw into your weekly dinner rotation. If you find good quality rainbow chard, try this recipe with a tasty pickled chard stem garnish that ensures nothing goes to waste.
My Nutrition Philosophy
As a Chef, my life revolves around food in a way I could not imagine not enjoying what I eat. I add some brown butter and sugar in this dish which is not as healthy as eating plain-steamed rainbow chard but this how I enjoy eating more vegetables. My philosophy is that if it persuades me to eat more vegetables, then it's probably a good thing.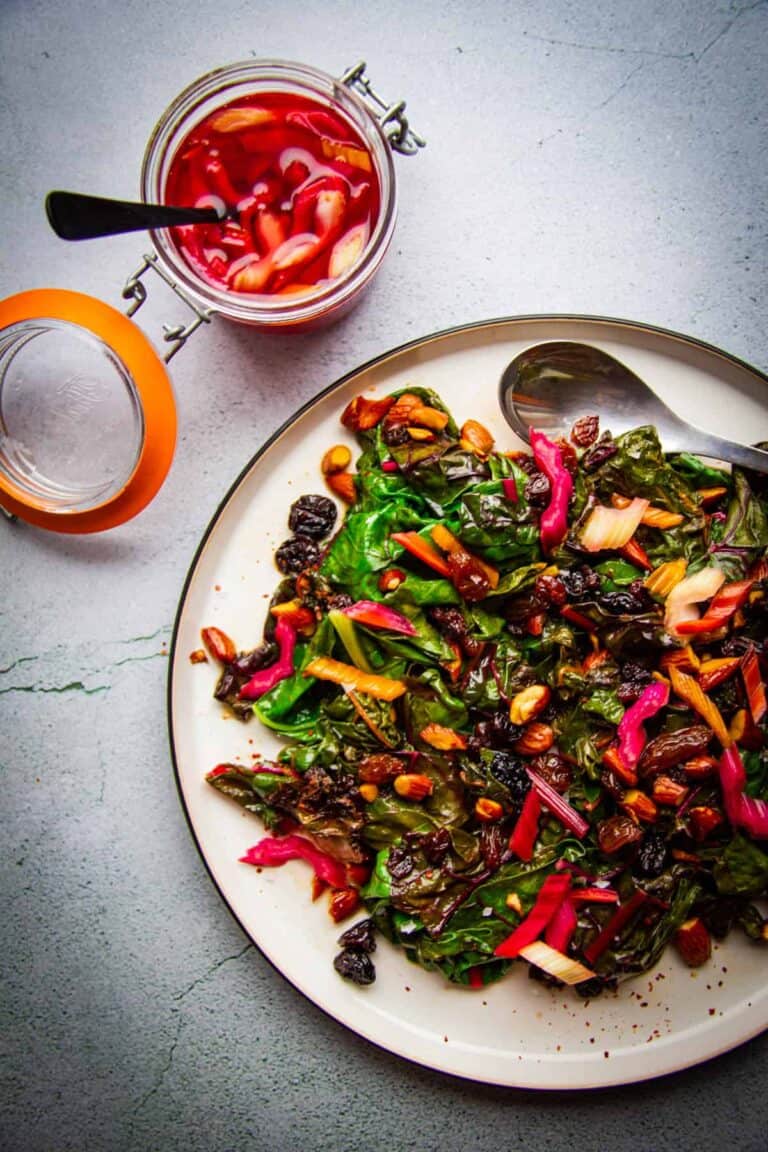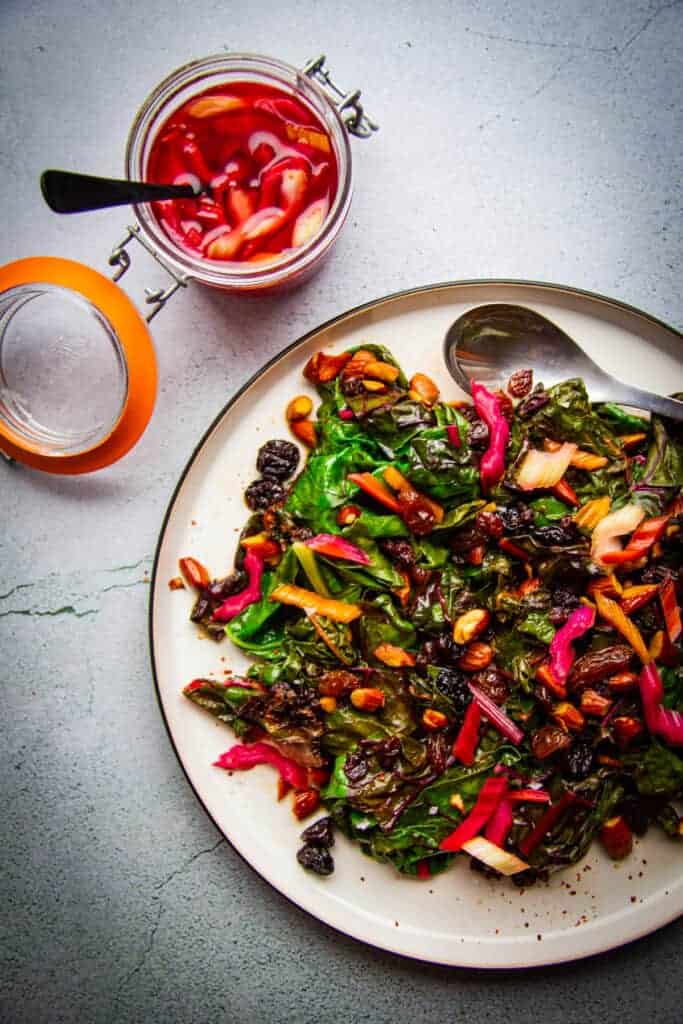 The reality is that a giant plate of this sautéed rainbow chard will be gobbled up happily without question and the kids might even love this too. A little extra sugar and butter might actually convince you to eat more vegetables. Let's face it, life's too short to not enjoy what you eat.
Rainbow Chard is a Nutritional Powerhouse
It's not just nice to look at, rainbow chard is also loaded with nutrition. Chard is packed full of vitamin K, A, and C, an a great source of magnesium, potassium, iron. Like most dark leafy greens, it's high in antioxidants including polyphenols, vitamin C, vitamin E and carotenoid plant pigments, such as beta-carotene which can help prevent cancer and lung disease.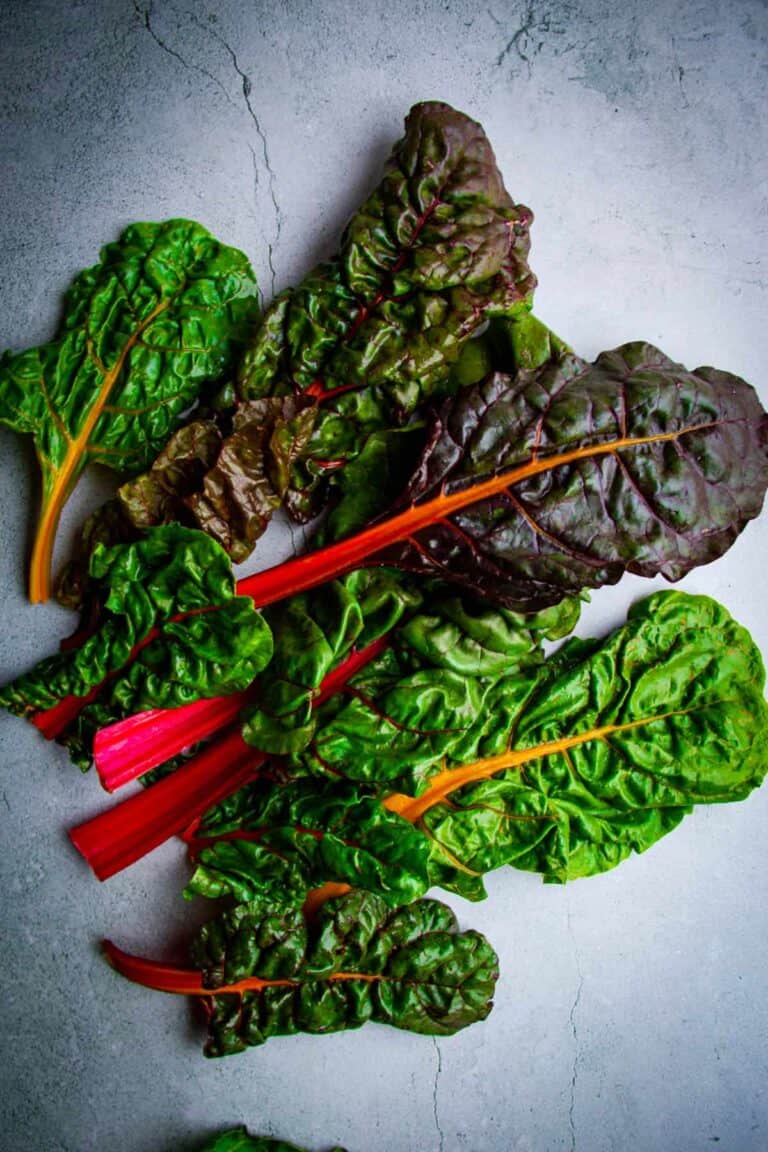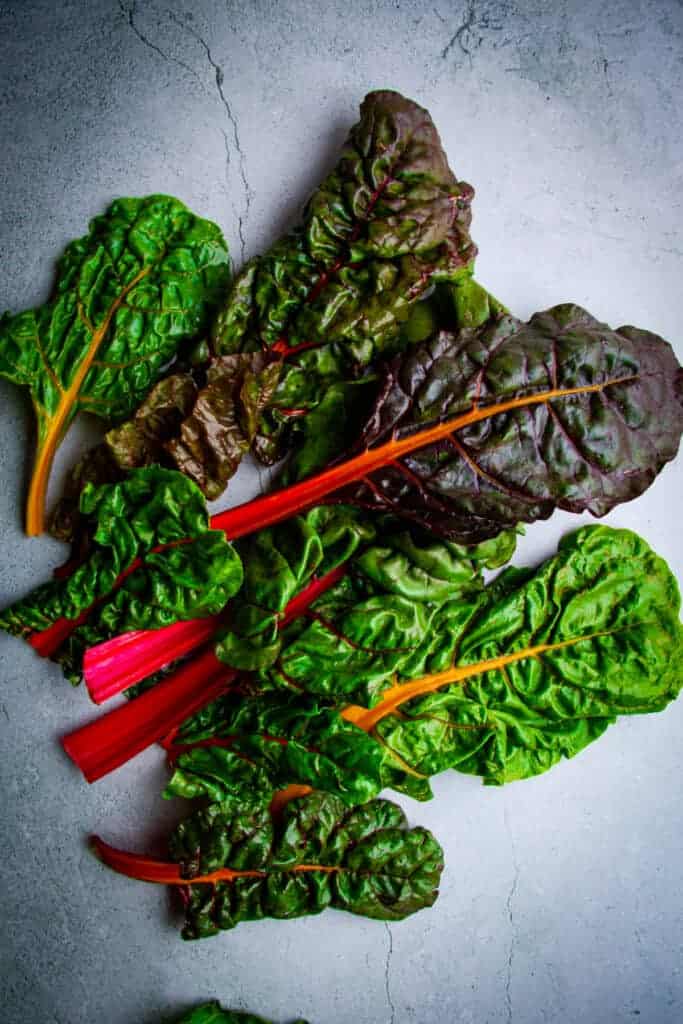 How To Prepare Rainbow Chard
Chard can be eaten raw but it can be a touch too bitter this way. If you find young swiss chard in the spring it's great in a salad with a simple lemon vinaigrette or even a touch of olive oil and balsamic vinegar.
My favourite way to enjoy rainbow chard is just barely cooked with a few delicious accompaniments including my secret weapon – brown butter.
Don't Throw Away the Stems
You can save the chard stems by pickling them. In this recipe I use a quick pickle recipe – meaning I pour over the pickling liquid hot instead of cold. The hot liquid will pickle the stems much faster whereas as cold pickle would take at least a couple of days. You don't have to add the pickled stems to the dish but I think it's nice to have an option to minimize food waste whenever possible. Plus you can save this for up to a month in the fridge and add the pickled stems to fried rice, salads, or eat them with a nice spread of thinly sliced cured meat.
If you decide to not make the chard pickle, use a splash of white wine in replace chard pickling liquid when cooking.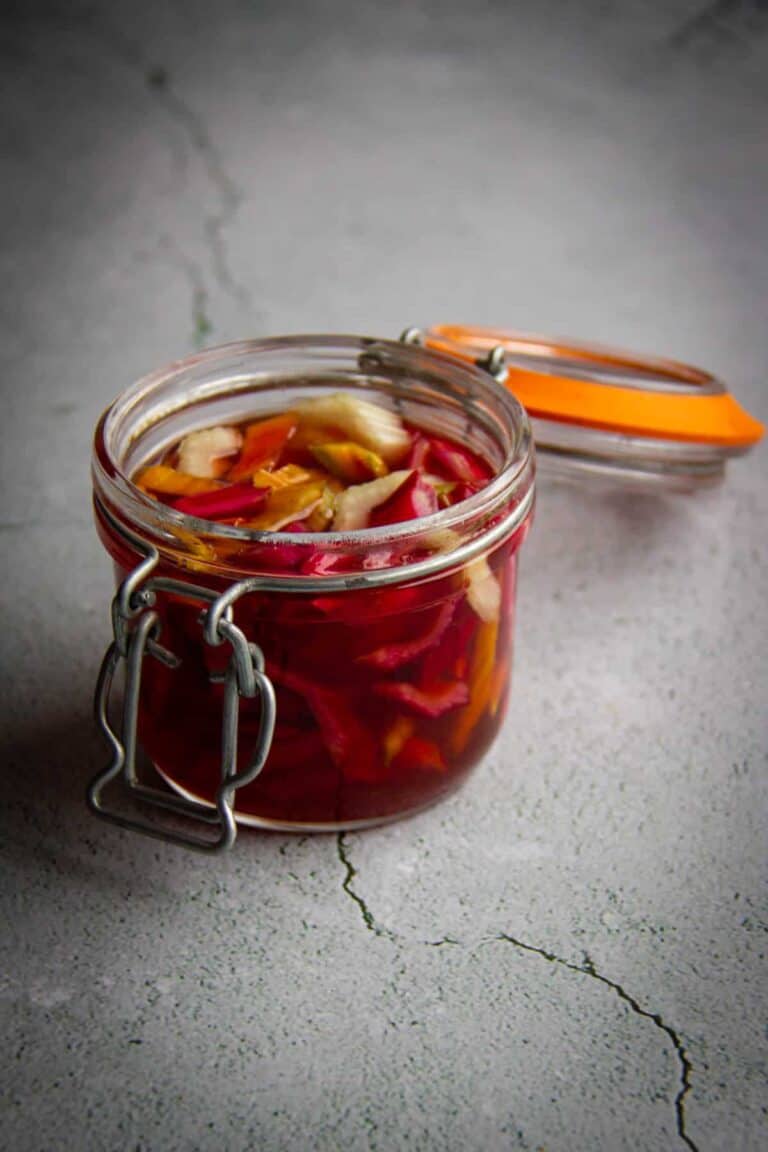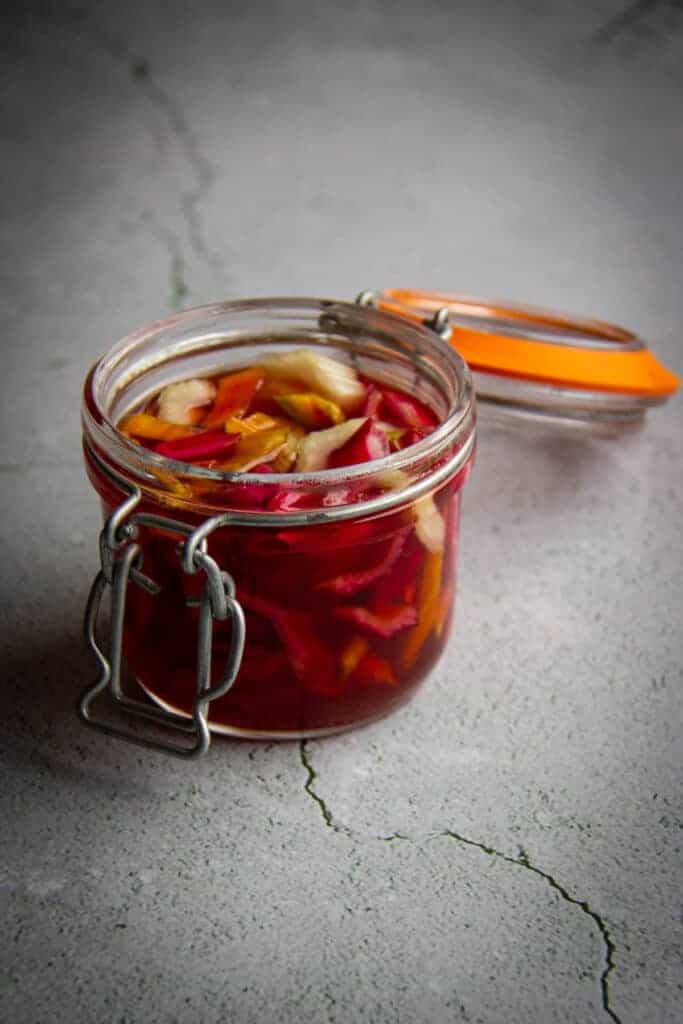 Tips For Cooking Rainbow Chard
Chard cooks very quickly as the leaves are very soft so it doesn't need too much cooking.
Always cook green vegetables on high heat to preserve the green colour. In this recipe we steam them very quickly to prevent them from turning grey.
The pickled chard stem will eventually all become the same colour if not separated. I don't mind them all being the same colour, but if you wish to keep some yellow, some white and some red then it's best to separate them in different jars while pickling.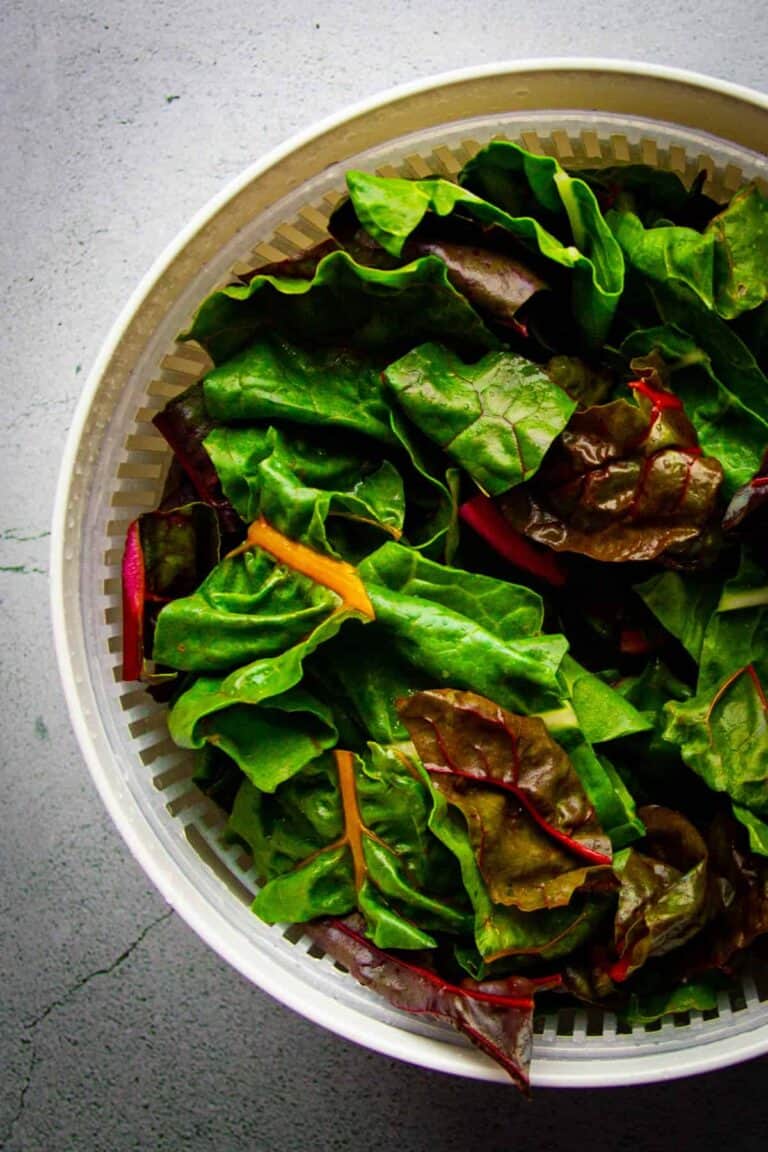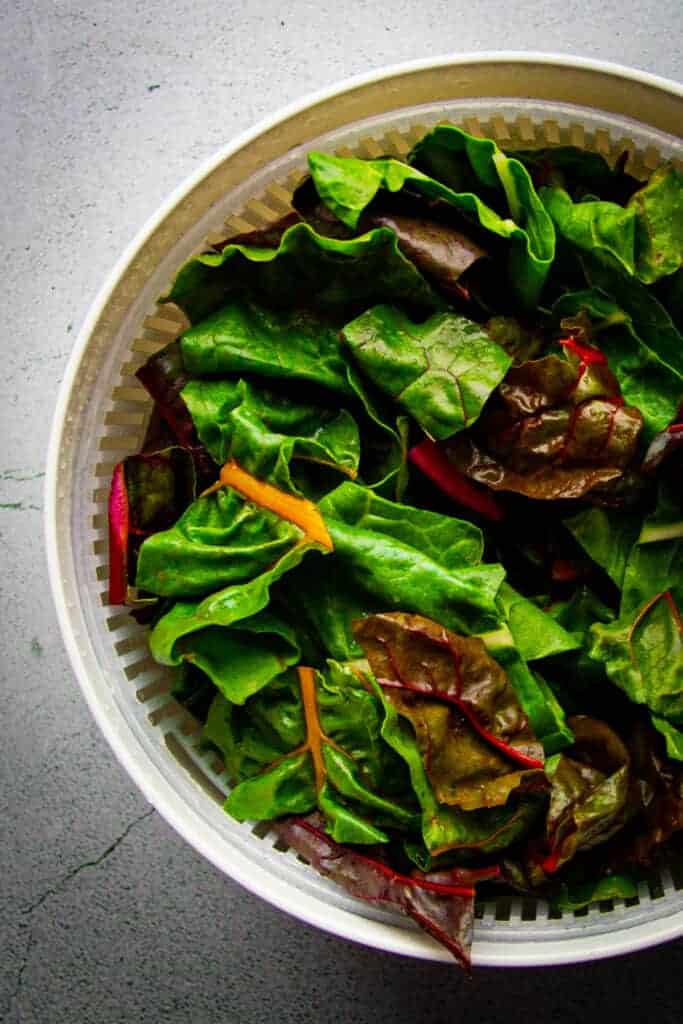 Recommended Tools
Pot with a Lid – A pot with a lid helps to steam the rainbow chard quickly and prevent the leaves from turning grey. I love using le creuset or all-clad pans but any pan with a lid will do.
Salad Spinner – This is a great tool for quickly drying vegetable leaves and ensuring that the end result will not be watered down.
This post contains Amazon affiliate links to products I recommend.