This is an extremely simple dish and that's why I love it. Zucchinis (or courgettes if you're in in the U.K and the Netherlands) are slowly cooked until they are broken down and only seasoned with a little bit of garlic, chili, lemon and salt and pepper. This delicious zucchini dip is cheap to make, easy, vegan and very healthy.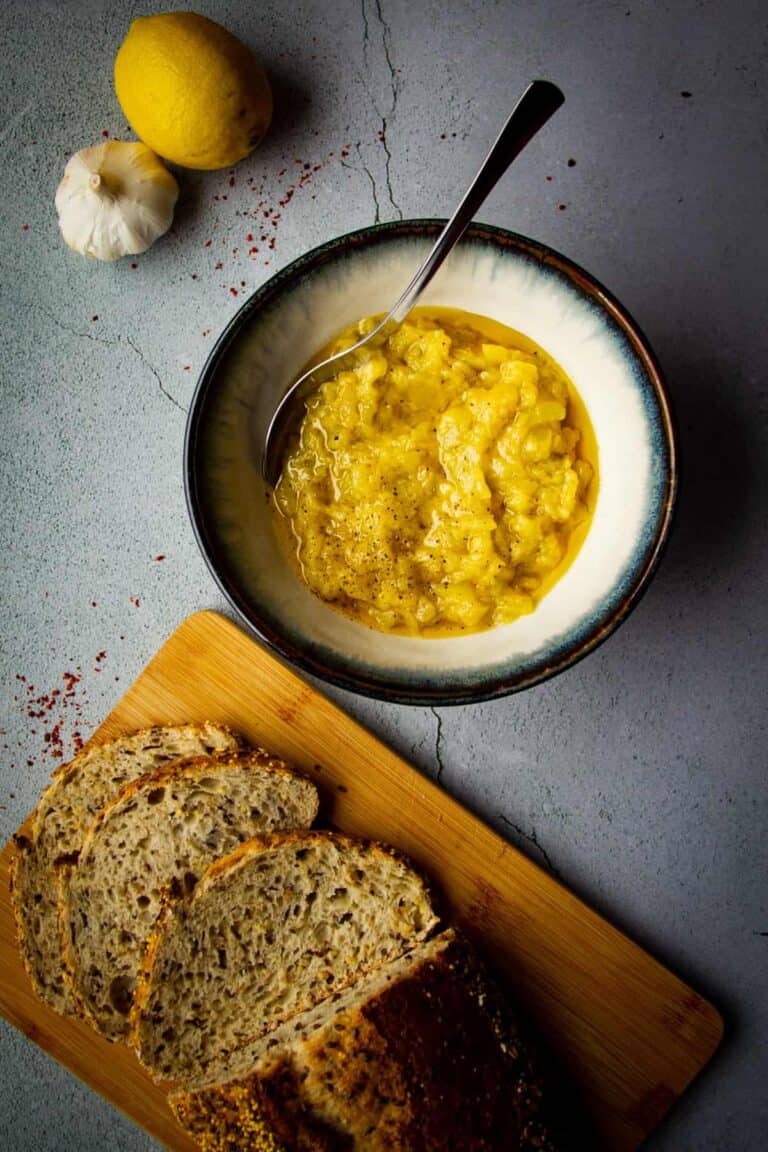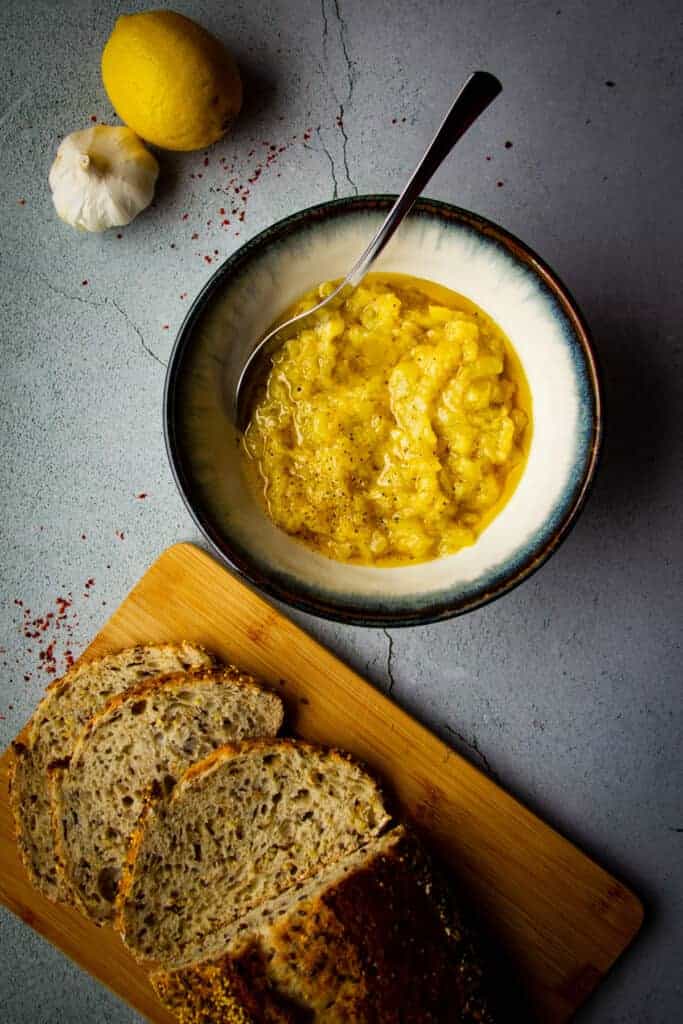 Why I Love This Zucchini Dip
Zucchinis have a very delicate flavour which is often covered up from other stronger ingredients. This dip is cooked with only garlic, chili, lemon and olive oil. That's it. The result is light, tasty and bursting with freshness.
Zucchinis are low-carb, low-calorie, and contain significant amounts of vitamin A, potassium and folate. I love zucchinis because they are versatile and always remind me of the start of summer with their peak season running from June to August.
New Avocado Toast?
One of the best ways to eat healthier is to incorporate some vegetables into your breakfast. This zucchini dip is great cold and spread over some multigrain toast in the morning with a couple of soft boiled eggs. It's so good it could be the new avocado toast, and it's also way cheaper! Making this dip is time effective because you can make a big batch and have it ready to go for the week in your fridge.
This is also a great way to reduce the meat in your diet which can be better for you and better for climate change. Two awesome benefits and all you have to do is swap the breakfast ham for this tasty spread.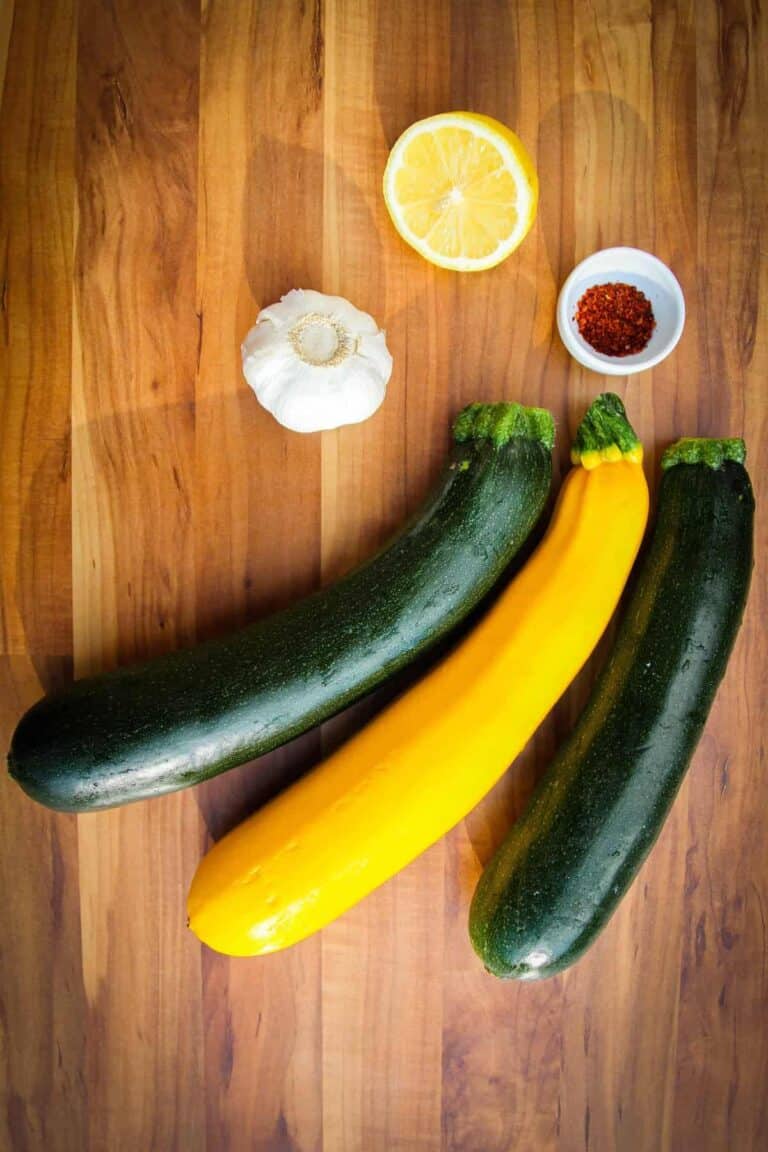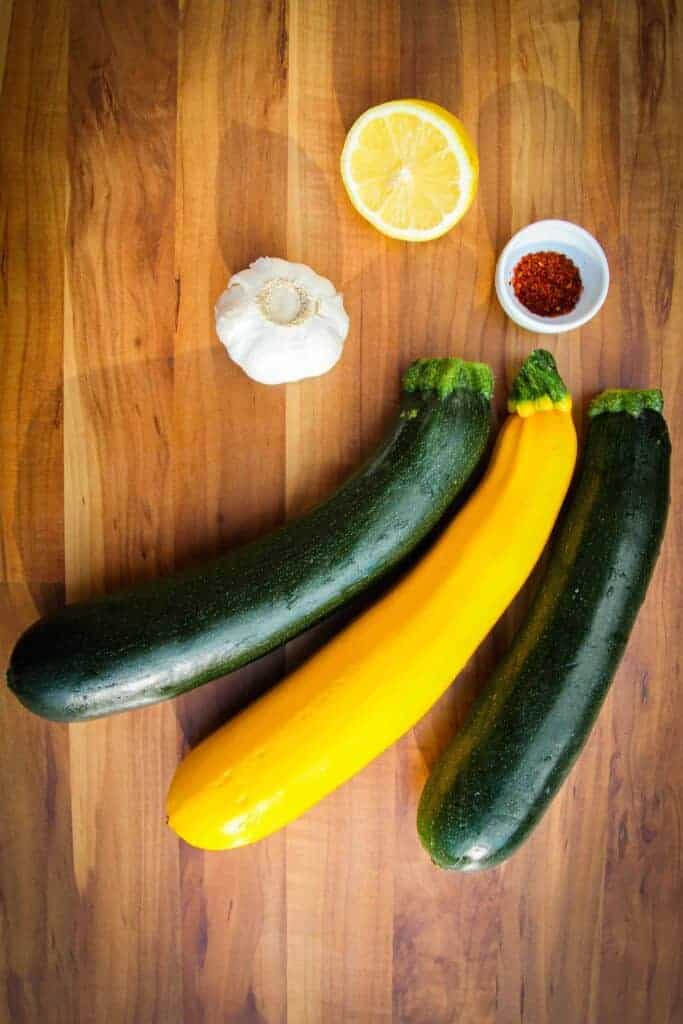 What Can I Use it For?
Add a few tablespoons of yoghurt and it's a healthy chip dip
Makes a nice sauce for salmon
Perfect on toast
Try This…
Add a bunch of fresh chopped basil at the end to freshen it up
Add some tahini and yoghurt to make a richer dip
Try with a pinch of sumac or coriander spice at the end
Recommended Tools for the Zucchini Dip
Instant Pot – This automatic pressure cooker works great because it's really quick to prepare and you don't have to worry about stirring the pot constantly. I
f you don't have an instant pot, I've included a stove top method below.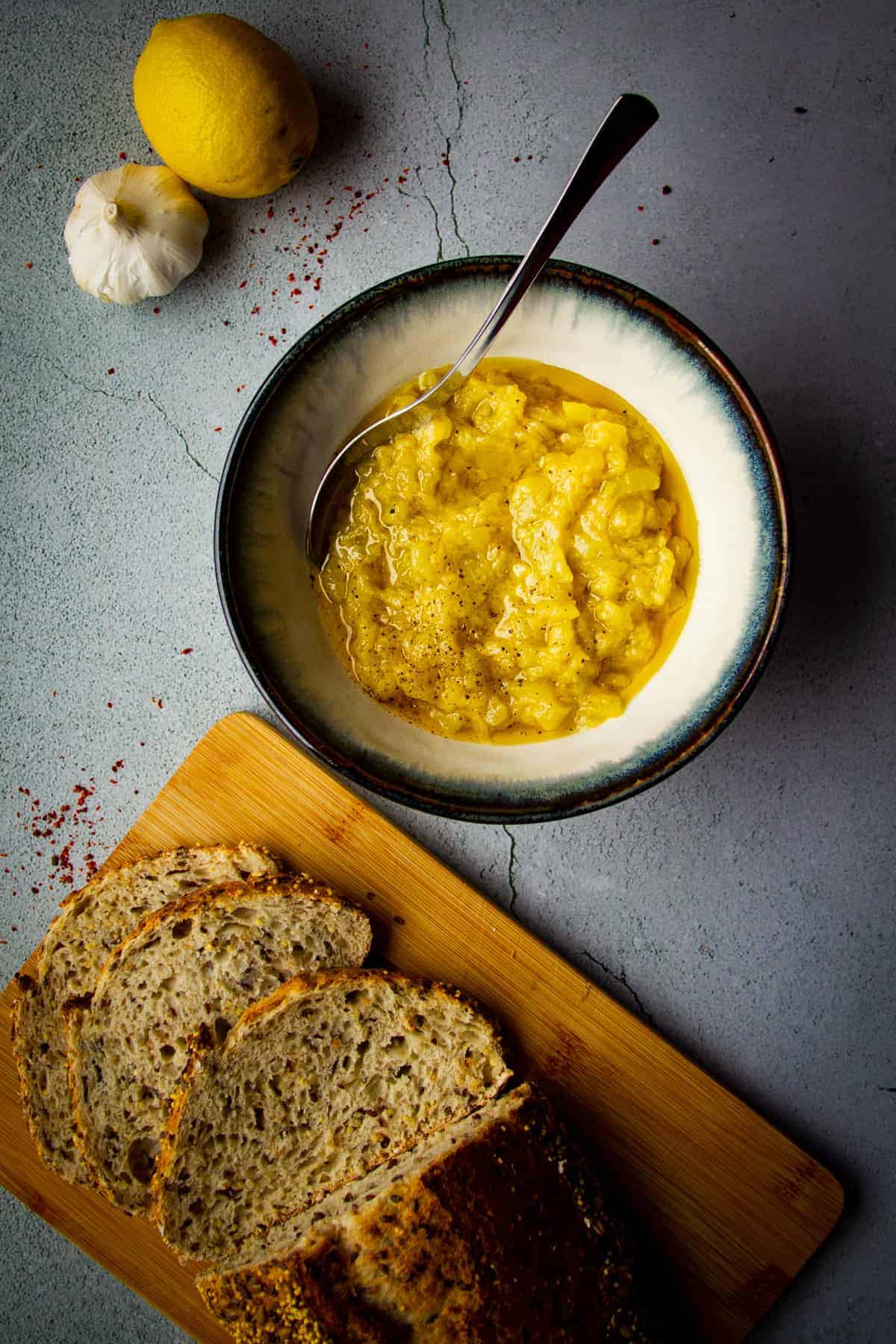 Equipment
Instant Pot (You can also use a normal pot with a lid)

Wooden spoon
Ingredients
2

whole

zucchinis

yellow or green

2

cloves

garlic

peeled

1

tsp

salt

65

g

olive oil

high quality

⅛

tsp

chili flakes

½

piece

lemon juice

2

tbsp

water

only if cooking with an instant pot
Instructions
First peel the zucchinis and cut into round slices about 1cm thick. Add them to a bowl with the salt and let them sit for 5 minutes.

Add the chili and the peeled garlic with the olive oil. This is the most important step because this is the flavour of the whole dish. If you burn the garlic you must start over as it will taste horrible.Normal Pot Cooking: Cook over low heat until the garlic sizzles and turns golden brown but not burnt. About 5 minutes. Discard the garlic.Instant Pot Cooking: Turn on the sauté function and cook the garlic until the garlic starts to sizzle. Turn off the sauté function and let cook for another 5 minutes or until golden brown. Discard the garlic.

Normal Pot Cooking: Add the salted zucchinis to the pot with the infused oil (they should be slightly wet now from the salt) and cook over low heat with a lid until they break down completely. About 15-20 minutes. You will need to stir occasionally so it doesn't stick to the bottom and burn.Instant Pot Cooking: Add the salted zucchinis with their juice to the pot with the infused oil. Add the 2 tbsp of water, and give it a quick stir. Close the lid and set to high pressure for 3 minutes. Depressurize naturally for about 10 minutes and then release the rest of the pressure with the valve.

Normal Pot Cooking: After the zucchinis have cooked down, break them up with a wooden spoon and continue to cook without the lid over low heat to thicken it up. Add a squeeze of fresh lemon juice and taste taste. Add more salt if you desire.Instant Pot Cooking: Once fully depressurized, turn on the sauté function and continue to cook for about 5 minutes until most of the water is gone and it starts to thicken up. Stir continuously, breaking up the cooked pieces with a wooden spoon as you go. Add the squeeze of lemon juice and taste. Add more salt if you like.

Let the dip cool in the pan (about 10 minutes) and transfer to a sealed container or jar with a lid. Refrigerate. This dip stays good for about 5 days and freezes really well.
Notes
Cooking the garlic correctly in the oil is the most important step. If you burn the garlic you must start over because it will taste horrible. 
It's important to always have some water in the pressure cooker to avoid the "burn" setting. 
Nutrition
Serving:
100
g
|
Calories:
147
kcal
|
Carbohydrates:
1
g
|
Protein:
1
g
|
Fat:
16
g
|
Saturated Fat:
2
g
|
Sodium:
583
mg
|
Sugar:
1
g
|
Vitamin A:
19
IU
|
Vitamin C:
2
mg
|
Calcium:
3
mg
|
Iron:
1
mg
This post contains Amazon affiliate links to products I recommend.
Mutabal – Roasted Eggplant Dip with Thick Yoghurt
Mutabal is a Middle Eastern dip consisting of cooked eggplant, tahini, garlic and thick yoghurt. It's served cold and attacked with fresh pita.
Check out this recipe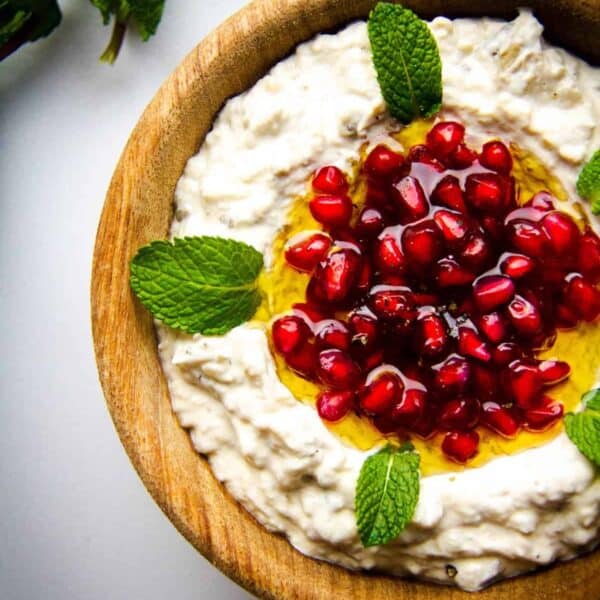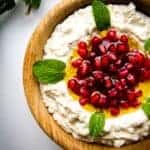 Vegan Pasta Pesto with Hazelnuts, Peas and Miso
A super easy vegan pasta pesto that's insanely healthy, gluten free and dairy free. It's ready in 15 minutes making this an easy and delicious weeknight meal.
Check out this recipe