After many trials of vegan brownies (8 to be exact), I've finally come to a recipe I'm happy with. Making normal brownies is easy but making 100% plant-based, vegan brownies is a completely different game. These vegan brownies are incredibly soft, intensely chocolatey and so good you won't miss the dairy or eggs. A great recipe to have if you have some vegan guests over for dinner or just want to eat more plants. 🌱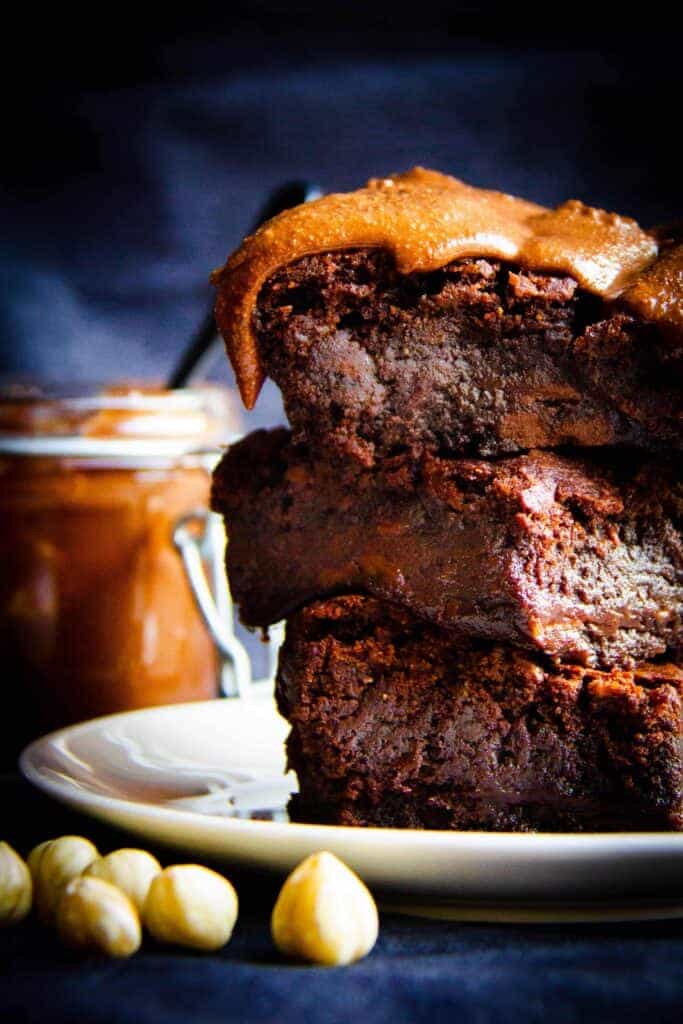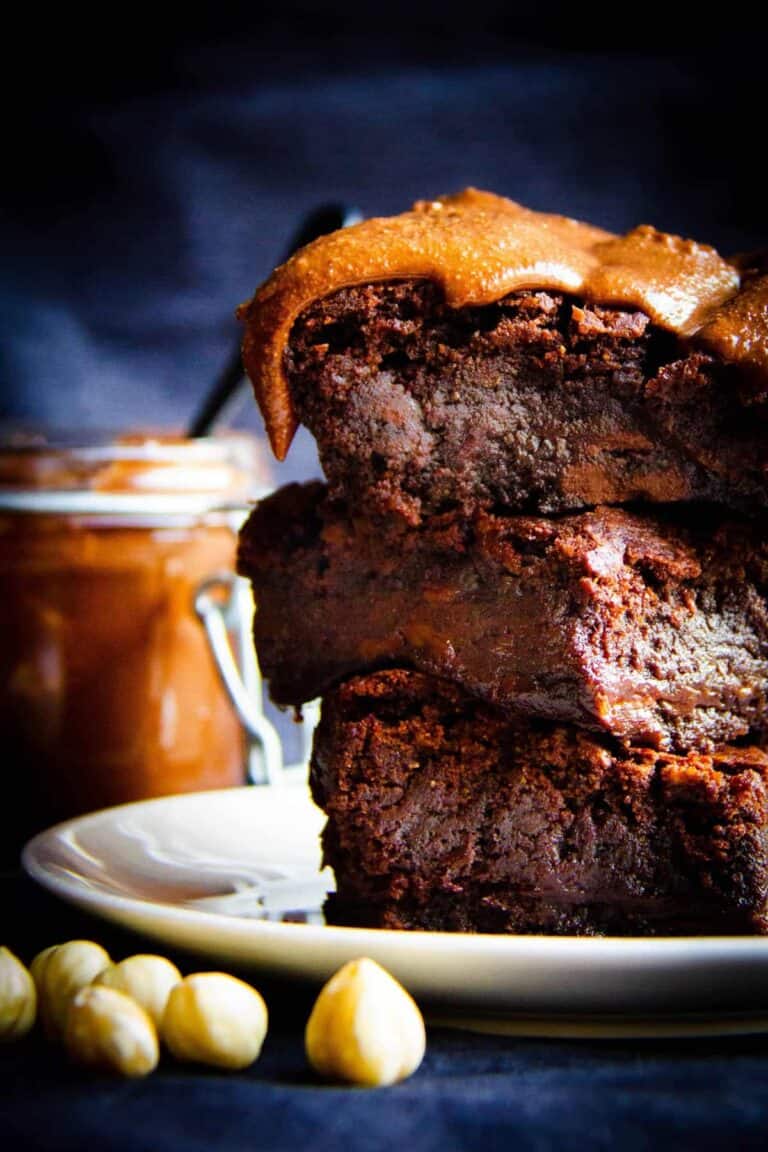 Brownie Trials & Tribulations
The biggest difficulty in achieving good vegan brownies is in replacing the eggs. Eggs help to emulsify the brownie batter so that it does not crumble and also help it rise. To replace the eggs we have lots of egg replacers in this recipe including: xanthan gum, apple sauce (pectin), flax seed, potato starch and corn starch. All of these ingredients act as emulsifiers which prevent sad crumbly brownies and instead result in soft gooey brownies that we all know and love.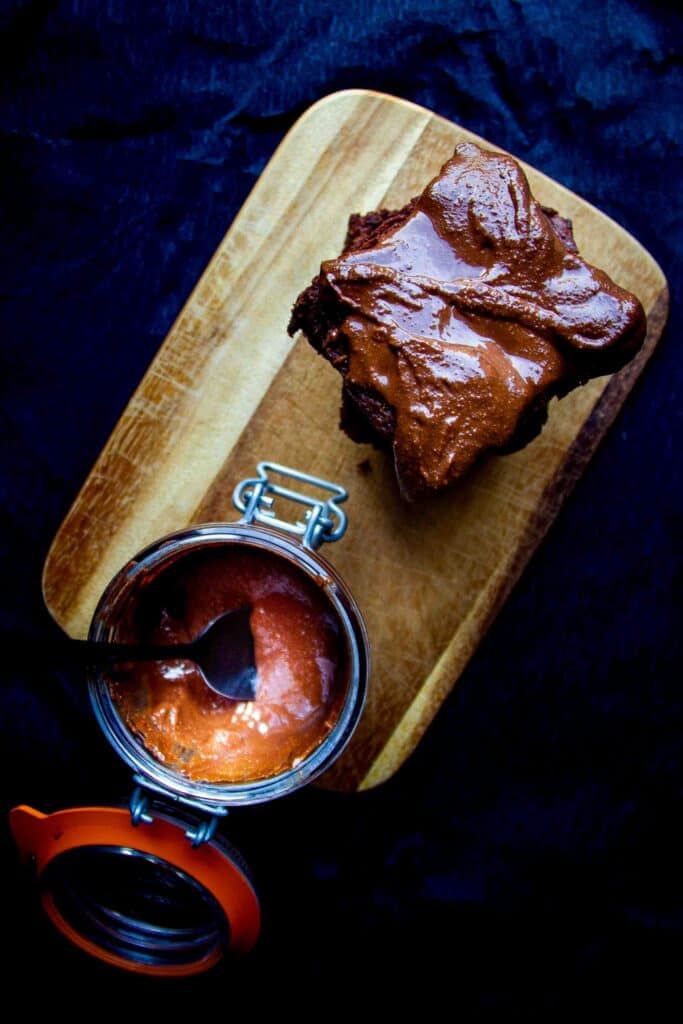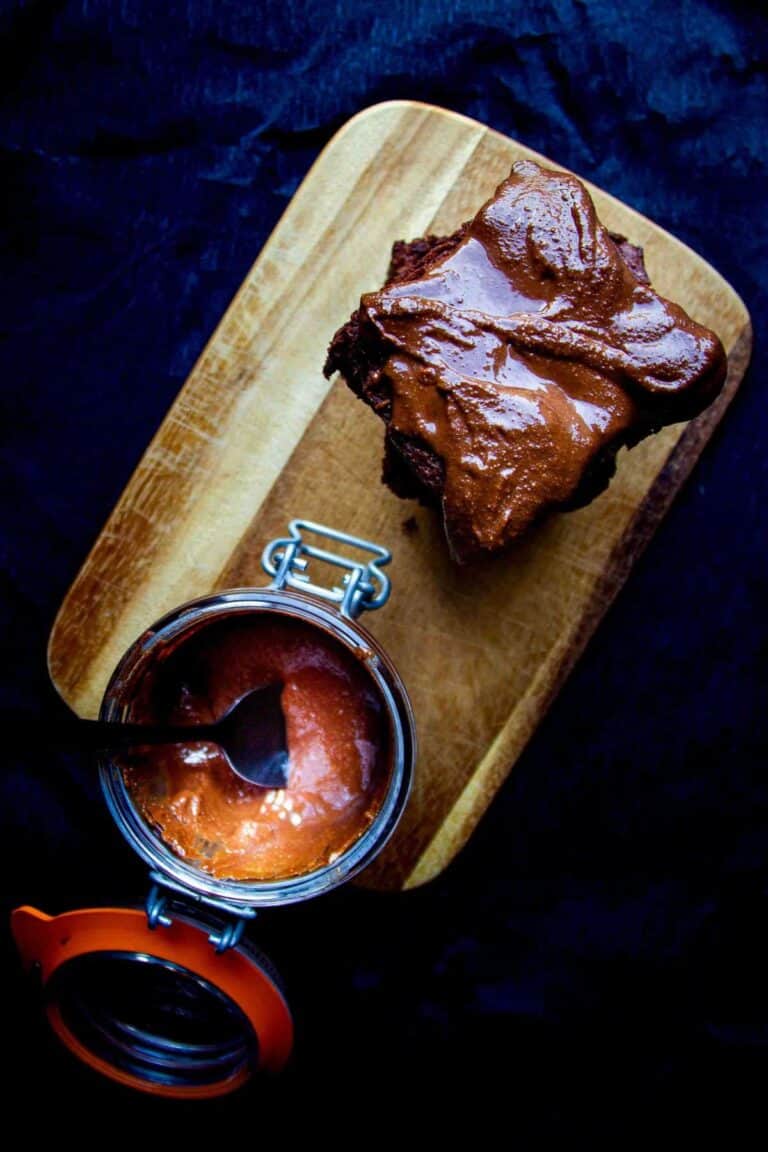 Notes on Xanthan Gum
I know it sounds scary but you don't have to be. It's essentially an emulsifier and thickening agent that is super useful in the modern kitchen. Xanthan gum is a fermentation of glucose or sucrose and a lot of restaurants (especially fine-dining) already use it frequently.
Xanthan gum has been tested since the 1960's and is used extensively in kitchens worldwide. It's also been approved by European Food Safety Authority (EFSA) which has some of the highest safety standards in the world.
I know it has a scary name but remember that a lot of ingredients we already use have scary names. Baking soda's real name is sodium bicarbonate and cream of tartar's name is actually potassium hydrogen tartrate!
Tips for tasty vegan brownies
Some of the ingredients may be difficult to find, but you really cannot omit these key ingredients: Xanthan gum, potato starch, corn starch, flax seed and apple sauce
You can substitute the oat-milk for any non-dairy milk or even fresh brewed coffee
Don't over-bake otherwise they will be dry. My oven is small and not so powerful so your oven may need less time.
Re-heat leftover brownies in the microwave for 20 seconds to bring them back to life
Make a double batch of my chocolate-hazelnut spread recipe and save some for icing the brownies.
Recommended Tools
Instant Read Thermometer – This will help you achieve the perfect brownie doneness. A Thermometer is a great tool to have in the kitchen for so many recipes.
Digital Scale – This is a must have tool for this recipe and mostl baking recipes. It's near impossible to make pastry recipes properly without measuring the ingredients on a digital scale.
*You will need to make a 2x batch of this vegan Nutella recipe before you begin!*
Chocolate Hazelnut Spread – Vegan Nutella
It's quick, easy, cheaper and just way better than any store-bought hazelnut spread. It's your own homemade vegan Nutella.
Check out this recipe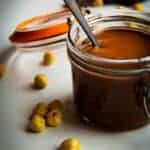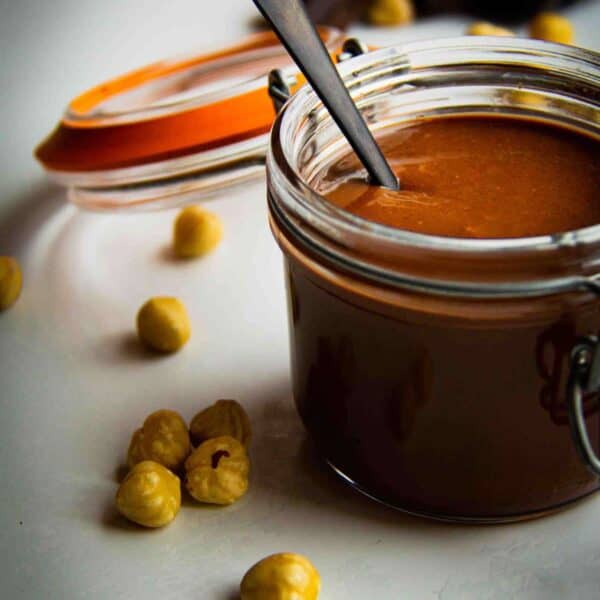 The Best Vegan Chocolate Hazelnut Brownies
A recipe for vegan brownies loaded with intense chocolate hazelnut flavour and drizzled with vegan nutella. Soft, rich and insanely chocolatey. I promise you won't miss the dairy or eggs.
Ingredients
Vegan Nutella Recipe – Bowl #1 –
Dry Ingredients – Bowl #2
170

g

all purpose flour

1 cup

50

g

potato starch

¼ cup

1

tbsp

corn starch

50

g

cocoa powder

⅓ cup

140

g

white sugar

½ cup

105

g

brown sugar

½ cup

2

tsp

baking powder

¼

tsp

baking soda

½

tsp

xanthan gum

¾

tsp

salt
Wet Ingredients – Bowl #3
150

g

apple sauce

½ cup

120

g

coconut oil, neutral flavoured & melted

½ cup
Bowl #4
120

g

oat-milk, or any other vegan milk

100ml

1

tbsp

ground flax seed
Bowl #5
100

g

chopped dark chocolate (vegan)

or toasted hazelnuts if you like
Instructions
Chop the chocolate into big pieces and set aside. I like to use a breadknife for this.

Set the oven temperature to 170C/350F. Measure everything out into the five bowls.

Add a sprinkle of water to the pan. This will help the paper to stick.

Place the parchment paper on the pan. Cut the edges if needed.

Throughly mix the dry ingredients with a whisk so that everything is evenly distributed. This is very important when working with xanthan gum because a small amount is very powerful and needs to be mixed properly.

Mix all the bowls together with the whisk except the chocolate pieces until nicely incorporated and no lumps.

Switch to a spatula once it thickens and mix in the chocolate pieces

Bake for approx. 35 minutes or when it reaches 165°F/75°C on a thermometer.

Cool for 15 minutes. Cut into nice squares and top with the extra nutella spread for icing!
Notes
Always measure ingredients with a digital scale if you have one because it's more accurate and will always provide better results. 
Nutrition
Calories:
1134
kcal
|
Carbohydrates:
157
g
|
Protein:
13
g
|
Fat:
55
g
|
Saturated Fat:
44
g
|
Cholesterol:
1
mg
|
Sodium:
782
mg
|
Potassium:
794
mg
|
Fiber:
12
g
|
Sugar:
95
g
|
Vitamin A:
59
IU
|
Vitamin C:
1
mg
|
Calcium:
277
mg
|
Iron:
9
mg
This post contains Amazon affiliate links to products I recommend.
The World's Finest Vegan Banana Pancakes
They're soft, light and made entirely from plants. I love this recipe for vegan pancakes because it's easy to make, lighter than normal pancakes and ridiculously comforting.
Check out this recipe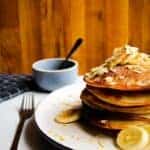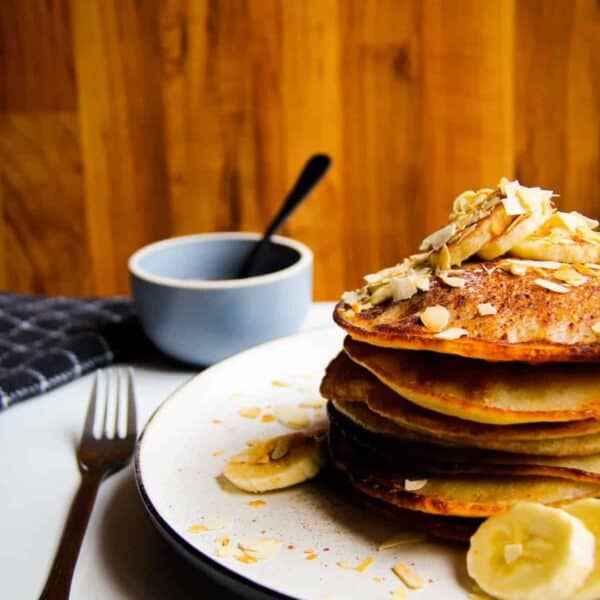 Zucchini Dip – The New Avocado Toast
This zucchini dip is so tasty it's new avocado toast. Light, fresh, vegan, keto, dairy-free, gluten-free, low-carb – this snack is SUPER healthy.
Check out this recipe