Brussel sprouts with banana?!
HAVE YOU LOST YOUR MIND DEVAN?
No, I'm still relatively sane, but this strange combination is definitely delicious and worth a try.
When Accidents Make Miracles
Brussel sprouts with bananas may sound like I've lost my mind but it is surprisingly good.
This genius idea was made famous by 3 star Michelin chef Tim Raue of Berlin. In his book, he describes accidentally tasting banana and brussel sprouts together while running through the dessert and hot sections of his restaurant. 
To his surprise, a brand new and delicious flavour combination was born.
Sometimes accidents create great things. Penicillin, the microwave, x-rays and corn flakes are all examples of accidents that later changed our lives forever (yes cornflakes too). I hope this recipe will change your life forever too. 😆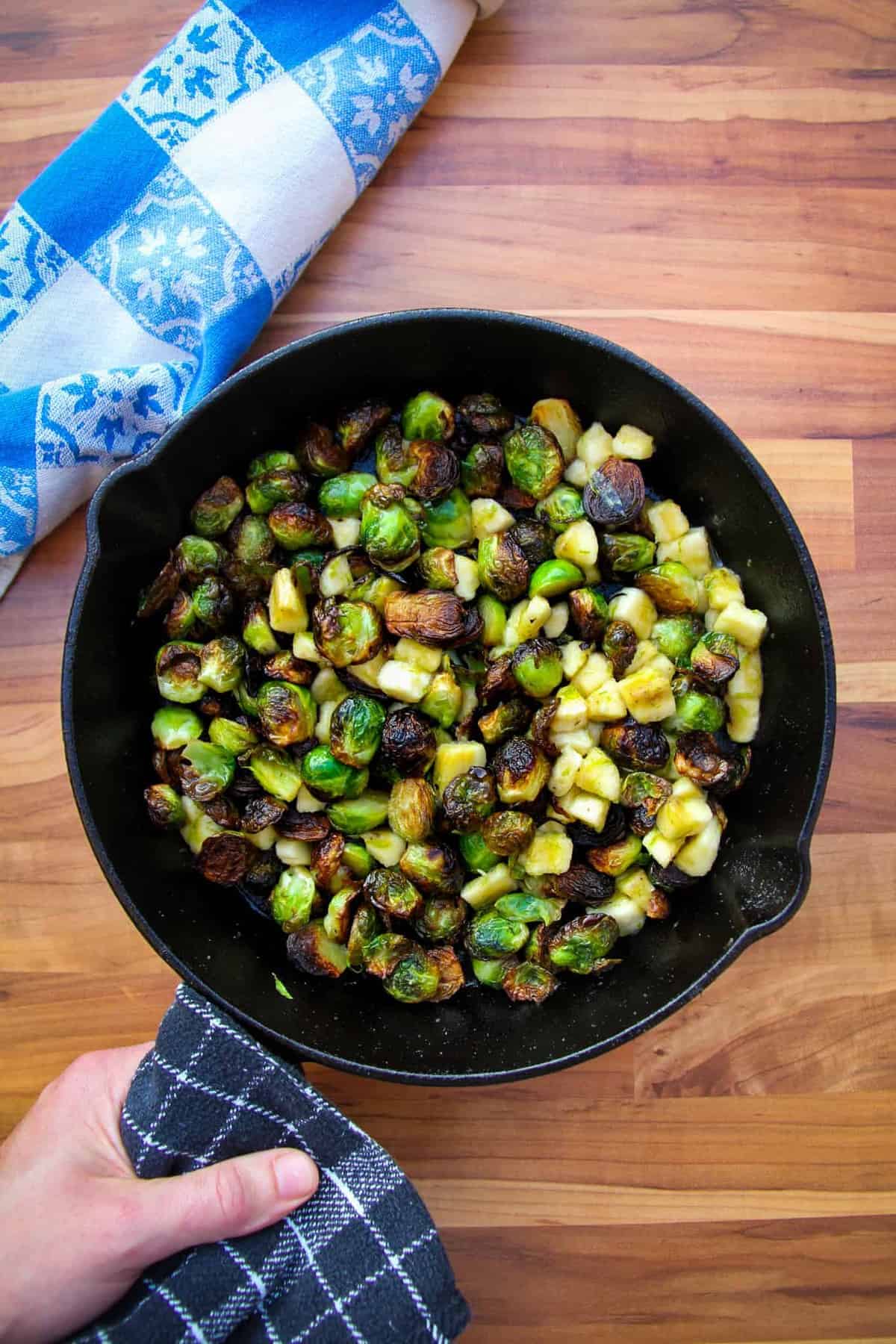 Brussel Sprouts with Kaffir Lime
Kaffir limes are my favourite citrus fruits on the planet.
I was lucky enough to experience their awesome flavour while working in Paris because the chef had an incredible citrus supplier in the South of France. Unfortunately, they are so difficult to find here in the Netherlands but if you manage to get your hands on these beauties then definitely use them in this recipe.
But if you can't find them don't worry, normal lime with brussel sprouts will still be delicious.
How to Serve the Sprouts
This dish is delicious with chicken, pork, a nice mix of other vegetarian plates and can take your Thanksgiving dinner to the next level. It's also very healthy, vegan, gluten-free and dairy-free!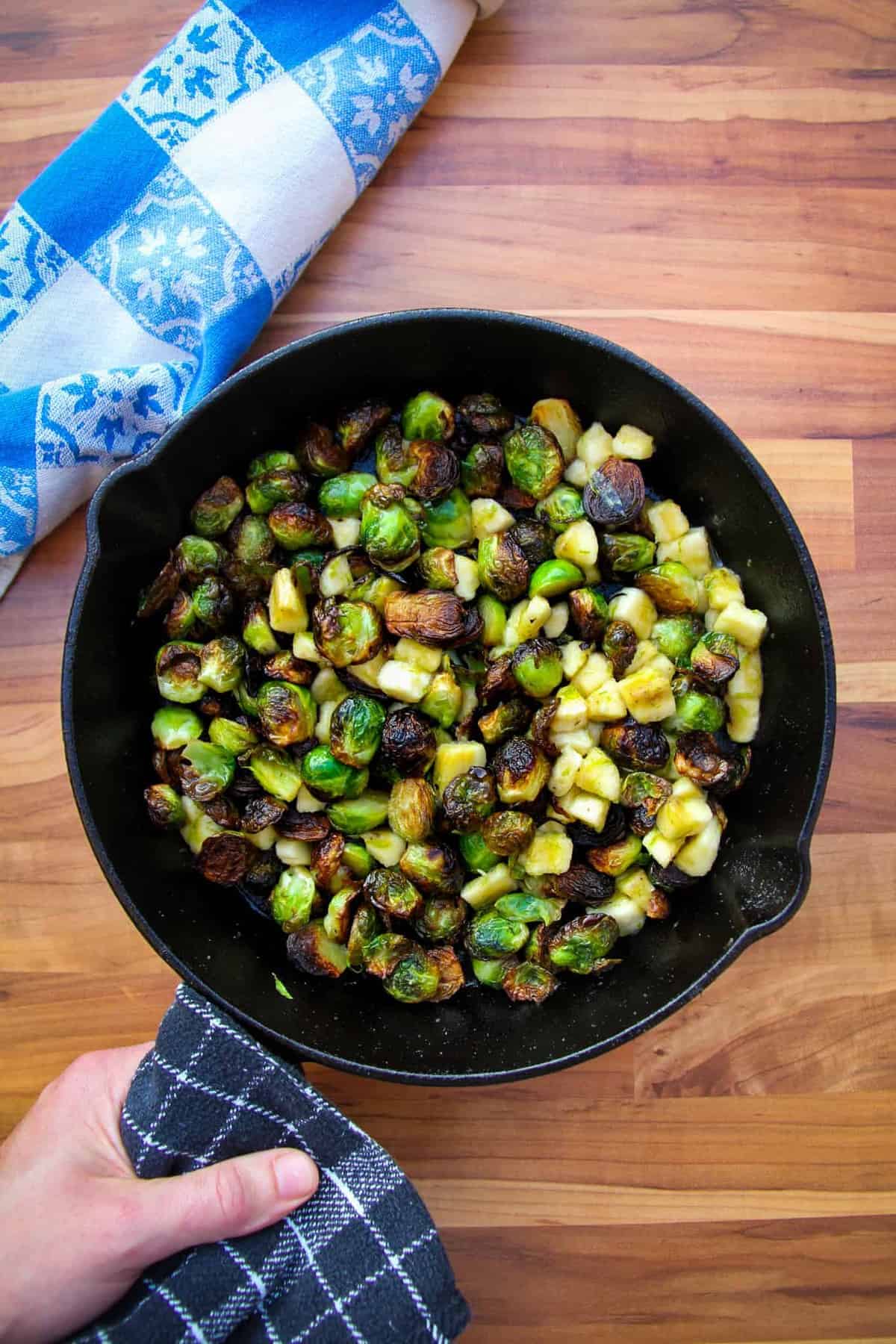 Equipment
Roasting tray or cast iron pan

Parchment paper
Ingredients
50

ml

peanut oil

or high smoke-point oil such as canola oil

1/2

kg

brussel sprouts

1

whole

banana

½

piece

lime

zested and juiced

salt and pepper to taste
Instructions
Heat the oven to 425°F/ 210°C full convection.

With a small pairing knife remove the small stem (careful not to go too far or all the leaves will fall off) and then cut in half. Save the brussel leaves that fall off for something later if you want. Make sure the brussel sprouts are very dry.

Peel and cut the banana into small pieces and set aside. Zest and juice ½ the lime into the bowl with the cut bananas. Mix

Set a large cast-iron pan on high heat. Add the peanut oil and wait until it is almost smoking. Add the brussel sprouts all at once and quickly turn them on the flat side. *Be careful whenever adding anything that contains water to hot oil as it may splatter.

Continue to fry the sprouts until nicely golden on the bottom. You may need to add more oil so they fry evenly. Season heavily with salt.

Once the sprouts are nicely coloured put the pan in the oven to continue cooking or alternatively you can roast them on a baking tray like in the picture. Roast for about 5-10 minutes until they are tender.

When they are hot out of the oven add the bananas, lime zest and juice and mix together in a bowl or on the tray. Check the seasoning. Serve and enjoy!
Nutrition
Calories:
334
kcal
|
Carbohydrates:
24
g
|
Protein:
9
g
|
Fat:
26
g
|
Saturated Fat:
4
g
|
Sodium:
63
mg
|
Potassium:
973
mg
|
Fiber:
10
g
|
Sugar:
6
g
|
Vitamin A:
1885
IU
|
Vitamin C:
217
mg
|
Calcium:
111
mg
|
Iron:
4
mg