Okay…okay… I know what you're probably thinking…
Crispy roasted Brussels sprouts sound glorious!
But with bananas?
Have you lost your mind, Devan?
No, I haven't lost my mind and yes Brussels with banana is a winning combination that you've got to try.
The added sweetness from the banana and the tang from the lime balances the bitterness from the sprouts perfectly.
And for anyone dreaming of crispy sprouts, I've got a few tips to make that happen.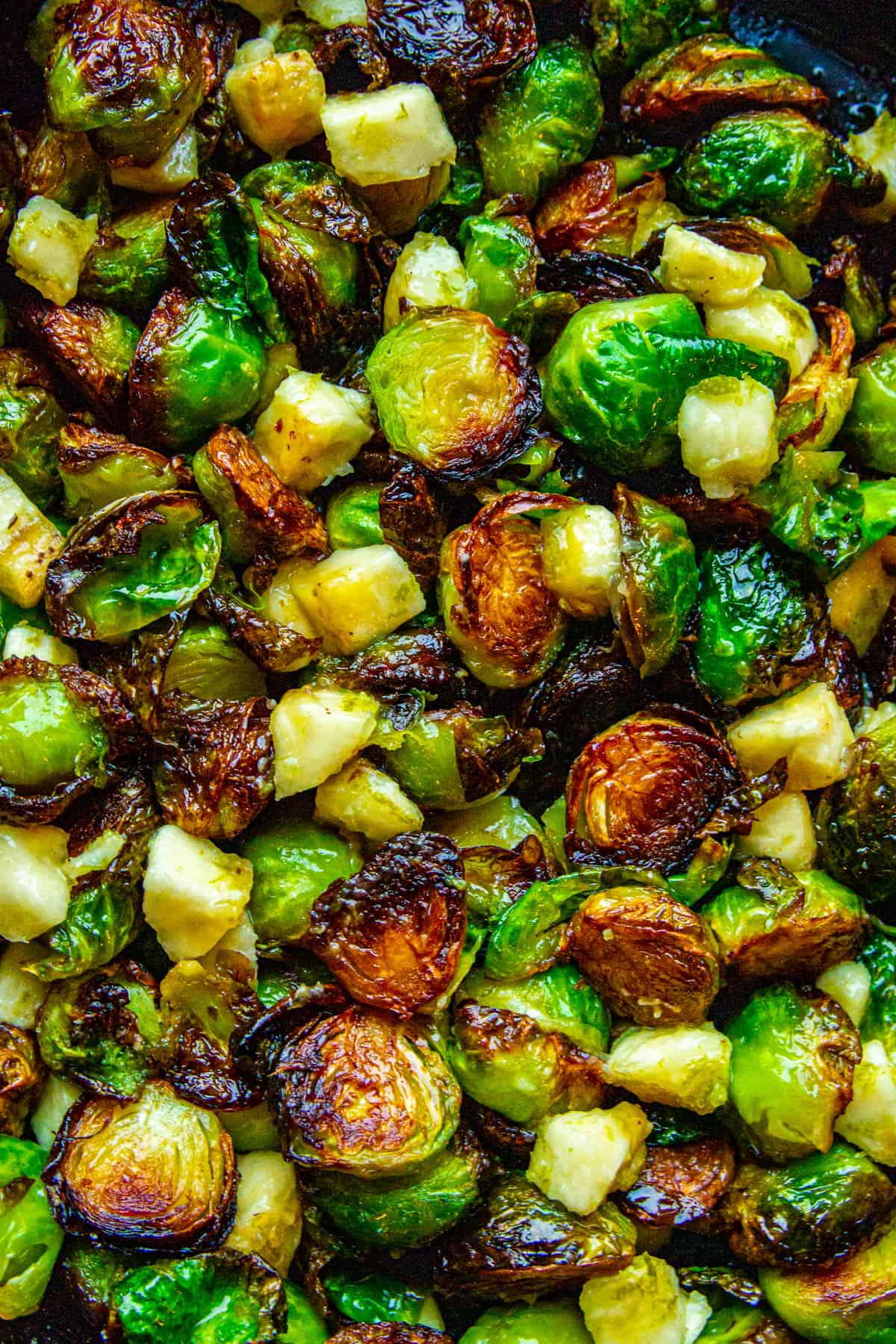 Crispy Roasted Brussels Sprout Miracles
So where did this idea come from?
This odd but genius flavour combination was made famous by 3-star Michelin chef Tim Raue of Berlin. In his book My Way, he describes accidentally tasting banana and Brussels sprouts together while running through the dessert and hot sections of his restaurant. 
To his surprise, a brand new and delicious flavour combination was born.
Immediately after reading Raue's story, I knew I had to try it but with my favourite method for cooking sprouts: pan-fried with a quick roast at the end.
And the good news is my recipe is really easy and won't take as long as a 2 star Michelin dish.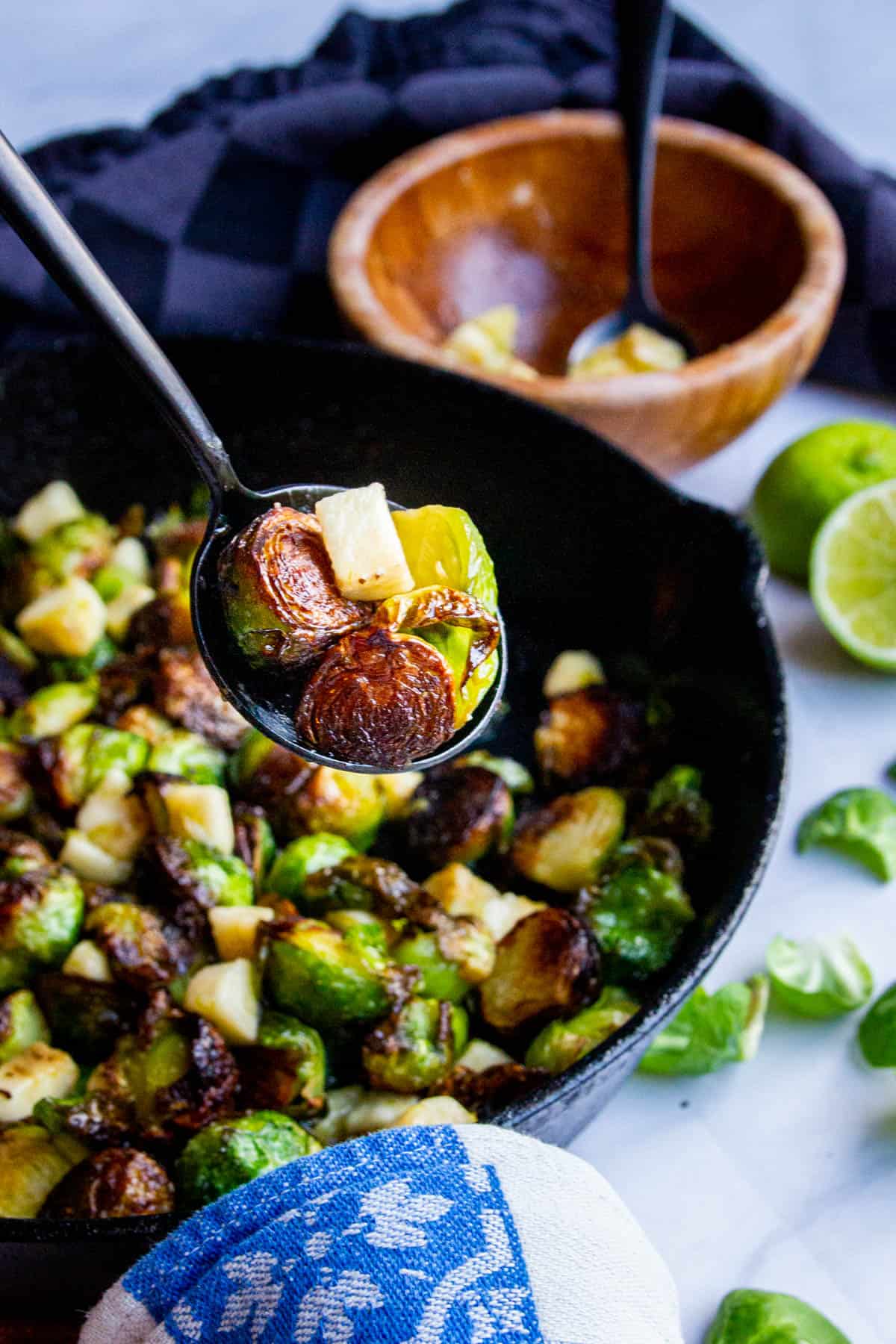 How to Level Up These Sprouts
Kaffir limes are my favourite citrus fruits on the planet and the easiest way to take this dish to the next level.
I'll never forget the explosively fragrant smell of freshly rasped Kaffir limes. An experience I was lucky enough to witness while working in Paris.
It's possible you've stumbled across Kaffir lime leaves, which add wonderful flavour complexity to stews and curries.
But finding fresh, whole Kaffir is difficult, at least here in the Netherlands. Fortunately, regular lime still does the trick.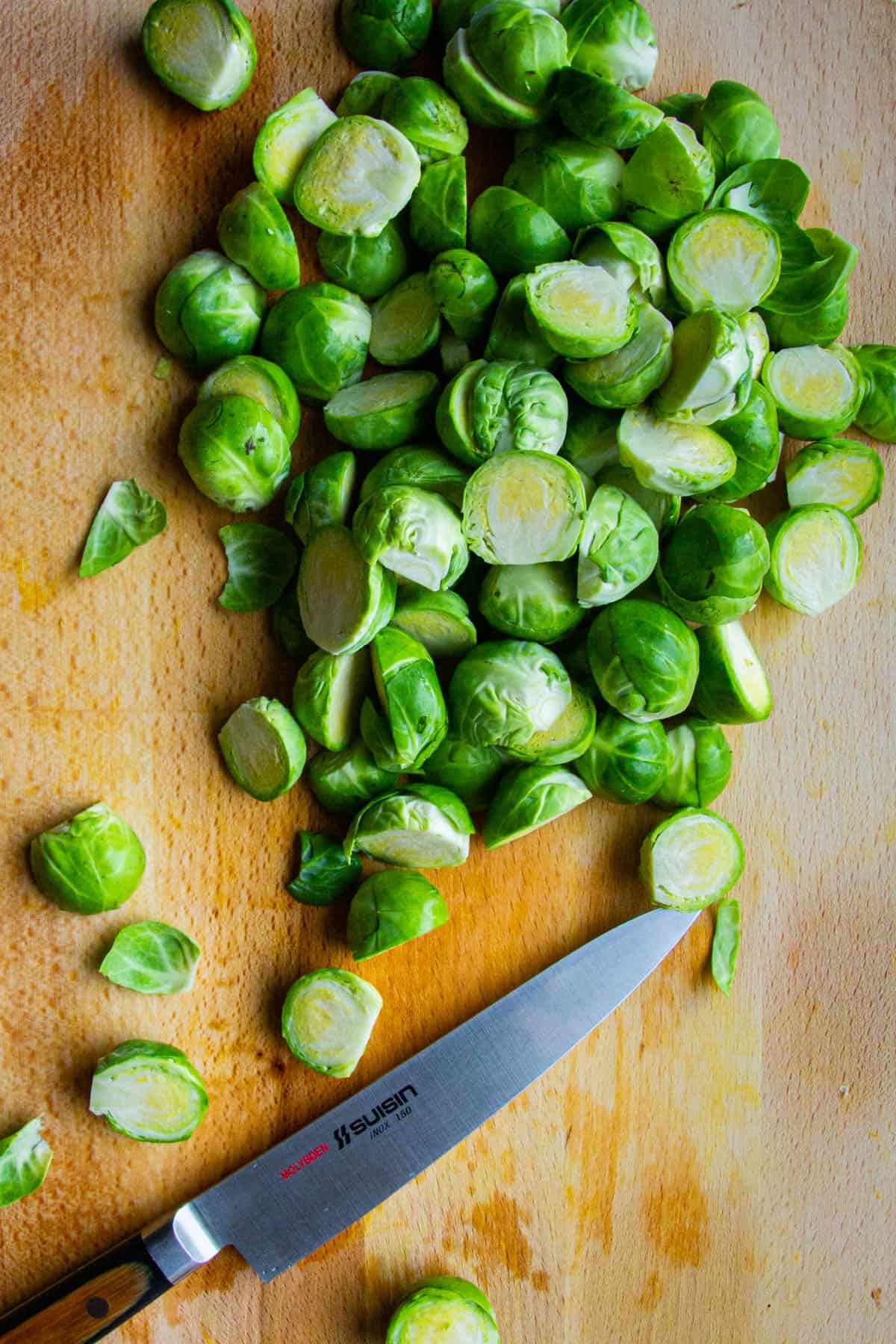 How to Cut Brussel Sprouts?
Before you start cutting, plunge the sprouts into a bowl of cold water to wash them of any excess dirt and give them a quick dry.
Then remove the stem at the bottom by slicing it off with a sharp knife. (Looking for a sharp? Check out my ultimate guide to the best high end knife sets). Be careful not to cut too much stem off otherwise most of the leaves will fall off.
Finish them by slicing them in half vertically along the stem.
You can save the brussel sprout leaves to use in pasta, fried rice or as a garnish in this brown butter gnocchi.
Why Won't My Brussel Sprouts Get Crispy?
Reasons why your sprouts are not crispy:
Not using enough heat.
Not using enough oil.
Salting the sprouts too early.
Overcrowding the pan.
Not cooking them long enough.
Remember that water is the arch-nemesis to crispy food.
High heat will ensure that enough water is removed to crisp them up nicely. Using a low temperature will result in "steamed" Brussels that don't take on any browning. Make sure the pan is hot before you add the sprouts.
The more oil the better. More oil means a faster heat transfer to the sprouts and helps to brown them more evenly. This is why deep-fried Brussels sprouts are so good.
If you salt any vegetable too early it will begin to "sweat" and release water. Because water and oil don't mix, it's best to dry your sprouts well before frying and avoid salting them too early.
Overcrowding the pan can be tempting when you're pressed for time but it's a bad habit. Overcrowding means less airflow which in turn means less crispy food.
Plus, when food is crowded together it traps steam in the wrong places and further prevents growing. Instead, take your time and fry in two batches instead of one.
The trick to this recipe is to pan-fry the sprouts first and finish them in the oven.
If you go straight to the oven, you'll end up with overcooked or burnt sprouts. The initial pan-fry is the secret to getting a beautiful golden crust with soft interiors.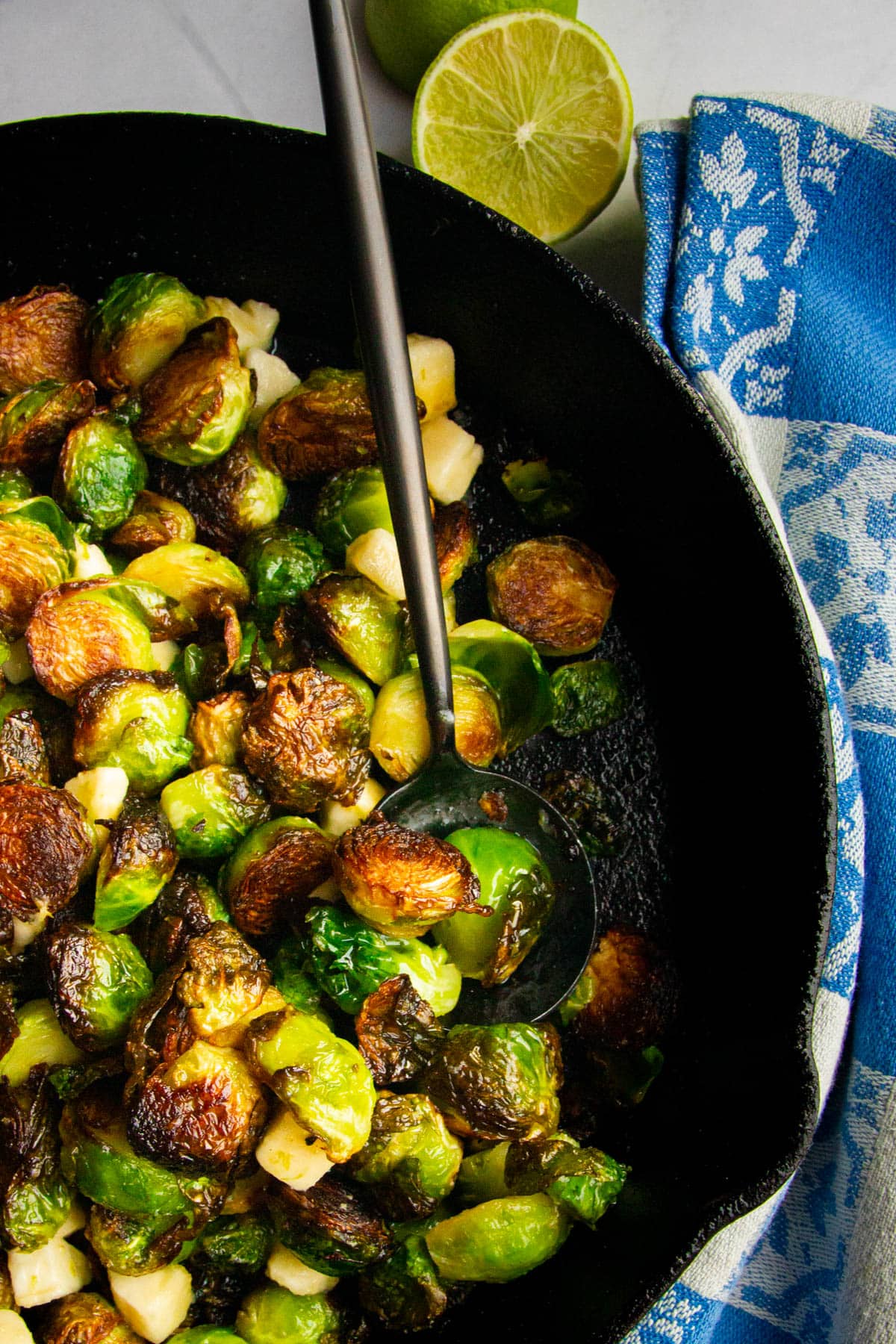 What to Serve With Crispy Roasted Brussel Sprouts
This dish makes an awesome gluten-free and vegan side dish for Christmas, Hannukah or Thanksgiving dinner. But I've made this a few times for weeknight dinners because it's on the table in less than 20 mins.
Here are a few other recipes to go with this:
Tools to Make Your Life Easier
Cast Iron Pan – A thick cast iron pan works so well for searing Brussels sprouts for two reasons. Firstly, its strong heat retention means a more even sear on your sprouts and less likely they will burn. Secondly, you can throw this pan in the oven immediately after searing which means you won't have to dirty another tray.
Long Tweezers – I have a pair of long tweezers which I use for EVERYTHING. Although they're originally meant for lifting pasta noodles out of the water, they're perfect for flipping and turning little sprouts while they cook in the pan.
Microplane – The easiest and fastest way to add fresh lime zest to this dish.
A Sharp Paring Knife – A small, sharp paring or utility knife will help you easily fly through mounds of sprouts with ease.
Looking to buy a knife set? Read my guide on Why I'll Never Buy a Cutco Knife Set.
Crispy Roasted Brussel Sprout FAQ
Should Brussels Sprouts be Blanched Before Roasting?
You can definitely blanch your sprouts before you roast but in this recipe, it's not necessary.
Blanching before roasting will improve the bright green colour of the sprouts but will make them more difficult to crisp up. As long as you finish the sprouts in the oven, you won't need to blanch them before roasting.
Can You Freeze Brussel Sprouts?
Freezing Brussels sprouts is not recommended if you plan to fry or roast them afterwards. The added water will make them even harder to crisp up.
Can You Eat Raw Brussel Sprouts?
Yes, you can. Although some people experience more digestive issues with raw Brussels sprouts compared to cooked ones.
Did I miss one? Let me know in the comments!
Crispy Roasted Brussel Sprouts with Banana and Fresh Lime
A rather wild side dish of crispy roasted Brussel sprouts with banana and lime that's vegan, gluten-free and definitely not boring.
Equipment
Parchment paper (if not using a cast iron pan)

baking tray (if not using a cast iron pan)
Ingredients
½

kg

brussel sprouts

50

ml

peanut oil

or high smoke-point oil such as canola oil

1

whole

banana

¼

piece

lime

zested and juiced

salt and pepper to taste

go heavy on the salt
Instructions
Heat the oven to 425°F/ 210°C full convection.

With a small pairing knife remove the small stem (careful not to go too far or all the leaves will fall off) and then cut in half.

Save the Brussel leaves that fall off for another recipe. Make sure the Brussel sprouts are very dry.

Peel and cut the banana into small pieces and set aside. Zest and juice ¼ the lime into the bowl with the cut bananas.

Set a large cast-iron pan on high heat. Add the peanut oil and wait until it is almost smoking. Add the Brussel sprouts all at once and quickly turn them on the flat side. *Be careful whenever adding anything that contains water to hot oil as it may splatter.

Continue to fry the sprouts until nicely golden on the bottom. You may need to add more oil so they fry evenly. Season heavily with salt.

Once the sprouts are nicely coloured put the pan in the oven to continue cooking or alternatively you can roast them on a baking tray like in the picture. Roast for about 5-10 minutes until they are tender.

When they are hot out of the oven add the bananas, lime zest and juice and mix together in a bowl or on the tray. Check the seasoning for saltiness.

Serve right away and enjoy!
Nutrition
Calories:
331
kcal
|
Carbohydrates:
23
g
|
Protein:
9
g
|
Fat:
26
g
|
Saturated Fat:
4
g
|
Polyunsaturated Fat:
8
g
|
Monounsaturated Fat:
12
g
|
Sodium:
63
mg
|
Potassium:
983
mg
|
Fiber:
10
g
|
Sugar:
6
g
|
Vitamin A:
1890
IU
|
Vitamin C:
215
mg
|
Calcium:
108
mg
|
Iron:
4
mg
More Vegan Recipes
Red Kuri Squash Soup – Squash Ajo Blanco (Vegan)
A plant-based Red Kuri squash soup with an Ajo Blanco spin. Unlike the classic, this soup is blended with roasted squash and served hot.
Check out this recipe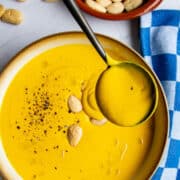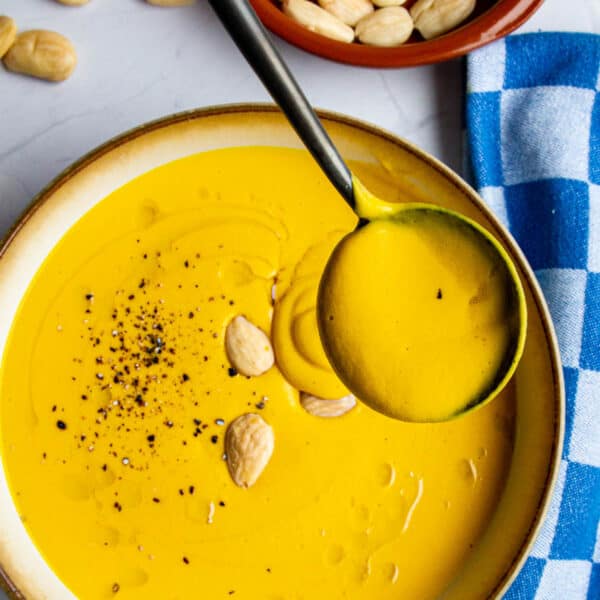 Vegan Carrot Ginger Soup with Dill + Toasted Almonds
This vegan carrot ginger soup with dill and toasted almonds is rich, velvety and full of sweet flavours from the roasting of the carrots. Gluten free, vegan and dairy free.
Check out this recipe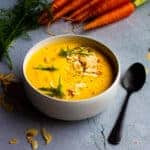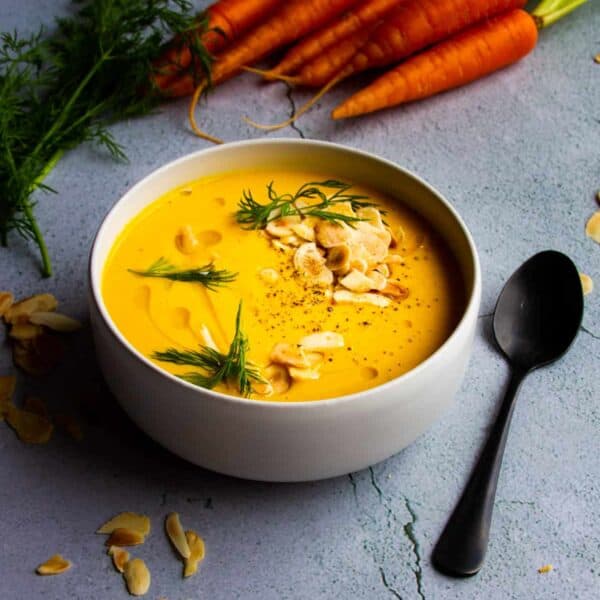 Easy, Garlicky Padrón Peppers with Ginger and Lime
These garlicky Padron peppers are cooked in olive oil and finished with a mixture of fresh ginger, garlic and lime zest. They're quick to prepare, healthy and incredibly easy to make.
Check out this recipe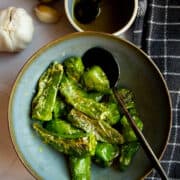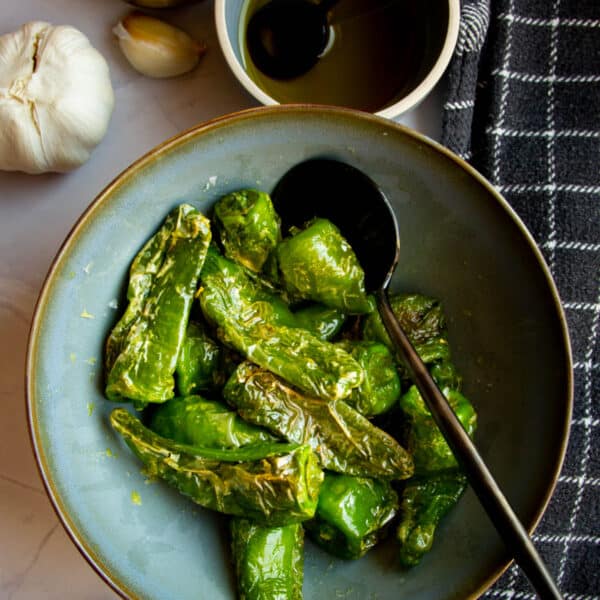 Vegan Pasta Pesto with Hazelnuts, Peas and Miso
A super easy vegan pasta pesto that's insanely healthy, gluten free and dairy free. It's ready in 15 minutes making this an easy and delicious weeknight meal.
Check out this recipe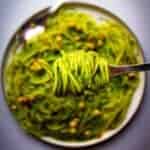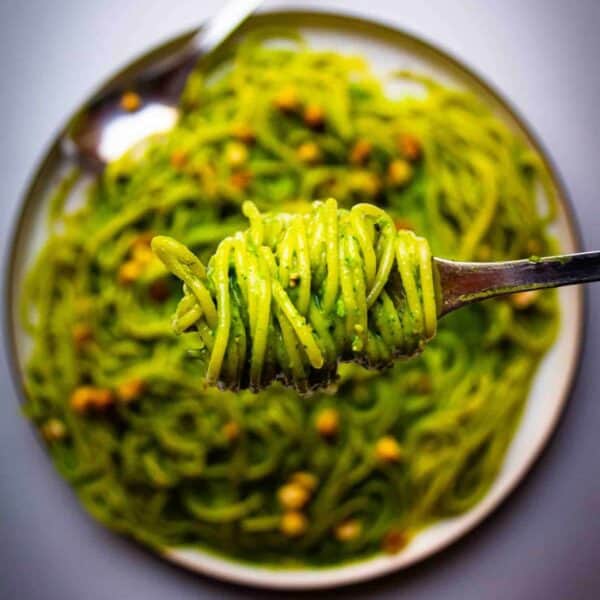 Easy Sofritas Veggie Bowls
These vegan sofritas veggie bowls are an easy weeknight dinner with big flavours. Just don't forget to make the guac! Gluten-free, vegan.
Check out this recipe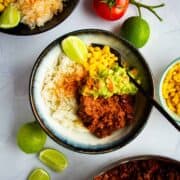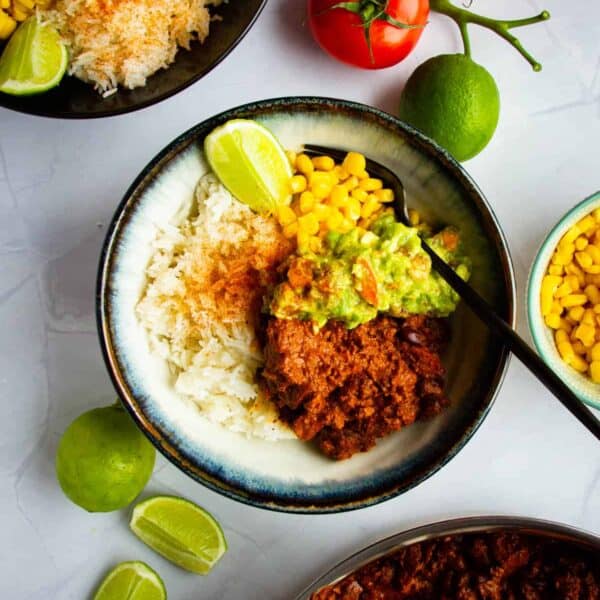 Sautéed Broccolette with Garlic, Lemon and Aleppo Chili
A quick and tasty method for broccolette, broccolini or baby broccoli. Quickly blanched and sautéed with garlic, lemon and an Aleppo chili infused oil. Vegan, keto, and gluten-free.
Check out this recipe