This vegan pasta pesto is healthy, dairy free, gluten free, quick to prepare and exactly what I want to eat in the springtime outside with a glass of white wine. You can also make this with frozen peas for a fast and healthy weeknight meal.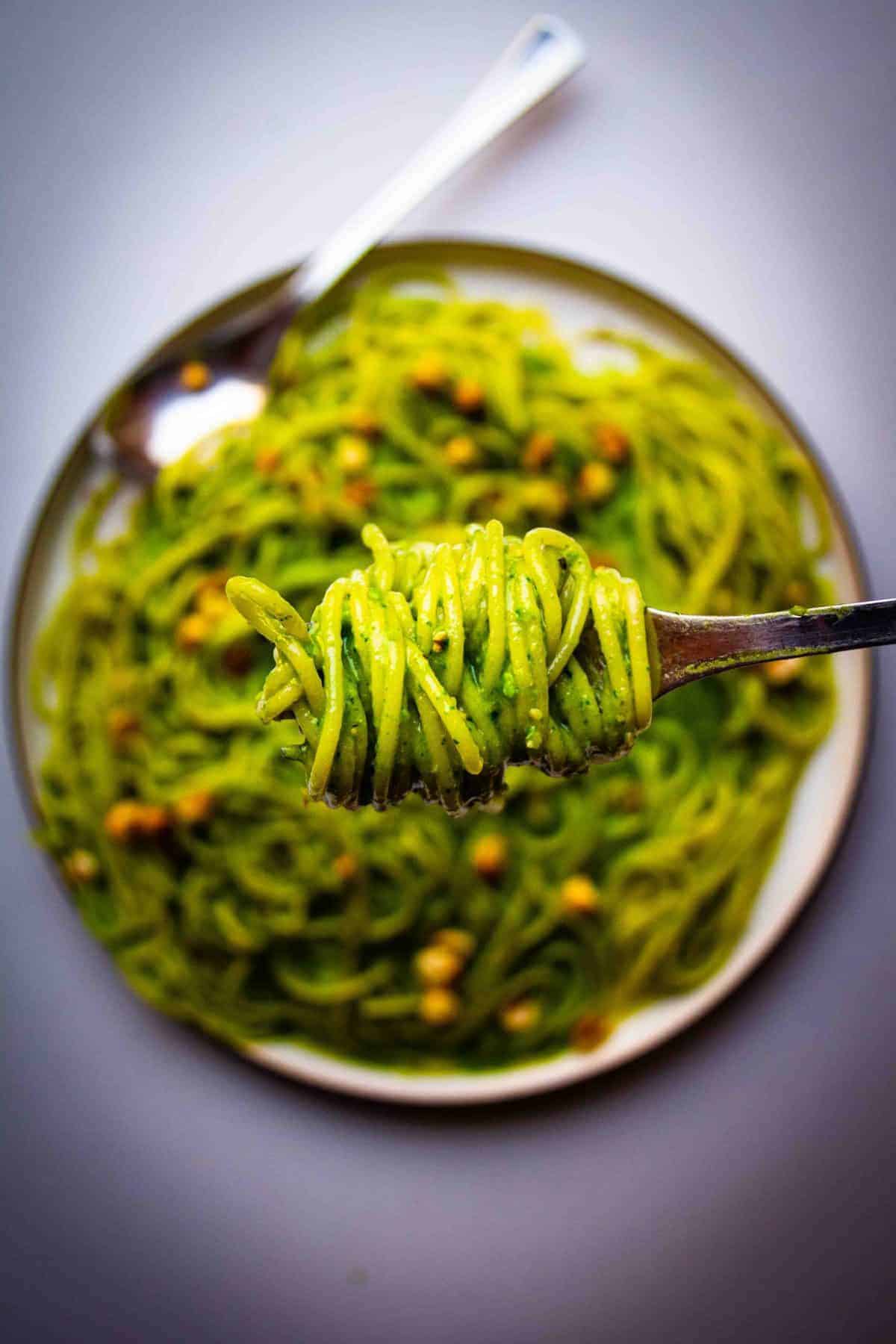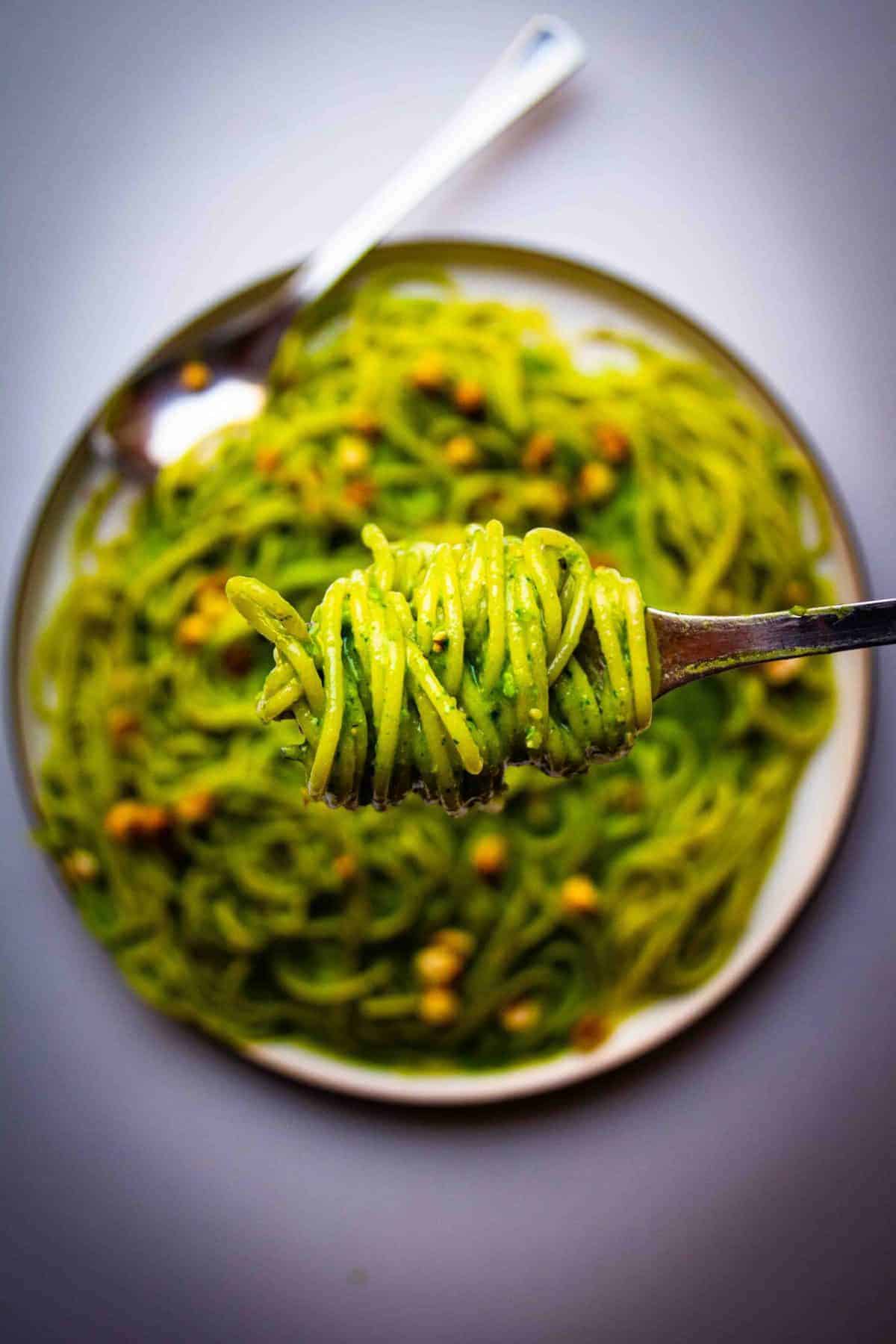 Cheezy Vegan Pasta Pesto
This recipe uses miso as a replacer for the parmigiano cheese that's normally used in oldschool pestos. Miso, a common Japanese fermented soybean paste, is incredibly healthy, delicious and full of umami so you won't miss the cheese.
Miso is Really Healthy
Did you know that miso actually contains probiotics? It's a fermented food which aids in digestion, may reduce the risk of cancer and strengthens the immune system. No wonder Japanese people consistently live longer than anyone else in the world.
One thing to note is that probiotics are living and like other bacteria, don't like heat. You will gain the most health benefits from eating miso raw. In this recipe I add the pesto to the hot noodles and never heat the pesto directly which helps to keep the probiotics alive, but eating it raw will provide the best health benefits. You can also spread this pesto on toast for a healthy snack.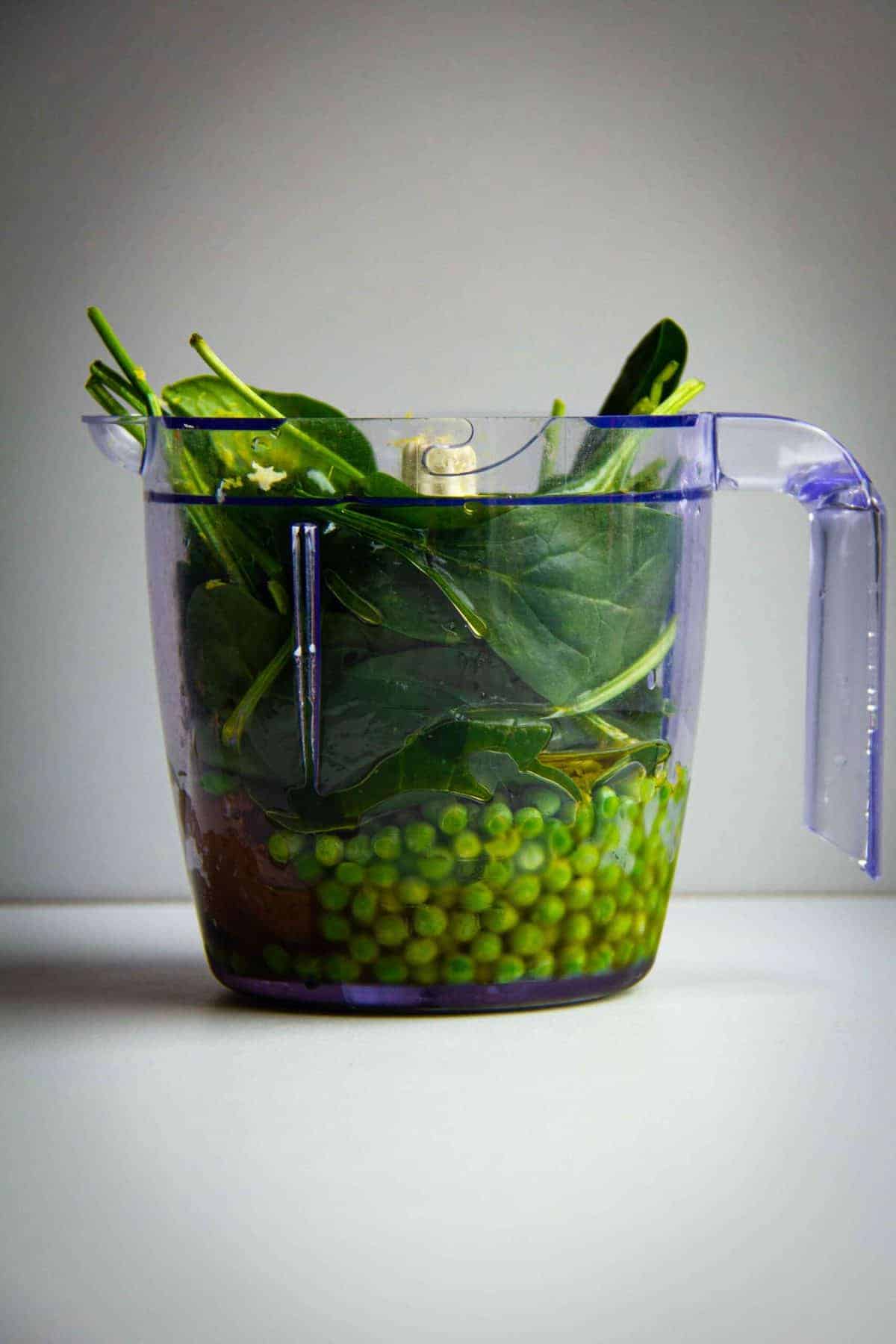 How Can I Make This Keto?
To make this vegan pasta pesto keto, just replace the spaghetti with zucchini noodles. Too easy.
How Long Does Vegan Pesto Last?
The first day of the pesto will be the freshest but it can keep up to 3 days in the fridge. Use a sealed container and store for up to 3 months in the freezer.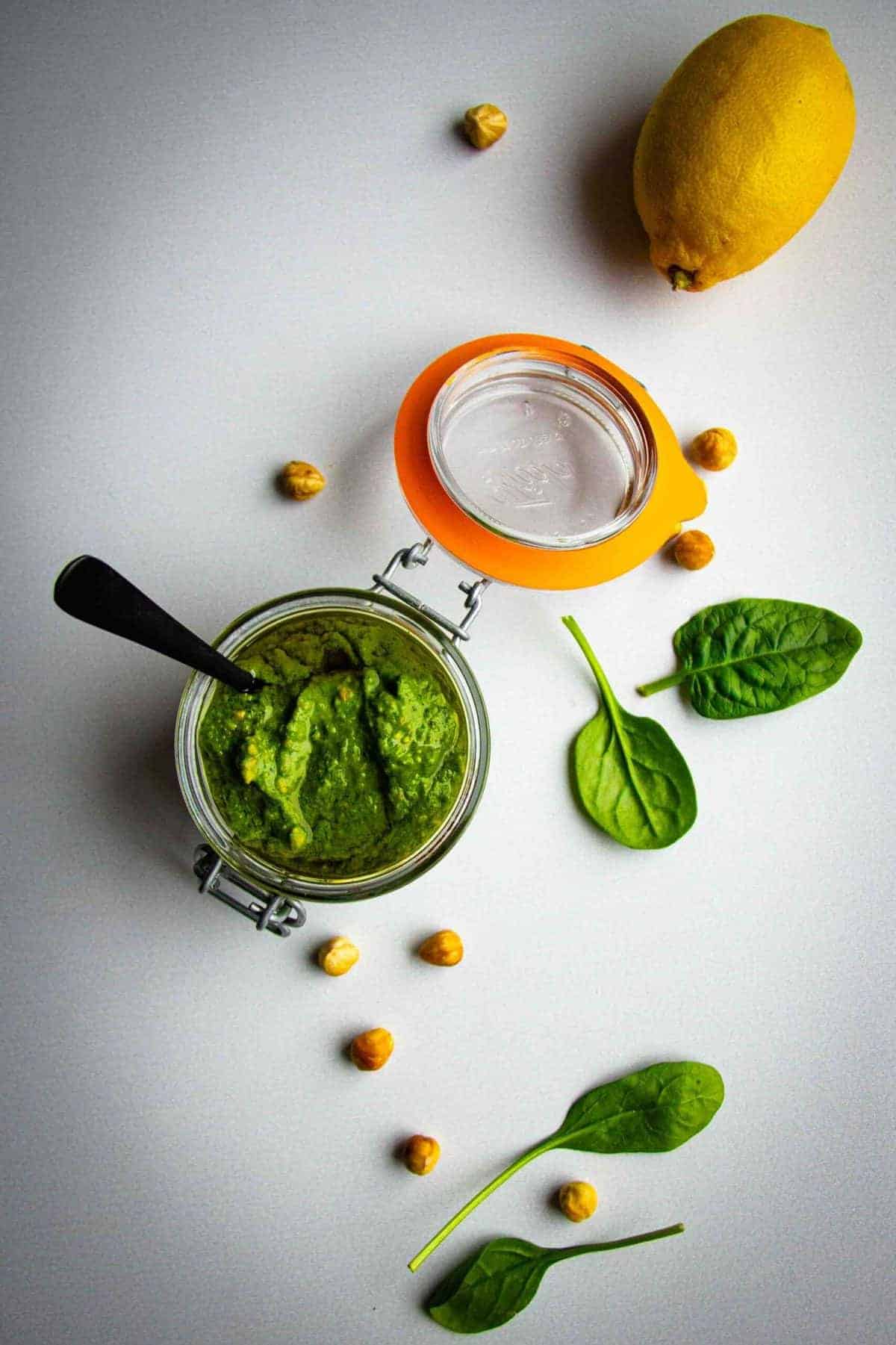 Chef Tips
Here's a few tips to help you make the best pesto possible.
Always add lemon juice at the end to keep the bright green colour of the pesto. As soon as you add vinegar or lemon juice to green vegetables it will turn them grey.
Never add cold pesto to hot noodles. Instead let the pesto temper to room temperature before you start cooking.
Use ice or frozen peas to help keep the pesto cold while blending. If the motor in the food processor gets too hot, it will heat the pesto and turn it grey.
Recommended Tools for a Vegan Pesto
Food processor – These work much better than a blender for making pestos. I love the one that's included with my hand blender because it blends a small amount of pesto well. I use one from Tefal, but Braun is also a good brand.
Microplane – One of my favourite kitchen tools. This helps to zest the lemon and purée the garlic quickly and easily.
Try My Other Pasta Recipes
Vegan Pasta Pesto with Hazelnuts, Peas and Miso
A super easy vegan pasta pesto that's insanely healthy, gluten free and dairy free. It's ready in 15 minutes making this an easy and delicious weeknight meal.
Ingredients
80

g

frozen peas

Or fresh peas + 1 ice cube

60

g

hazelnuts

peeled

150

g

baby spinach

washed

1

clove

garlic

peeled

100

g

olive oil

extra virgin, the best quality you can find

1

whole

lemon

zest only with a microplane

2

tbsp

white miso

½

tsp

black pepper

freshly cracked

¼

tsp

sea salt

150

g

spaghetti

dried
Instructions
Toast the hazelnuts in the oven for about 8 minutes at 375°F/190°C. Let this cool completely. 

Using a food processor, blend everything together except for the toasted hazelnuts. Don't overblend, just until a sauce is made.

Next add the cooled, toasted hazelnuts and pulse a couple of times to combine. The consistency of the pesto should spread nicely on toast. 

Bring a large pot of heavily salted water to a boil. Cook the spaghetti according to package instructions or until al dente.

Add 6 tbsp of the pesto to a pan and allow to temper while the spaghetti cooks but don't heat directly. You can always add more pesto later if you want a stronger flavour.

Once the pasta is cooked, add to the pesto and toss. Add 1-2 ladles of hot pasta water until a nice sauce consistency is achieved. Serve right away and garnish with chopped toasted hazelnuts, fresh black pepper and a glug of olive oil on top. Enjoy!
This post contains Amazon affiliate links to recommended products.
The Best Vegan Chocolate Hazelnut Brownies
A recipe for vegan brownies loaded with intense chocolate hazelnut flavour and drizzled with vegan nutella. Soft, rich and insanely chocolatey. I promise you won't miss the dairy or eggs.
Check out this recipe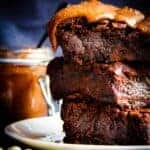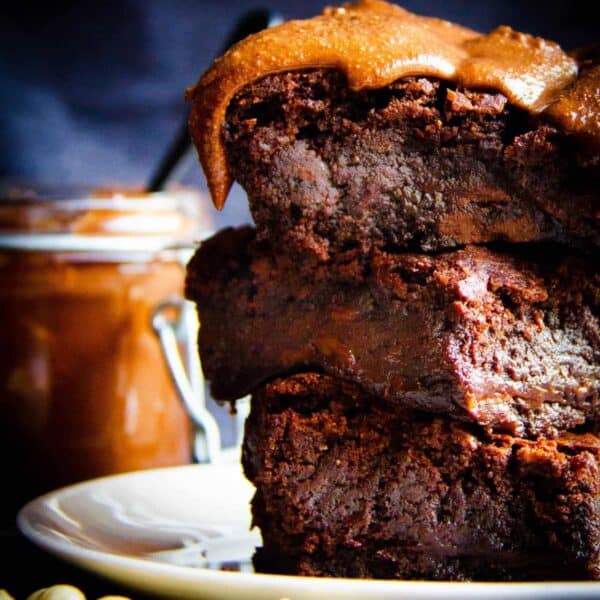 Chocolate Hazelnut Spread – Vegan Nutella
It's quick, easy, cheaper and just way better than any store-bought hazelnut spread. It's your own homemade vegan Nutella.
Check out this recipe