Everybody loves the chanterelle mushroom but the hedgehog mushroom is often overlooked.
They're not only just as delicious, but they're also the best substitute for chanterelles, and even slightly cheaper.
I'd take fresh hedgehog mushrooms over older chanterelles any day of the week because hedgehogs are beautiful mushrooms.
I just LOVE the beautiful golden brown colour of the hedgehogs after cooking them in loads of hot, foamy, garlic butter!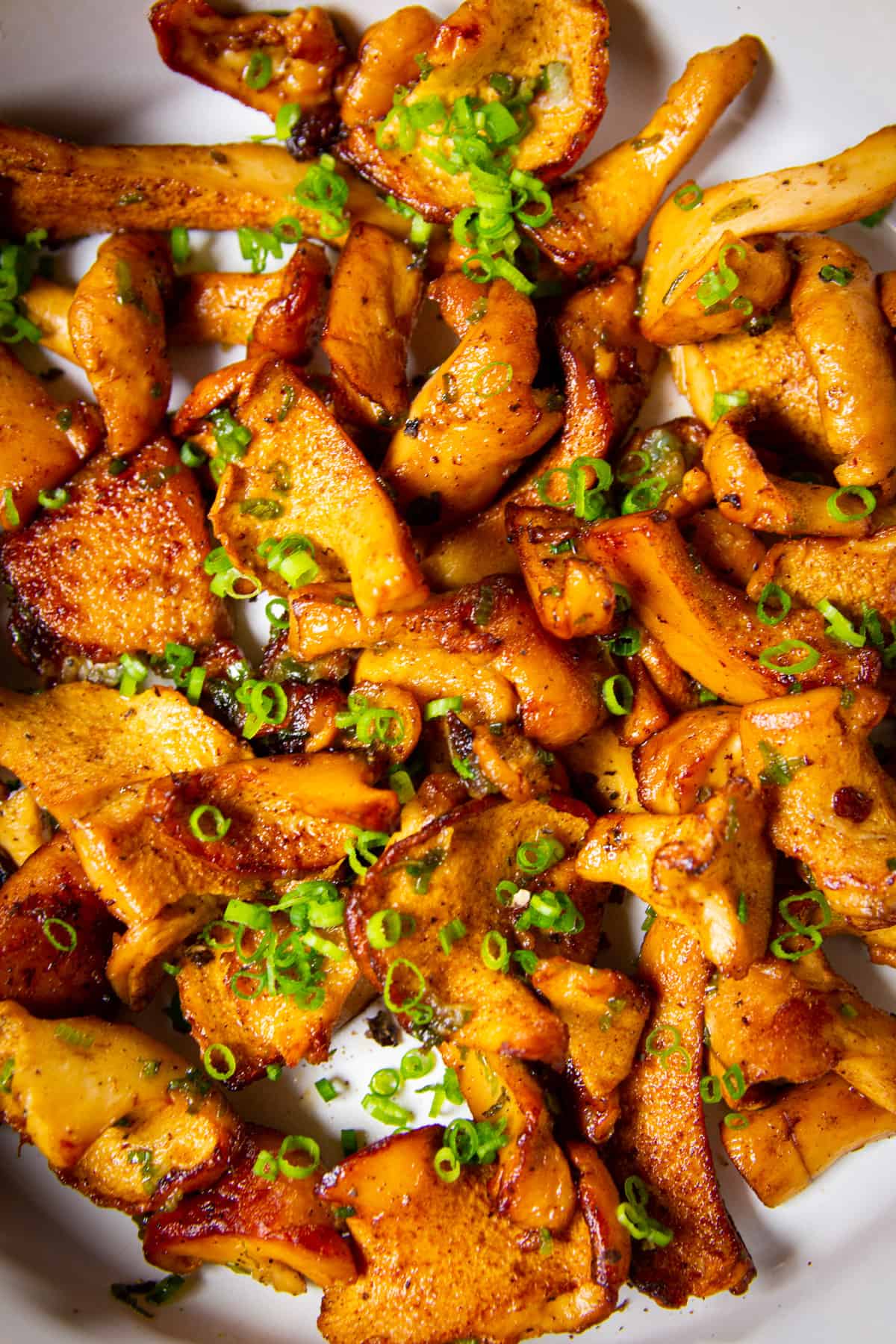 What is a Hedgehog Mushroom?
Hedgehog mushrooms or Hydnum repandum, are wild mushrooms that are prized for their unique flavour and texture.
Other names of this wild shroom include sweet tooth, wood hedgehog or pied-du-mouton (meaning sheep's foot in French).
As chanterelle mushrooms start to disappear from the forest, chefs often replace them with the hedgehog mushroom. [1]
How Does a Hedgehog Mushroom Taste Like?
These mushrooms are milder in flavour than black trumpet mushrooms but with way more flavour than the farmed chestnut mushroom (cremini mushroom).
For me, these mushrooms taste mild, nutty and have a beautiful sweetness that works so well with garlic butter.
You may also notice flavours similar to peppery watercress or even oysters.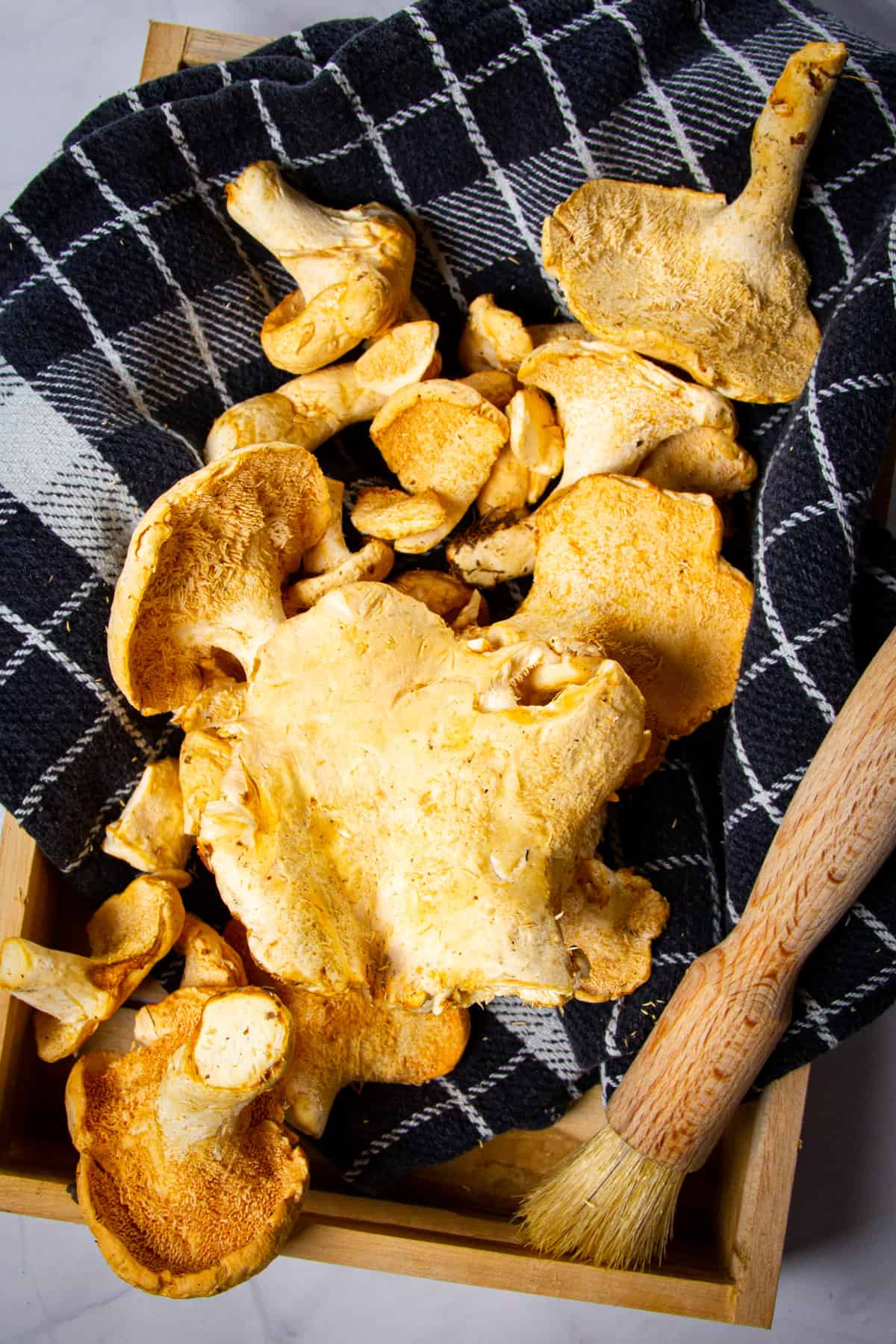 How to Clean a Hedgehog Mushroom
Just like most wild mushrooms, I don't recommend washing them in water because this tends to make them soggy.
The best technique is always to use a soft dry brush to clean away any bit of dirt or soil from the mushroom.
Hedgehog mushrooms are unique in that they have little "teeth" under their caps that fall out after cooking. These little mushroom needles are often bitter and add an unpleasant texture to whatever you're cooking so it's best to remove them.
To clean them:
Snip off a small portion of the stems with a pairing knife (the bottom of the stem is often dirty and can be a little tough).
Brush away and dirt from the mushrooms using a soft dry brush.
Gently scrape the needles under the cap of the mushroom using a butter knife. Be careful not to scrape too hard otherwise you'll break the mushrooms.
When to Use These Mushrooms
As mentioned above, these mushrooms work with any recipe that uses chanterelles as the texture and flavour are similar (although not the same).
Here are a few ideas for when to use hedgehog mushrooms:
Served alongside butter-poached lobster.
Mixed into a buttery pasta.
Folded into a chicken pot pie.
Hedgehog mushroom and carmelized onion tart.
Used as a stuffing for beef wellington, roast quail or other game birds.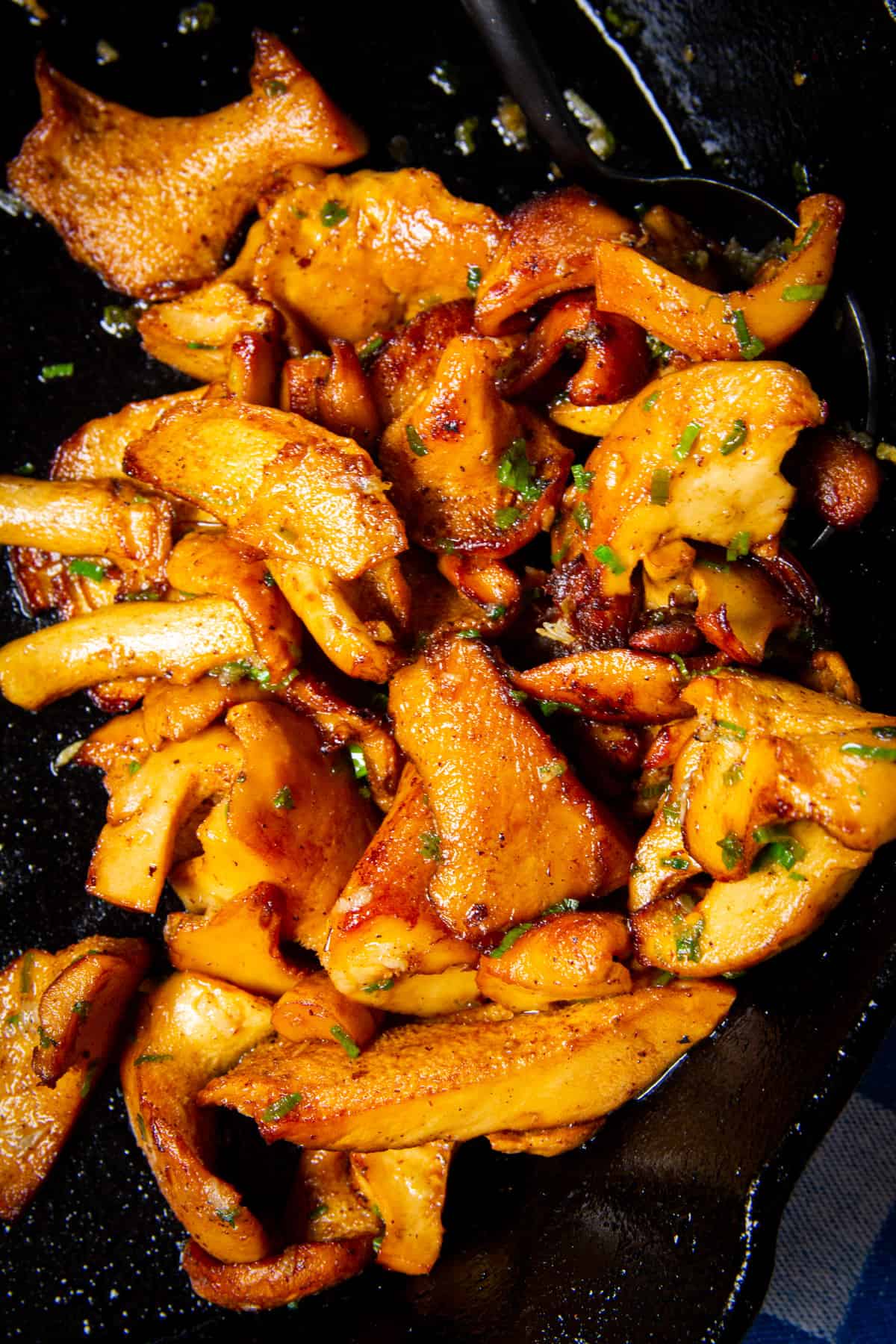 How Do You Cook A Hedgehog Mushroom?
Hedgehog mushrooms are best cooked just like other mushrooms – in tons of hot foamy butter!
One thing to note is that these mushrooms should be fully cooked which helps to remove the bitter aftertaste.
Tips for Cooking the These Mushrooms
Clean the teeth under the hedgehog caps before cooking to prevent the needles from ruining your sauce. Although, if you're pressed for time you can skip this step.
Use a high heat in the pan to prevent soggy mushrooms and get a nice golden colour.
Make sure the mushrooms are very dry before cooking, otherwise you won't get a nice sear.
Cook these mushrooms thoroughly to remove any bitter, raw taste.
Try My Other Mushroom Recipes:
Hedgehog Mushroom FAQ
Can You Eat Hedgehog Mushrooms Raw?
No, hedgehog mushrooms should be cooked before eating.
What is the Closest Substitute for Hedgehog Mushrooms?
Chanterelle mushrooms are your best bet. They're similar to hedgehogs in texture and flavour, although more expensive.
Why is it Called Hedgehog Mushroom?
This mushroom has lots of soft little "needles" under the cap that look similar to the hedgehog animal.
How to Cook the Hedgehog Mushroom – The Cheaper Chanterelle
What's just as good as the chanterelle mushroom? The hedgehog mushroom! I cook them in hot foamy butter and finish them with fresh garlic, chives and a little salt and pepper.
Ingredients
100

g

hedgehog mushrooms

7

g

garlic

(about 1 clove)

14

g

butter

(1 tbsp)

a few sprigs of fresh chives

salt and pepper to taste
Instructions
Start by brushing off any dirt from the mushrooms using a dry, soft brush.

Using either a butter knife or brush, carefully remove the needles under the cap and discard them.

Snip the bottom end of the stem off the mushrooms. Slice the bigger mushrooms in half and leave the smaller mushrooms whole.

Chop the chives finely, and puree' the garlic clove into a separate bowl using a Microplane.

Heat a cast-iron pan over medium heat and wait until it gets hot.

Add the butter and wait for it to sizzle and foam. Add the mushrooms and cook over medium-high heat until they begin to soften and turn golden brown (about 2-3 minutes).

Turn off the heat and immediately add the pureed garlic. Toss to prevent the garlic from burning.

Season with salt, pepper and fresh chives.

Enjoy right away!
Nutrition
Calories:
74
kcal
|
Carbohydrates:
5
g
|
Protein:
1
g
|
Fat:
6
g
|
Saturated Fat:
4
g
|
Polyunsaturated Fat:
1
g
|
Monounsaturated Fat:
1
g
|
Trans Fat:
1
g
|
Cholesterol:
15
mg
|
Sodium:
55
mg
|
Potassium:
269
mg
|
Fiber:
2
g
|
Sugar:
1
g
|
Vitamin A:
175
IU
|
Vitamin C:
1
mg
|
Calcium:
16
mg
|
Iron:
2
mg
Try These Other Mushroom Recipes…
Or More Keto Recipes…
A Delicious Black Trumpet Mushroom Sauce with Cream and Fresh Tarragon
The ultimate guide for how to buy, clean and cook the black trumpet mushroom. Included is a recipe for a black trumpet tarragon cream that's perfect with steak or roasted chicken.
Get the recipe!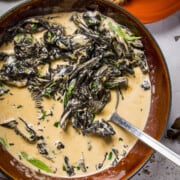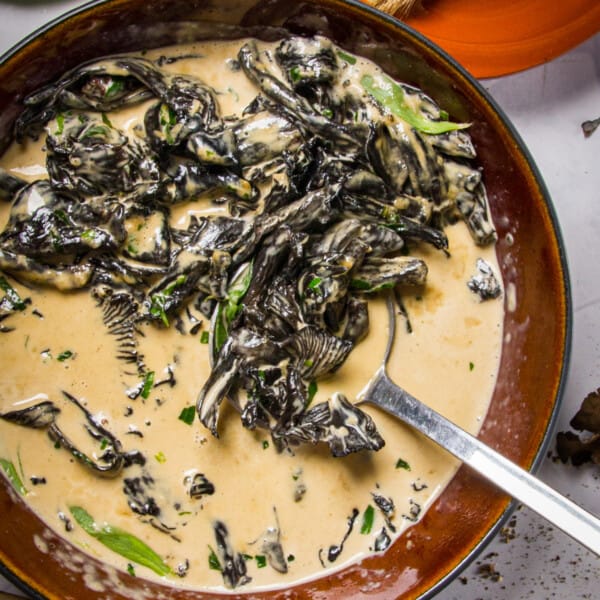 How to Cook Chestnut Mushrooms with Butter, Garlic, Parsley and Lemon
These chestnut mushrooms are cooked in loads of foamy butter and finished with fresh garlic, lemon and parsley.
Get the recipe!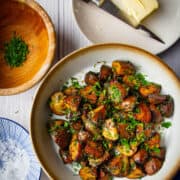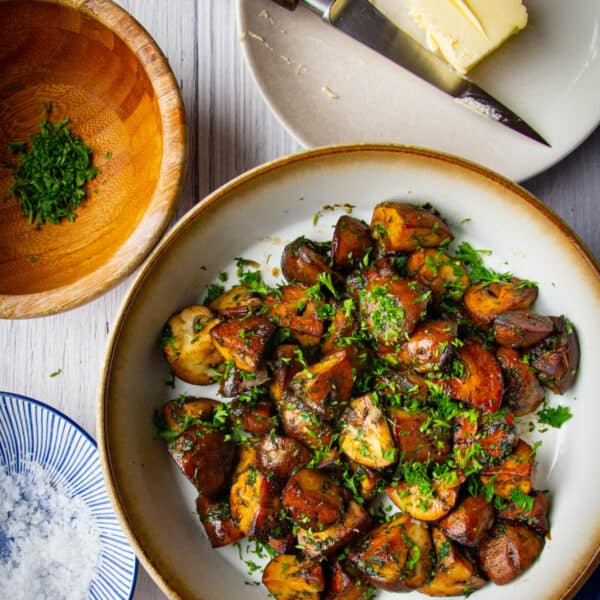 The Perfect No-Fail Spatchcock Holiday Chicken Dinner – with Mushroom Gravy
My ultimate rundown on how to achieve the perfect holiday chicken dinner using the spatchcock method. Beautifully juicy, flavourful meat with insanely delicious roasted potatoes.
Get the recipe!