This stove-top popcorn recipe is a regular snack in our house. It's quick to make, healthy-ish and most importantly it's the tastiest popcorn in the world. For me, the best popcorn consists of only two added ingredients – butter and salt. It's the technique involved that makes this delicious. Here's a few key tips on how to make better popcorn than the boring microwave stuff.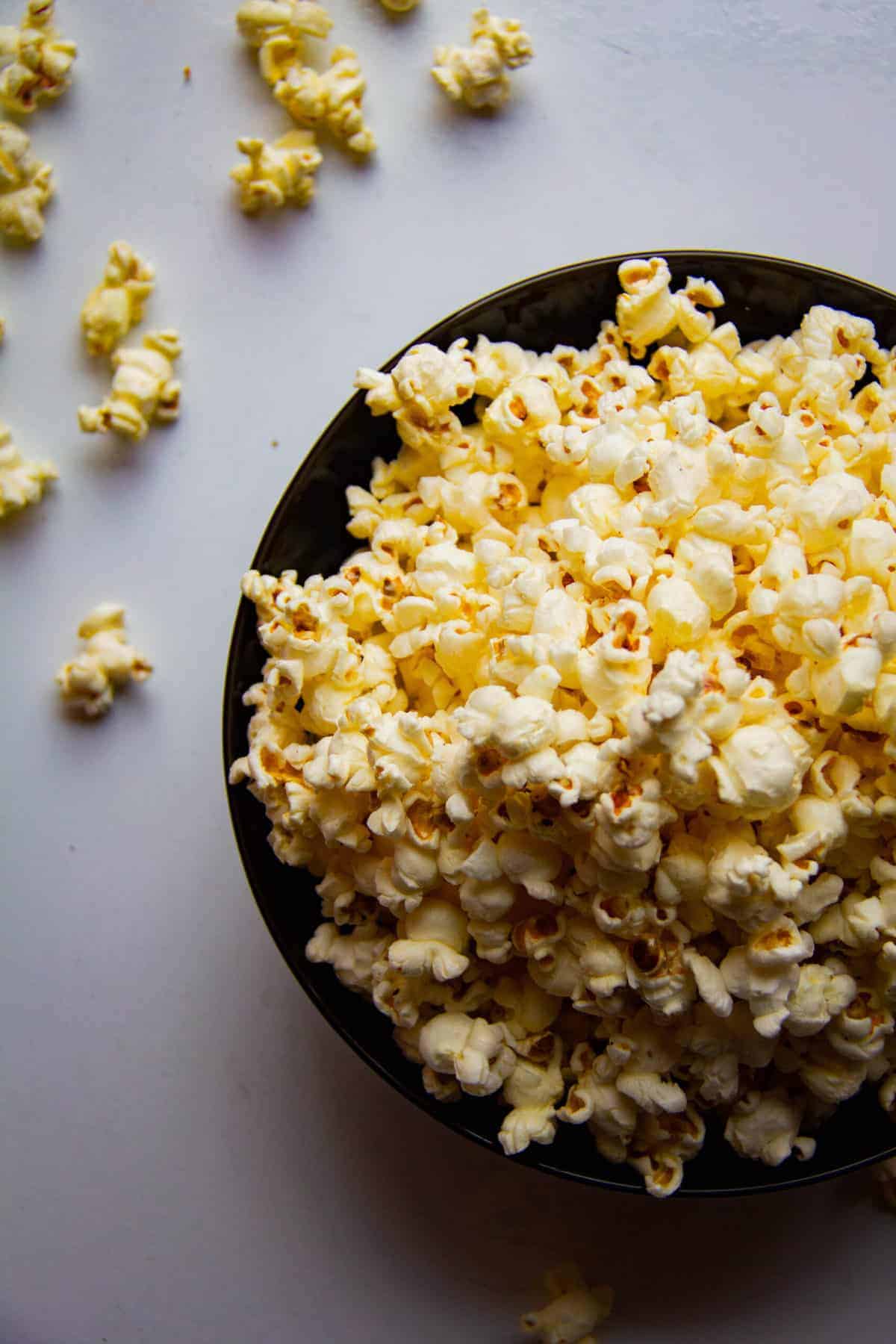 Why Should I Make Stovetop Popcorn?
I prefer to make my own popcorn because it tastes better than microwave popcorn, is much healthier and pretty quick to make. I even prefer it to the movie-theater popcorn (although movie theater popcorn has a special place in my heart!).
How to Prevent Chewy Popcorn
The first crucial tip for delicious popped kernels is steam control. When the kernels pop they release steam which ruins the crispiness of the kernels. If you've ever tried to make popcorn with a tight fitting lid then you may have noticed that it becomes chewy and unpleasant to eat. This is because the steam gets trapped in the pot and makes the popcorn soggy.
Solving this problem is easy. Use a pot with small holes in the lid (colander lid) which allows the steam to escape but keeps the kernels from bouncing everywhere. This pot we had lying around in our kitchen from Ikea is actually the perfect stovetop popcorn maker. And it's under €20.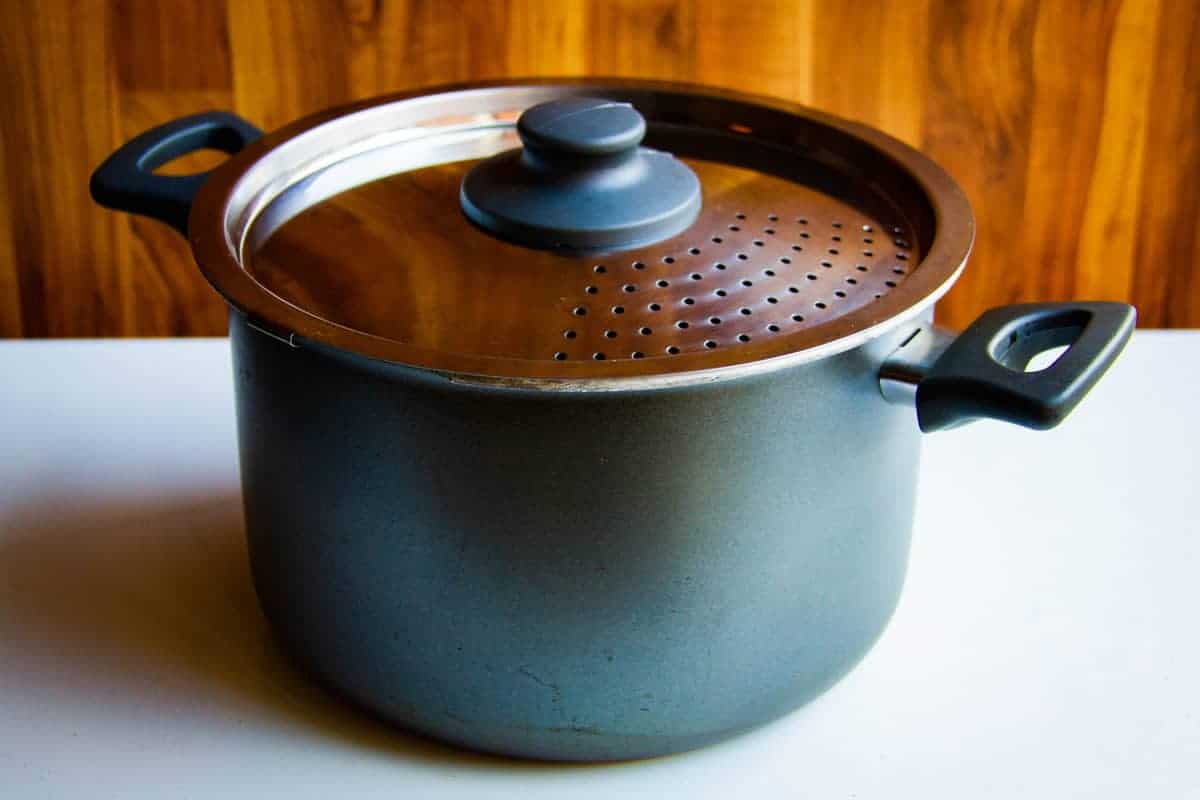 I Can't Find the Colander Lid!
If you can't find the exact same pot don't worry. Try to find a big stockpot with a heavy bottom that has a colander lid. If it's difficult to find that colander lid then you have two options:
You can slightly tip the normal lid open while cooking to let out some of the steam. (Be careful to not let out exploding popcorn kernels!)
Or you can cover the lid tightly with tin foil and poke little holes to allow the steam to escape.
Essential Tips
Here's a few essential tips to make sure you have the tastiest homemade popcorn:
Add 2 kernels to the pan with oil and heat. Wait for it to pop, then you know exactly when the oil is at the perfect popcorn popping temperature.
Swirl the kernels in the pot while they cook to prevent them from burning.
Start with high heat and then turn down to medium heat once the kernels start popping – this will also cook them more evenly.
Once the popcorn has 2-3 seconds in between pops, turn off the heat and immediately open the lid to let off all that steam.
Add the butter and salt right away so the salt sticks.
Is Homemade Popcorn a Healthy Snack
Yes it can be because you can control how much butter and salt to use unlike pre-packaged microwave popcorn. Plain popped corn contains dietary fiber and is low in calories. You can add less salt or less butter depending on what diet is recommended for you.
Is Popcorn Keto?
Yes, but only in small amounts
A 3 cup (24g) serving equates to about 18 grams of carbs — or 14 grams of net carbs which can be incorporated into a 50g carb Keto diet.
*Update – Although some people on the keto diet can handle a small amount of popcorn, not everyone can. Popcorn is more of a grey area for anyone on the keto diet and it's always best to check with your doctor for what's best for you.
Possible Additions
Although I'm a butter and salt kinda guy you can get pretty wild with the flavours if you want. Here are few suggestions:
Replace the butter with olive oil
A dash of truffle oil
Fresh chopped thyme added to the butter
Black pepper and lime zest
Nutritional yeast – Adds a slightly cheesy flavour that's vegan
Smoked paprika and olive oil
Chili butter and brown sugar
Cinnamon and brown sugar
How to Make the Most Amazing Popcorn at Home
Here's a recipe for how to make the most amazing homemade popcorn with a simple pot on the stove. This popcorn is easy, quick to make and the tastiest popcorn in the world.
Ingredients
75

g

popcorn kernels

80ml

30

g

butter

(2 tbsp) melted

¼

tsp

sea salt

start with this, add more if you like

2

tbsp

peanut oil

or coconut, canola or any high-smoke point oil
Instructions
Melt the butter in the microwave or in a small pan.

Get a large pot with a colander lid and add the oil and two kernels. Put the lid on and heat on high and wait for the sound of the kernels to pop.

Once the kernels pop, immediately add the rest of the kernels and place the lid on. Turn down to medium heat and swirl the pot in circles to keep the kernels moving and prevent burning.

Once you hear about 2 seconds in between pops then turn off the heat. Immediately take off the lid to allow the steam to escape.

Add the butter and sprinkle the salt from high above the pot to allow even distribution. Toss in the pot to mix well.
Notes
Never walk away from the pot on the stove while it's heating or the oil could catch fire. 
Small amounts of oil can splash out of the pot through the holes in the colander lid. Turn the holes away from you while cooking to prevent this.
Nutrition
Calories:
269
kcal
|
Carbohydrates:
28
g
|
Protein:
5
g
|
Fat:
16
g
|
Saturated Fat:
3
g
|
Cholesterol:
2
mg
|
Sodium:
600
mg
|
Potassium:
123
mg
|
Fiber:
5
g
|
Sugar:
1
g
|
Calcium:
17
mg
|
Iron:
1
mg
Marmite and Chili Baked Chicken Wings
These baked chicken wings are salty, sticky, sweet and loaded with umami flavour from the marmite. Try this recipe for marmite and chili baked chicken wings for your next wild, weeknight dinner.
Check out this recipe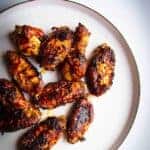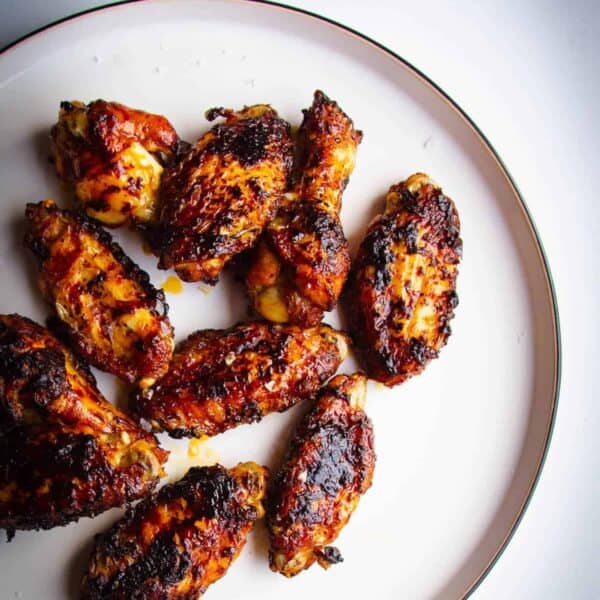 Easy Pull Apart Milk Buns
Super soft and fluffy milk buns that can be made in one day. These buns are amazing hot out of the oven with a little butter and crunchy sea salt.
Check out this recipe