Making your own whole milk ricotta may sound tedious but it's easier than you'd think.
And the result is an extra-creamy, super-smooth cheese that's better than most you'll find in the grocery store.
Although this is not the traditional method for making ricotta, it's still my go-to recipe for whenever I make stuffed pasta, lasagna or ricotta-based gnocchi. It's almost always better than anything I can find in the store.
Just a heads up before you start this recipe, you'll need a fine-mesh strainer and some cheesecloth (or a nut milk bag) and at least 2 hours to let the ricotta cool.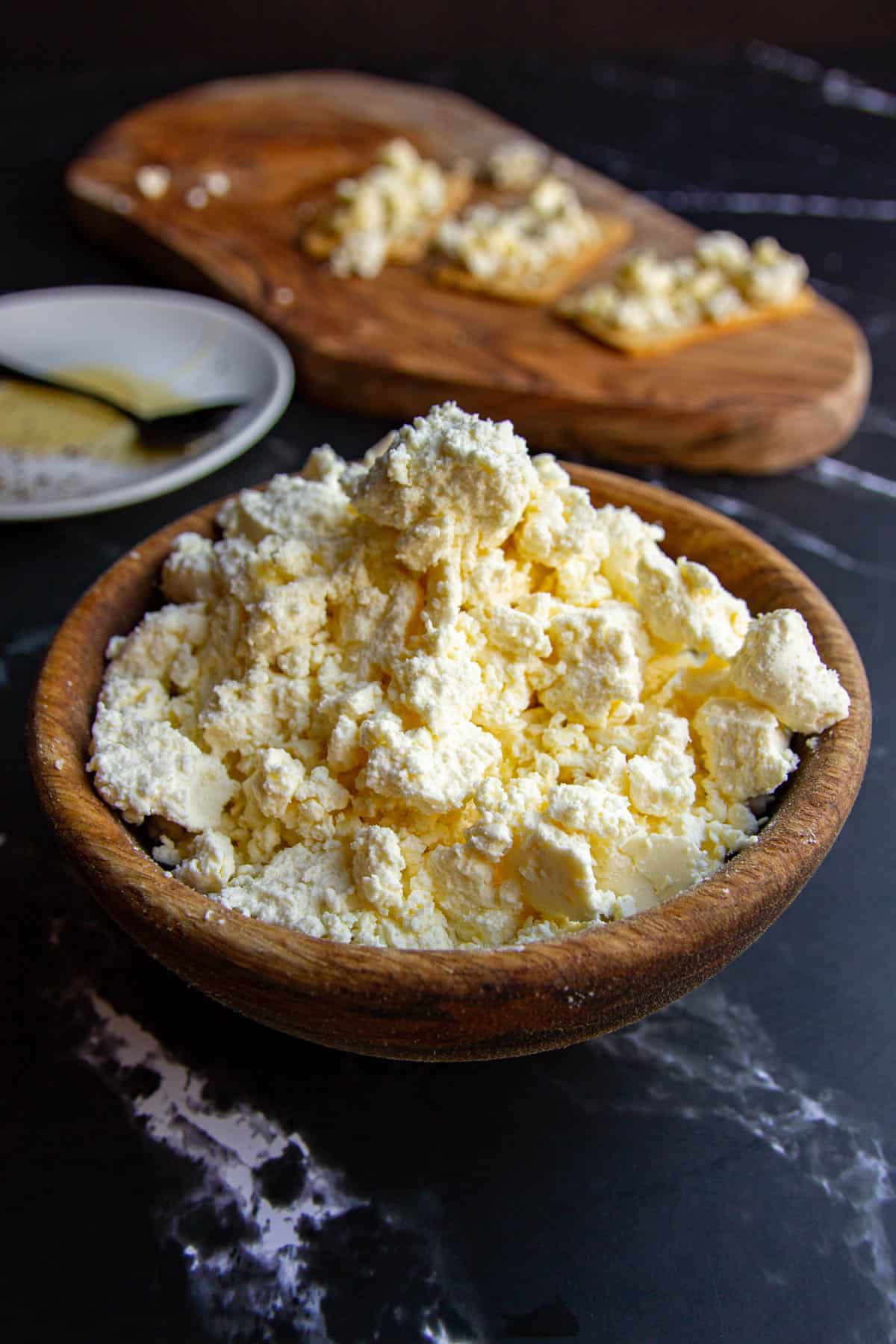 How Whole Milk Ricotta is Made in Italy
In Italian, ricotta means "twice-cooked" because leftover whey is cooked a second time.
Traditionally, fresh ricotta is made by using the leftover whey from another cheese. The whey is mixed with a little raw milk, and some ferments and heated to 85°C/185°F.
The liquid is left to curdle for 10-15 minutes and later the curds are scooped out into little baskets with holes and drained.
After the curds have been drained and cooled, the ricotta is ready to eat.
That traditionally-made ricotta is technically not cheese but a byproduct of cheese. Nevertheless, it's still considered cheese in my books.
How to Make Whole Milk Ricotta at Home
In case you don't have access to huge amounts of fresh whey (like most people), my recipe uses fresh whole milk plus a little bit of cream to add richness.
Although it's far from an authentic ricotta recipe, it's much easier and you won't have to pull out any instant-read thermometers.
Here's the recipe:
Boil the milk and cream together (Or bring to 85°C/185°F to be precise) and then remove from heat.
Add lemon juice and salt. Stir.
Stop stirring and let sit for 10 minutes.
Carefully strain through a fine-mesh strainer.
Let sit for 2 hours in the fridge or overnight in the fridge.
Use within 3 days.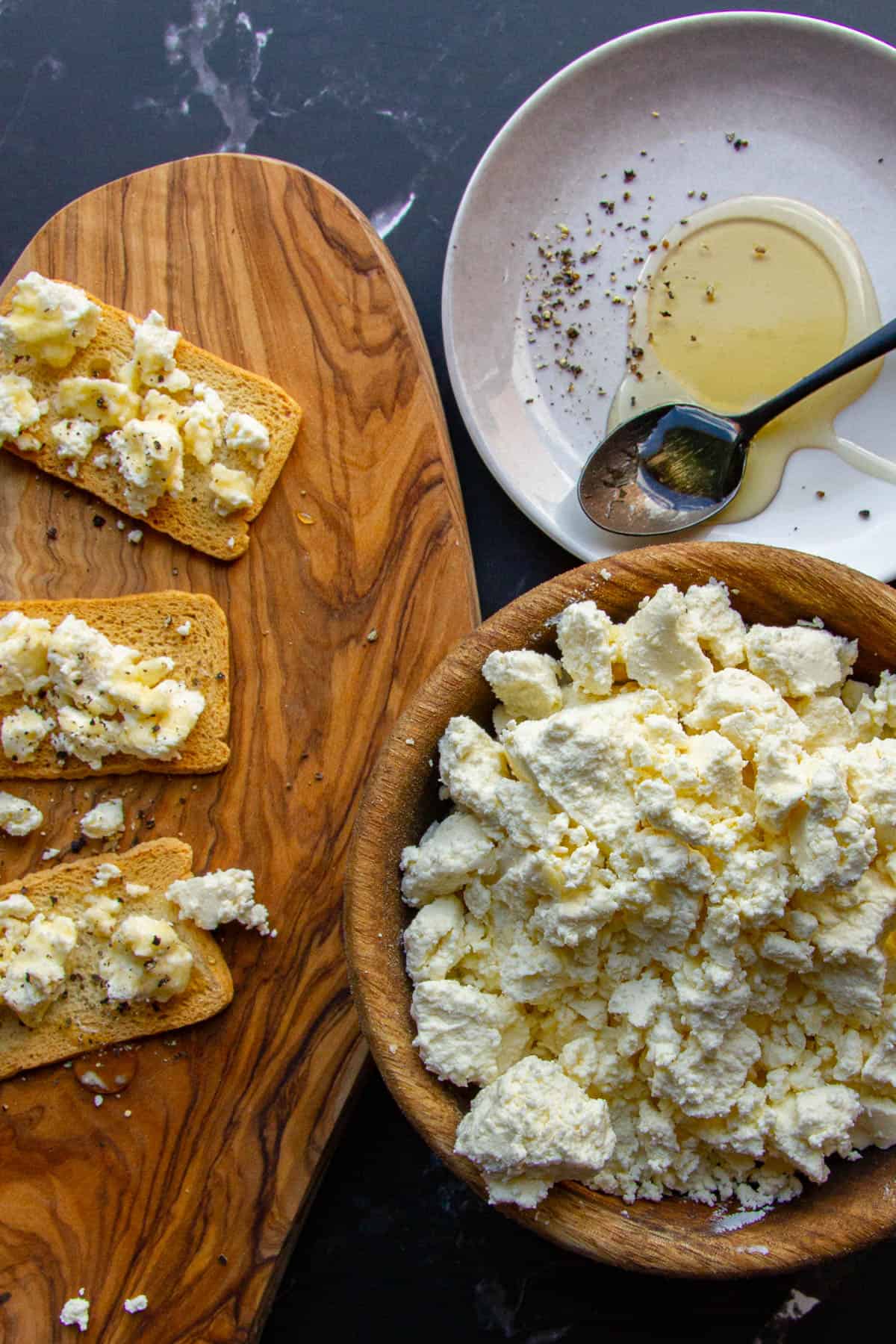 Ingredients You'll Need
Whole Milk: Very fresh raw milk works best and is traditional in Italy. Regular milk will also work but will yield less cheese. UHT milk (Ultra-Pasturized Milk) should be avoided as it's even more difficult to make curds from this milk. [1]
Despite this, I was still able to make a decent ricotta using UHT milk and pasteurized cream.
35% Cream: If you don't have cream, you can replace it with more milk, but keep in mind the ricotta will be lighter and less rich.
Salt: A little salt is necessary for flavour but not too much. Keep the salt low in case you want to use this for a dessert recipe later.
Lemon juice: This causes the milk to curdle into curds and cannot be left out. You can also use another acid like white vinegar but I think lemon has the best flavour.
Soft or Firm Whole Milk Ricotta
You can change the consistency of this ricotta depending on what you'll use it for.
For lighter and softer ricotta, allow it to strain for 2 hours in the fridge.
For firmer and drier ricotta that's more suitable for making cheesecakes, gnocchi or stuffed pasta, allow it to strain overnight or at least 8 hours in the fridge.
Common Questions
Is Whole Milk Ricotta the Same as Ricotta Cheese?
Whole milk ricotta refers to cheese made with full-fat milk while other ricotta cheeses may be made with less fat but added starch.
When a recipe calls for whole-milk ricotta it's looking for a cheese with a higher fat content. Like this recipe, whole-milk ricotta can also include cream to make it smoother and more flavourful.


Can You Freeze Ricotta Cheese?
No, not really. Although it will still be safe to eat, the texture of the ricotta will become a watery mess after freezing and is not recommended.
You can, however, make a stuffed pasta or lasagna with the ricotta and freeze that.
Make Your Own Whole Milk Ricotta
The simplest and tastiest method for making fresh whole milk ricotta at home!
Ingredients
1

l

whole milk

raw milk is best, avoid UHT

250

ml

35% cream

(1 cup)

74

g

lemon juice

(about 2 lemons)

6

g

salt

(1 tsp)
Instructions
Use a spatula to prevent the bottom from burning and heat the milk and cream together until it boils (Or heat to 185°F/85°C to be precise). Immediately turn off the heat once it boils.

Add the salt, lemon juice and whisk briefly to combine, then stop whisking and let stand for 10-15 minutes.

Gently scoop the curds into a strainer lined with cheesecloth (or a nut milk bag). Let cool for 15 minutes before closing the sides of the cheesecloth. Let cool in the fridge.(Note the picture was taken after straining the ricotta overnight)

Let the ricotta cool for at least 2 hours in the fridge or overnight for firmer ricotta.

Enjoy within 3 days of making.
Nutrition
Calories:
248
kcal
|
Carbohydrates:
10
g
|
Protein:
6
g
|
Fat:
21
g
|
Saturated Fat:
13
g
|
Polyunsaturated Fat:
1
g
|
Monounsaturated Fat:
6
g
|
Cholesterol:
74
mg
|
Sodium:
475
mg
|
Potassium:
264
mg
|
Fiber:
1
g
|
Sugar:
9
g
|
Vitamin A:
883
IU
|
Vitamin C:
5
mg
|
Calcium:
216
mg
|
Iron:
1
mg
Looking for More Cheesy Recipes?
My Ultimate Smoked Mac and Cheese
The Best Smoked Mac and Cheese
After many tweaks and trials, I have found the best smoked mac and cheese recipe. Throw this on the smoker while you wait for your smoked meats to rest.
Check out this recipe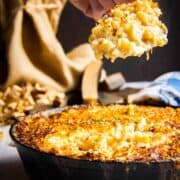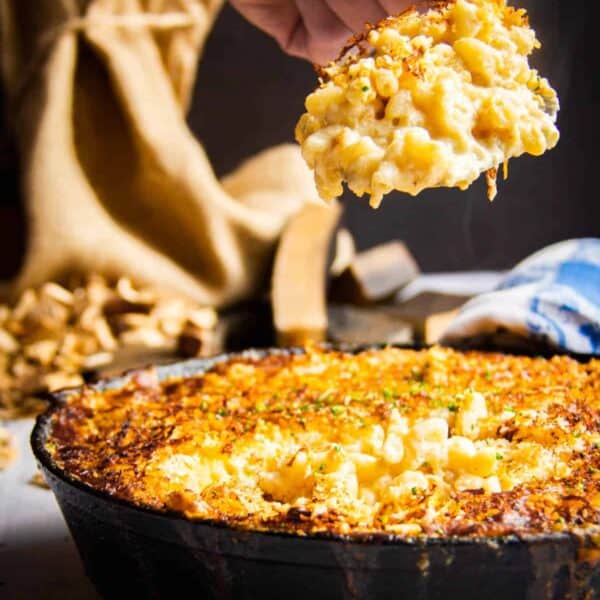 The Most Amazing, Flakey, Buttery Quiche Florentine
This is a recipe for an epic Quiche Florentine with Spinach, cream, milk, eggs, onions and garlic baked in the most buttery, flakey pie crust.
Check out this recipe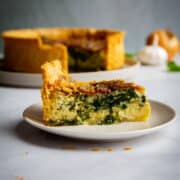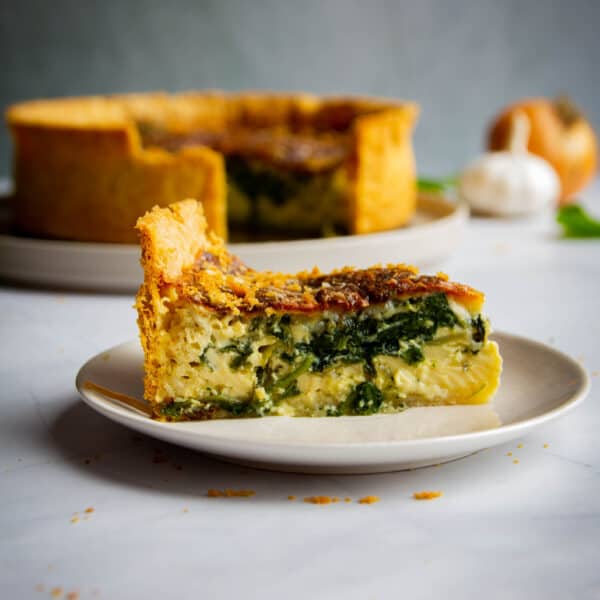 A Warm, Extra Creamy Burrata Cheese
A Warm Fall Burrata Recipe with Toasted Marcona Almonds, Pear and Fresh Thyme
A burrata recipe with roasted pears, fresh thyme, toasted Marcona almonds and finished with warm brown butter. One of my favourite ways to enjoy the pear season.
Check out this recipe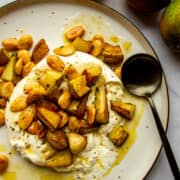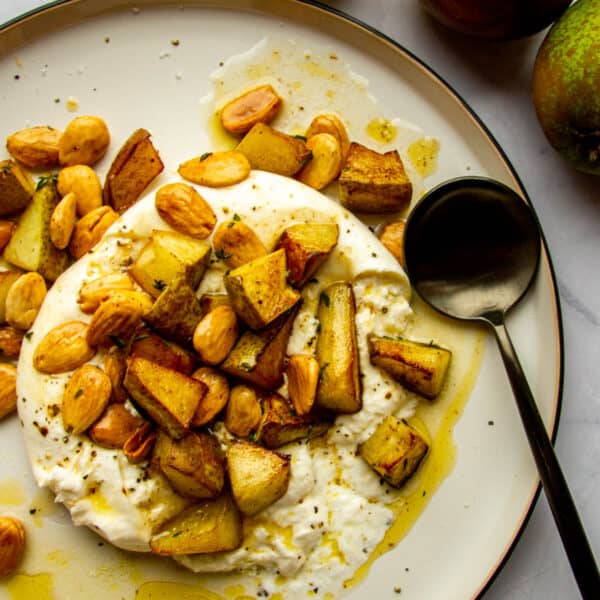 Cacio e Pepe and Fresh Homemade Pasta
Buttery Smooth Tagliatelle – Cacio e Pepe
Tagliatelle is easy to make at home and delicious when prepared with the iconic Cacio e Pepe sauce. Freeze any leftover tagliatelle for later.
Check out this recipe