What's the most difficult recipe to make keto?
I'm pretty sure it's a keto sticky toffee pudding.
Think about it, a regular sticky toffee pudding is basically the holy grail of sugary, carb-rich desserts with high concentrations of keto-unfriendly ingredients like sugary dates, brown sugar, white sugar and white flour.
This recipe is crafted for my mother, who's been on a keto diet for more than 2 years and like me, her favourite dessert for Christmas is a Sticky Toffee Pudding.
And because I also love a good challenge, I took a deep dive into the keto baking world in search of the best keto STP.
After many trials, failed cakes and dissatisfied faces from my wife, I couldn't be happier to share with you my winning recipe.
The secret ingredients I found are undoubtedly this keto flour from King Arthur Baking, pureed zucchini and a mix of Allulose and Swerve Brown.
Keto Disclaimer: I'm a chef who loves helping people with keto diets make delicious things (my mum is keto, hi mum!) but I'm no medical professional. Always consult a health care professional before making dietary changes or using my recipes.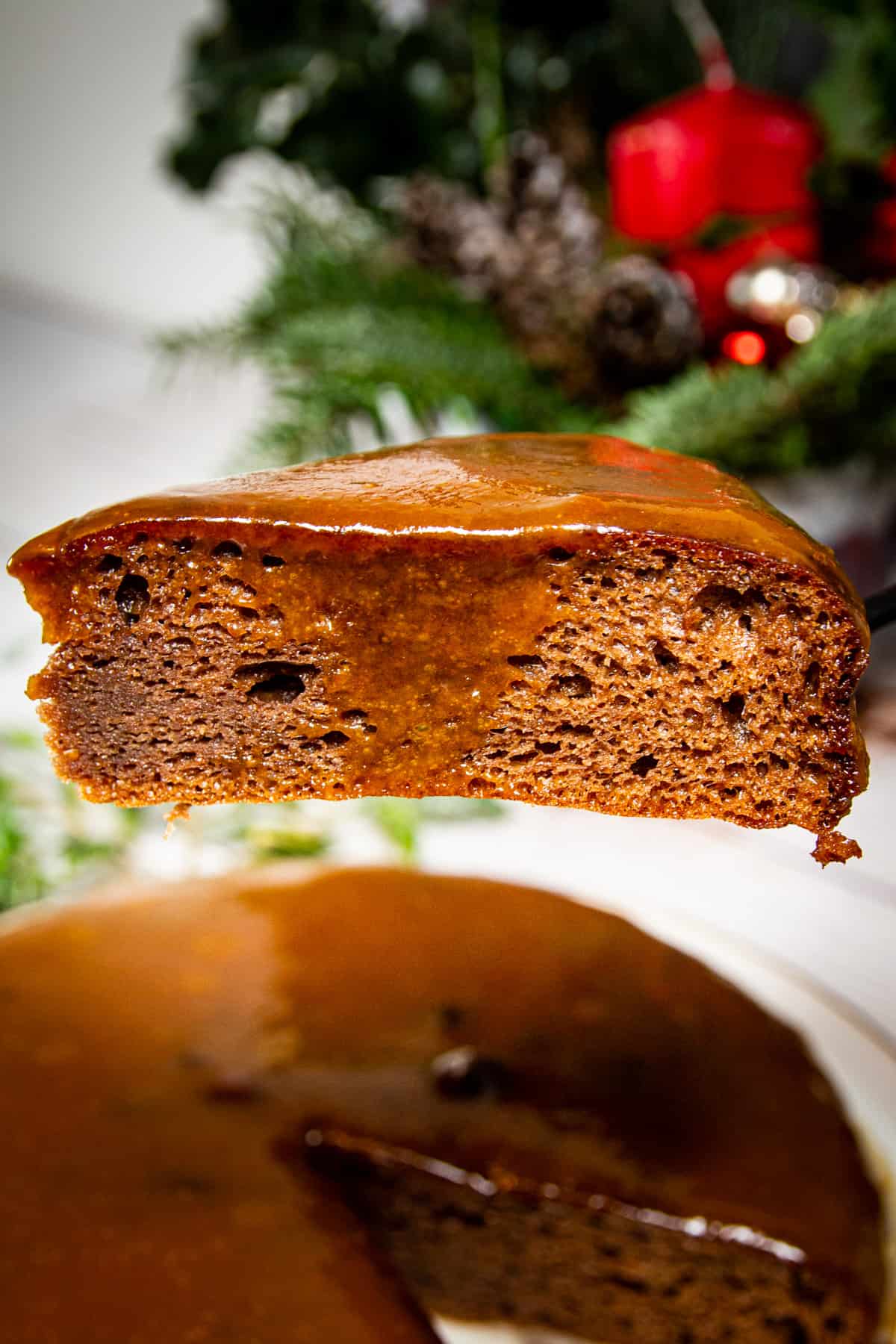 How Does it Taste?
We were both pretty impressed with this cake.
Other cakes we tried made with almond flour or coconut flour tasted either grainy or didn't rise.
But *this* was exceptional.
The King Arthur flour helped the cake rise surprisingly well with no bad aftertaste. The cake batter was smooth, and emulsified and resulted in a deliciously soft crumb.
Although it will never truly be as good as the original, I'm still very happy with this keto version. Its clean taste, soft, springy texture and satisfyingly sweet-tasting keto caramel sauce make this a real keto success.
Plus, it's sweet enough that I don't think most people would even notice it's keto!
The Ultimate Keto Toffee Caramel
The taste and texture of this keto toffee sauce really blew our minds.
It hit all the elements of a perfect caramel, I'm not sure I could tell the difference if it was placed side by side with real caramel.
It was surprisingly sweet with no bad aftertaste and lovely caramel flavours.
What impressed me the most was that this caramel doesn't crystalize like other caramels made with other sweeteners like Erythritol.
This cannot be achieved without the star ingredient Allulose. This magical sugar substitute prevents the crystallization in the sauce and caramelizes just like real sugar.
I also cut the sauce with Swerve Brown, because I loved the smell of this sweetener and I think it adds a lot of extra caramel flavour to the sauce.
You really cannot make this sauce without Allulose because there's no other sweetener (at least to my knowledge) that will provide the same texture and flavour.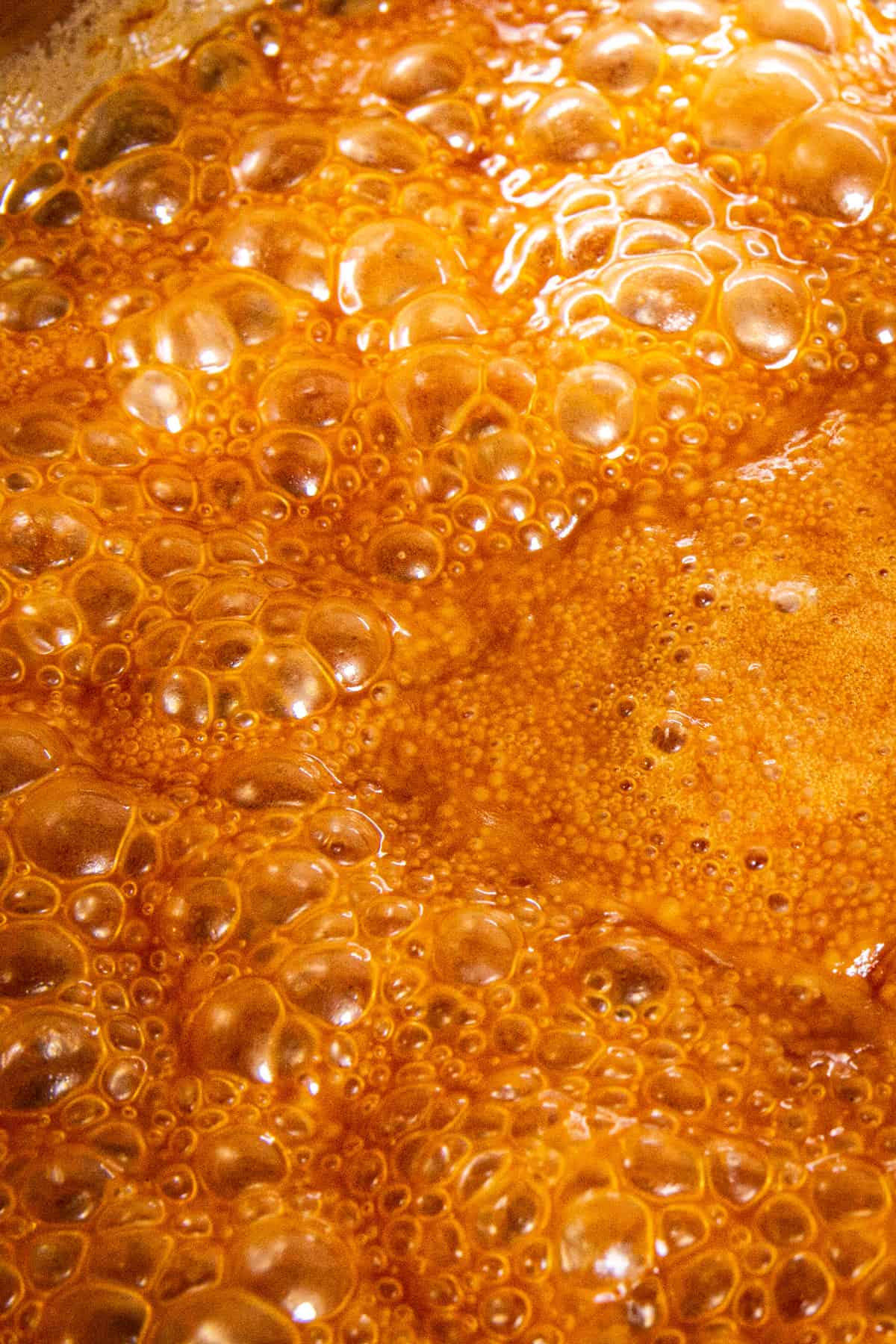 Key Ingredients For A Keto Sticky Toffee Pudding
King Arthur Keto Baking Flour: I tried cake batches with coconut flour and almond flour which were nowhere near as good as this keto flour. I'll admit it's a little pricey but I think it's really the best option and definitely worth it (especially for Christmas!).
Allulose: This is my favourite sweetener because it behaves very similarly to sugar. It caramelizes, has no aftertaste and doesn't crystalize or burn like the other sweeteners. You cannot make this recipe effectively without this.
Swerve Brown: Have you smelled Swerve Brown?! It's actually insane how good it smells. This erythritol-based sweetener acts more as a flavour enhancer for this recipe and could be omitted or replaced with another erythritol-based sweetener or with extra allulose.
Zucchini Purée: The zucchini purée works just like apple sauce in this recipe except it's low in carbs. It keeps the cake moist without adding any bad flavour and your guests won't know it's been added.
Oil: But why not butter? Good question, as a pro-butter advocate myself, I asked the same question. The reason is that oil-based cakes actually make a softer crumb than butter-based cakes. Who knew right? Although butter does add more flavour to your cake, there is enough butter in the sauce to make up for it.
Cocoa Powder: You won't taste the cocoa powder, but just a little bit makes the cake look like the molasses-rich original version.
Vanilla: A good amount of vanilla extract is crucial to mask the flavour of the pureed zucchini. If you're feeling extra fancy, add the seeds from a real vanilla bean instead for an even better flavour.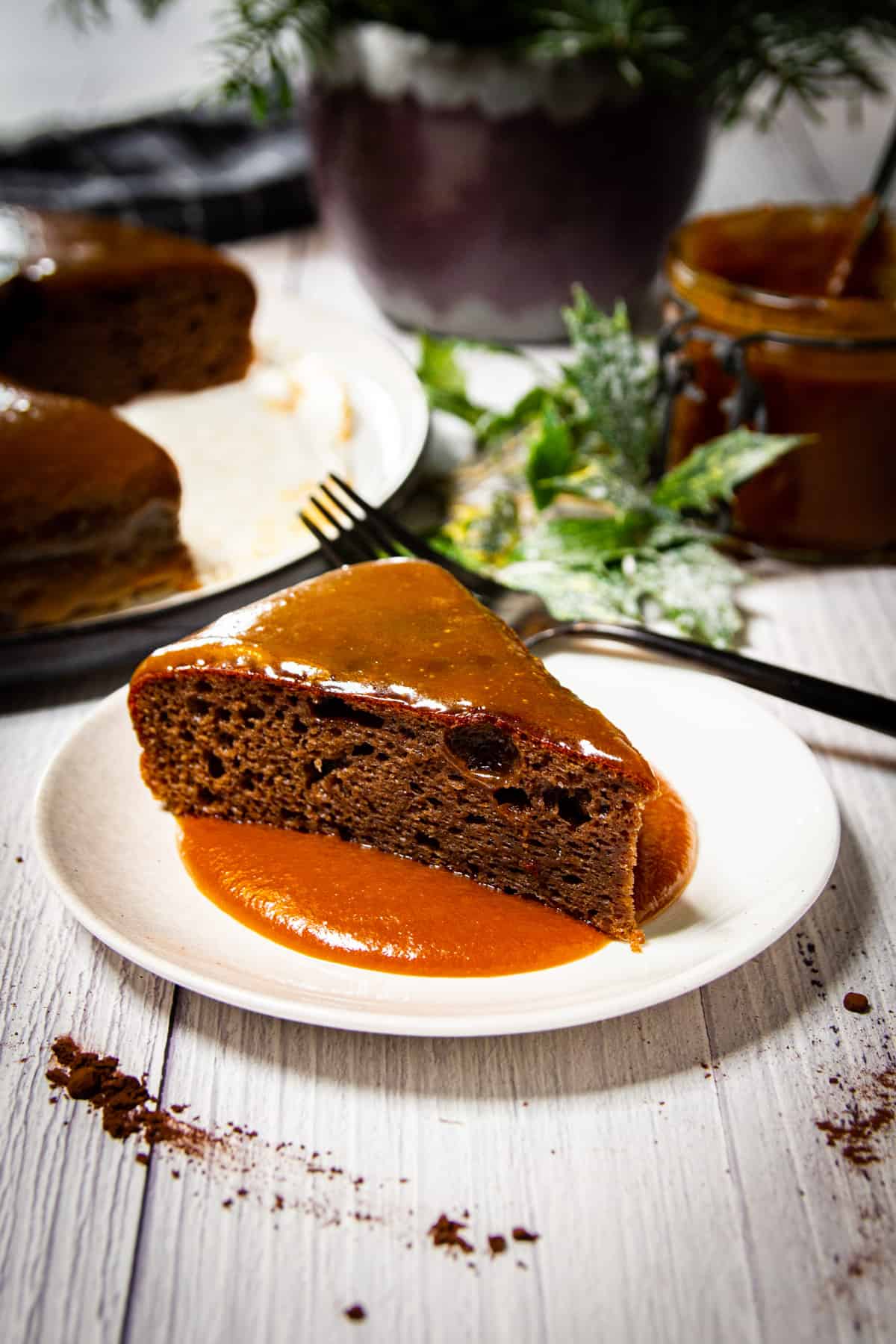 How to Make a Keto Sticky Toffee Pudding
Here's a quick summary of how to make this sugar-free STP.
For the STP Base:
Preheat the oven to 325°F/165°C.
Cut a parchment paper circle for your cake pan. Brush the paper and all sides of the cake pan with oil.
Bring a small pot of water to boil.
Peel and slice 1/2 a zucchini. Blanch it for 5 minutes in boiling water.
Puree the blanched zucchini until smooth using a food processor. Let it cool slightly.
Sift the dry ingredients (except the sweeteners) together in a bowl and mix well.
Add the sweeteners and break them up with a whisk. (Swerve Brown clumps up a lot so try your best to break it up)
Whisk the eggs, oil, sweeteners and cooled zucchini puree together.
Whisk in the dry ingredients until smooth but be careful not to over whisk.
Pour cake batter into the greased pan and bake for 30-35 minutes with the convection fan off. The cake is ready when it reaches 200°F/94°C in the interior or when a toothpick comes out clean when poked in the center.
Let the cake cool completely in the pan before opening it.
For the Legendary Keto Toffee Sauce:
In a clean large pan with shallow sides, heat the butter with the allulose over low heat. Stir with a whisk to prevent uneven browning.
Once the sauce is medium brown, add the Swerve Brown and continue cooking for 1 minute to dissolve.
Turn off the heat and let cool for 1 minute.
Add the cream slowly (it may splash up so be careful). Stir with a spoon to combine.
Boil for 1-2 minutes over medium heat to thicken slightly.
Let cool in the pan before transferring to a mason jar. (Be careful as the sauce is scorching hot!)
To Finish:
Once the cake has cooled, poke lots of holes in the cake with a toothpick.
Pour about 1/3 of the sauce over the top of the cake and let that sit for about 1 hour before releasing the cake mould.
To serve, heat the toffee sauce until warm and pour over a slice of the cake. Optional: garnish the cake with fresh sugar-free whipped cream or keto vanilla ice cream.
Enjoy!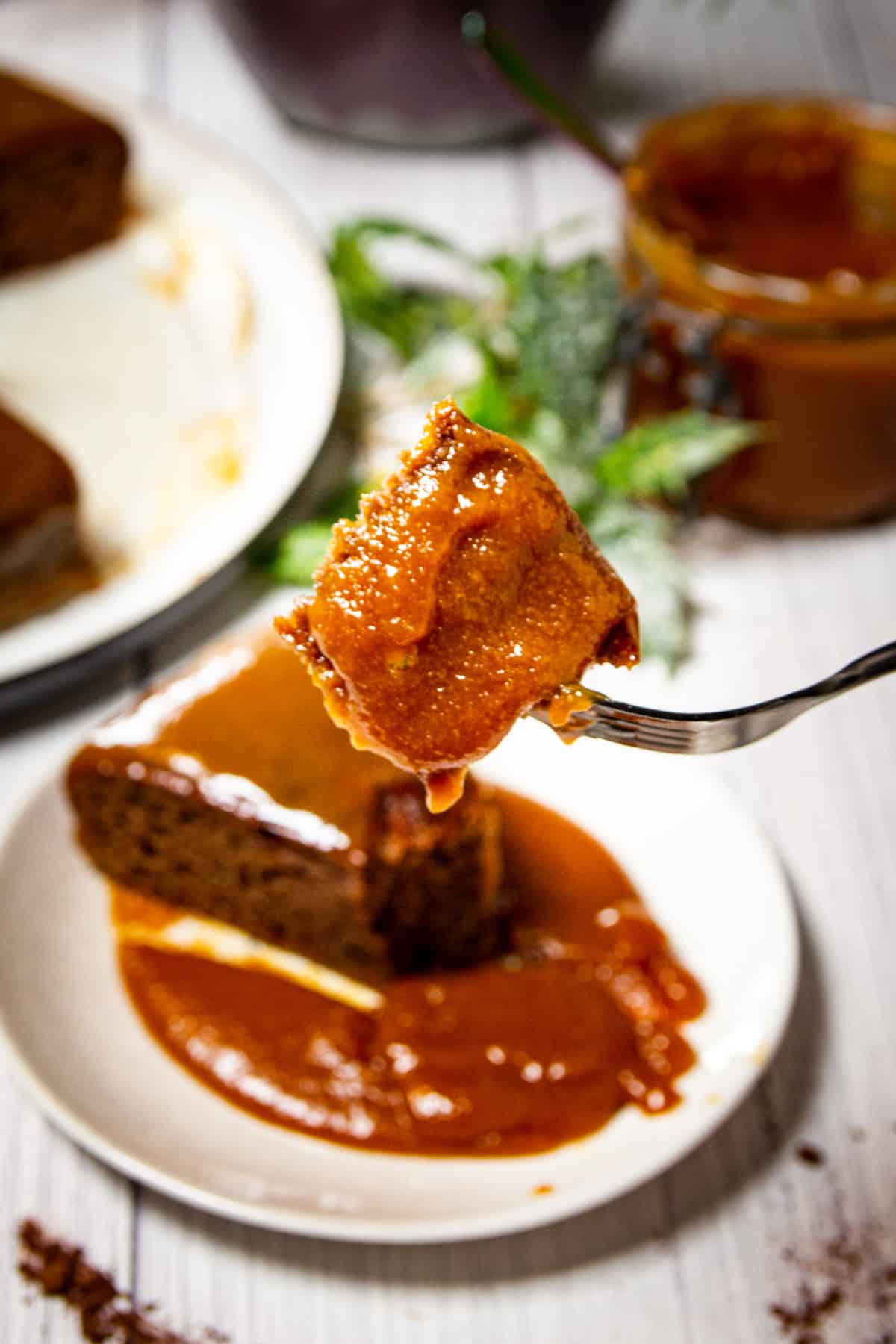 Tips for The Ultimate Sugar-Free Christmas
You really need to use the exact ingredients in this recipe as other sweeteners can behave like completely different ingredients and the entire recipe will need to be tweaked.
Use Allullose for the best toffee sauce. You may leave out the Swerve Brown if you wish but Allulose is fundamental for the texture of this sauce.
Bake at a lower temperature when using Swerve and Allulose. 325°F/165°F seemed to be the perfect temperature.
Adding the Swerve Brown after first browning the Allulose prevents the Swerve from burning.
Try not to overwork the batter as the King Arthur Keto flour already has a high amount of gluten strength and over-mixing will result in a tough cake.
The Best Keto Sticky Toffee Pudding
After many trials and tests, I've found a recipe for a keto sticky toffee pudding that is certainly worth writing down.
Equipment
marker, pen or pencil

Toothpicks

Small pot
Ingredients
For the Sticky Toffee Cake
120

g

King Arthur Keto Baking Flour

(1 cup)

¾

tsp

salt

¾

tsp

baking powder

½

tsp

baking soda

1

tbsp

cocoa powder

(8.5g)

80

g

Allulose

(½ cup)

40

g

Swerve Brown

(¼ cup)

105

g

cooked zucchini puree

(about ½ a zucchini)

3

whole

eggs

1

tbsp

vanilla extract

(Or seeds of 1 vanilla bean)

66

g

peanut oil

(⅓ cup)
For the Toffee Sauce
168

g

butter

(¾ cup)

120

g

Allulose

(½ cup)

120

g

Swerve Brown

(½ cup)

238

g

35% cream

(1 cup)

1

tbsp

vanilla extract

¼

tsp

salt
Instructions
Preheat oven to 325°F/162°C.

Trace a circle around your cake pan on a sheet of parchment paper using a marker. Cut out the circle and put it in the cake pan.

Brush the cake pan and parchment paper with oil on the inside of the pan.

Bring a small pot of water to a boil.

Peel and slice half a zucchini into rounds.

Blanch the zucchini in the boiling water for 5 minutes.

Drain the zucchini from the water and immediately blend in a food processor until smooth. Let this cool for 5 minutes before adding to the cake batter.

Sift the dry ingredients (except the sweeteners) together in a bowl and mix well with a whisk.

Mix the eggs, sweeteners, cooled zucchini puree, oil and vanilla extract together and whisk until smooth.

Whisk in the sifted dry ingredients in stages until smooth but don't overwork the batter.

Pour all of the cake batter into the greased cake pan. Bake the cake for 30-35 minutes at 325°F/162°C or until a toothpick poked in the center comes out clean. Alternatively, you can use a digital thermometer to test the inside of the cake. Once the inside reaches 200°F/94°C it's ready.

While the cake bakes, make the toffee sauce.

Combine the Allulose and butter in a large, shallow pan. Bring to a simmer over low heat and stir briefly with a whisk (watch carefully as allulose burns faster than sugar).

Once the sweetener and butter become a medium brown colour, add the Swerve brown and whisk in. Continue cooking for 1 minute to dissolve the Swerve and then turn off the heat.

Slowly add the cream to the caramel (be careful as it may splatter) and whisk until smooth. Add the vanilla extract and simmer for 1 minute to thicken the sauce.

Once the cake is ready, let it cool completely on a wire rack in the cake pan.

When the cake has cooled, poke holes in the top with a toothpick.

Pour about ⅓ of the toffee sauce over the cake and let cool for about 1 hour.

To serve, heat the sauce until warm and pour generously over a slice of the cake.

Optional: garnish with a dollop of sugar-free whip cream or a scoop of keto vanilla ice cream.

Enjoy!
More Keto Recipes