Before you can run you must learn to walk. That's what I was taught in my early years of cooking school. Stock is life, the heart of flavour created with bones. Making a proper stock is the foundation to cooking, and in order to have a good sauce we need a good foundation. Some people find chicken stock intimidating but it's actually very easy.
Stock is sort of like the engine of a car, a strong engine is integral to a good car. Making chicken stock is incredibly easy when you understand the basics and I hope to give you the confidence to make it yourself in this recipe.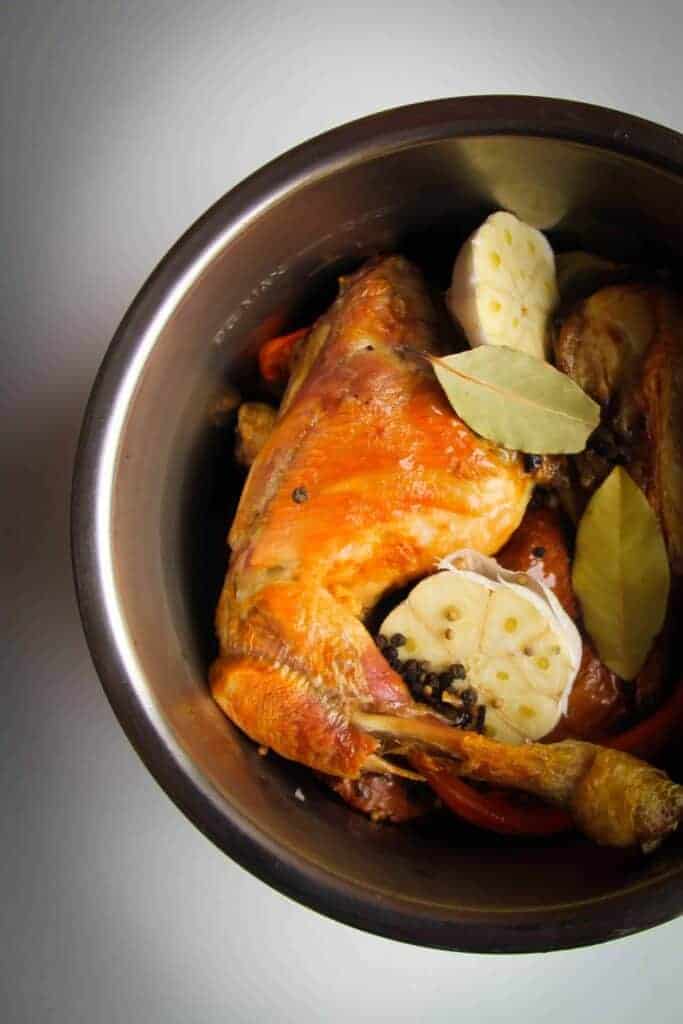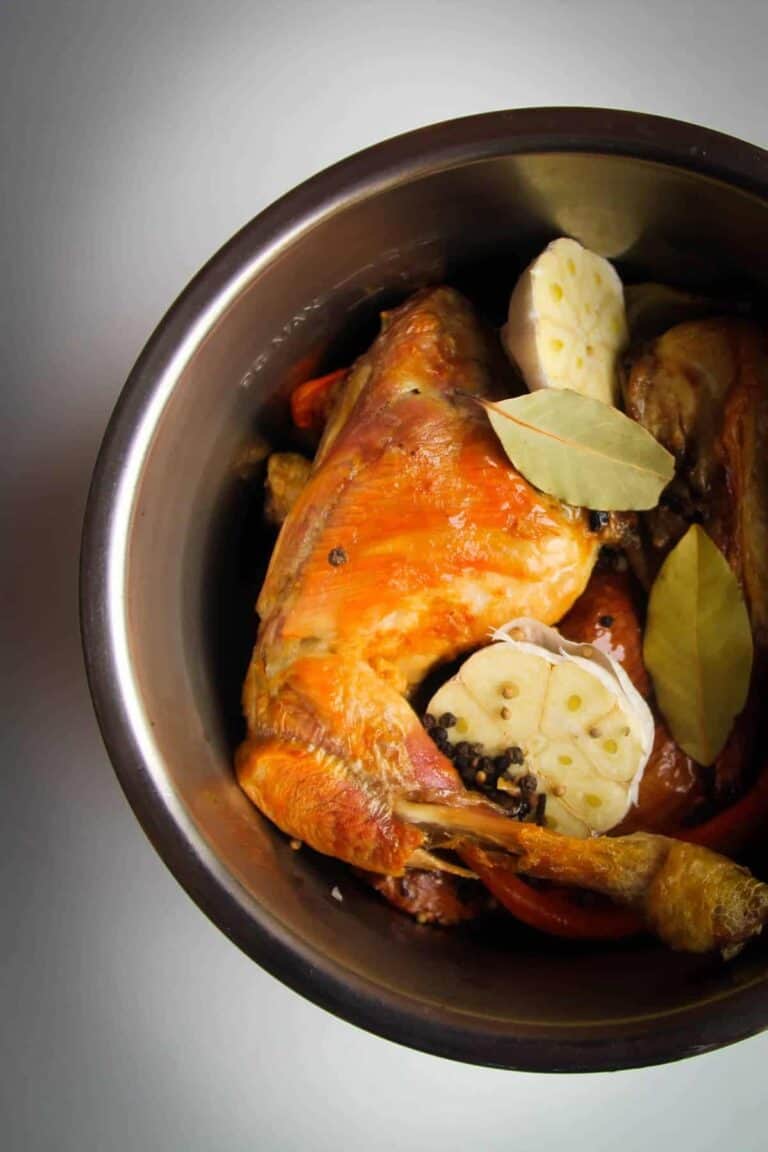 The Importance of Stock
Escoffier, an old school, legend of a Chef, modernized the French kitchen during the early 20th century and wrote the rules for which we adhere to in professional kitchens.
In his book The Escoffier Cookbook and Guide to the Fine Art of Cookery, he writes:
"Indeed, stock is everything in cooking, at least in French cooking. Without it, nothing can be done. If one's stock is good, what remains of the work is easy; if, on the other hand, it is bad or merely mediocre, it is quite hopeless to expect anything approaching a satisfactory result."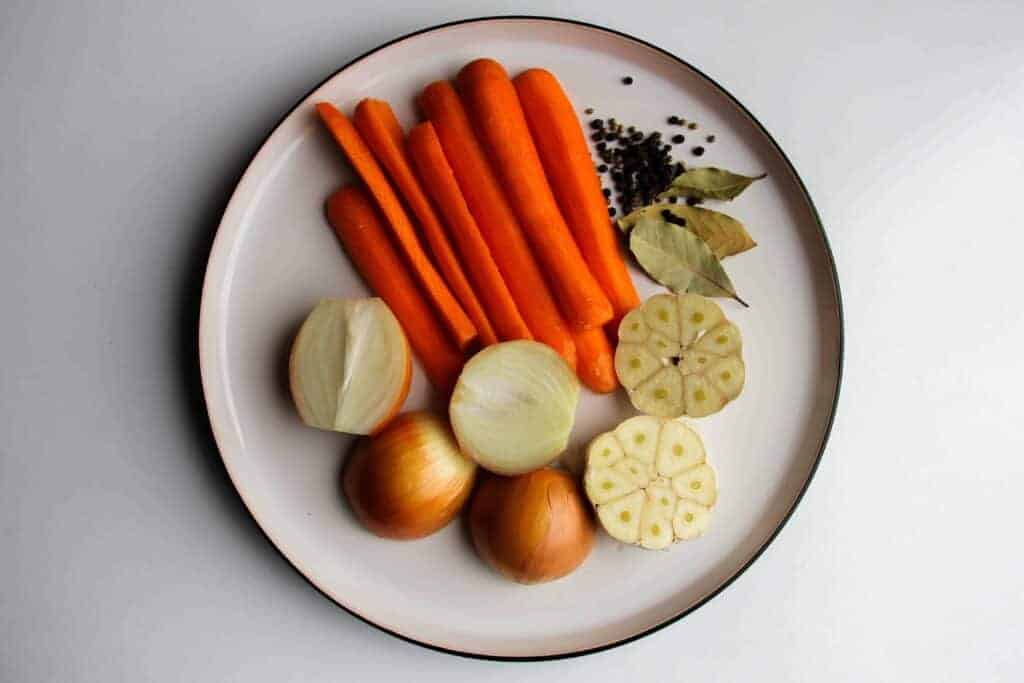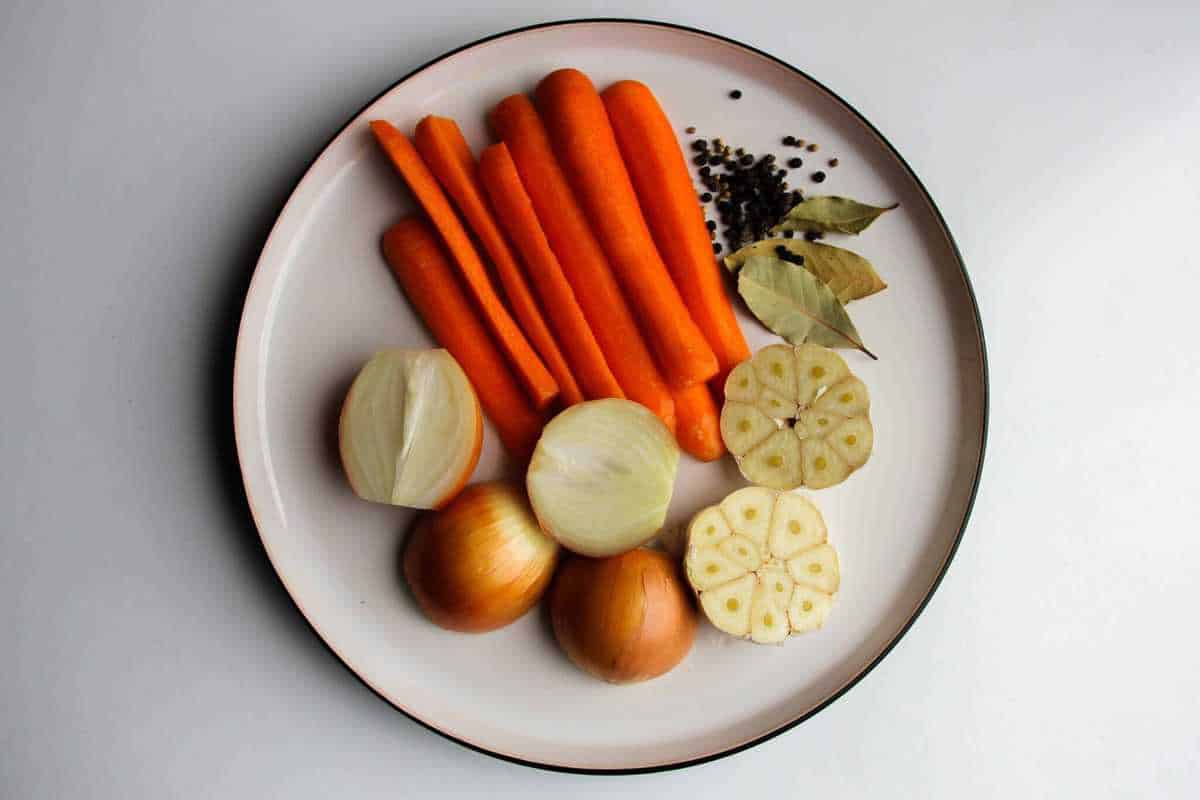 Broth VS Stock VS Bone Broth
What's the difference between chicken stock, chicken broth and bone broth?
I'd like to set this straight because I see a lot of people mix these up. Even chefs interchange stock and broth. It's not a big deal if you know what you're doing but it's helpful to know the differences. Here's how I would break down all three.
Chicken Stock
This is the O.G, original gangster. It must contain bones and is usually simmered with vegetables (mirepoix) and herbs for anywhere from 2-12 hours. Every Chef has their own idea of how long it should be cooked. Some say 12 hours, some as little as 30 minutes!
Chicken stock needs time because bones are dense and take more time to extract flavour than compared to meat. Stock is almost always the best option. Stock is left unseasoned so it won't be too salty if it's reduced later or used in a sauce. Good chicken stock will be slightly gelatinous from the collagen in the chicken bones and you will see this when it cools.
Chicken broth
Broth uses meat and may include bones but is generally cooked for a shorter period of time. A good example of this is using leftover bones and meat from a roast chicken or turkey to make a broth for gravy. Chicken broth is usually seasoned and ready to go and is great as a soup.
Bone Broth
Made popular in 2013 from the paleo diet, the term "bone broth" was created in a search of nutrition from health-conscious individuals. It's pretty much a stock that is cooked anywhere from 12-48 hours. The longer cooking is said to extract much more collagen and therefore healthier.
Bone broth usually has a higher price tag than chicken stock because it takes much longer to make.
Instant Pot stocks are extra magical because almost all of the flavour is kept in while cooking with a lid. Heston Blumenthal did research on pressure cooked stocks and noticed that a lot of flavours are actually lost while simmering stock on a stove without a lid. Although not all chefs agree with this and prefer the traditional way of slowly simmering a stock without a lid.
I prefer pressure-cooked stocks 100% of the time for a few reasons. The first is that they save you an unbelievable amount of time. Considering that a normal chicken stock might take 2-3 hours and with a pressure cooker, it's only 45 minutes.
The second, and most important is the flavour. In my opinion, the flavour and extraction from a pressure-cooked stock is always better than a traditional stock. Period.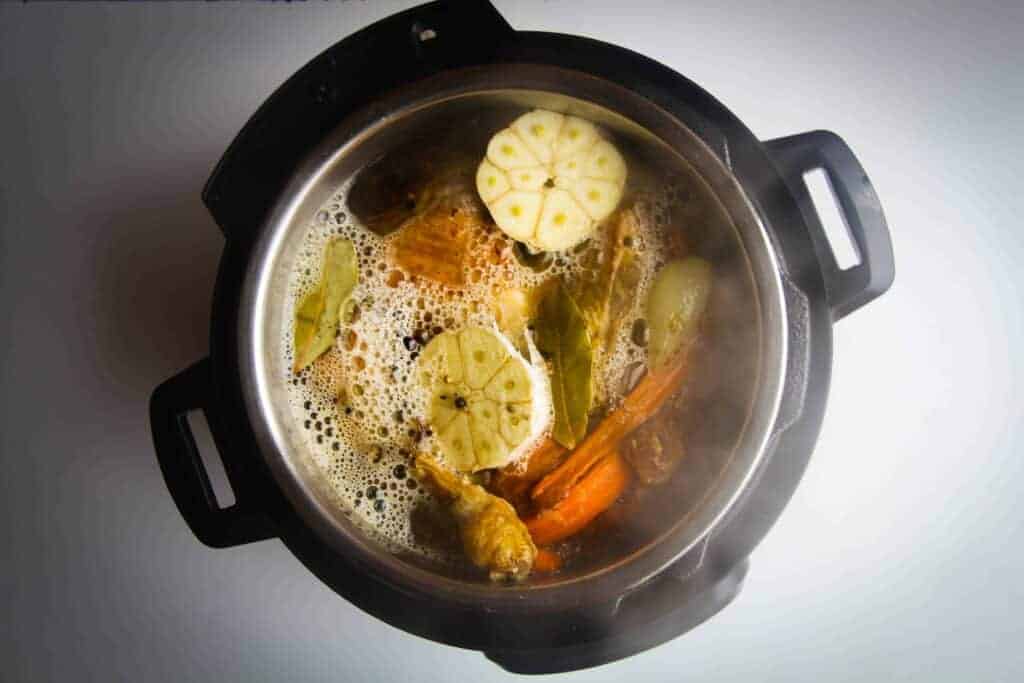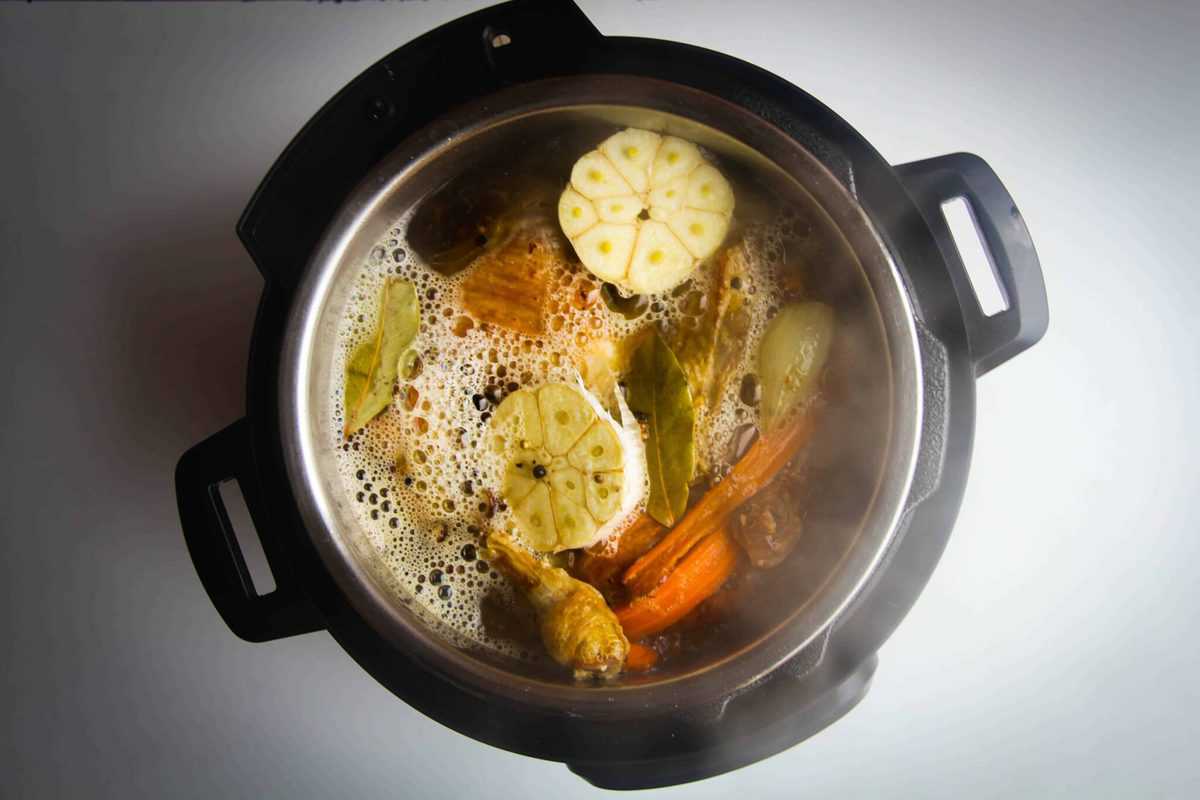 Blanching and Roasting
This is again, a matter of preference. Roasting will always result in a deeper, darker flavour than without. I frequently roast bones before making stock but not always. In the case of this Pho recipe, I don't roast the bones before because I prefer the broth to be lighter.
Blanching is when the bones are covered with cold water and brought to a boil, skimmed and then the water is discarded. This removes impurities of stock and is a great way to remove the "funkiness" of the stock. It's mainly used for beef or pork bones but some chefs will also blanch bones for chicken stock.
If you want to make Jus or a consommé, then blanching is recommended. The decision to blanch or roast the bones depends on the application and your personal preference.
What Kind of Bones Should I Use?
The best bones to use are wing bones, chicken backs and legs to make the stock rich and gelatinous. Some chefs even like to add chicken feet to make it super gelatinous, but this can also add unwanted flavours.
I like chicken stock because it can be created with the scraps of the chicken. This means no part of the chicken goes to waste and we like no waste.
Pro-tip: Save leftover chicken bones in the freezer and make a big batch of chicken stock when you find the time.
What if I Don't Have an Instant Pot
If you don't have an Instant Pot, follow the same recipe but use a stockpot and cook over the stove. Bring to a boil, skim, and simmer for 2-3 hours lid off. Check occasionally to make sure the water doesn't boil.
I hope I've answered all of your questions about chicken stock, broth and bone broth. If I'm missing something, feel free to comment below!
Happy Cooking!
How to Make Chicken Stock
How to make chicken stock with an Instant Pot. Healthy, comforting and the base of all good sauces.
Ingredients
700

g

Chicken bones

Preferably wing, neck and back bones

1

whole

chicken leg

Skin removed

4

whole

carrots

peeled

1

whole

garlic

split in half, skin on

2

whole

white onions

split in half, skin on

1

tsp

black peppercorns

1

tsp

coriander whole

2

pc

bay leaves

cold water

filled to just cover the bones
Instructions
Set the oven to 400°F/200°C. Place the chicken bones, chicken leg, carrots and onions on a tray and in the oven for about 1 hour or until dark brown but not burnt.

Once roasted, add to the instant pot. Add a bit of water to the roasting tray and try to remove all those delicious brown bits from the tray. Add this to the Instant Pot.

Add the rest of the ingredients and cover the bones with cold water to the max line of the Instant Pot.

Set sauté function for 20 minutes and wait for the stock to boil. Once boiled, turn off the sauté function and skim the foam from the top.

Close the lid and set the Instant Pot to 45 minutes on high pressure.

Leave the Instant Pot to natural release the pressure for about 15 minutes. Manually release the rest.

Skim off any fat from the top and strain the stock through a fine mesh strainer.

Cool the stock in a bath of ice and refrigerate.
Notes
Don't roast the garlic otherwise the stock will be bitter.
Skimming the stock is very important for flavour and clarity of the stock. Don't skip this step.
Always cool freshly cooked stocks quickly to prevent it from spoiling early. 
Nutrition
Calories:
7
kcal
|
Carbohydrates:
2
g
|
Protein:
1
g
|
Fat:
1
g
|
Saturated Fat:
1
g
|
Cholesterol:
1
mg
|
Sodium:
1
mg
|
Potassium:
15
mg
|
Fiber:
1
g
|
Sugar:
1
g
|
Vitamin A:
198
IU
|
Vitamin C:
1
mg
|
Calcium:
13
mg
|
Iron:
1
mg
The Perfect No-Fail Spatchcock Holiday Chicken Dinner – with Mushroom Gravy
My ultimate rundown on how to achieve the perfect holiday chicken dinner using the spatchcock method. Beautifully juicy, flavourful meat with insanely delicious roasted potatoes.
Check out this recipe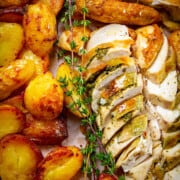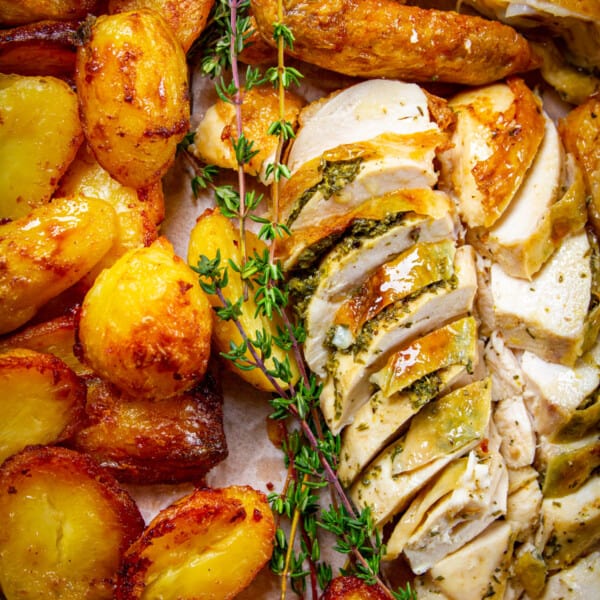 Bitterballen – Dutch Secrets Exposed
An extremely addictive Dutch snack consisting of slowly braised beef that's thickened with a roux and deep fried into little crispy balls.
Check out this recipe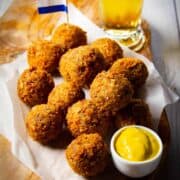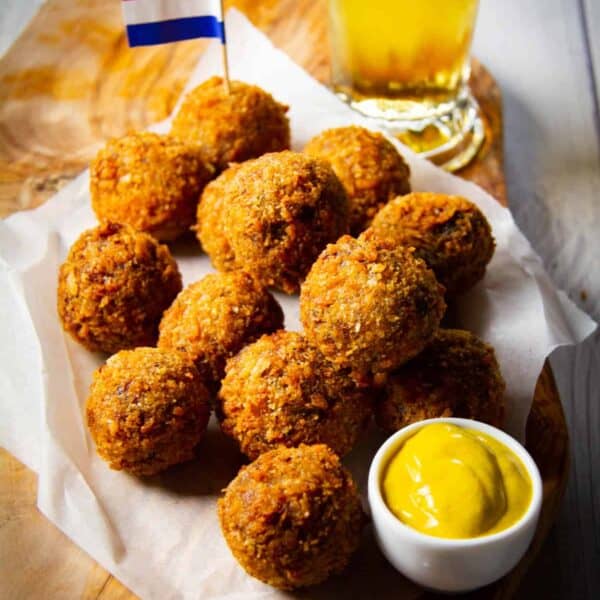 The BEST Bitterballen Recipe (Dutch Deep-Fried Meatballs)
Is it time for new knives? Then definitely check out my ultimate guide to The Best High End Knife Sets and Why I'll Never Buy a Cutco Knife Set.