You might have seen this ugly vegetable before in a farmer's market mistaking it for a pile of dirty branches and wondering if the vegetable sellers are starting to get a little desperate. Thankfully this is not the case, because black salsify is actually gold on the inside. It may look a little intimidating but don't worry, I'm going to give you the rundown on everything you need to properly prepare this gorgeous vegetable.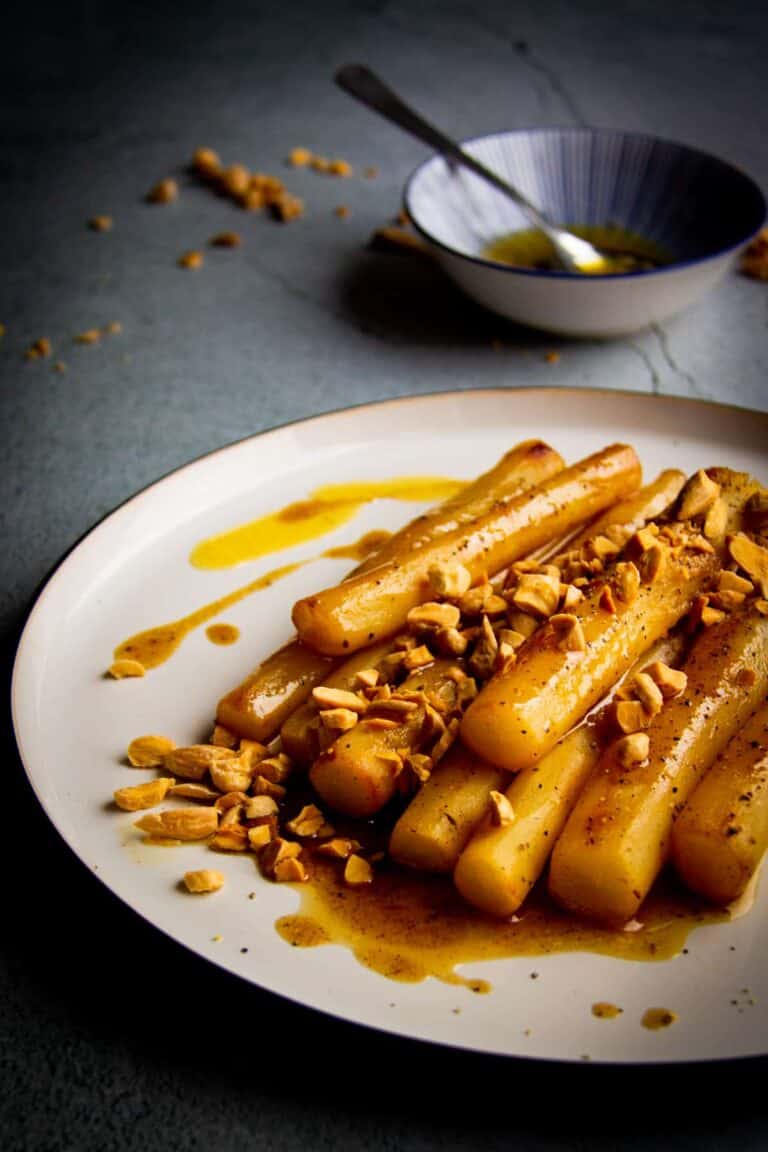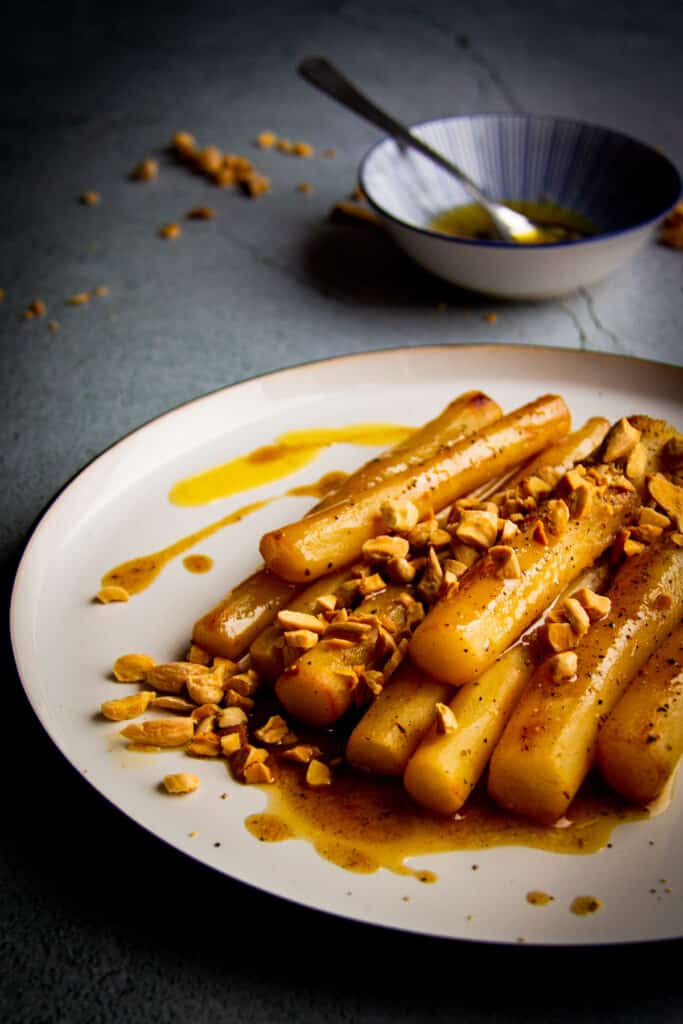 How Does Black Salsify Taste?
This root vegetable originates from the Mediterranean and has a delicate but delicious sweet flavour. Some Chefs compare it to the slightly sweet taste of oysters or even artichokes. Although Caroline says it tastes a bit like a parsnip, to me it tastes like a slightly sweeter celery root. Either way, we can certainly agree it's tasty.
Black Salsify or White Salsify?
There are two popular varieties, black salsify and white salsify. Both varieties are delicious but the black variety should be peeled because its skin is tough. The white variety has a skin similar to a carrot which can be scrubbed clean or peeled.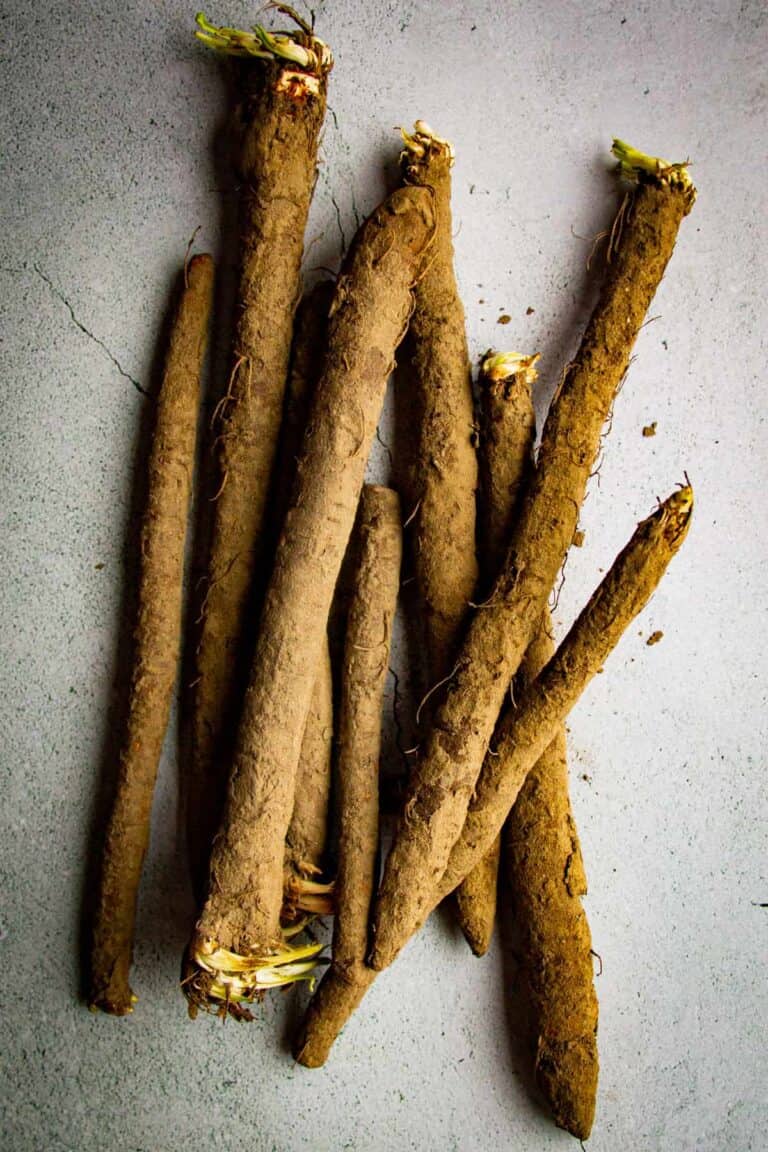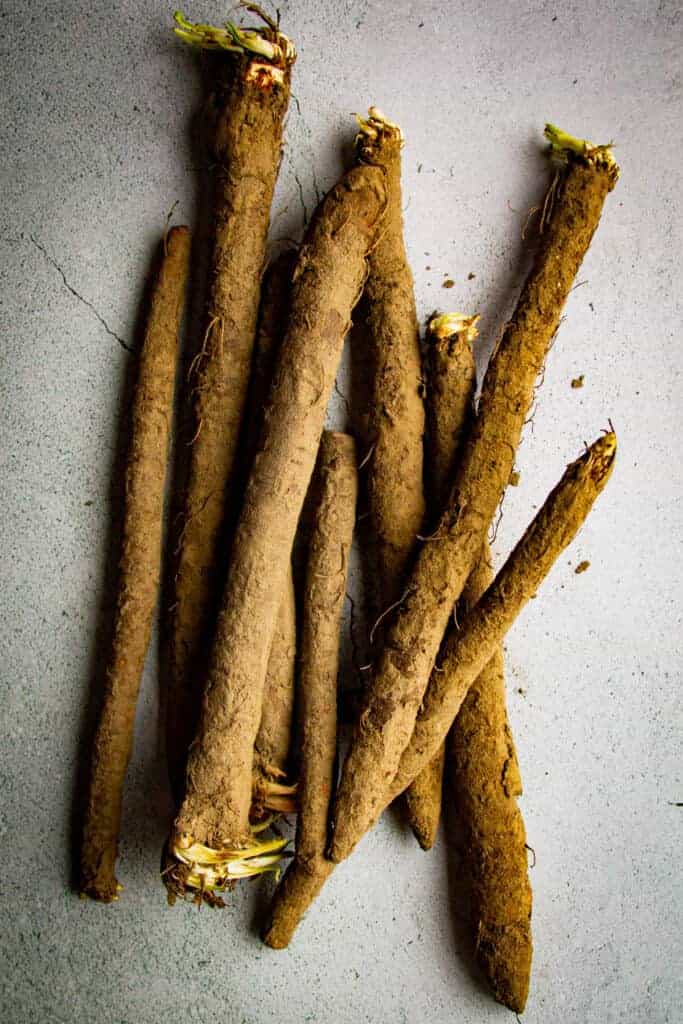 Salsify Was Trending in Victorian Times
It's hard to believe that specific vegetables were trendy more than 100 years ago but black salsify was a favourite in Mrs Beeton's Book of Household Management, published in 1861.
She writes: "Scrape and wash the salsify, cut them into small even sized pieces, throw them into boiling water, and add a little butter, lemon juice, and salt. Boil gently until tender, and then drain well."
Salsify Health Benefits
Salsify is also very healthy and contains just as much potassium as a banana. It's rich in fiber and protein as well as minerals such as potassium, calcium, phosphorus, iron, sodium, and vitamins A, B1, E and C.
Do I Have to Cook Salsify?
No, white and black salsify can also be eaten raw. It's possible to make a nice salad when peeled and shaved thin with a speed peeler. One thing to note is that salsify oxidises really quickly meaning it will turn brown. If you plan to eat it raw, cut it as close to serving as possible and toss with a bit of lemon juice to prevent the oxidation.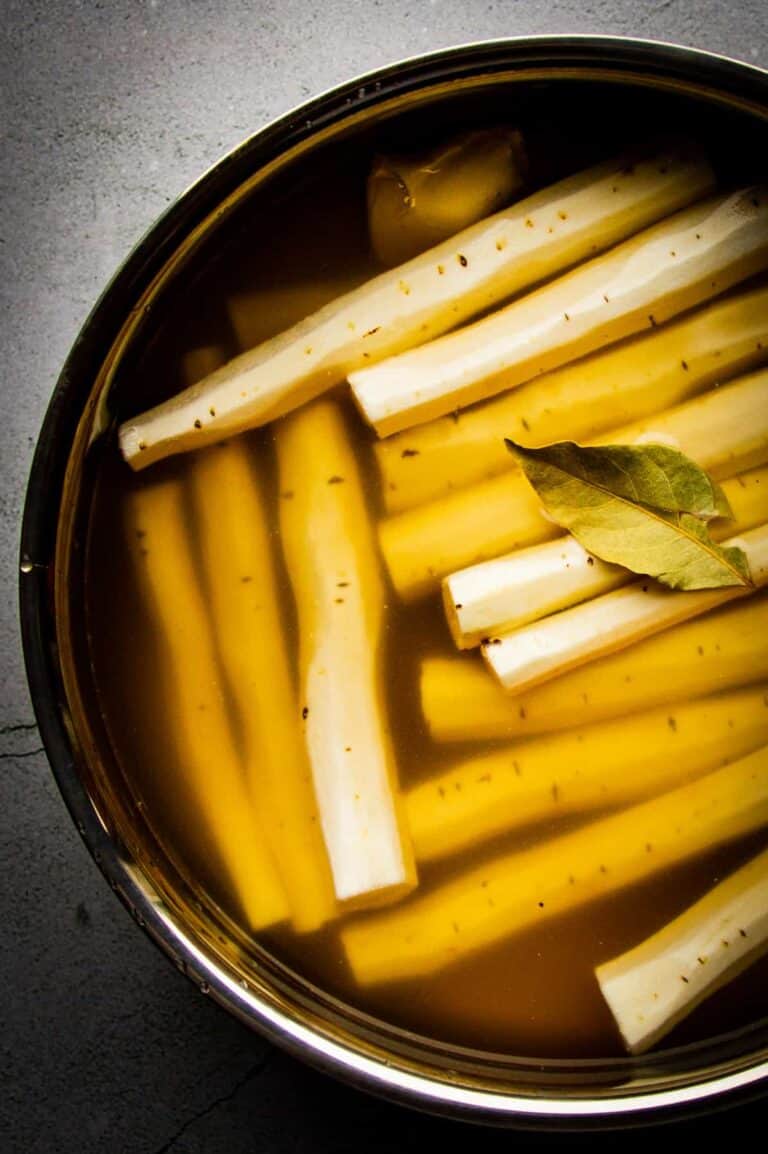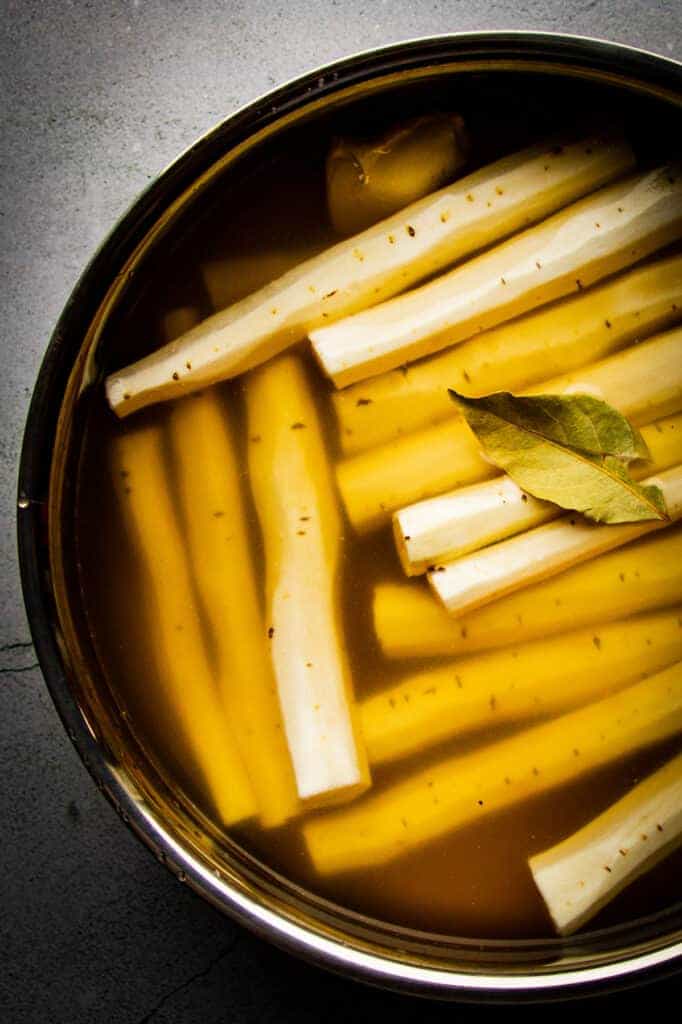 How to Prepare Black Salsify
Here are a few important points to remember when preparing black salsify:
Wear gloves when peeling this dirty vegetable because the skin is super sticky and it will be hard to wash off your hands.
Keep the salsify in acidulated water (water with lemon) to ensure the stalks don't turn brown immediately after peeling.
Give it a good wash before you try to peel it so you don't get dirt everywhere.
Salsify is Difficult to Harvest
Salsify can take 1-2 years to grow and because of its long, fragile stalks it can be hard to harvest. This makes it a little more expensive than similar root vegetables but the flavour is certainly worth the price.
Can I Make this Vegetarian?
Definitely. For a vegetarian diet you can easily swap out the chicken stock for a light vegetable stock or even just use water.
Recommended Tools
Gloves – Because this vegetable is really sticky when peeled you will want to wear gloves.
Recommended Recipe
If you have the time and want to make your own chicken stock try this one.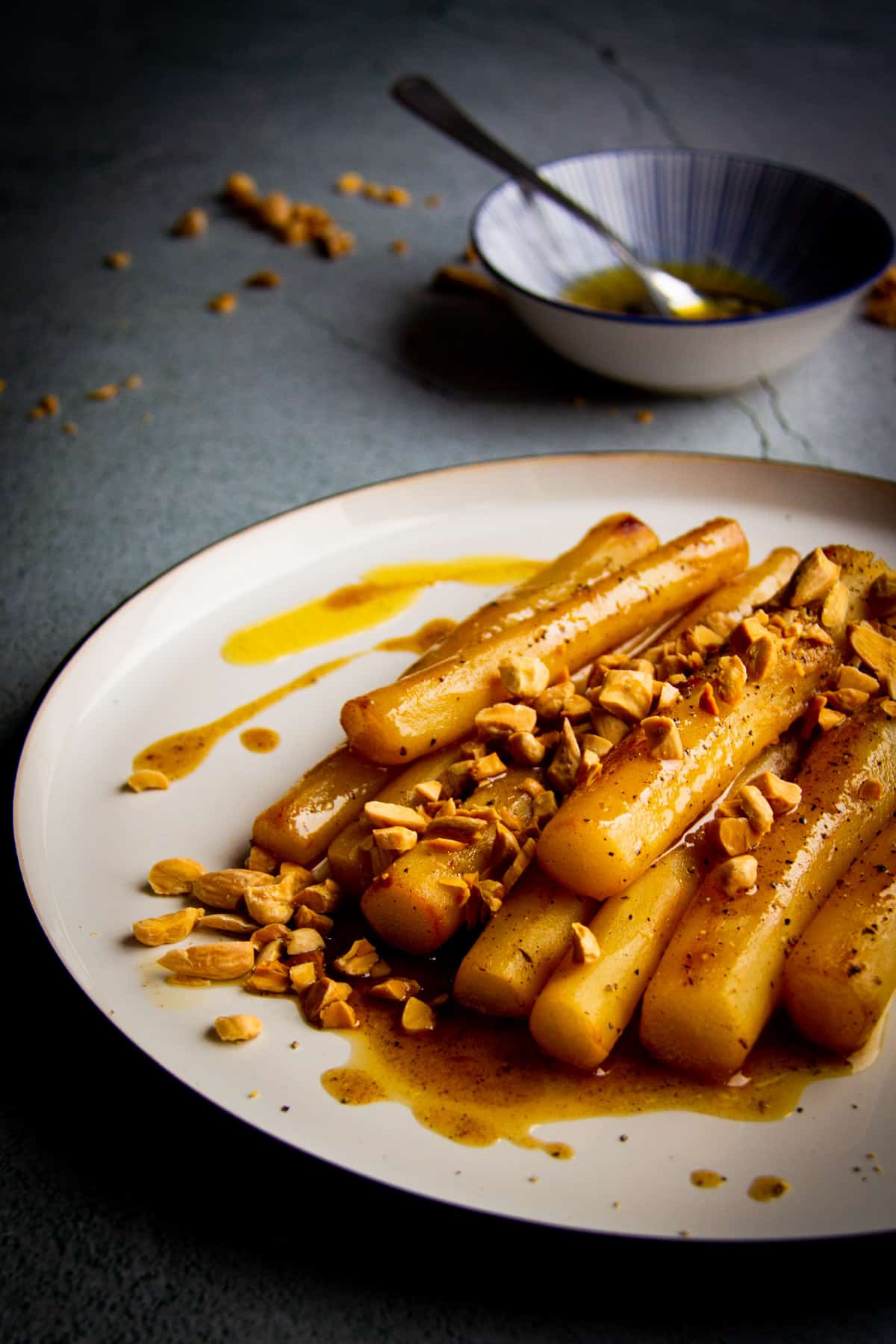 Ingredients
8

pc

black salsify

Look for firm stalks
For Braising the Salsify
600

ml

chicken stock

Or vegetable stock or just water

2

tbsp

honey

⅛

tsp

salt

1

tbsp

butter

1

pc

bay leaf

1

pc

lemon

cut in half
For Finishing
100

ml

dry white wine

2

tbsp

almonds

skinless and blanched

2

tbsp

butter

cold

black pepper

freshly cracked
Instructions
Wash off as much dirt as possible from the salsify. This will make peeling a lot easier.

Fill a bowl or casserole dish large enough to fit the salsify in with cold water. Cut one lemon in half and add the juice to this water to make an acidulated water.

Using gloves, peel the salsify. Trim off the ends and cut in half. Keep the stalks submerged in the lemon water.

Add all of the ingredients "for braising the salsify" in a large pot with the peeled salsify. Bring to a boil and reduce to a simmer. Cook until the stalks are soft but with a slight resistance when poked with a knife – just like cooking carrots. Approx. 10 minutes.

Let the stalks cool in the liquid for at least 10 minutes.

Remove the stalks from the braising liquid and dry on paper towel. Save the braising liquid for later.

Toast the almonds in the oven at 160°C/375°F for about 5 minutes or until golden brown. Roughly chop and set aside for later.

Heat a pan with 1 tbsp of butter of medium heat and wait until it foams. Add the salsify and brown them in the butter.

Remove the salsify from the pan and save the extra browned butter on the side for later in a small bowl.

Deglaze the pan with the white wine and reduce by half. Add 100 ml of the braising liquid and continue cooking until it starts to look saucy. About 2-3 minutes.

Add the salsify back to the pan and finish the sauce with a knob of cold butter and swirl in pan off the heat.

Season with salt to taste, a squeeze of fresh lemon juice and garnish with black pepper and the toasted almonds. Drizzle a little of the reserved brown butter on top (optional). Enjoy!
This post contains Amazon affiliate links to products I recommend.
The Ultimate Beef Bone Broth – Pho
How to make Pho – a Vietnamese beef bone soup with rice noodles, basil, ginger and thinly sliced beef. This recipe uses the instant pot to make it in 3 hours start to finish.
Check out this recipe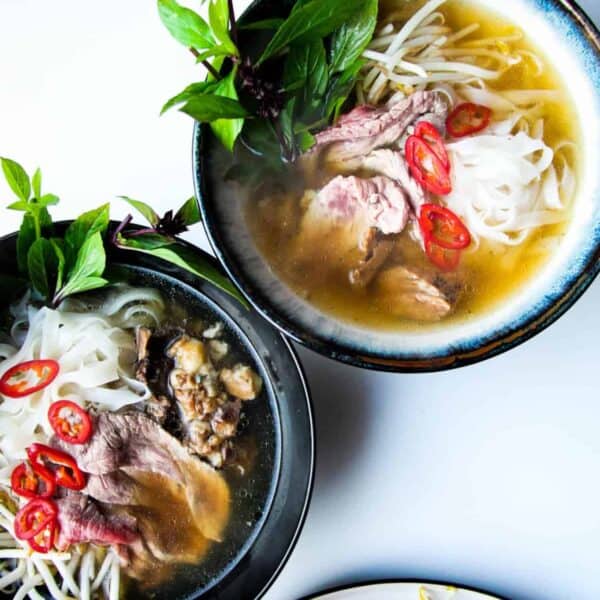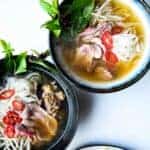 A White Asparagus Recipe
A white asparagus recipe with rolled ham, hard-boiled eggs, boiled new potatoes, fresh herbs and browned butter. The absolute best way to enjoy white asparagus.
Check out this recipe