This Instant Pot navy bean soup is prime example of the magic of pressure cooking.
Not only do you end up with that beautiful, creamy texture of the navy beans, you're also getting a much more flavourful broth in half the amount of time.
And don't worry if you forgot to soak the beans, because I've included a way around that in the headings below!
I love this soup during the early days of spring when days begin to get sunnier but it's still cold enough for a hot soup.
Spring is here!
The (Not-so) Super Secret Seasoning
The secret to my Instant Pot navy bean soup is a little curry powder.
I promise the soup will not taste like a curried soup either. Just a 1/4 tsp is barely enough for anyone to notice it's there, but just enough to add a nice little bump of flavour.
I'm also using a little Aleppo chili which is quite mild but adds a nice flavour. This is one of my favourite Turkish spices and I use it all the time.
Although it can be a little hard to find. You can normally find this in Middle Eastern grocery stores that sell Turkish or Syrian ingredients and it will most likely be called Pul Bieber (the sweet one).
If you can't find that spice just substitute for some red chili flakes instead.
3 Options for the Perfect Ham For an Instant Pot Navy Bean Soup
The perfect ham for a navy bean soup is in my opinion is a smoked ham hock.
The smokey, pulled-pork-like meaty flavour of the ham hock is a perfect match with creamy navy beans.
The problem with smoked ham hocks is they can be hard to find and that's why I've used thick, smokey bacon for this recipe instead.
Ham shank is another great option as it will be a bit meatier and less fatty than smoked bacon. But ham shanks aren't usually smoked so you won't get that awesome smokey flavour.
If you've got a special occasion coming up, then go for the ham hocks if you can, as they're much more impressive.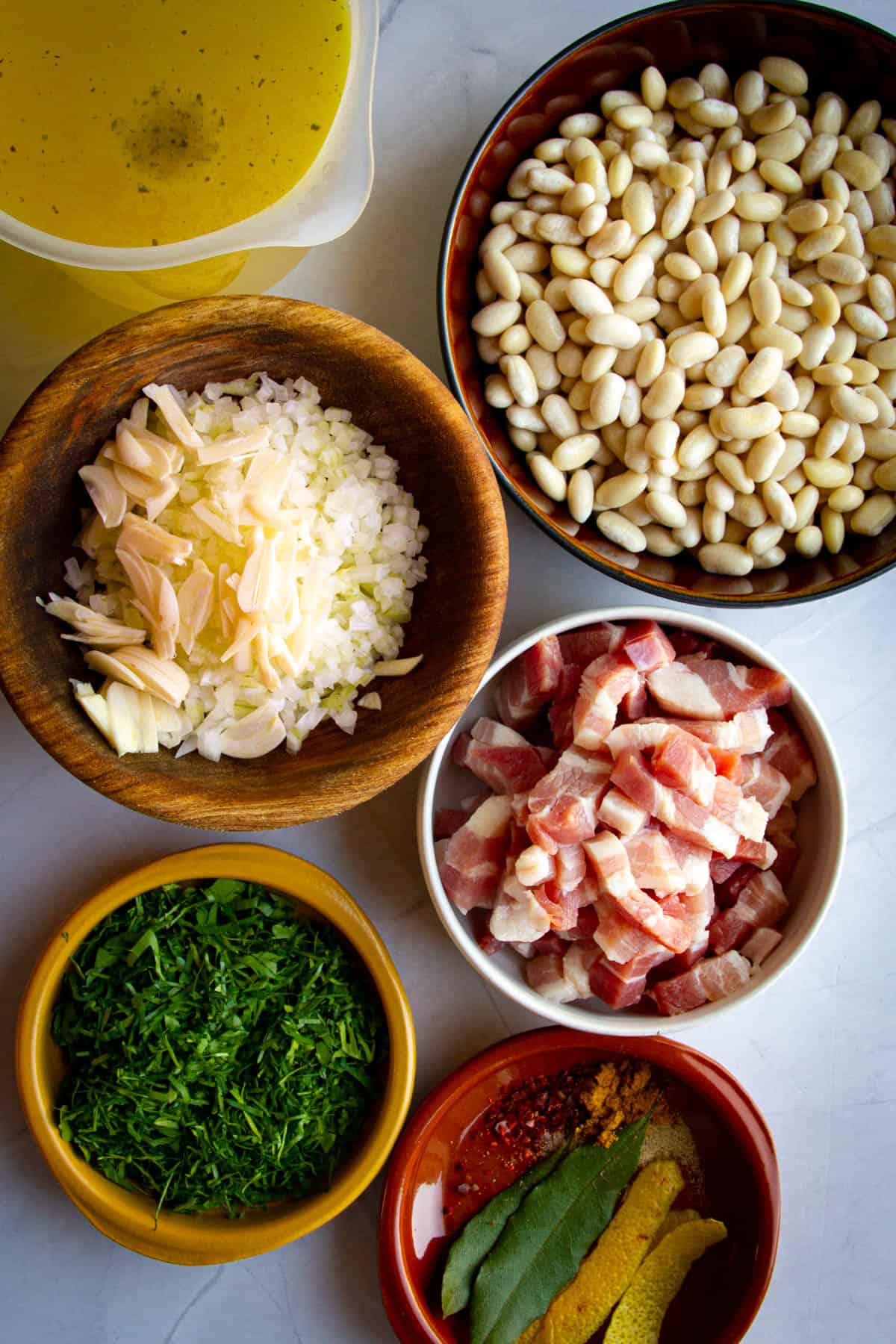 Should I Soak My Beans?
This is still a big debate in the culinary world, but only when it comes to pressure-cooked beans.
Pre-soaking your beans is always better but it's easy to forget. If you do forget, it's not the end of the world in terms of bean cookery and your beans will still be edible but don't expect perfect beans.
Instead of going into a lengthy debate on whether or not you should soak your beans, I'm just going to list a few benefits of each method below:
Reasons to Soak Your Beans
They're more easily digested then unsoaked beans, preventing uncomfortable gas and bloating.
The overnight soak allows the beans to slowly expand making for a better overal shape after cooking. Unsoaked beans can cook unevenly.
You'll save precious cooking time.
Reasons to Not Soak Your Beans
Some people don't notice a difference in bloating with soaked or un-soaked beans. If you're one of these people then you probably don't have to bother.
It's easy to forget to soak your beans and this is one of the reasons why I don't cook beans too often. If you're like me, then skip the soaking if it encourages to cook with more beans because legumes are very healthy.
They will take a little bit longer to cook then pre-soaked beans but unsoaked, pressure-cooked beans are still lightyears away in flavour from canned beans.
When in doubt, it's better to overcook the beans for this soup for a creamier soup consistency.
Even the same type of beans may cook differently depending on how old they are, so it's better to play it safe and add more pressure-cooking time than less.
For an Instant Pot Navy Bean Soup Using Soaked Beans with Ham Hock or Shank (Instead of Bacon)
Keep in mind the recipe will be slightly different and will be as follows:
Instead of cooking the bacon first, skip that step and begin with the onions and garlic in some butter.
Add the spices, etc and then add water instead of chicken broth. This is because the flavour of the ham hock will make an amazing broth that won't need chicken stock.
Pressure cook on high for 40mins with 15 minutes natural release.
Continue the rest of the steps in the original recipe.
How to Make an Instant Pot Navy Bean Soup using Soaked Beans with Bacon (Original Recipe)
Soak the beans overnight in cold water.
Cook the bacon in a little butter using the SAUTE function on your Instant Pot.
Once the bacon browns a little, add the onions and garlic and cook for 1-2 minutes without browning.
Add the spices, soaked beans and chicken stock. Stir well.
Bring to a boil and skim off any scum or fat from the top using a ladle.
Close the lid, set to sealing position and set on High Pressure for 30 minutes.
Naturally release for 15 minutes.
Remove the lid and set the SAUTE function to 2 minutes. Add the frozen peas and cook for 2 minutes.
Finish the soup with fresh parsley, black pepper and serve with saltine crackers. Enjoy!
To Make this Instant Pot Navy Bean Soup Using Unsoaked Beans with Bacon
Follow the same instructions as the ham hock recipe above but cook on High Pressure for 60 minutes.
To Make this Instant Pot Navy Bean Soup Using Unsoaked Beans with Ham Hock or Shank
Follow the original recipe below exactly but change the cooking time to 60 minutes on high pressure instead of 30 minutes. Natural release for 15 minutes.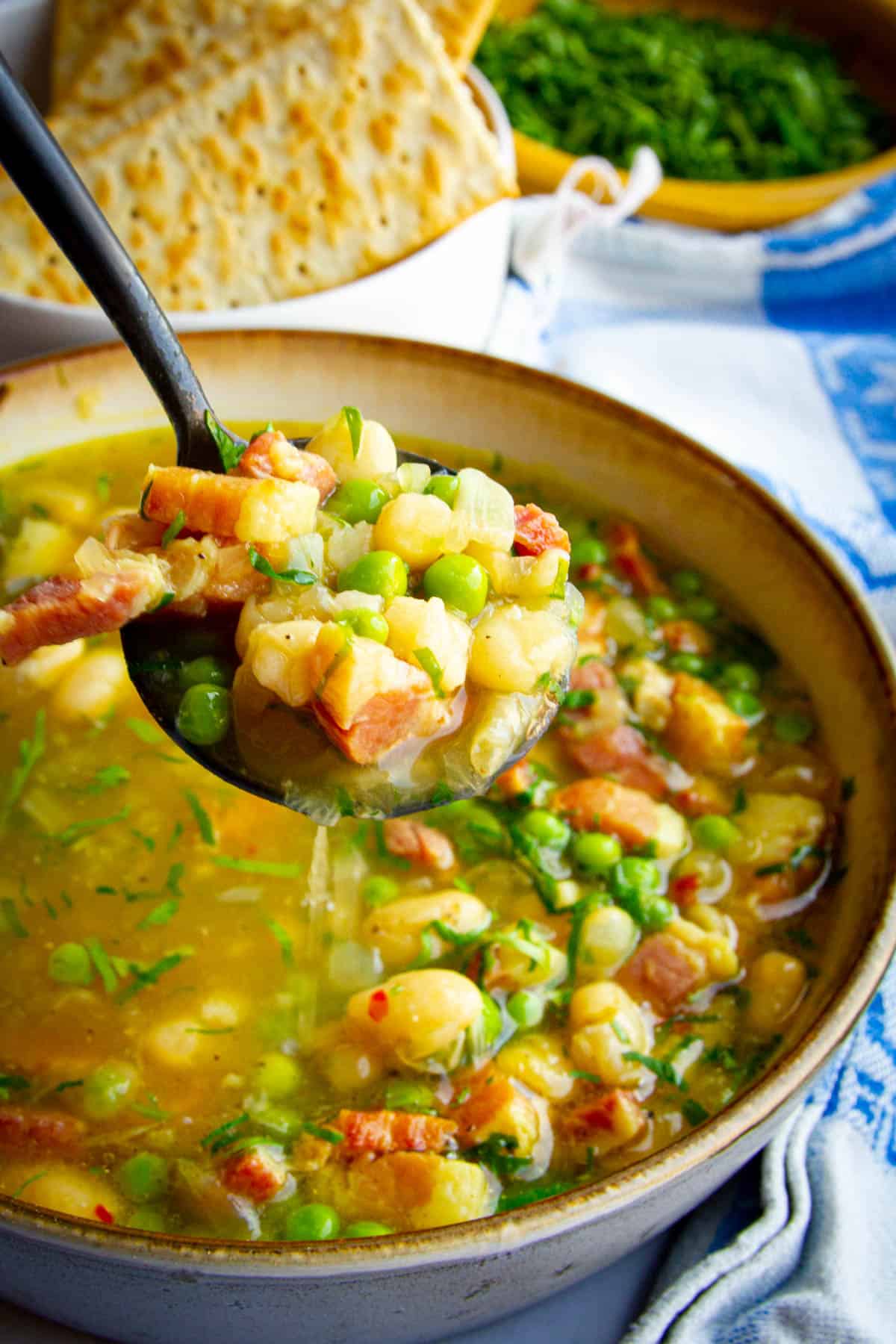 How to Make Navy Bean Soup Without an Instant Pot
You'll definitely want to pre-soak your beans because un-soaked beans don't cook very evenly over the stovetop. You can however do the emergency pre-cook if you forget to soak the beans. It won't be as good as pre-soaked beans, but it will still be edible.
How to Do the 911 Emergency Bean Pre-Soak:
Cover the beans with lots of water and mix in a tsp of baking soda.
Bring to a boil, skim the scum and drain the beans.
Use these beans as pre-soaked beans.
How to Make this Over the Stove:
Follow the recipe the same way as below but you'll likely need to add more liquid.
Bring the beans to a boil and skim off the fat and scum.
Simmer for 2-3 hours very gently to avoid breaking the beans.
How to Freeze Instant Pot Navy Bean Soup
This soup freezes wonderfully and you'll thank yourself later if you have leftovers.
Before freezing, ladle the soup into smaller Tupperware containers or freezer bags and allow it to cool for at least 30 minutes at room temperature.
Once it has cooled down, seal the containers or bags and place them in the fridge. Allow them to cool completely in the fridge before transferring them to your freezer.
If the soup is sealed well, it will last for up to 3 months in the freezer. After that, it will still be safe to eat but it will start to lose its fresh flavour.
How to Reheat this Soup
The best way to reheat this soup is to put it back in the instant pot with the lid on and set the saute function to 15 minutes. Once it boils, it's ready to eat.
You could also heat it up on the stove in a pot until it comes to a boil.
Recipe FAQ
Try These Other Instant Pot Recipes