What's the best high end knife set you ask?
You may be surprised to hear that most chefs, myself included, won't actually recommend you buy a large knife set.
And chefs love knives! So why wouldn't we recommend you buy so many?
The simple reason is it's better to have quality over quantity. I'd much rather you spend the same money on 3-4 high quality knives instead of 10 mediocre knives.
That's why most of the knife sets included in this set will only contain a few knives and I've even included a section at the bottom on how to make your own knife set.
With that being said, some of you may still prefer buying a whole knife set (or just really want one of those beautiful wooden knife blocks) so I've included some larger knife sets further down the list.
Here is My List of the Top 10 Best High End Knife Set
Here are my picks for the best high end knife set.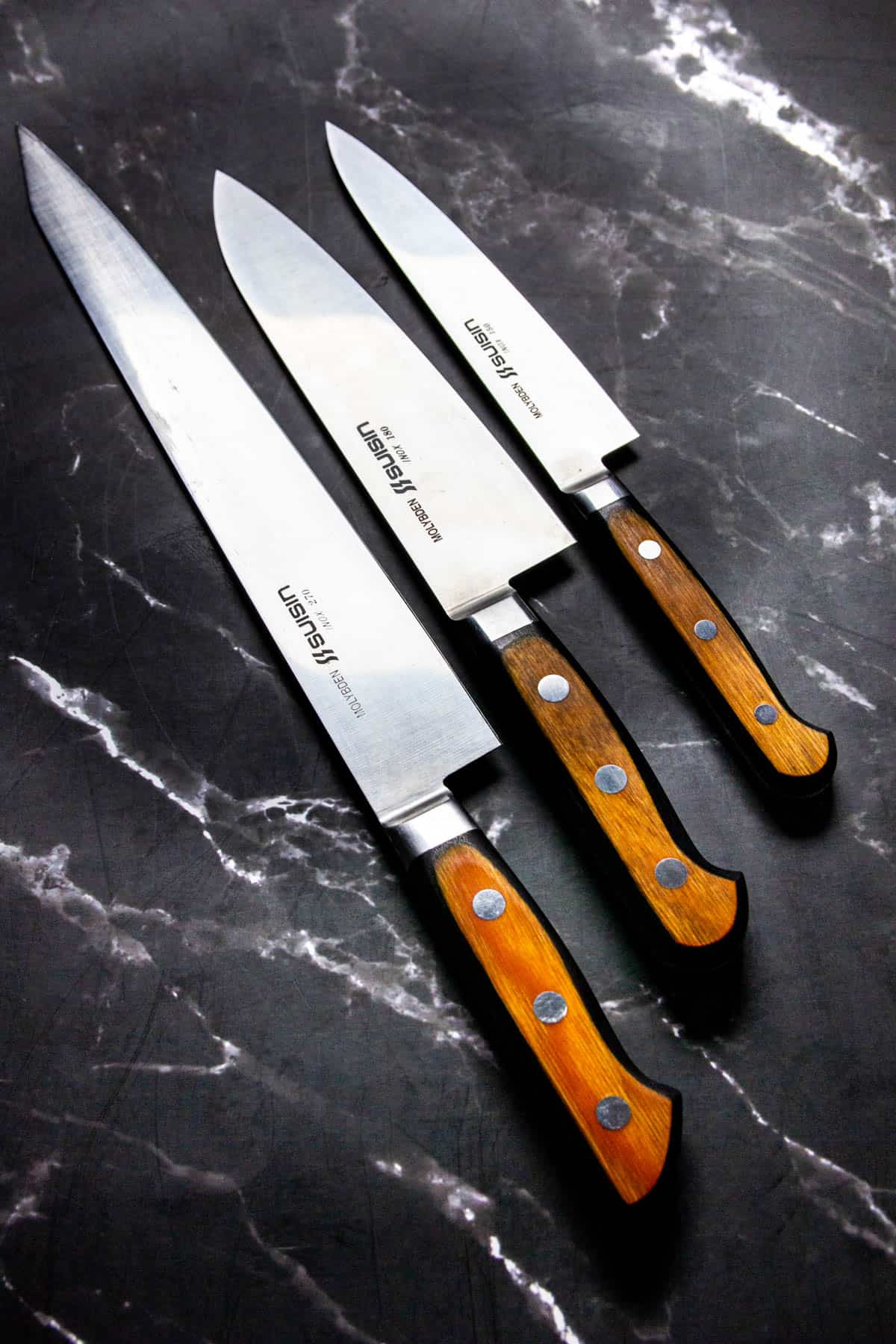 How I Tested the Best High End Knife Sets
Unfortunately, nowadays there are many "knife reviewers" recommending knives that are just plain bad. Worse off, some of these reviewers have made whole articles on knives they've probably never even picked up.
On the other hand, I have had the opportunity to rigorously test, share and learn the insider knowledge of a wide range of knife brands throughout my 16 years of cooking in professional kitchens. I've personally tested all of these knives with the exception of Yoshihiro, the Berti collection and the Zwilling Kramer which are a little out of my price range.
For the knives I haven't personally tested, I've used my insider knowledge on kitchen knives and spent weeks researching each knife set thoroughly so you don't have to.
Unlike other knife reviewers, you'll also never hear me recommend bad knives from brands such as Cutco, Dalstrong or Calphang.
I only recommend knives that I feel comfortable suggesting to my own friends and family and I don't want you to waste your money.
In other words, I know my knives and I'm confident that if you buy any of the knives on this list you'll be getting a quality product.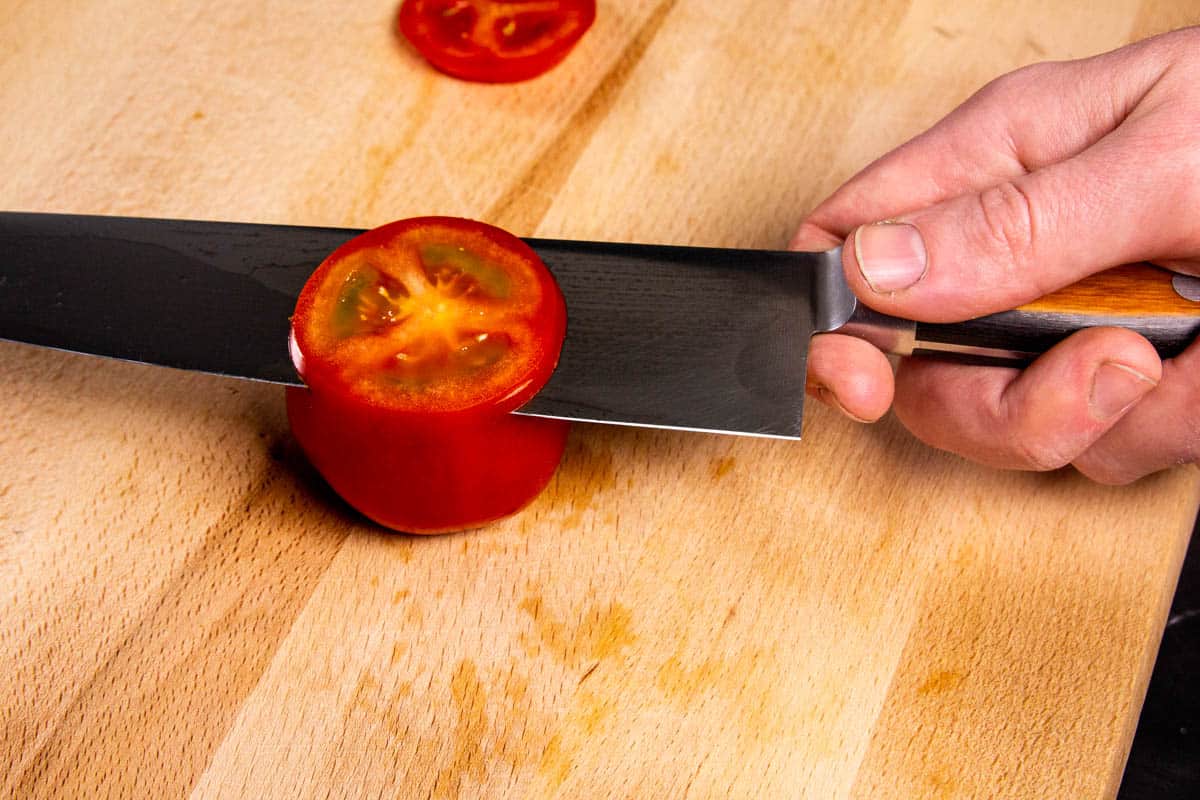 Table of Contents
This is a long review as there's a lot of ground to cover so I've provided a clickable table of contents so you can quickly jump to each section.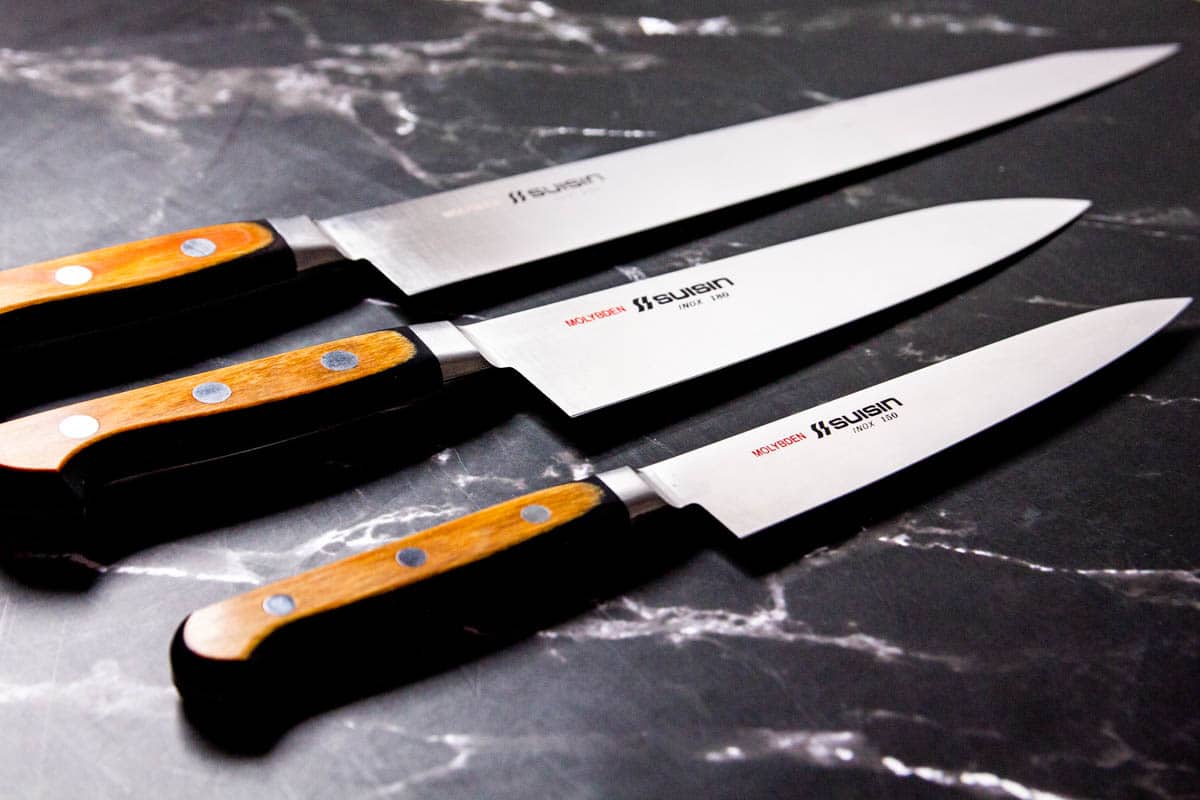 Knife Set Specifications
Rockwell 58
AUS-8 base steel
Very thin blade
Easy to sharpen and maintain
Western-style handle
Very comfortable grip
Molybdenum steel adds strength and stain resistance
I have to warn you, once you try a Suisin, you'll likely never look for another brand. They're that good.
I became a die-hard Suisin fan after chef Austin Johnson (my former chef who led the kitchen brigade at Eleven Madison Park and now of One White Street in NYC) recommended them to me.
Upon first glance, these knives may not look as flashy as the Damascus-hammered Yoshihiro knives, but what they lose in style, they easily make up for in performance.
What I love about these knives is that they're razor-thin which means they'll glide through veggies effortlessly, unlike thicker German knives such as the Zwilling Pro and the Wusthof Classic Ikon.
The ultra-thin and razor-sharp blade of these knives makes slicing vegetables addictively fun. When dicing an onion finely, I particularly love how the thin blade of this knife doesn't move the layers of the onion around too much and allows for a much more even slice.
What I like even more, is that these knives are easy to sharpen. I've had multiple high carbon, and blue-super steel Japanese knives that were lightning sharp out of the box but a nightmare to maintain. Suisin knives sharpen just as easily as any western style German knife and that's a big plus for me.
Lastly, they're stain-resistant which means they won't immediately oxide when cutting acidic ingredients or garlic. However, it should be noted that although they're stain-resistant, you'll still need to keep them clean and dry after each use.
Although a 2 piece knife set is hardly a set, you can probably get at least 80% of your prep work done with these two knives alone.
And for this price, you can easily add on their bread knife (life-changing by the way) or even a slicer knife and still be in the same price range as some of the other expensive knife sets on this list.
Suisin knives are known for their ease of sharpening and that paired with the strong edge retention and thin blade makes this a perfect knife for any professional or home cook.
Knife Set Specifications
Rockwell 60
VG-10 core of premium cobalt alloy steel
Western-style handle
Made in Japan
Lifetime warranty
Very comfortable grip
Micarta handle with bolster
High carbon stainless steel
Tojiro has been making knives for over 50 years but they've proved that stainless steel knives can be just as sharp as high carbon knives.
What's cool about Tojiro's knives is that they're forged the same way a traditional Japanese sword "Katana" from Tamahagane is made. [1]
What I like about Tojiro's 3 pc knife set, is that it's all you really need to get 90% of the work done in your kitchen with ease. No filler knives, or crappy kitchen shears so you only pay for what you really need.
The Rockwell is a little bit higher than the Suisin knives which means they'll hold their edge longer but that also means they'll take a little longer to sharpen. Something to consider if you're not already comfortable sharpening Japanese knives.
They're also stain-resistent which means you won't have to worry about them turning garlic brown or oxidizing after cutting citrus.
Some reviews of this knife consider the Western-style handle to be a little lackluster for a high end knife. Personally, I think it looks great but I also prefer the grip of western-style handles to the Japanese style knife handles. If you prefer Japanese handles then you'll want to check out the comparable Yoshihiro knives in the next heading.
It's also worth noting that this knife is quite heavier than my preferred feather-light Suisin knives. The weight of the knife is a pretty big factor for me because I spend almost a full day holding a knife and a light knife lowers my fatigue. But if you're just cooking dinner once in a while and already comfortable with the heavier German knives, then this is nothing to worry about.
These knives are ideal for anyone looking to take a step into the world of Japanese knives but maybe not for beginners who aren't comfortable sharpening their own knives. Still, you could always get a professional to sharpen for you.
The best part about Tojiro knives is that they consistently get great reviews while offering a very reasonable price. If Suisin knives didn't exist, I'd easily choose this 3-pc knife set as a starting point and add on extra knives later.
Knife Set Specifications
Rockwell 60
VG-10 Hammered Damascus
Made in Sakai, Japan
Stain-resistant
Japanese-style octagonal handle
Includes two free magnolia wooden sheaths (saya)
Cladding of VG-10 steel adds toughness and durability
Yoshihiro knives are still made today with the same traditional knife-making techniques of the medieval period of Japan. With over 600 years of experience making knives, you can't go wrong with a knife set of them.
This knife set is a little more expensive, but keep in mind you're also getting two beautiful knife covers which means you can safely store them in your kitchen cabinet.
Just like the Tojiro knives, these knives are at an impressive 60 HRC Rockwell which means they'll hold an edge much longer than most German knives.
Usually, a higher Rockwell means the steel is more prone to chips and scratches as the steel is much more brittle. The good news is that this VG-10 steel is cladded with a softer Damascus steel which improves the durability of the knives.
If you've ever had a high carbon Japanese knife-edge chip after accidentally knocking it against something in your kitchen, you'll definitely appreciate the added durability of the VG-10 steel.
Another benefit of the cladding of softer steel means these knives will be slightly easier to sharpen than the higher carbon knives of Yoshihiro. Still, these knives will be a little bit more of a challenge to maintain and sharpen compared to my beloved Suisin knives.
At the end of the day, Yoshihiro is a big name in Japan and they've been making knives for generations. The price point is similar to Shun knives which in my opinion, are far inferior to these beautiful knives.
If you prefer the traditional Japanese handle on your knives then this would be your best option. Although a little pricey for just two knives, these are quality knives made by a company that knows what they're doing and you can expect them to last a lifetime.
Knife Set Specifications
Rockwell 60-61
VG-MAX cutting core with 34-layers
Made in Seki City, Japan
Stain-resistant
D-shaped PakkaWood handle
Lightweight and comfortable
To be completely honest, I've never been a huge fan of shun knives.
The main reason is that I think they're overpriced. Still, the Shun Classic knife made the list because they consistently get great reviews and I know a lot of professional chefs that absolutely swear by Shun knives.
Shun has been making knives for over 100 years and still produces all of their knives in Seki City, Japan. They've made their way into Western markets quite successfully and as a result, now fiercely compete with the big household knife brands of Wustof and Henckels.
Upon testing the Shun Classic, the first thing I noticed is how great it feels in my hand.
There are no hard edges as everything feels smooth and refined. The knives are much lighter in weight than their German competitors, Wusthof and Henckels andD-shaped PakkaWood handle is beautiful.
The unique D-shaped handle is an interesting hybrid of Western and Japanese handles and a good choice for someone who doesn't like Japanese handles as much as the classic Western handle.
The knives come with an impressive 60 Rockwell count which means they'll hold their edge much longer than regular German knives and even the Suisin series. But as mentioned above, the higher Rockwell means these knives are a little bit more difficult to sharpen.
The steel of the Shun knives is quite similar to the VG-10 steel of Tojiro and Yoshihiro knives except Shun adds extra carbon, chromium and tungsten to make it VG-MAX. This means the knife edge will be slightly harder, increasing the knife's edge retention but also making it more prone to chipping.
From my colleagues who are die-hard Shun fans, I've never heard of knife chipping being an issue with Shun knives and if you take care of your knives properly then I wouldn't be too worried.
The biggest problem with Shun is that they spend much more of their budget on marketing and advertising than other Japanese knives brands like Yoshihiro and Tojiro.
For this reason alone, it drives the price of their knives up and that's why I would much rather recommend a Tojiro, Suisin or Yoshihiro as they make better knives around the same price range.
With that being said, if you do buy a Shun knife you'll likely join a large group of satisfied knife owners and you'll certainly be buying quality. The 3 pc Shun classic is a great starting kit for any professional or home cook and you can always add on more knives down the road.
Knife Set Specifications
Rockwell 56
X50CrMoV15
Handmade in Italy
Stainless steel
Western handle full bolster
Handforged blade
Beautiful design with wooden magnetic block
With over 100 years in the knife-making industry, these hand-forged knives are like the Lamborghini of Italian knives. They're absolutely beautiful to look at and almost always get 5-star reviews.
If you love Western-style knives and you're looking for the absolute best-looking knife set (or wanting to give one impressive wedding gift) then Berti makes just that.
Although they don't have as high a Rockwell as the other Japanese knives, they'll be much easier to sharpen and won't be as prone to chipping.
Plus, if you buy Berti knives they offer their own sharpening service where you can send them in to have them restored to original sharpness.
TheX50CrMoV15 steel of the Berti knives is mid-range steel that can be found in other knives like Wusthof and Henckel and is actually nothing to get excited about.
But just like in fashion, you pay more for expensive brands and that's exactly what Berti is, a high-end brand. Every knife is handmade in Italy which greatly drives the price up and you pay for the name.
Although, I think we can all agree that the magnetic wooden knife block from these knives is absolutely beautiful and I wish other knife makers included this in their sets.
Many Italian chefs swear by these knives including Gia De Laurentiis and world-renowned Gualtiero Marchesi from ALMA the International School of Italian Cuisine.
Personally, I still find the top 3 Japanese knives in this list to be much better value for your money, but I've included Berti on the list because they do make excellent high end knife sets.
Knife Set Specifications
Rockwell 57
Special formula high carbon NO STAIN steel
Made in Germany
Stainless steel
Western handle half bolster
Sigmaforce one-piece precision-forged construction
Includes acacia wooden knife block
With over 280 years in the knife-making business, you could say that Zwilling knows a thing or two about knives.
I'm always a big supporter of Zwilling because they know what they're doing and they're the industry standard for many chefs.
Although this 7 piece set is on the lower end in terms of price point, the pro set is still an upgrade from their regular series.
It's important to note that there is also a "Pro S" of these knives which includes a full bolster while this set includes the half bolster. I personally dislike full-bolstered knives because it gives you less room to work with on your cutting board as the bolster gets in the way of the cutting.
Some reviewers complained that without a full bolster, the knife would slide off their magnetic knife holder. Something to consider if you plan to use a magnetic knife strip, but keep in mind it does come with a beautiful wooden knife block.
As for the steel, it's pretty soft at roughly 57 Rockwell and the actual steel is a bit of a mystery as to what it contains. They mention the steel is a "Special formula high carbon NO STAIN steel" which is a little misleading and probably means the steel is nothing extraordinary.
However, there are advantages to softer steel, such as ease of sharpening and less chance of knife chipping. If this is your first knife set, then the Zwilling Pro series offers a great starter set at a very attractive price.
They do make larger sets with 10 or even 14 knives but I only recommend the smaller sets because you just don't need multiple pairing knives. It's also worth noting that the larger sets that include steak knives are not recommended because they're not the same quality as the kitchen knives in the same set.
Knife Set Specifications
Rockwell 60
High-performance Cronidur 30 steel
Made in Germany
Designed by Matteo Thun & Antonio Rodriguez
Ebony wood handle
Sigmaforce one-piece precision-forged construction
Gorgeous smooth half bolster blends into knife
The 1731 twin series from Zwilling is in a completely different playing field than their Pro and Pro S series.
It's the top-of-the-line Zwilling knife set but with a top-of-the-line price tag.
The question is, are these knives worth the heavy price?
The knives are designed by Matteo Thun & Antonio Rodriguez who clearly know what they're doing as the knives look much better than any other Zwilling knives I've seen.
Only a select few ebony trees were cut to make these handles and that definitely adds to the price.
The Twin series uses a rareCronidur 30 steel which is the same tough steel used in the bearings of aerospace engineering. The steel offers a surprisingly high Rockwell of 60 with added bonus of over 100x times the corrosion resistance of regular steel. Sweet!
These knives offer a high degree of edge retention without the negative oxidizing effects of regular high carbon steel.
In plain English, this means the knife will stay sharp longer and you won't have to worry about the blade chipping, or rusting like with other high carbon Japanese knives.
I love the look of the half bolster on these knives which is blended smoothly into the knife. The half-bolster design also means you can use the full length of the knife and it won't get in the way while cutting.
The only real downside is that the price tag of over $2000 is quite high and I'd personally rather venture into a selection of Japanese knives for that price.
But if you're looking for the absolute best of what Zwilling has to offer this, plus the Zwilling Kramer in the next section is the top of the line and both knife sets will last a lifetime.
Knife Set Specifications
Rockwell 63
SG2 micro-carbide powder steel
Made in Germany
Can be sharpened to an edge angle 9-12 degrees on each side
Stainless steel 101-layer Chevron Damascus design
Mosaic micarta handle
Includes wooden knife block
I bet you didn't know that Zwilling also makes Damascus knives.
It's clear that with this series from master blacksmith Bob Kramer, Zwilling is looking to take a stab at their Japanese competition.
This set offers the highest Rockwell of all the knives on this list with a stunning 63 HRC!
That means that this knife can hold an even thinner edge of 9-12 degrees for a wicked sharp slice.
The SG2 micro carbide steel is serious business with some knife aficionados referring to the steel as "Super Gold" [2]
It's one of the highest quality knife steels you can find and that's why it's very popular among many Japanese blacksmiths.
Kramer puts on a large handle on these knives which may not be a good fit for you if prefer a smaller grip. At 590g for the chef knife, it's also the heaviest knife on the list and that's a bit of a drawback for me.
Still, the quality of the steel, the build and the overall design of this knife is of top quality.
It's around the same price range as the Henckels Twin and both options would be great choices. I personally like the style more of the Twin series but the high Rockwell of the Kramer series is definitely more attractive.
Although I still think the Suisin Inox series offers the best value for any home cook or professional, the Kramer series is undoubtedly the higher quality steel. If you're looking for the sharpest knife set with the best edge retention, the Kramer series is for you.
Knife Set Specifications
Rockwell 58
X50CrMoV15 High carbon steel blades
Made in Germany
Smoked oak handle
Includes wooden knife block, kitchen shears and honing steel
Although the Wusthof Crafter series is in the lower price range, they're still a step up from the Wusthof classic.
What I love about the Crafter series is that they don't have a full bolster like the Wusthof Classic series and this makes cutting long vegetables much easier.
Wusthof was my very first knife set and it's still kicking around today. Although it's my "beater" knife nowadays, I still love it dearly.
I find the quality of Wusthof knives to be on par with their closest rival Zwilling and both companies have been making great knives for a long time.
Interestingly enough, the steel is the sameX50CrMoV15 steel as the expensive Berti collection but the Wusthof Crafter is much, much cheaper!
What I don't like in this set is that you actually get two serrated knives. For me, one good bread knife is enough and I don't really understand what you would use a medium-sized bread knife for. Tomatoes maybe? That can be done with any large bread knife.
If only this second bread knife was a butcher's knife it would be the perfect knife set with a set of kitchen shears, a knife block and a honing rod.
What I do like is the oak handles and I think the crafter series is a great starter knife set for any home cook or anyone starting culinary school.
Knife Set Specifications
Rockwell 58
X50CrMoV15 High carbon steel blades
Made in Germany
Half bolstered blade
Includes walnut knife block, kitchen shears and honing rod
Last but not least, the Wusthof Ikon series just barely makes it onto the list. If you've never owned a proper German knife then I would consider this a high end knife set. On the contrary, if you're looking to make an upgrade and already own some German knives then is set is not for you.
The steel is quite similar to the Crafter series with the same Rockwell of 58 and high carbon stainless steel.
The difference with this set is that it has 6 pieces instead of 7 and I'm actually quite happy with that. They got rid of the useless second bread knife making this the ideal starting knife set.
The biggest difference from the Crafter series comes down to design. If you can't decide between the two Wusthof collections then go with the Crafter if you prefer the look of wooden handles.
At the end of the day, you can't go wrong with a set of the Ikon series from a trusted knife brand like Wusthof.
The softer steel means you won't have to worry about them chipping and they'll be a breeze to sharpen and maintain. They won't offer the same level of quality as the other Japanese knives in this list but they are nonetheless a great buy.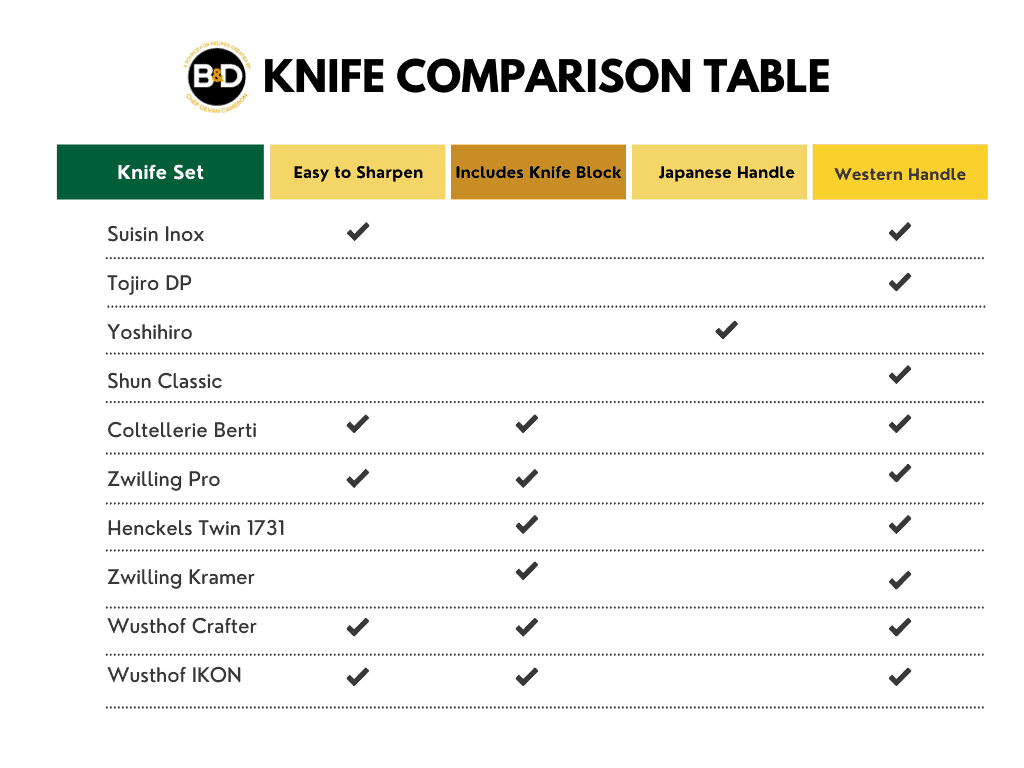 Build Your Own High End Knife Set
Building your own knife set piece by piece is the way to go because you'll get more bang for your buck than buying a whole knife set.
Although the big knife companies would love to have you think that you need 10 or 14 knives, I and many other chefs I've talked to disagree.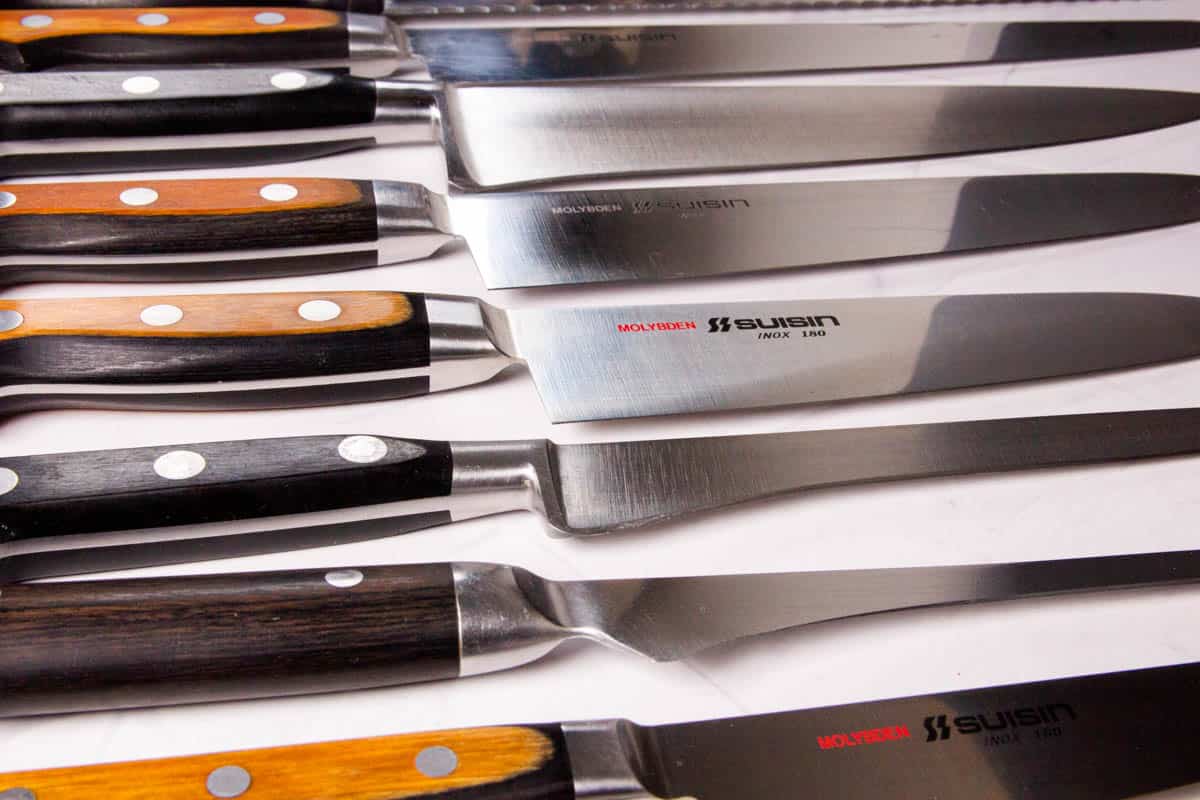 How Many Knives Do You Need in A High End Knife Set?
To get most jobs done in the kitchen (and to nail all of my recipes) you'll only need 3-5 knives. The heart of any good knife set consists of a chef's knife (or gyuto), a paring knife, a butcher's knife, and a bread knife.
From there you can add on a long slicer (for sushi or slicing big roasts), a Japanese Deba (for fish butcher), good quality kitchen shears or some high-quality steak knives.
Below I'll list a few recommendations of each knife type:
My favourite chef knives:
My favourite paring knives:
My favourite butcher's knives:
My favourite bread knives:
For kitchen shears I swear by these tough and razor sharp Silky scissors.
What To Look For When Buying a High End Knife Set
A good knife set will last a lifetime and that's why it's important to take the extra time to find out what you really like.
Here are a few things to consider when buying a knife set:
The Amount of Knives
As mentioned above, you can get 90% of cooking jobs done with 3-5 knives. A lot of knife manufacturers will try to sell you 10 or even 14 knives in a bundle. As you may save money on buying 14 knives together in a bundle rather than buying those individually, you'll probably end up with a bunch of knives you don't need.
Again, only buy the knives which you really need and you can always buy more later.
Japanese VS. Western
Japanese knives are generally higher in carbon than western knives which means they won't need to be sharpened as often but they're also more prone to chipping and more difficult to sharpen.
Western knives such as Wusthof or Henckels are generally lower in carbon and will need to be sharpened more frequently but are less likely to chip and easier to sharpen.
Another big difference is the handle of knives and this comes down to personal preference. Japanese knives generally have an octagonal wooden handle and Western knives generally have a resin handle with the classic 3 rivets.
There is no right or wrong answer here. Some love Japanese knives while others love German knives and that's why I've included both in this list.
Rockwell
The Rockwell scale (HRC) is used to measure the hardness of steel. [3] The harder the steel and the higher the Rockwell number.
For example, a 63 HRC is quite hard while a 55 is quite low.
Steel Type
There are many different types of knife steel from VG-10 toCronidur 30 and it can be difficult to choose the right one. Just like in the difference between Japanese and Western knives, it all depends on what you're looking for.
Although a high Rockwell is usually a good sign of knife steel it's not the only important factor to consider when choosing a knife. Corrosion-resistance, durability, toughness and ease of sharpening are all important factors to consider.
Knife Storage
Many Japanese knives don't come with wooden storage blocks like the Western sets and it's something to consider.
Japanese knives are normally stored in wooden sheaths, called sayas, and are usually sold separately. If you only have a few knives then storing knives in these cases in your cutlery drawer will be fine, but if you are a knife maniac like me, then you'll eventually need something bigger.
Freebies
Sometimes the larger knife sets contain "free" things such as kitchen shears, honing rods or knife blocks.
Be skeptical here because often the added free stuff is not of the same quality as in the Zwilling Pro S series which includes some mediocre steak knives.
You can also buy most of these things separately and you'll likely get better quality this way.
Dishwasher Safe
Absolutely under no circumstances at all should you be putting your knives in the dishwasher. This will not only ruin the knife edge, but you'll also run the risk of rusting your knives!
Never buy any knives that claim to be dishwasher safe!
High End Knife Set Warranty
If you're spending a good amount of money on a knife set, you should expect the knives to last a lifetime. Even if you're a professional cook who spends 12-16 hours a day running your knives through crates of vegetables then 10 years of life is not unreasonable.
But for most home cooks who sharpen their knives once every 6-12 months you can expect a good knife set to be your first and last buy.
That's why many good knife makers will offer a lifetime warranty for any defects from their knives.
Sharpening & Maintenance
A high-carbon, razor sharp Japanese knife is only useful if you can keep it sharp. As I've said before, the biggest downside to owning Japanese knives is that there is a learning curve for figuring out how to sharpen them.
You also won't want to sharpen your expensive Japanese knives on the same wheel grinder that they use to sharpen hockey skates. This makes a weaker hollowed edge that won't unleash the true potential of your high carbon knives.
You'll either have to learn how to sharpen them yourself, using specific Japanese whetstones or hire a professional who specializes in high carbon blades.
Western blades can be sharpened almost anywhere and are a great place to start for beginners.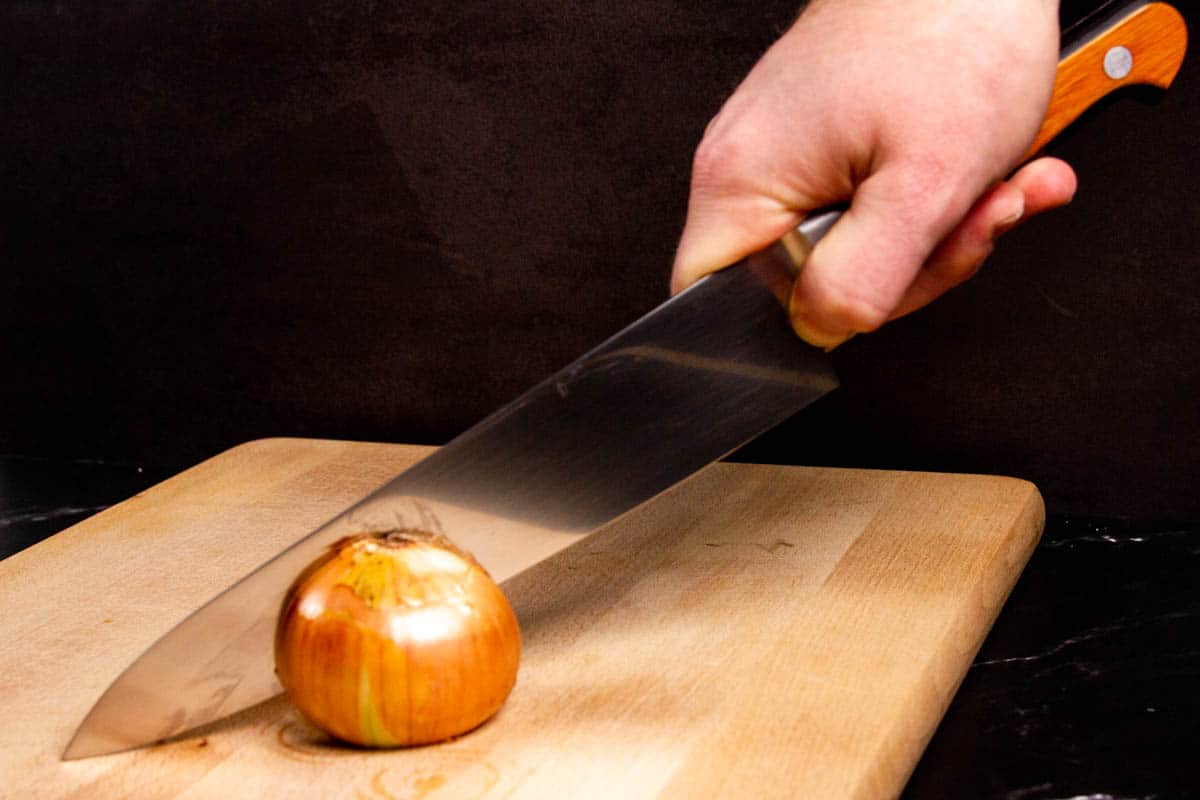 The Bottom Line
There are a lot of options when it comes to picking the right knife.
My best advice is to start with a small set of good quality knives from any of the trusted brands above. With just 3 knives you can complete most cooking tasks so pick 3 of the best you can afford and you can always add on later.
After using a range of Suisin knives rigorously over the past 5 years, it's clear that these knives are difficult to beat considering their extremely fair price. They're easy to sharpen and still hold an edge longer than most Western knives. The extra thin blade makes cutting through vegetables a breeze and theMolybdenum steel offers great corrosion resistance and durability.
For these reasons, my number one pick is the 2pc Suisin Inox set.