It's no wonder ancho chili powder is one of the secret weapon spices in a lot of award-winning chilis.
Its rich almost chocolatey flavour is hard to replace. But the best part is, it's so easy to make!
The solution is to buy whole ancho chiles in bulk and blend them in batches whenever you need them. Spices are just like coffee and go stale much quicker when ground as opposed to when left whole.
Buying in bulk means you can save a little extra cash too.
What Are Ancho Chiles and How Do They Taste?
Ancho chiles are simply dried poblano peppers.
They're common in Southwestern and Mexican cuisine and used in sauces, spice rubs, bbq seasoning and oils.
The flavour of the ancho chili is deep and rich and difficult to replace. It's sweet, slightly smokey and fairly mild reaching a very low 1000-1500 on the Scoville chart.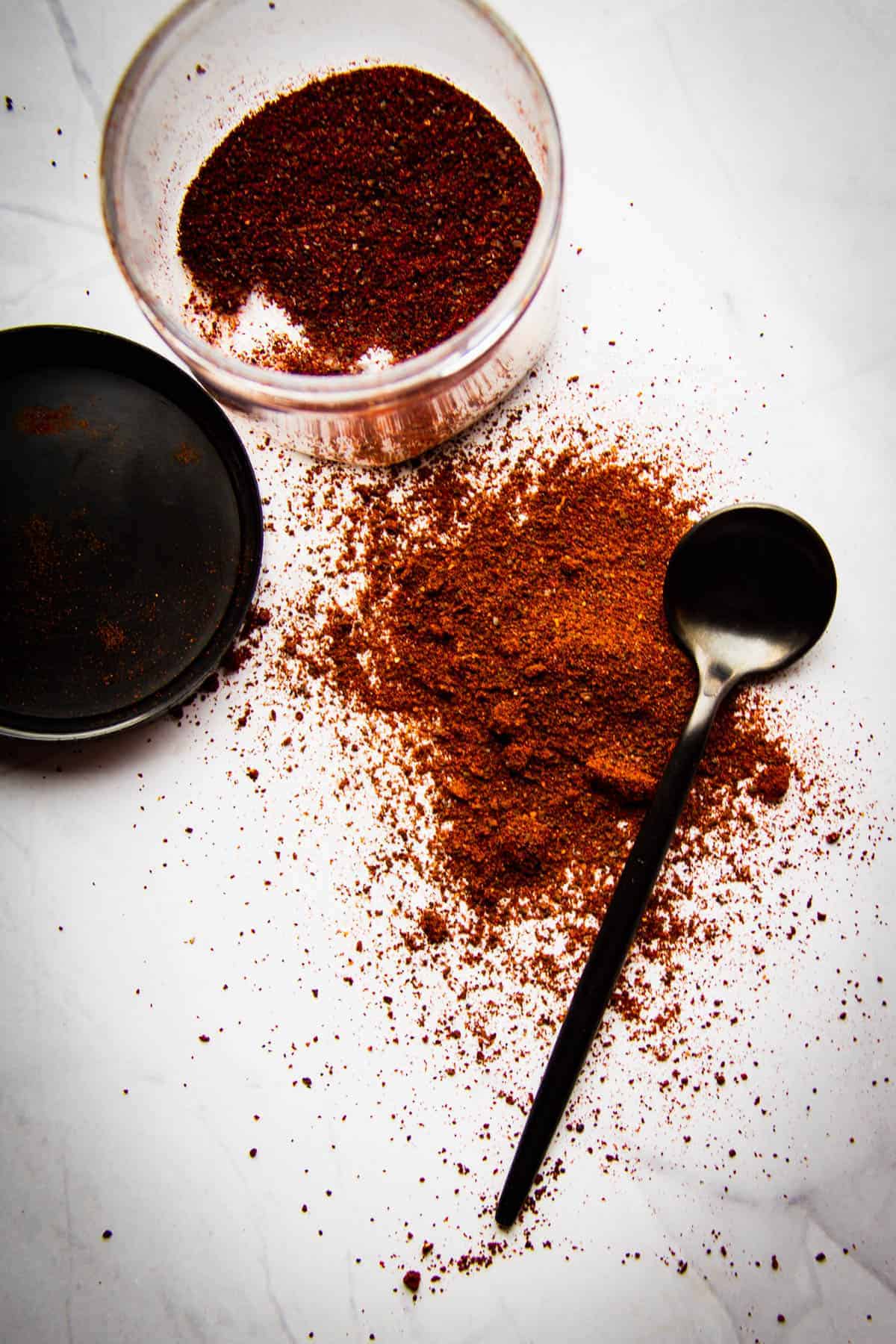 Ancho Chili Powder vs Chile Powder
Is there a big difference between the two? Yes. The difference is huge!
Chile powder is generally a mix of spices that varies depending on who makes it. When a spice is labelled chili powder, it's most likely a spice mix made for the popular beef chili.
Ancho chili powder, on the other hand, is not a mix and is made purely from dried peppers.
What Can I Substitute for Ancho Chili
Ancho chili is difficult to substitute because the flavour is pretty unique but there are much better options than using plain red chili powder.
Here are my top suggestions for what to substitute for ancho chili:
Cascabel peppers which I discovered through Ottolenghi's book Flavour are a pretty delicious alternative and provide a similar sweet and smokey vibe.
Chipotle peppers can be bought in cans or dried. They've got a little more heat to them than ancho chillies so you won't want to use as much.
Dried Guajillo peppers are smoked and have a deliciously rich and sweet berry-like flavour that is similar to the deep notes of ancho chili.
Are Chilies Healthy?
Actually yes.
Because ancho chili is part of the capsicum family it has a lot of nutritional benefits and has positive anti-inflammatory, anti-cancer, antidiabetic, antimicrobial, anticholesterolemic, anticoagulant and antioxidant properties.  [1]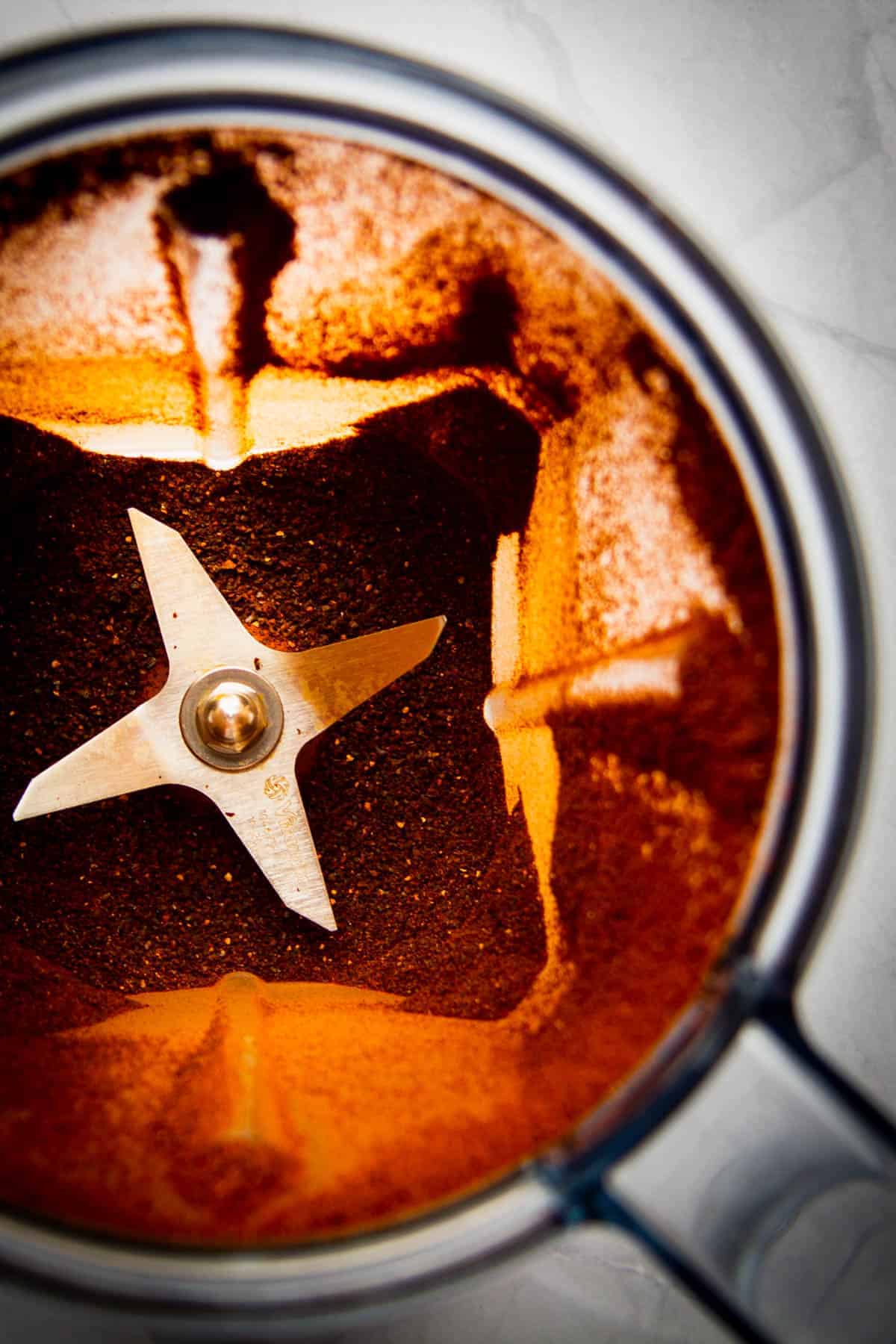 Ancho Chili Buying Guide
Okay, these peppers are awesome. But where do I get them?
If you have a Mexican or Latin grocery store near you then that's the first place I would go to find these peppers. Look for chiles that are slightly shiny with a flexible texture and not too brittle.
They should smell fragrant and a little bit like dried fruit.
If not then you can usually find decent peppers online. I always try to support the local businesses first but if you can't find a store then you can always buy them online.
You can find the whole ancho chili peppers here.
How do You Make Ancho Chili Powder?
The easiest way to turn any pepper into a powder is to grind it finely with a stand blender.
Most blenders should be able to handle a few dried ancho peppers but it helps if you have a high-powered blender like the Vitamix.
Here are a few tips for making a good chili powder:
Make sure the blender and all of its parts are very dry. Sometimes a few drops of water can linger around the lid of the blender, even after it's been dried.
Remove the seeds and stems before blending. The seeds have less flavour so they dilute the flavour.
Seal the lid well because it will make a cloud of chili dust that you don't want to breathe in.
Start the blender on low until it catches the chillies and then increase to high speed to get a fine powder.
Don't forget to scrape down the lid as lots of chili powder will be stuck there.
You can also use a spice grinder but you may have to blend in batches.
How Long Does the Powder Last?
Keep the chili powder in a sealed container and it will last for about 3 months before it starts to lose flavour.
How to Make Ancho Chili Powder
Grinding your own ancho chili powder is easy and the best way to preserve the flavour from these tasty dried peppers.
Ingredients
4-6

pc

ancho chili peppers
Instructions
Make sure the chilies and the blender parts are all very dry before starting.

Remove the seeds and stems by cutting off the top of the chilies with sharp scissors and emptying out them out.

Seal the blender lid very well and blend on low speed. Gradually increase to high speed and blend for about 1 minute.

Turn off the machine and wait 1-2 minutes for the dust to settle. (Get ready to sneeze!)

Use a spatula to carefully remove the powder from the blender. There will be a large amount of powder stuck to the lid of the blender that you won't want to miss.

Keep in a sealed container, in a cool dark place for up to 3 months for maximum flavour.
Now you've got ancho chili powder, let's get cooking with these recipes!
Short Rib Chili – The Ultimate Pressure Cooked Super Bowl Chili
This recipe uses a delicious pressure cooked short rib stock and a secret weapon umami butter to make one hell of a super bowl chili. Plan it out, grab a beer and let's get cooking.
Check out this recipe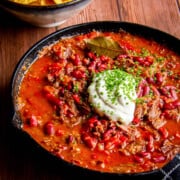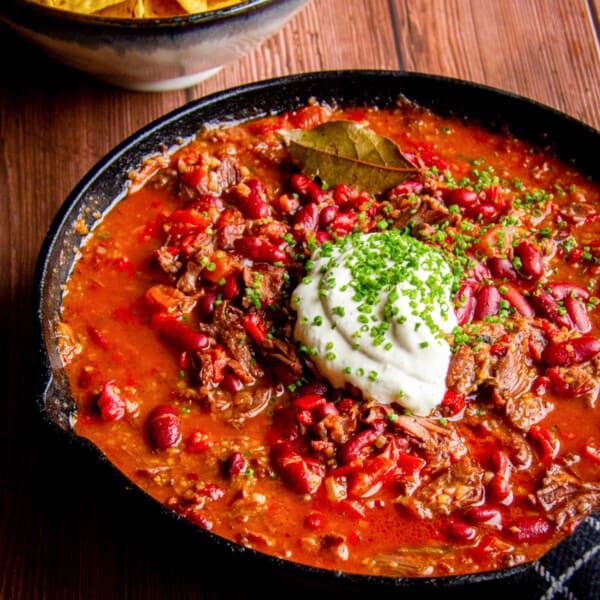 An Easy BBQ Bloody Mary Cocktail
When you want a bloody mary, nothing else will do. This BBQ bloody mary is flavoured with some simple spices and gets a little extra sweetness from the bbq sauce.
Check out this recipe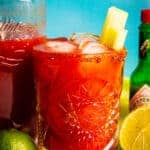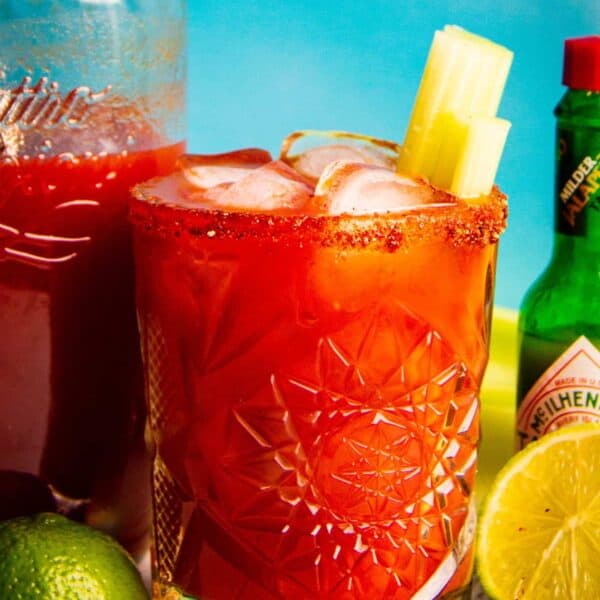 These Fall-off-the-Bone BBQ Ribs
Fall off the Bone Ribs
My ultimate recipe for actual fall off the bone ribs that will beat smoked ribs any day of the week. Brined, braised and finished over charcoal. Try these and you may never go back to smoked ribs!
Check out this recipe