I remember being lactose intolerant and it was *not fun*.
I was the oat-milk in the coffee guy. No ice cream, no cream-based sauces, almost no butter (the hardest) and the constant search through packaged ingredients for my arch-nemesis: milk powder.
And although I'm still technically lactose intolerant, I now enjoy all of my favourite milk-based foods thanks to a magic bottle of probiotics by the name of Lacto Freedom.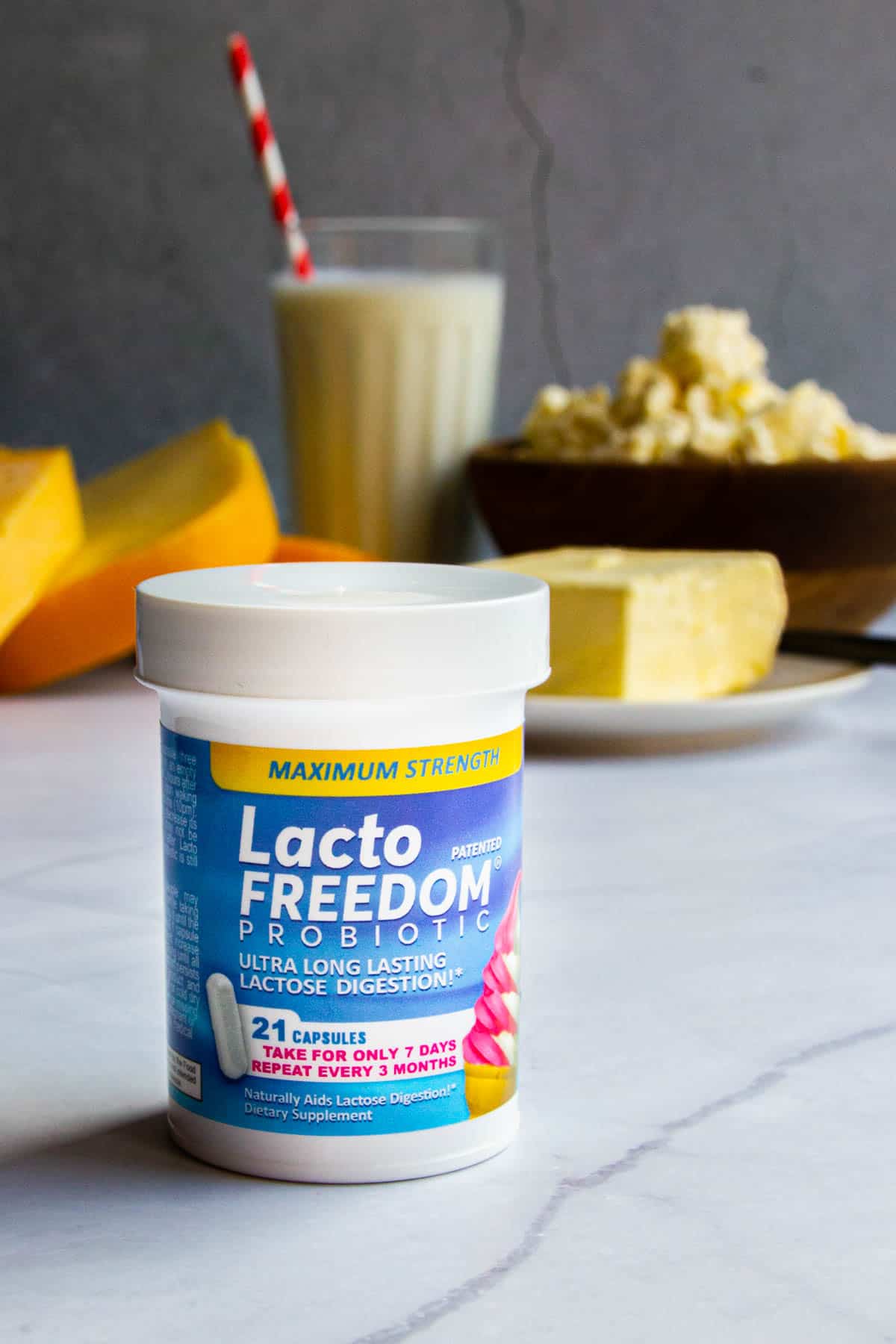 Although, they're not like any normal Lactaid supplements which you must take with every meal either.
Instead, these supplements only need to be taken 3x a day for one week and provide relief from lactose intolerance symptoms for months!
No more carrying around Lactaid supplements or searching through ingredient lists of foods because I'm protected for months.
Sounds too good to be true right?
I know, I thought the same at first, and I'm always skeptical of new supplements making huge claims like this one.
But I'm being totally honest when I say that Lacto Freedom changed my life for the better. If you're also lactose intolerant like me, then I highly recommend you try this.
Before We Continue Let's Clear the Air
As I'm a chef and not a doctor, I'm not here to give you medical advice. I'm simply sharing what worked for me. Always consult a medical professional for medical advice on supplements, diet changes and other medical advice.
Also, this is not a sponsored post, meaning I did not receive any money from Lacto Freedom to write this. This post is for all my lactose-intolerant friends who've struggled with eating dairy as I did.
This is what worked for me and hope this works for you too!
How Does Lacto Freedom Work?
Being lactose Intolerance means my digestive system cannot digest lactose, a milk sugar found in milk, cheese, ice cream, yogurt and lots of other milk products without a bunch of uncomfortable digestive issues.
People who are not lactose intolerant (lucky!) can digest milk products because their body creates an enzyme called lactase naturally. Lactase breaks down lactose and allows anyone eating or drinking milk products to digest them without symptoms.
Lactaid is essentially the lactase enzyme and is sold as pills that need to be taken every time milk products are eaten.
But if you're anything like me, Lactaid products only help a little.
Even when they did work, it's annoying to bring them with you and remember to take them.
Plus, if you do eat a lot of milk products the price of Lactaid can add up.
*Enter Lacto Freedom supplements.*
The difference with these supplements is that they're not just the enzyme lactase, but a patented probiotic strain that produces lactase in your gut for months after taking them.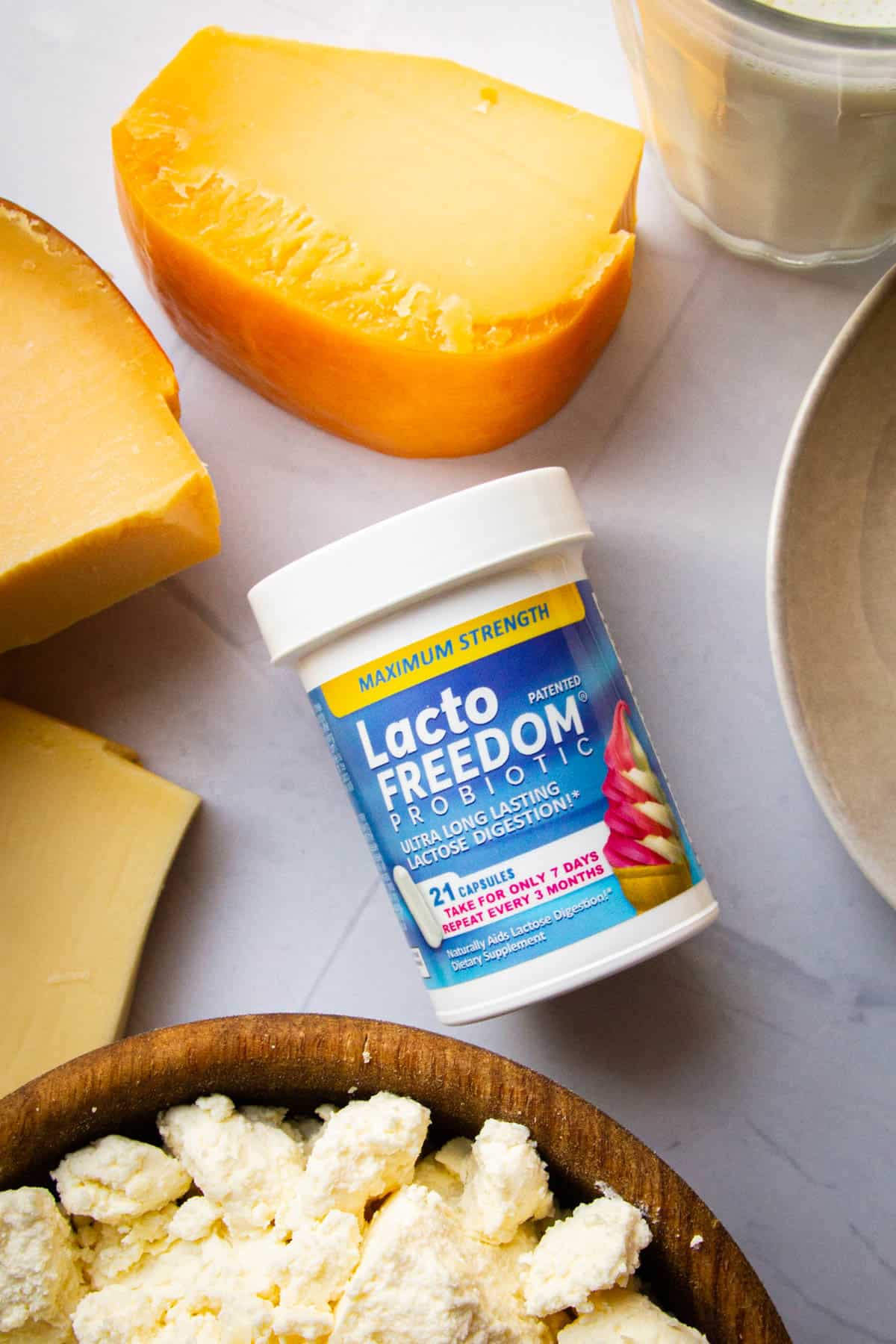 Okay, But Does Lacto Freedom Really Work?
I can say that for myself, it works 100%.
I noticed my lactose intolerance slowly worsened after I changed continents a few times from Europe to Canada. It got to the point where I stopped eating ice cream, stopped putting milk in my coffee and skipped dessert entirely unless I knew for sure it was lactose-free.
After nearly 3 years without ice cream (and my personal favourite: the flat white coffee), I'm completely and 100% back to normal.
If you're also lactose intolerant, you can imagine how liberating that is.
When Does Lacto Freedom Start to Work?
As mentioned on their website, symptoms can start to improve 1-2 weeks after finishing the supplements.
Here is how it went for me:
Before Taking the Supplements
I had pretty severe lactose intolerance. I cut out almost all dairy products from my diet with the exception of some aged cheese and a very small amount of butter.
I skipped most desserts and avoided milk products like the plague.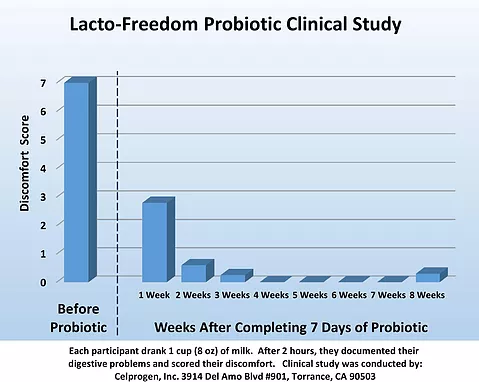 Week 0 – Inoculating Myself with Lacto Freedom
I took the supplement 3x a day for one week. I was skeptical but thought it couldn't hurt to try.
As recommended by the company I took the pills on an empty stomach at least 1 hour before eating or 2 hours after eating.
I also stopped drinking alcohol completely for 14 days and discontinued taking my normal probiotic supplements. Both are said to disrupt the process of the Lacto Freedom supplements.
I continued my normal diet but already started experimenting by adding a little more butter into my diet. I started noticing a slight improvement in my symptoms but was still skeptical.
Week 1
The first week after consuming the pills I was still terrified to consume any milk but also very excited to test it out.
In the included instructions it says that most people experienced their lactose intolerant symptoms by half during the first week.
I continued to test this on myself by adding a little more butter to my diet and really started to notice a difference. It already started to work better than the Lactaid supplements and I was thrilled.
Still, I wanted to wait another week until I brought the real test to the table: a glass of milk.
Week 2
By now, my confidence in Lacto Freedom is already pretty high and I'm ready to pull out the big guns.
I immediately topped my coffee with a huge glug of milk and downed it like it was the last day on earth.
To which my fiancé said "WHOA ARE YOU CRAZY?! You're just going to drink milk?!"
I nodded and smiled as I had just developed a superpower.
I finished that day with 3 milky coffees, half a ball of this buratta cheese and buttery and cheese heavy cacio e pepe tagliatelle that would normally have rendered me confined to a bathroom for the rest of the day.
I still experienced some symptoms, but it was almost nothing compared to what I was used to and I couldn't believe how well it was working. I also ingested an insane amount of dairy and the full effect of the probiotics was yet to come.
Week 3
By now I was ingesting milk like a newborn baby.
I had little to no symptoms at all and it was perfect timing for our trip to Chamonix, France, the land of croissants, pastries and cheese fondue.
Week 4 and Now
My lactose-intolerance symptoms are completely gone and a new world of cheese, butter and many other dairy products has been unbarred for me.
As a chef whose life revolves around food, I feel liberated.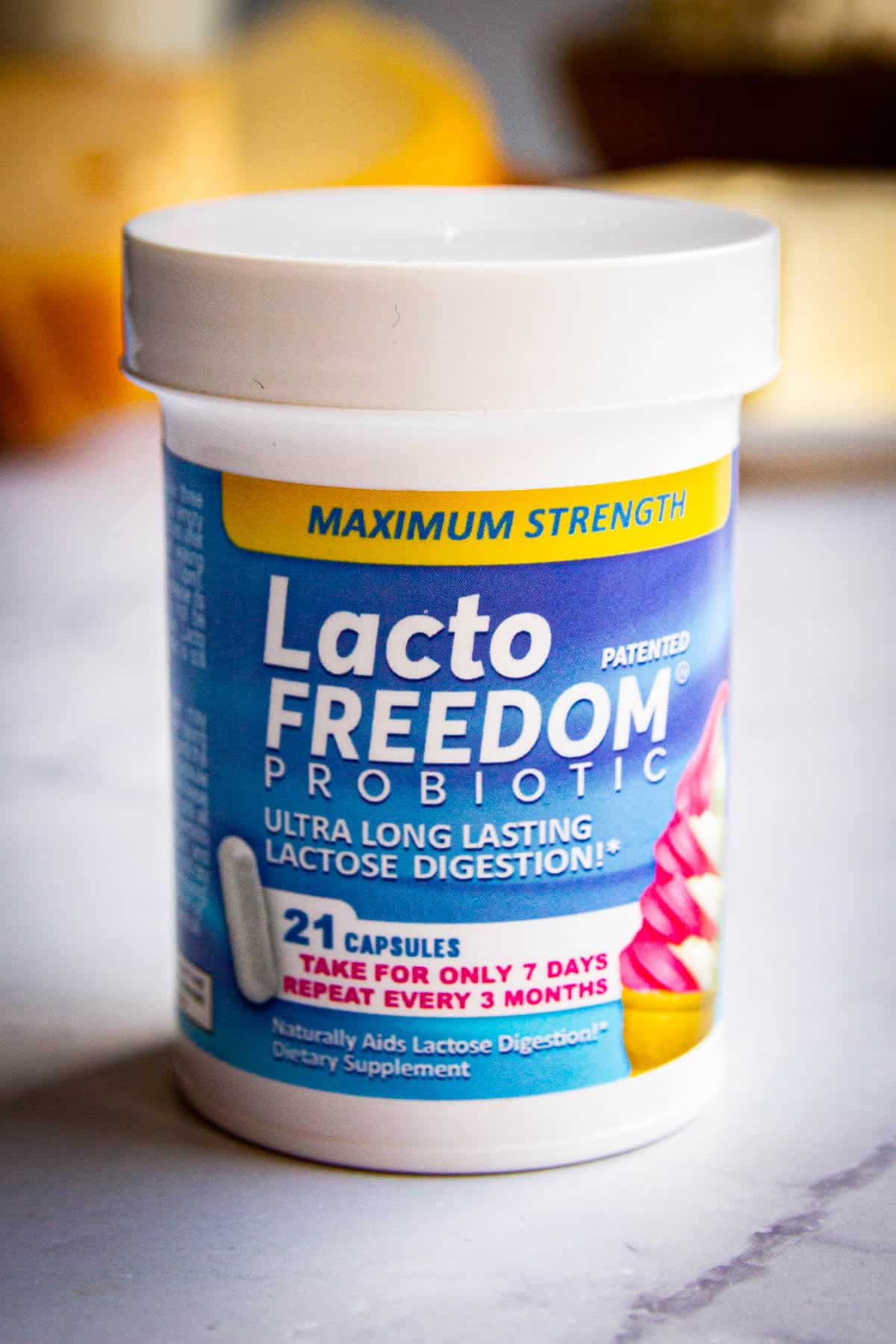 The Cons to Lacto Freedom
Let's be honest, not everything is perfect.
Price
The biggest downside to Lactose Freedom is probably the price.
Although I think it's quite fairly priced compared to other probiotics, it's still something that I'll have to keep taking and buying and some may find this too costly.
How often varies from person to person and I have yet to see how long it lasts.
For me, it's still worth the price to be essentially free from lactose intolerance.
The Pros of Lacto Freedom
To sum it up, here are the best parts of Lacto Freedom:
After taking Lacto Freedom, you won't have to take Lactaid supplements anymore and can consume all the dairy your heart desires.
It works for months.
You can order anything at your favourite restaurant without having to ask for "no dairy".
You won't have to look through ingredient lists of prepared foods in fear of accidentally consuming lactose.
You'll save money by not having to buy lactose free products.
Lacto Freedom Alternatives
I have yet to find any alternative to Lacto Freedom probably because they have a patent on the technology.
If you find another one that works I'd love for you to share it with us in the comments.
What it All Boils Down To
Lacto Freedom changed my life for the better and I hope it does for you too.
It can be a little bit expensive, (especially if you don't live in the U.S. like me) but it's still worth the price in my opinion. With the money saved on more expensive lactose-free products and the ability to eat anything off the menu, it's a no-brainer buy for me.
You can find Lacto Freedom on Amazon here, or (as they're usually out of stock) buy it directly off their website (although shipping may be a little slower).
---
Still Lactose Intolerant? Check out Some Dairy-Free Recipes in the Meantime
Oat Milk Eggnog
It's light, refreshing and tastes like a glass of Christmas. It's dairy free, gluten free, 100% plant based vegan and the perfect excuse to drink rum during the holidays.
Check out this recipe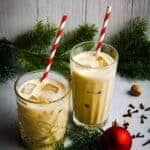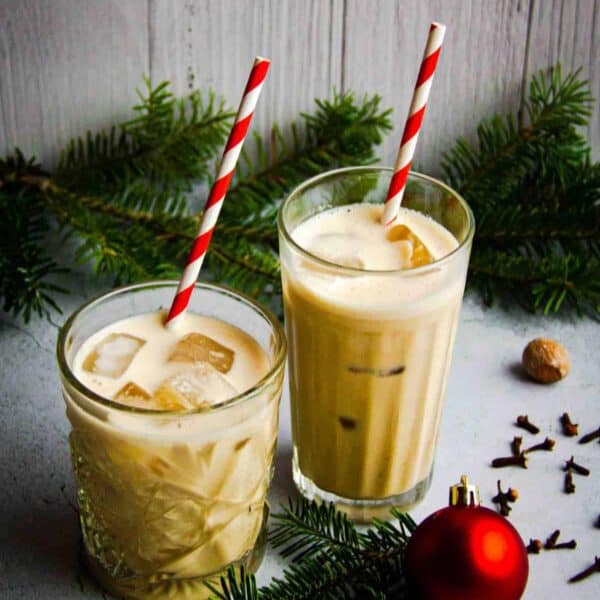 Vegan Chocolate Mousse with Passionfruit
A vegan chocolate mousse made with avocados and garnished with hazelnuts, mint, pomegranate and fresh passionfruit. Made in less than 10 minutes, gluten free, dairy free and raw vegan.
Check out this recipe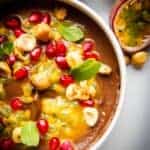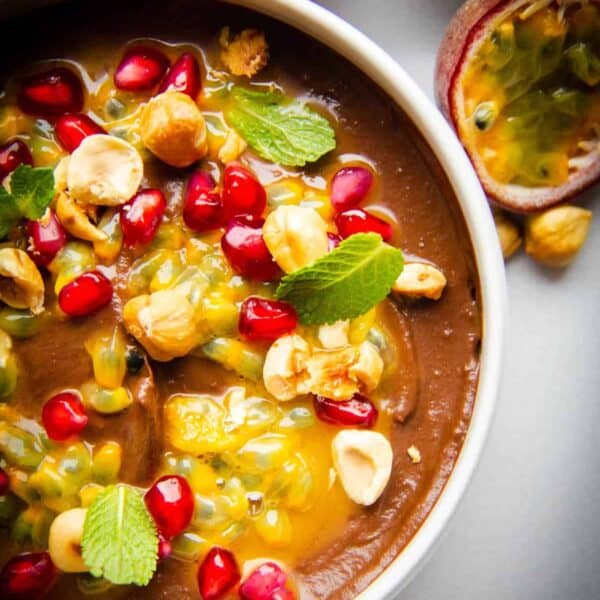 Vegan Pasta Pesto with Hazelnuts, Peas and Miso
A super easy vegan pasta pesto that's insanely healthy, gluten free and dairy free. It's ready in 15 minutes making this an easy and delicious weeknight meal.
Check out this recipe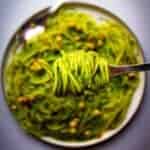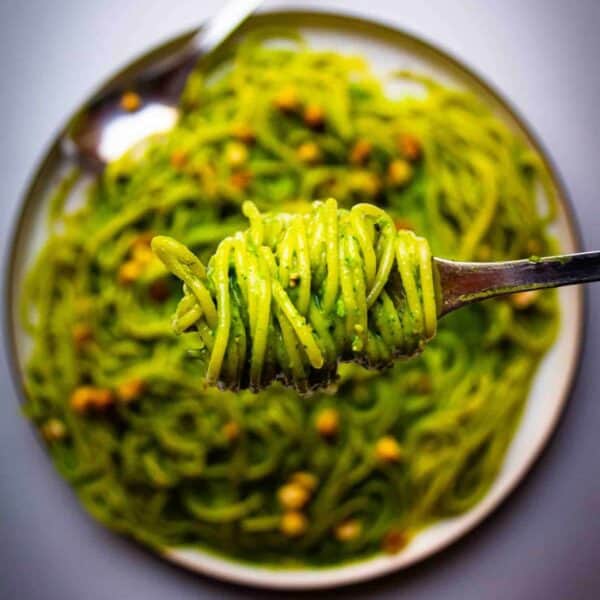 Grilled Green Onion Chimichurri – A Healthy Steak Sauce
A recipe for a light, healthy, charred green onion chimichurri sauce. Gluten-free, dairy-free, vegan and perfect with steak, pork chops, chicken or grilled veggies.
Check out this recipe