This is a quick guide on how to toast pecans the right way with a few flavour ideas to make them more interesting. These pecans are toasted with a little butter, cinnamon and chili to give them a tasty sweet and spicy flavour.
Toasting nuts will always bring out more flavour so it's good practice anytime you use nuts.
Toast Pecans the Right Way
There are two ways to toast nuts, the good way and the not-so-good way.
The not-so-good way is to toast them in a pan on a stove over low heat. This results in uneven cooking, constant stirring or tossing and the possibility of them burning. Don't toast nuts like this unless you don't have access to an oven.
The right way is to cook them on a tray in the oven. This allows for even cooking and that means you'll be less likely to burn them.
Use a Timer
It may seem silly to set a timer for something small like a batch of pecans, but it's good practice.
Even chefs forget about nuts in the oven and the timer is an easy fix. There's nothing worse than forgetting an entire tray of nuts in the oven and having to throw away a batch of carbonized pecans.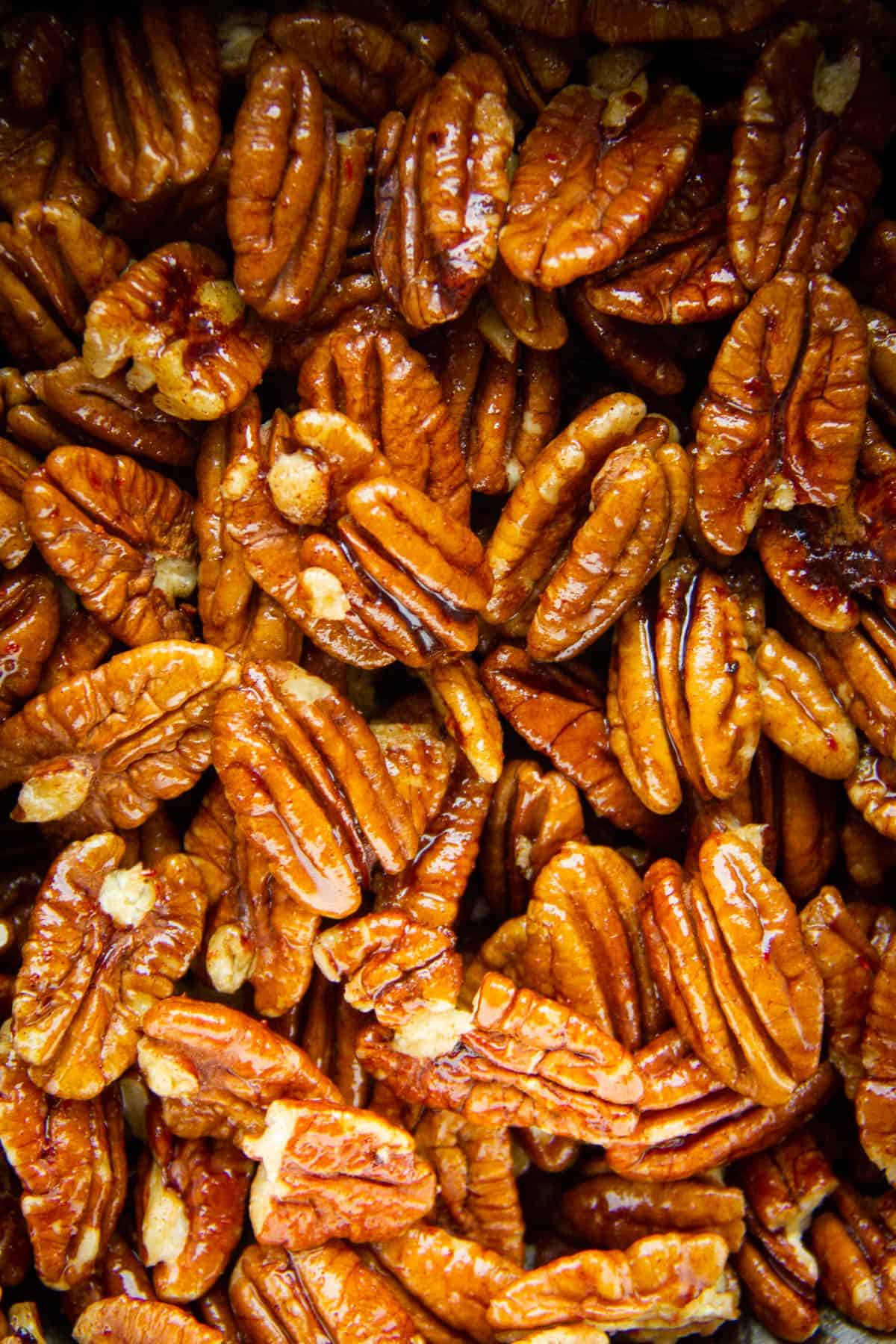 Other Flavours for Toasted Pecans
I like using a little bit of cinnamon with these pecans because it tricks your mind into making them taste sweeter without adding any extra sugar.
There's a little bit of butter added to these for added flavour and to help the spices stick to the nuts. You could also use sunflower oil, coconut oil or vegan butter to make this recipe plant-based but butter has the most flavour.
You can try adding all sorts of spices to make them your own, like these:
Cayenne pepper
Black pepper
Cocoa powder
Pumpkin seasoning
Chili seasoning
Nutmeg
Orange zest + Butter
How to Candy Nuts
If you search for how-to candy pecans on google you'll likely find an endless amount of recipes that do it the wrong way. Adding raw sugar to the nuts before baking will make a sticky mess and is not ideal.
Instead, this method for Glassy Candied Nuts from Chefsteps is genius and not that much extra work for a way better end result.
The method is simple:
First, blanch the nuts in boiling salted water.
Dry the nuts.
Toss in icing sugar until evenly coated.
Fry in hot oil at 325 °F / 163 °C until golden brown.
Dry on a resting rack sprayed with oil and separate each one so they don't stick together.
How to Toast Pecans
How to toast pecans with a simple, no-fail method plus a few delicious flavour ideas and a recipe for cinnamon + chili toasted pecans.
Ingredients
250

g

pecans, raw

1

tbsp

butter, unsalted

⅛

tsp

cinnamon, ground

⅛

tsp

Aleppo chili

or 1/16th cayenne

¼

tsp

salt (to taste)
Instructions
Set the oven to 350°F/175°C.

Melt the butter in a pan or in the microwave. Add to the pecans in a bowl with all of the ingredients and mix well.

Place coated pecans on a baking tray lined with parchment paper and bake for 7-10 minutes or until golden brown.

Let cool on the tray for 10 minutes. Store in a sealed container at room temperature for up to 2 weeks.
Notes
The butter adds more flavour and helps the spices to stick to the nuts but is not necessary. If you want to dry roast the nuts for a healthier alternative, add the spices to the nuts immediately after baking. The heat from the oven will release some oil from the nuts which will help the spices to stick. 
I've added a very tiny amount of spice because too much spicy doesn't go well in desserts or things like yoghurt but you can definitely crank up the heat.
Nutrition
Calories:
457
kcal
|
Carbohydrates:
9
g
|
Protein:
6
g
|
Fat:
48
g
|
Saturated Fat:
6
g
|
Polyunsaturated Fat:
14
g
|
Monounsaturated Fat:
26
g
|
Trans Fat:
1
g
|
Cholesterol:
8
mg
|
Sodium:
171
mg
|
Potassium:
259
mg
|
Fiber:
6
g
|
Sugar:
2
g
|
Vitamin A:
141
IU
|
Vitamin C:
1
mg
|
Calcium:
46
mg
|
Iron:
2
mg
More Recipes
How to Roast and Peel Hazelnuts
How to Roast Hazelnuts (And Peel Them)
A quick guide on how to roast hazelnuts with an easy trick to peel them.
Check out this recipe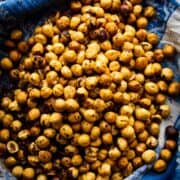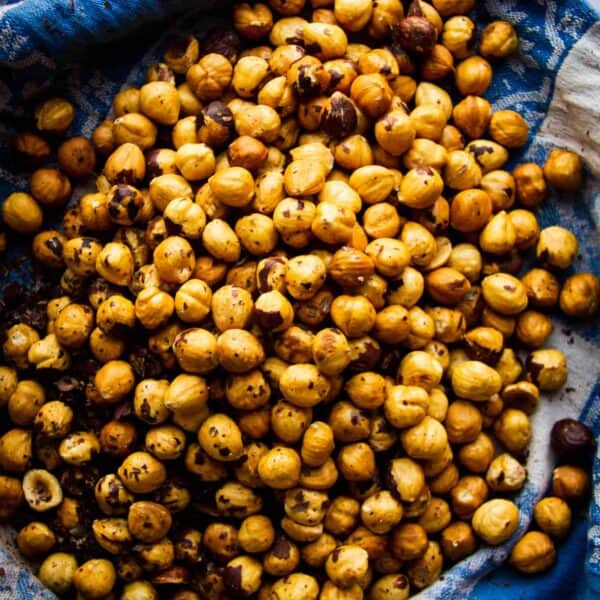 How to Make Ancho Chili Powder
How to Make Ancho Chili Powder
Grinding your own ancho chili powder is easy and the best way to preserve the flavour from these tasty dried peppers.
Check out this recipe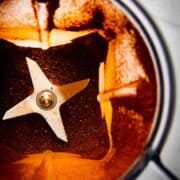 How to Cook Chestnut Mushrooms with Butter, Garlic, Parsley and Lemon
These chestnut mushrooms are cooked in loads of foamy butter and finished with fresh garlic, lemon and parsley.
Check out this recipe