Here's a quick guide on how to roast hazelnuts properly with an easy trick to peel them.
I'm using raw, unpeeled hazelnuts here but you can also use peeled and blanched hazelnuts.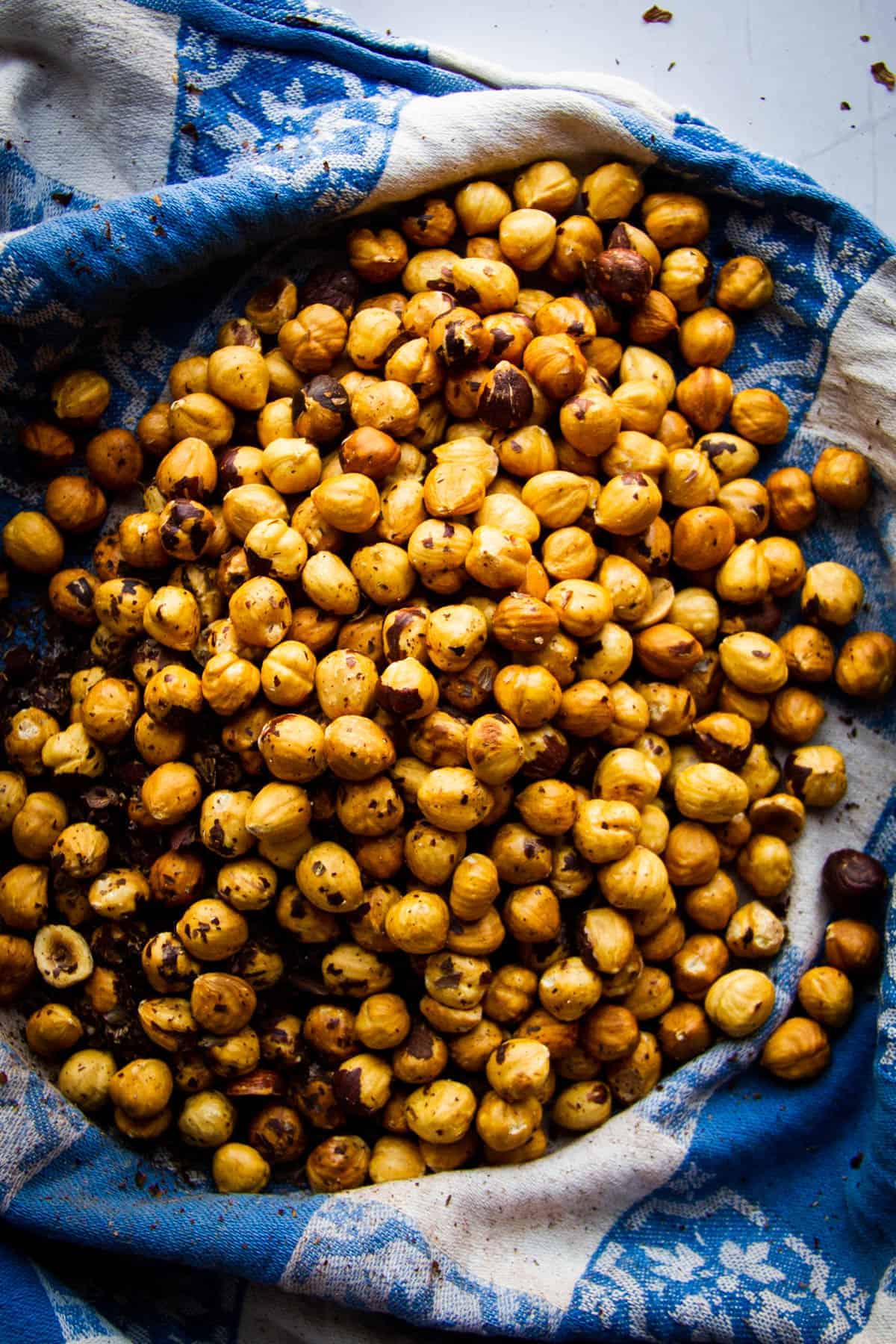 Roast Them Extra Dark
Just like how Parisian bakers like to bake their bread extra dark, the flavour of the hazelnuts will be much better with a heavy roast.
A dark roast will also make peeling these little nuggets of gold much easier because the skins will dry up and fall off.
It's always good practice to roast nuts because it's an easy way to amp up their flavour. This is especially true when using them in recipes like this chocolate hazelnut spread because the dark roast increases the hazelnut flavour.
Are Filberts and Hazelnuts the Same?
Yes. The two names are used interchangeably but filberts are used more for describing the farming crop whereas the term hazelnut is more popular in the culinary world.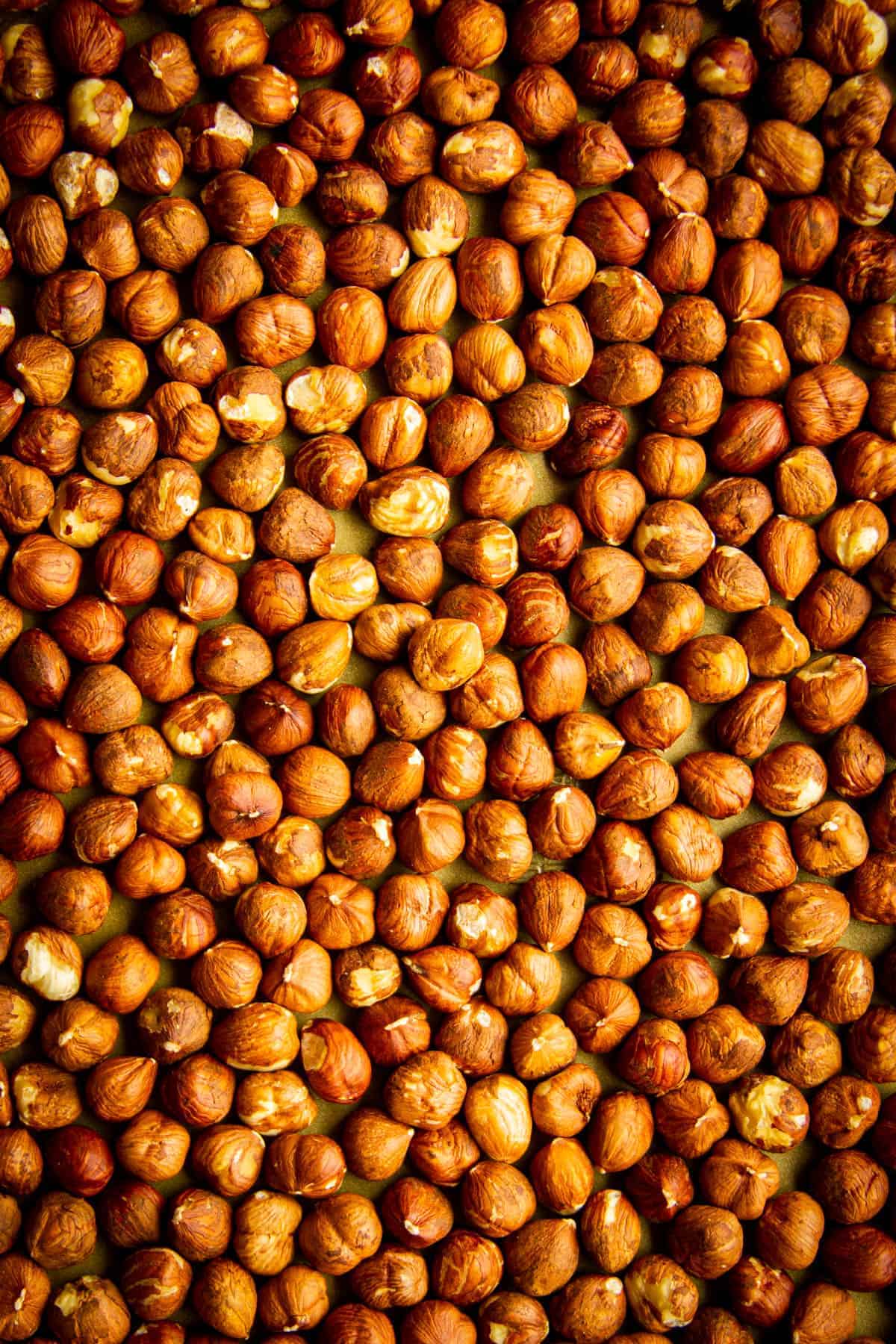 Can You Toast Peeled Hazelnuts?
Yes of course. Although, peeled hazelnuts will need less time in the oven.
Toast in the Oven Not in a Pan
It may be tempting to use a pan to roast the nuts but this is bad practice. When using a pan you get uneven heat and you can easily burn them if not careful.
It's always better to roast nuts on a sheet tray in the oven for nice even browning.
Pro-tip – Always use a timer, there's nothing worse than forgetting a tray of expensive nuts in the oven which can go from delicious to inedible in minutes.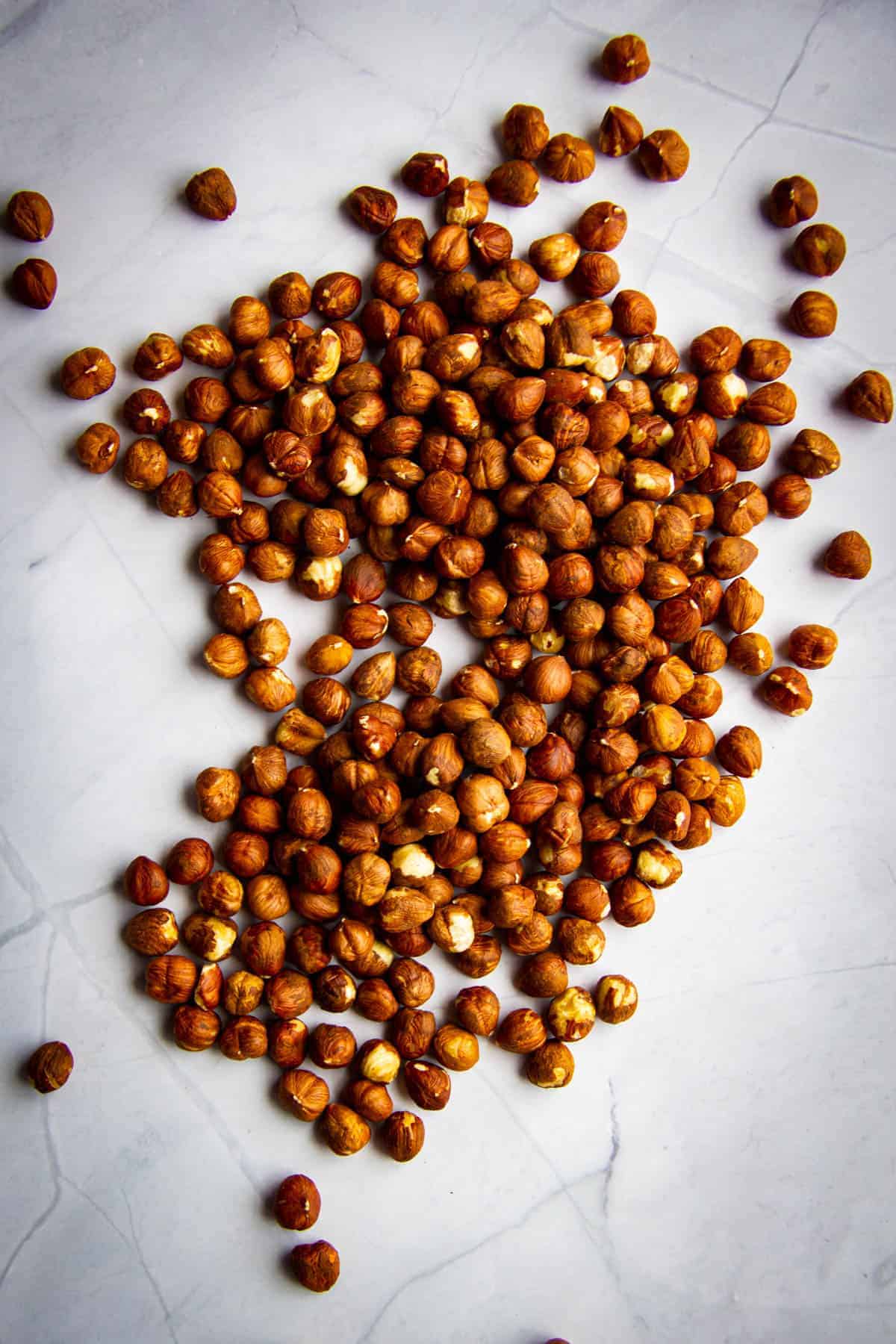 How to Roast Blanched Hazelnuts
Blanched or peeled hazelnuts will cook a little faster than unpeeled. Aim for an even golden colour for the tastiest hazelnuts.
Roast peeled hazelnuts for 10-12 minutes at 350℉/180℃ or until nicely browned all over. Roll them around on the tray after about 5 minutes to ensure even cooking.
Salt the hazelnuts immediately after roasting to allow the salt to stick.
What to Do with Roasted Hazelnuts
I like to eat them on their own or mix them into granola.
Also, I've got a few recipes that make use of these little gems:
Do Nuts Go Bad?
Yes actually!
Roasted hazelnuts will last for up to 3 months at room temperature, 6 months in the refrigerator or up to one year in the freezer. Store in a cool and dry place away from humidity which can make them go mouldy.
How to Roast Hazelnuts (And Peel Them)
A quick guide on how to roast hazelnuts with an easy trick to peel them.
Ingredients
454

g

raw hazelnuts, unpeeled
Instructions
Preheat the oven to 350°F/180°C

Roast the hazelnuts on a tray for 10-15 minutes in the oven. Shake the tray about halfway through to ensure even cooking.

Some of the skins may actually look burnt but this is what we want.

Once the hazelnuts are dark brown, immediately wrap them in a kitchen towel and allow them to steam.

Rub the kitchen towel with your hands to peel the nuts. You can also try smashing the tightly wrapped towel against a counter table to help break the skins.

Not all of the hazelnuts will peel perfectly but you can try to roast these ones longer to get the skins off.

Let them cool completely, then store in a sealed container for up to 3 months in a cool dark place.
Notes
Use a kitchen towel that you don't mind messing up because it may rip a little after peeling the hazelnuts.
If they are difficult to peel, try putting them back in the oven and roast them longer.
A Creamy White Asparagus Soup Recipe with Hazelnuts + Brown Butter
It's light, refreshing and ridiculously smooth. This white asparagus soup is a perfect way to turn any leftover asparagus trim into a bowl of magic. Gluten-free and vegetarian.
Check out this recipe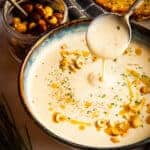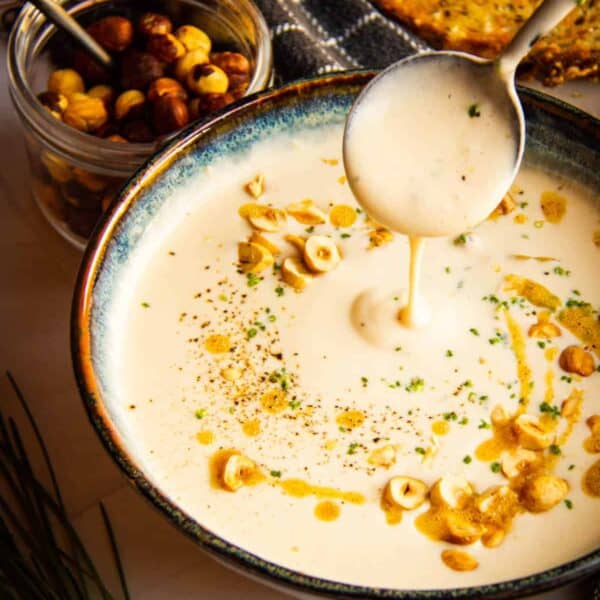 How to Make Ancho Chili Powder
Grinding your own ancho chili powder is easy and the best way to preserve the flavour from these tasty dried peppers.
Check out this recipe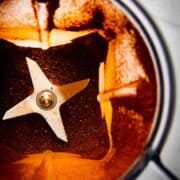 The Best Vegan Chocolate Hazelnut Brownies
A recipe for vegan brownies loaded with intense chocolate hazelnut flavour and drizzled with vegan nutella. Soft, rich and insanely chocolatey. I promise you won't miss the dairy or eggs.
Check out this recipe