I love traditional eggnog because it's comforting, tastes like Christmas and the perfect excuse to drink rum during daylight hours. But normal eggnog is heavy and because I'm lactose intolerant, not my number one holiday choice. I experimented with a few variations to find something lighter, dairy free and preferably with my favourite non-dairy milk – oat milk. And I'm pretty happy with the result – it's light, creamy, totally plant-based and tastes like a glass of Christmas. Even if you're not lactose intolerant or vegan you'll want to give this oat milk eggnog a try because it's so much more refreshing than the original.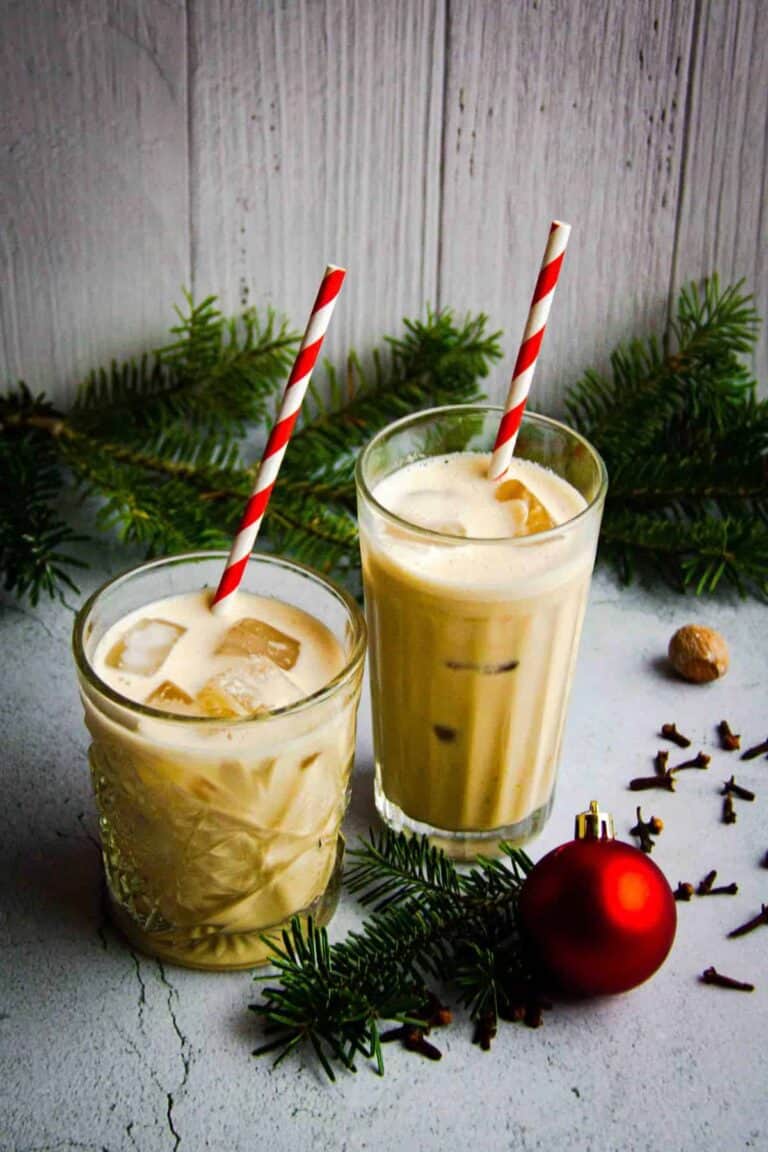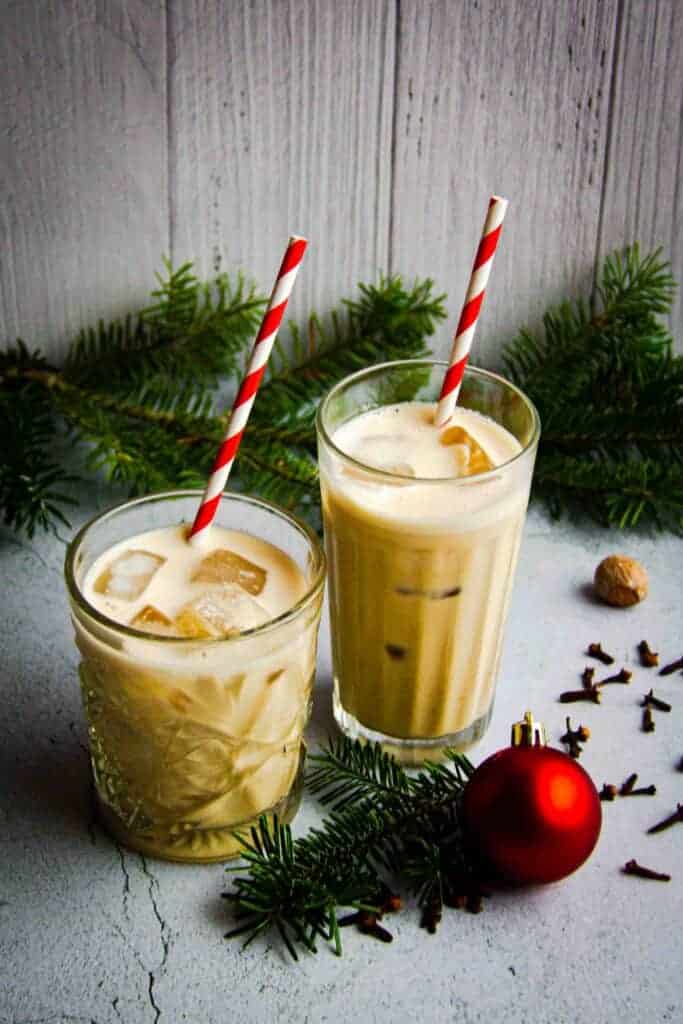 The Secret to Oat Milk Eggnog
This oat milk eggnog contains no eggs or milk, just oat and nog. Replacing the milk in recipes is usually not too hard because oat milk is a pretty good substitute but eggs are a different story.
Eggs make eggnog smooth and rich. To substitute the eggs I've used a cashew cream with a small amount of xanthan gum to help bind it. These two ingredients work really well together to bring a surprisingly similar texture and mouthfeel to this drink.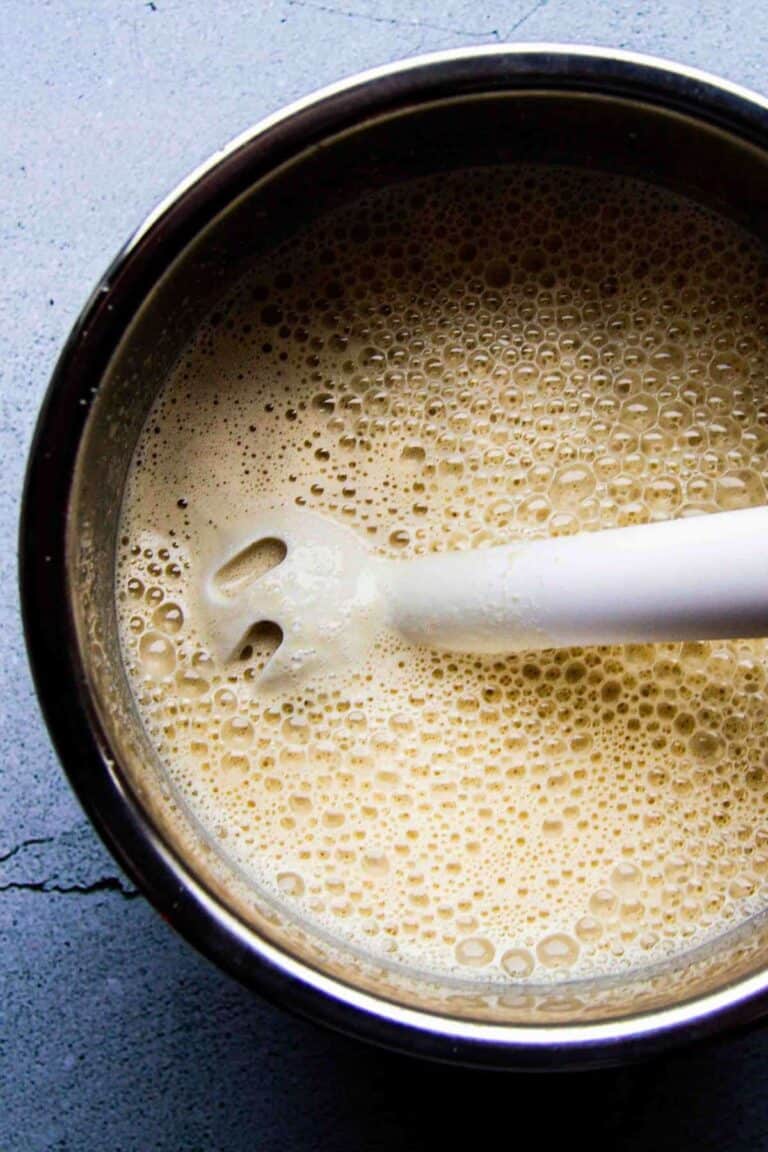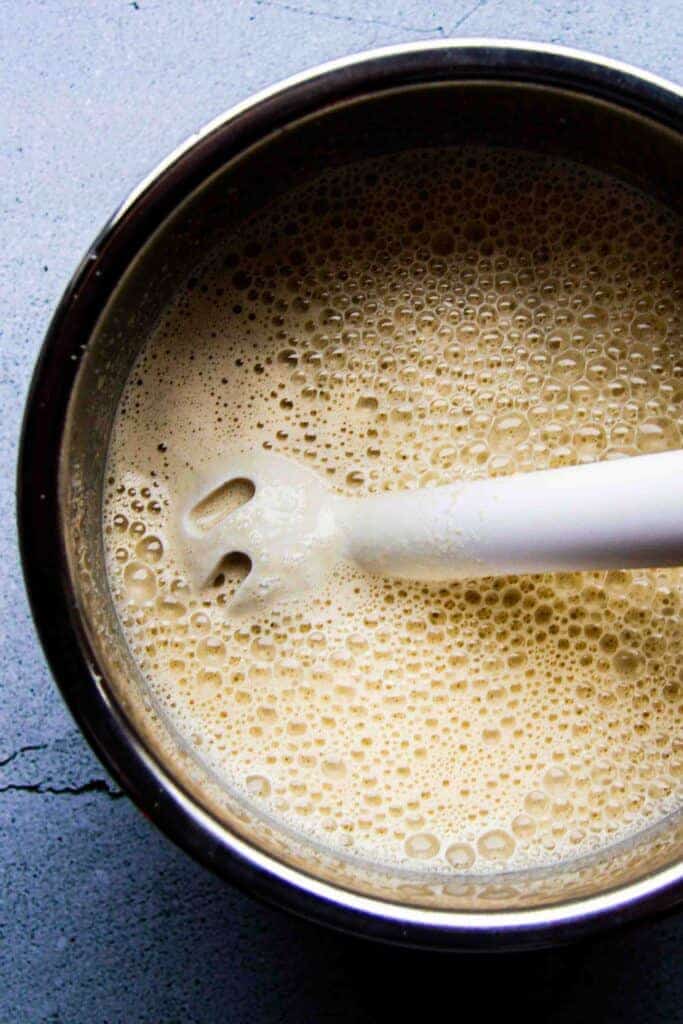 Why This Oat milk Eggnog is Better Than the Original
Traditional eggnog is still great. But there's a few things that make this recipe a better option.
It's lighter, so you'll still have room for that heavy Christmas dinner
Lower in fat than the original
It's 100% plant based vegan
No raw eggs
It's refreshing and really tasty with dark spiced rum
Do I Really Have to Use Xanthan Gum?
Nope. This recipe was surprisingly smooth even without the addition of xanthan gum. You can leave it out if you want and it will still taste great. But I think a tiny bit of xanthan gum really refines the drink to that perfect eggnog consistency.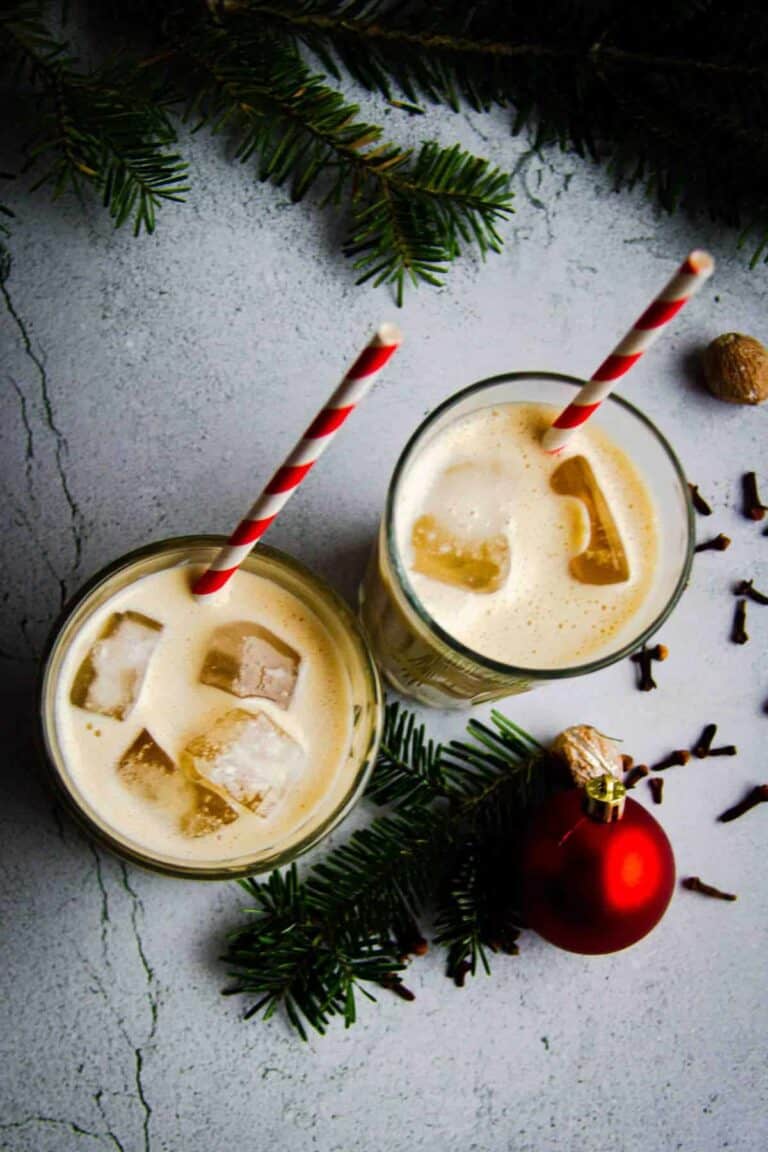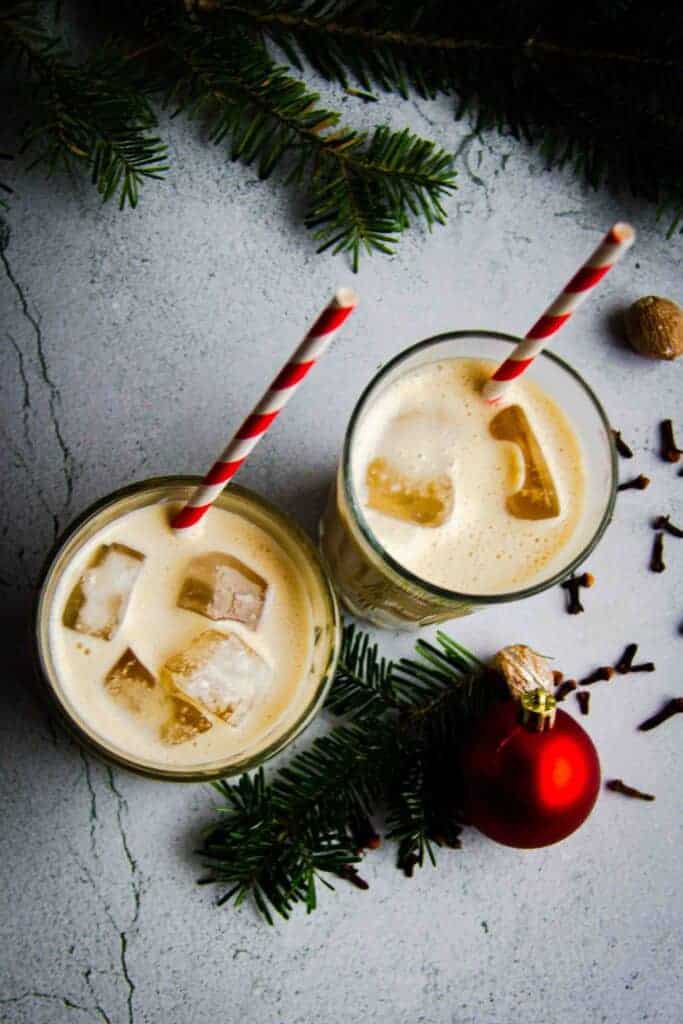 How to Nail this Recipe
Blend the cashew cream for at least 1-2 minutes so it's really smooth.
Make this recipe in advance because the cashews need at least two hours to soak and the milk needs time to cool.
Don't skip the nutmeg, you've got to have that nutmeg!
Necessary Tools
Blender – The better the blender, the smoother the cashew cream will be. The best blender is from Vitamix and the industry standard in most professional kitchens.
Hand Blender – If you don't have a good blender you can still make this recipe with a hand blender as long as it has the food processor attachment. I blended the cashew cream in the food processor and then finished the drink with the hand blender.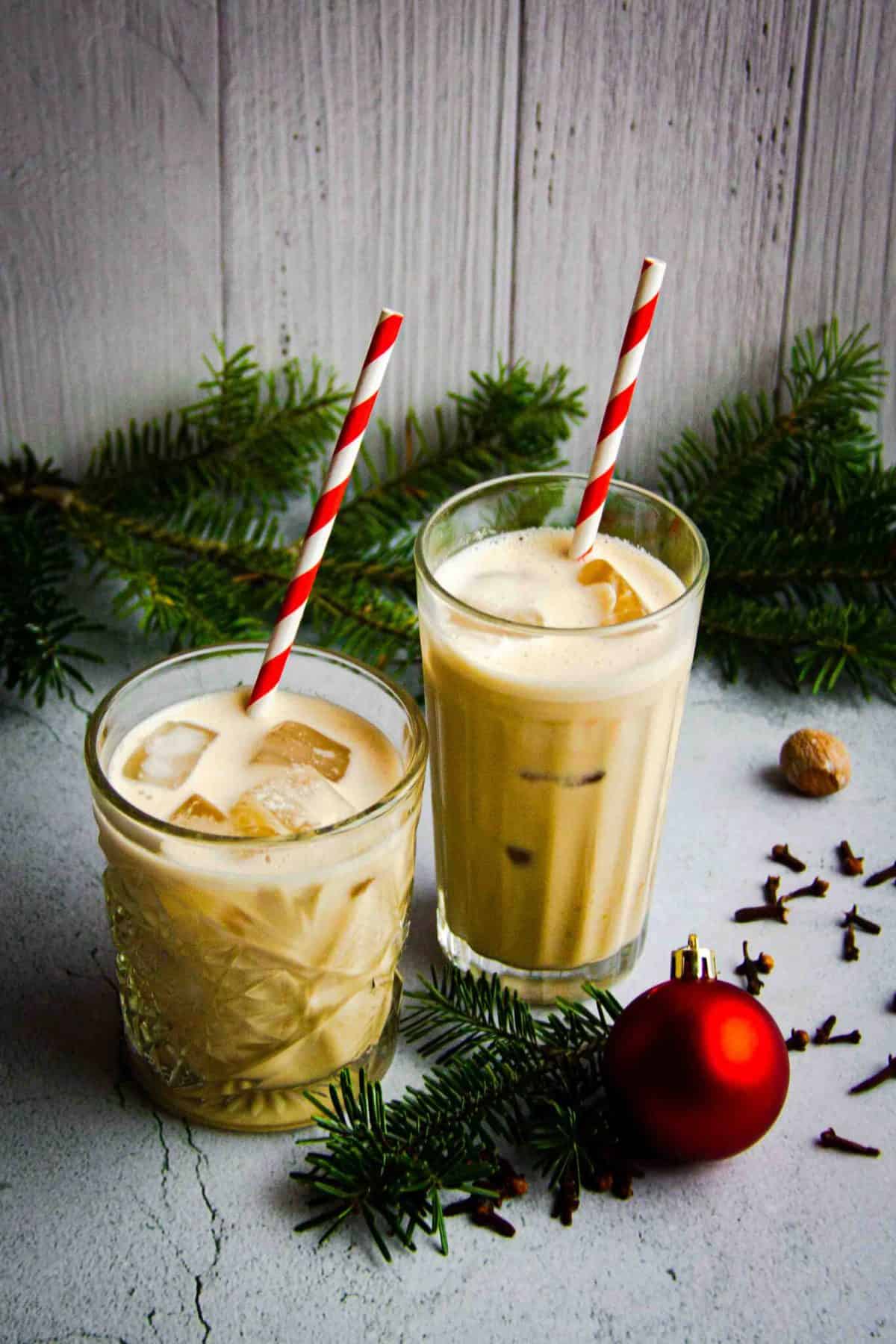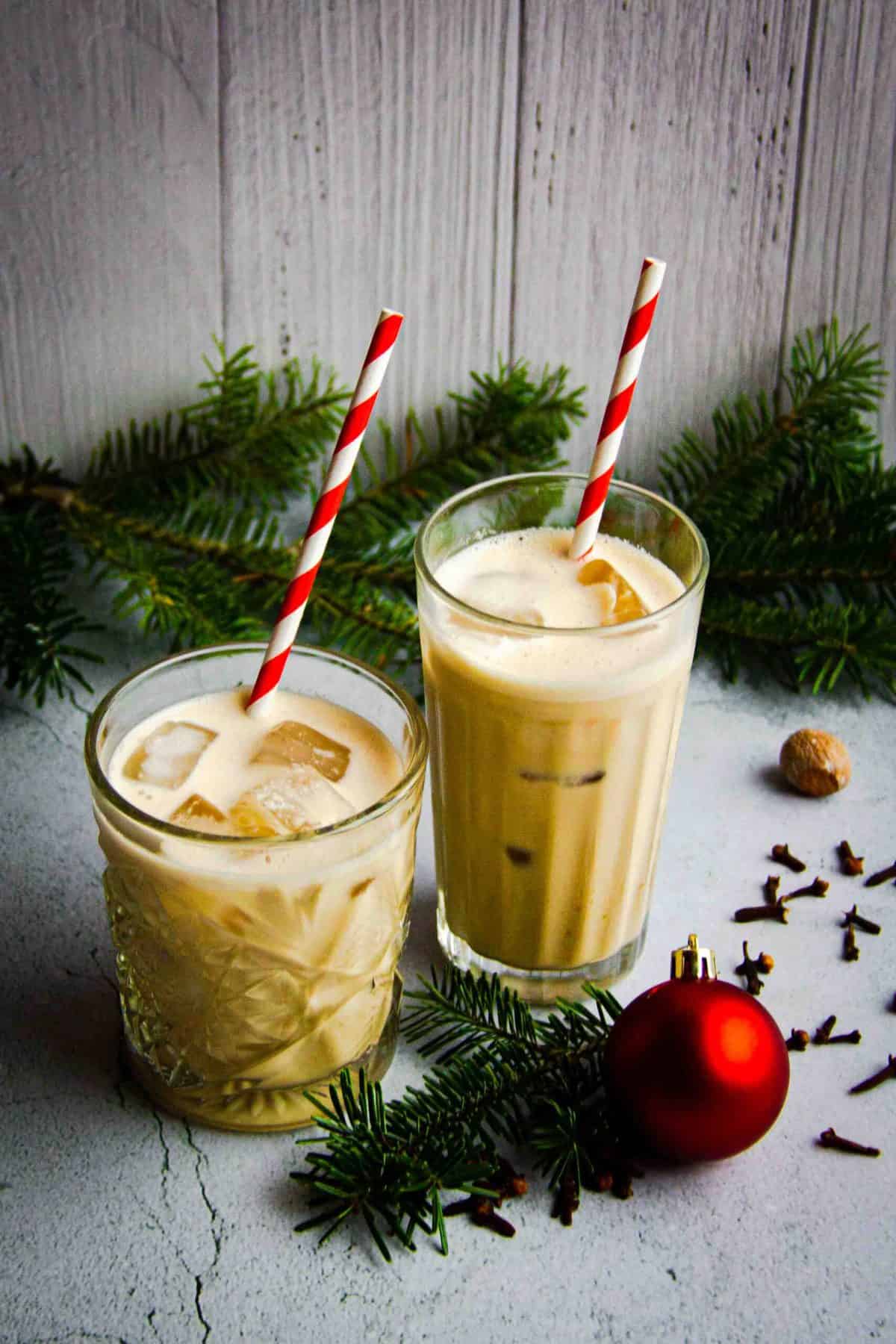 Equipment
Blender or hand blender with food processor attachment

Fine Mesh Strainer
Ingredients
For the Rest
1

litre

oat milk

I use Oatly, the barista version

1

tsp

cinnamon

ground

5

rasps

nutmeg

whole

1

pc

star anise

3

tbsp

brown sugar

4

pc

clove

½

tsp

vanilla extract

pinch of salt

1/16

tsp

xanthan gum

optional

dark spiced rum

to taste, optional
Instructions
Soak the cashew creams in cold water for at least 2 hours or preferably overnight a container with a lid in the fridge.

Heat the oat milk in a saucepan with everything except for the xanthan gum. Heat until steam starts to release from the milk – just under a boil. Remove from heat and let cool.

When the milk has cooled slightly transfer to a jug and refrigerate for 2 hours or until completely chilled.

Strain the infused oat milk with a fine mesh strainer.

Drain the water from the soaked cashews and discard. Blend the cashews with a ladle or two of the infused oat milk until smooth.

Mix all of the cashew cream with the cooled and infused oatmilk and the xanthan gum in a large jug. Blend until smooth and frothy.

To serve, fill a glass with some ice. Add as much rum as you like and pour the oat milk eggnog over top. Serve with a paper straw and enjoy. Happy Holidays!
Nutrition
Calories:
289
kcal
|
Carbohydrates:
24
g
|
Protein:
8
g
|
Fat:
20
g
|
Saturated Fat:
4
g
|
Sodium:
12
mg
|
Potassium:
311
mg
|
Fiber:
2
g
|
Sugar:
12
g
|
Vitamin C:
1
mg
|
Calcium:
35
mg
|
Iron:
3
mg
This post contains Amazon affiliate links to products I recommend.
A Solid Recipe for Cold Brew Coffee
This recipe takes 24 hours and can last up to 4 weeks in the fridge. Drink with lots of ice.
Check out this recipe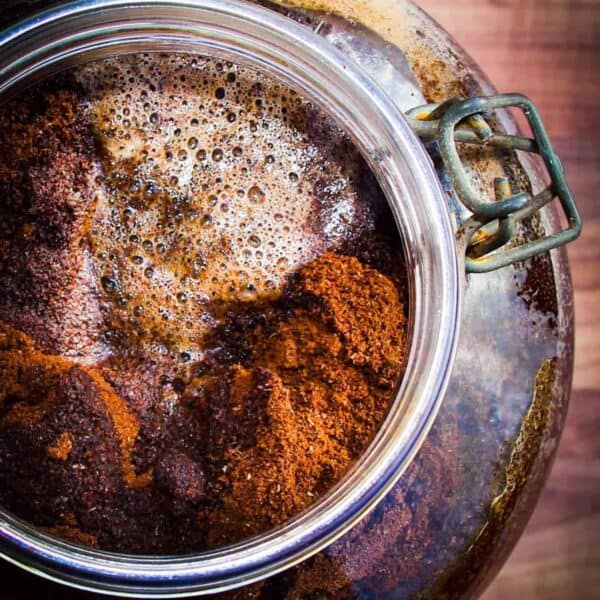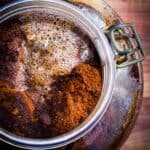 Salted Caramel Sticky Toffee Pudding
The ultimate Christmas dessert with a slightly different sauce. This salted caramel sticky toffee pudding is deliciously rich and comforting with a no-fail salted caramel sauce.
Check out this recipe