If you're interested in stepping up your gravy game for your next holiday dinner, this brown butter gravy should do the trick.
The secret to this recipe is a mix of brown butter and caramelized cream which adds an extra layer of nutty brown butter flavour.
The perfect gravy to drown some creamy mashed potatoes in!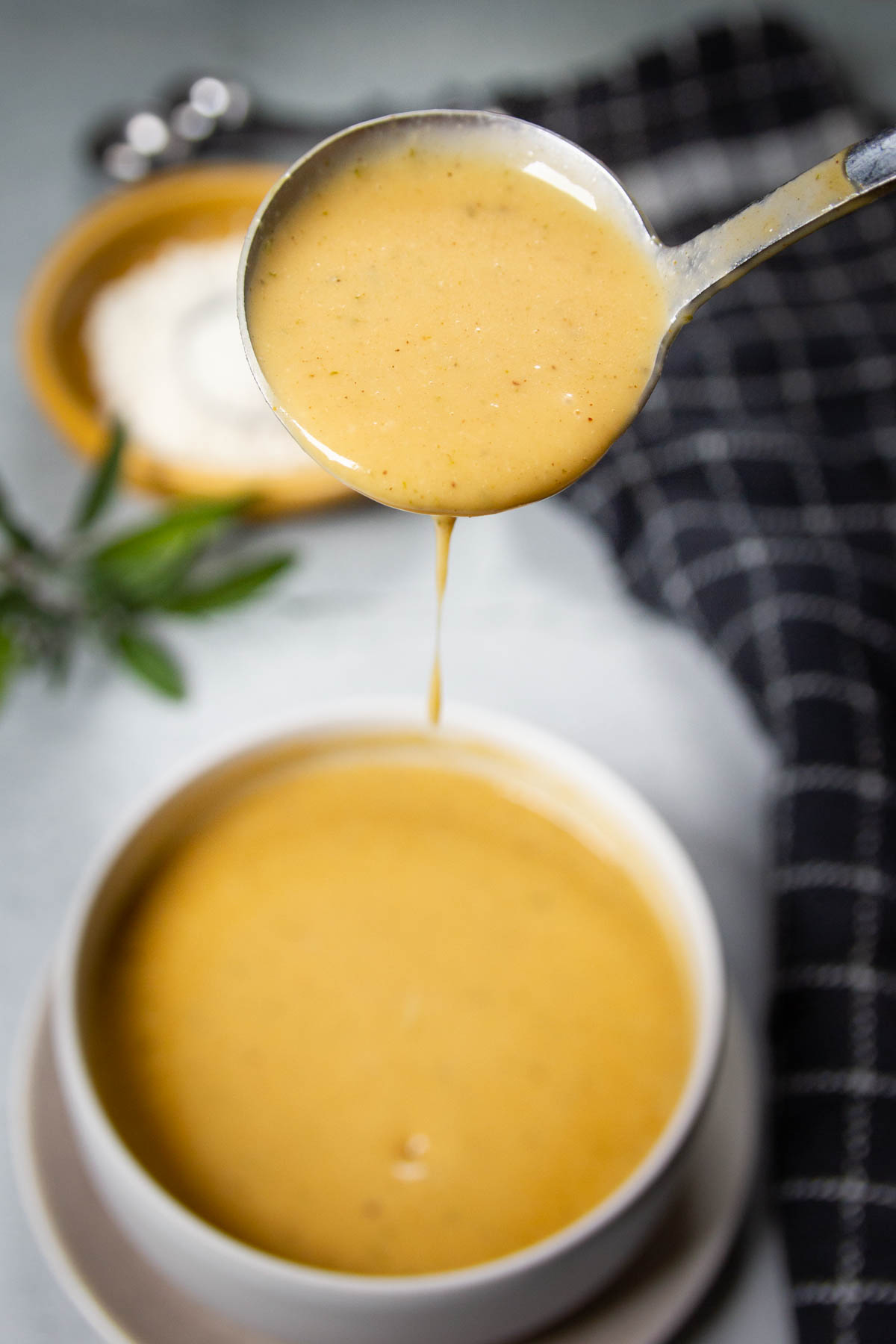 How to Thicken Gravy With a Roux
I'm keeping this gravy traditional by using the classic roux as the thickening method.
A roux is a classic French cooking technique to thicken a sauce. It's done by adding equal parts butter and flour to a pan and whisking until a paste is formed.
Depending on how long you cook the roux will determine the final result. There are four possible types of roux: white roux, blonde roux, brown roux and dark brown roux.
Because we're making brown gravy, we are going to use a brown roux.
If you're looking to thicken sauces without flour, I've made a guide with rough ratios on how to thicken sauces with alternatives here.
Brown Butter Gravy Key Ingredients
Butter + Cream: Traditional gravy uses just butter, but in this recipe, I caramelize the cream first to add extra brown butter flavour.
Flour: Flour is the traditional method for thickening gravy. For alternative thickening methods, check out this guide.
Chicken Stock: You can use chicken stock, beef stock or even mushroom stock for this recipe. If you're in a pinch, store-bought stock will still make a nice gravy but homemade chicken stock will always be more flavourful.
Sage: I love adding a bit of fresh sage to this gravy which pairs well with roast chicken dishes. Feel free to omit the sage if you like or replace it with fresh thyme, marjoram, chervil or parsley.
Cayenne: Don't worry if you don't like spicy foods because there's such a small amount of this spice. The small amount of cayenne adds extra flavour without making it too hot.
Onion/Garlic: Onions and garlic add flavour but also help to thicken the gravy after blending. If you prefer to leave the onions out of this recipe, add an extra 10g of flour to thicken it.
Nutmeg: An optional addition but it gives the gravy some nice holiday vibes. Just be careful not to add too much nutmeg otherwise it'll taste too strong.
Mustard: A little mustard adds just the right amount of sharpness to cut through the cream and butter. You can also try adding red wine vinegar, white wine vinegar to sherry vinegar instead.
(Optional) MSG: Yes, I know this ingredient is controversial but in small amounts, it can boost the umami of the sauce. If you don't like MSG you can add 1-2 tsp of nutritional yeast instead or leave it out completely.
Also, don't add MSG if your chicken stock has flavour enhancers already added otherwise it'll be too strong.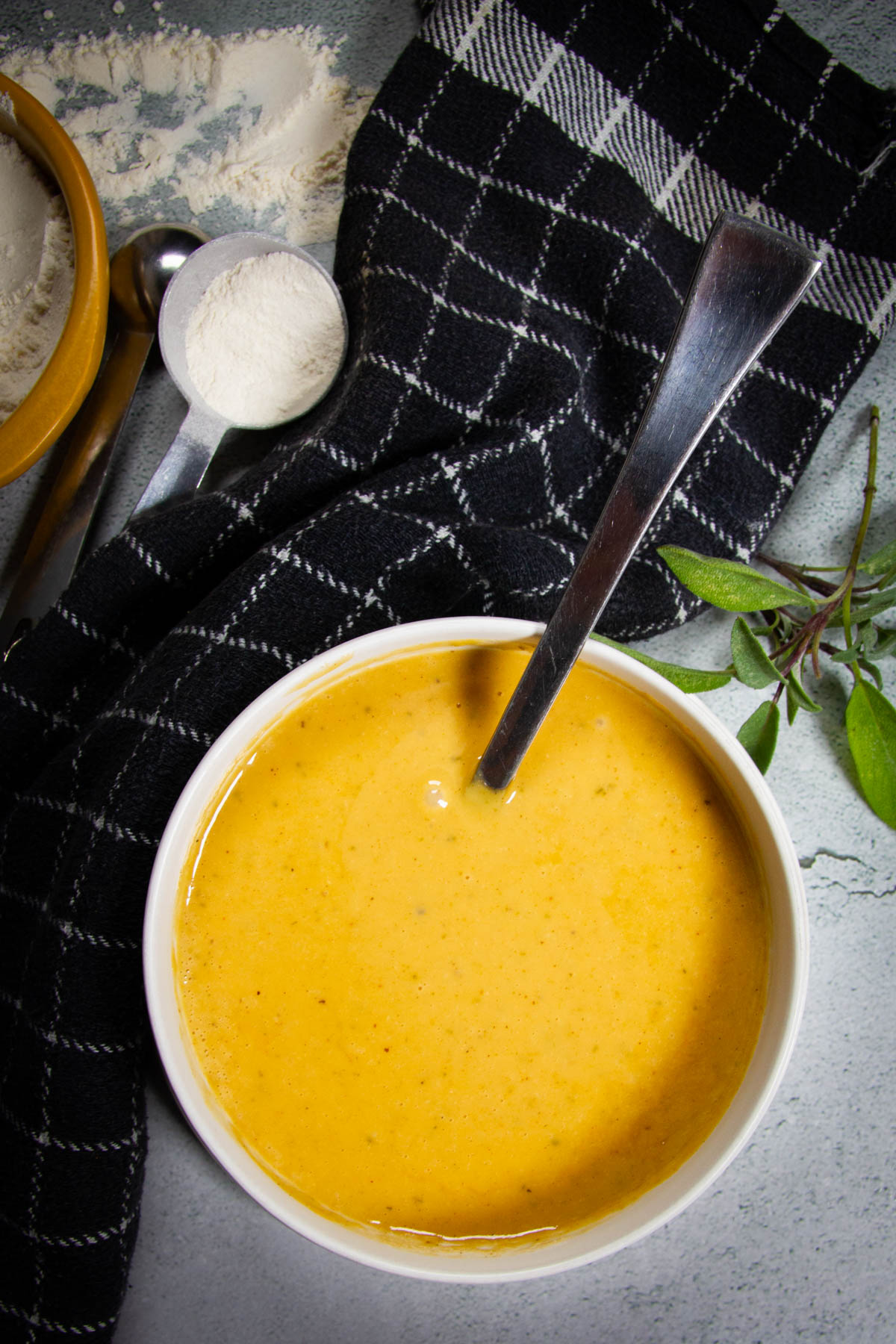 How to Make a Brown Butter Gravy
Here are the steps to making my brown butter gravy:
Reducing the chicken stock by 1/2. (Reducing means simmering the stock until it evaporates and lowers in volume).
Heat the butter and cream in a large saucepan until it caramelizes.
Add the onions, garlic, and sage and cook over low heat for a few minutes.
Add the flour and continue cooking on low heat. Let the roux cool for 2 minutes.
Slowly pour in the reduced chicken stock and whisk to combine.
Cook for 3-5 minutes over low heat until thickened slightly.
Add the rest of the ingredients and blend with a hand blender.
Taste and enjoy!
A Few Tips For Making the Best Brown Butter Gravy
Let the roux cool in the pan for about 2 minutes before adding the liquid to make a smoother sauce.
Use a hand blender to make an ultra-smooth gravy with no lumps.
Use good, flavourful chicken stock for the best gravy.
Make a big batch and freeze the remainder in containers for later.
Be sure to cook the flour sufficiently while making the roux to avoid that raw-flour taste.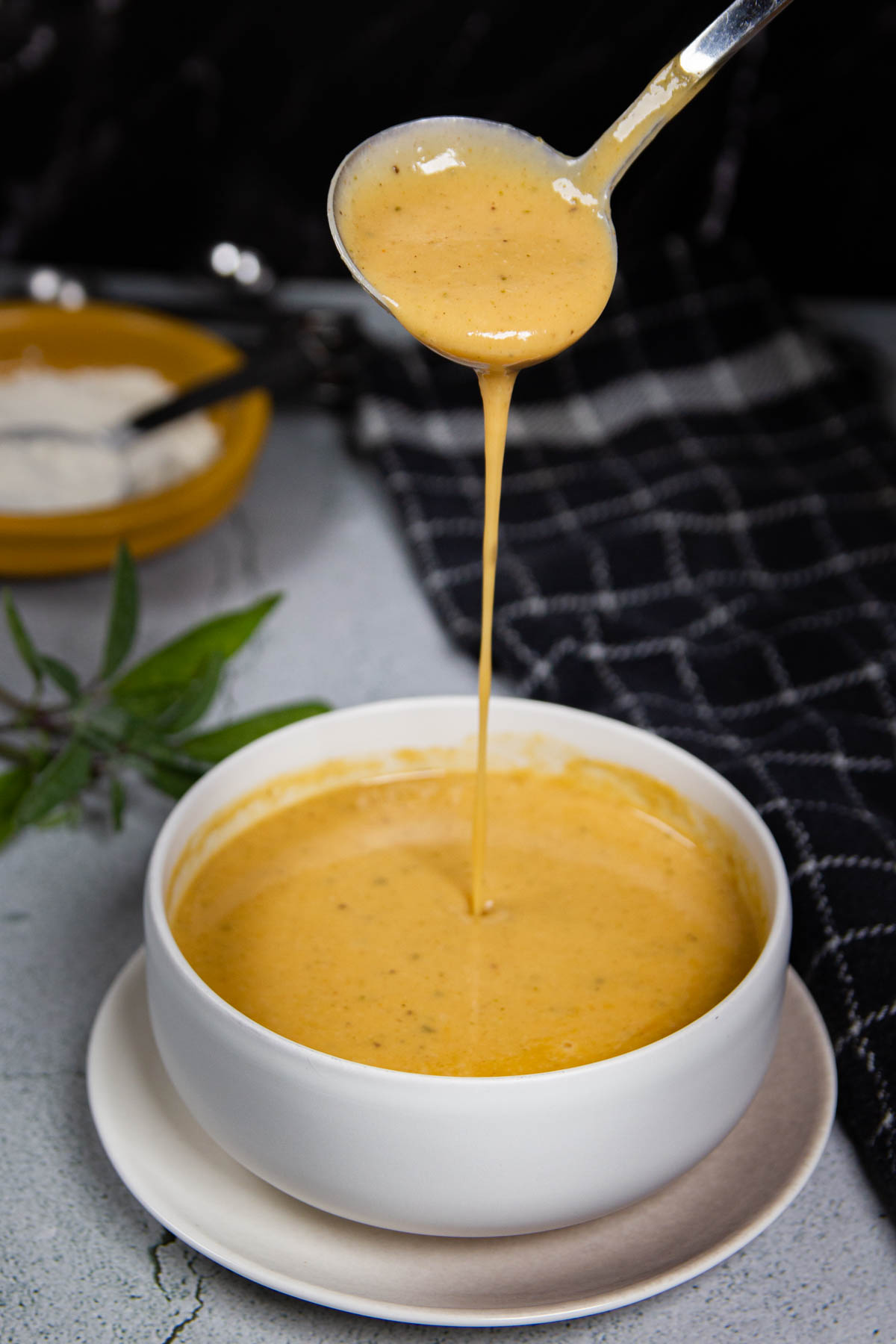 Brown Butter Gravy FAQ
Can I Make This Recipe Vegetarian?
Use the same recipe but instead of chicken stock, use mushroom or porcini stock.
Why Is My Gravy Lumpy
This usually happens as a result of not enough whisking the roux enough while adding the stock. Also if you add the stock too fast, you may get lumps.

The easiest trick to perfectly smooth gravy is to blend it. This can be done in a regular stand blender or with a hand blender directly in the pot.
What is the French Term for Brown Butter?
Beurre Noisette
How Do I Make this Gluten-free?
Use cornstarch instead of flour. You will also need to add the cornstarch in a slurry at the end instead of before with the butter.

Start with about 14g of cornstarch mixed with 30g of cold water for this recipe. Bring to a boil before adding more. You can always add more cornstarch slurry if you like.

For more information on thickening alternatives, check out my guide to thickening sauces.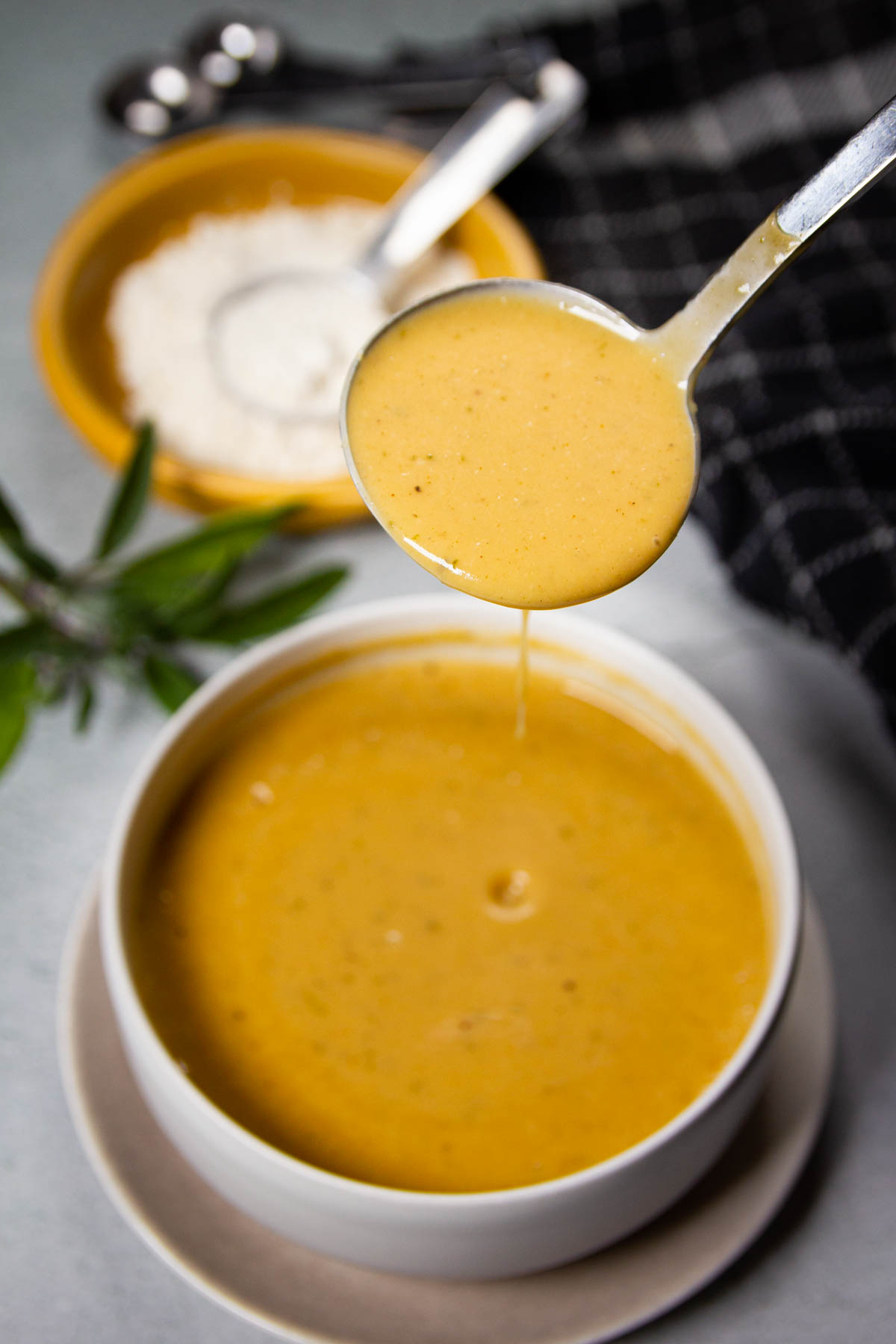 Optional Additions for Additions This Brown Butter Gravy
Try adding these to take the sauce to the next level:
A spoon or two of beef demi-glace.
Porcini stock.
A tsp of Marmite.
A splash of soy sauce.
A few drops of Worcestershire sauce.
Fresh lemon at the end.
A bit of honey for a touch of sweetness.
A Rich and Comforting Brown Butter Gravy
A brown butter gravy that uses caramelized cream to increase the brown butter aroma in the sauce. Perfect for holiday dinner or smothered over creamy mashed potatoes.
Ingredients
1

l

chicken stock or broth (unsalted)

Reduced to 500ml

25

g

butter

(1 tbsp)

100

ml

35% cream

(little less than ½ a U.S cup)

56

g

white onion, sliced

(about ½ an onion)

7

g

garlic, peeled and sliced

(about 2 cloves)

a few leaves of fresh sage

(optional)

35

g

flour

1/16

tsp

nutmeg

⅛

tsp

cayenne

1

tsp

dijon mustard

¼

tsp

MSG

(optional)

½

tsp

sea salt

Don't use if the stock is already seasoned

¼

tsp

cracked black pepper
Instructions
Bring the chicken stock to a boil and then reduce to a simmer. Reduce the stock until it reaches 500ml.

In another large saucepan, heat the cream and butter together over medium heat. Whisk frequently to prevent the bottom from scorching.

The cream will split, but keep cooking. Once it turns brown and smells amazing, turn off the heat.

Add the onions, garlic and sage to the pan. Turn the heat back on to low and cook gently until soft (about 3 minutes).

Add the flour and continue to cook for another 2-3 minutes on low, stirring frequently with a spoon

Turn the heat off and allow the roux to cool for about 2 minutes.

With a whisk ready, slowly pour in the hot chicken stock (measured out to 500ml). Whisk to remove any flour lumps.

Add the rest of the ingredients and blend until smooth.

Adjust the seasoning to your liking. Keep the sauce in a small saucepan with a lid and bring to a boil before serving.

Enjoy!
Notes
If you are using a stock that is already seasoned with salt, you may need to add less or no salt. Check the seasoning before you add extra salt.
If your stock is already salted, don't reduce the stock and just use 500ml of stock instead. 
If the sauce is too thin add more chicken stock. If the sauce is too thick continue cooking it longer until it thickens. (Adding raw flour to the sauce will make it clump up and add an unpleasant flour taste).
Nutrition
Calories:
72
kcal
|
Carbohydrates:
12
g
|
Protein:
4
g
|
Fat:
1
g
|
Saturated Fat:
1
g
|
Cholesterol:
1
mg
|
Sodium:
398
mg
|
Potassium:
173
mg
|
Fiber:
1
g
|
Sugar:
2
g
|
Vitamin A:
17
IU
|
Vitamin C:
1
mg
|
Calcium:
17
mg
|
Iron:
1
mg
More Holiday Recipes