If you like mussels, then you'll probably love the commonly underrated cockles. They're less briny, full of flavour and a little cheaper than clams.
Just like mussels, they're a nice dish to eat on a rainy day served alongside some toasted buttered bread to dip in the flavourful broth. You can eat these as a side dish served along with some fish or on their own.
These little clams are braised in beer, tomato, and garlic, and finished with a little butter and fresh basil. It's an easy, no-frills recipe that can be prepared in under 10 minutes once the clams have been soaked.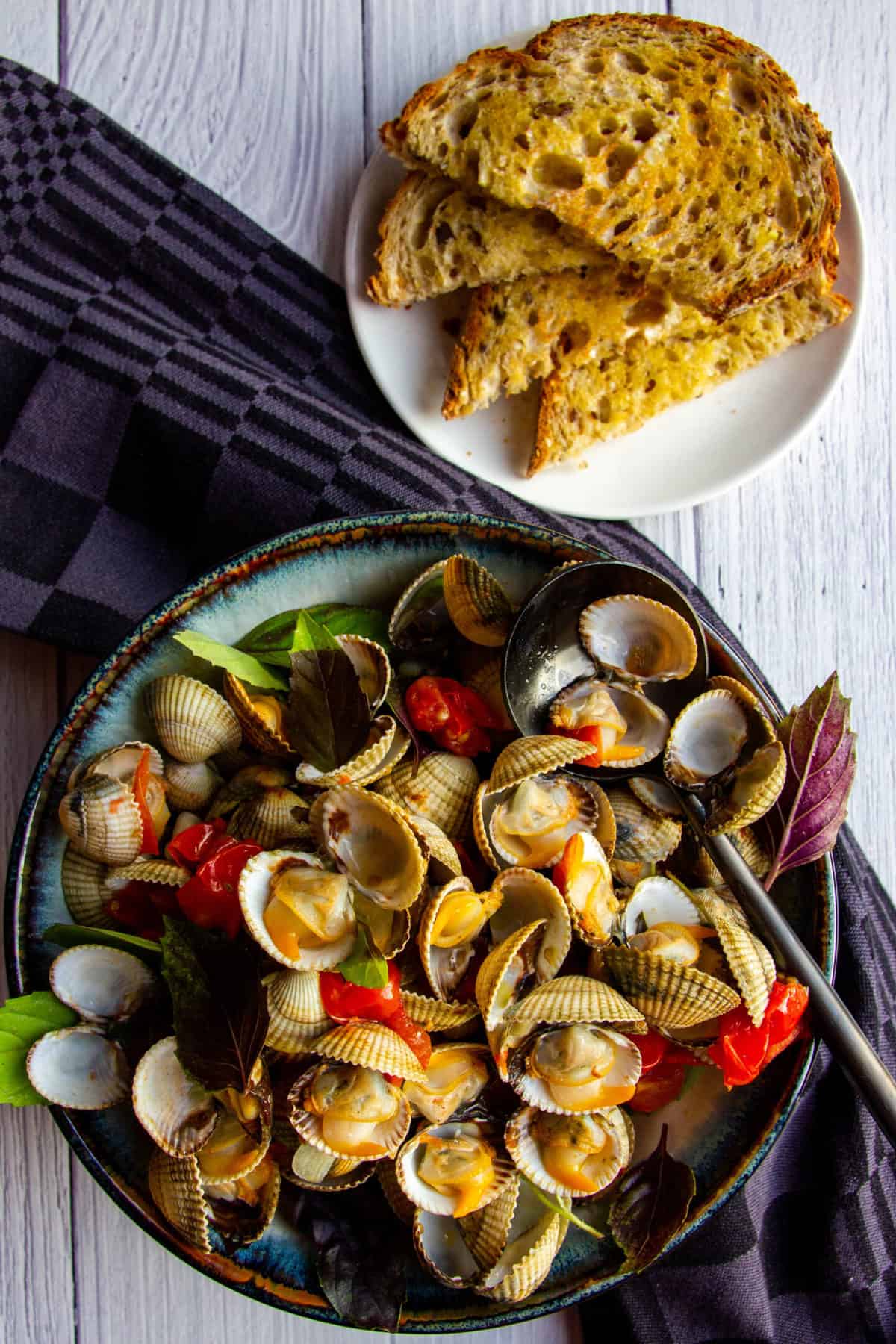 Are Cockles the Same as Vongole (Clams)?
Cockles are also known as the "poor mans vongole", meaning they're slightly inferior in quality to clams (vongole). Clams generally have a slightly more briny flavour and are the secret ingredient in the classic Italian dish Spaghetti alle Vongole.
But cockles are still worth eating!
They're cheaper for one, and because their flavour is less strong, some seafood-haters may actually appreciate the less briny flavour.
You can easily spot the difference between clams and cockles by the shape of their shells. Clams have smooth shells and cockles have ridged shells.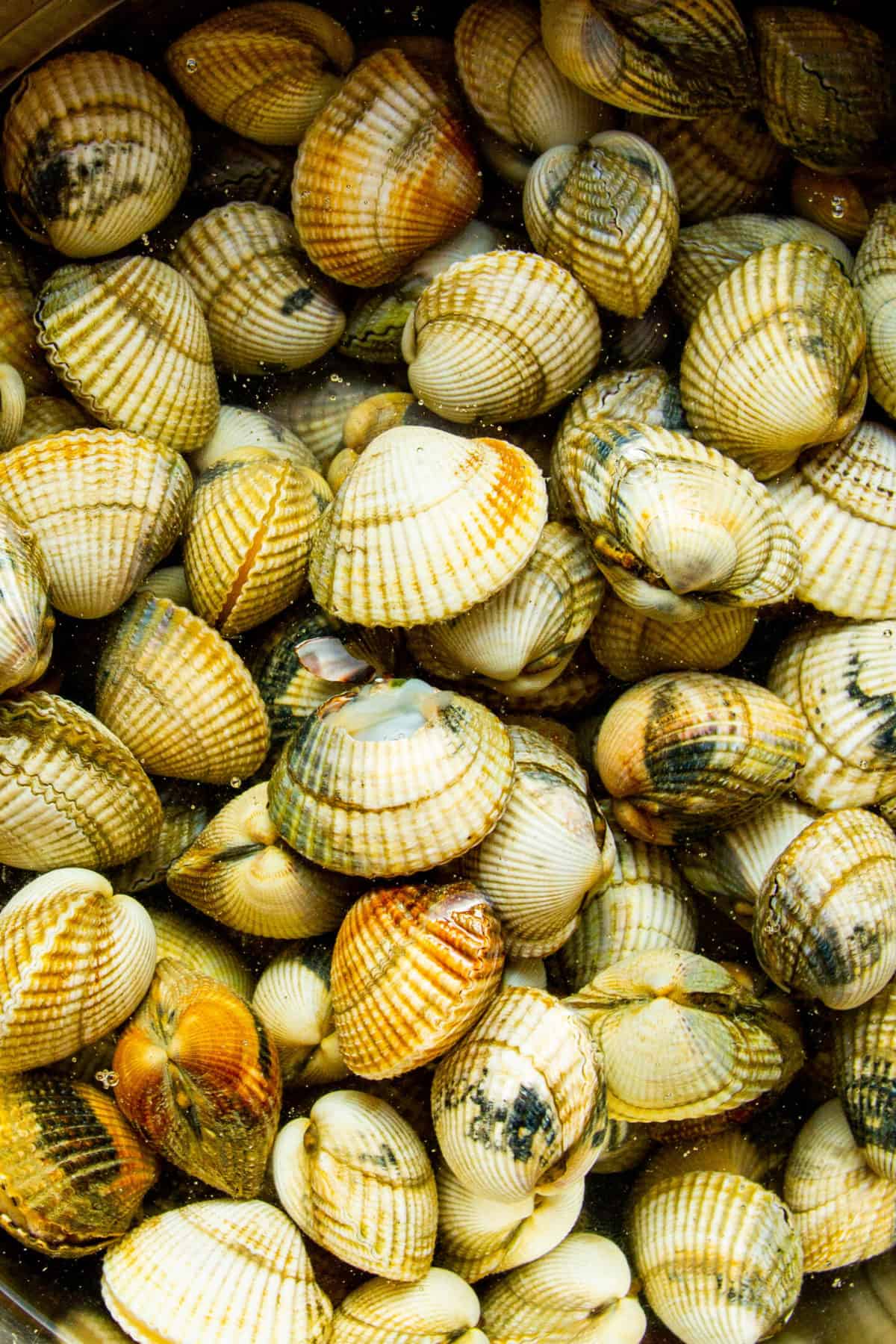 How to Buy Cockles
Like most mollusks, cockles must be bought alive. Dead cockles begin to release a dangerous toxin that will not disappear with any amount of cooking.
You can tell if they're alive by checking whether the shells are opened or closed. Closed shells mean they're alive and open shells mean they're dead. Sometimes the clams open to breathe, so tap the clam firmly against a hard surface and watch if it shuts. If it's alive it will close quickly after tapping the shell.
Only buy fresh clams from a fishmonger you trust as quality is important for safety. They should smell fresh like the sea. Avoid and discard any clams that smell bad.
It's normal to find a few dead cockles in the batch but if they're mostly dead I would return them for a refund.
Lastly, ask the fishmonger if they've been purged or pre-soaked. This may save you some time and I'll explain it in the next section.
How Do You Clean Cockles Before Cooking
Just like clams, they'll need to be purged first before eating to remove the sand trapped inside the shells.
To purge the clams, you'll want to soak them in sea saltwater in the fridge for one hour up to overnight. This way the clams will release the sand inside their shells into the freshwater.
Don't use iodized salt (table salt) in the water as the clams don't like this. Simply add a little sea salt to some fresh water and stir until it tastes like the sea. If you don't have sea salt, regular freshwater will also work.
After purging, lift the clams out of the water into a new bowl of fresh water to remove the sand at the bottom of the bowl. Rinse thoroughly with cold water to remove any sand on the outside of their shells.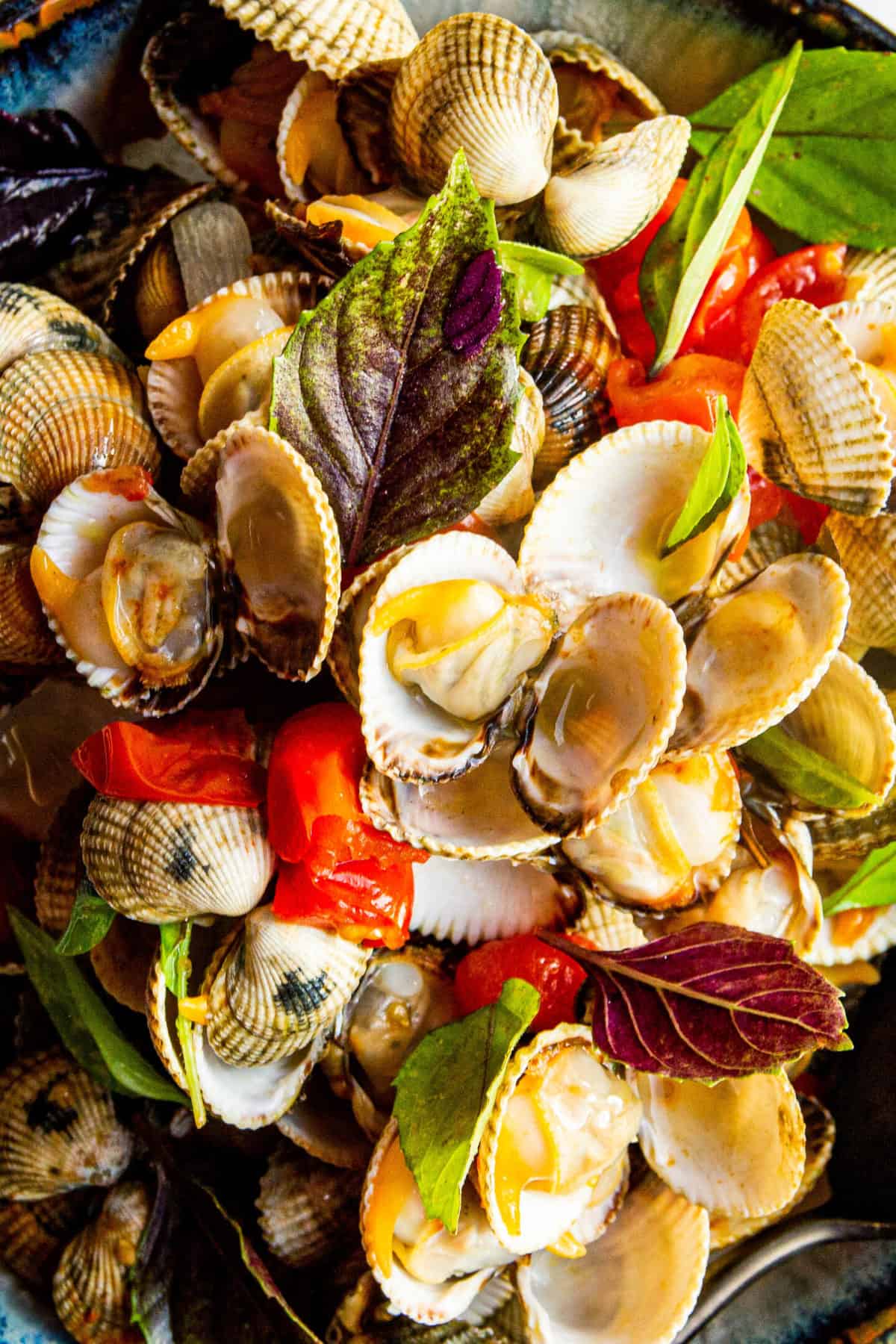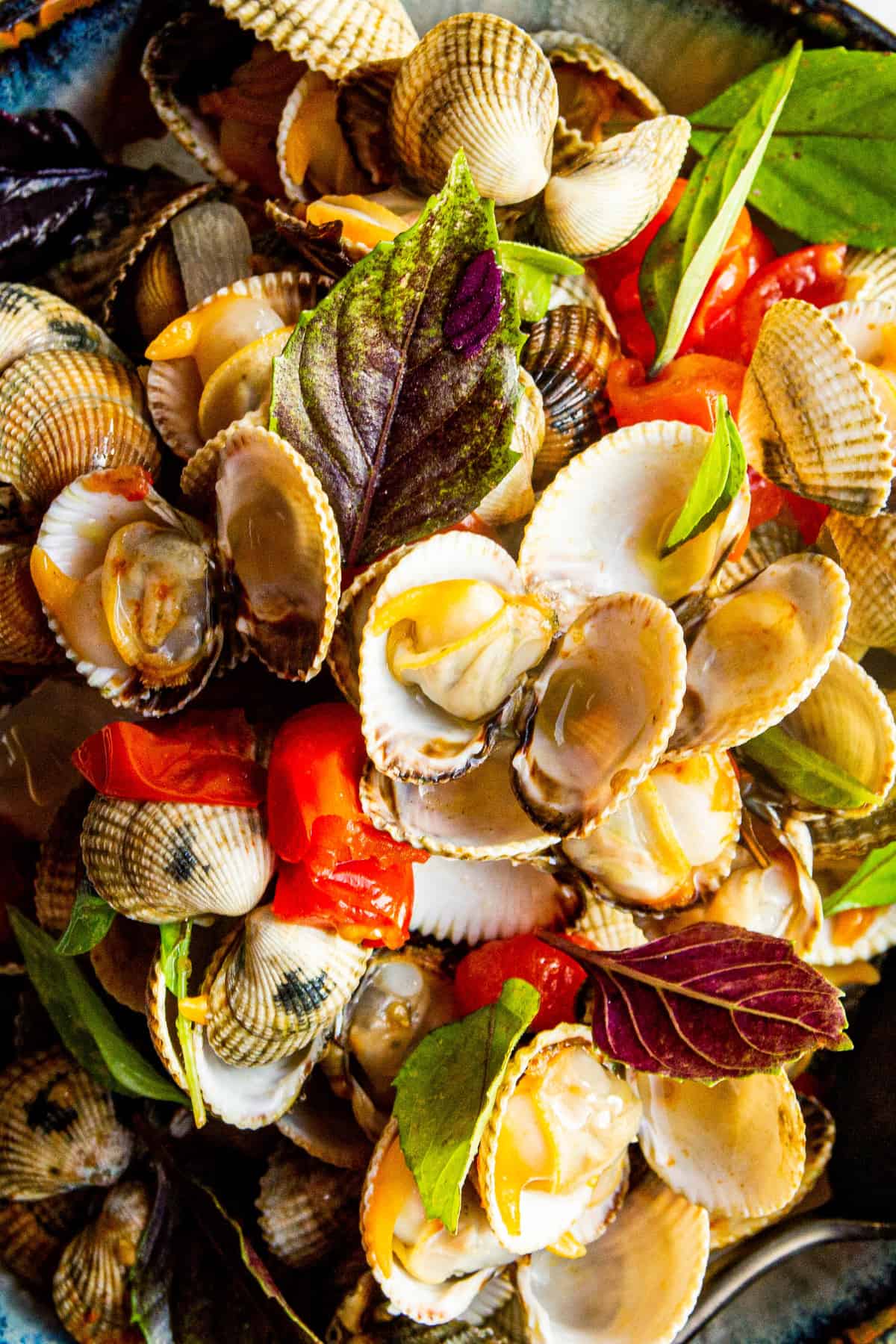 How to Cook Cockles
After the clams have been soaked, it's time to cook em'!
Check every clam carefully and discard any broken or open clams.
Cook the sliced garlic gently in the olive oil.
Deglaze the pan with the beer.
Add the cockles, tomato, and half the basil. Close the lid and shake the pan to cook them evenly (about 2 minutes).
Once the clams begin to open, stop shaking them to prevent them from falling out of their shells.
Once most of the shells are open, add the butter and the rest of the basil. Close the lid and let sit for 5 minutes.
Remove any shells that don't open, as they're probably full of sand and dirt.
Serve right away with buttered bread.
Key Ingredients
Beer: Beer adds a little bitterness to the clams which I absolutely love. I'm using a light-to-medium Dutch beer, Hertog Jan, but feel free to use your favourite light beer. IPAs will also work nicely with this recipe but avoid strong beers which may take away from the delicate flavour of the shellfish.
Tomato: The base of the sauce that provides a little acidity to the dish. You can use fresh tomatoes, canned tomatoes or jarred tomatoes in this recipe.
Garlic: This adds a ton of flavour to the dish. You could also add some finely diced red onion if you like.
Basil: Basil adds freshness and colour to the dish. Other soft herbs like chives, parsley and chervil would also work well if you can't find basil.
Butter: Butter adds flavour and always makes seafood taste a little bit better.
Tips to Nail this Recipe
Purge the cockles in sea salt water for one hour or overnight to remove any sand trapped in the shells.
Check every shell and discard any broken or open shells before cooking.
Remove any shells that didn't open after cooking – they're likely filled with dirt and inedible.
Don't shake the pan once the shells begin to open otherwise, they'll fall out of their shells.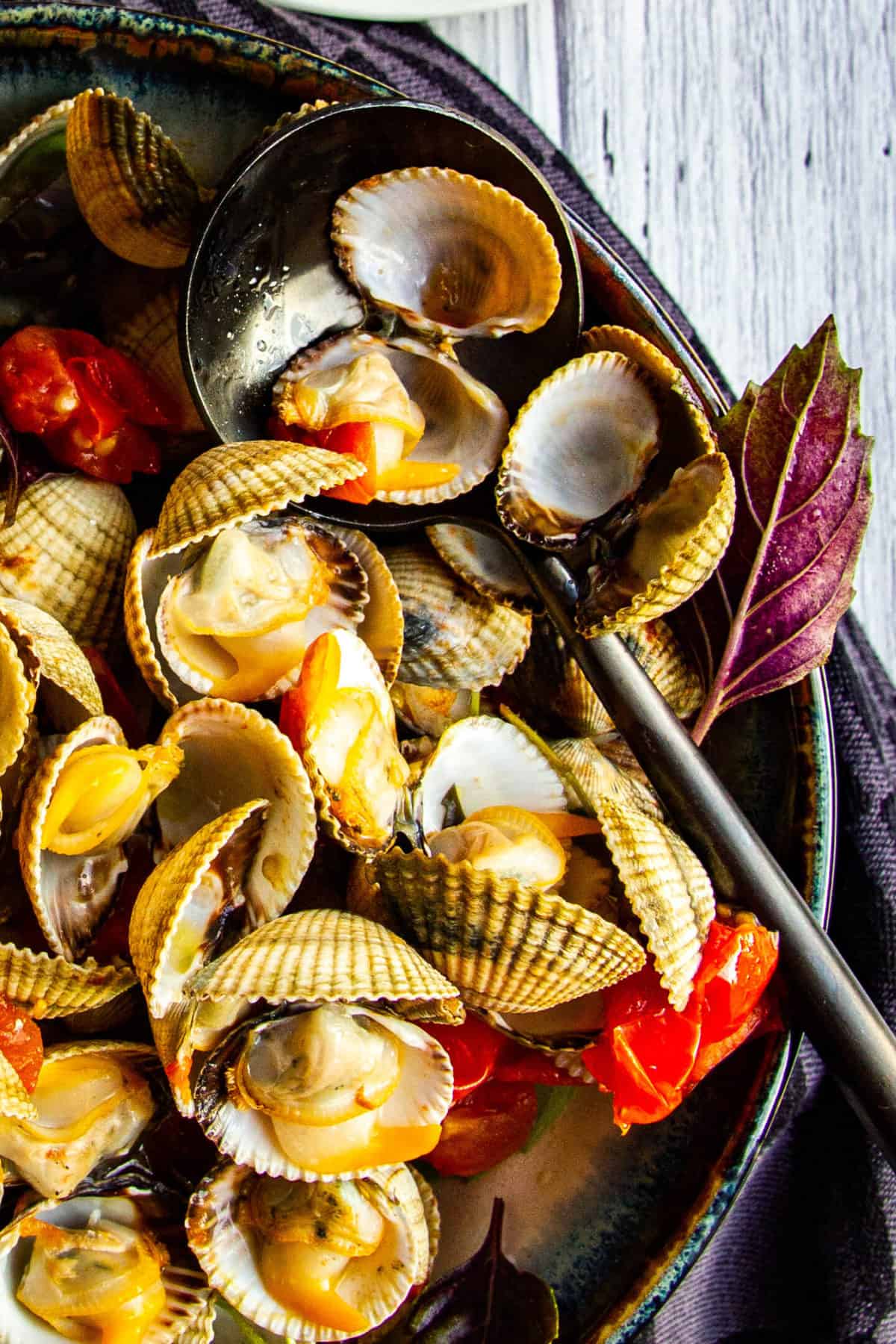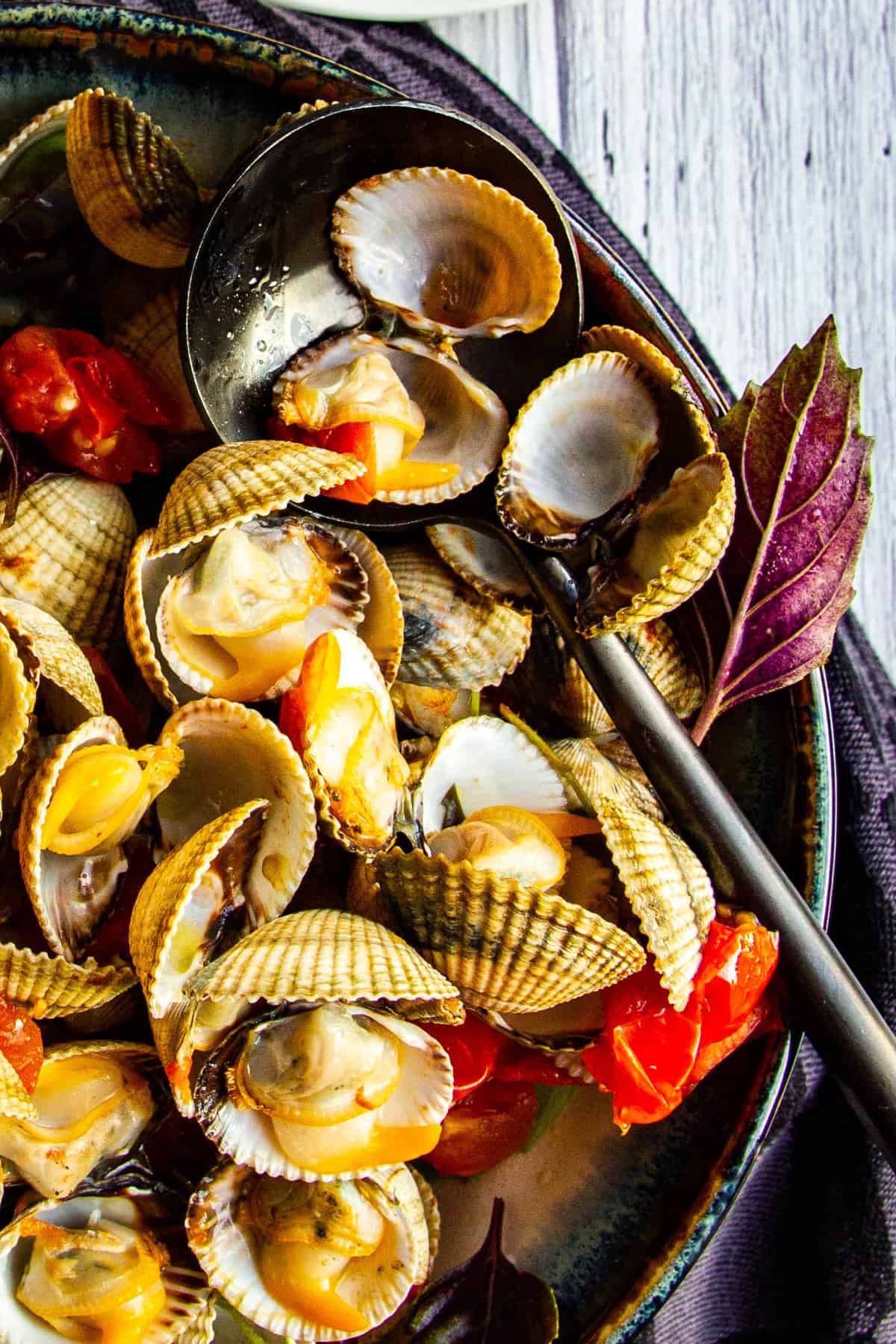 How Long Do Cockles Last?
Ideally, cockles should be cooked right away or the following day after purging.
Once they're cooked, cockles will last in the fridge for up to 3 days.
They freeze well if stored in the broth in a sealed container. A good tip for freezing cooked cockles is to remove them from their shells and store them in their broth. You can use defrosted cockles for a delicious pasta sauce.
When is the Season For Cockles?
The season for most shellfish runs from September to February but depends on where you live.
There's an old saying that says don't eat shellfish in the months that don't end in the letter "r". This is because an ugly toxin from Red Tide Algae is more common during the warmer summer months and increases the chance of getting sick from contaminated shellfish.
Still, that doesn't stop most people from ordering the spaghetti alle vongole at my work during the summer months. This is because Red Tide levels are monitored more frequently and harvesting is banned during these times. Also because most shellfish are farmed, this further reduces the chances and it's not very likely.
Beer-Braised Cockles with Tomato and Basil
One of my favourite ways to enjoy cockles is braised in beer, tomato, butter and garnished with fresh basil. Enjoy these as a side dish or as a main course with lots of buttered bread.
Ingredients
1

kg

cockles

alive

½

bottle

light beer

280

g

tomato diced

(2-3 regular tomatoes)

2

cloves

garlic, peeled and sliced finely

½

bunch

fresh basil

20

g

butter

(1-2 tbsp)

9

g

olive oil

(1 tbsp)
Instructions
Purge the cockles in cold salted water (use sea salt, not table salt) for at least 1 hour or overnight in the fridge.

After soaking, lift the cockles out of the cold water to a clean bowl and keep in the fridge until ready to cook.

Have all of the ingredients ready to go before you start because they'll cook pretty quickly.

In a large pot with a lid, gently cook the sliced garlic in the olive oil until fragrant but not browned (about 1 minute).

Immediately deglaze the pan with the beer. Add the tomato and half the basil. Increase the heat to high and close the lid. Shake the pan with the lid closed to cook them more evenly.

Once the clams start to open, don't shake them anymore to prevent them from falling out of their shells.

Once most of the clams are opened turn off the heat. Add the rest of the basil, the butter and close the lid. Let it sit for 5 minutes.

Check before serving for any cockles that didn't open and discard them.

Serve as a side dish or with lots of buttered bread. Enjoy!
Notes
If you don't have sea salt, you can use plain water to soak the cockles.
Nutrition
Calories:
448
kcal
|
Carbohydrates:
23
g
|
Protein:
24
g
|
Fat:
27
g
|
Saturated Fat:
12
g
|
Polyunsaturated Fat:
2
g
|
Monounsaturated Fat:
11
g
|
Trans Fat:
1
g
|
Cholesterol:
43
mg
|
Sodium:
179
mg
|
Potassium:
603
mg
|
Fiber:
3
g
|
Sugar:
7
g
|
Vitamin A:
1039
IU
|
Vitamin C:
29
mg
|
Calcium:
161
mg
|
Iron:
27
mg
More Recipes
"5 Alive" Salmon Ceviche
This salmon ceviche has lemon, lime, grapefruit and orange for a blast of fresh citrus flavour. Ideal for hot summer weather and to be consumed the same day.
Check out this recipe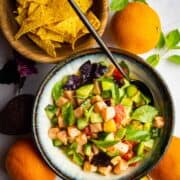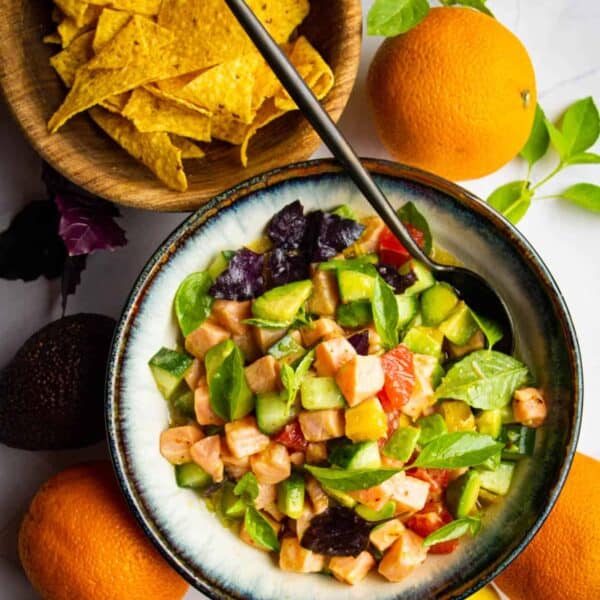 These Easy Baby Shrimp Salad Cups
Shrimp Salad Lettuce Wraps with Avocado
Shrimp salad lettuce wraps are a great summer appetizer and a nice move for a dinner party. Full of fresh summer flavours like creamy avocado, crunchy veggies and wrapped in cold, crispy romaine lettuce.
Check out this recipe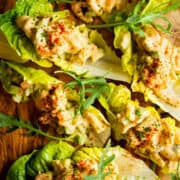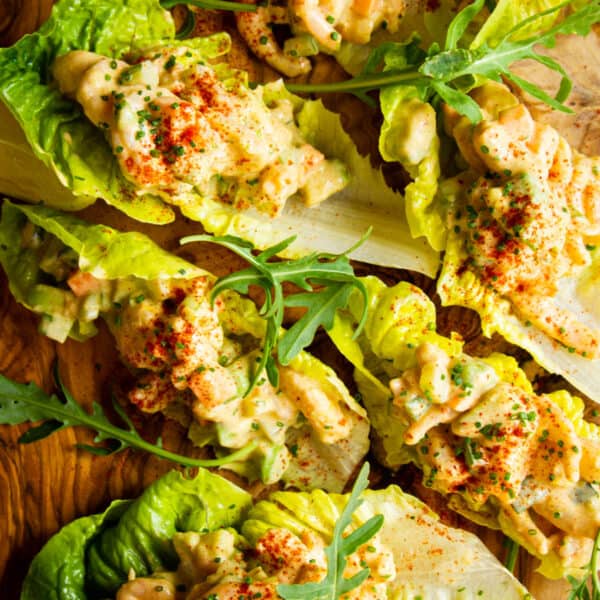 These Beer-Braised Pork Carnitas
Instant Pot Beer Braised Pork Carnitas
The perfect recipe for beer braised, fork tender pork carnitas. This recipe is so delicious you won't want to put anything else in your tacos.
Check out this recipe