Lately, I've seen a lot of creative ways to enjoy corn on the cob this summer. Some lathered in chili mayo, others grilled and steamed in husks or even some breaded in cheese a la Jamie Oliver.
But for me, the best way to enjoy corn on the cob is the simplest: with butter and salt.
That's why I've left this relatively simple with just a small tweak of the classic butter to an umami butter.
Corn on the cob is already delicious on its own, but with this umami butter slathered on, it becomes insanely good. The result is sweet, salty, buttery corn with a rich smokey flavour from the whiskey barrel wood chunks.
I'm convinced there's no better way to enjoy corn. Period.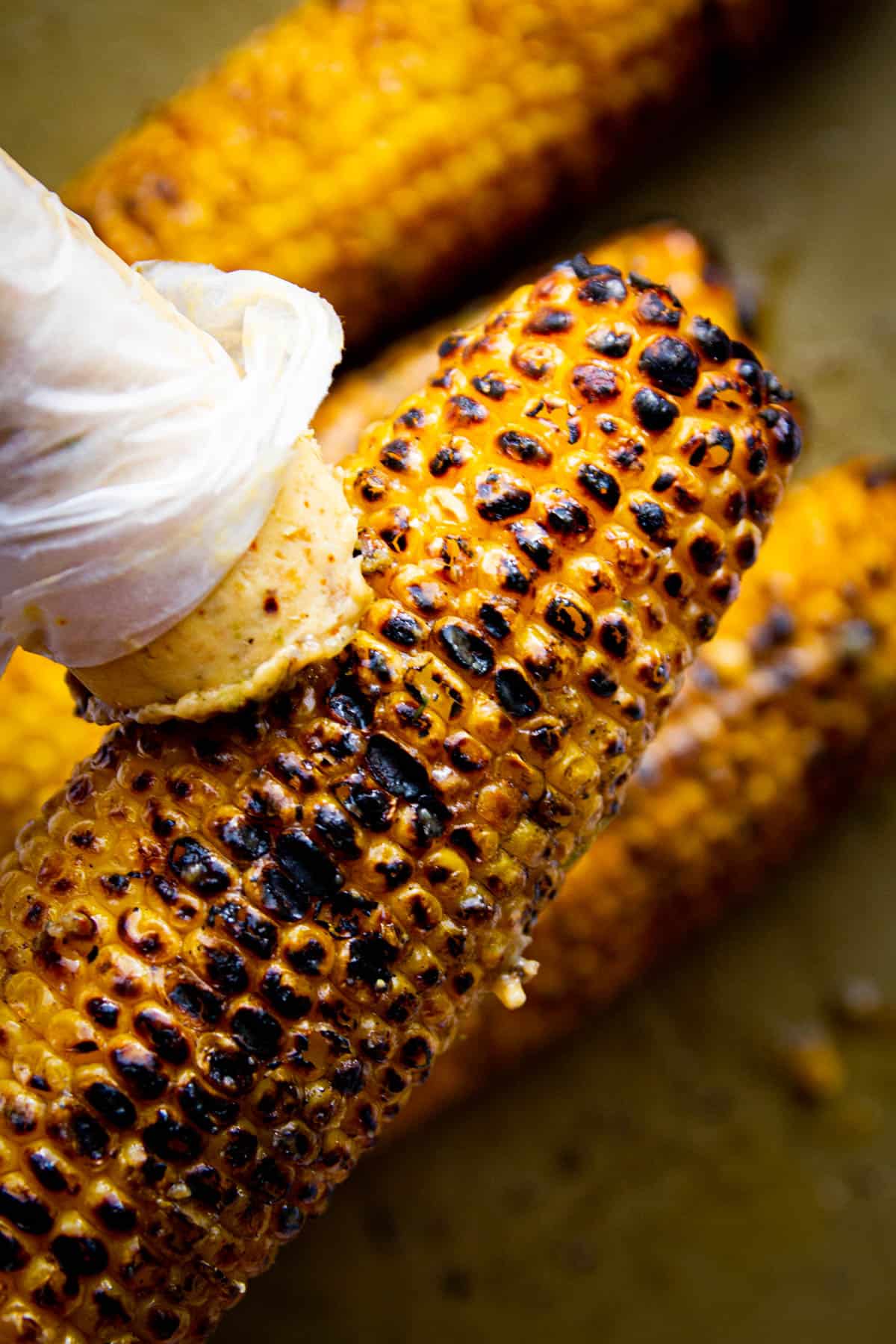 The Best Way to Cook Corn on the Cob
I discovered the secret to perfect corn while working at One Restaurant in Toronto. We would make huge 32 Liter batches of corn soup that would take 2 days to complete.
The chef's method for the best corn was simple.
Roast it.
Roasting corn dehydrates the kernels and intensifies the flavour. Less water means more flavour. Roasted corn will also be sweeter as it turns golden brown in the oven.
Blanching or steaming corn, on the other hand, will yield a juicer but more watered-down final flavour.
For me, the most important above all else is the flavour and that's why roasting is better than boiling in terms of flavour.
And smoking the corn adds even more flavour.
The trick is to smoke the corn first and then finish it over hot charcoal. This way you get a wonderful smokey corn flavour with deliciously charred outsides. It's essentially smoked and grilled corn, with all the benefits of roasted corn.
How To Cook Fresh Corn on the Cob
This is my favourite way to cook fresh corn on the cob because I think it's the most flavourful.
Here's the recipe play-by-play:
Make the umami butter.
Clean the corn from the husk.
Oil and season the corn with salt.
Smoke the corn for 15 minutes on indirect heat at about 400°F/200°C.
Grill the corn over high heat to char it slightly.
Finish the corn with lots of umami butter.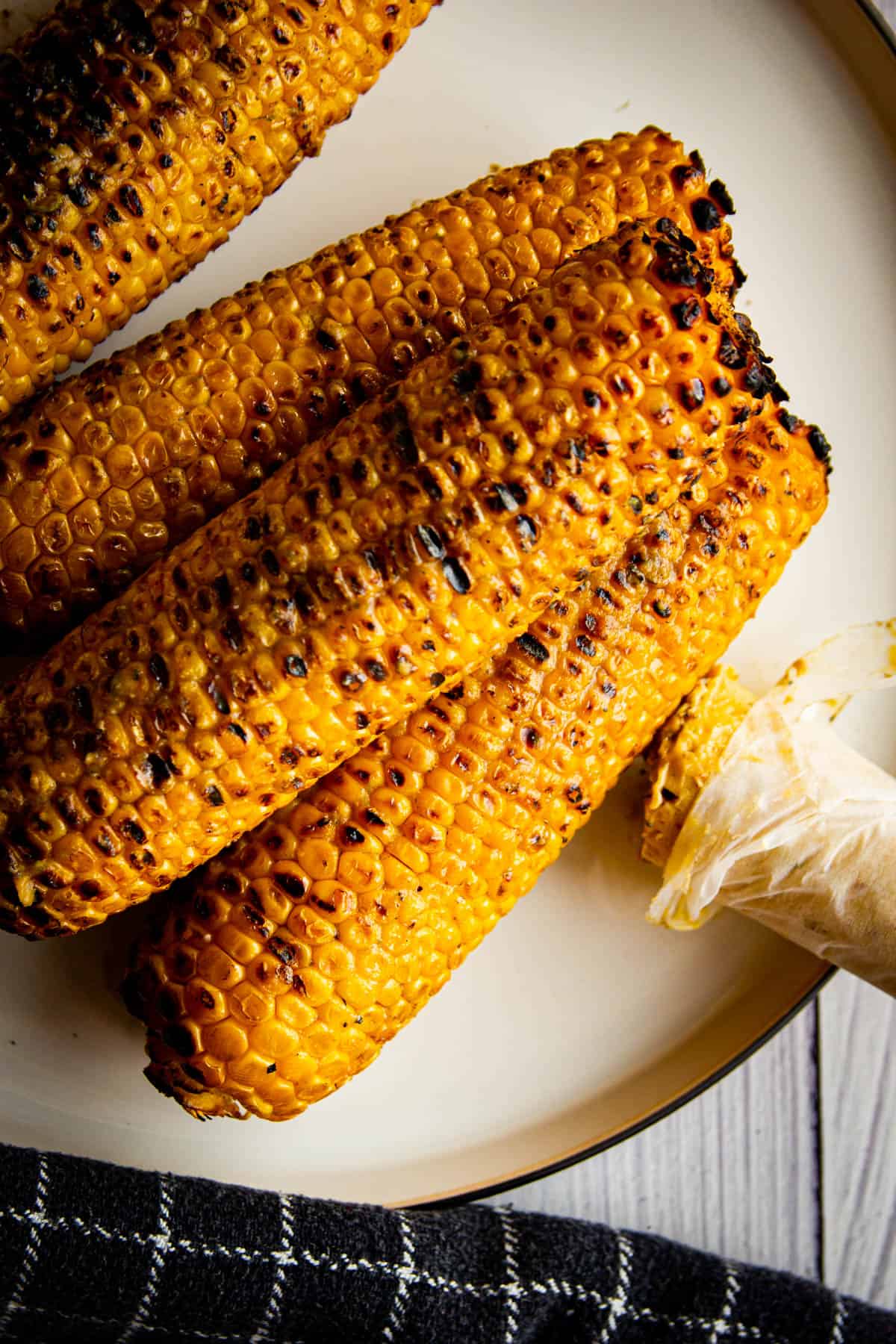 What's in the Umami Butter?
I had many ideas for the umami butter including anchovies and marmite but the winner was white miso paste.
When mixed with white miso, the butter gets a salty, cheesy flavour that's incredible with sweet, smoked corn.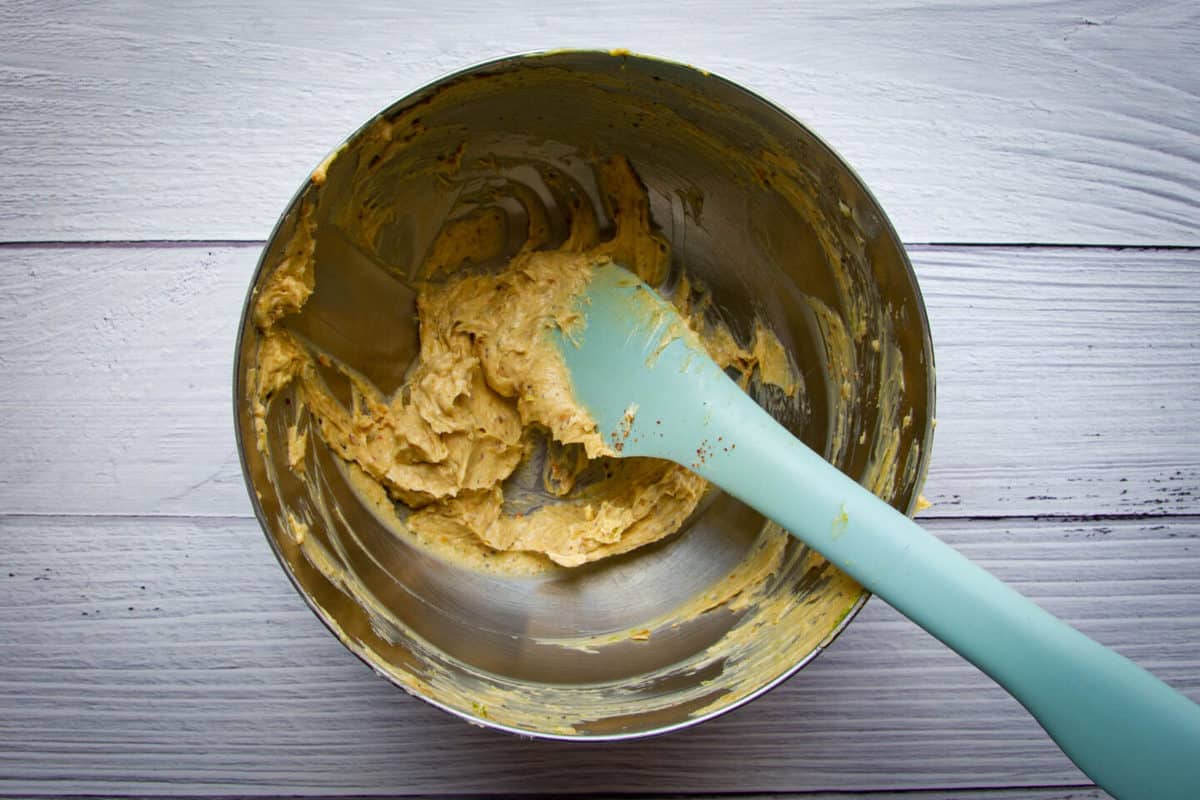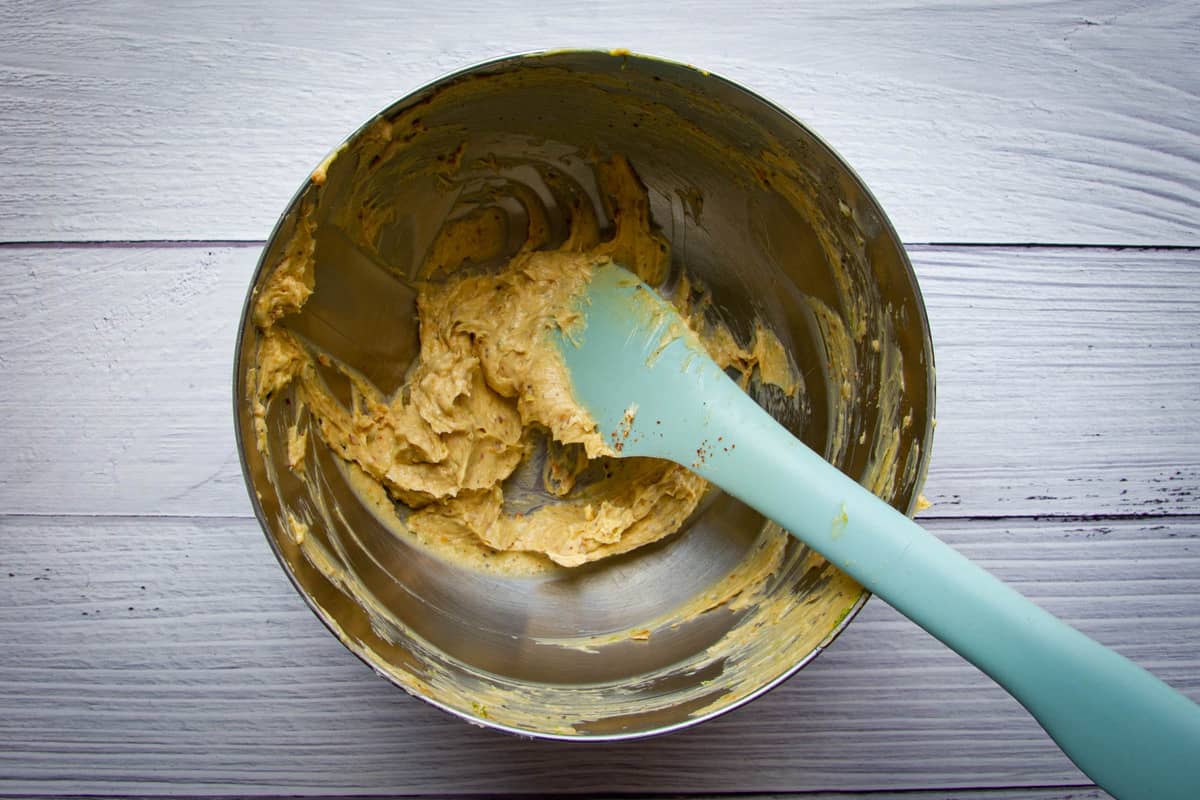 Here are the ingredients for the umami butter:
White Miso – It's the star ingredient here, adding umami and also a sweetness to the butter. I prefer the taste of white miso the most, but I'd be interested in how dark miso or even barley miso would work with this.
Soy – More umami plus saltiness. Soy sauce is a nice addition to most grilled foods. If you're gluten-free you may want to avoid this as it can contain traces of gluten.
Worcestershire Sauce – Another umami addition that I put in practically everything. It contains fish and is not suitable for all vegetarians.
Tabasco Sauce – There are only a few drops in here which adds an extra dimension of flavour without adding spice. Add more Tabasco if you like it spicy.
Cayenne – Just like the tabasco it adds flavour without making it actually spicy. Cayenne will also add a nice red colour to the butter.
Lime Zest – Lime zest adds a blast of citrus to the butter without adding extra liquid. Lime juice will not mix well with the butter so the zest is a better option.
Black pepper – Black pepper is perfect with corn and even better with lime!
The Secret to Perfect Smoked Corn on the Cob
The secret to perfectly smoked corn that's not dry is high heat.
I smoked this corn around 400°F/200°C for only 15 minutes and it was beautifully smokey in flavour. If you smoke the corn at a lower temperature you will not get a nice golden colour and it will likely dry out your corn.
Tips To Nail This Recipe
Buy fresh corn when it's in peak season for the best flavour. This is usually from late July to August, depending on where you live.
Keep extra umami butter in the freezer for later and use it for sauteed vegetables or to melt over a steak before serving.
Smoke the corn at high heat to prevent it from drying out.
Cook the corn without the husk for the sweetest flavour.
More Smoker + BBQ Recipes
Smoked and Grilled Corn on the Cob with Umami Butter
The absolute best way to enjoy corn. Hot smoked corn on the cob, charred over the coals and slathered in delicious umami butter. There's no better way!
Ingredients
4

pc

corn, husked

1

tbsp

vegetable oil

1-2

pc

wood chunks

or 1-2 handfuls of wood chips

salt to taste
Umami Butter
70

g

unsalted butter, softened

(5 tbsp)

25

g

white miso

(1 tbsp)

3

g

soy sauce

(¼ tsp)

10

dashes

worcestershire sauce

5

dashes

Tabasco sauce

1

g

black pepper

(¼ tsp)

0.5

g

cayenne powder

(1/16 tsp)

1

pc

lime, zested
Instructions
For the Umami Butter
Mix all of the ingredients together for the umami butter thoroughly with a spatula.

Line a piece of parchment paper on the counter and spread the umami butter in a line on the bottom of the paper.

Roll the paper over the butter into a cylinder shape.

Twist the ends until a nice shape is formed.

Let this cool in the fridge for at least an hour.
For the Corn
Start the BBQ with a charcoal basket full of coals. Once hot, place the coals to one side for indirect heating.

(If using a gas grill, just turn one side on and leave the other side off.)

Remove the husks from the corn. Rub the cobs with a kitchen towel to remove the stringy fibres easily.

Once the grill is hot, add the smoking wood over the coals and let burn for 5 minutes with the lid open.

Brush the corn with a thin layer of oil and season generously with salt all over.

Put the corn on indirect heat at about 400°F/200°C, cover and smoke for about 15 minutes.

Remove the lid and get the coals as hot as possible. You can blow air over the coals or use a hairdryer to get them raging hot.

Finish the smoked corn over the hot coals until nicely charred all over. This will only take about 5 minutes and you will need to turn them frequently.

Once they're nicely charred, rub them generously with the umami butter while still hot.

Serve immediately. Enjoy!
Notes
You can save extra umami butter in the freezer for later. It's also delicious melted over a rested steak or steamed vegetables. 
Nutrition
Calories:
172
kcal
|
Carbohydrates:
3
g
|
Protein:
1
g
|
Fat:
18
g
|
Saturated Fat:
12
g
|
Polyunsaturated Fat:
1
g
|
Monounsaturated Fat:
4
g
|
Trans Fat:
1
g
|
Cholesterol:
38
mg
|
Sodium:
428
mg
|
Potassium:
45
mg
|
Fiber:
1
g
|
Sugar:
1
g
|
Vitamin A:
448
IU
|
Vitamin C:
1
mg
|
Calcium:
12
mg
|
Iron:
1
mg
More BBQ Recipes
This Charred Green Onion Chimichurri
Grilled Green Onion Chimichurri – A Healthy Steak Sauce
A recipe for a light, healthy, charred green onion chimichurri sauce. Gluten-free, dairy-free, vegan and perfect with steak, pork chops, chicken or grilled veggies.
Check out this recipe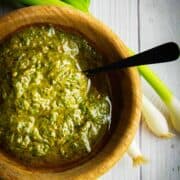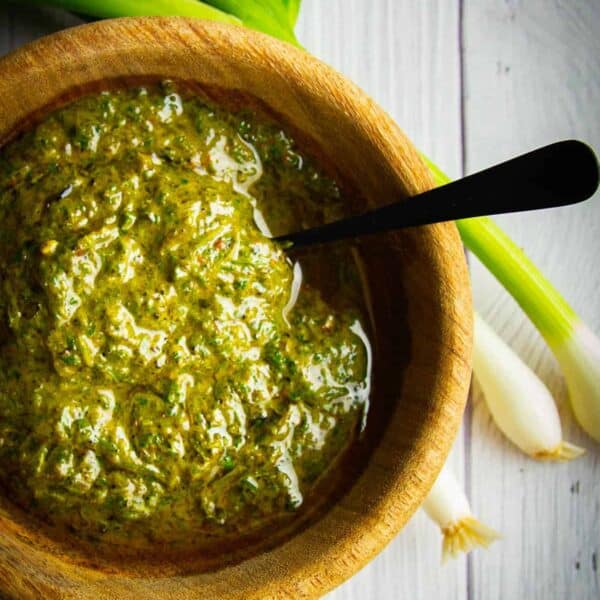 My Ultimate BBQ Spatchcock Chicken
No-Fail Grilled Spatchcock Chicken
This is a recipe for a grilled spatchcock chicken with crispy skin, juicy meat and an intense bbq seasoning. The overnight marinade is optional, but highly recommended if you have the time.
Check out this recipe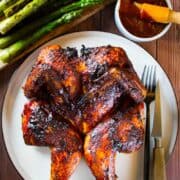 My Best BBQ Sauce
After many trials, I've got a BBQ sauce that's worth writing down. It's bold, not too sweet with just the right amount of heat.
Check out this recipe