This recipe for fall off the bone ribs will make you look like a BBQ master. They're tender, juicy and finished over charcoal fire to add the perfect amount of smokiness. You don't need a smoker, just a bit of time to brine and braise. Although my recipe is not the traditional American style BBQ method of preparing ribs, it's the certainly my favourite way to make them.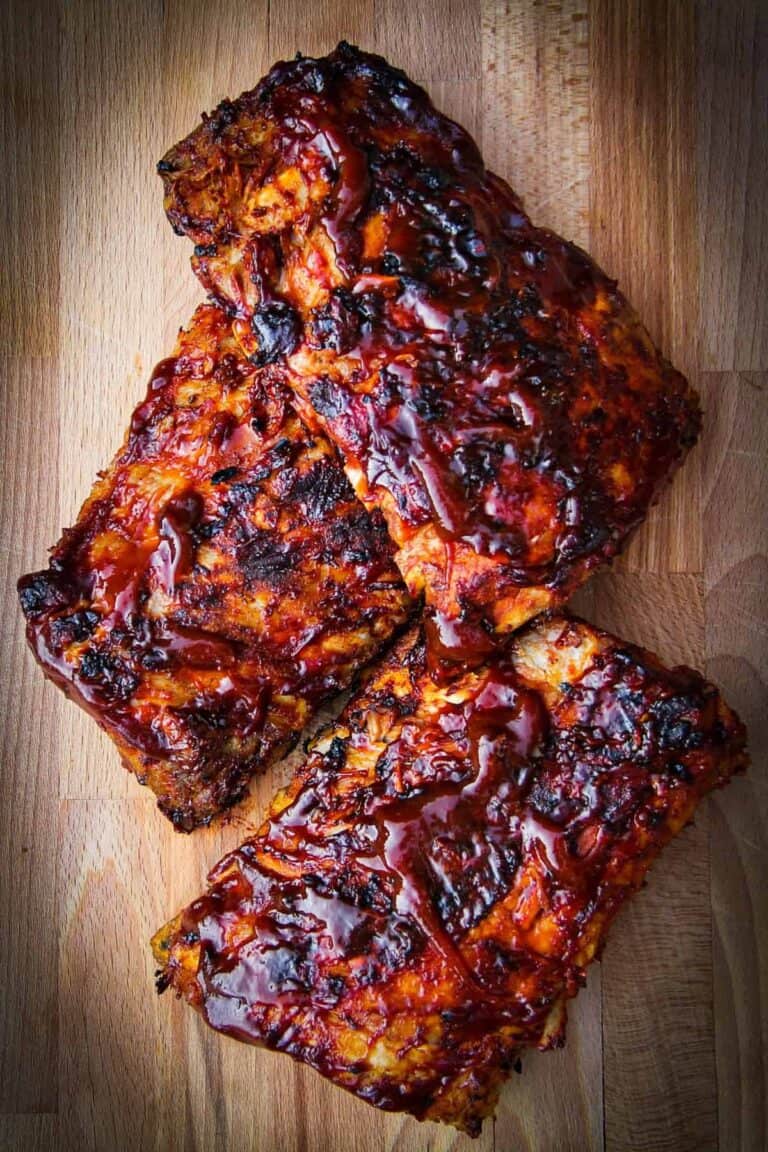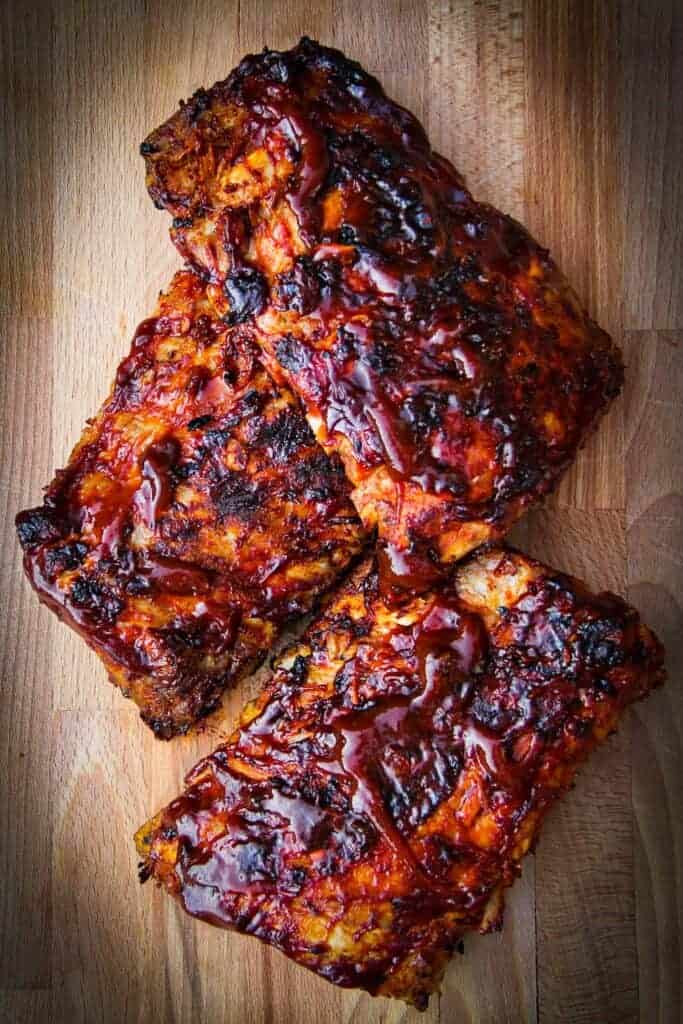 The Difference Between Chefs and BBQ Masters
Chefs and BBQ masters are two separate crafts just like bread bakers and pastry chefs are completely different worlds. I was raised in the "chef-world" so my rib recipe is going to be a little bit different from the classic BBQ style that is smoked completely on the grill.
Most BBQ purists will say that ribs must be cooked start to finish on the BBQ. Personally, I like braised ribs which are cooked in a a flavourful liquid and finished on the grill. I love the juiciness of the meat that was brined and cooked in a salty liquid, full of aromatic flavours and finished over charcoal that you just don't get from smoked meat.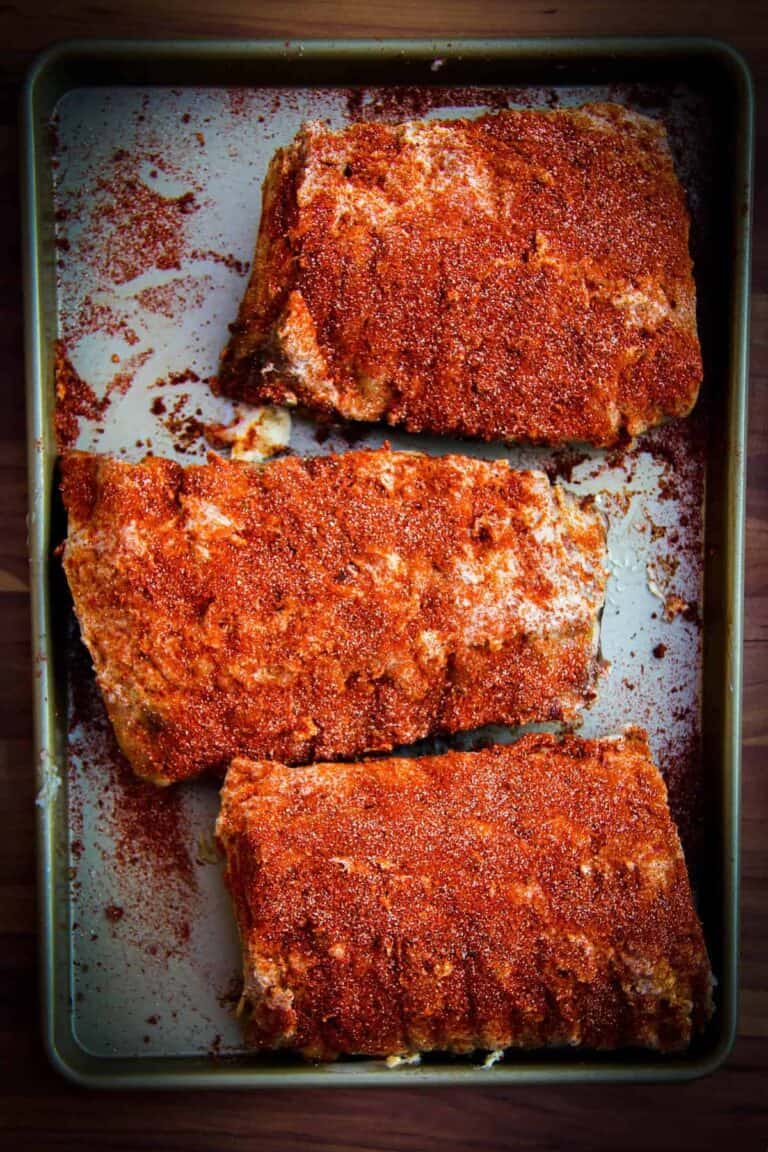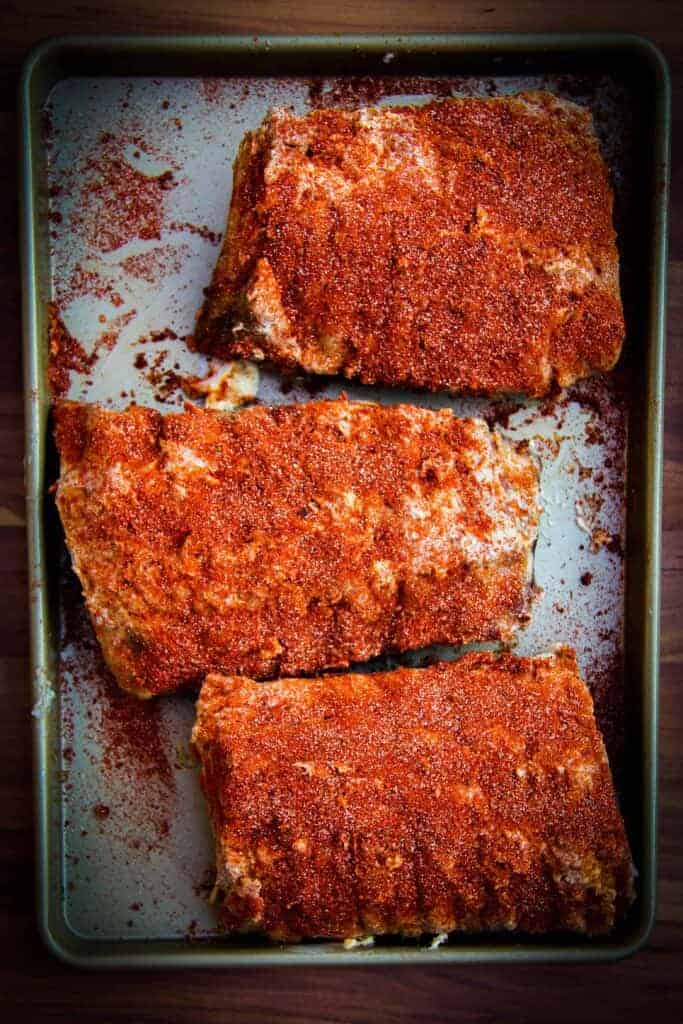 Can I Braise the Ribs in Advance?
The good news is that these ribs can be made ahead of time and once cooked and cooled, will only need 10-15 minutes over the charcoal.  After braising the ribs, let them cool in the liquid. Strain and wrap the ribs in plastic wrap. They are good up to 5 days in the refrigerator. They also freeze well for up to 3 months.
Gas or Charcoal?
For me this is a no brainer – charcoal. Charcoal always makes food taste better. Try to grill with charcoal instead of gas because a charcoal grill gives way more flavour to anything you cook and this is a game-changer for the ribs.
If you don't have charcoal try adding a bit of wood chips covered with tin foil to smoke on the side. This will infuse a bit of smoky flavour into the ribs.
Spare ribs or back ribs?
It's simply a matter of personal preference.  Spare ribs tend to be fattier (and more flavourful) but back ribs are smaller and meatier. Personally, I like what is called St-Louis style ribs because they have flavour from the extra fat and it is cleaned of chewy cartilage. You can still make ribs with any type but keep in mind that the smaller baby-back ribs will cook a little bit faster than the rest.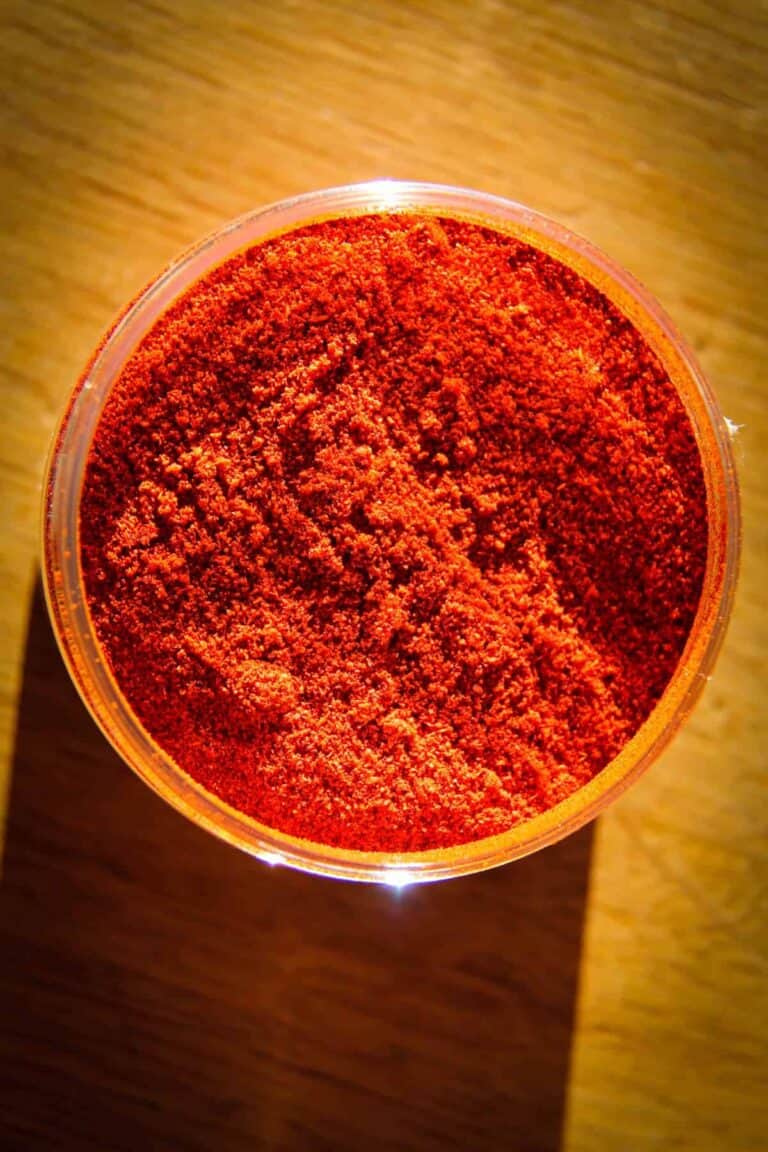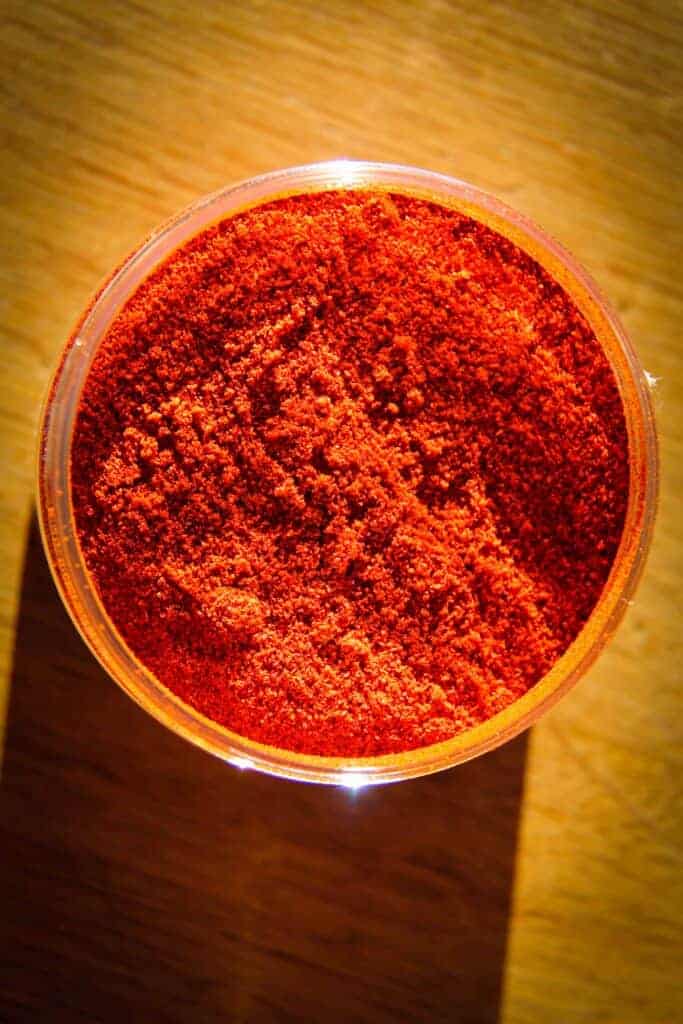 Pro-tip
It is important to remove the silver-skin lining from underneath the ribs for two reasons. Firstly, this membrane will prevent flavour from properly penetrating the meat and secondly, the membrane will never break-down and will be very chewy.
You can ask the butcher to do this for you or you can do this yourself by using a knife to get under the skin and pull off the membrane with your hands using a paper towel for grip. If that doesn't make any sense I've linked a quick video tutorial from a bbq pro here.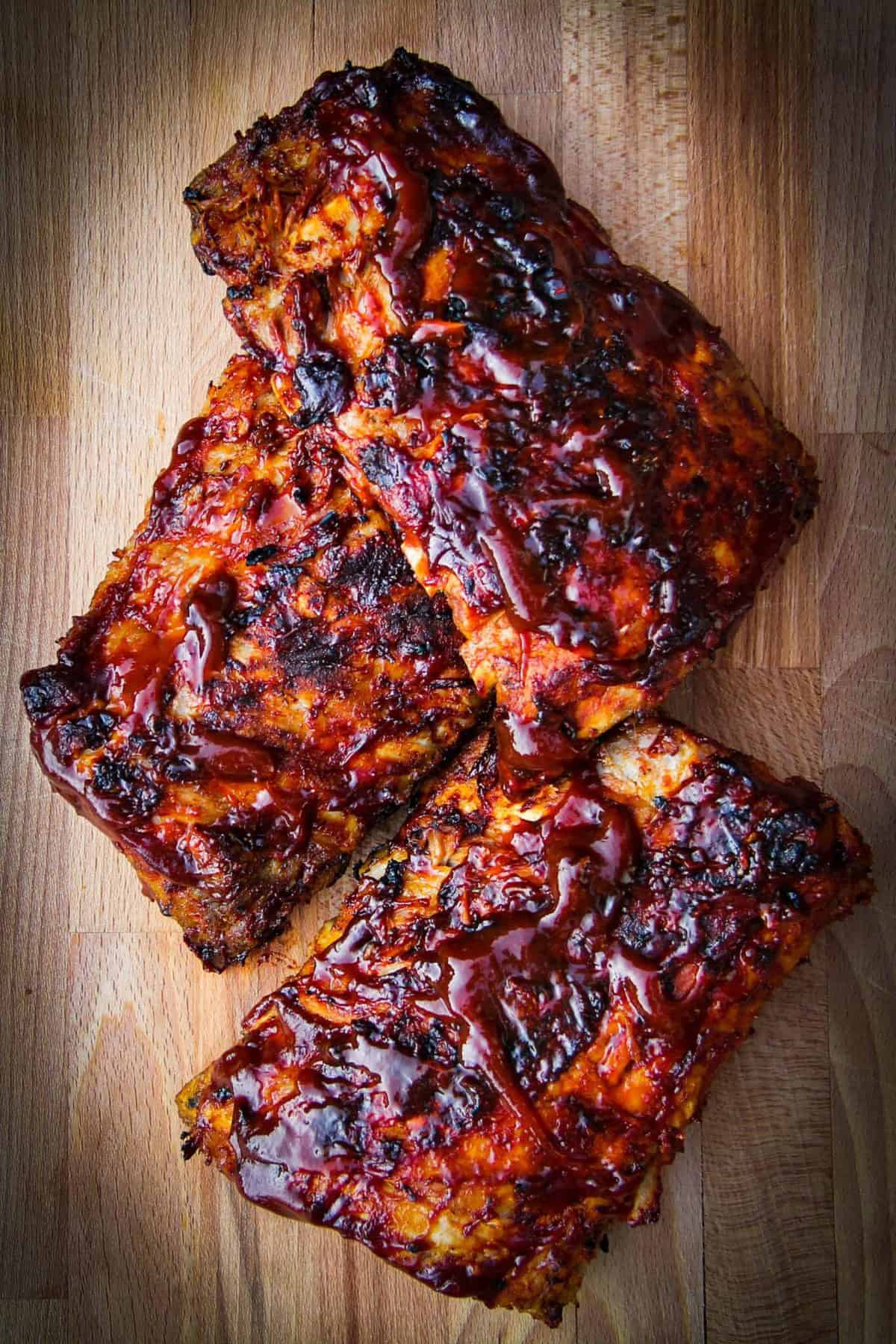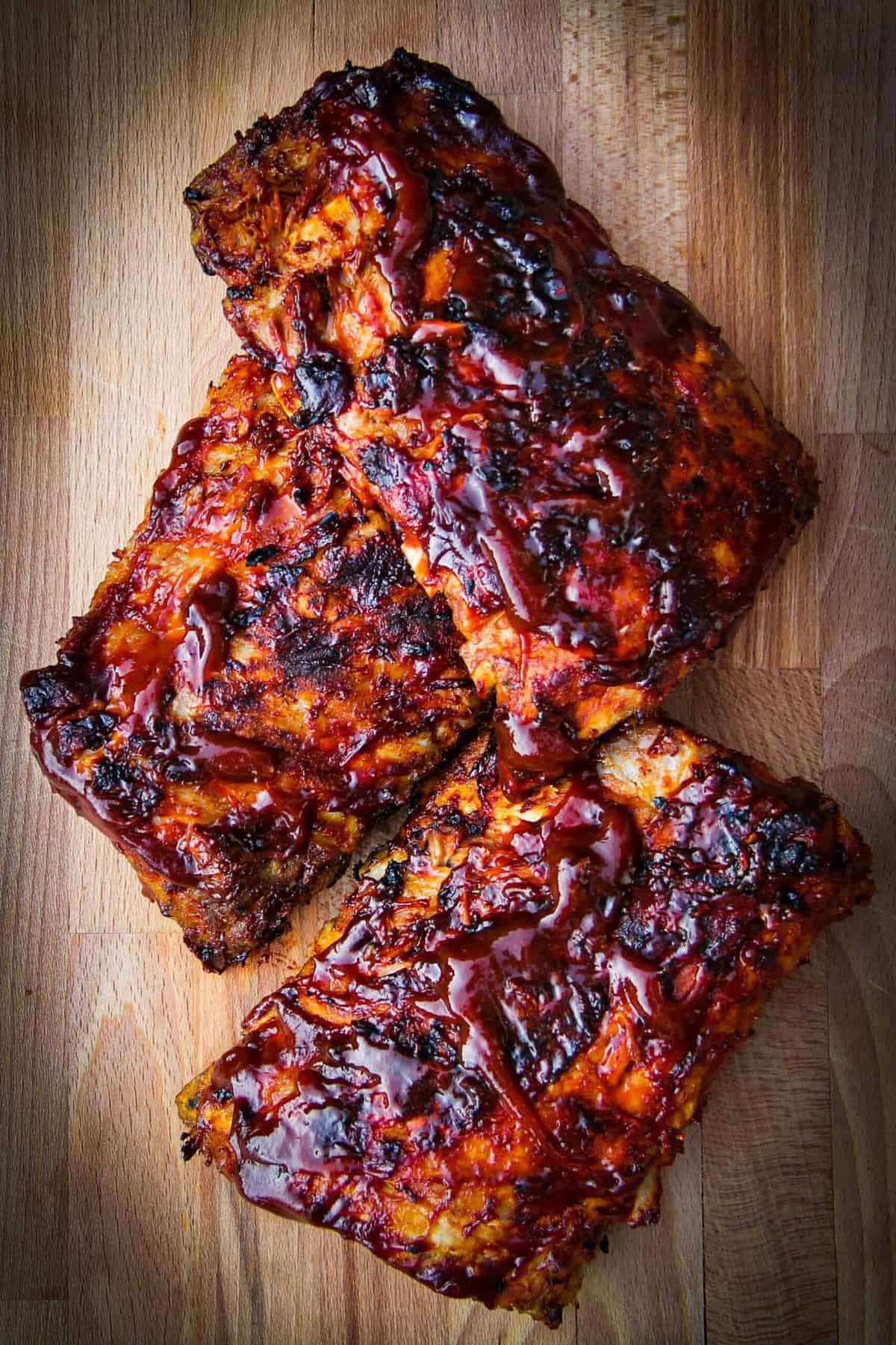 Equipment
Charcoal grill

big casserole or braising dish

bbq brush

ice

paper towel
Ingredients
1 + ½

racks

back ribs or spare ribs

750

ml

chicken stock

2

whole

onions

cut in half, skin left on

1

bottle

your favourite bbq sauce

1

head

garlic

cut in half, skin left on

2

bay leaves

20

g

butter

softened
Salt brine 5%
50

g

salt

1

litre

water

1

bay leaf
DC's Super Secret Rib Rub
1

tbsp

smoked paprika

1

tsp

celery salt

1

tsp

onion powder

1

tsp

garlic powder

⅛

tsp

cinnamon

1

tsp

brown sugar

1

tsp

Aleppo chili flakes
Instructions
Measure half of the water (500ml) and add to a small pot with the salt and the bay leaf for the brine. Bring to a boil. Make sure all the salt is dissolved. Let this cool.

Now fill a measuring cup with ice and fill with cold water up to 500ml. Add this to the dissolved salt and bay leaf water. Let this cool completely before adding the ribs.

Once the brine is cool, add the ribs and use a small plate to hold them into the solution. Cover with plastic wrap and let sit overnight or at least 6 hours.

Set the oven to 350°F/175°C. Remove the ribs from the brine and place leave out to temper for about 20 minutes.

Add the onions, garlic and bay leaves with the ribs to the casserole dish. In a separate pan bring the chicken stock to a boil and season gently with salt and pepper. Pour the hot stock over the ribs making sure the ribs are completely covered in liquid.

Cover with a double layer of tin foil or a lid. Set in the oven for 2-2+1/2 hours. Check after 2 hours.

The ribs are done when the bone pulls away effortlessly from the meat. If the ribs are still tough, put them back in the oven until they become tender. (Another +30 minutes)

After the ribs are cooked, let them cool in the braising liquid for about 30 minutes to 1 hour. If you are not going to cook the ribs today then wrap in plastic wrap and set in the fridge.

If you want to eat the ribs now then remove them from the liquid and set on paper towel. Set in the fridge and quickly chill for about 20 minutes. (This will make it easier to handle on the grill)

Now get that BBQ fired up! While you are waiting for the grill to heat up make the spice seasoning. Get a brush, bbq sauce and the softened butter ready.

Remove the ribs from the fridge and rub with the softened butter. Season generously with salt and the spice seasoning.

Brush a nice layer of BBQ sauce all over the ribs and start grilling! The technique is to continuously flip the ribs over and brush more BBQ sauce over the ribs when they look dry and then repeating this step multiple times to achieve a nice crust.

Finish with a sprinkling of more seasoning and lots of BBQ sauce and serve on a board. Preferably, enjoy outside with a cold beer
Notes
In this recipe I make a fast brine by dissolving the salt in only a small amount of the water. This will cool down faster than the entire amount of water.
Nutrition
Serving:
300
g
|
Calories:
1389
kcal
|
Carbohydrates:
17
g
|
Protein:
78
g
|
Fat:
110
g
|
Saturated Fat:
35
g
|
Cholesterol:
372
mg
|
Sodium:
7990
mg
|
Potassium:
1479
mg
|
Fiber:
1
g
|
Sugar:
6
g
|
Vitamin A:
1347
IU
|
Vitamin C:
3
mg
|
Calcium:
110
mg
|
Iron:
5
mg
White Sweet Potatoes with Maple + Sesame
This is a recipe for grilled white sweet potatoes with butter, maple and sesame. Super easy, vegetarian and definitely not boring.
Check out this recipe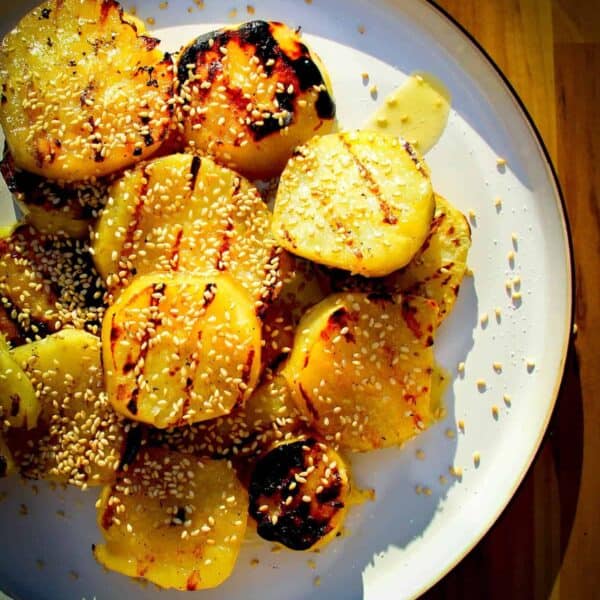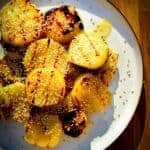 Caesar Salad – The King of Salads
Still to this day my favourite salad. A rich, creamy dressing made with fresh egg yolks and loaded with umami flavour from the anchovies, sharp parmigiano cheese and fresh garlic. Finished with loads of cracked black pepper and fresh lemon. It's the king for good reason.
Check out this recipe