***Warning: Do not proceed if you haven't eaten already, because you're about to get HUNGRY! These Traeger smoked burgers are next level!
Unlike standard grilled burgers, these smoked burgs take it to the next level with a blast of sweet smokey flavour and an extra JUICY interior.
Although you can do these on a regular kettle smoker, the true magic of a pellet smoker shines in this recipe.
The low and slow precise temperature of the pellet smoker guarantees an extra soft bite that wouldn't be possible without the low and slow temperature.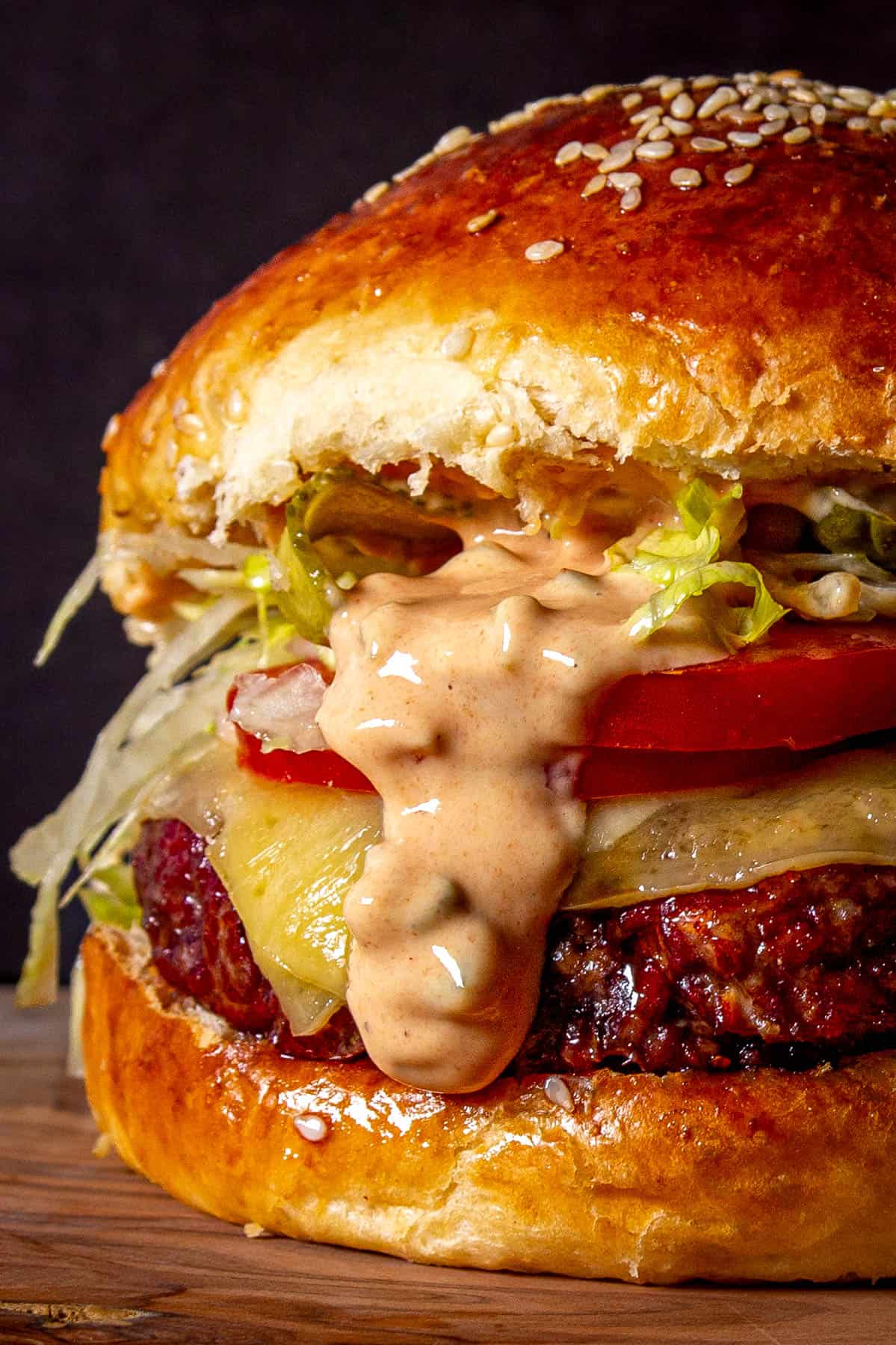 These Smoked Burgers are AWESOME!
This method of smoking the burgers low and slow yields extra juicy burgers because of the gentle heating.
And serious BBQ lovers will appreciate the beautiful pink smoke ring on the outside of these burgers.
What's even more tempting about smoked burgers is that you'll actually have a lot of free time on your hands while you wait for them to smoke. So grab a beer and go enjoy the cookout.
You can literally set these burgs on the grill, pop the thermometer in and go watch a movie.
But the best thing about these patties is the FLAVOUR! In full unaltered honesty, these smoked burgers were so good, that I may never grill a burger again.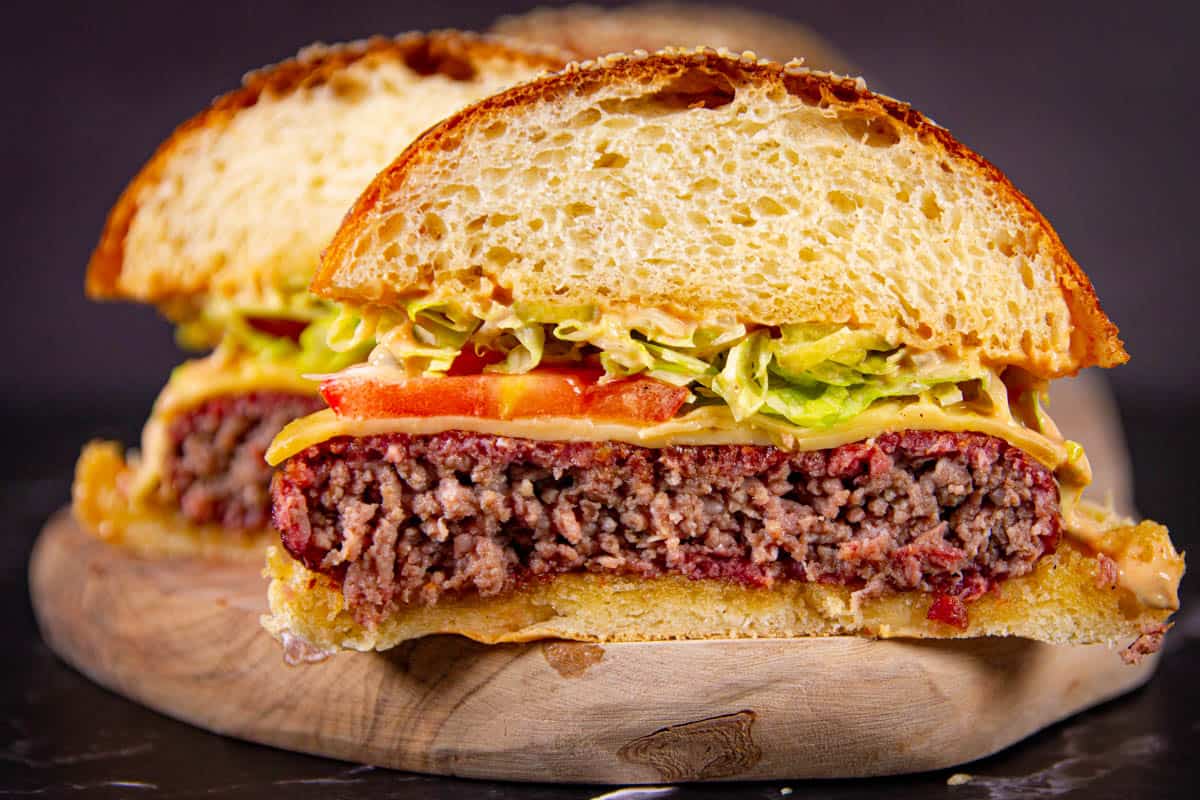 Ingredients You'll Need for these Ultimate Traeger Smoked Burgers
Let's talk about the key ingredients for these smoked burgers. Sides, toppings and condiments will be mentioned later in the post:
Burger Buns: The bun deserves just as much respect as the meat. Have you ever been to a restaurant that serves a burger with a stale bun? Horrible! If you're going to spend the time to make a delicious smoked burger, then don't ruin it with a mediocre bun. You don't have to go all out and make epic fresh-baked burger buns, just make sure you buy something soft and fresh. Plain white fluffy buns are good, Brioche is better and fluffy Japanese milk buns are my personal favourite.
THE MEAT: The meat of the burger is like the engine of a car – without it, you're not going anywhere. It should be pure 100% beef (with the exception of bacon, because that's good with everything) and ideally be from tougher cuts of meat like brisket, shank or chuck which are more flavourful. There must also be a good amount of beef fat in these burgers because fat is flavour. If you're using supermarket meat then avoid the "light" or 'low-fat" ground beef. The perfect ratio for burgers is about 20% beef fat to 80% meat.
Brown Sugar: I don't normally add anything other than salt to my burgers but with smoked burgers, a little brown sugar helps to brown the crust or "bark". This is especially important because I don't sear these burgers after and the sugar helps them caramelize nicely on the outside.
Seasonings: A few seasonings go a long way. I'm using a little garlic powder and Aleppo chili which adds a nice kick of flavour. Totally optional though.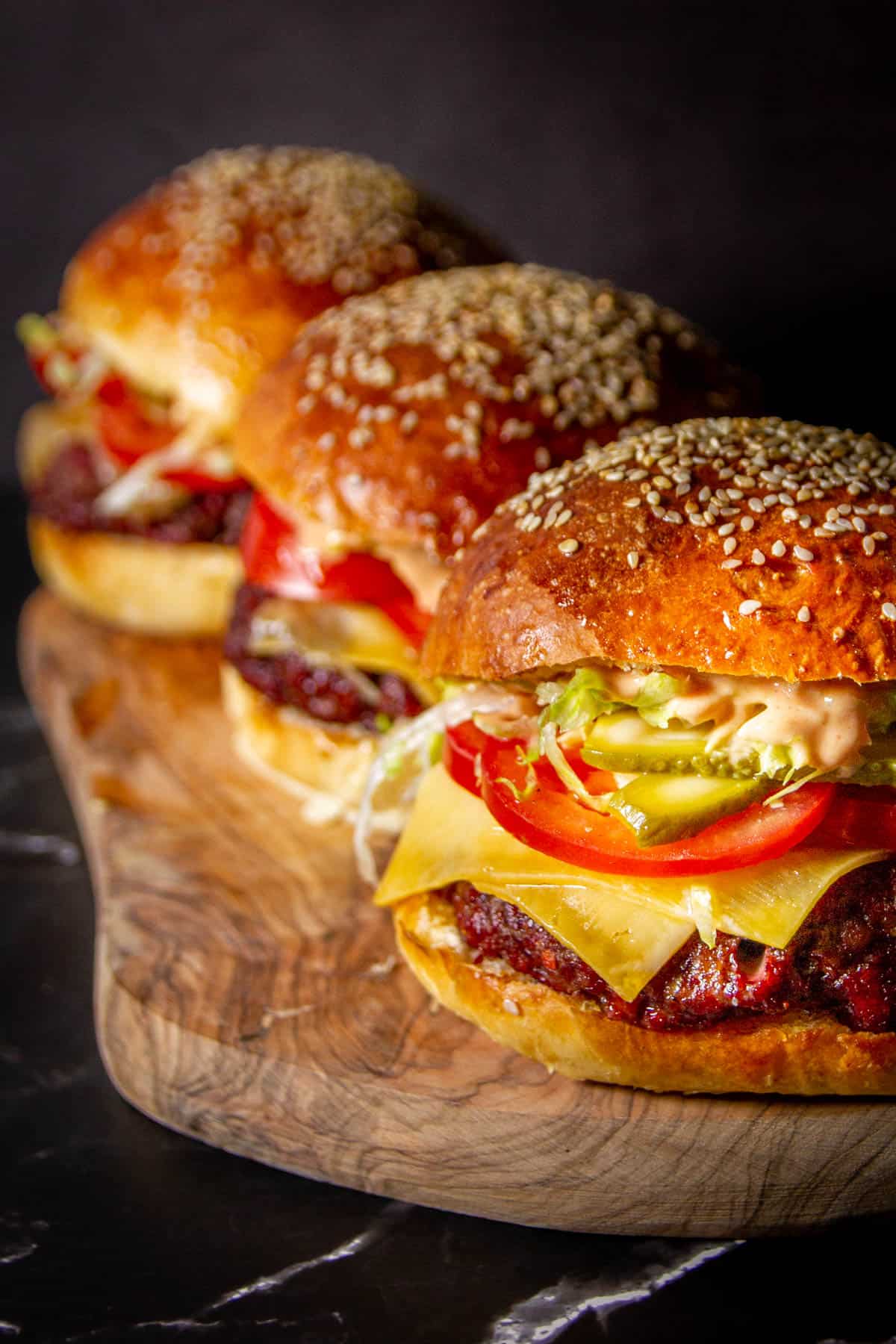 So How Do You Smoke Burgers the Right Way?
The trick to great smoked burgers is a lower smoking temperature and a lower internal temperature.
I smoke at 185°F instead of the usual 225°F because a lower smoking temperature means more smoke flavour. This is exactly what we want because burgers are small in comparison to other cuts of meat like brisket or pull pork which can take all day to smoke properly.
I also make these burger patties a little bigger than grilled burgers so that they'll spend a little extra time in the smoker and soak up more of that smoke flavour.
A Quick Word on Food Safety
Many people overcook their burgers and it's a shame because you don't have to.
Most people cook their burgers to 165°F and call it a day. Nothing wrong with that but a lower temperature will make a juicier burger.
But isn't cooking burgers below 165°F dangerous? It is ground beef after all?
Well, it's not just temperature that's important for food safety, time is just as important.
That's the whole idea behind sous vide cooking. Cooking lower but for much longer will kill enough pathogens to make your food safe enough to eat.
As Kenji Lopez of Serious Eats writes in his article for sous vide burgers – as long as you bring the temperature of the beef to 140°F for at least 12 minutes, your meat is safe.
Even Meathead from Amazingribs.com and Chefsteps have sous-vide burger recipes with temperatures even lower than 140°F.
Cooking your burgers to a temperature of 140°F and maintaining that temperature for at least 12 minutes will bring them to a pasteurization level of 7D reduction. That's 9.9999999% pasteurized (7 decimals).
To put this in perspective, canned food is at about 12D reduction.
So although it's quite safe it's still not 100% safe (which is almost impossible to guarantee, more on that here). Still, it's much safer than eating a rare burger that hasn't been pasteurized at all, as some burger chains do.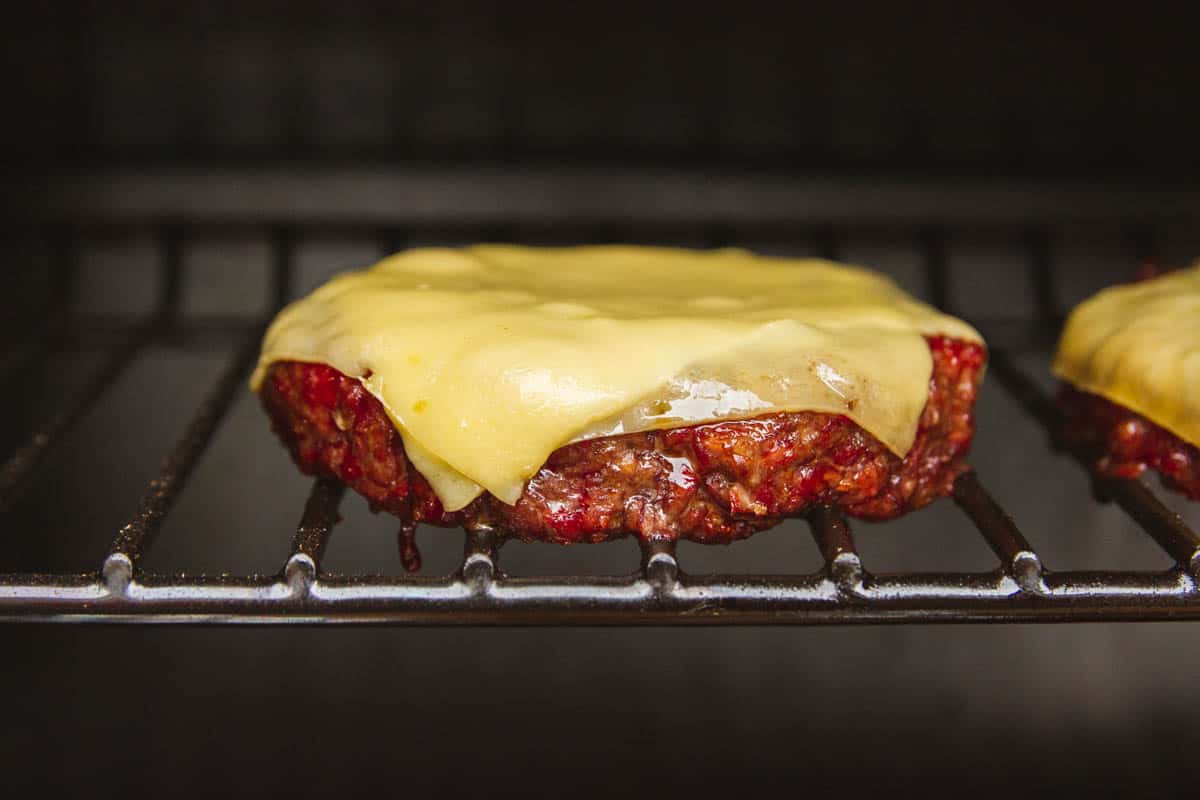 Wait, You Don't Sear these Smoked Burgers?
I tried both ways and actually didn't notice too much of a difference after searing. If you smoke the burgers long enough, you'll end up with a beautiful smoked crust on the outside and that is more than acceptable for me.
If you want to sear them, then the best way is to brown them quickly in a hot cast iron pan with some butter.
I tried searing them in the Traeger at the max temp but the internal temperature rose too much and resulted in dry, overcooked burgers. Plus, after already 1.5 hours of these burgers on the smoker, your friends and family are going to start thinking you're crazy…
Tips for the Best Smoked Burgers
Don't overwork the meat. Overworking will make the meat tough instead of soft and juicy.
Always go BIG with smoked burgers because a bigger burger will have more time to soak up that delicious smokey flavour.
I'm using Traeger Hickory pellets, but you could also use apple, cherry or maple. Burgers can handle a bolder style of wood because the smoking time is shorter than other cuts such as brisket or ribs.
Don't open the smoker too much, overwise you'll lose smokey flavour and temperature. As long as the temperature probe is set properly, set it and forget it!
Butter, season and toast the buns at the last minute – this always makes a huge difference, especially if you're using older bread.
Fat is flavour! Aim for an 80/20 ratio of meat to fat for these burgers. If you have your own grinder, consider using bacon as the fat for added flavour.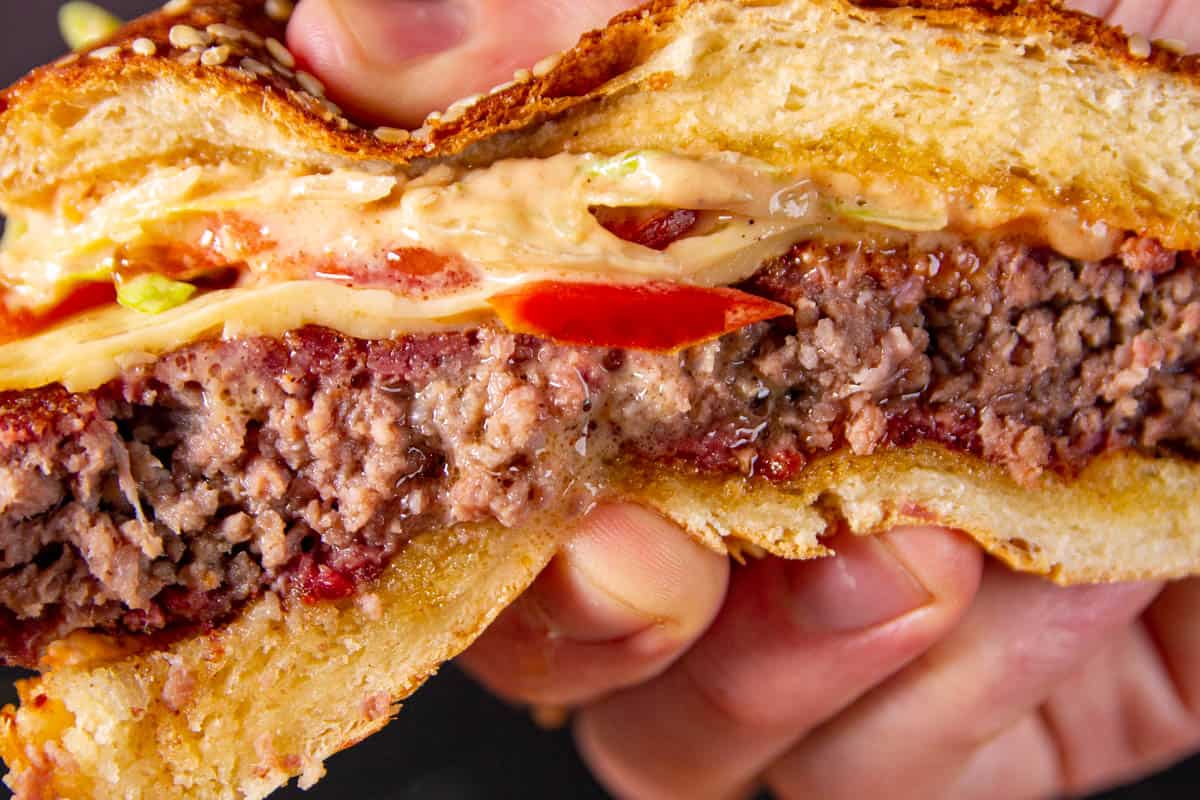 B&D's Signature Burger Spice Rub
I keep the spice blend minimal and only add a few spices which will make these burgs better.
In my opinion, too many spices will make your burger taste like a sausage. We are here for burgers after all…
The not-so-secret spice blend:
sweet Aleppo chili (a.k.a Sweet Pul Bieber spice)
garlic powder
brown sugar
salt and pepper
Most importantly, you should season the outside of the burgers instead of mixing the meat together with the spices in a bowl. This way, you'll avoid overworking the meat.
When forming the burgers, you want to just bring the meat together with your hands and not squish them too much. This results in little air pockets which fill with the meat juices with a super soft interior.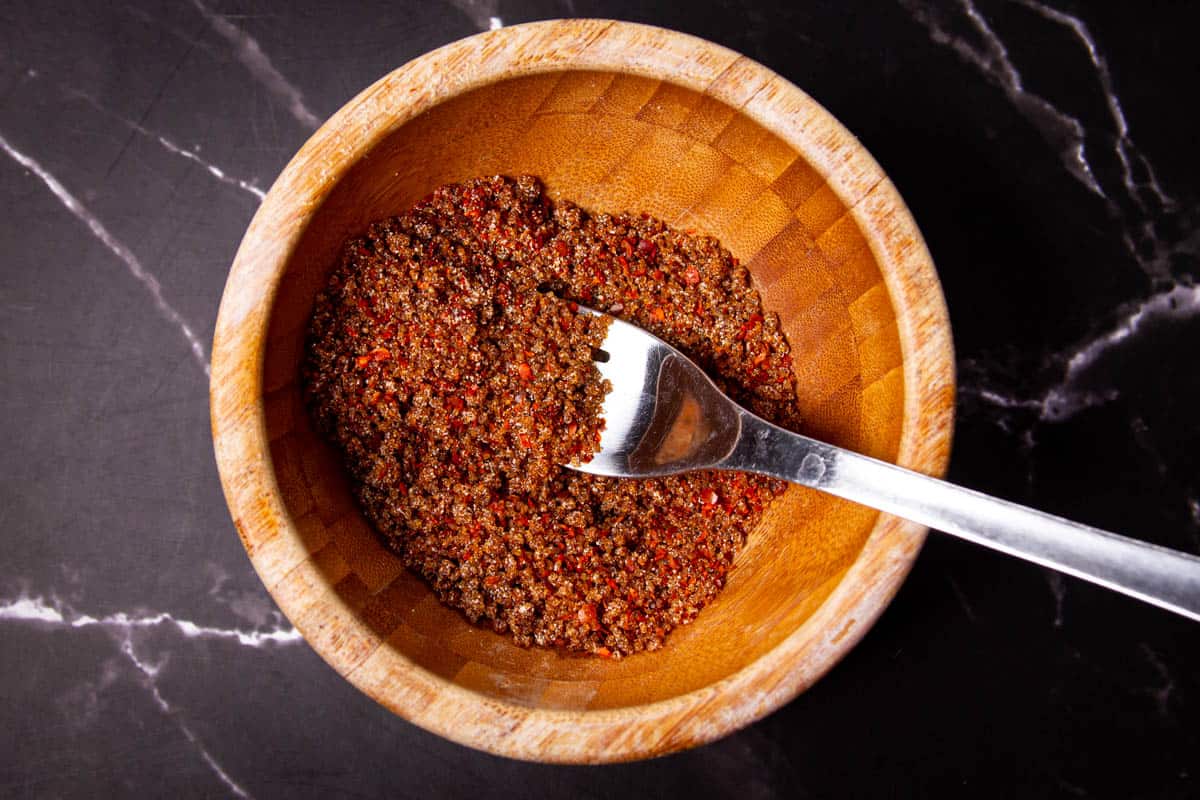 Burger Toppings and Sides
Here are a few things that definitely go well with smoked burgs:
More Smoker + BBQ Recipes
Smoked Burgers Recipe FAQ
How long does it take to smoke burgers at 225?
I tried this, and the time was a little bit shorter than smoking at 185°F. About 1 hour to 1 hour + 30 minutes depending on the outside temperature and how windy it is.
Do you flip burgers when smoking?
You can but I don't find it necessary, especially if you're smoking on the top rack. You don't really want to open the smoker too much either so the flip is not necessary.
Are smoked burgers dry?
If you cook them past 165°F then yes. This recipe holds the temperature perfectly at 140F which is about a perfect medium burger and super juicy.
Are hamburgers good on a smoker?
Well, they better be if I took the time to make this recipe on smoked burgers!
Do I really need a Traeger to make smoked burgers?
No, but the real magic of this recipe is precise temperature control. Most electric and pellet smokers will do this well. You can do this with just about any manual smoker as long as you're good at maintaining an even temperature.
Epic Traeger Smoked Burgers
These Traeger smoked burgers are EPIC. With extra juicy interiors and a bold smokey flavour, you will make some new friends with this one.
Ingredients
7

oz

coarse ground beef

(200g) weight per burger patty

1

pc

burger buns

1

tsp

softened butter

for toasting the buns

salt and pepper
Spice Rub
2

tbsp

brown sugar

2

tsp

Aleppo chili (pul bieber)

1

tsp

garlic powder

1

tsp

celery salt
Condiments
cheese

shredded iceberg lettuce

tomato

pickles

onions
Instructions
Set the Traeger or pellet smoker to 185°F and hit ignite.

Measure each patty into 7oz (200g) portions. With clean hands, form gently into burger patties being careful not to overwork the meat. Indent the middle of the patties slightly with your hands (this way they will keep a better shape after smoking).

Measure and mix the spices together for the spice rub in a small bowl.

Once your smoker is preheated, season the burgers heavily with salt on both sides.

Then season the burgers with the spice mix on both sides until evenly coated.

Place the temperature probe in the centre of the burger and place the burgers on the top rack.

Set the temperature probe to 140°F, close the lid and wait 1.5-2 hours (or go watch a movie).

In the meantime, cut your buns and butter them, slice tomatoes, slice lettuce and make any other condiments for the burgers.

Once the internal temperature reaches 140°F, set a timer for 12 minutes. Increase the smoker's temperature to 225°F.

When the internal temperature of the burgers rises slightly to 142-145°F, open the smoker and quickly add the cheese and toast your buns.

Close the lid and let the burgers continue to smoke until the 12 minutes timer goes off.

Once the 12-minute timer goes off, your burgers are ready to eat!

Assemble with your favourite condiments and toppings and enjoy!
Notes
*I know weighing the burgers might seem a little crazy, but it really helps to achieve the perfect meat-to-bun ratio. Plus, you'll get a better smokey flavour with a bigger patty.
*The burgers must maintain an internal temperature of 140F for at least 12 minutes.
Smoked and Roasted Leeks with Raz el Hanout
These smoked and roasted leeks are rubbed with homemade raz el hanout spice for a delicious vegan side dish. They're smokey, sweet and a perfect accompaniment to grilled fish or meat.
Check out this recipe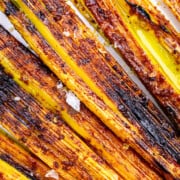 Reverse Sear Smoked Ribeye With Umami Butter
A step-by-step guide on how to make a reverse seared, smoked ribeye with a weber kettle grill. Slathered in umami butter for maximum flavour.
Check out this recipe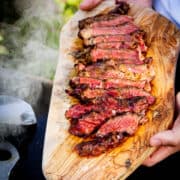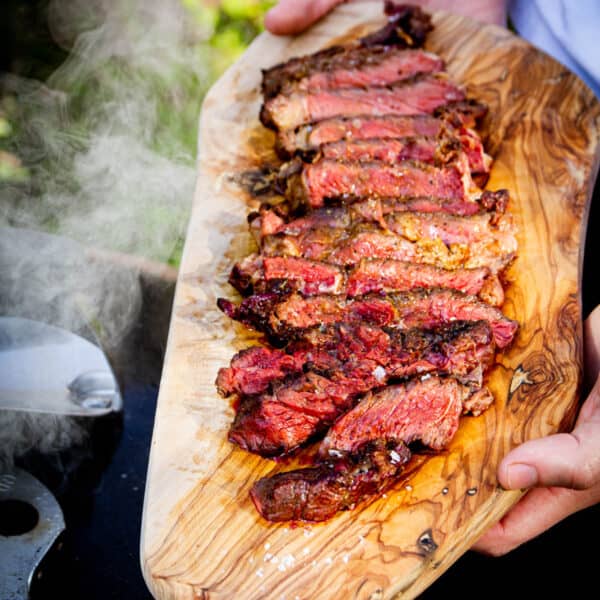 Alabama White Sauce – A White BBQ Sauce
This Alabama white BBQ sauce is a nice dip for smoked meats, raw crunchy veggies or mixed into coleslaw. Did I mention it only takes 5 minutes?
Check out this recipe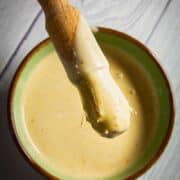 The Best Smoked Mac and Cheese
After many tweaks and trials, I have found the best smoked mac and cheese recipe. Throw this on the smoker while you wait for your smoked meats to rest.
Check out this recipe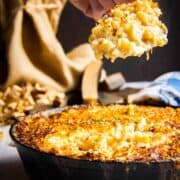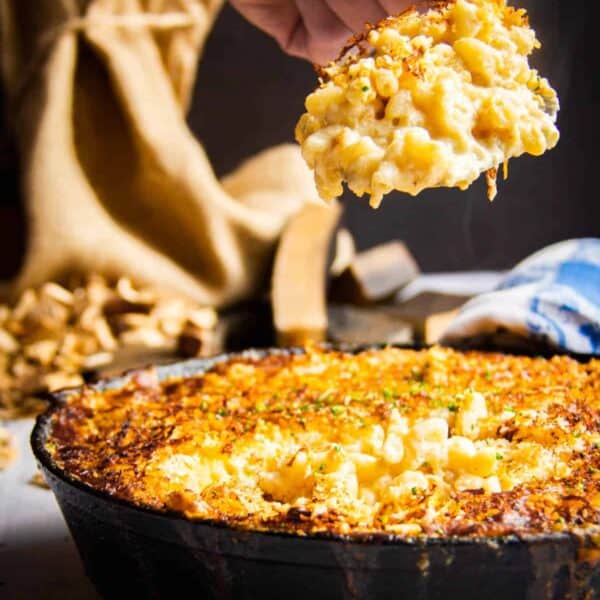 Legendary Smoked Chicken Thighs
Ultra tasty bite-through smoked chicken thighs made entirely on a weber grill with a delicious smoky aroma you won't find with regular grilled chicken.
Check out this recipe