Bacon and maple?! No, even better, maple bacon.
It's true that as a Canadian I'm genetically wired to love maple syrup. But are there actually people that don't like maple syrup?
This is an easy excuse to get a little festive with some maple syrup for Canada day or for any time you're trying to impress a Canadian.
The best part is it's really easy to make and won't take much longer than normal bacon.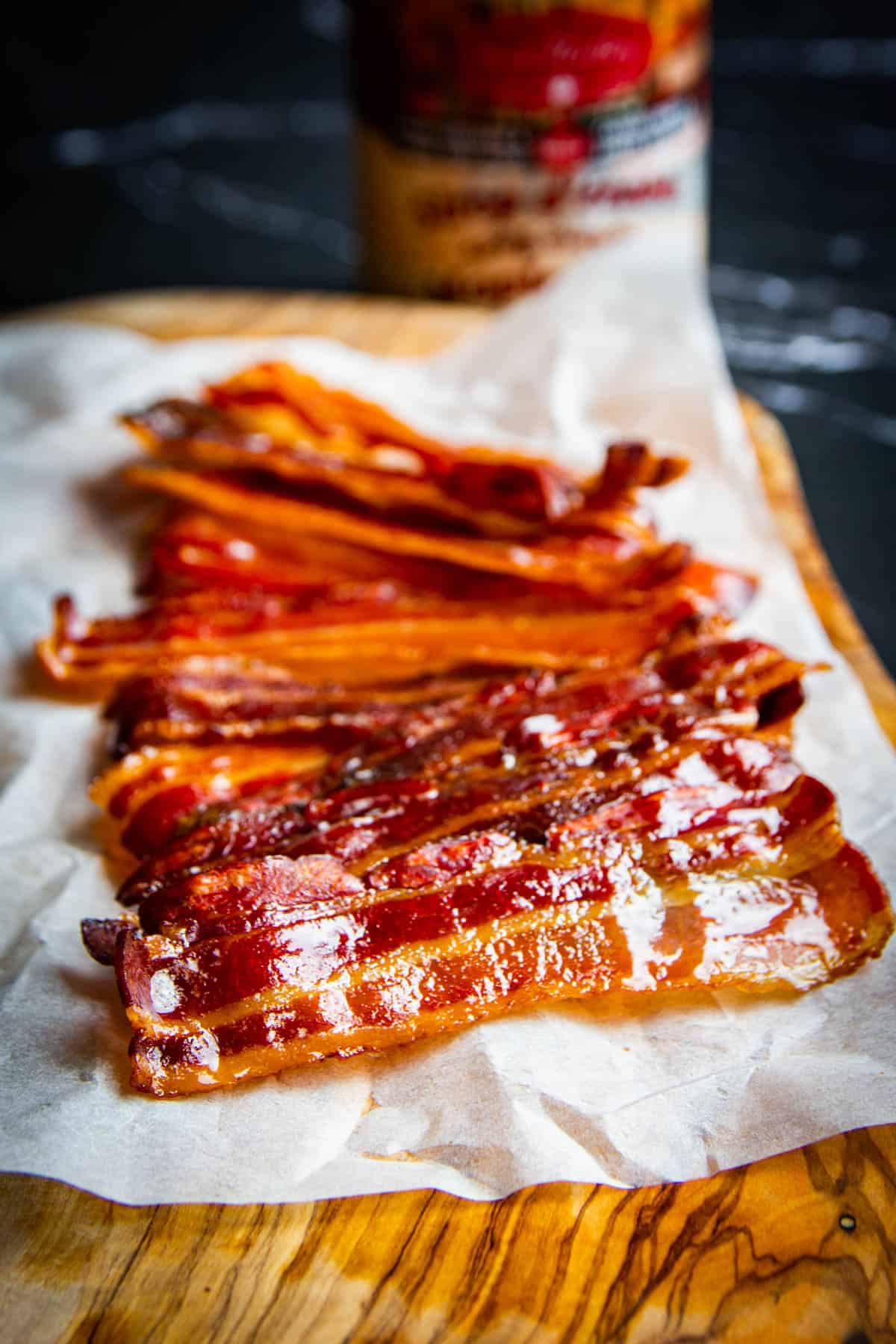 How to Make The Easiest Maple Bacon
Real maple bacon is made by curing the bacon in maple syrup or by adding maple flavouring to the cure.
This method, on the other hand, is a lot quicker and doesn't require you to make your own bacon. It's actually more of a candied bacon recipe.
Here's how I make my maple bacon:
Preheat your oven to 350°F/175°C.
(Optional) Line a baking tray with aluminum foil. This makes clean-up a lot easier because the maple syrup will burn when it touches the tray and is very annoying to clean.
Place a resting rack over top of the lined tray and spray or brush it with vegetable oil.
Line up the bacon, making sure it doesn't overlap.
Brush each side with maple syrup. Flip and brush the other side.
Bake for 15-30 minutes. Times will vary based on the thickness of your bacon.
Turn the tray after 10 minutes and continue baking.
Let cool for 5 minutes on the tray, then you're good to go!
Enjoy!
Maple Bacon Size Matters
Here in the Netherlands, they like thin-cut bacon. I've always been a thick-cut bacon kinda-guy myself.
But at the end of the day, bacon is still bacon.
Mine took about 20 minutes to crisp up nicely with a turn after 15 minutes but if you have thick-cut bacon it could take up to 30 minutes.
Just make sure you keep an eye on it after the 15-minute mark as the added sugar will burn even faster.
Maple Bacon Ingredients
You'll only need 3 ingredients to make this:
Bacon: The size of the bacon will make a difference. Thinner bacon will become crispier and crunchier and thicker bacon will be slightly chewier (my favourite!).
Maple Syrup: The maple syrup not only adds flavour but also creates a shine and crispy snap.
Vegetable Oil: This key ingredient prevents the bacon from sticking to the tray. Non-stick spray is ideal, but you could also use a brush with a little bit of oil.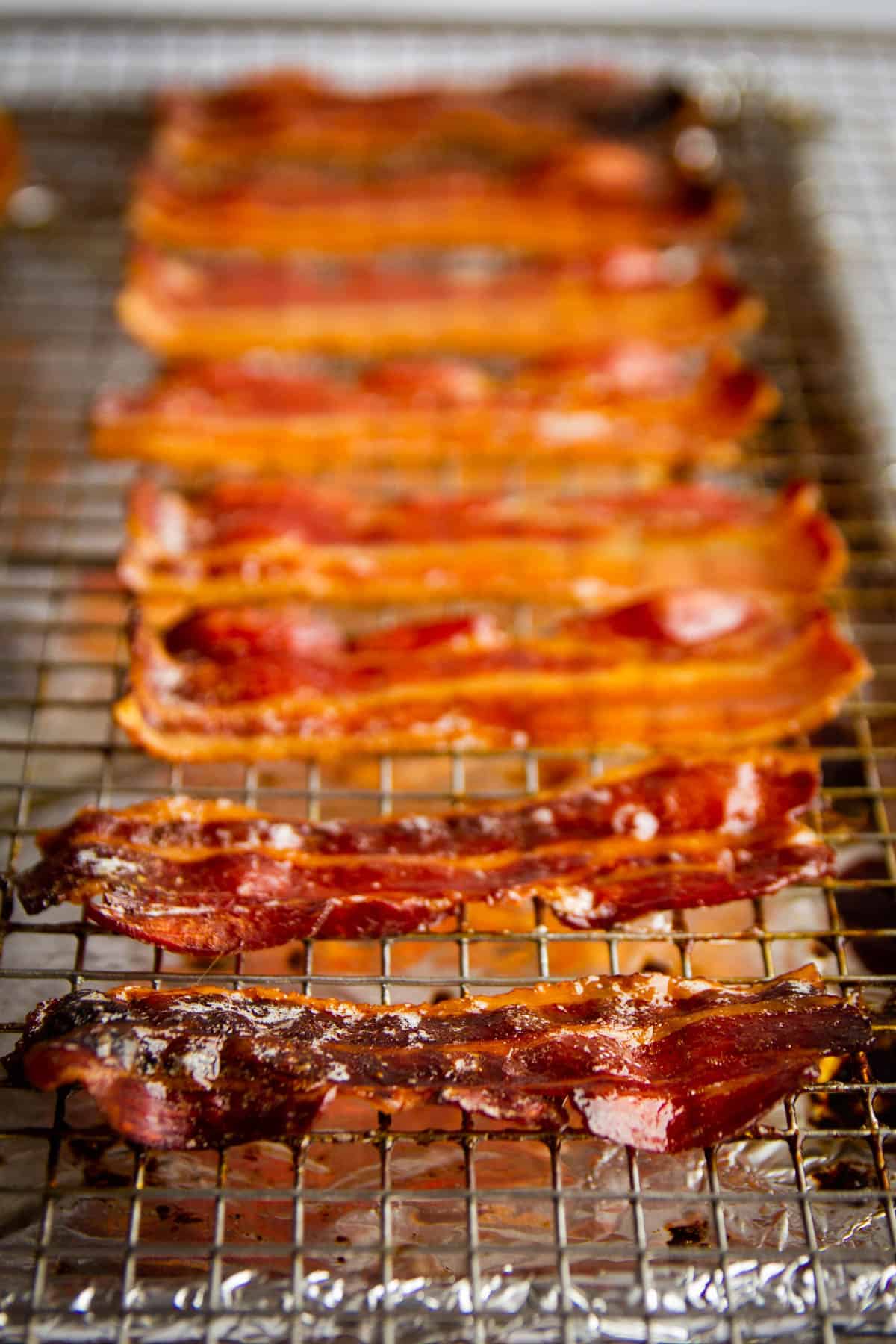 Bacon Deserves Real Maple Syrup
This is common knowledge in our household. Please don't waste fake maple syrup on bacon. It deserves better, and so do you.
We want 100% real, from a tree maple syrup.
Avoid "pancake syrup" which is corn syrup with artificially flavoured maple.
Choosing the Right Bacon
You probably don't have your own meat slicer at home and will likely be stuck with whatever size they cut the bacon in the store.
Sometimes you can find a deli or butcher shop that will slice it to your desired thickness and this is ideal. Go for a medium thickness, not too thick and not too thin.
If you're stuck with whatever size the grocery store sliced it to, then keep this in mind:
If the bacon is really fatty then thinner is better.
Whereas if the bacon is meatier, then it can be left a little thicker bacon.
And for obvious reasons, try to find bacon that's not already flavoured with something else.
Dry, medium-sliced thickness bacon is ideal.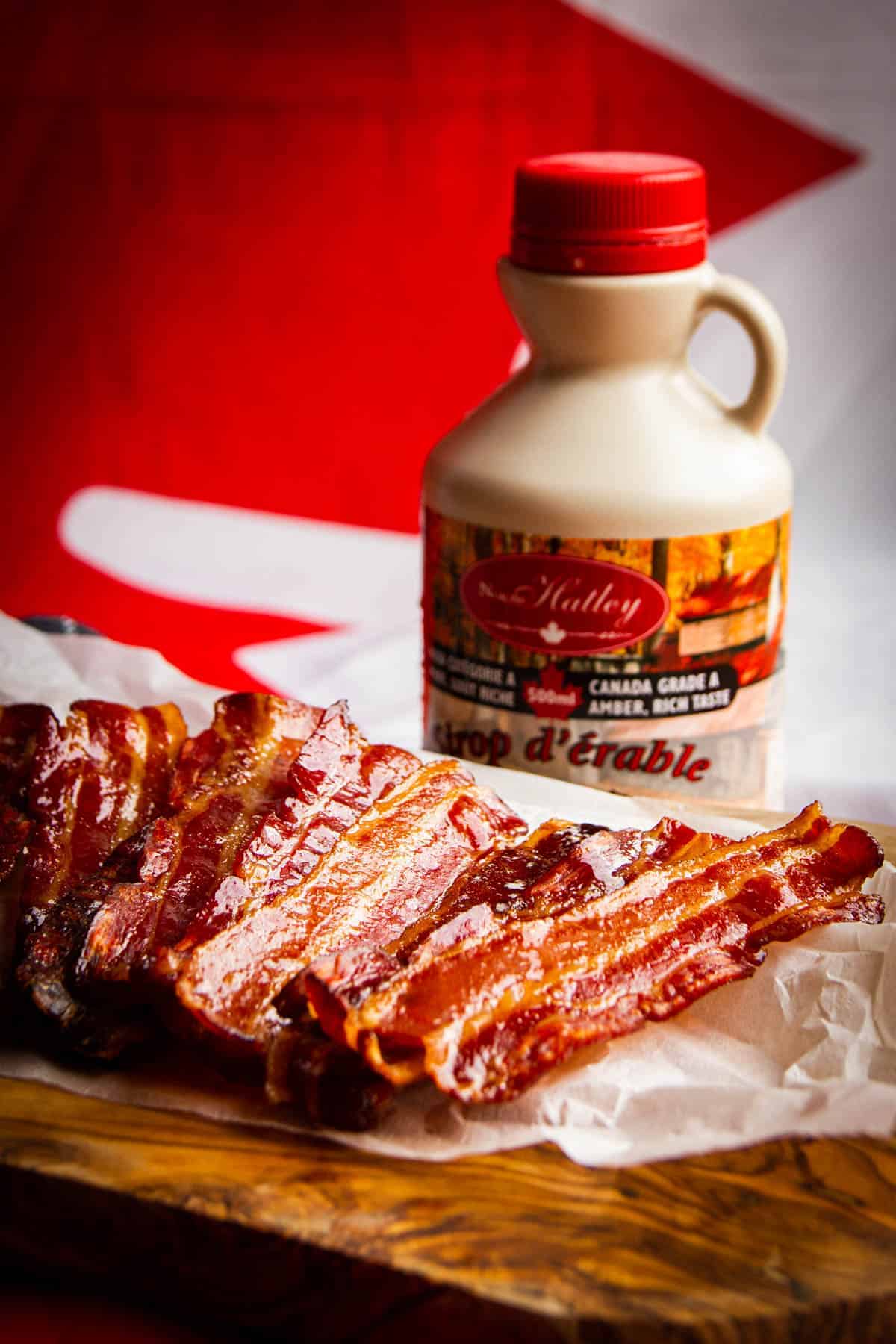 How Long to Cook Bacon?
You're probably used to cooking bacon in a pan but most restaurants do this in the oven.
In the oven, you can cook bacon evenly and in large quantities.
I like to set the oven to 350°F/175°C but you could probably go even lower.
At this temperature, it still takes about 30 minutes total but depends on the size of your bacon, how long the oven was preheated, the type of oven and if your oven has a convection fan.
My best advice is to keep a close eye on it until you really nail down the exact time and temperature for your oven.
How to Avoid the House from Smelling Like Bacon
Personally, I think a bacon-scented house is a great thing, but others may disagree.
The best way to prevent the bacon-house smell is to not cook inside.
This recipe works great on your BBQ or Traeger. As long as you can maintain an even temperature then you're in bacon-business.
Do You Have to Use Maple Syrup?
If you want maple bacon, then obviously, yes.
But if you're just here for some quick candied bacon, then brown sugar, white sugar, agave or honey will all work.
If you're using brown or white sugar the best option will be to make a quick simple syrup and coat the bacon like this. This way you won't end up with uneven spots on your bacon after cooking.
How to make a quick simple syrup:
50:50 sugar to water. Stir, bring to a boil and turn off the heat.
That's it!
Tips for the Best Maple Bacon
This recipe is really simple as long as you follow these steps:
Use a resting rack. The resting rack provides airflow to both sides of the bacon and allows for maximum crispiness, without flipping. It will also allow the sugar to dry evenly after cooking and your bacon will end up with an even crispier shine.
Brush/spray the resting rack. This will prevent the bacon from sticking to your resting rack and makes clean-up a lot easier.
Bake at a lower temperature. The added sugar from the maple syrup will burn faster so a lower oven temperature will reduce burning.
Recipes to Use this Maple Bacon With
Happy Canada Day!
Easy Maple Bacon – Canada Day Treats
This is a recipe for the easiest maple bacon and an excuse to use maple syrup and bacon for a Canada Day treat.
Ingredients
125

g

bacon

25

g

real maple syrup

(1tbsp + 1tsp)
Instructions
Set the oven to 350°F/175°C. Line a tray with aluminum foil.

Line up the bacon without it overlapping.

Brush the bacon with the maple syrup. Flip over the bacon and brush the other side.

Bake for 15-30 minutes depending on the size of your bacon. Turn the tray after 10 minutes.

Mine took exactly 20 minutes but it was pretty thin bacon.

Let the bacon cool on the rack for 5 minutes to allow the sugar to harden.

Enjoy with pancakes, breakfast or my favourite, a maple bacon BLT!
Notes
Your bacon may need longer if it's thicker. Mine was pretty thin and 20 minutes seemed to be the sweet spot. You'll want to start checking the bacon after about 15 minutes of cooking.
More Recipes with Bacon…
Stuffed Chicken Leg with Bacon, Porcini, Walnuts and a Date Sauce
Stuffed Chicken Leg with Bacon, Porcini, Walnuts and a Date Sauce
This stuffed chicken leg should do the trick for a special occasion like Valentine's Day, date night or anytime you need something a little extra nice.
Check out this recipe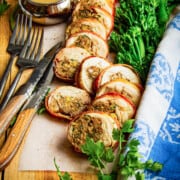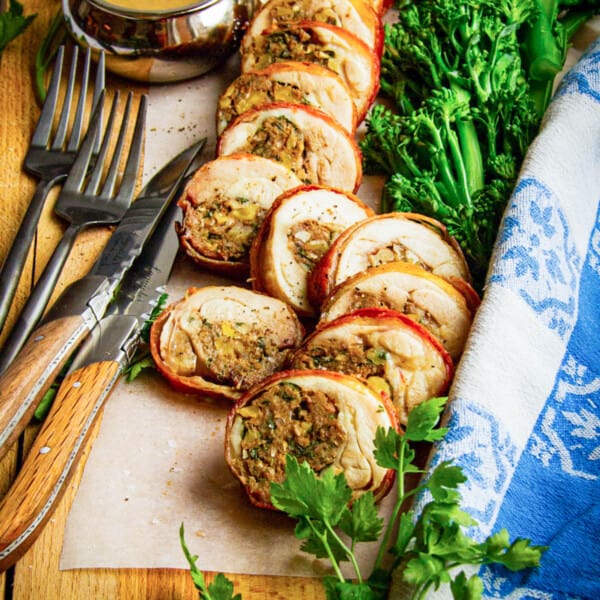 The Ultimate Bacon Mushroom Cheeseburger
My Ultimate Bacon Cheeseburger
My recipe for the ultimate bacon cheeseburger with some tips on how to make restaurant-quality burgers at home. Makes 6 beautiful bacon cheeseburgers.
Check out this recipe