One thing's for sure, these smoked baked potatoes will be made many many more times.
The real magic here is the combination of smokey, crispy, potato-y exteriors stuffed with a rich, twice-baked potato filling.
The flesh is scooped out and mixed it with the usual suspects – butter, cheddar cheese, fresh chives and a little salt and pepper.
The result is one heavenly potato.
And if you've already got a big piece of meat on the pit (or these smoked chicken thighs) then not making these would only be a missed opportunity.
You can thank me later for this one. Get those spuds on the smoker now!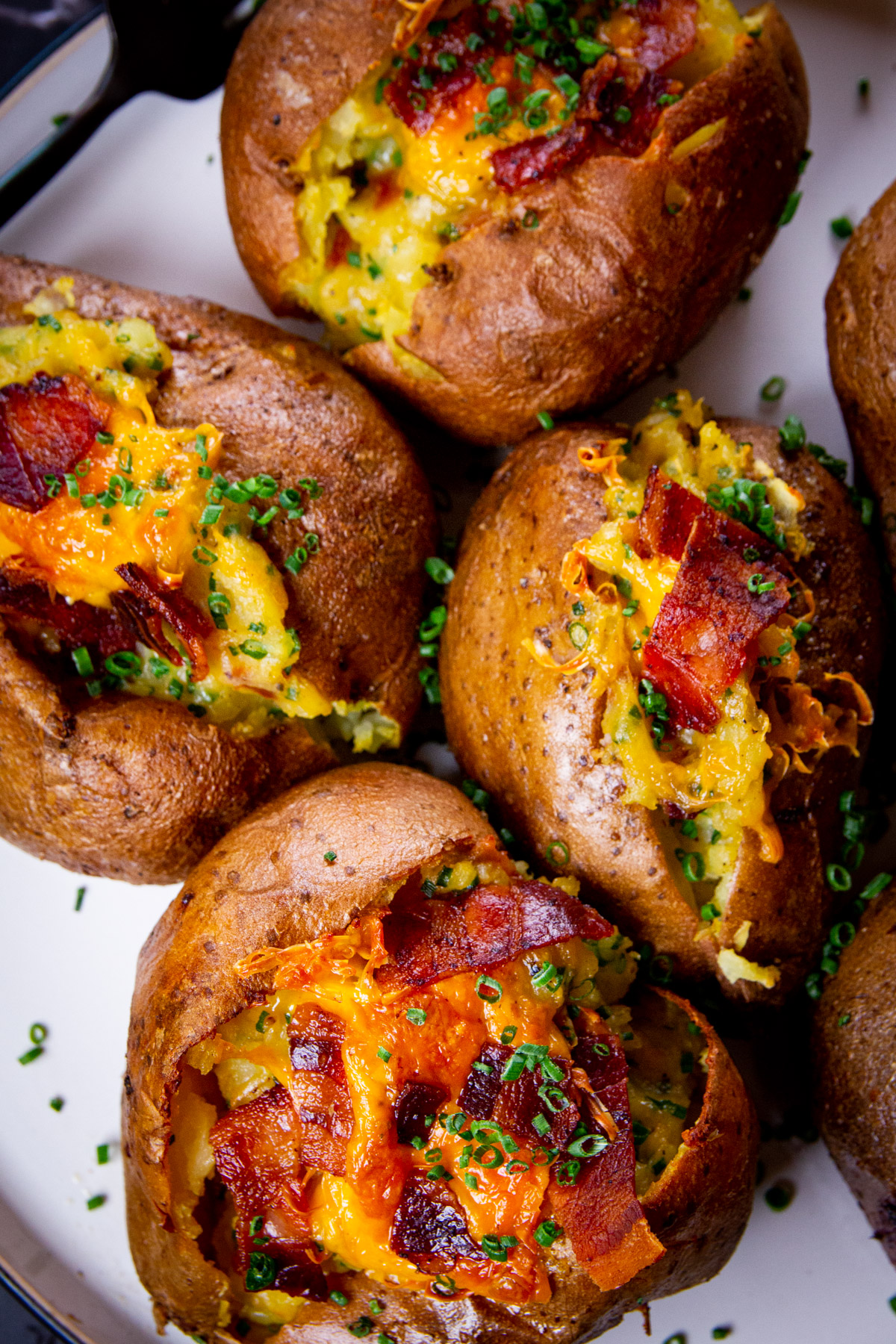 The Secret to the Best Smoked Baked Potatoes? Twice Bake Em'!
Basically, anything I put on my Traeger becomes extra magical and these smoked baked potatoes are no exception.
Now you could easily just smoke these potatoes, add a little butter, salt,and pepper and call it day.
Nothing wrong with that.
But if you're willing to go the extra mile for something wildly better, then a twice-baked potato is your calling.
And for those of you that already know the legend of the twice-baked potato, imagine a smoked twice-baked potato.
Mmhm. Yep.
They're even better than you imagined.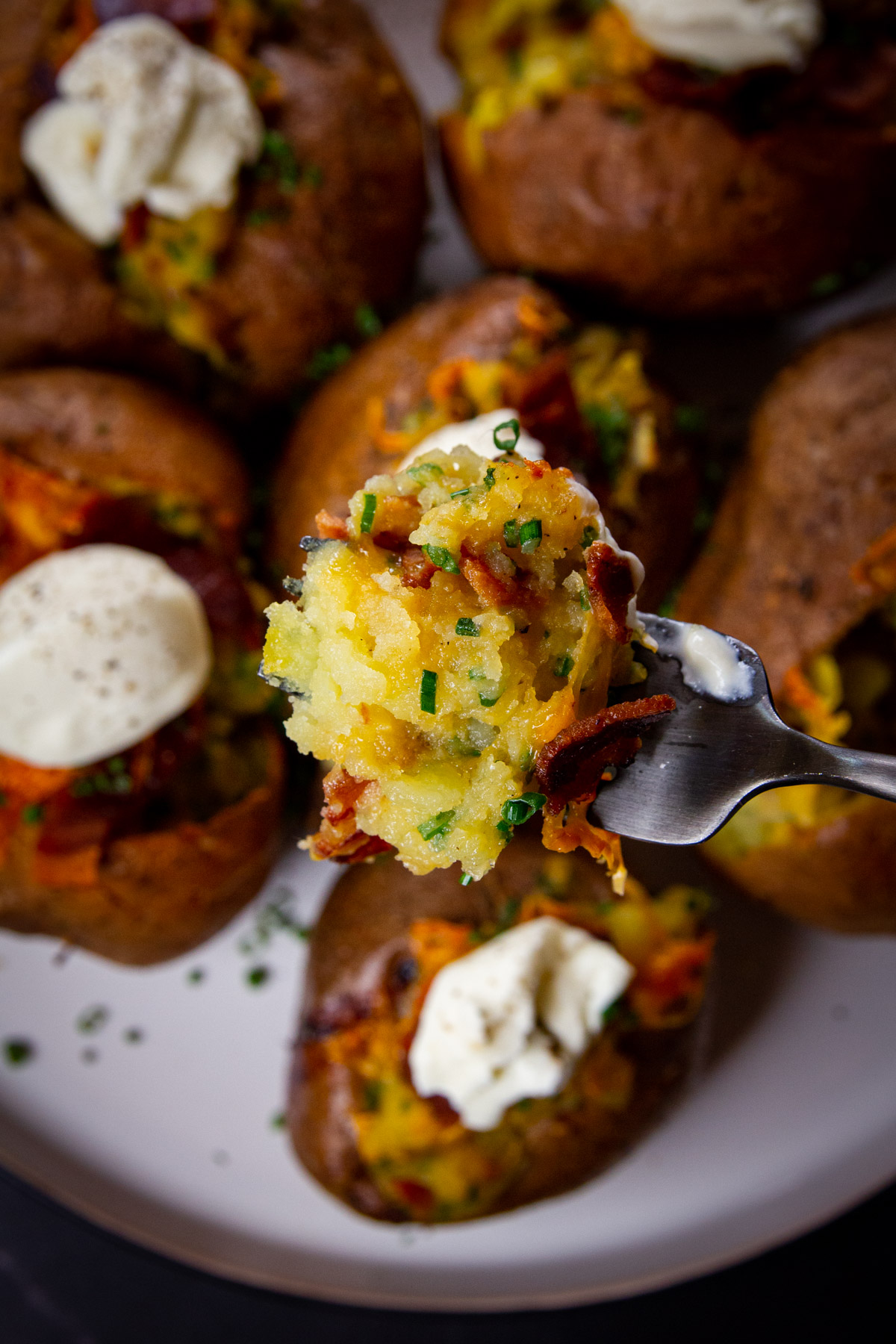 What You'll Need for these Epic Smoked Baked Potatoes
Let's talk ingredients before we set on our smoking adventure:
Potatoes: First off, you're going to want to choose a floury potato instead of a waxy potato. Waxy potatoes don't make very good baked potatoes because the texture is too firm [1]. Ideal potatoes would be Russets, Maris Pipers, King Edwards, Yukon golds or Jersey Royals.
Vegetable Oil: The oil has two purposes here. To help crisp up the skins and to help the salt stick. You don't need a lot, just a little oil will go a long way.
Butter: Potato's best friend is butter.
Creme fraiche: This is optional, but a little added right before serving is like the icing on the cake. You can also use sour cream too.
Bacon: Nice, crispy bacon…or better yet – this homemade maple bacon!
Chives: A classic topping for baked potatoes that adds a soft onion flavour.
Cheddar Cheese: Sharp cheddar, white cheddar or old cheddar are all fine by me! You could use just about any cheese here too. Gouda, Emmenthal, gruyere and even this smoked gouda are all good choices.
Tabasco Sauce: Optional, but a few dashes go a long way. It's pure umami.
Baked Potato Toppings – Honorary Mentions
These ingredients didn't make it into my potatoes this time around but are still respectable toppings.
Here are a few more topping ideas: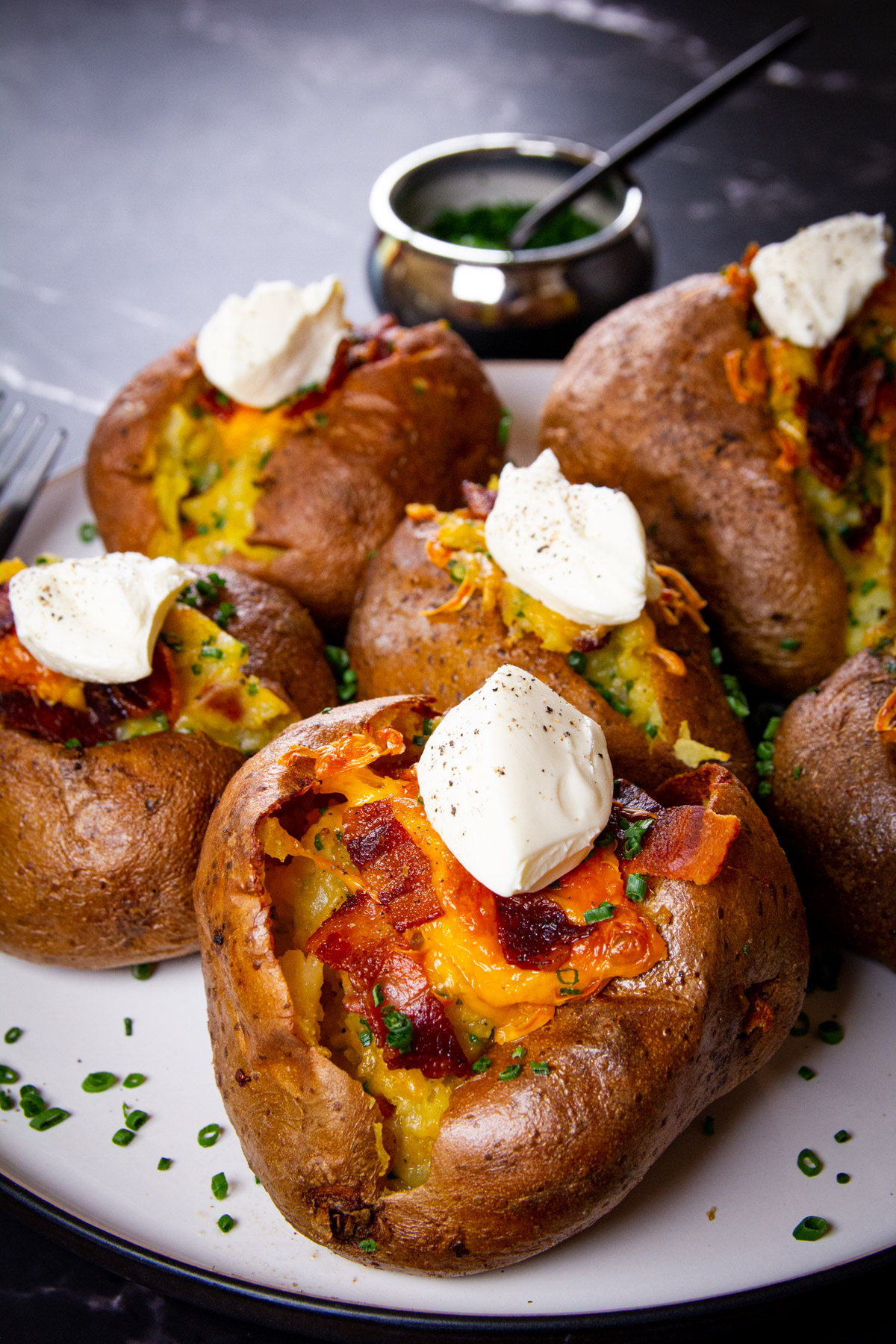 How to Bake a Potato in a Smoker
Smoking potatoes is easy and you don't even need aluminum foil!
Here's a quick summary on how to make these smoked baked potatoes:
Set your smoker to 225°F/107°C
Wash the potatoes and poke them with a few holes.
Rub the spuds with a little oil, salt and pepper.
Smoke for 3 hours or until soft when poked with a knife.
When they're ready, cut them open slightly to let them cool off a bit.
Use a fork to fluff them up.
Scoop out the flesh and mix it in a bowl with all the other ingredients (except the sour cream).
Re-stuff the potatoes.
Blast em' in the Traeger on the max setting for 10 minutes or throw them under your oven's broiler for 5 minutes to crisp up the skins.
Smoked Baked Potato Cooking Times
The cooking time of these smoked potatoes will vary greatly.
To play it save, plan for 3 hours of smoking at 225°F/107°C but check after 2 hours as smaller potatoes may be finished already.
You can also do these potatoes at a higher temp of 300°F/148°C. Aim for 2 hours of smoking but check them after 1+1/2 hours in case they're ready sooner . They're quite flexible on the cooking temperature and I would adjust the temperature based on whatever meat you're also smoking.
For example, if you're also smoking chicken thighs at 300°F/148°C, then smoke the potatoes at the same temperature. No need to lower it.
After all, it's not rocket science it's potato science. When the potatoes are soft, they're done and you can play with the temperature to match your other BBQ food.
Save Those Skins!
Did you know you can also save the potato skins for a later? Late night snack anyone?
As long as they're still somewhat together, the skins can be roasted again in the oven until crispy and topped with your favourite toppings.
You can also deep-fry them until they're crispy all over.
Think of them like nachos. Little vehicles for delicious ingredients like bacon, chives, cheddar, olives, sour cream and pickled peppers. Mmmmm!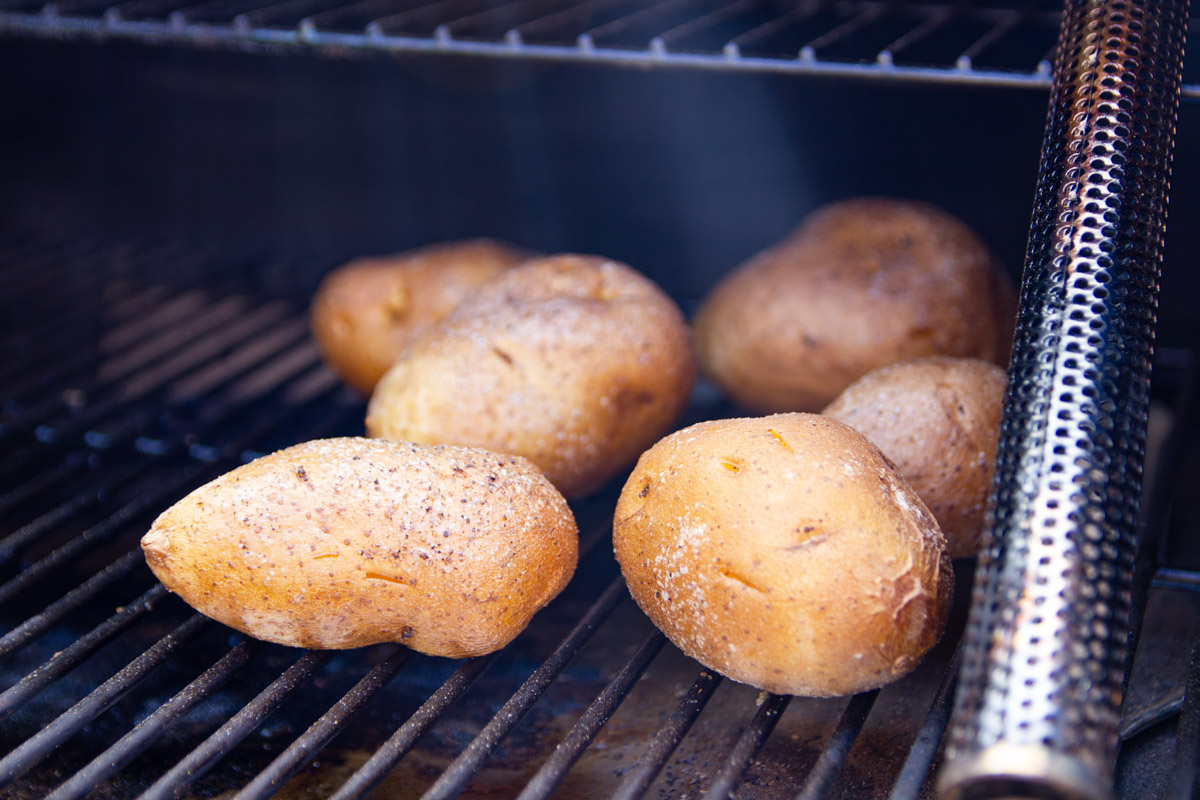 Try It With These Other Smoker Recipes
These potatoes are even better with these other smoker recipes.
As mentioned above, you can adjust the temperature accordingly to match the temperature of your other smoker recipe.
Here are some more smoker ideas:
Smoked Baked Potato FAQ
Can you eat the potato skins?
Yes. Cooked potato skins are delicious as long as they're cleaned and cooked. Raw potato skins cannot be eaten as they're slightly poisonous. If you plan to eat the skins, brushing the exterior of excess dirt before cooking is a good idea for obvious reasons!
Why use oil on baked potatoes?
A little neutral oil helps to crispen up the skins of the potatoes. It also helps the salt to stick to the skins.
How long do you smoke potatoes at 225°F?
This will really depend on the size of your potatoes, but I'd plan for about 3 hours of smoking time. Check after 2 hours, as some smaller potatoes may be done sooner.
How long do you smoke potatoes at 300°F
2 hours is perfect for small-medium sized potatoes. Larger ones may take even longer.
The Best Traeger Smoked Baked Potatoes – Twice Baked Potatoes
My ultimate recipe for smoked baked potatoes. Smoked until fluffy and twice baked to perfection. It just doesn't get any better than this!
Ingredients
6-8

medium

russet potatoes

or another floury potato

1

tbsp

vegetable oil

½

tbsp

salt

½

tsp

black pepper
For the Toppings (All Optional)
6-8

strips

bacon

cooked crispy

1

bunch

chives

finely chopped

3

tbsp

butter

10

dashes

Tabasco sauce

1

cup

grated cheddar cheese

3

tbsp

creme fraiche or sour cream

salt and pepper to taste
Instructions
Preheat smoker to 225°F/107°C.

Wash and scrub the potatoes of any dirt. Pat dry with a towel.

Poke a few holes in each potato with a knife. Brush the potatoes with a little vegetable oil and sprinkle with salt and pepper.

Place the potatoes directly on the smoker and smoke for 3 hours.

*Check after 2 hours as some smaller potatoes may be finished by then.

The potatoes are done when they are completely soft when poked with a knife or reach an internal temperature of 205-210°F/96°C-98°C.

Remove the potatoes from Traeger and cut them open vertically. (Careful they're very hot!)

Allow them to cool slightly on the tray.

Once they're cool enough to handle, run a fork horizontally along the flesh to fluff them up.

Remove the flesh from the potatoes and place it in a mixing bowl. Add all of your favourite toppings (except the sour cream or creme fraiche).

Mix gently and taste it. Add more salt if desired.

Re-stuff the potatoes with the seasoned filling.

Finally, finish the potatoes in the Traeger at 500°F/260°C for 10 minutes or for 5 minutes using the broil setting on your oven.

Top with sour cream or creme fraiche and enjoy!
Notes
Poking holes in the potatoes before smoking prevents them from exploding and making a mess of your smoker. 
Crispy Traeger Wings – The BEST Smoked Chicken Wings
You've got everything in these Traeger wings. Smokey, juicy, flavourful smoked wings with a gorgeous crispy exterior. What else do you want?!
Check out this recipe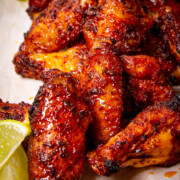 Legendary Smoked Chicken Thighs
Ultra tasty bite-through smoked chicken thighs made entirely on a weber grill with a delicious smoky aroma you won't find with regular grilled chicken.
Check out this recipe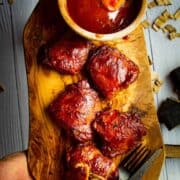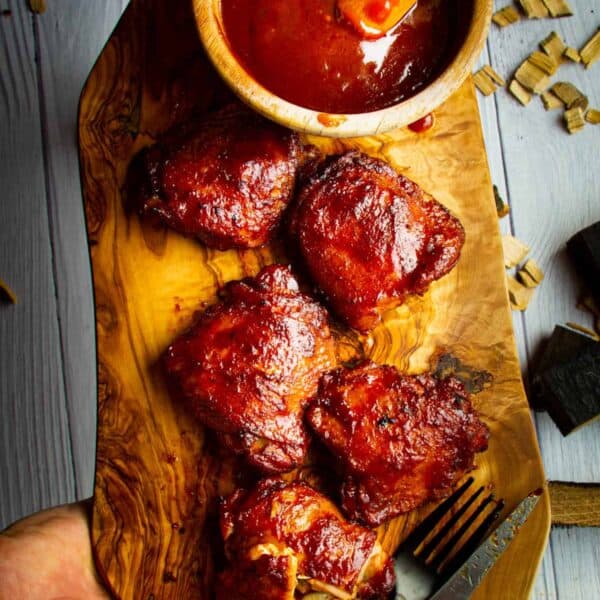 The Best Smoked Mac and Cheese
After many tweaks and trials, I have found the best smoked mac and cheese recipe. Throw this on the smoker while you wait for your smoked meats to rest.
Check out this recipe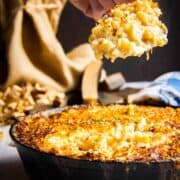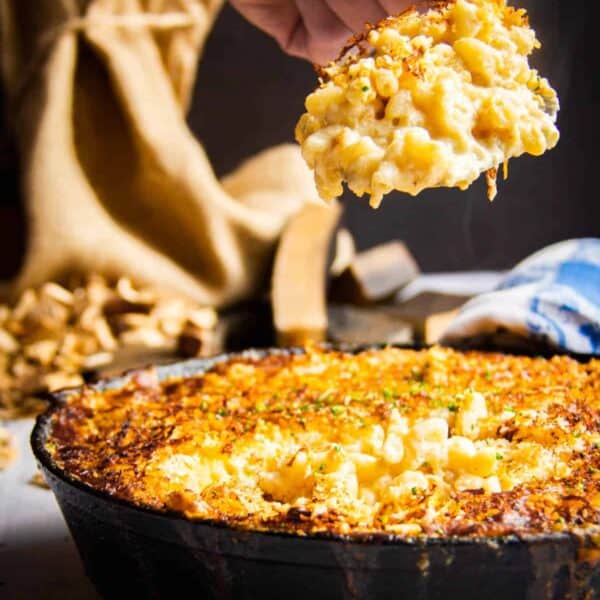 Epic Traeger Smoked Burgers
These Traeger smoked burgers are EPIC. With extra juicy interiors and a bold smokey flavour, you will make some new friends with this one.
Check out this recipe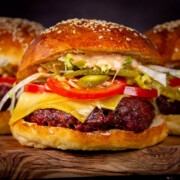 Maple Glazed and Hot Smoked Traeger Salmon
This maple glazed Traeger salmon is one of the finest recipes you can make with your smoker. It won't take too long to make and the flavour of the sweet, smokey salmon is incredible.
Check out this recipe