I'll admit… when I first heard about the Korean corn dog I didn't imagine it would be much better than the original.
They also didn't look like something you could easily make at home (I saw even more crazy versions of these corn dogs wrapped in noodles and cooked potatoes).
But as we've recently acquired a new deep fryer, we've been dunking *pretty-much-everything* in hot oil these days and the Korean corn dog eventually made the fry-list.
And to our surprise, these are no ordinary corn dogs. No, no…
The outside is coated with Japanese panko breadcrumbs and sprinkled with sugar for an ULTRA crispy crunch.
It just makes you want to smile when you bite into them.
Oh, and did I mention that they're stuffed with CHEESE?!
That's a corn dog game-changer for me.
Speaking of game-changers, I bet these crispy dogs will make one EPIC Super Bowl snack this year…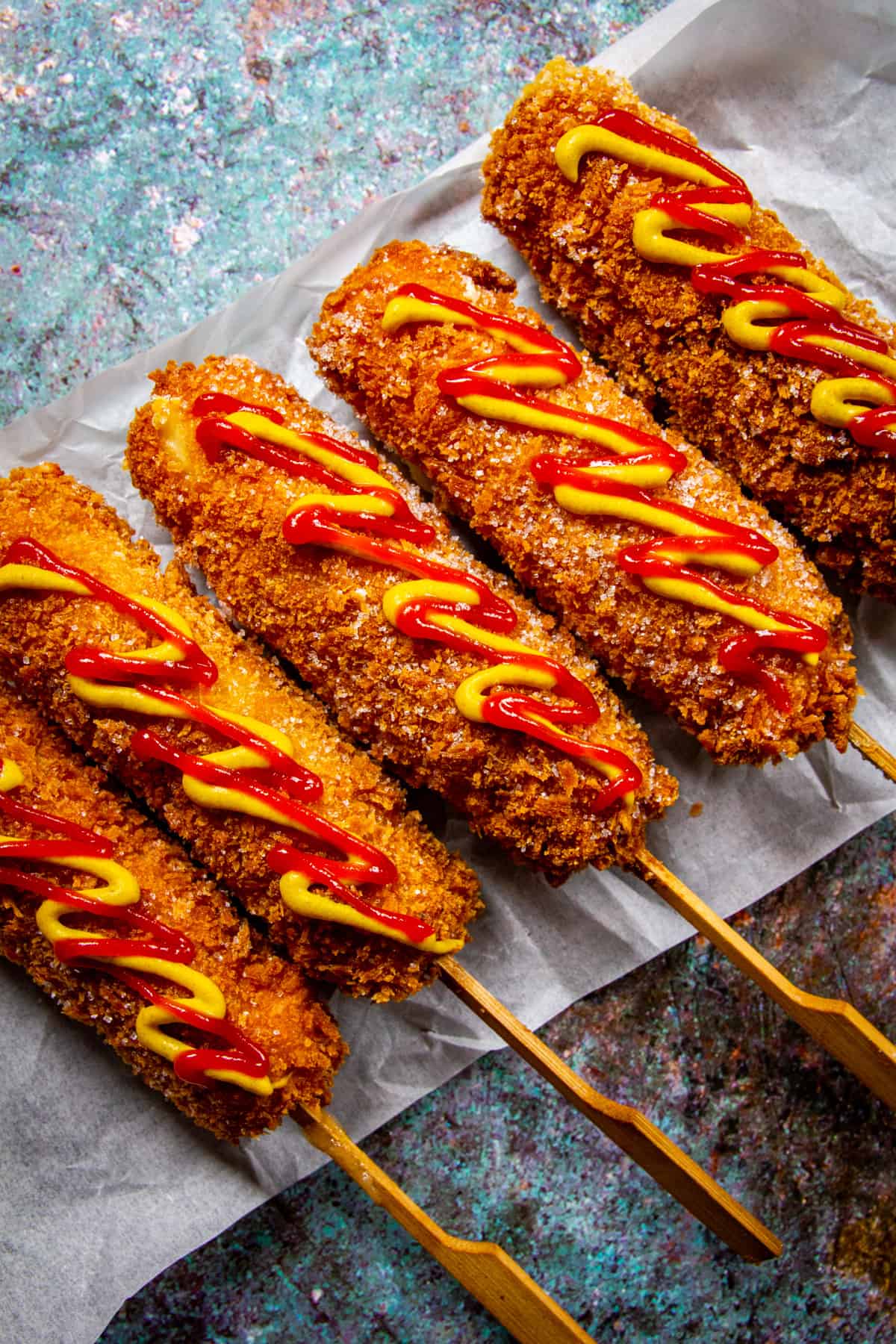 What is a Korean Corn Dog Exactly?
A Korean corn dog is similar to an American corn dog but it doesn't contain cornmeal (like the American classic).
The true inventor of this Korean snack is unknown but it's generally agreed to have been made popular by the Myungrang Hot Dog company from Busan, South Korea.
The Korean variety is usually stuffed with cheese for an EPIC cheese-pulling bite and the panko-crusted batter is sprinkled with sugar for extra texture.
I chose a plain panko crust for my corn dogs but there are so many more possibilities for the crust including; crunchy raw noodles, cooked potato cubes, rice flour, seaweed and potato starch.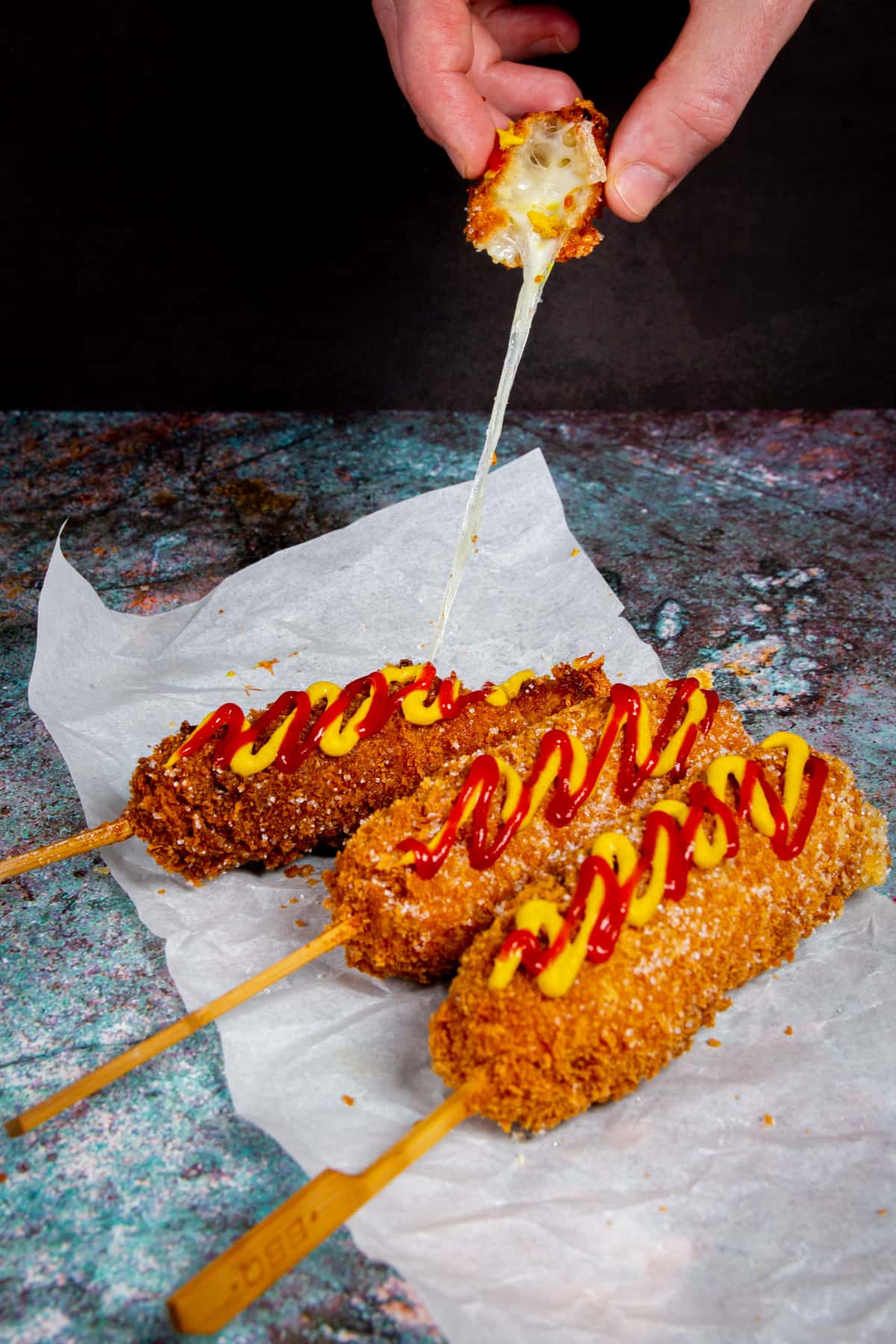 What's the Difference Between a Korean Corn Dog and an American Corn Dog?
The biggest difference between the two varieties is that Korean corn dogs use a sugar-dusted panko crust whereas American corn dogs don't.
American corn dogs also use actual cornmeal which gives them a heavier, distinct corn flavour whereas the Korean varieties usually don't contain corn at all.
So technically, calling these Korean "corn dogs" is incorrect. Nevertheless, that's not going to stop most people from yelling "CORN DOG!" at first sight of these.
Key Ingredients You'll Need to Make a Korean Corn Dog
I'm not saying this is the most authentic recipe, but this is how I made it easily at home:
All-Purpose Flour: Regular all-purpose flour seems to do the trick, although some recipes call for rice or potato flour in their batter. Because all-purpose flour varies in gluten strength from country to country, you'll likely have to tweak the batter slightly with more or less milk until you get the perfect, extra-thick consistency.
Sugar: A little sugar in the batter is always nice and means the batter will brown a little faster. There's also a sprinkling of sugar added after frying these which I thought was a little overkill at first but after tasting, it's totally necessary.
Baking Powder: Baking powder is nice because it helps the batter to rise instantly unlike a yeasted batter. Although a yeasted batter will provide more leavening power and flavour, a batter made with baking powder is more consistent and ready instantly.
Milk: 2% milk is preferred over whole milk because 2% will make a lighter batter which will rise better. For a dairy-free option, you can definitely replace the milk with oat, soy or almond milk (just make sure there isn't too much-added sugar in the milk replacer which means your batter may brown too much).
Panko: Panko is non-negotiable for the true Korean corn dog experience. These Japanese breadcrumbs are made from bread specifically designed to make deep-fried foods extra crispy. It's just not the same as regular breadcrumbs!
Dry Mozzarella: Dry mozzarella is key because it's easier to fry and won't fall off the sticks. I actually used fresh mozzarella for these (because finding dry mozzarella here in the Netherlands is virtually impossible!) but I did have a few cheese casualties that fell off the sticks after battering.
I also experimented with other types of cheese including gouda and gruyere which I don't really recommend. Cheese strings probably work really well, or any other melty-stringy cheese.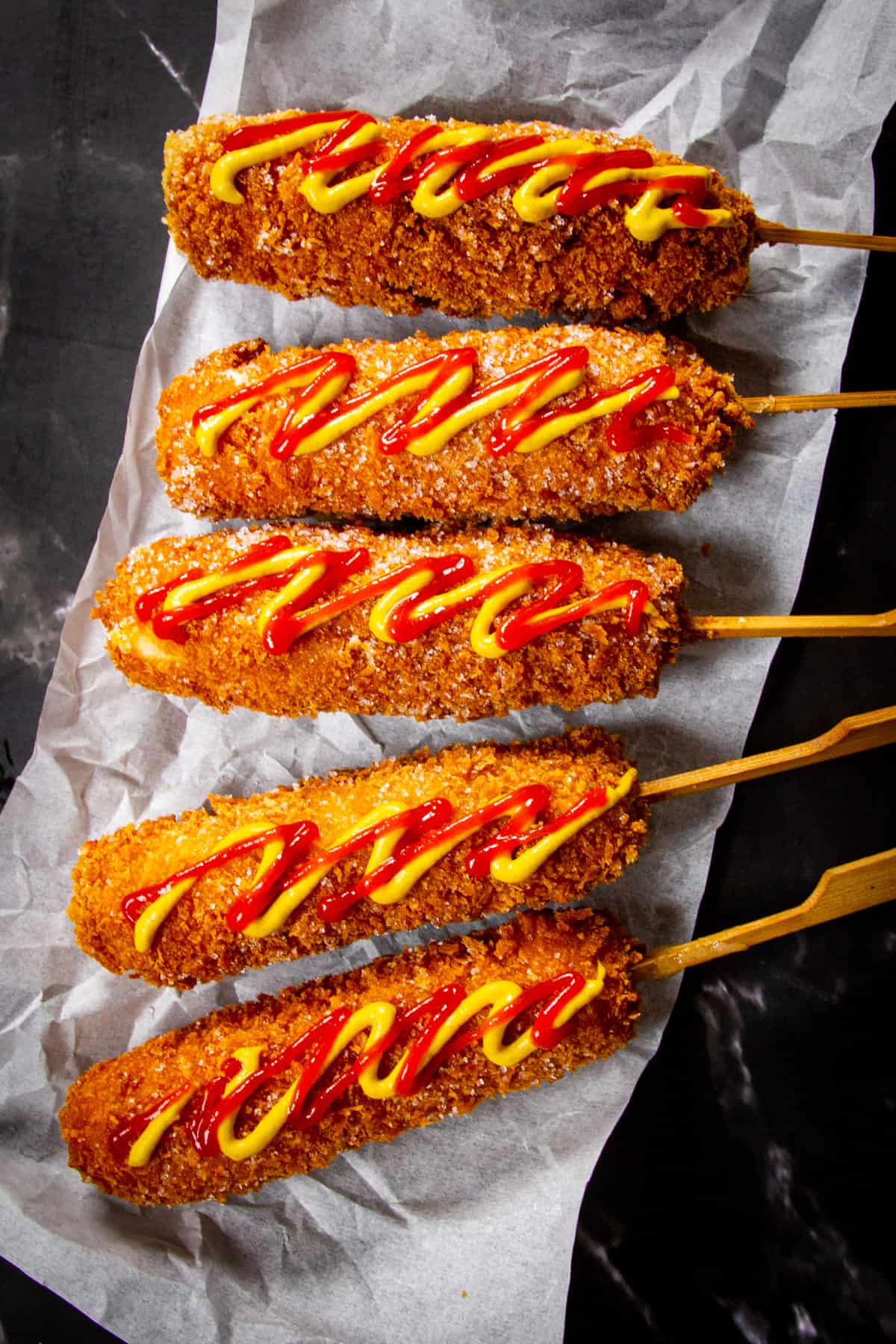 How to Make a Korean Corn Dog?
Here is a quick breakdown of how to make this easily at home:
Blend all the ingredients together for the batter (except the panko) until smooth.
Place the batter in a tall cup or glass that will make dipping the corn dogs a lot easier.
Cut hotdogs in half, and cut the cheese in roughly the same size.
Skewer them up by putting the hotdogs first, then the cheese.
Dip them in the batter. Use a twirling motion to help the batter stick to the skewers.
Immediately roll the batter-dipped dogs in the panko. Press it gently with your hands to help the batter stick and cover any wet spots with more panko.
Fry the corn dogs at 350°F/180°C for about 3-5 minutes or until cheese melts on the inside and the outside is deep golden brown.
Drain the corn dogs on a paper towel and dust with a little salt and a little sugar.
Drizzle with your favourite topping – a classic ketchup and mustard drizzle is always a good idea.
Enjoy right away!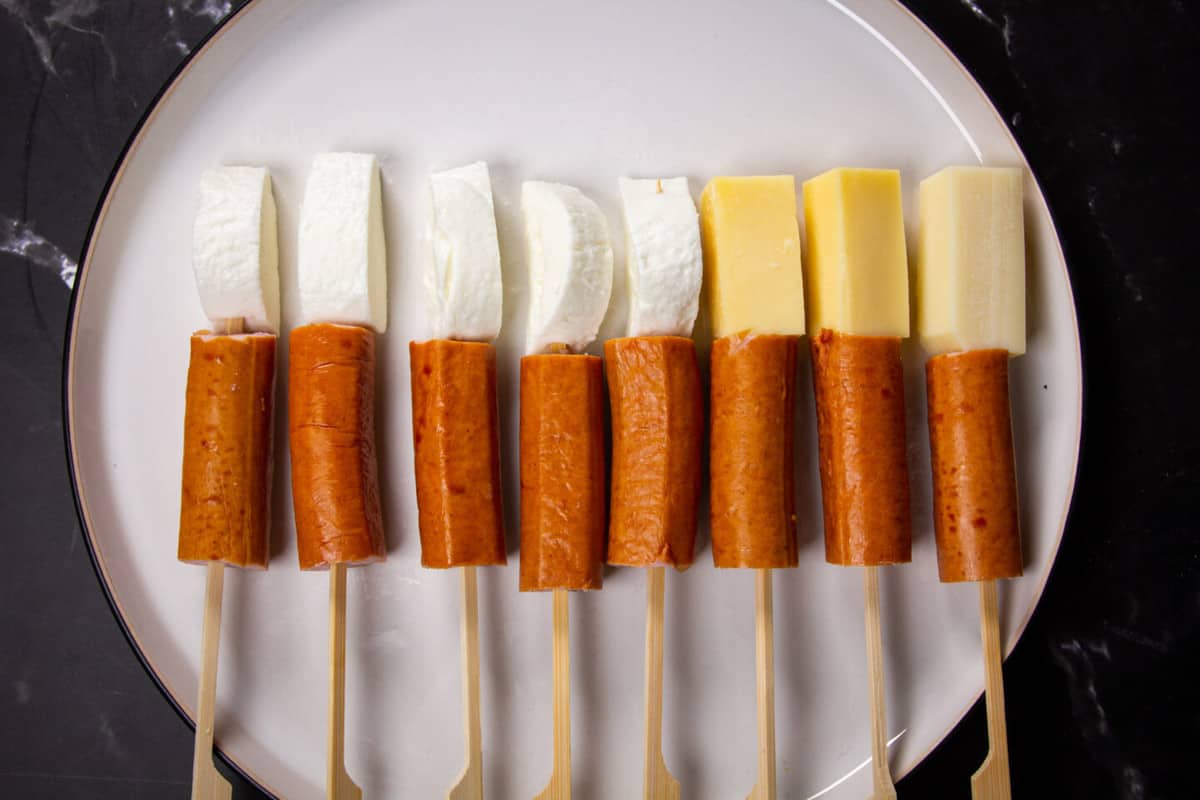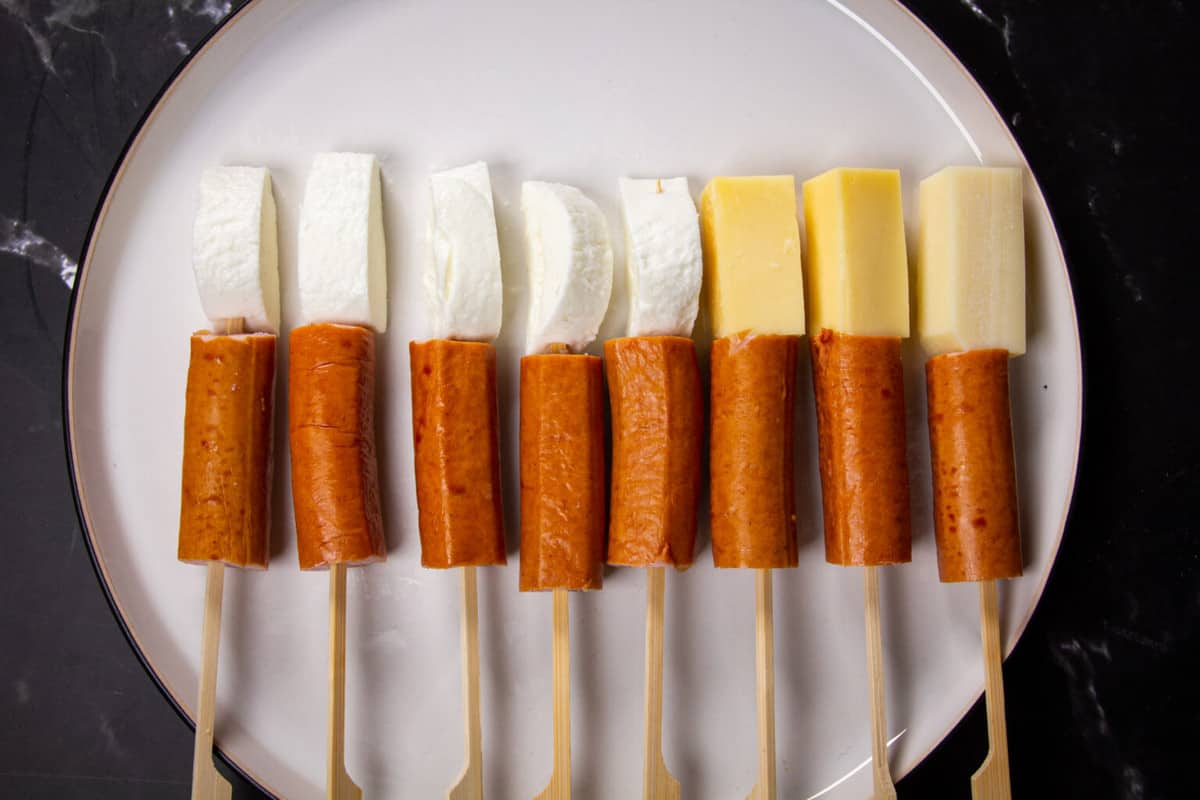 Other Filling Ideas
The possibilities are endless, but here are a few more ideas to make it your own:
Use smoked sausage instead of hotdogs.
Try a cheese-stuffed sausage.
Skip the hotdogs completely and go cheese-all-the-way for a vegetarian option.
Try vegan or vegetarian hotdogs.
Roll the corn dogs in cubed cooked potato or spicy sweet potato.
Roll them in dried noodles for an intense crunch.
Experiment with other spices such as smoked paprika, togarashi, cayenne or chili powder for a spicier corn dog.
Try a potato chip crust (Doritos maybe?)
Gettin' Crazy with the CheezeWiz – Condiment Ideas
Here are a few ideas for more interesting condiment toppings:
Do I Really Need a Deep Fryer?
Although you don't need an actual deep fryer to make these, I always recommend them because they're easier to use and A LOT safer.
A deep-fryer will constantly monitor the oil temperature for you which means you won't have to constantly babysit a pot of hot oil over the stove with a thermometer.
And if you're not careful, a pot of hot oil can easily spill or burst into flames on the stove.
I've been cooking long enough to see both happen firsthand and trust me when I say that you really don't want that.
I know some top Food Science blogs and even this deep-fryer review from the well-respected Wirecutter claim that a pot of oil on the stove works just as well as a deep fryer – but to me, it's just not worth the risk – even more so if you've got kids running around.
My advice: get the deep-fryer, fry safely and stress-free.
Not to mention, we picked up this deep-fryer from Tefal with an automatic oil filtration system that filters, cools and stores the oil all automatically.
We absolutely love it.
Tips to Nail this Recipe
Keep all ingredients as cold as possible before dipping. This prevents the food from falling off while dipping.
Use a twirling motion while dipping the corn dogs into the batter to create an even shape.
Use dry mozzarella or another melty cheese without too much water otherwise, it may not stick to the skewer very well.
Fry the corn dogs immediately after battering otherwise the batter may not hold.
Can I Just Buy these Korean Corn Dogs Somewhere Else Instead?
Definitely. Most Asian supermarkets should carry them, just check the frozen section.
You can also go to the source, and buy directly from a Myungrang Hot Dog franchise.
What to Serve with Korean Corn Dogs?
These corn dogs are the ideal snack food and perfect for Friday night treats or a pre-game Super Bowl snack.
Here are a few other snacks that would work with these:
Korean Corn Dog FAQ
What about a Batter with Yeast?
A yeasted corn dog batter will have more flavour and more leavening power but using baking powder is just faster and simpler.
Can You Make this in an AirFryer?
I haven't tried so I can't recommend it.

Usually, battered foods won't work in an Airfryer but you may be able to pull it off if you have a tight coating and use a layer of aluminum foil in your air fryer.
Can I Save the Leftovers?
Once fried, these corn dogs need to be eaten right away, especially if you sprinkled them with sugar.

Although they won't be nearly as good the next day, you could try heating them up in an oven at 350°F/180°C, wrapped loosely in aluminum foil for about 10-15 minutes.
The Ultra Crispy and Crunchy Korean Corn Dog
The Korean Corn Dog is like an American corn dog on steroids. The ultra crispy, sugary panko coating and melty mozzarella cheese will surely put a smile on your face.
Equipment
1 Large glass jar

Fryer oil

squeeze bottle (optional)
Ingredients
4

pc

hotdogs (cooked)

cut in half

8

chunks

dry mozzarella

cut into pieces the same size as the hot dogs
For the Batter
200

g

all-purpose flour

(about 1+¼ cup)

30

g

sugar

(2 tbsp)

7

g

baking powder

(2 tsp)

230

g

2% milk

(about ¾ cup)

1

pc

egg

4

g

salt

(1+½ tsp salt)

200

g

panko

buy extra to be safe
Garnish
1

tsp

white sugar

ketchup (optional)

mustard (optional)
Instructions
Set your fryer temperature to 350°F/180°C.

Blend everything together for the batter (minus the panko) using a hand blender (see warning in recipes notes) until a very thick batter is formed.

Pour the batter in a large glass, cover with plastic wrap and store in the fridge until you're ready to dip.

Cut the hot dogs in half and carefully slide them onto the wooden skewers, leaving space at the top for the cheese.

Cut the cheese into large blocks and slide them on top of the hotdogs.

Keep the skewers cold in the fridge until you're ready to fry.

Once your oil is hot, it's time to batter the corn dogs.

Dip the corn dogs into the batter and make sure the hot dogs are completely covered in the batter. Use a twirling motion to pull them out and help the batter to stick.

Immediately dip the battered corn dogs into the panko filling. Roll them continuously until they're completely covered.

Use your hands to push extra panko onto the corn dogs and cover any wet spots with more panko.

Carefully lower one side of the corn dog into the oil and fry for 5 seconds before dropping the whole thing in the fryer.

This will prevent it from sticking to the bottom of the pot (or fryer basket).

Fry for 3-5 minutes or until the outside is a deep golden brown.

Once they're ready, remove them from the fryer and set on paper towels to remove the excess oil.

Dust the exterior with a little salt, and a heavy coating of sugar.

Add your favourite condiment such as ketchup, mustard or gochujang mayo and serve right away!

Enjoy!
Notes
If you're interested in finding out more about the authentic recipe from actual experts go here.
Be sure to coat the corn dogs well in the batter and panko. If they're not battered well you may end up with more holes. 
The batter should be pretty thick to coat the hotdogs but not too thick that the batter won't blend. If the batter won't blend, add very small increments of milk until it blends. 
*Warning!*
This recipe may break your hand blender! Because the batter is quite thick, it means your blender/hand blender will need to work extra hard to blend it properly. Don't blend too long to avoid overheating the motor and avoid cheap blenders with minimal power as they'll probably fail.
If you're worried, you can always mix the batter with a whisk instead.