These vegan chocolate truffles are an easy Valentine's day gift and you don't have to be a pastry chef to make them. Chocolate hazelnut is a classic (think Nutella), but there are tons of other delicious variations. I had some extra dates and pistachios lying around at work so I did some experimenting to see if I could make a dairy-free version. The results were better than expected.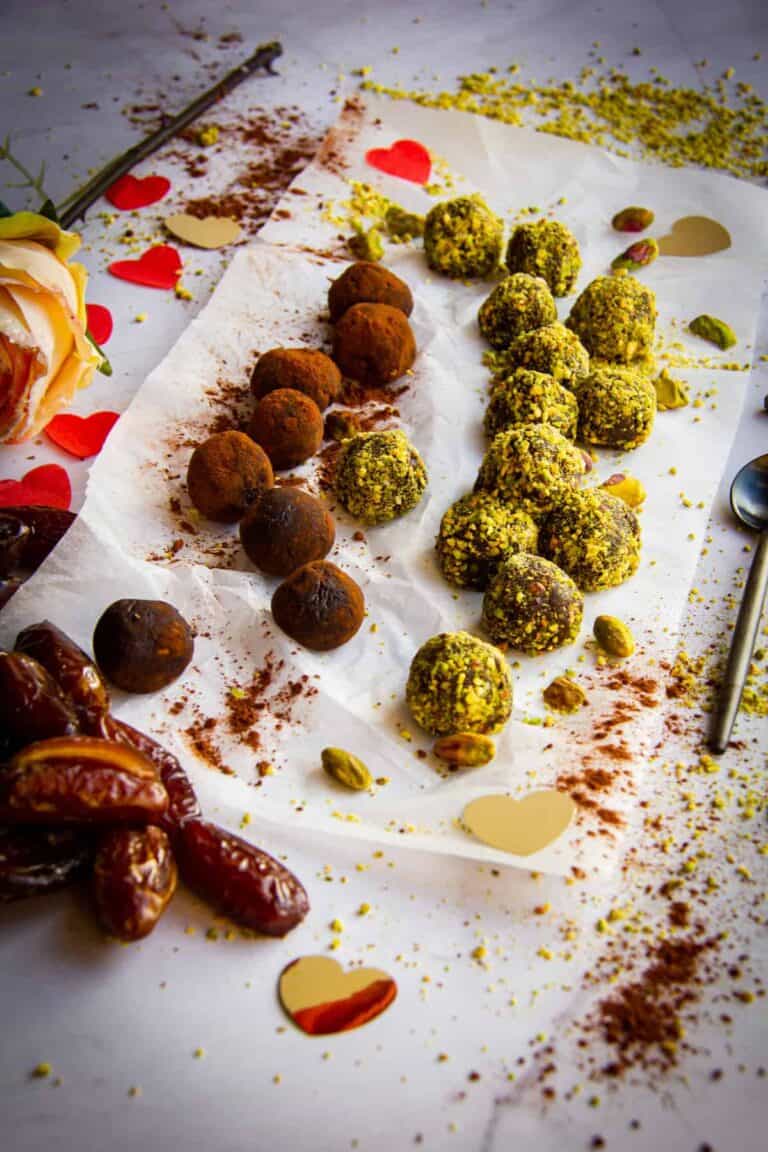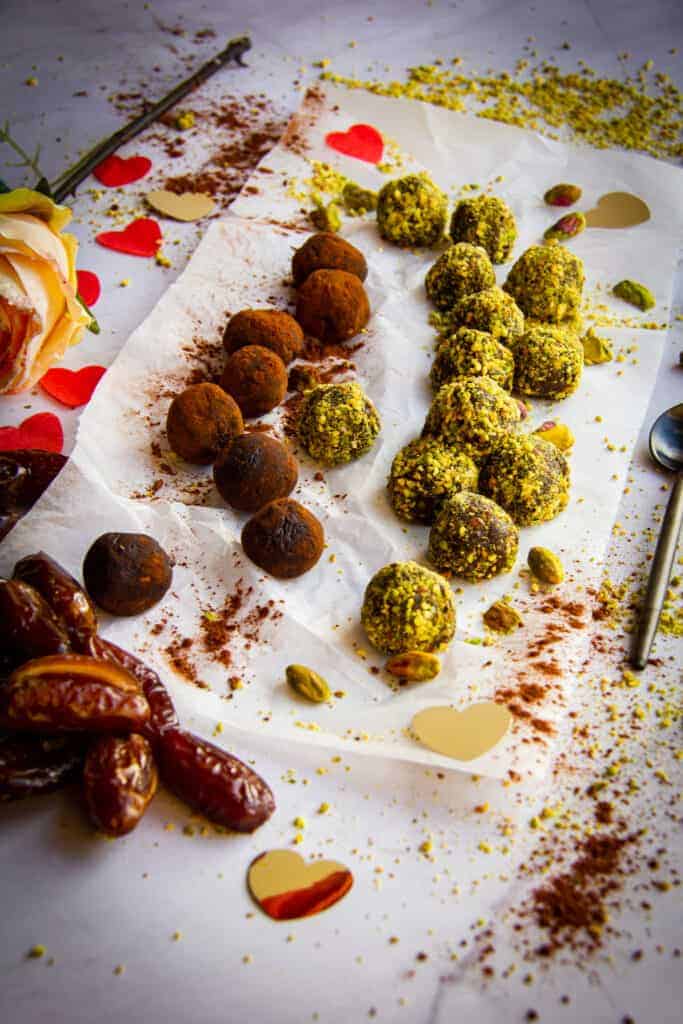 Why You Need to Try These
Probably the best thing about these is that they can be made pretty quickly, they're vegan and you don't have to temper chocolate. They're just 3 ingredients – pistachio paste, cocoa powder and puréed dates. The result is an intense pistachio flavour, a soft chocolate interior and a smooth texture from the dates.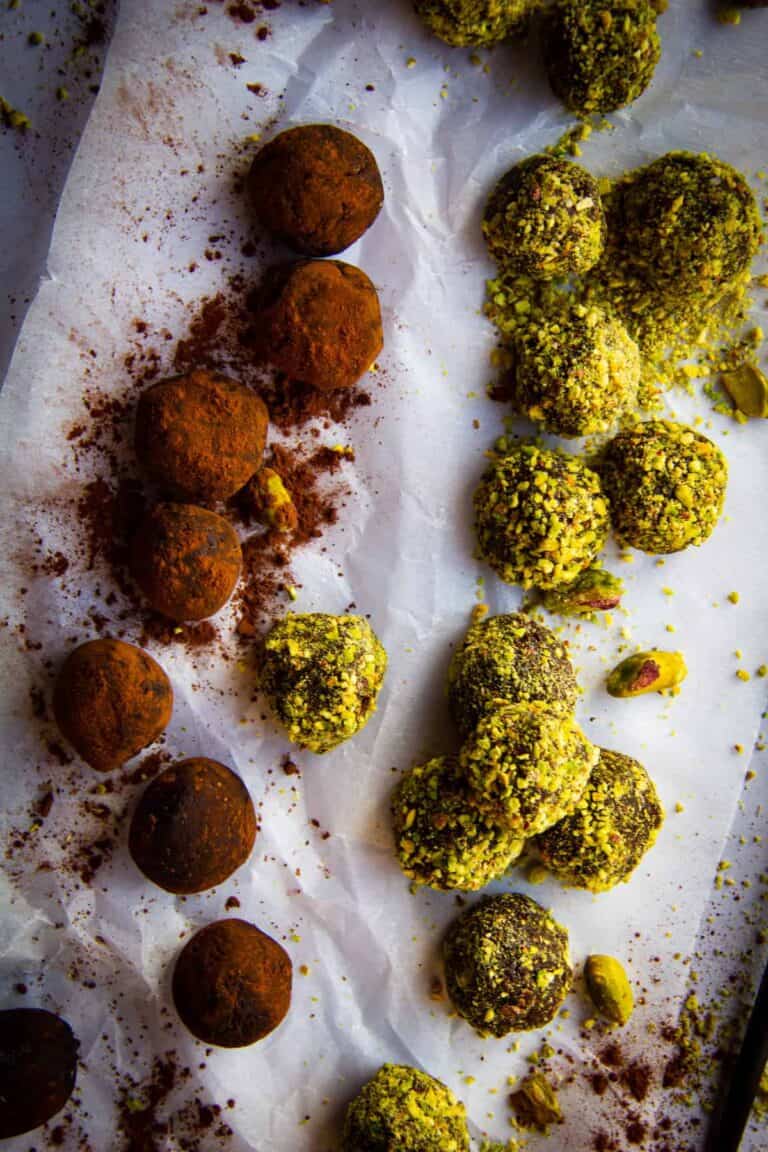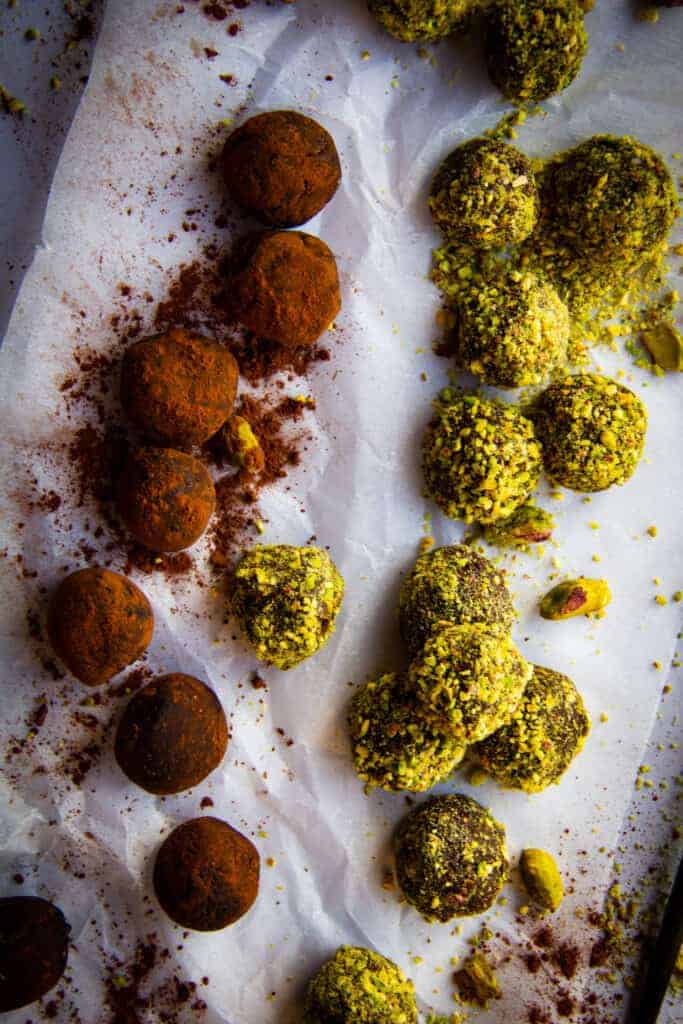 Can I Make These in Advance?
Yes! Store them in a sealed container in the fridge for up to one week.
Can I Use Different Garnishes?
You can certainly experiment with different flavours to garnish the chocolates. You could replace the pistachio with almost any other nut. Try these other nuts to make these chocolates your own:
Hazelnuts
Macadamia nuts
Almonds
Pecans
Walnuts
You can also try rolling them in chocolate shavings, cocoa powder or dip them in melted chocolate for something more similar to a ferrero rocher chocolate. If you do decide to dip them in chocolate you will most likely want to temper the chocolate to achieve a nice coating.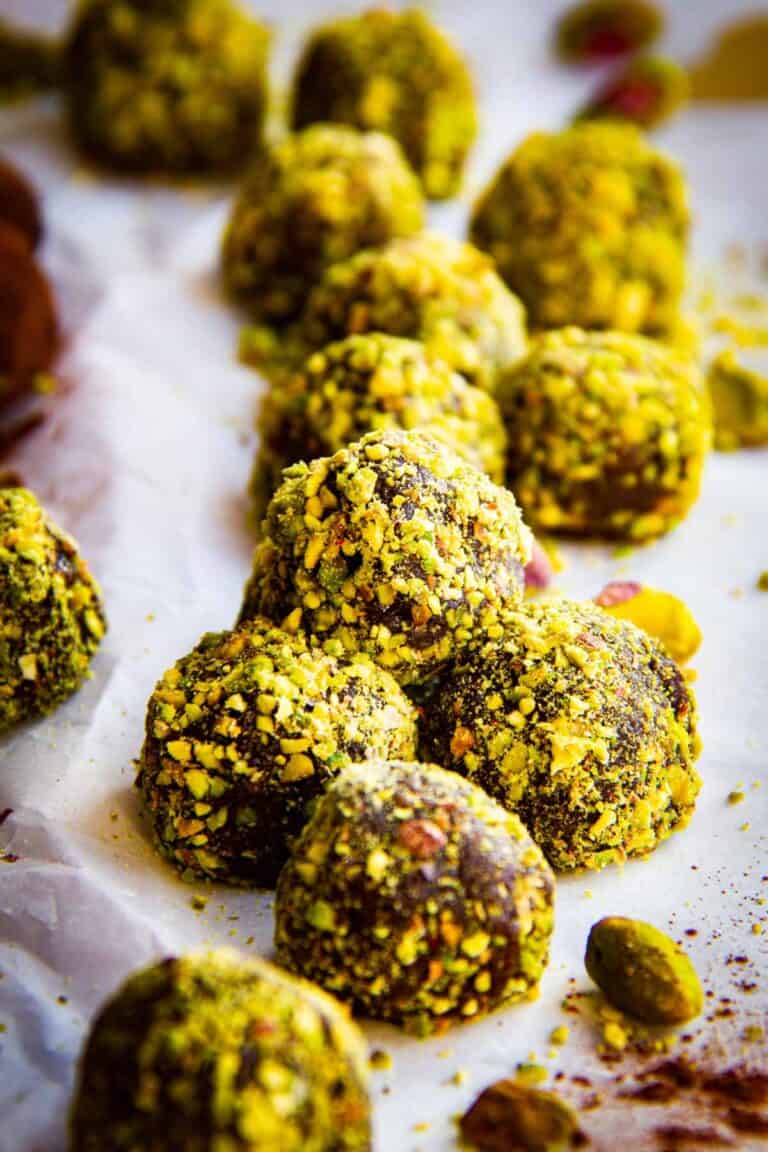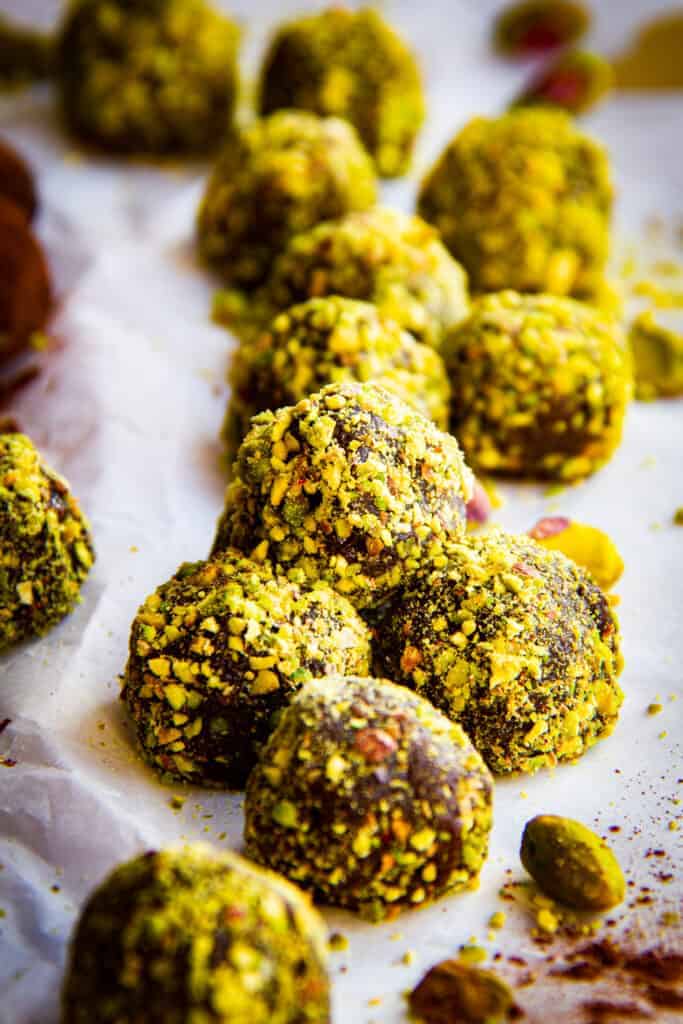 Can I Omit the Sugar?
I think 1 tbsp of brown sugar added to these truffles is the perfect amount of sweetness but you may not agree. Swap out the brown sugar for maple syrup, honey or agave or leave it out entirely as the dates are also pretty sweet.
What Tools Do I Need?
This recipe works really well in a food processor but it can also be made in a blender.
If using a blender be careful not to overwork the blender as the chocolate ganache can get quite thick. Blend the mixture briefly and on low speed so it doesn't overheat the blender.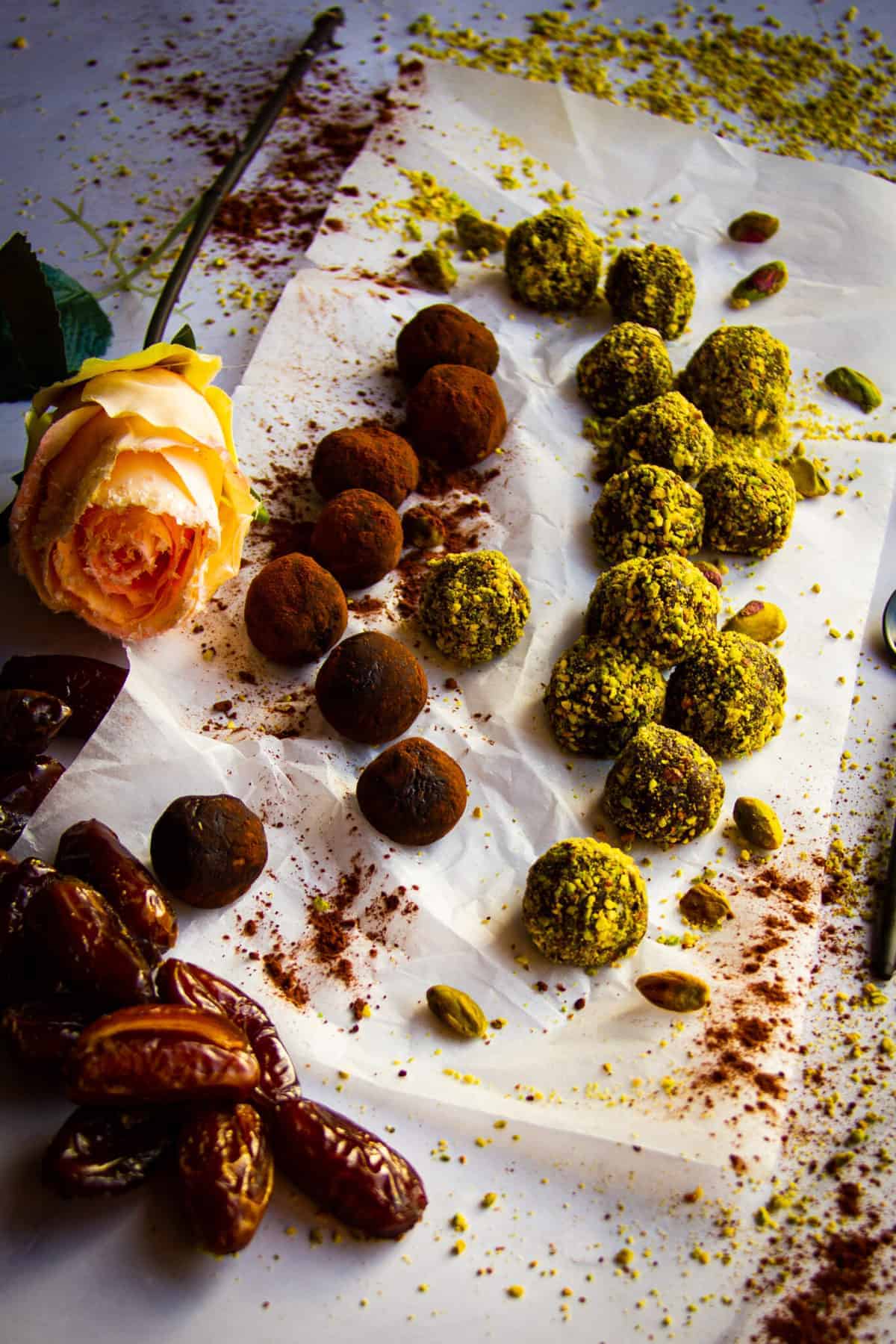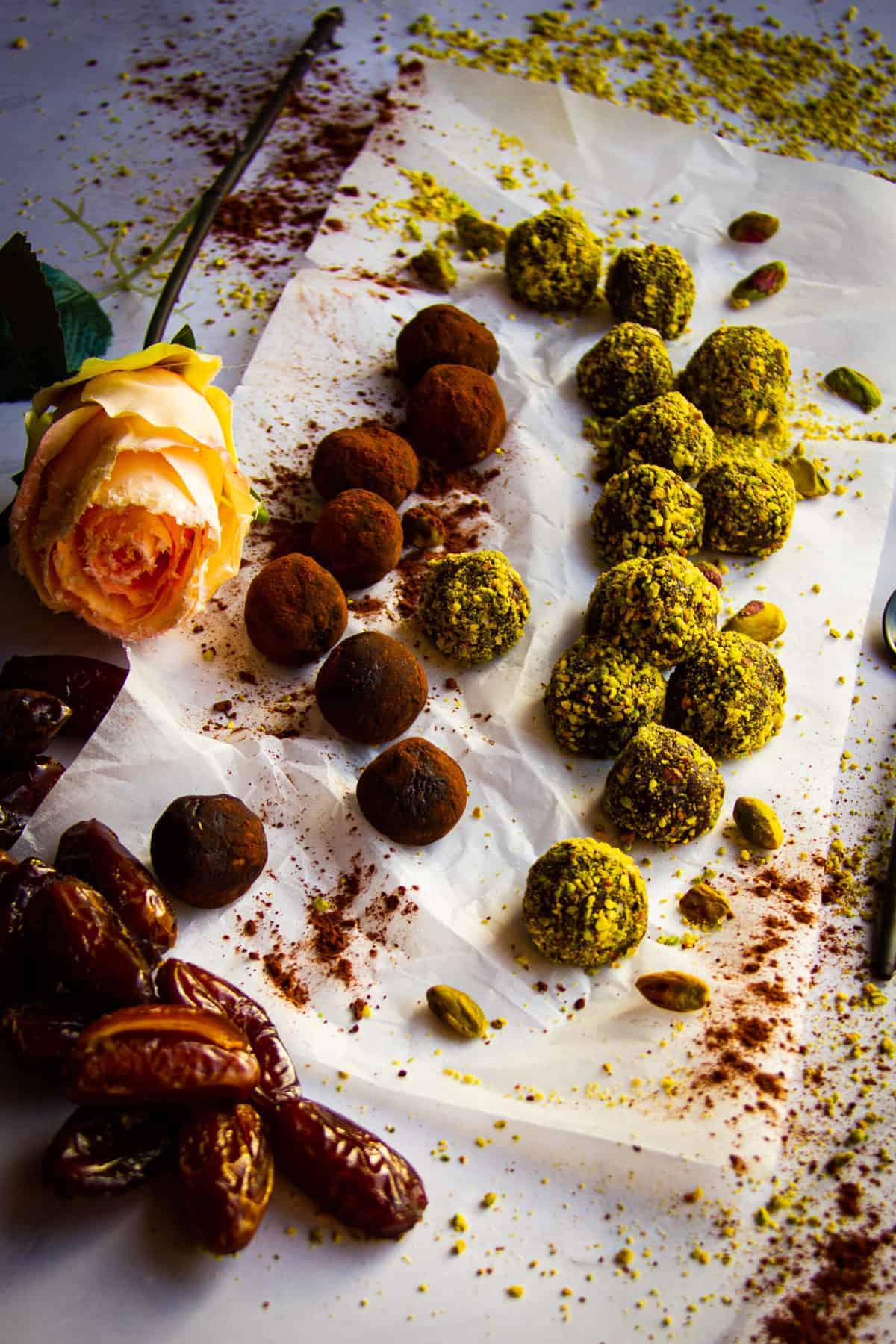 Ingredients
100

g

dates, pitted

150

g

pistachios, shelled

100g for the paste, 50g for garnish

4

tbsp

neutral oil

peanut oil or sunflower oil

10

g

cocoa powder (about 2 tbsp)

plus some for garnish

1

tbsp

brown sugar

optional
Instructions
Toast the pistachios in the oven for 4 minutes @ 190°C/375°F. Measure out 100g for the paste and 50g for the garnish later.

Boil the dates in water for about 5 minutes. Drain and discard the water.

Blend the 50g of pistachios in a food processor or high powered blender into small pieces and set aside for later.

Blend the rest of the pistachios (100g) with the 4 tbsp of oil for about 5 minutes or until a smooth paste is formed.

If using a blender, blend on low speed and use a spatula to scrape the sides down frequently.

Add the cocoa powder and brown sugar. Blend until mixed.

Add the boiled dates and blend on low until it comes together. Be careful not to overwork the blender as the mixture is very thick. Transfer to a sealed container and refrigerate for at least 20 minutes.

Roll the chocolates into little balls by rubbing them between the palms of your hands.

Roll the chocolates in the ground pistachios or cocoa powder. Store the chocolates in a sealed container in the fridge for up to one week.
This post contains Amazon affiliate links to products I recommend.
Chocolate Hazelnut Spread – Vegan Nutella
A quick and easy way to make a vegan nutella at home that is better than any store bought hazelnut spread. A delicious mix of toasted hazelnuts and high quality dark chocolate that you will want to put on everything.
Check out this recipe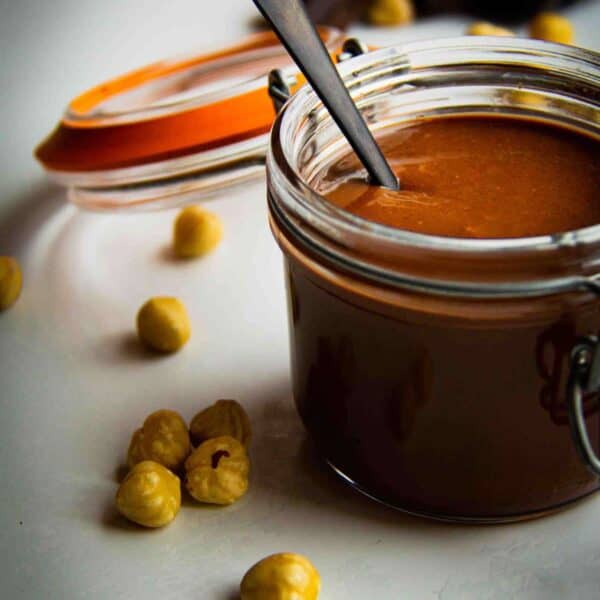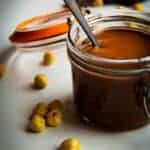 The Ultimate Chocolate Chip Cookies
This is my recipe for the ultimate chocolate chip cookies. Thick and chocolatey cookies that don't mess around.
Check out this recipe