This white peach puree is a delicious way to make the most of the summer's peach season.
It's glorious mixed into yogurt, drizzled over cake or even spread over some hot buttered toast in the morning.
And unlike my strawberry puree or rhubarb puree, my recipe uses a cool technique that yields an ultra-smooth puree.
The secret?
Roast them whole in their skins.
When you roast the peaches in their skins, you'll end up with brighter coloured puree that's also more intensely flavoured.
It's one of my favourite techniques for fruit purees that can also be used with other fruits such as pears, apples, lemons and oranges.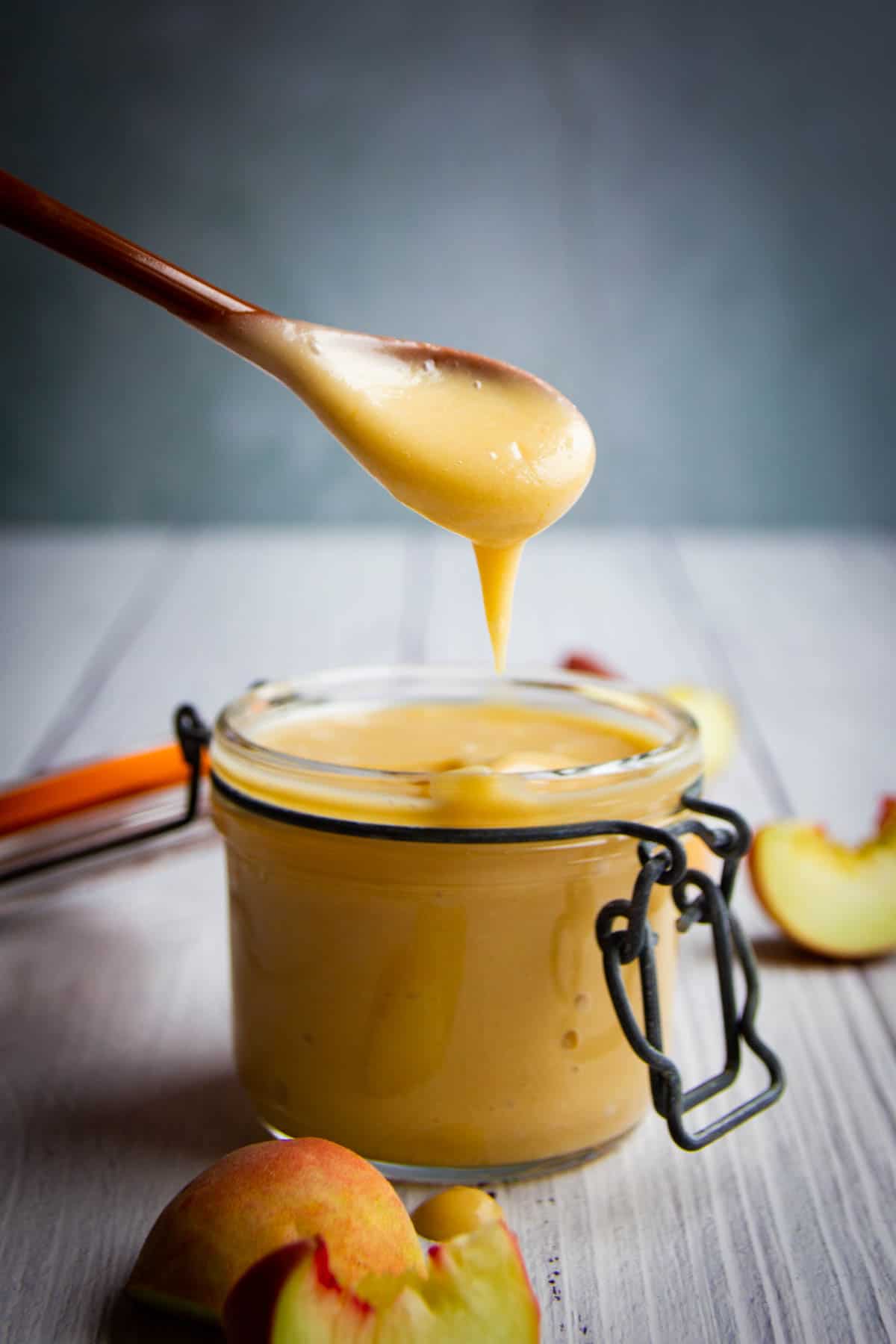 What's the Difference Between White Peaches, Donut Peaches, Clingstone and Freestone Peaches?
There are a bunch of different peach varieties to look out for but to be honest, you can use any peach you like for this recipe.
White peaches are generally less acidic and more firm-fleshed than regular yellow peaches. This makes them great on their own or for lighter desserts.
Clingstone peaches and freestone peaches can be both yellow or white but the pits are different. The pits in clingstone peaches (hence the name), stick to the fruit whereas freestone peaches don't.
This makes freestone peaches more ideal for cooked items like peach jam, peach pie and this puree. Clingstones are better grilled, sliced or eaten raw as they'll hold onto the pit a little better.
Donut Peaches, UFO peaches or flat peaches are exactly the same as regular peaches except for their flat shape. They can be white, yellow, clingstone or freestone. And If you're looking for a peach that doesn't make a mess when you bite into it, then a UFO peach is your peach.
Plus, a UFO peach is certainly the coolest name for any fruit…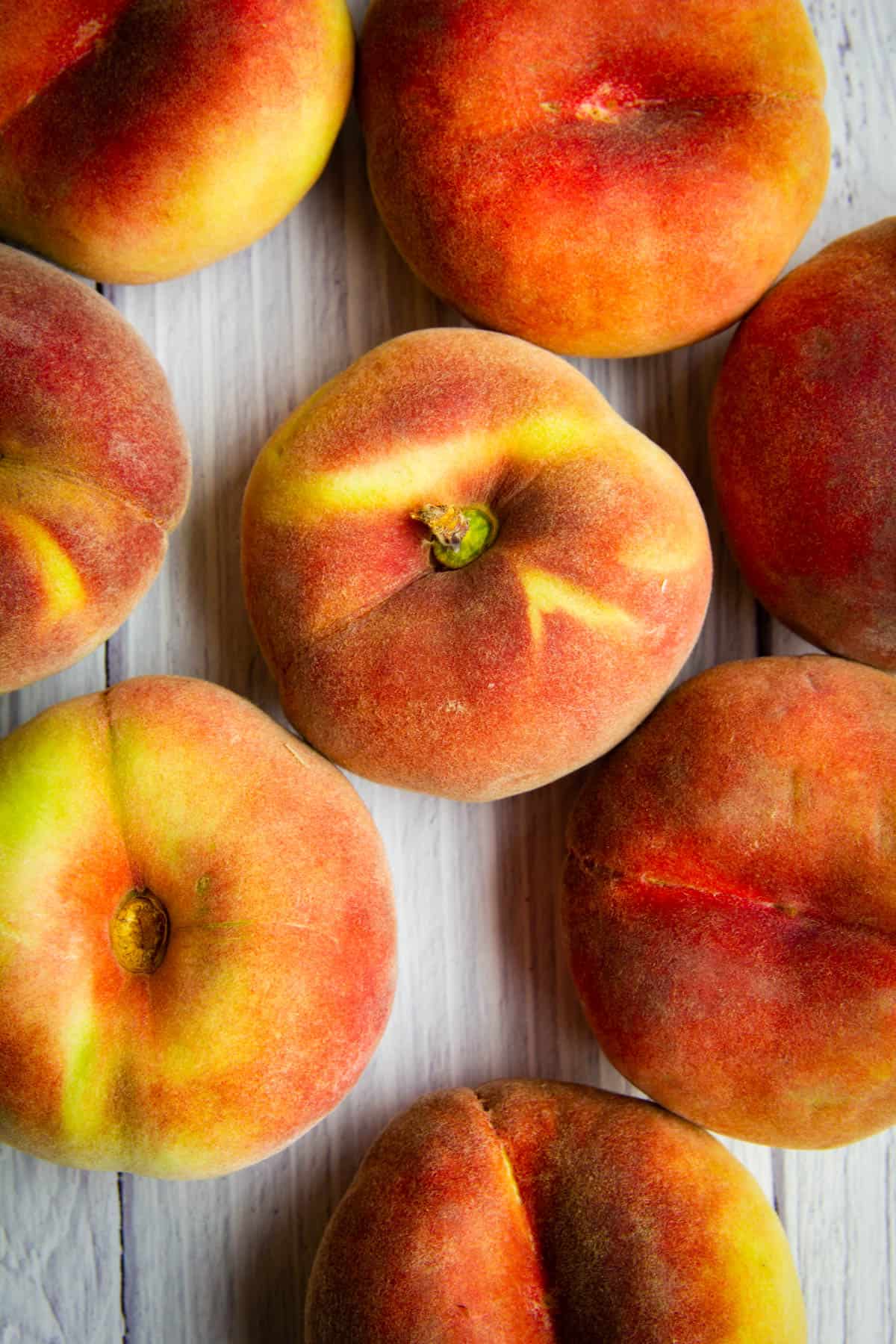 Can I Use this Peach Puree For Bellinis?
Yes, but leave out the butter in this recipe.
Because this puree is passed through a sieve, it will not be too pulpy and it will work well in a bellini.
White Peach Puree Ingredients
White Peaches – As mentioned above you can use just about any peach you want for this puree. Just keep in mind that if you do use yellow peaches, they'll be a little more acidic and you'll probably want to add less lemon juice.
Butter – Totally optional but a little butter makes everything taste a little better. If you're making this puree for a bellini, then leave the butter out.
Lemon Juice – This brightens up the puree a little to make it taste fresher.
Sugar – Depending on how sweet your peaches are you may not need to add this. If you'd like to serve this alongside pork or chicken dishes then omit the sugar for a more savoury sauce.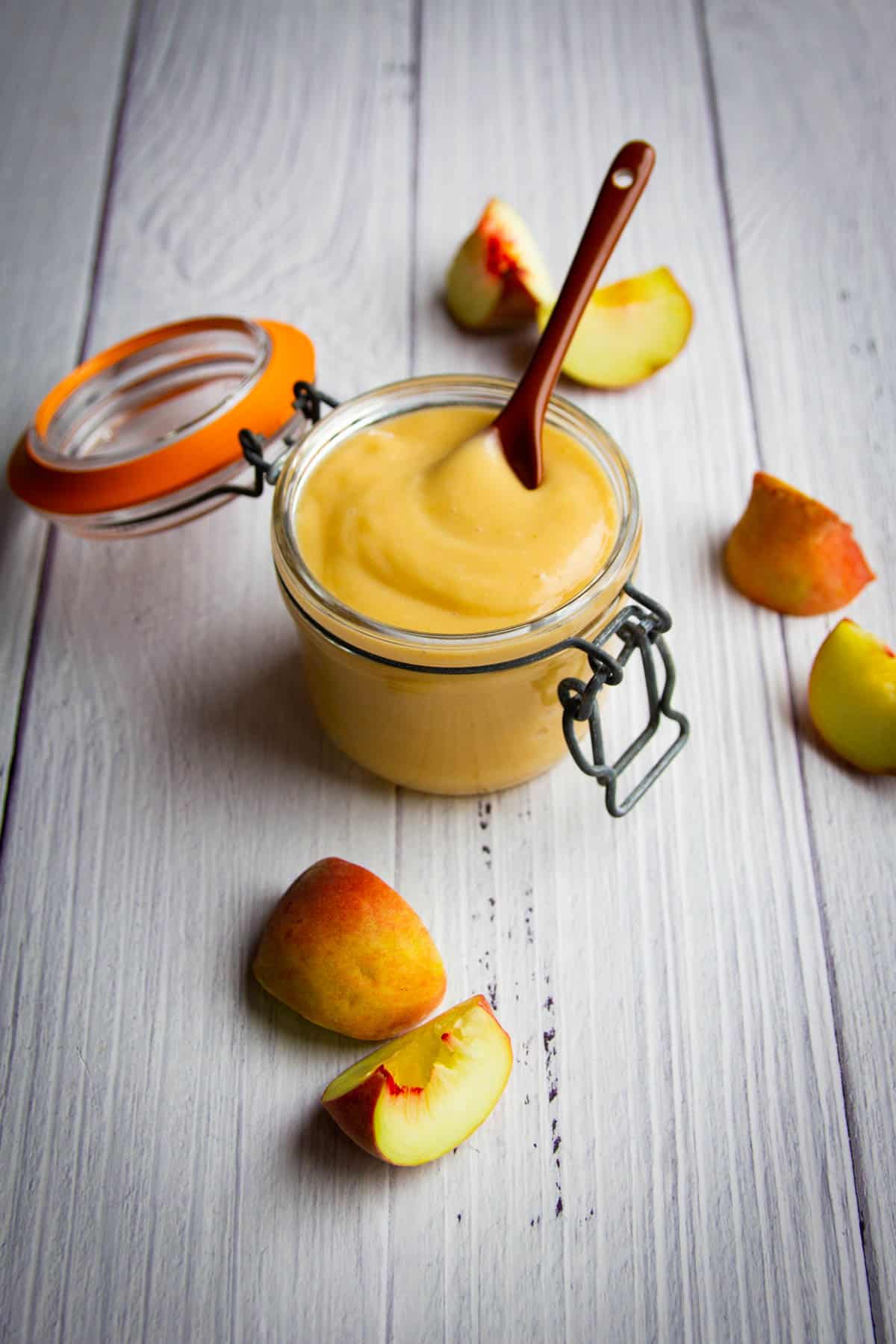 How Long Does this Puree Last?
This white peach puree will last for up to 5 days in the fridge and freezes well.
Ideally, keep this puree in a sealed container, like a mason jar in the fridge.
An Ultra Smooth Roasted White Peach Puree
Use this super smooth white peach puree in yogurt, with cakes, alongside grilled pork or mixed into a bellini. Gluten-free and vegan (if the butter is left out).
Ingredients
814

g

white peaches

(about 9 donut peaches)

12

g

white sugar

(3 tsp)

11

g

butter

(2 tsp)

6

g

lemon juice

(1 tsp)
Instructions
Preheat the oven to 400°F/200°C.

Line a baking tray with aluminum foil first, then parchment paper. (This makes for easy clean-up).

Place the peaches on the tray and bake for 40 minutes or until completely soft.

Once the peaches are completely soft, remove them from the oven and let cool on the tray for 10 minutes.

When the peaches are cool enough to handle (you can also use gloves if they're too hot), press them through a sieve. Discard the skins and pits.

Blend the roasted peaches with all of the ingredients in a high-speed blender until smooth.

Store the peach puree in a mason jar and enjoy!
Nutrition
Calories:
444
kcal
|
Carbohydrates:
90
g
|
Protein:
8
g
|
Fat:
11
g
|
Saturated Fat:
6
g
|
Polyunsaturated Fat:
1
g
|
Monounsaturated Fat:
3
g
|
Trans Fat:
1
g
|
Cholesterol:
24
mg
|
Sodium:
79
mg
|
Potassium:
1556
mg
|
Fiber:
12
g
|
Sugar:
80
g
|
Vitamin A:
2929
IU
|
Vitamin C:
56
mg
|
Calcium:
52
mg
|
Iron:
2
mg
More Recipes Like This
This Strawberry Puree with Fresh Lime
An Intense Strawberry Puree with Lime
Use this strawberry puree for a sweet topping for pancakes, ice cream, or yogurt. Gluten-free and can easily be made vegan.
Check out this recipe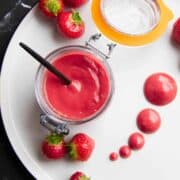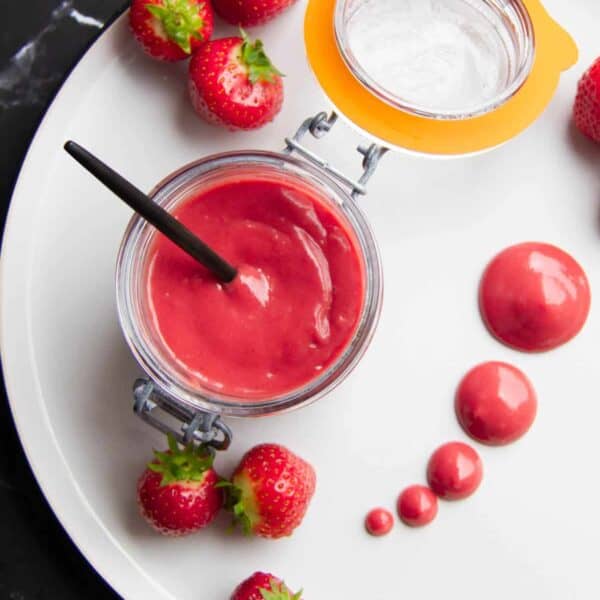 Super Easy Rhubarb Sauce
The easiest and most delicious rhubarb sauce you can make with no water added. Vegan, gluten-free and dairy free.
Check out this recipe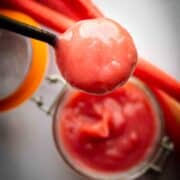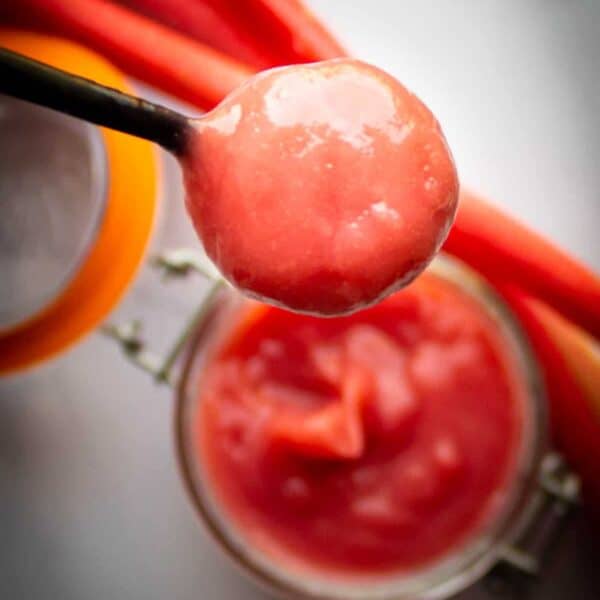 Salted Caramel Sticky Toffee Pudding
This salted caramel sticky toffee pudding is deliciously rich and comforting with a no-fail salted caramel sauce and the perfect Christmas dessert.
Check out this recipe